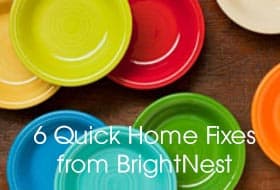 It's the little things that often get left behind in home maintenance. Who has time to clean grout and fix a smelly garbage disposal?  Give your home some TLC this Valentine's Day with 10 easy maintenance ideas from BrightNest.

BrightNest is the ultimate resource for new or veteran homeowners. Their mission is to make homeowners happy with tips and tools to shape up your home and simplify your life. Find delicious recipes, organization and cleaning tips, and super smart maintenance hacks over at the nest.
Got a mystery stink that's driving you batty? Your garbage disposal may have lingering food residue that's the culprit. De-stink in seconds with baking soda and a lemon. You can also de-gunk non-disposal drains with this tip.
While you're tackling the disposal why not rid your sink of bacteria and germs too? After every use you should clean your sink with dish soap and warm water. But, once a week give it the full treatment by following these steps. The vinegar and paper towel trick sounds awesome. Sayonara germs!
Your dishes won't get truly clean in a dirty washer. It's important to clean your dishwasher every few months to keep it working properly. This may seem like a daunting task, but BrightNest makes it surprisingly easy. Get rid of food bits and hard water residue in 5 easy steps.
Sheets an pillowcases get washed every few weeks, but have you ever thought about cleaning your pillow? It's good to freshen up your pillow twice a year to keep germs and bacteria at bay. Many pillows can be thrown in the washer, but follow these instructions to get it back to full fluffiness. Think of it as a gift to your sleeping self.
Have you been skirting around this labor intensive chore for a while? Here's a little secret, you can clean your grout while taking a shower! All you need is some baking soda, a spray bottle of vinegar and an old toothbrush and you're ready to clean.
Things may seem fresh and clean, but your shower curtain is developing a layer of soap scum each time you wash up. Ward off scum by washing your cloth curtain every month or so and leaving it closed to dry after every shower. Learn how to make your own non toxic spray to keep your plastic liner free of scum.
Go Forth and Clean!
If your blinds are looking a little lackluster, wipe them down with our favorite muppet-esque cleaning tool, the Easy Clean Duster. It's furry little arms swipe both sides of your blinds for complete (and kind of fun) cleaning. Pick one up for just a few bucks at Blinds.com.
You can find more home improvement tips on BrightNest. Join us on Facebook and Twitter for a steady stream of decorating trends, DIYs and other life hacks.