If your kids have been doing remote learning, or you're considering homeschooling this year, you're probably thinking about creating a permanent space for your kids to do their schoolwork. Whether you're creating a built-in desk or just clearing off the dining table, we've got some tips and inspiration for creating a homeschool room.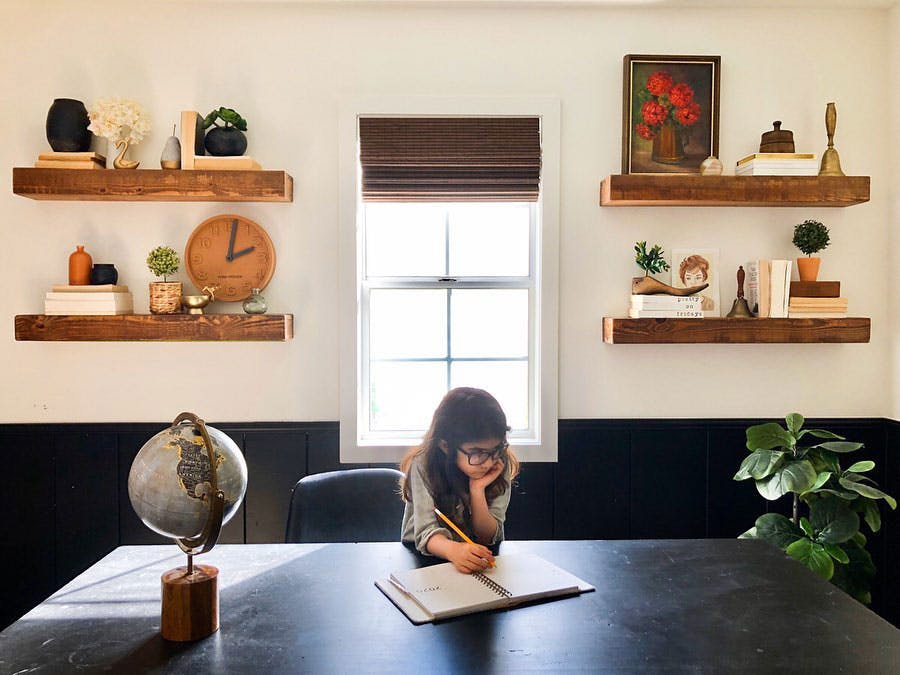 Photo via @prettyonfridays. Featuring Woven Wood Shades in Tibet Walnut.
Tips for Creating a Homeschool Room at Home
We decided to consult Kris, head of our category experience team and homeschool mom of 6, to get some tips for setting up a homeschool space. Here's what she had to say:
Set up your school space in a dedicated area away from toys and especially not in a playroom. This will help kids distinguish between "school time" and "play time," as well as reduce distractions.
Use available wall space for a daily schedule and assignment calendar. These visual systems will help kids know what to expect each day.
Color code supplies by child to make cleanup easier.
Consider using cubbies or a bookshelf so all of your kids' items will have a place to go at the end of each day.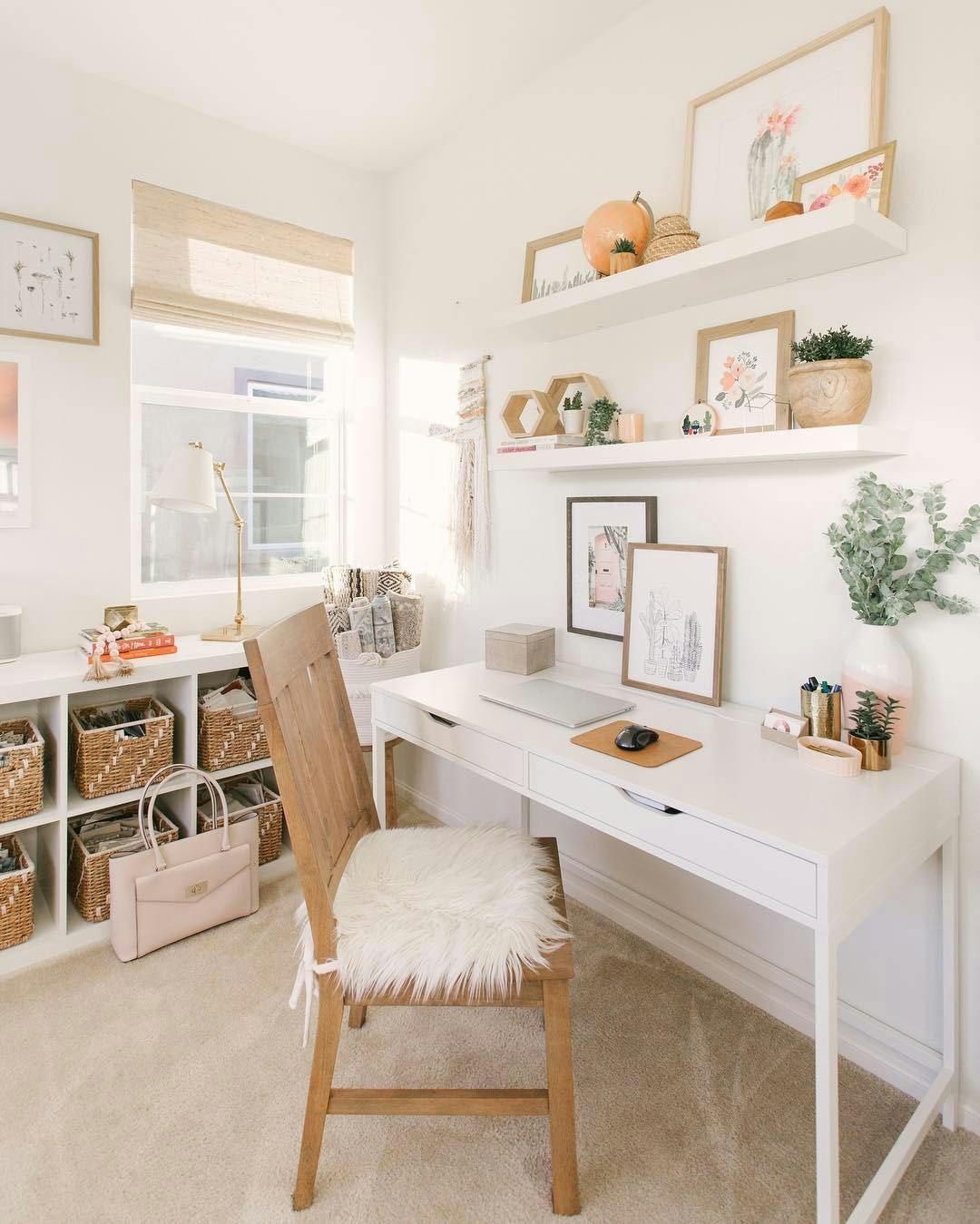 Photo via @madisonnicoledesign. Featuring Premium Woven Wood Shades in Barcelona Sienna.
Think About Lighting for Your Homeschool Classroom Set-Up
We also recommend thinking about lighting when setting up your kids' workspace. Consider placing their desk close to a window to take advantage of natural light, or outfit their desk with a reading lamp.
If your child is close to a window, blinds are a must. You don't want harsh glare shining right in your child's eye when they're trying to focus. And if they'll be on lots of video calls, be sure that a window isn't right behind them. Backlighting will make it very hard for teachers and others to see your kiddo's face on camera. We recommend positioning their desk facing a window or with window light shining on their face from either side. Check out our other tips for optimal video conference lighting.
If you're considering buying new window treatments for your homeschool space, be sure to check out our guidelines for child safety, or speak to a Blinds.com Design Consultant.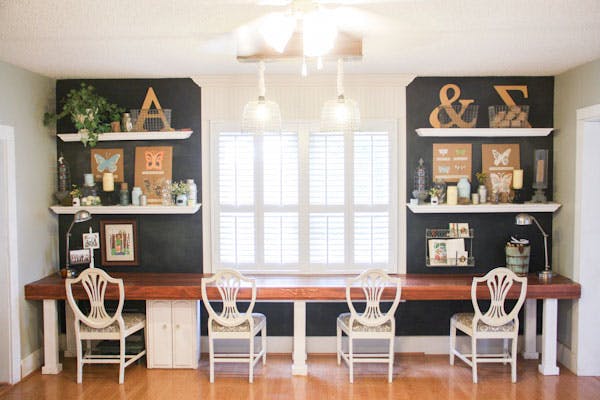 Photo via @penningtonpoint. Featuring Woodcore Faux Wood Shutters in White.
7 More Inspiring Homeschool Desk Ideas
If all you have is a corner in a guest bedroom, a small desk will do the trick! We love the bulletin board above the desk for displaying art and assignments.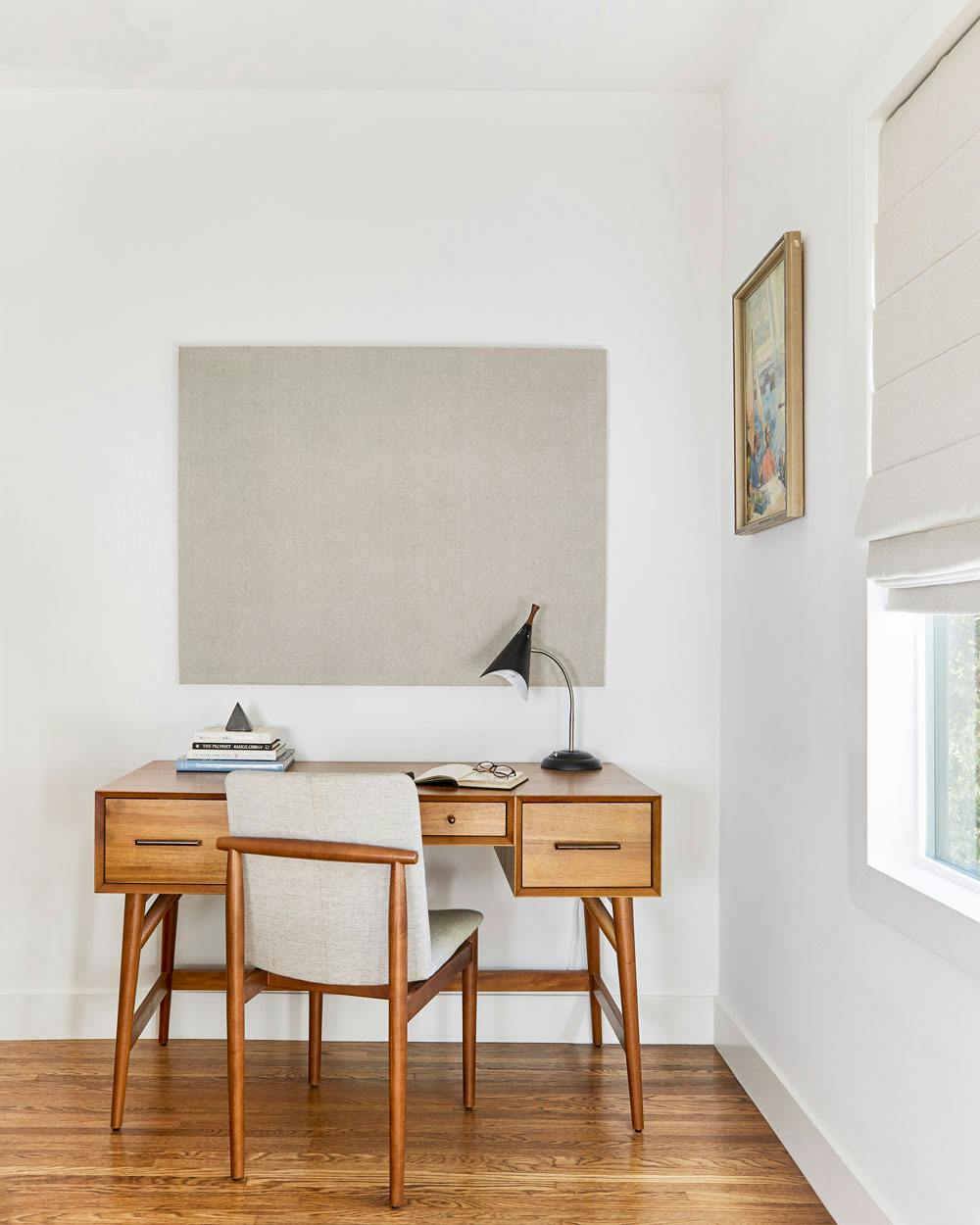 Photo via Ned and Ariel Fulmer. Featuring Premium Roman Shades in Tantalum Antique with Blackout Liner.
If your home has an oddly shaped corner or unused nook, now's the time to make the most of wasted space. A shallow desk, or built in floating work surface are inexpensive ways to create your set-up.
Photo via @allisajacobs. Featuring Designer Woven Wood Shades in Kula Sandy Beach.
This minimalist office has the perfect lighting set up for video calls. A light-filtering shade blocks glare, and lighting from the side will make sure the teacher can clearly see your child's face.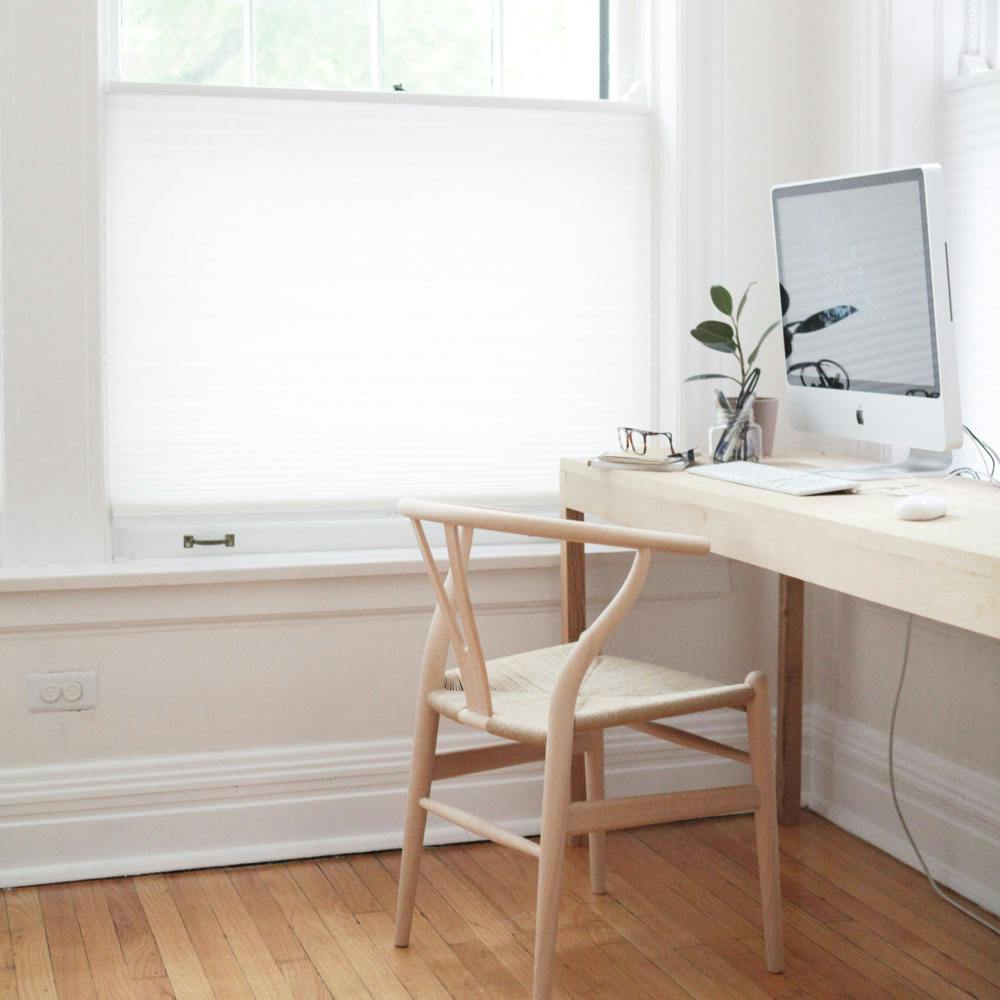 Photo via Amanda Jane Jones. Featuring Light Filtering Cellular Shade in Glacier.
Use the space you have to spare, even if it's just a corner of the living room. We love this set up if you're looking for homeschool desk ideas for small spaces.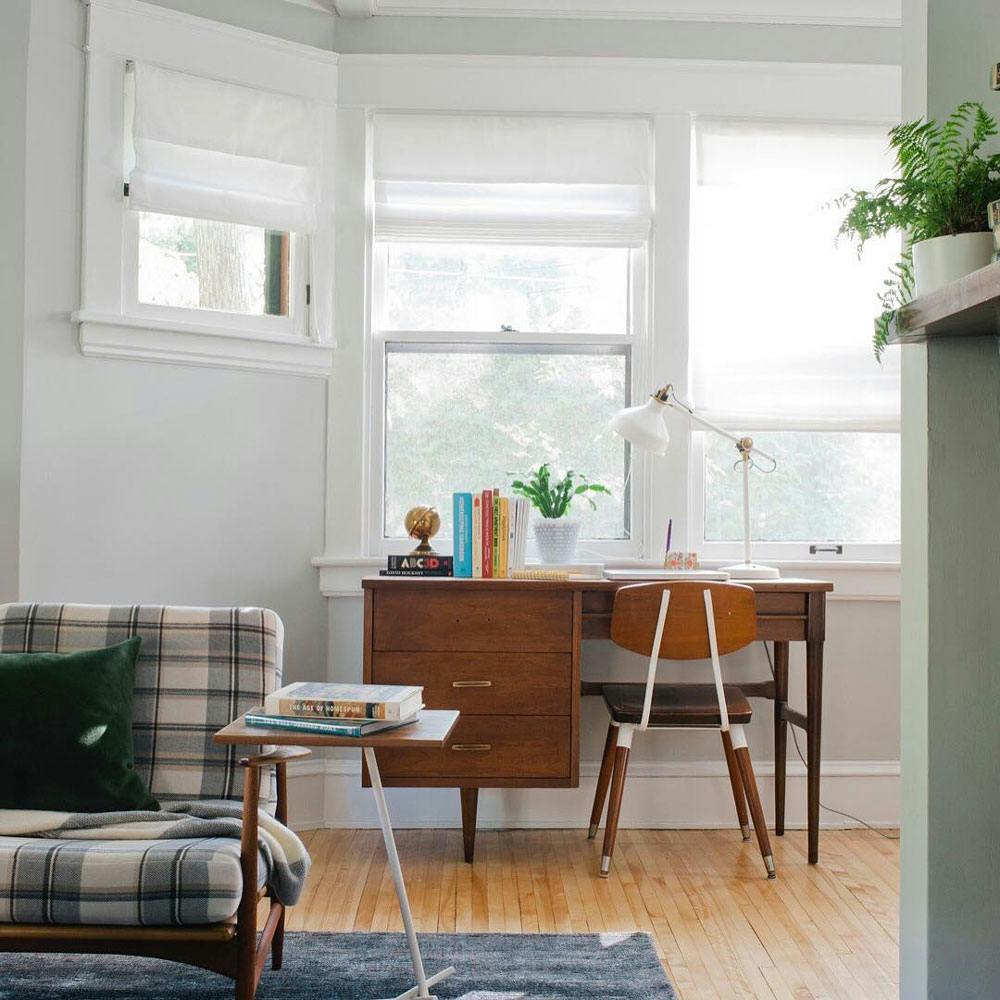 Photo via Curbly. Featuring Premium Roman Shades in Lexi White.
Homes often have lots of wasted space of the entry, whether they're formal living rooms or just a large foyer. Add a desk, and POOF, you've got a homeschool space. Plus, they'll most likely be a bit farther away from the living room or kitchen where distractions from the rest of the family may be going on.
Photo via @littlemissouricottage. Featuring Classic 2" Faux Wood Blind in White.
If you're on a budget, you can still create a built-in homeschool desk that looks surprisingly high-end. Just grab a few old filing cabinets or drawer storage units, and place a piece of plywood or butcher block on top.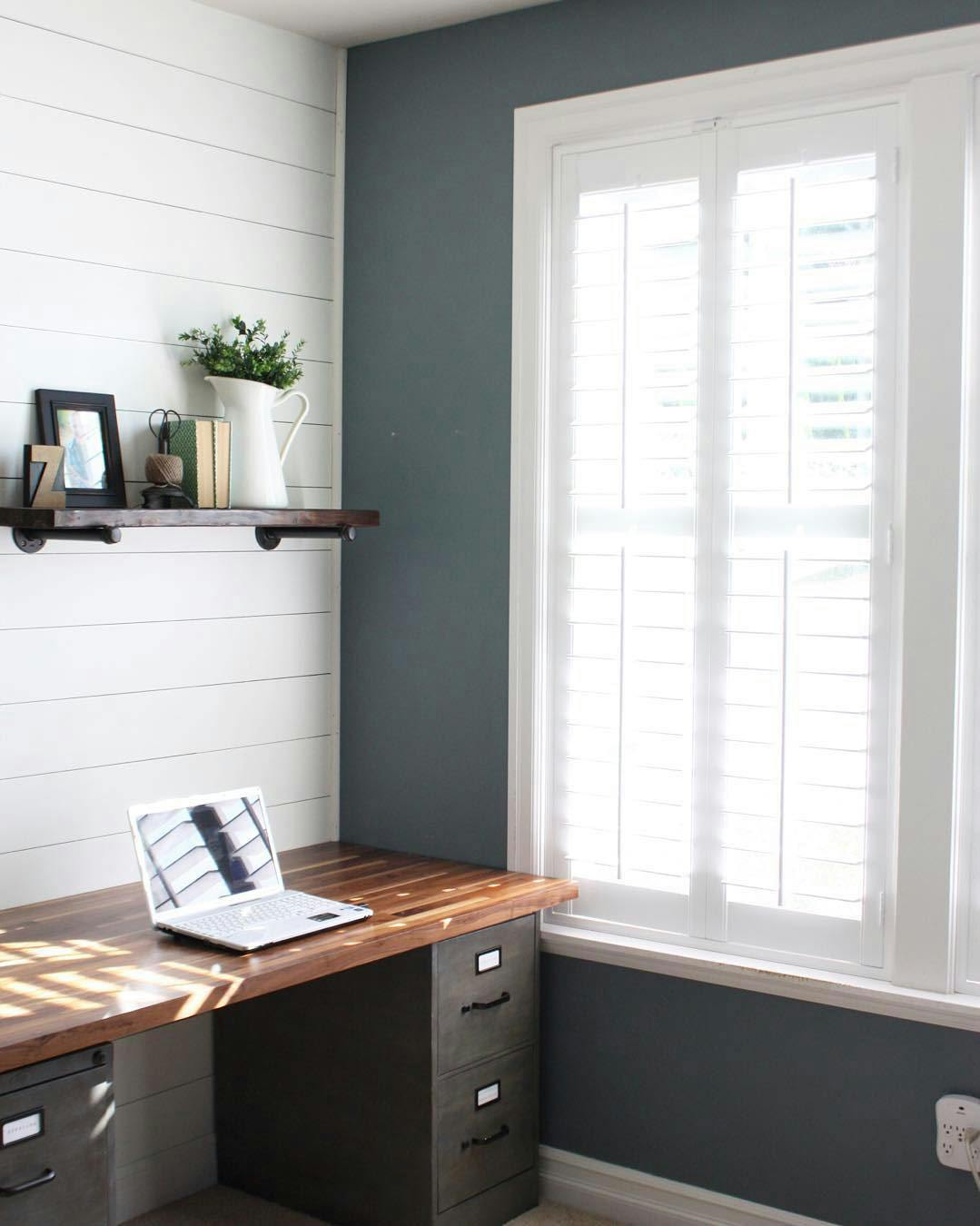 Photo via @meadowlakeroad. Featuring Premium Wood Shutters in Bright White.
Even if you can only spare a teeny amount of space, like this spot at the top of a staircase, you still may be able to fit a slim desk.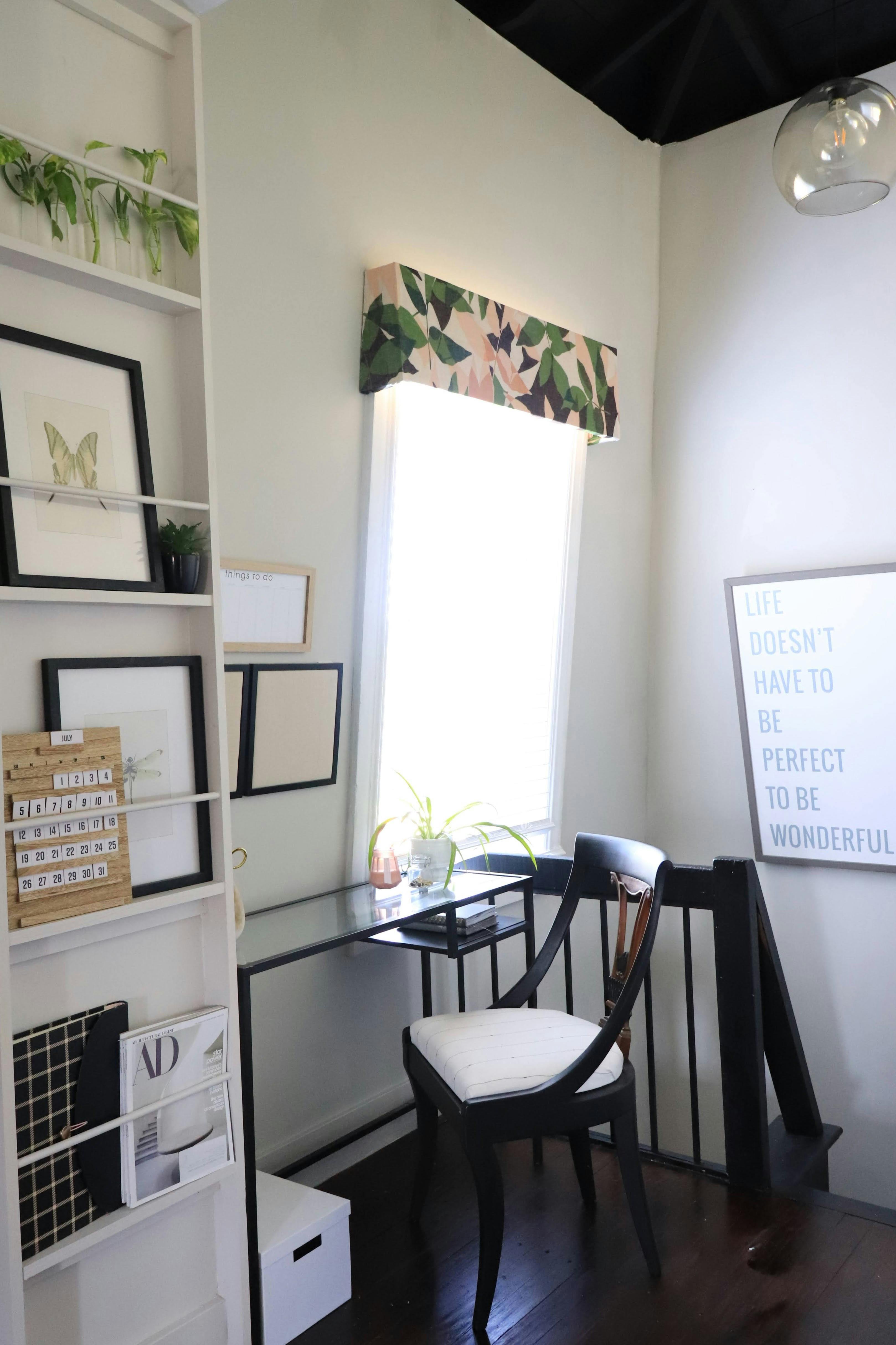 Photo via @madebycarli.
Need Help Creating Your Homeschool Space?
If you need help picking out window treatments for your homeschool room, don't hesitate to speak with a Blinds.com Designer.
For more remote learning inspiration, check out our tips for creating a window seat reading nook, or try some education outside the school desk with 55 home improvement projects you can do with your kids.