If you're ready to refresh your space, one of our classic lines just got a major color upgrade. We've added over 100 new fabrics to our best-selling Premium Roman Shades collection. Roman Shades are fabric shades that instantly give a room a modern, high-end look.
"Our goal was to address the latest interior design and color trends," says Blinds.com Merchandising Consultant Karin Jeske.
The new fabrics in the collection are rich in texture and color, but what truly sets this line apart from the others is the choice of folds.
"Few of our Roman Shade lines offer the relaxed fold and none offer the front slat fold," says Blinds.com Commercial Sales Consultant Danielle Sansone.
Relaxed fold shades have curved folds at the bottom, making them an ideal option for printed fabrics. Front slat fold shades create horizontal tucks on the front of the shade that add visual interest.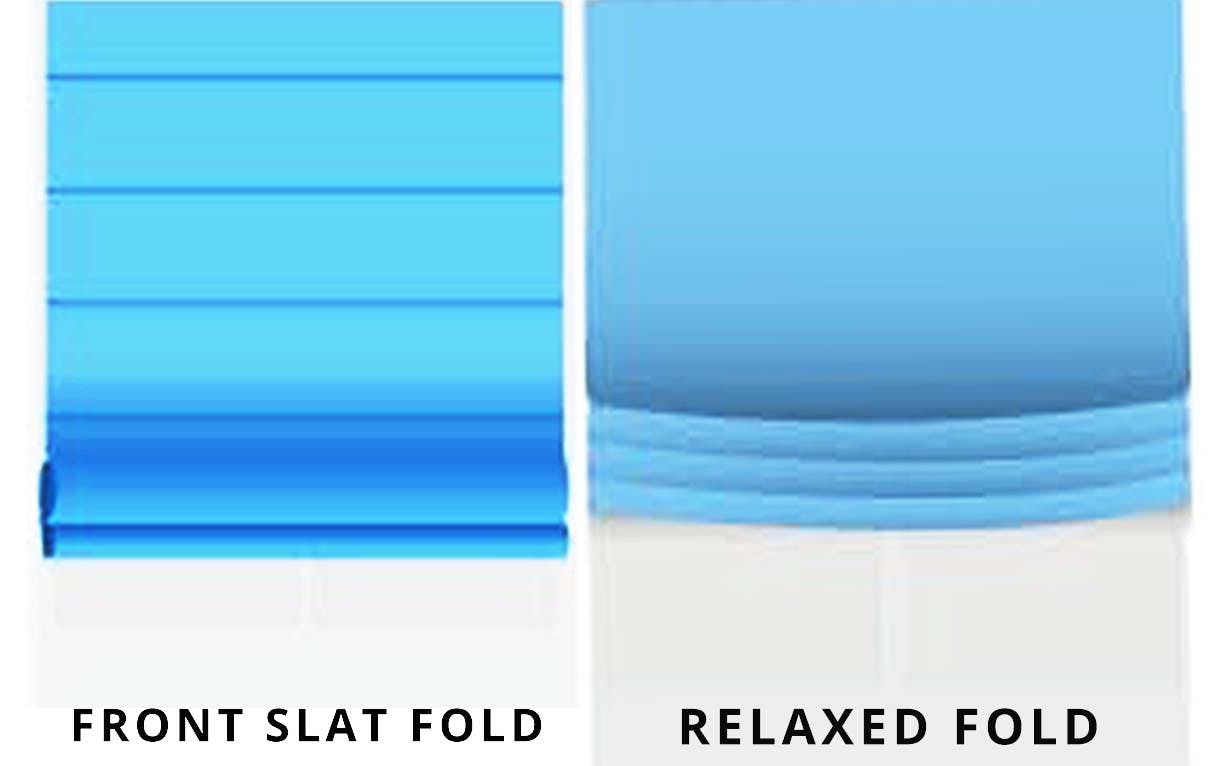 Before we show you the new fabrics, the Pantone 2022 Color of the Year has been announced. While many made their predictions online, in true Pantone fashion, the Pantone Color Institute chose a shade no one could have ever guessed. The electrifying blue color, Pantone 17-3938 Very Peri, was created exclusively for 2022 Color of the Year. It's described as "a dynamic periwinkle blue hue with a vivifying violet-red undertone."
Very Peri is daring and is meant to bring out one's inner creativity. The whimsical violet hue is also a visual representation of the unparalleled times we are living in. "Pantone 17-3938 Very Peri illustrates the fusion of modern life and how color trends in the digital world are being manifested in the physical world and vice versa," according to the Pantone Color Institute.
If you're wondering how to incorporate this one-of-a-kind shade in your home, we've selected a few fabric options to leave you inspired while kicking off the New Year on trend.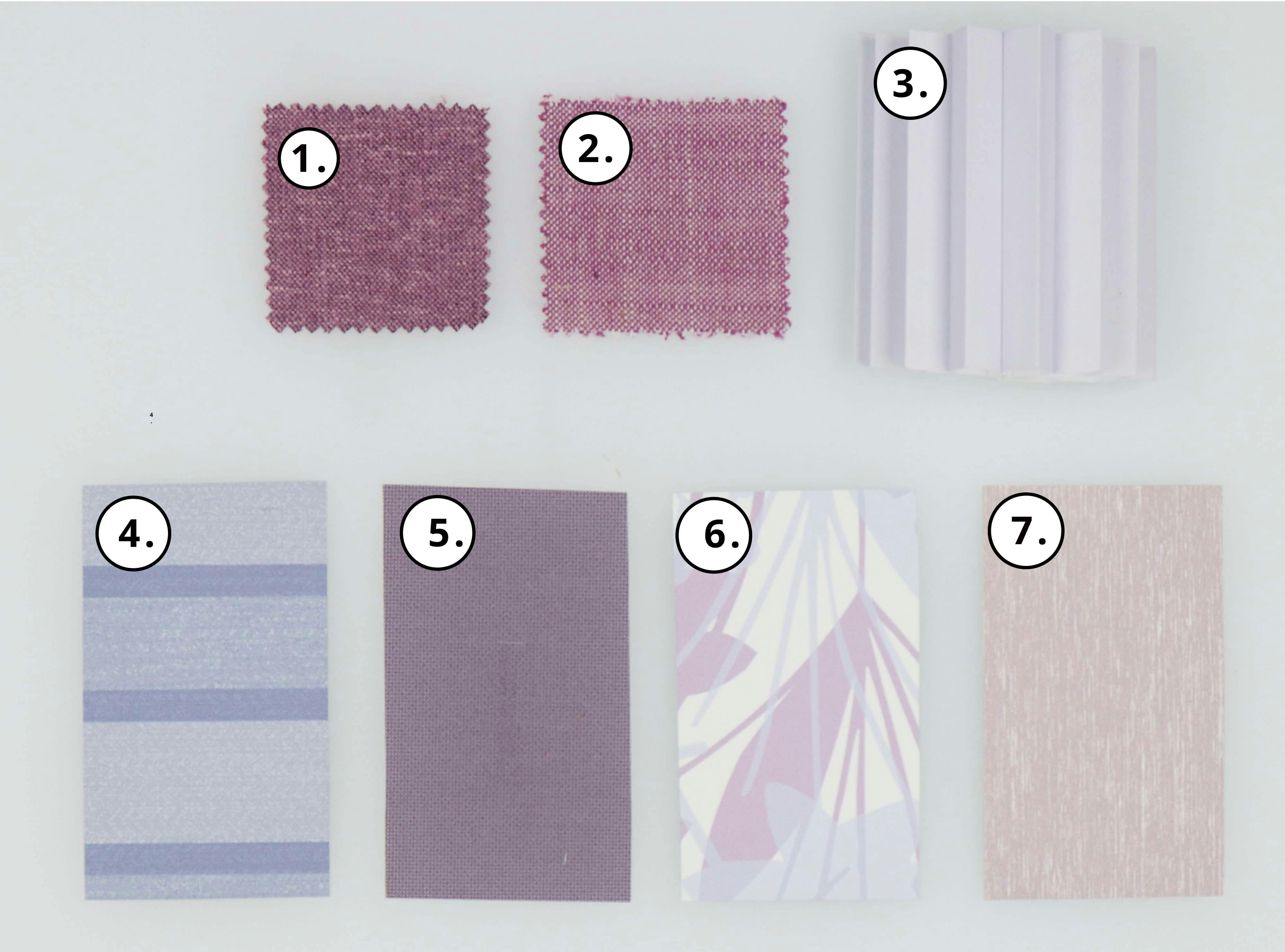 1. Blinds.com Premier Roman Shades in Ravenna Vineyard 2. Blinds.com Premier Decorative Roller Shade in Linenette Mulberry 3. Bali Light Filtering Cellular Shades in Halo Fresh Lavender 4. Blackout Roller Shades in Carrollton Stripe Indigo Revised 5. Blinds.com Blackout Roller Shades in Carousel Lilac 6. Blinds.com Blackout Roller Shades in Foliage Purple 7. Blinds.com Blackout Roller Shades in Shantung Dusty Lilac
Etsy has also released its top trends for 2022, adding its Color of the Year to the top of its list. The vintage and handmade goods online marketplace recently revealed Emerald Green as its 2022 Color of the Year. After the whirlwind year that was 2021, Etsy is reclaiming 2022 as "symbolizing harmony and growth, along with royalty and refinement."
We've curated a list of fabric options below to help you integrate the regal, deep green hue into your space.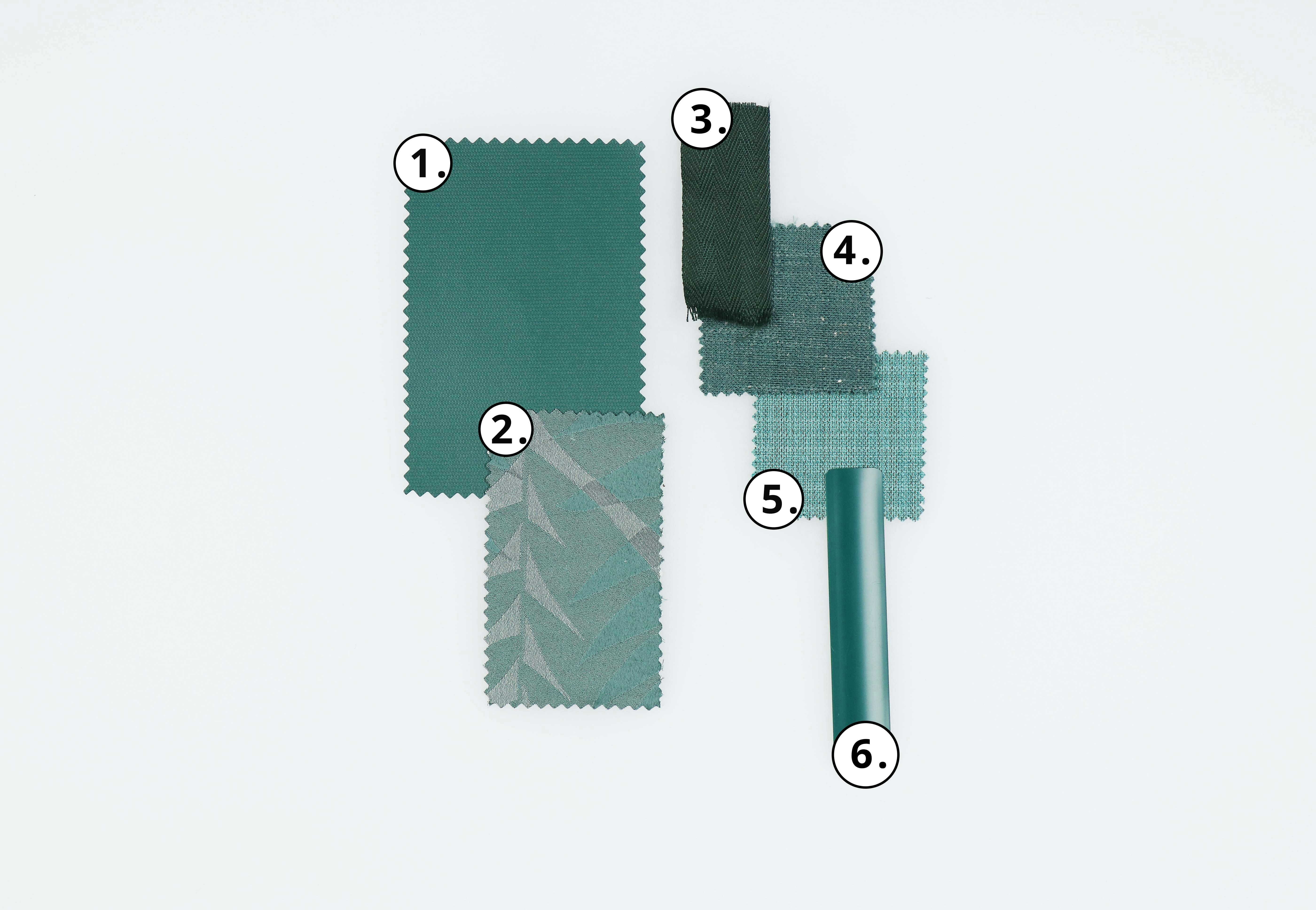 1. Blinds.com Economy Blackout Vinyl Roller Shades in Reminiscent Hunter Green 2. Blinds.com Roman Shade or Grommet Drapery in Oasis Agave 3. Levolor Riviera 2 Inch Aluminum Blinds in Forest Green 4. Blinds.com Premier Decorative Roller Shade in Linenette Conifer 5. Blinds.com Premier Roman Shades in Richmond Emerald 6. Blinds.com 1 inch Mini Blinds in Pine
Check out the 109 new Premium Roman Shade fabrics below.
Geometrics & Chicago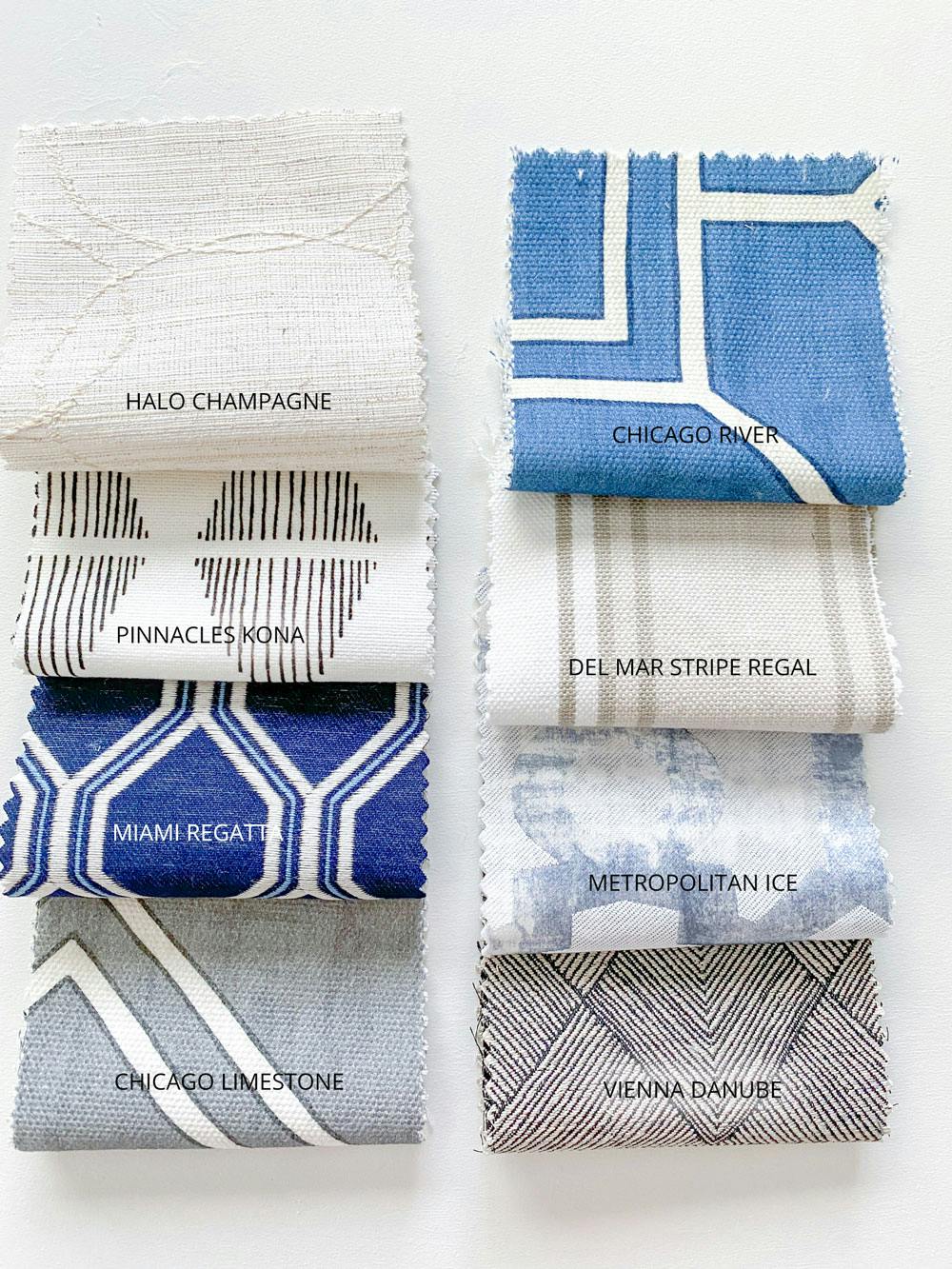 Geometric prints are perfect for those who enjoy clean lines but want to make a bold statement. From soft beiges and creams to deep blue hues, there is a fabric that meets everyone's style needs.
Kyoto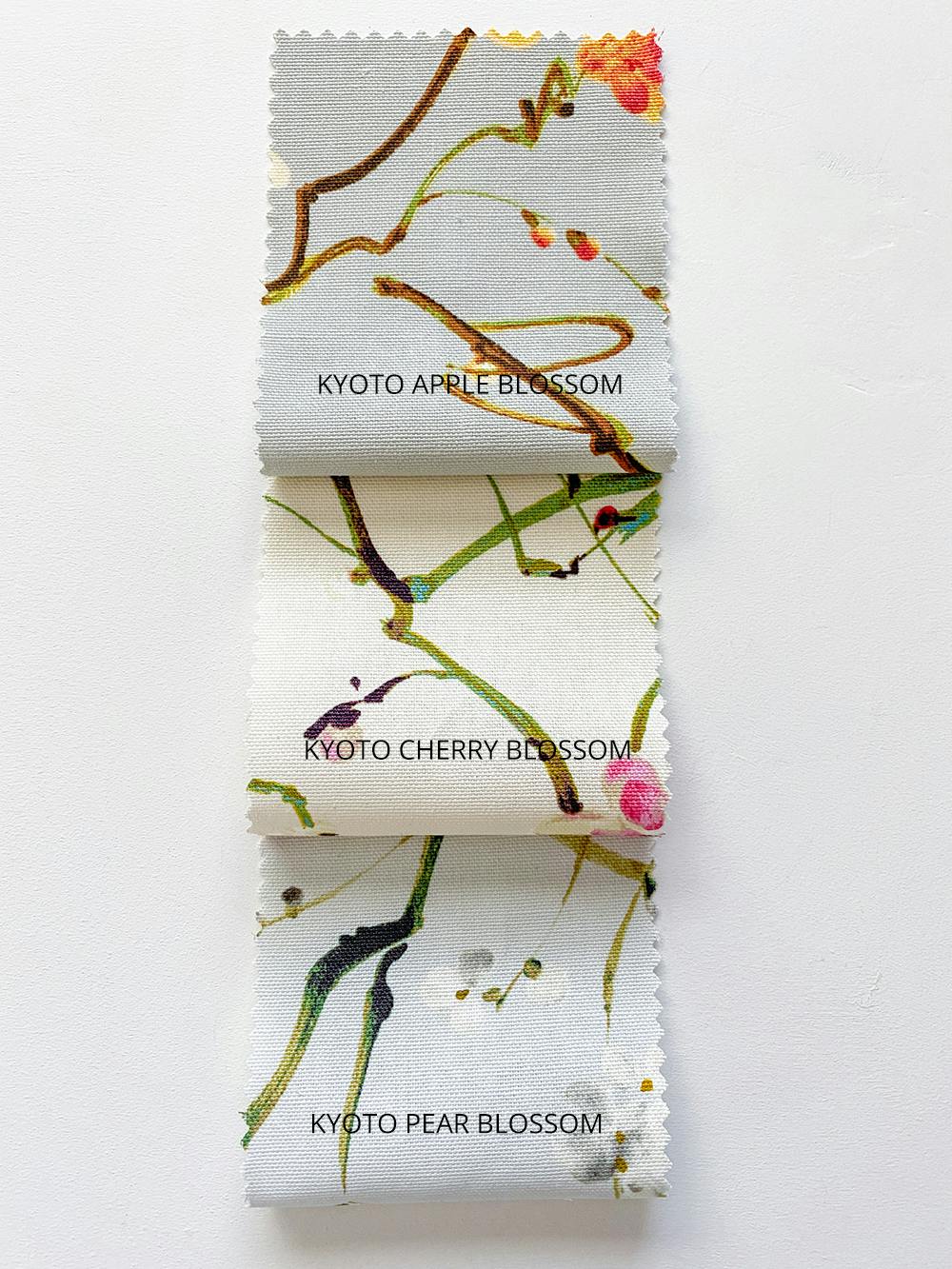 Enjoy the beauty of Kyoto blossoms year-round with the Kyoto fabric, inspired by Japanese Cherry Blossom trees. Its elegant, floral design makes it the perfect canvas for your windows.
Metropolitan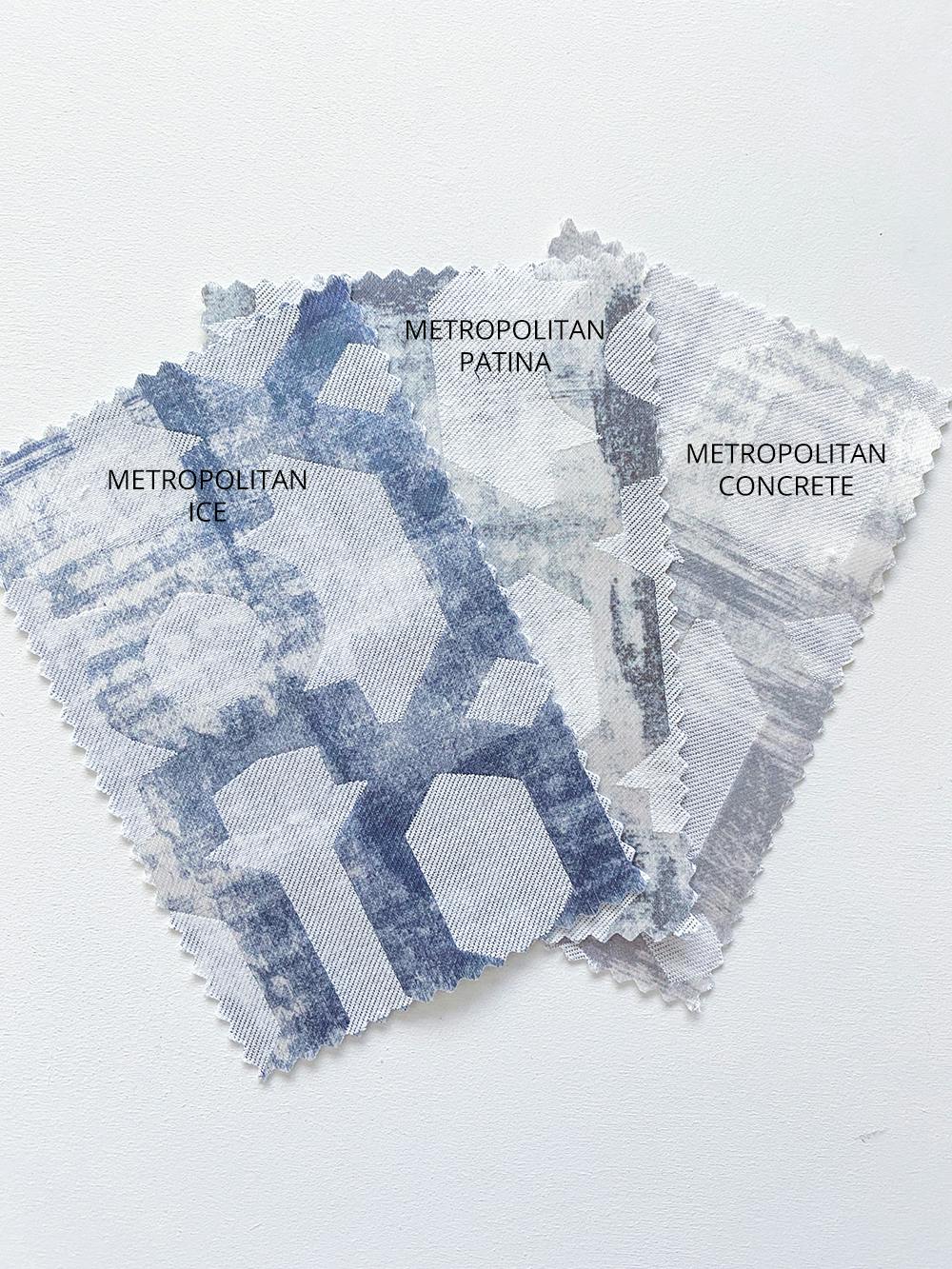 Metropolitan, described as a multi-dimensional abstract, metallic jacquard, is a contemporary and abstract fabric choice for those looking for something out of the ordinary.
Miami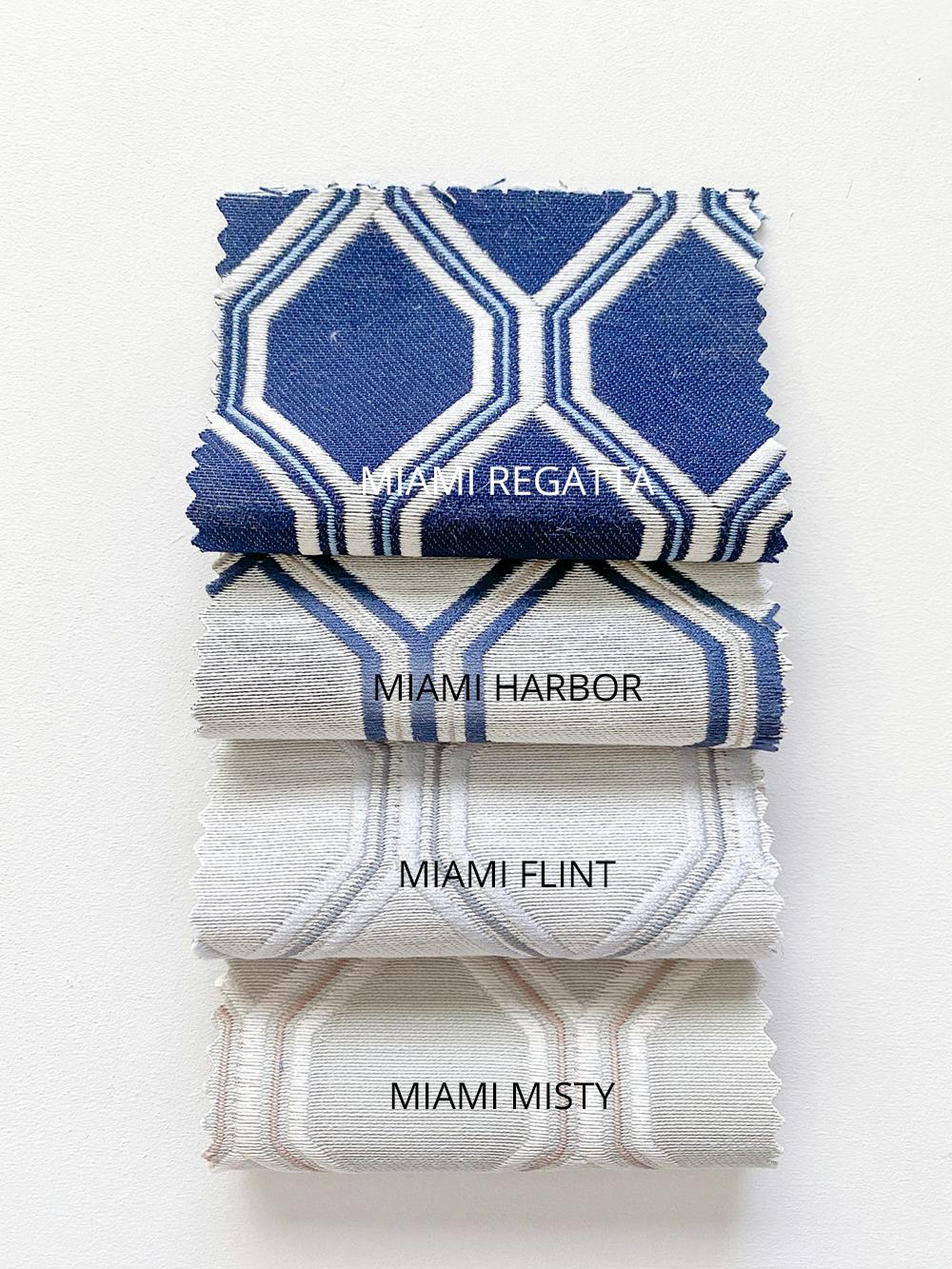 Bring the spirit of South Beach and Art Basel to your home with this collection of Miami fabrics. Miami is an updated lattice pattern complete with a range of subtle to bold color stories.
Painterly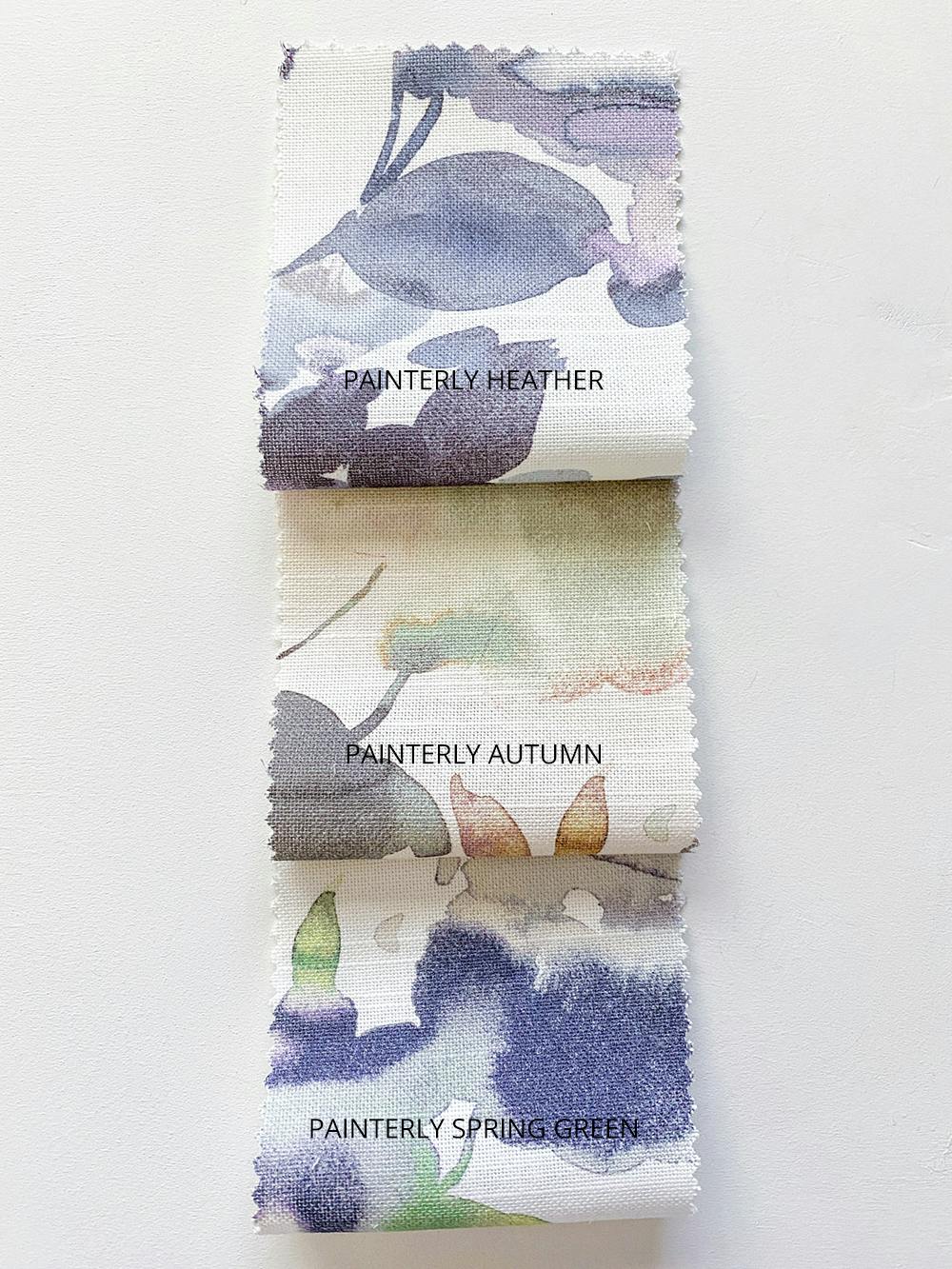 Bring out your inner artist with Painterly, an abstract watercolor floral design in soft color stories. Painterly adds a touch of femininity to any space.
Pinnacles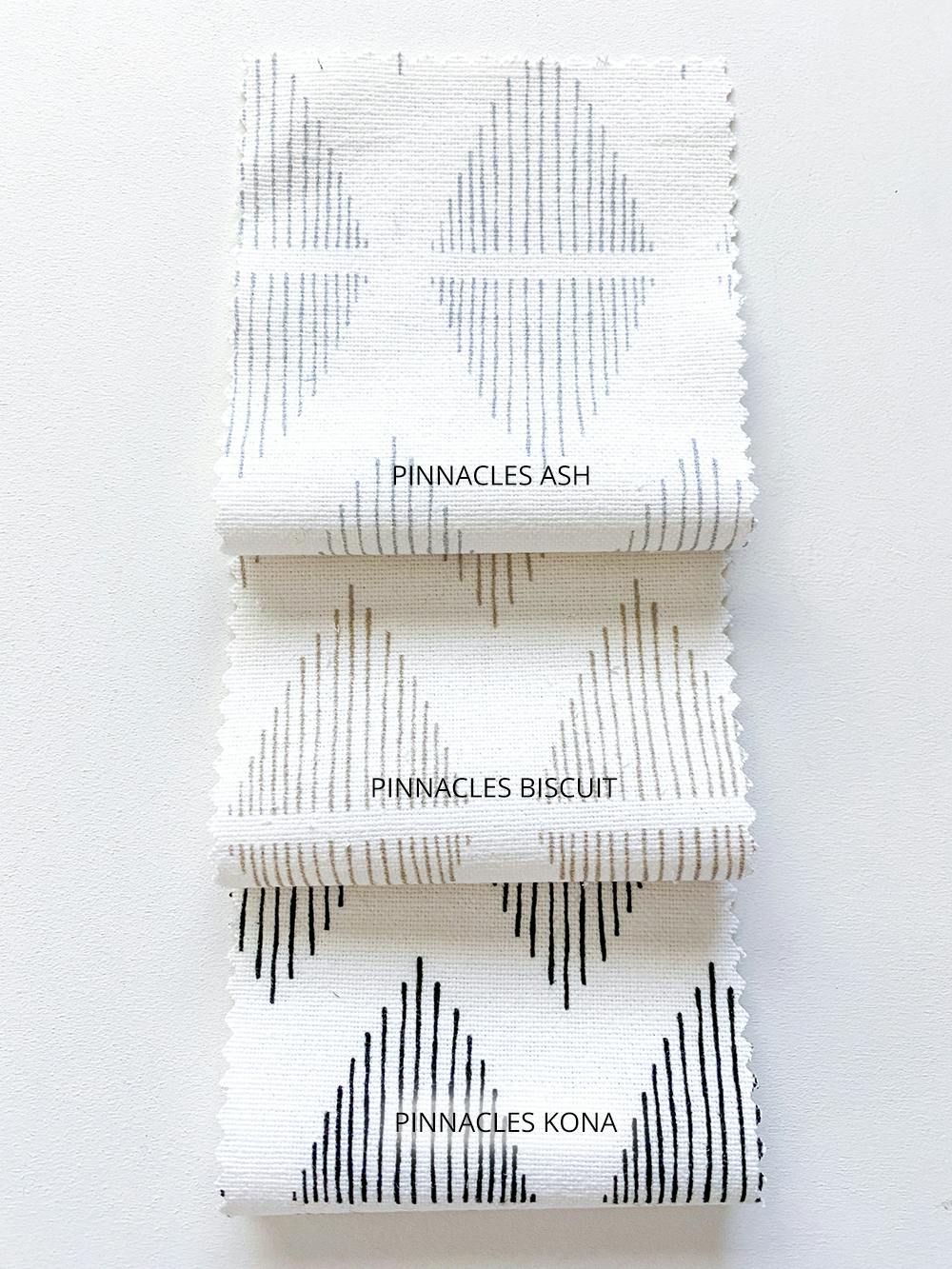 If you're looking for a subtle print that's striking, Pinnacles is a modern geometric pattern with a hand-drawn aesthetic bound to make a statement in any room.
Safari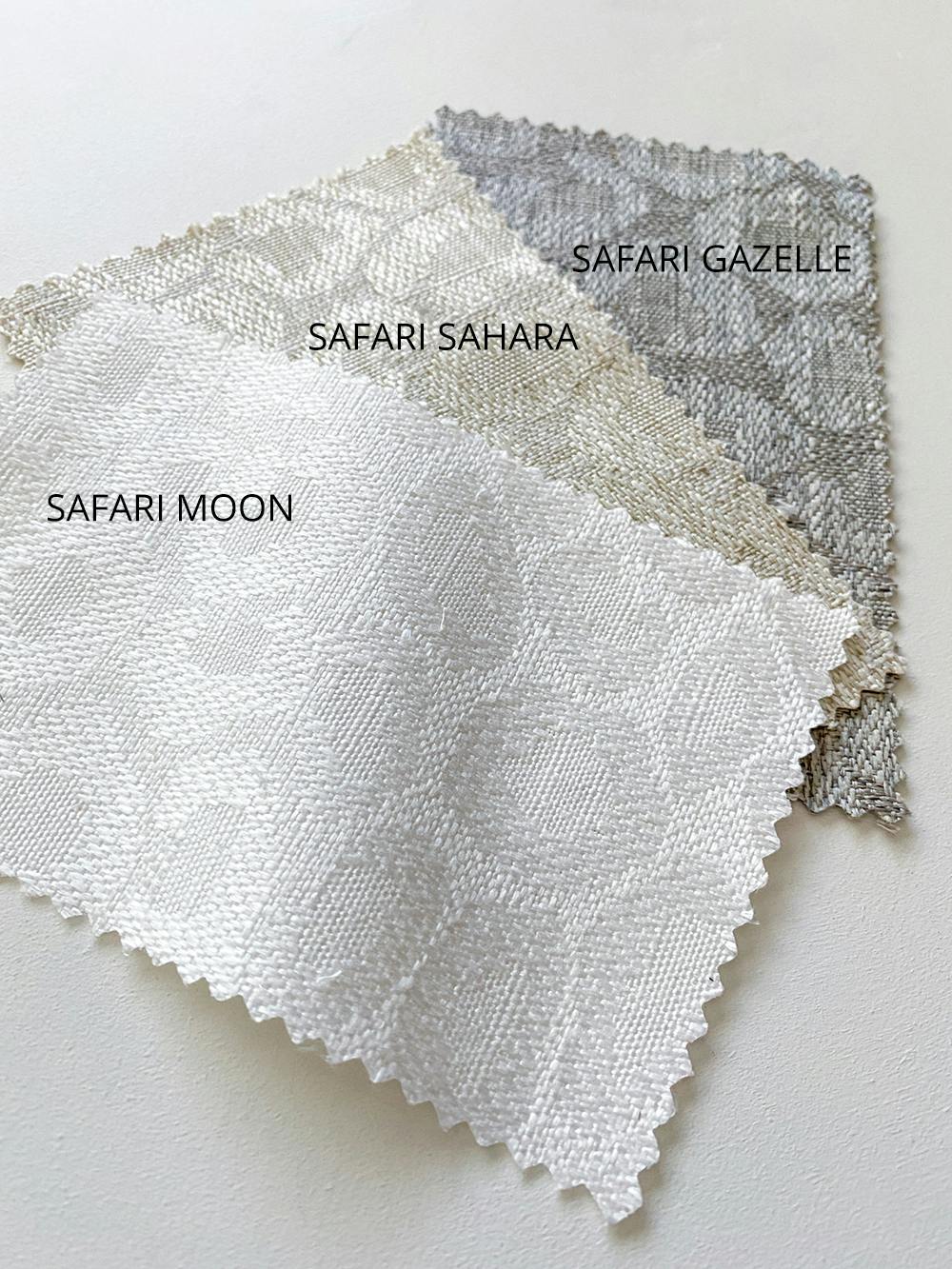 Embrace your wild side with our eye-catching collection of Safari fabrics. Safari Moon, Safari Sahara, and Safari Gazelle appear muted at first glance, but have a woven-in leopard print.
Vienna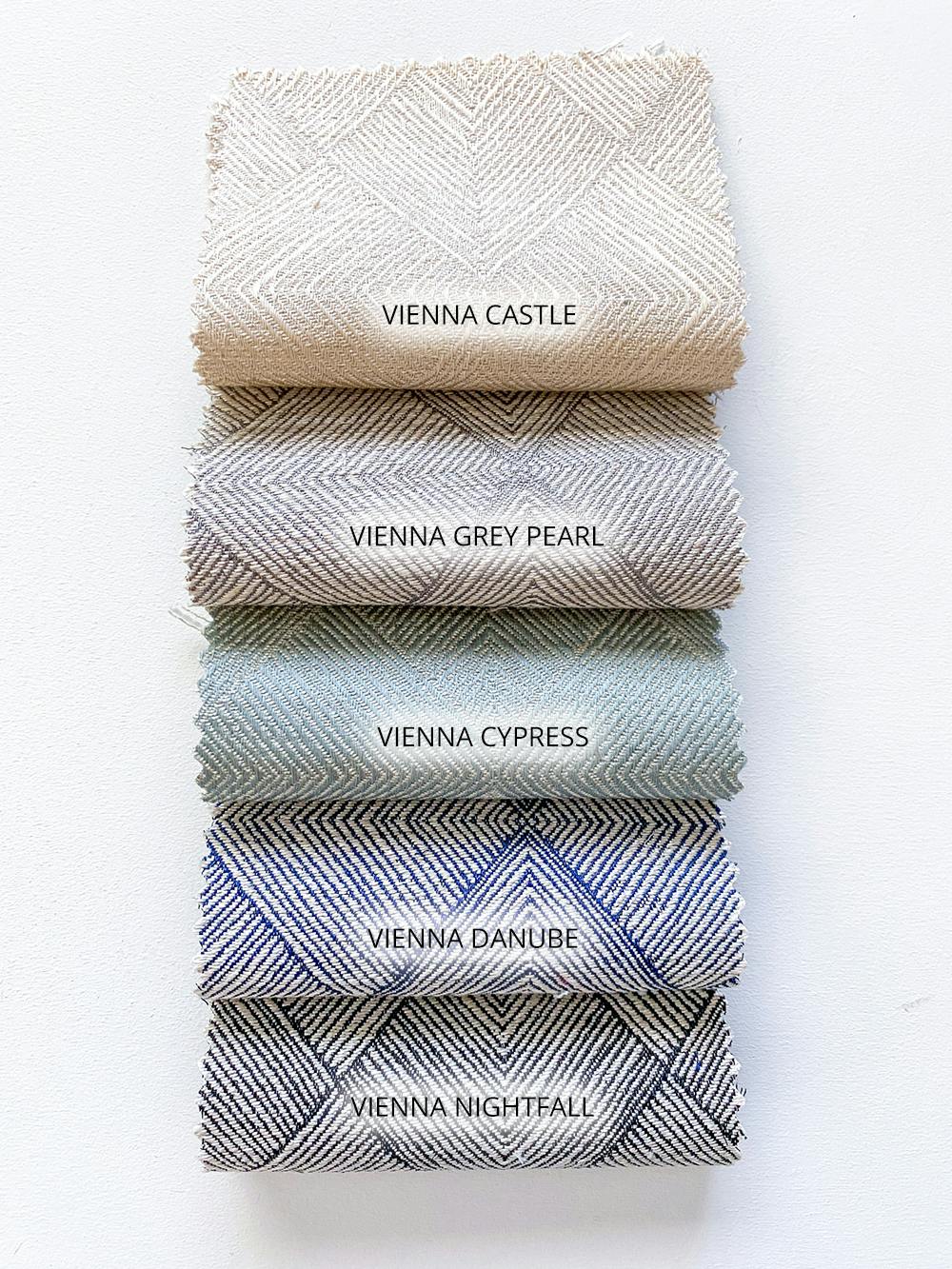 Adventurous. Daring. Unexpected. These words come to mind when thinking of Vienna fabrics. Vienna is described as a "classic, jacquard diamond pattern with a glimmer of metallic."
Elizabeth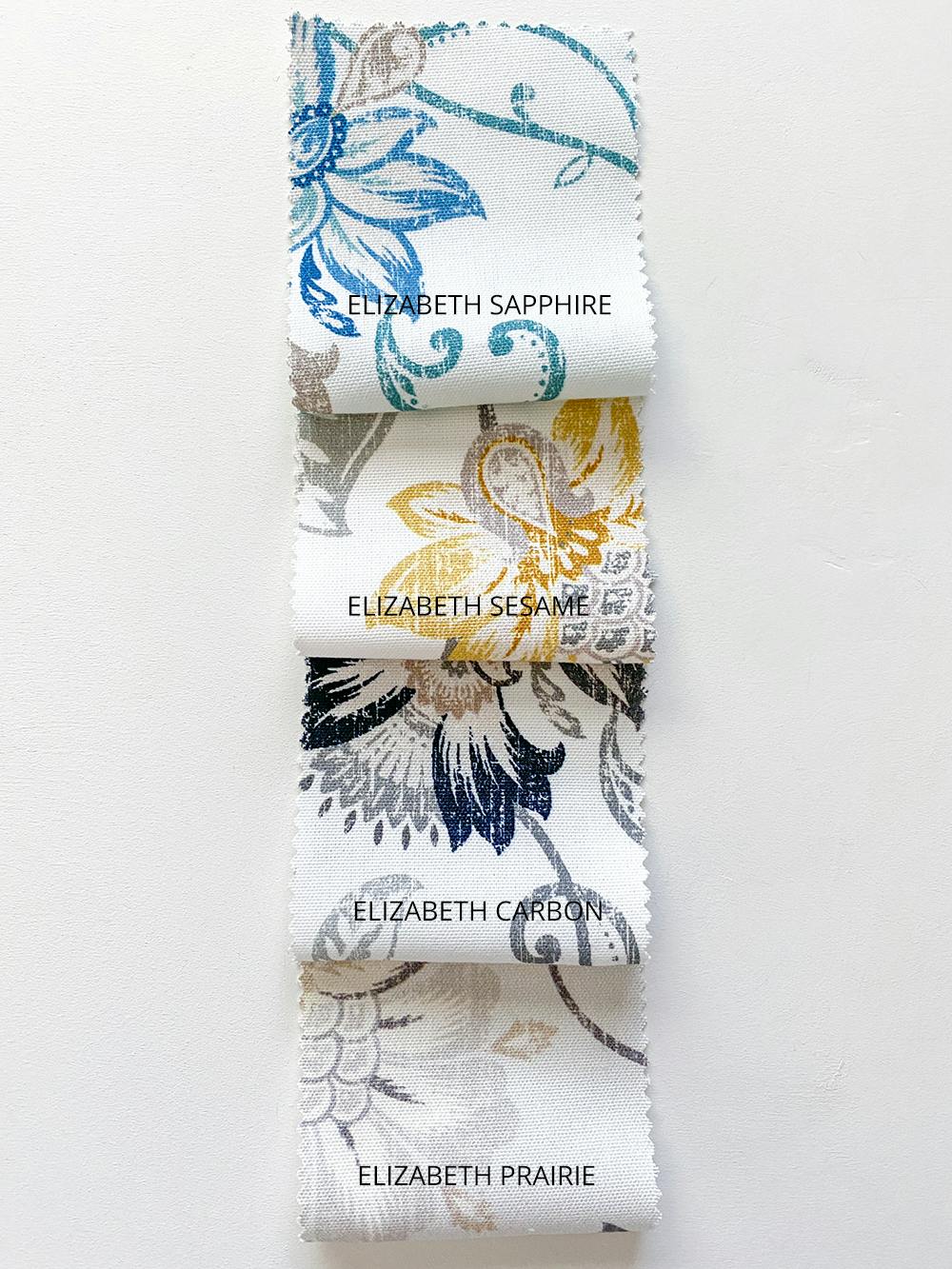 Feeling floral? Elizabeth is described as a traditional floral print with a modern design sure to bring a playful essence to any room.
Blues & Dark Blues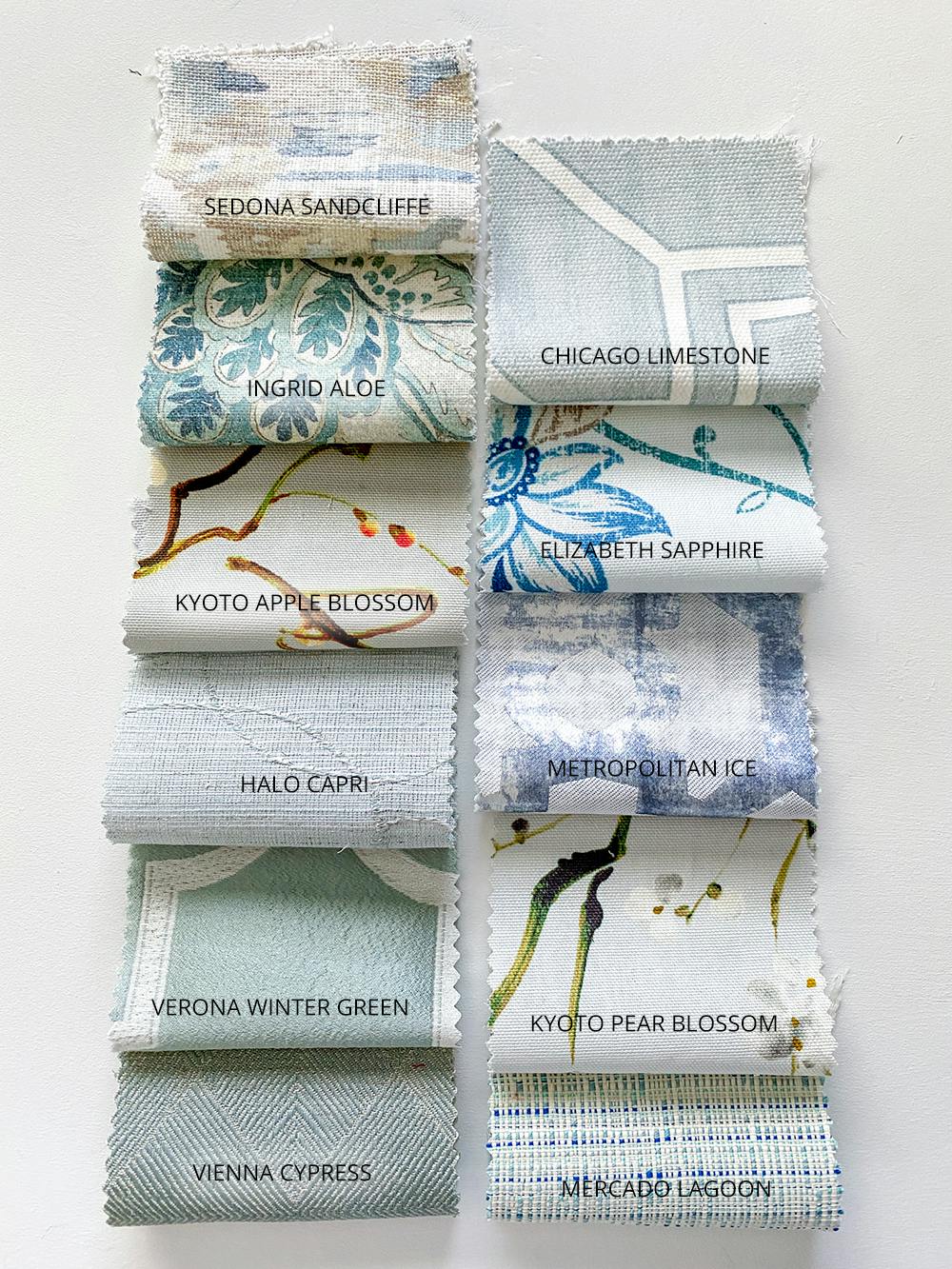 Feeling the blues? Bring a sense of calm to your space with any of these blue hues ranging from pale blues to blue greens.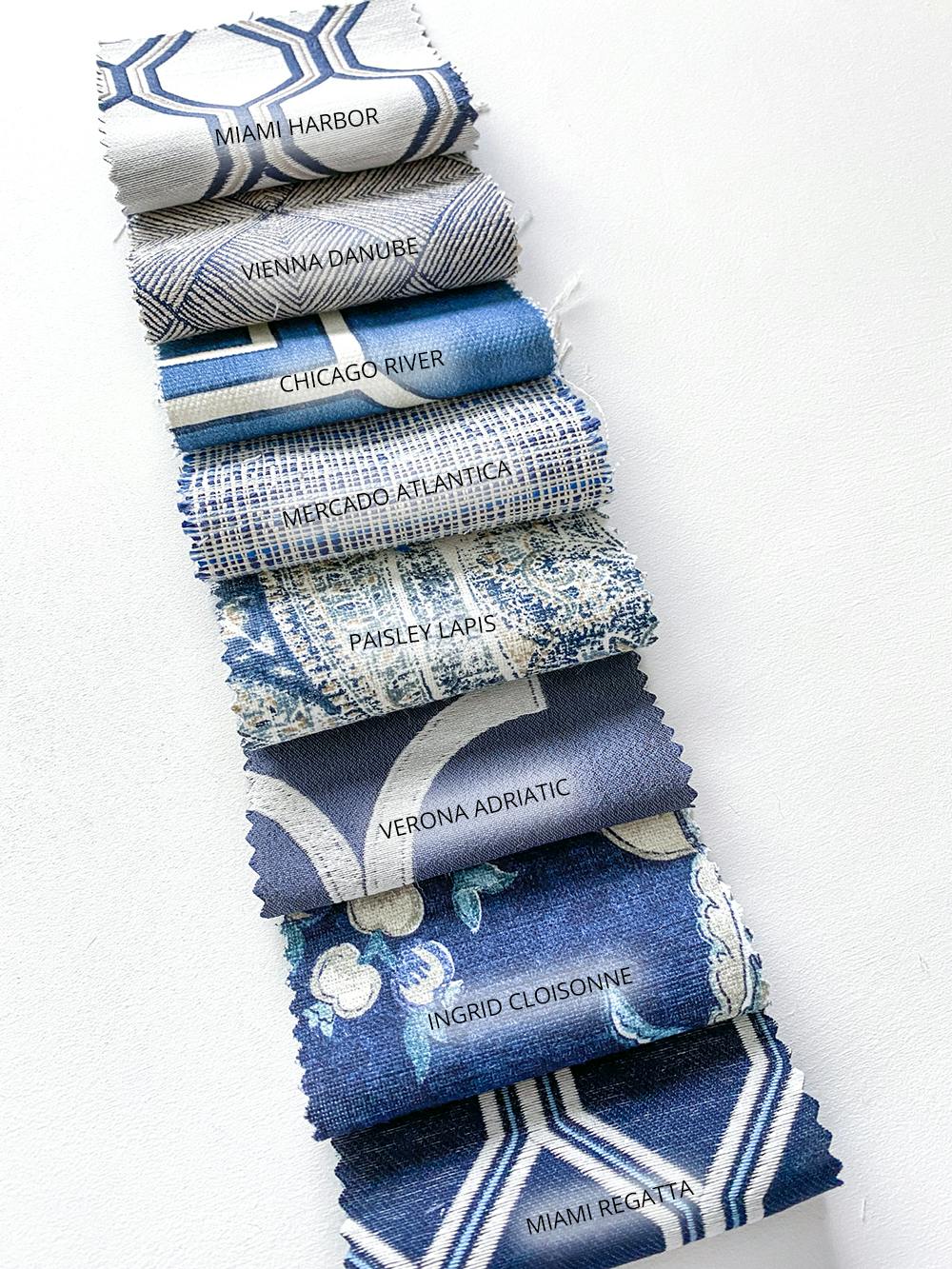 Things are getting dark and moody! For those who fancy deeper shades of blue or are looking to add a bit of contrast to a bright space, we have a variety of patterns to choose from that are proven to make a bold statement in any room.
Florals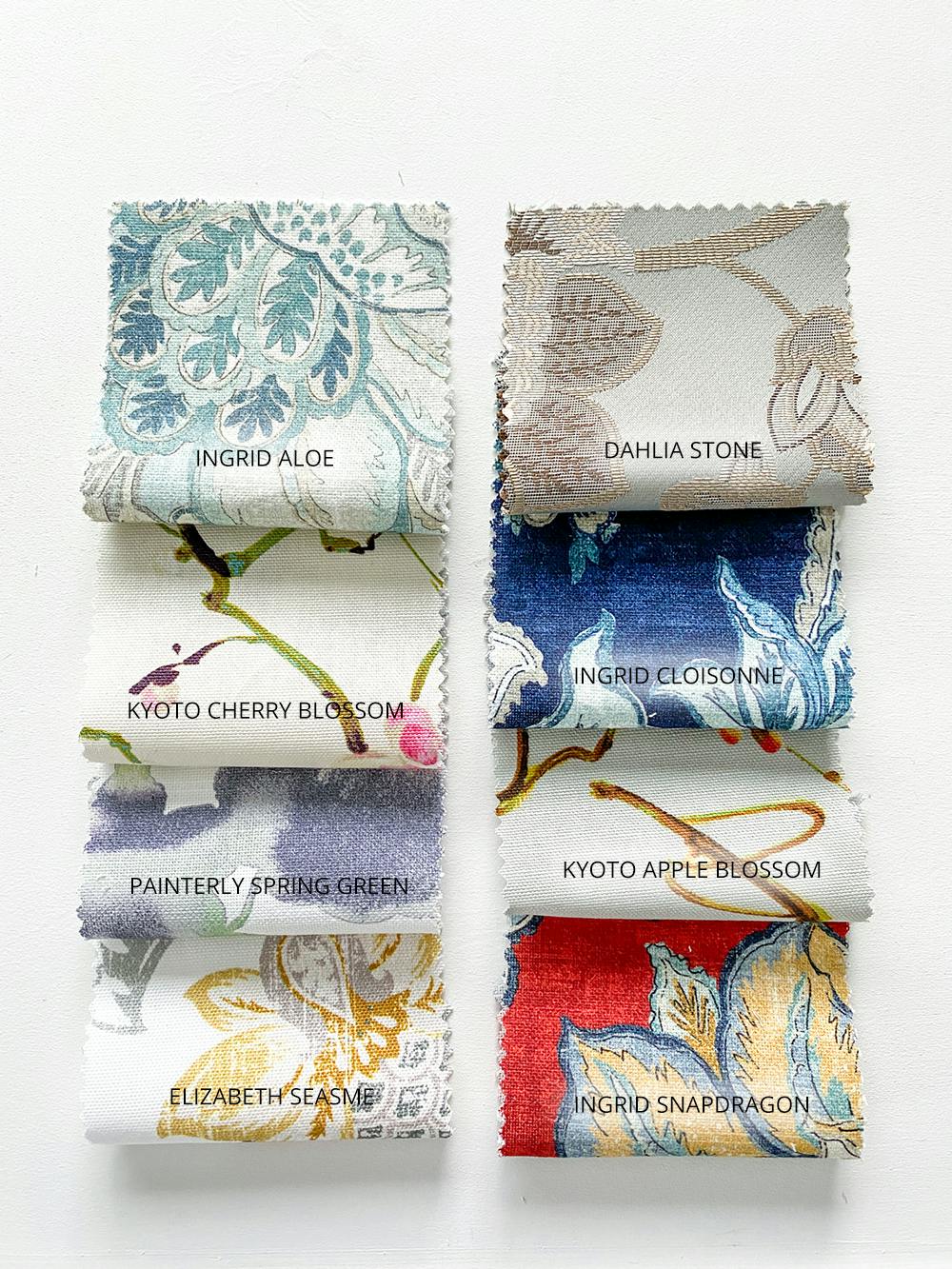 Want to give your space some personality? Try a whimsical, floral print to set your windows into full bloom.
Linen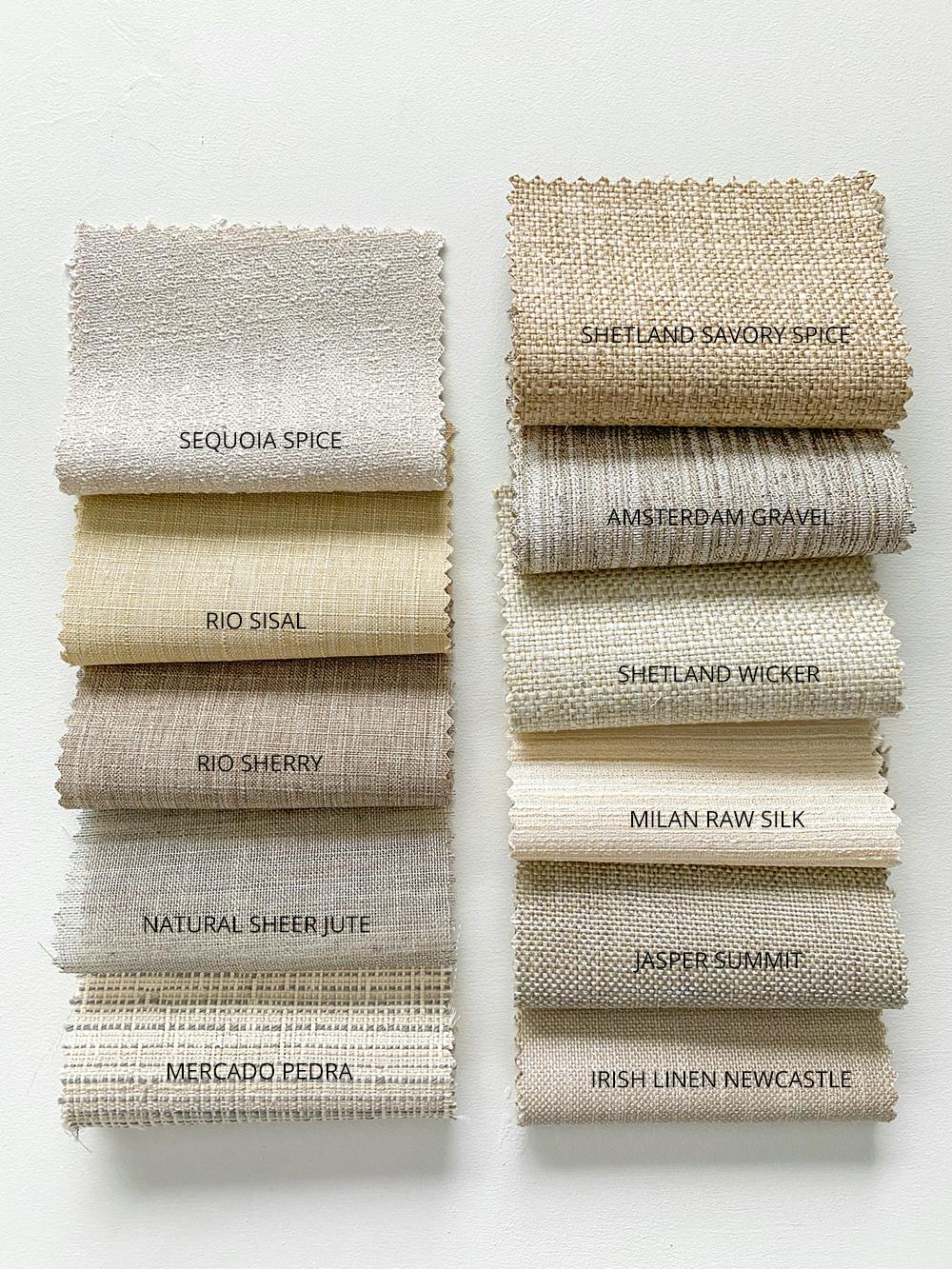 Choose from this gorgeous range of neutral-toned linen fabrics with a variety of textures to refresh your space.
Mercado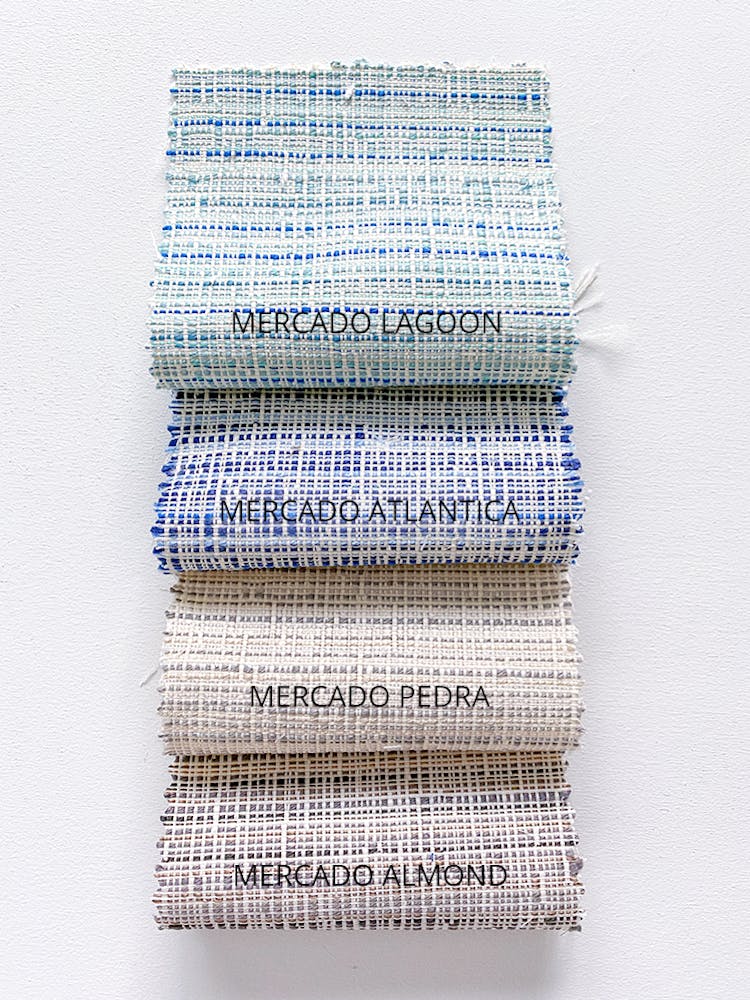 Want to add texture to your windows? Mercado is described as a medley of subtly blended colors in a horizontal texture.
Natural Sheer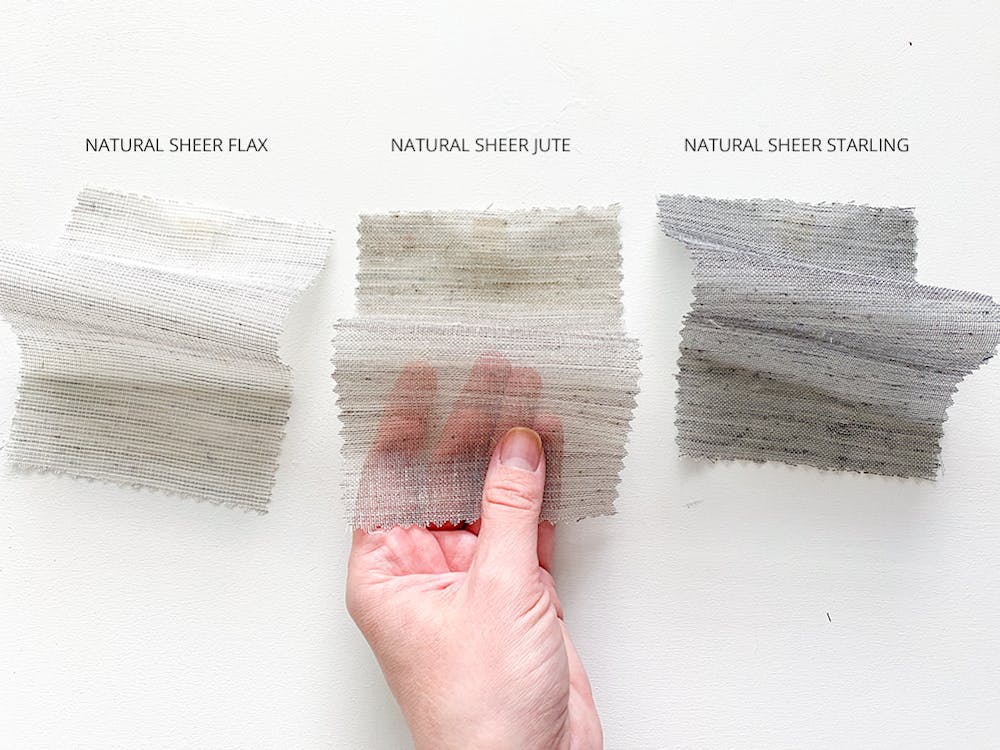 Natural Sheer, the first sheer fabric introduced in this line, is a trio of cool neutral fabrics that will give a modern, high-end look to any space.
Whites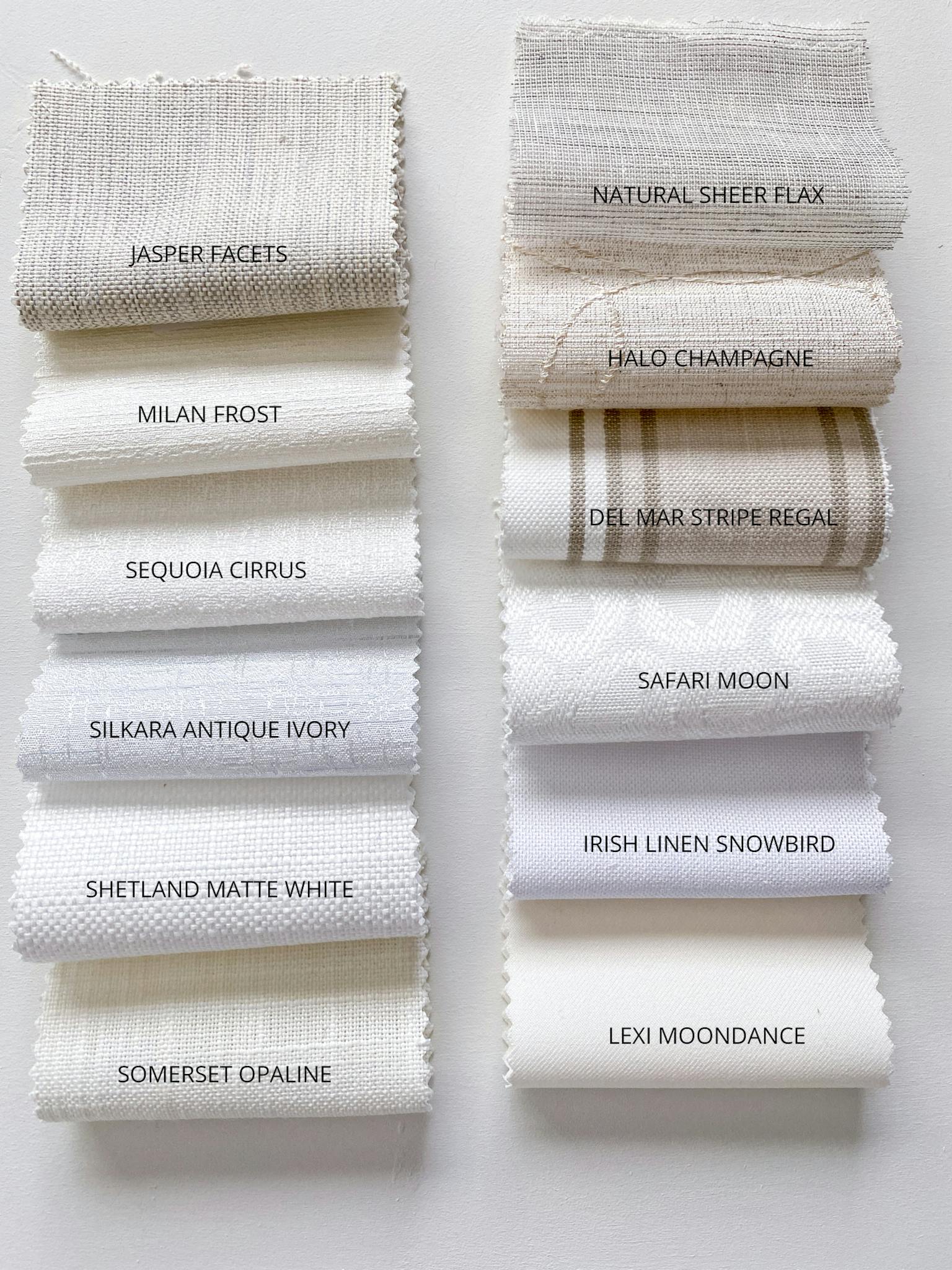 While most customers go with white, we have plenty of textural options to still add some interest to your windows. Bring sophistication and elegance to your space with any of these cutting-edge white prints.
Woven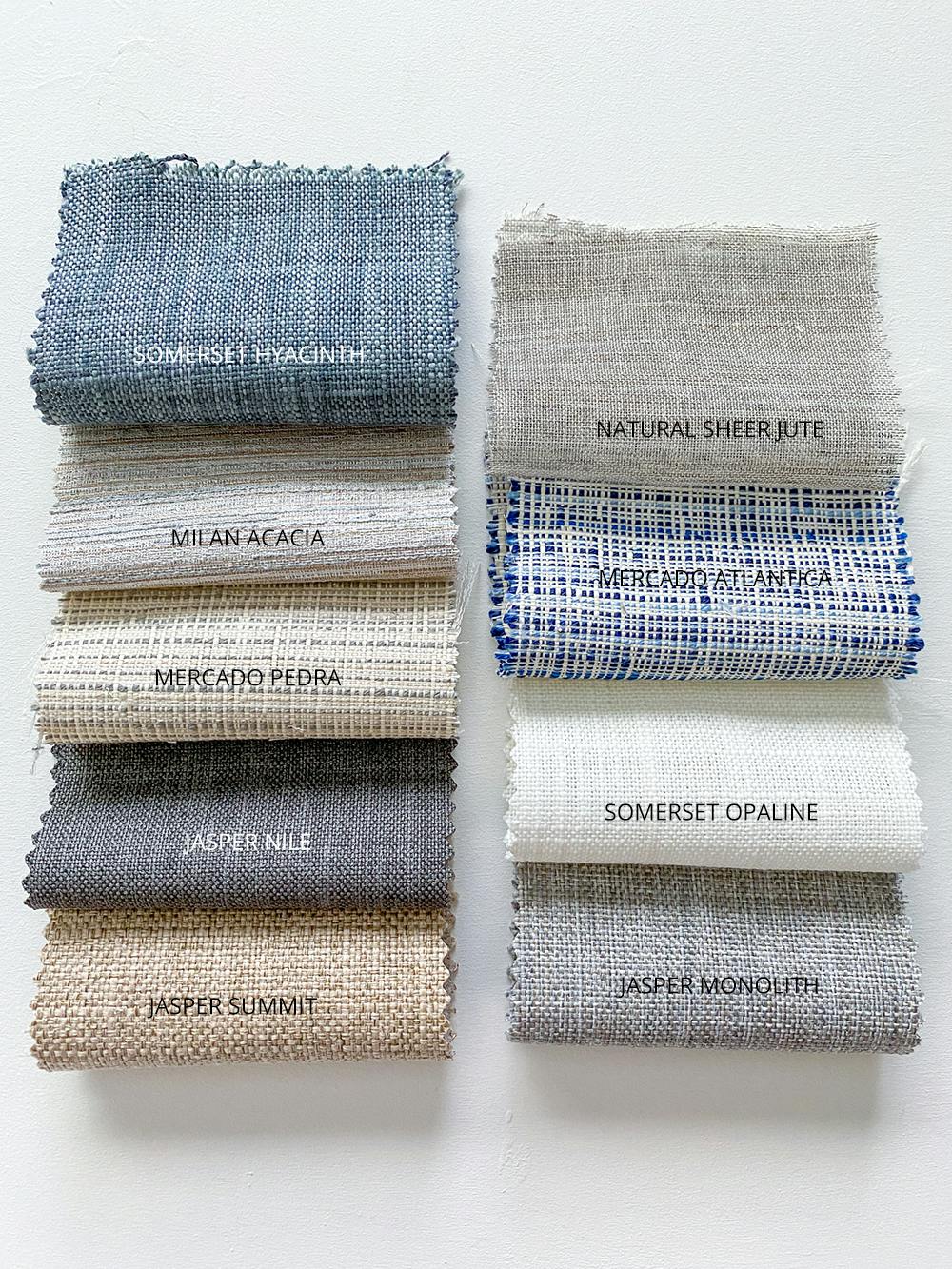 Want your windows to stand out? Choose from whites, greys, browns, and blues to bring some intrigue to your windows with textured, woven fabrics.
What do you think?
Now that you've seen all of our new Premium Roman Shade fabrics, which one stands out to you? Let us know your thoughts! Join the conversation over on our Instagram @blindsdotcom. Also be sure to follow us on Pinterest for endless color and design trend inspiration.
More Inspiration
19 Times Linen Roman Shades Looked Effortlessly Cool
20 Trending Window Covering Looks to Inspire Your 2022 Makeover
Spring Color Trends: 3 Fresh Palettes from Designer Stacy Garcia