As the Blinds.com office's resident podcast junkie, I'm excited to share 2 decorating/DIY shows that make me want to do chores around the house just so I can listen.
You may ask yourself, "Why would you want to listen to someone talk about decorating, without seeing anything?" To address this problem, both shows cover general guidelines and strategies for decor, and have a blog post to go along with each episode in case you want to look at photos of what they're discussing.
What I love most about these shows is that they allow me to see a more casual, off-the-cuff side of some of my favorite bloggers. You're going to love these guys as much as I do, promise!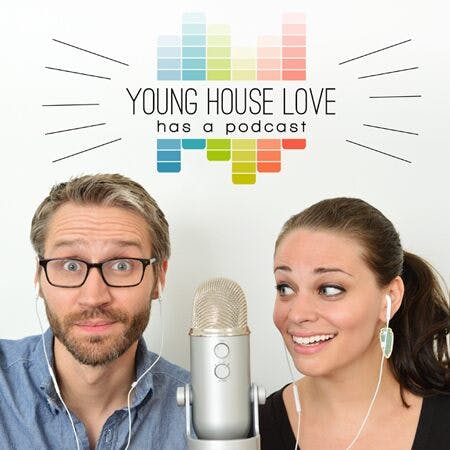 The Hosts:
John and Sherri Petersik were some of the first bloggers to make it big about 10 years ago. They've gone on to publish 3 books, develop product lines and much more. Two years ago they took a step back from blogging, which left loyal readers with major withdrawals…until they launched their weekly podcast!
The Show:
On the show, the YHL duo interviews top designers like Genevieve Gorder, plays silly games like "pick the fake paint color name" and share renovation updates for the 100 year old beach house they just bought.
Why You'll Love It:
These two are hilarious (they're both witty advertising writers) and they have an incredible design sensibility that's full of color and life. Plus, they do all of their projects on an average budget, so they're not too out of reach.
Recommended Episodes:
#14: What Quitting Our Blog Taught Us
#21: How the Heck Do We DIY With Kids Around?
#24: Renovating a Kitchen in Under a Week (Crazytown!) - Hear our next featured hosts interviewed!
#26: Are You Sitting Down? We've Got Big News!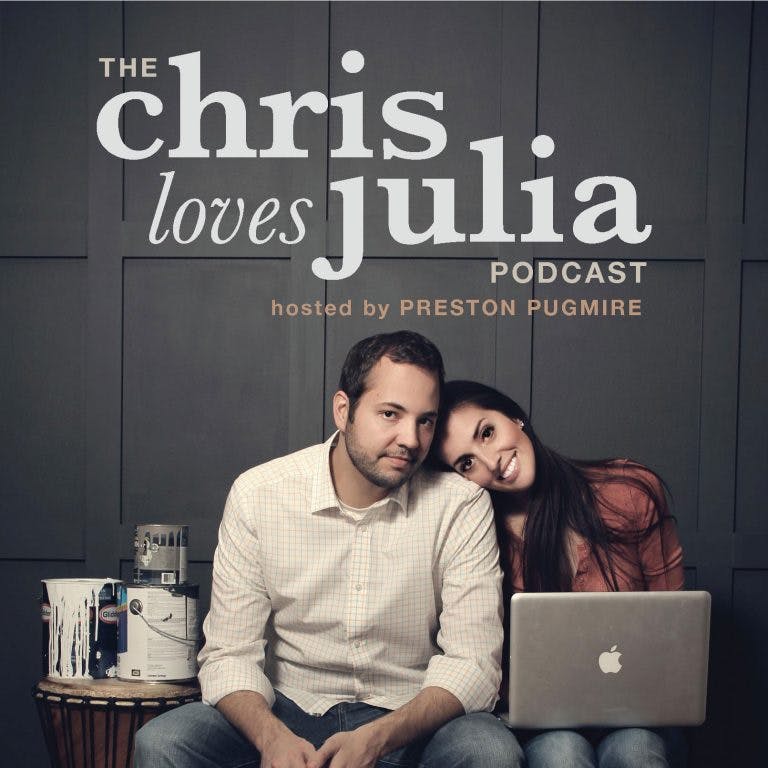 The Hosts:
Chris and Julia have been blogging about their home since 2009, and in that time have seen their style evolve from budget makeovers to a polished uniform look. Chris is a chef/web designer who's a whiz with the power tools and Julia is an interior designer who has a knack for explaining complex decor concepts in simple terms.
The Show:
Julia and Chris have a third co-host, their friend and audio producer, Preston Puigmire. Together the trio quizzes each other about obscure home decor terminology, Julia breaks down complex topics like paint undertones and they share updates on their latest projects.
Why You'll Love It:
If you're starting from scratch decorating or renovating a home, this is the show for you. I started listening just after buying my first home and all the topics they covered seemed to align perfectly with the decisions I was making about my home.
Recommended Episodes:
#4: A Beautiful Mess W/ Elsie Larson. Wardrobe Style = House Style
#12: Here We Are Now, Entertain Us
#13: Shea McGee of Studio McGee: The Sun is Gone But I Have A Light
#16: I Am on a Drug and It's Called Paint Sheen
17: John and Sherri Petersik of Young House Love: Buildin' on a Budget Pt. 1 (Do those names look familiar?)
Other Shows to Check Out
Here are some other design/DIY shows that I found in my research but haven't listened to myself. Check them out and let us know what you think!
Style Matters from Little Yellow Couch
What Do You Listen To?
We want your podcast recommendations, decor related or otherwise. Send them in the comments below or write to us on social media!