You've spent so much time decorating your room to fit your tastes, but does it look better in person than in pictures? We'll show you how to take Instagram-worthy photos of your home with these 7 tips.
1. Turn On Grid Mode
Turning on grid mode in your camera's settings gives you a framework to work within so your photos appear level and balanced. Line up the edge of your window or back of the couch so they are parallel to the grid. Learn how to turn grid mode on for android phones here or iphone here.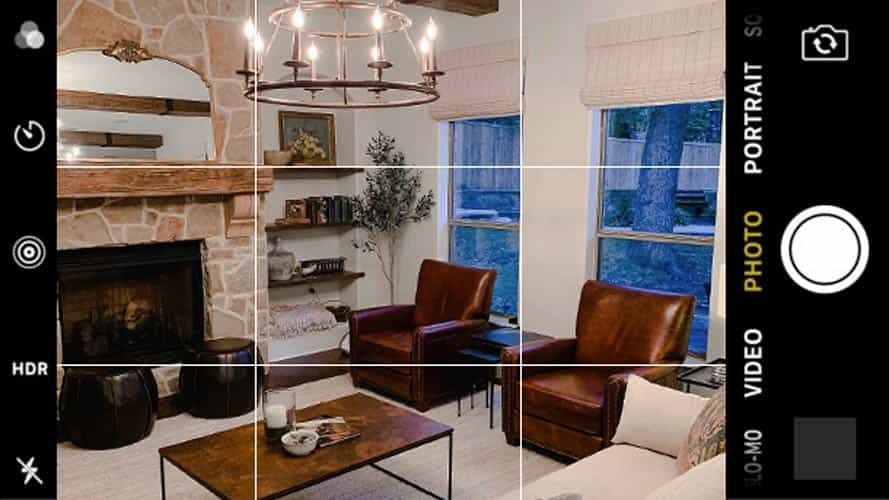 Pictured: Blinds.com Premium Roman Shade in Linen Stripe Vanilla-Stone. Photo via @ourhouseyourhome.
2. Use A Tripod
Are shaky hands making all your photos crooked or blurry? Consider using a tripod! A tripod keeps your photo's focus crisp and clear in dimly lit rooms. Don't have access to a tripod? Stabilize your photo by leaning against a wall or keeping your arms tucked close to your sides instead of stretched out in front of you. The closer your arms are to your body (center of gravity), the more it will help reduce shake and blurriness.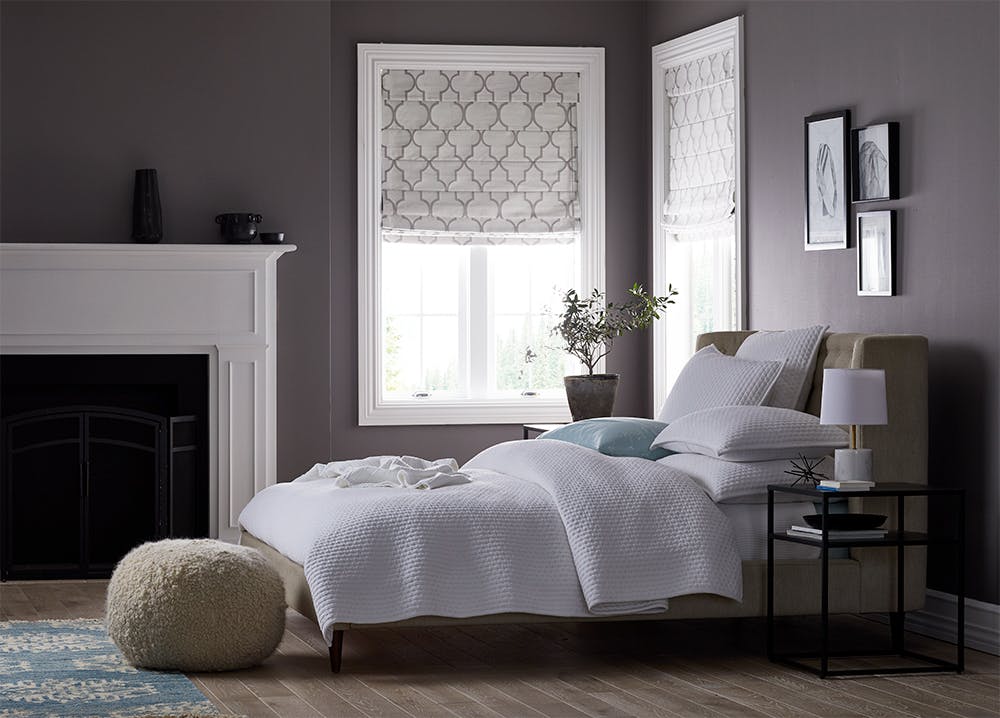 Pictured: Blinds.com Premium Roman Shade in Verona Dove
3. Open The Blinds
Open your blinds or shades and let in the natural light! Daylight is so much better for photographing a room than artificial light. It softens shadow edges and makes a room feel more open and spacious. Consider what time of day your room gets the most natural light and experiment with the height of your shades. Try having the shades or blinds open at noon when the sun is at it highest or closed at sunset when the sun's angle sends the light shining directly into your windows can also give you a really nice, soft glow.
Just before dusk or early in the morning usually give the best lighting conditions. But experiment and see what works best with your lighting situation.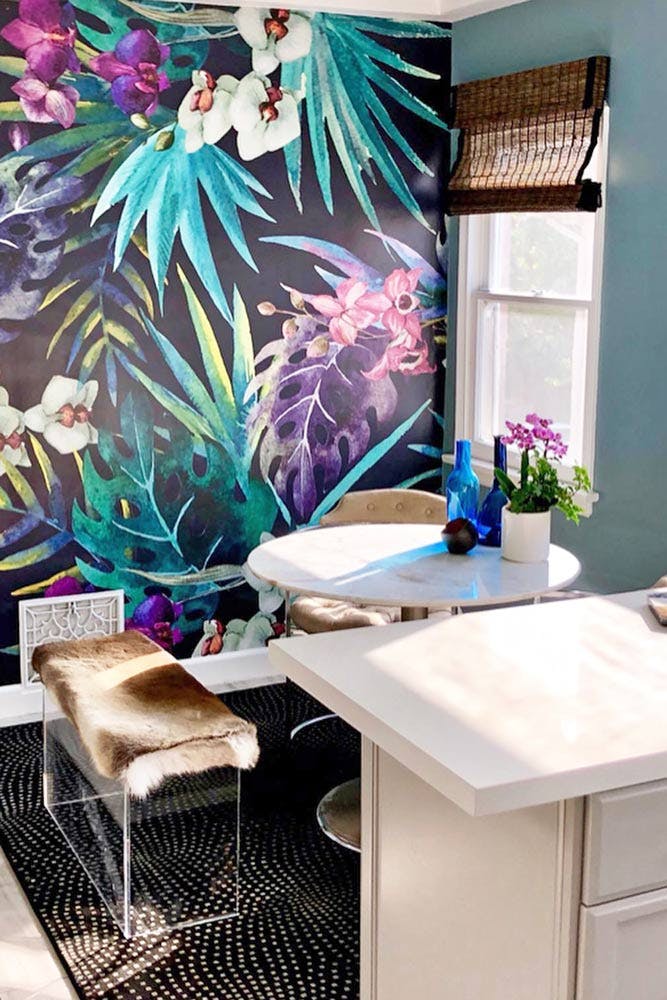 Pictured: Blinds.com Woven Wood Shade in Brunswick Bark. Photo via @spencerbarnesla and @stephen_william89
Closing the blinds can help to reduce glare! This is especially nice if your shades are light filtering because the fabric acts as a diffuser and softens the light coming into the room.
Also test overhead lighting versus turning on lamps to see which works best too! Sometimes overhead gets you better lighting coverage other times it can create dark shadows and make a space feel small. A well placed lamp can help fix dark shadows! It's all about experimenting to see what works best in your room.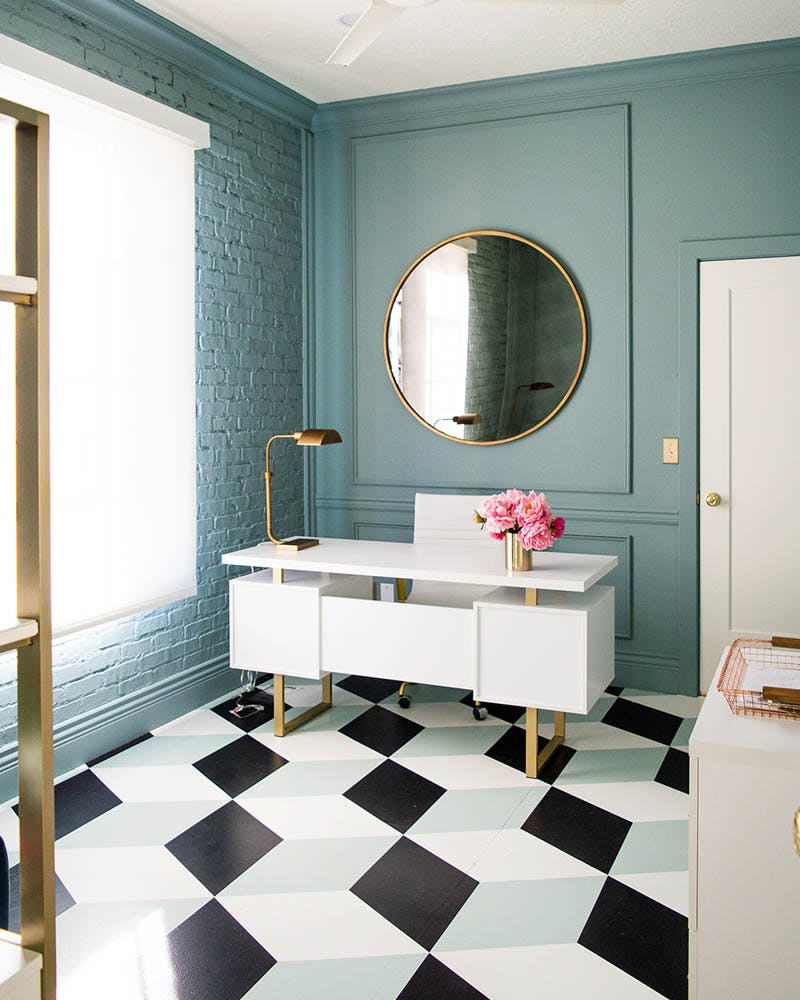 Pictured: Blinds.com Solar Roller Shade in Monterrey 5% Cloud White. Photo via @houselarsbuilt.
4. Go Easy on the Flash!
Your camera's onboard flash is tiny and does not produce enough light to flatter a room. It can create unflattering shadows which will reflect harshly off any hard surface creating a glare. Turn on more lights or open your blinds to fill the room with natural light.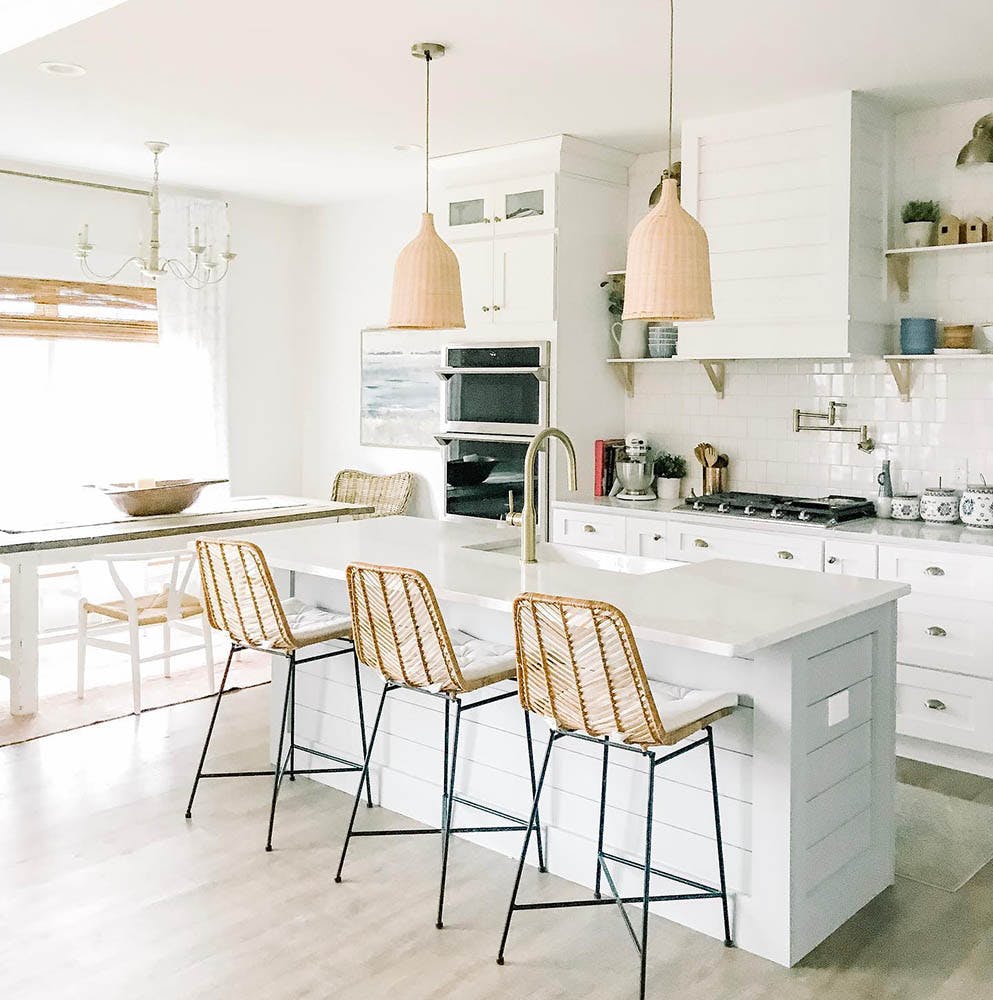 Pictured: Blinds.com Cordless Woven Wood Shade in Winthrop Camel. Photo via @threefilliesfarm.
5. Choose a Focal Point and Perspective
Take a moment and identify the most interesting thing in the room you'd like to highlight. Is it your bold statement couch or beautiful Woven Wood Shades?
Touch that item on your camera's screen to be sure it's in focus. Then move your phone to place it where any of the grid's intersecting lines meet. Placing the focus to one side instead of dead-center makes for a more interesting photo composition.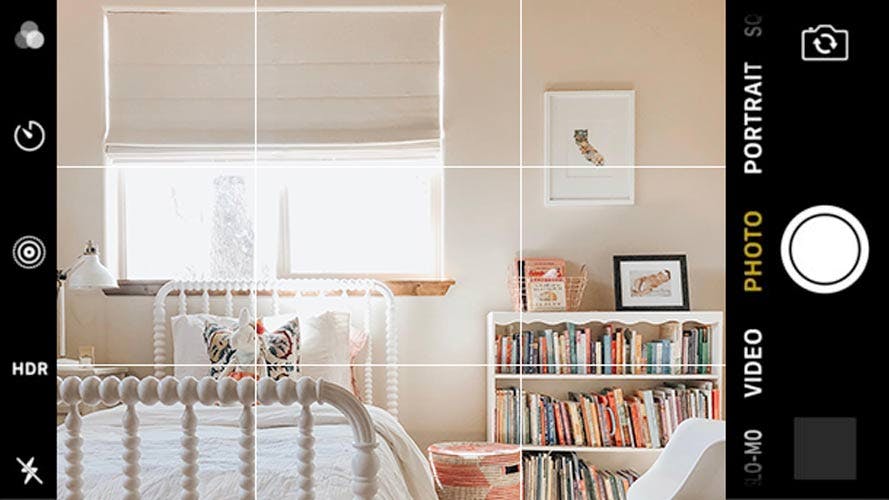 Pictured: Blinds.com Premier Roman Shade in Sussex Flax. Photo via @wrenandwilde.
While we're talking about composition - try taking your photos from a slightly different angle. Crouch or take the photo from waist level for a more dramatic perspective. This can also make a room feel taller too.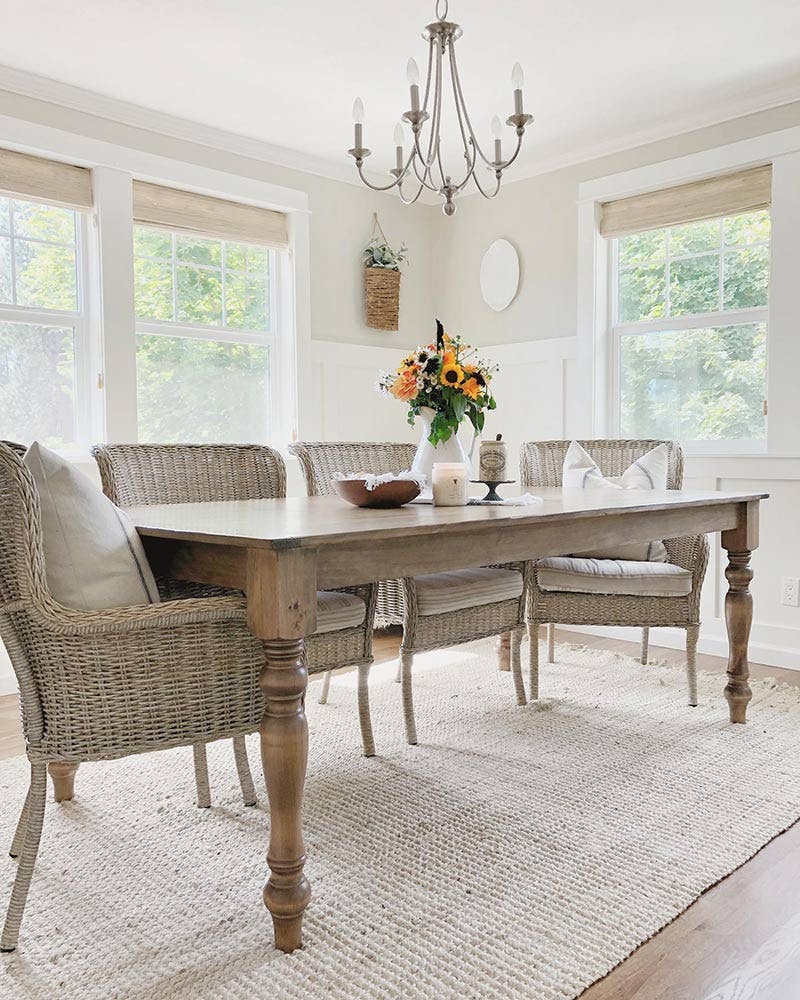 Pictured: Blinds.com Woven Wood Shade in Rustic Jute. Photo via @lavenderbrookfarm
6. Use Zoom Sparingly
Photos can start to look pixelated or blurry if you're zooming in too much. So use the zoom sparingly, especially if you're photographing on your phone. A good rule of thumb is not exceed 2x when zooming, or even better, take a few steps closer to retain the photo quality while getting a more detailed shot.
And remember, you can always artfully crop an image later to hone the focus on focal point.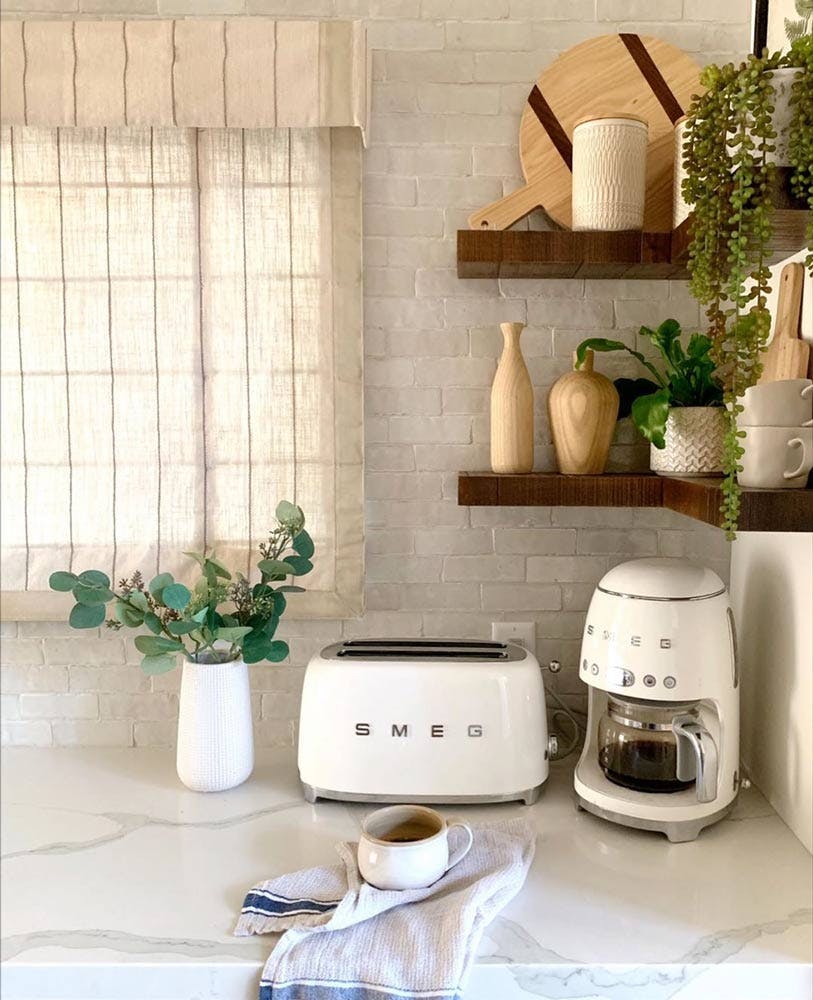 Pictured: Premium Roman Shade in Linen Stripe Vanilla-Stone. Photo via @kismet_house.
7. Clear Out Clutter
Tuck away dangling cords, scattered shoes, remote or anything else that can kill the mood of your photo. Small trays or baskets can help corral miscellaneous odds and ends.
Plus a bit of minor staging like draping your favorite throw blanket over the arm of a chair can make your room feel "lived-in" and authentic without feeling messy or cluttered.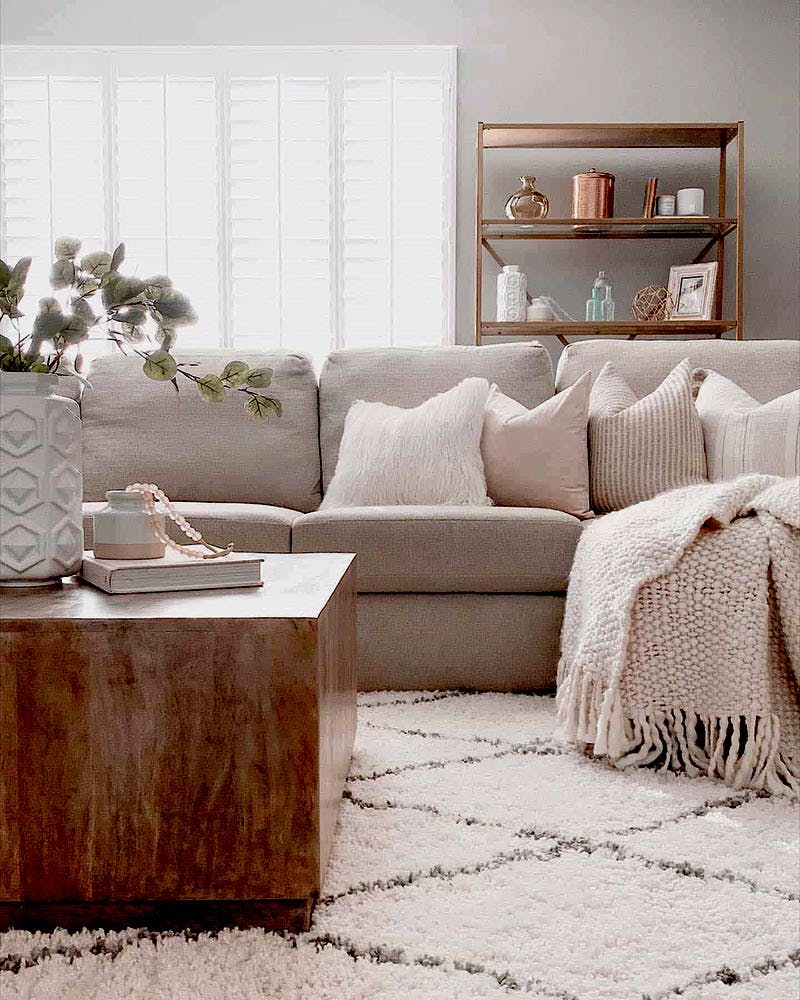 Pictured: Check out our Free In-Home Shutter Consultation Program. Photo via @blindseyj
Send Us Your Photos!
Show us your beautiful window photos! Tag @blindsdotcom and show off your new window treatments on Instagram.
Need help with measuring or install? We've got you covered with our professional measure and install service!
Read More: