Many homes have cathedral-style windows that follow the roof line creating angle bottom, or trapezoid windows that are a challenge to cover. Some choose to leave these unique windows uncovered, but with that much glass - heat, glare and privacy can be a major concern.
Blinds.com has a new collection of angle top window treatments that are tailor-made to fit non-standard window shapes. These options allow you to highlight the unique shape of your window, rather than leaving part of it uncovered.
When you're ready to order, learn more about how to measure for angle top and angle bottom windows.
Vertical Blinds for Angle Top Windows
If you have floor to ceiling sloped windows, sleek and easy-to-operate Bali Angle Top Vertical Blinds are a great solution.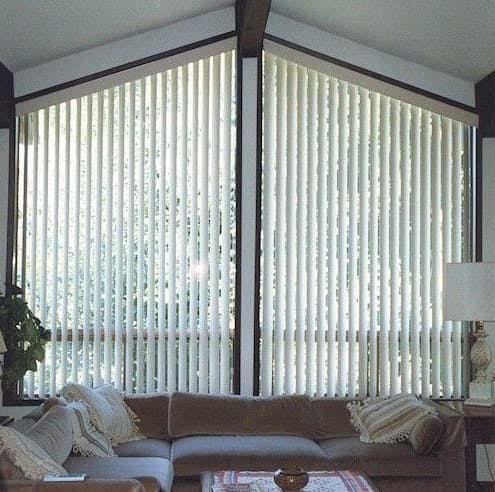 Vanes can only be opened towards the highest point of the window. They will be operated by a pull cord which takes the stress off of pulling your vanes "uphill" and allows you to position your blinds exactly where you want them without sliding back down.
Unlike other options which can only be raised or lowered, vertical blinds give you adjustable light control. Many people choose to tilt vanes open and closed and seldom uncover the window completely.
These blinds can be made at a maximum size of 144 inches wide and 144 inches high depending on the angle. The maximum angle is 55 degrees.
Shop Bali Angle Top Vertical Blinds
Cellular Shades for Angle Top Windows
Give odd shaped windows privacy and a modern look with cellular shades.
They're a great solution for windows that let in a lot of heat, because cellular shades trap air to insulate windows. Choose from single cell or double cell to add extra insulation. These shades are also available in light filtering or blackout fabrics so you can choose exactly how much light you want to let in.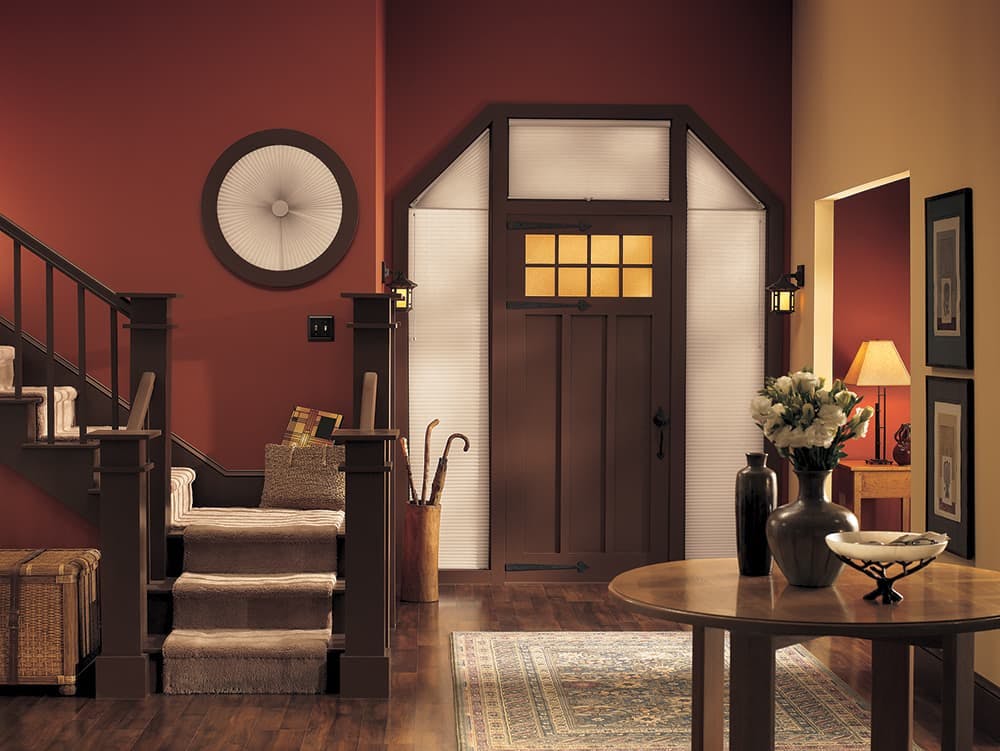 These shades look like standard cell shades until they reach the angled portion of the window where the cellular fabric fans out. They can be operated in the straight portion of the window, but the angled section will stay stationary. Angle top shades will raise from the bottom up and angle bottom shades will lower from the top down.
If your windows are high out of reach, we can request an extra long cord for easy operation. This option can only be added on by Blinds.com's designers, so call us at 800-505-1905 to request it.
Shop Bali Angle Top or Bottom Cellular Shades - Available in Light Filtering and Blackout.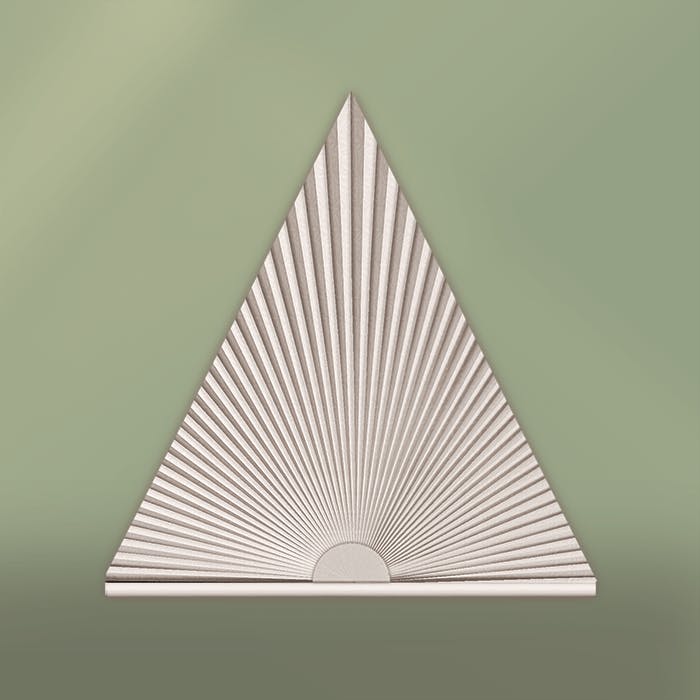 Inoperable cellular shades can also be made for triangle windows. Speak with a Blinds.com designer at 800-505-1905 to custom order one of these shades.
Mini Blinds for Angle Top Windows
If you have a triangular window and prefer horizontal slats to vertical, angle top mini blinds are a great solution. Like vertical blinds, they give you adjustable light control so you can accommodate changing light throughout the day.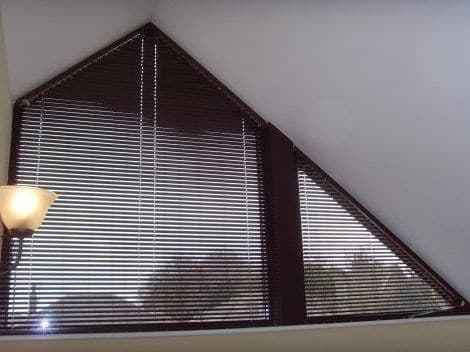 These blinds are made with high quality 6 or 8 gauge aluminum. They're a durable option that's a great fit for commercial spaces or modern decor. All angle or triangle aluminum blinds will be made with a wand tilt.
Shop 1 Inch Angle Top Mini Blinds.
Shutters for Triangle Windows
Wood Shutters and Faux Wood Shutters can be custom made to practically any size or shape - octagons, ovals, you name it.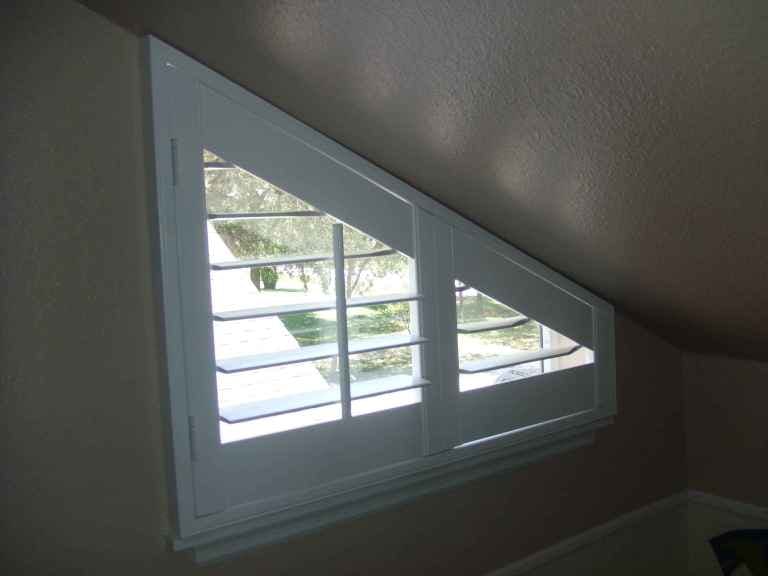 To get the fit exactly right, you'll often have to make a paper template of your window and sends it in for the factory to work from.
Call Blinds.com designers at 800-505-1905 to place an order for angle top shutters.
Struggling to Cover Other Odd Shaped Windows?
There are many window covering options for arches, circle, hexagon, trapezoid and other specialty shape windows.
Learn more with these resources:
Odd Shaped Window Coverings Photo Gallery
Blinds for Odd Shaped Windows: Circle, Oval, Octagon + Triangles
Picking the Perfect Arch Window Treatment
How to Cover a Trapezoid Window