There have been LOTS of exciting innovations in home theater and entertainment technology in the last 10 years: instant streaming, 3D, VR...
Not as many people are going to the movie theater anymore and are instead opting to stay home and create their own home theater oasis! Whether you prefer to kick back to watch the big game, binge your favorite series or play games on the big screen, home theaters and entertainment centers are on the rise! But with so many window treatment options and opacities, how do you know which one is right for you?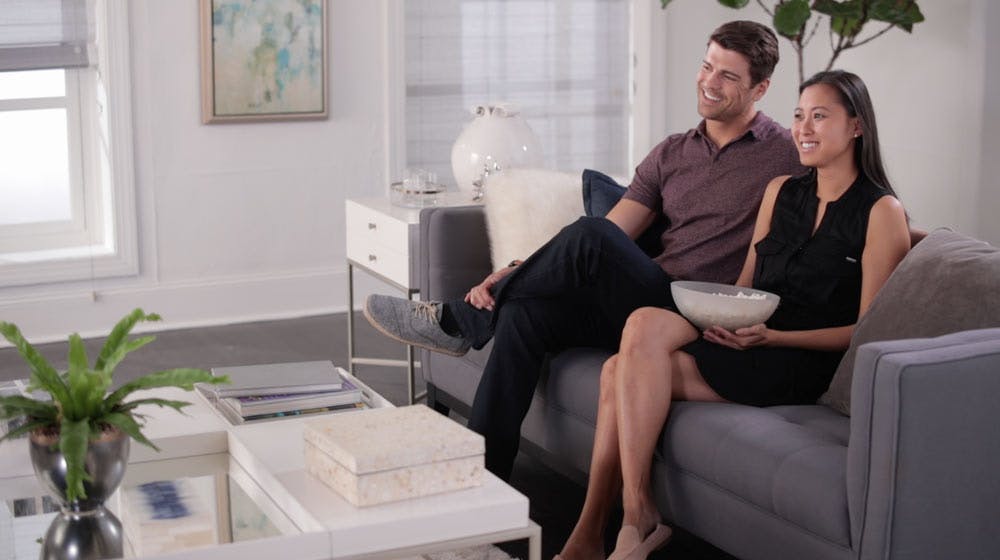 The Best Window Treatments For Home Theaters
One of the most important components for making your home theater feel like a real theater is blackout window treatments. You'll want to choose blackout over light filtering to eliminate window glare completely, for a light-free viewing experience that will make your favorite movies and shows come alive. While most window treatments can be customized to suit a home theater, here are the top 4 we recommend for home theaters and media rooms.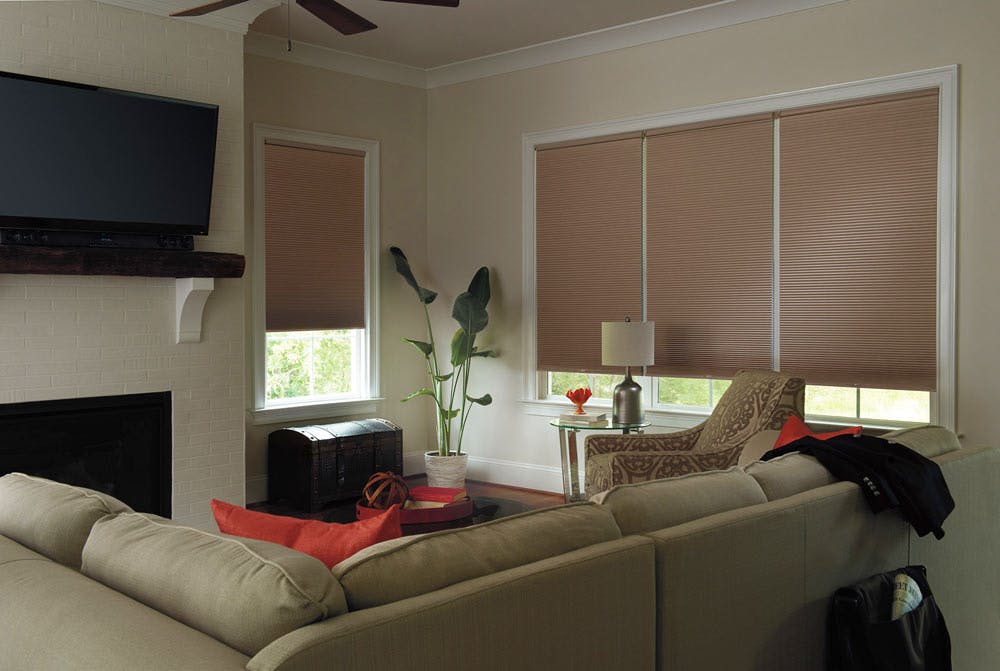 Pictured: Levolor Blackout Cellular Shades in Designer Colors Blush.
1. Blackout Cellular Shades
Blackout cellular shades are the perfect window treatments for home theaters and media rooms. In addition to blocking window glare and glow from the street lights, they also help insulate! The honeycomb pockets create a barrier that help reduce heat transfer in a room keeping your home theater at a comfortable temperature.
They come in dozens of colors so no matter what aesthetic you're going for, cellular shades have something for you. As an added bonus they retract to a small size, so you won't sacrifice your view.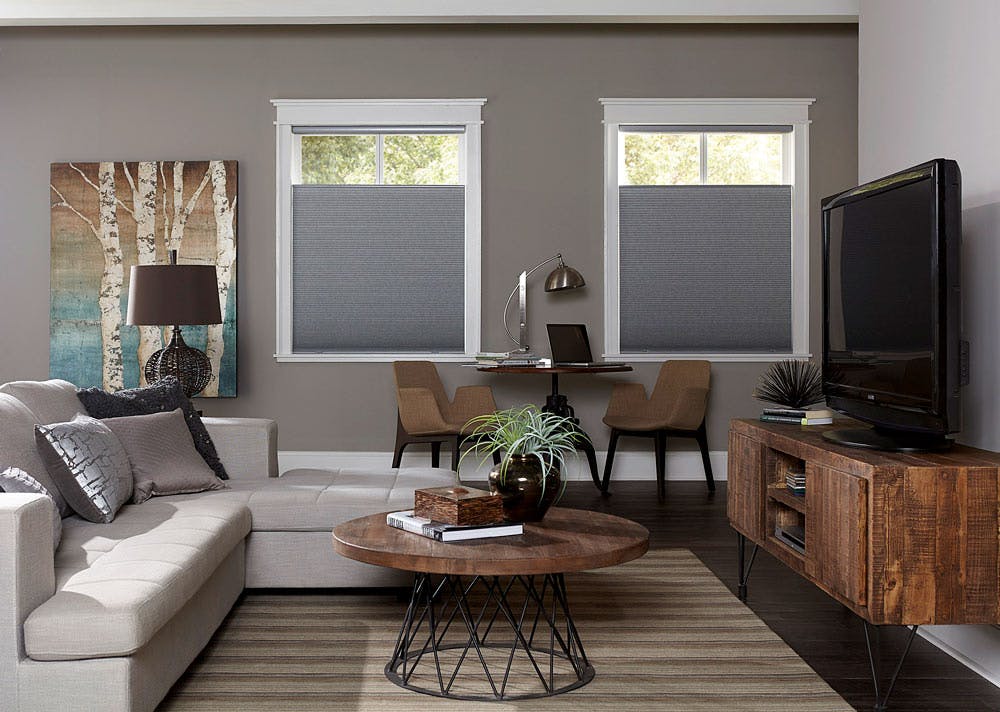 Pictured: Blinds.com Blackout Cellular Shades in Mineral.
2. Blackout Draperies
What's more classic than lush blackout draperies to make your home theater feel more like a real movie-theater? Adding a blackout liner to these beautiful window treatments gives you hotel-level darkness. The billowing fabric can also help dampen sound, which is perfect for rooms that struggle with echos or a lot of noise from outside. Layer these over a light filtering window treatment for a stylish look and maximum light control. They're a safer choice for family movie night too since they are completely cordless.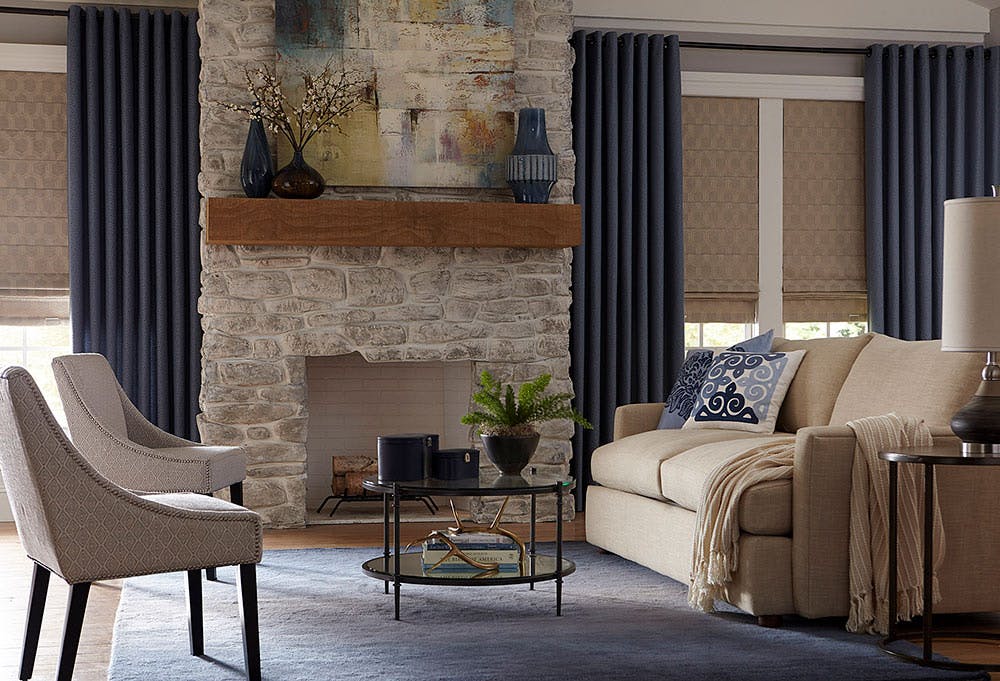 Pictured: Blinds.com Easy Grommet Draperies in Athena Aegean and Blinds.com Premium Roman Shade in Hexi Natural Gold.
3. Blackout Roman Shades
Adding a blackout liner to a Roman shade brings function and fashion together beautifully. These stylish shades mimic the look of draperies but fit inside the window frame and fold up. Often they can be made in the same fabrics as draperies which is perfect for coordinating a look in open-concept spaces or for a cohesive look throughout the home. Choose hobbled fold or add a valance for an old-timey stage inspired look.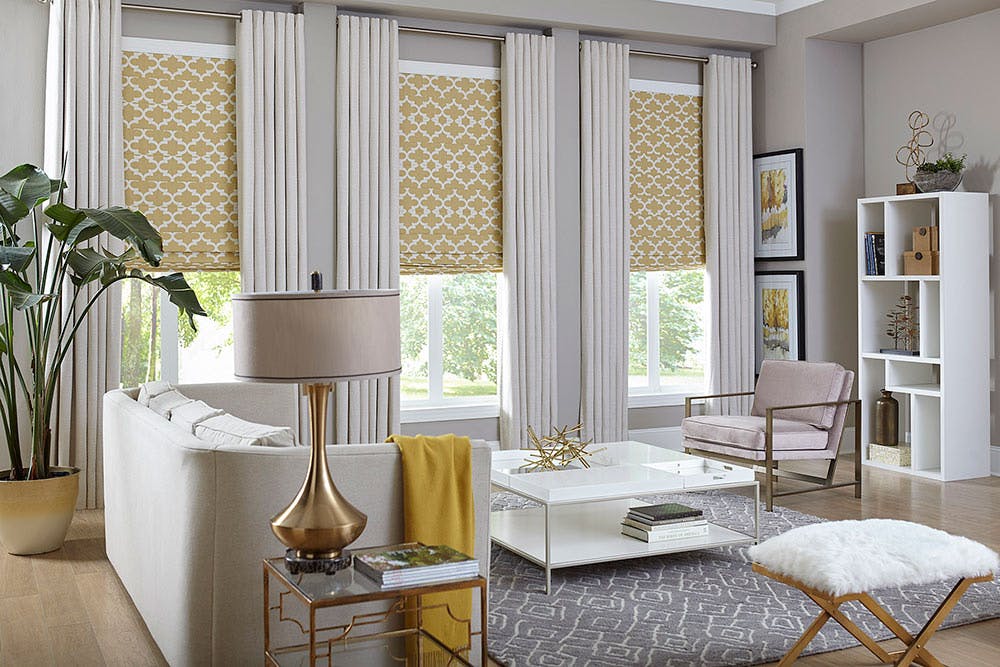 Pictured: Pictured: Blinds.com Easy Grommet Draperies in Brisbane Sand Dollar and Blinds.com Premium Roman Shade in Casablanca Sun.
4. Blackout Roller Shades
Blackout Roller Shades are perfect for modern spaces without all the extra fabric. They're sleek, taking up very little space in the window, rolling up into an optional cassette or valance. Super easy to clean and just as easy to operate. Choose a motorized lift for a home theater that feels super high-tech without ever having to leave your seat. Motorization is also great for hard to reach windows like skylights. It's safer for kids and pets too!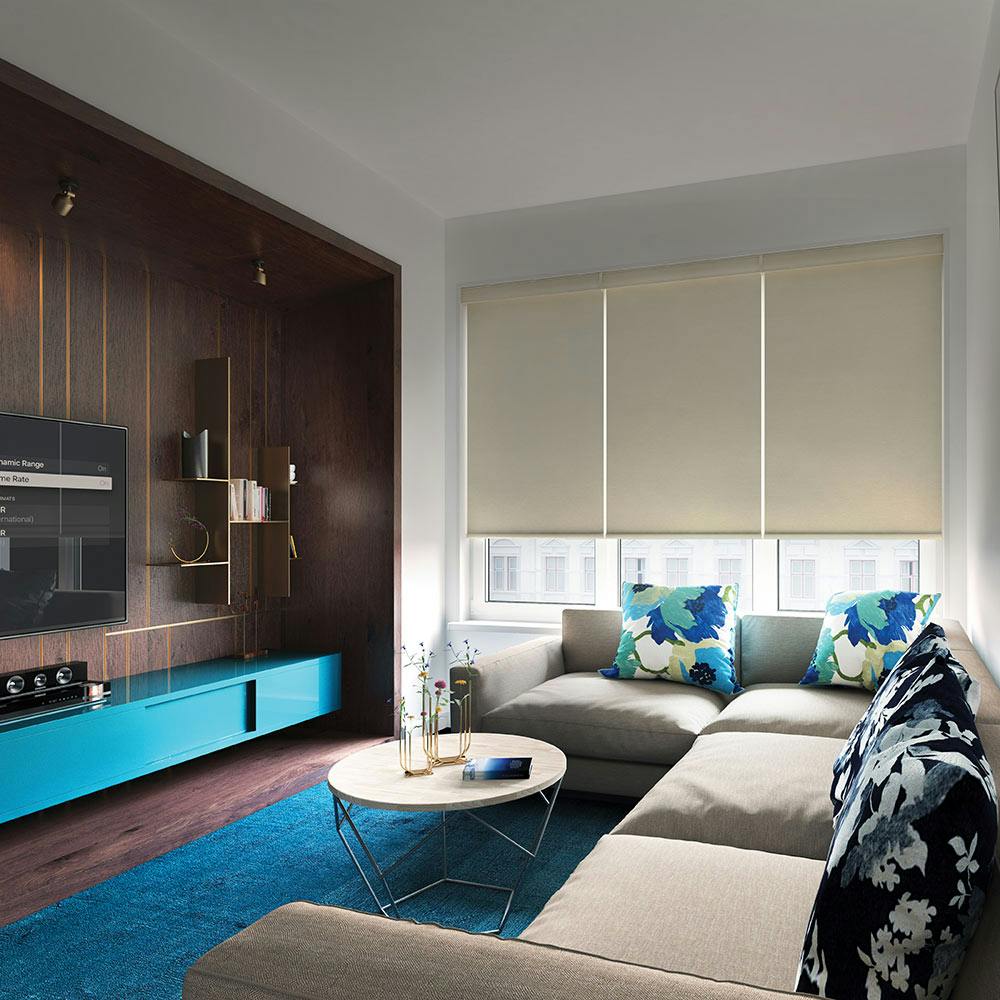 Pictured: Levolor Room Darkening Roller Shades in Tempest Blockout Cream
One thing to watch out for with roller shades are the light gaps that will happen on each side of the fabric. This is easily fixed by adding Light Blockers. These channels stick to the side of your window and maximize light blockage whenever installing roller shades.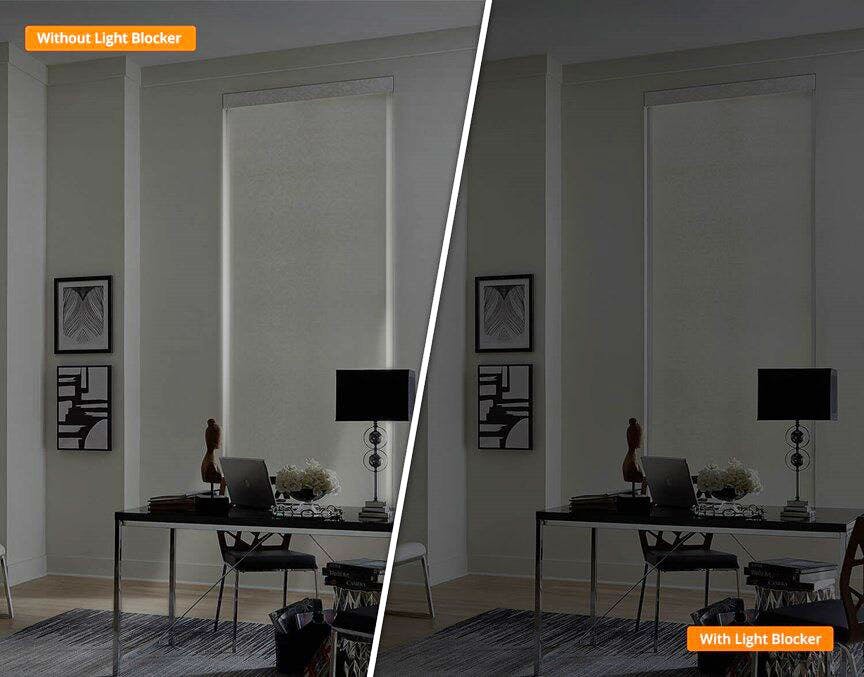 Pictured: Blinds.com Light Blockers in White.
Still Not Sure?
The help of our Design Consultants is always free. So if you're stuck choosing between fabrics or have a tricky window set up, give us a call! 844-551-3769. Also be sure to tag us in photos of your completed home theater @blindsdotcom- we'd love to see how your window project turned out!
Read More:
Get Ready for Game Day - Best Window Treatments for Media Rooms
Are Faux Wood Blinds Room Darkening?
Room Darkening vs Blackout: What's The Difference?