Blinds 101: How To Shop For Window Treatments
Has lack of knowledge ever kept you from buying and installing blinds and shades yourself?
At Blinds.com, we believe that anyone can learn their way around a window in no time at all. Follow the Back to Blinds School guide below – master each subject and move from a blinds beginner to a blinds expert!

English – Blinds Vocabulary
To learn more about blinds, it's best to understand some basic vocabulary. Below is a list of words you're likely to come across when shopping for window treatments.
The Basics
Blinds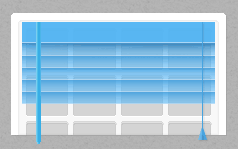 What makes a window blind different from a shade is that a blind has slats that can be titled to control light. Blinds are generally made from hard materials like aluminum, wood and faux wood.
Shades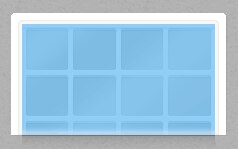 Window shades are generally made out of a soft material or fabric, and raises all at once. While shades don´t have slats, you can customize the opacity of the materials to allow more or less light into your home.
Inside Mount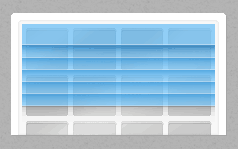 An inside mount means you're hanging the blind or shade inside of the window casing. We recommend an inside mount whenever possible.
Outside Mount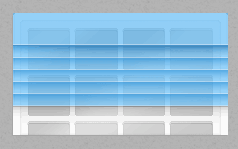 An outside mount means you're hanging the blind or shade outside of the window casing. This may be necessary for shallow windows or windows with cranks and other obstructions.
Mathematics – Measuring for Blinds
Worried about making the wrong measurements? In addition to our SureFit™ Guarantee, which covers you in the unlikely event that you make a measuring mistake, we also have measuring instructions for every type of window treatment.
But if you're unsure about what type of product you want to buy just yet, here are the basics of measuring for your windows.
Tips Before You Start

Use a steel tape measure for best accuracy.

Round each measurement to the nearest 1/8".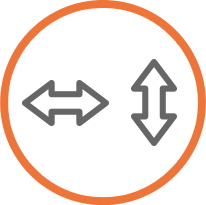 Always record width (left to right) first, and then height (top to bottom).
Step 1: Choose Inside or Outside Mount
First, choose whether you want an inside mount or an outside mount for your window. Inside mounts are great for highlighting attractive moldings or giving your window a clean, simple look. Outside mounts offer more privacy and can hide unattractive windows. These are simply a matter of preference, but we do recommend an inside mount whenever possible.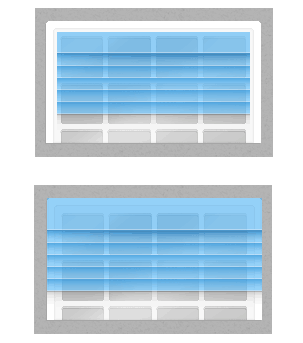 Step 2a: Measuring Your Window (Inside Mount)
Mounting Depth
Measure the depth of your window frame from the wall to the glass. Keep this measurement on hand – it'll help you when you're shopping for products later, as all products have a minimum depth requirement. If your windows are too shallow for all the products you're interested in, simply choose an outside mount.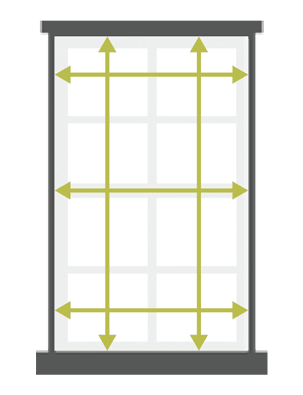 Measure Width
Measure the exact window opening at three places: top, center and bottom. Record the narrowest measurement of the three, and round to the nearest 1/8″.
Measure Height
Measure the exact window opening at three places: left, right and center. Record the tallest height and round to the nearest 1/8″.
Notes: Inside mount products will have small deductions made by the factory that are necessary in order for the product to work correctly. Do not make your own deductions!
Step 2b: Measure Your Window (Outside Mount)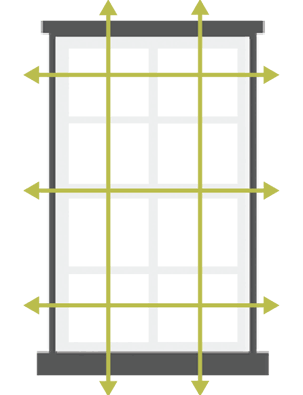 Measure Width
Measure the width of the window opening, and add 3″ on each side (6″ total) to fully cover the window and allow for more privacy and light blockage.
Measure Height
Measure the height of the window opening down to the window sill, and add a minimum of 2½ " in height to your measurements for the mounting brackets.
Notes: For an instance where you're using an outside mount with window molding, we recommend mounting above the molding. You can specify "Additional Clearance Depth" in your order – we'll include projection blocks, special pieces that give you additional clearance to get around the molding.
Step 3: You're Done!
Wasn't that easy?
Measuring instructions will have slight variations based on the product you're ordering, but this will be enough to get you started measuring for the majority of blinds and shades we offer.
The Science of Choosing Blinds
If you're not sure what type of blind or shade would work best in your home, a few considerations might help you narrow down your choices. There are a number of distinguishing factors that make each type of blind unique.
Insulation
Did you know that window treatments can help insulate your windows and save money on electricity and heating bills? As much as 20% of your home's energy could be lost through your windows, which means they're extremely important in keeping your monthly bills down. The following window treatments can have the greatest impact on your bills:
Cellular Shades

The unique, stylish honeycomb design of cellular shades provides a great boost to your window's insulation. The air pockets, or cells, trap air to make sure your energy stays right where it belongs – in your home!
Solar Shades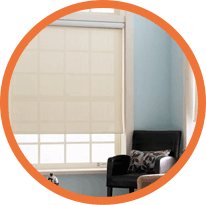 Solar shades allow you to let in natural light and enjoy a gorgeous view without exposing your furniture and carpet to sunlight damage. Solar shades help decrease the solar gain in your home, protect your furniture and belongings and lower your electricity bills – and all with a beautiful array of textures, colors and styles to choose from.
Shutters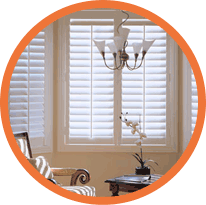 In addition to adding long-term value to your home, shutters have an added benefit—they trap air and block light, giving you insulation and privacy all at once.
Home Economics – Designing Your Rooms
Of course, all the science and practicality in the world doesn't compare to the unmatched look of a window treatment that complements your room in every way. If choosing window blinds and shades is a matter of working out your inner designer muscles, here are some tips to follow.
High-Fashion Options
Woven Wood Shades – A favorite among interior decorators, woven wood shades bring the natural beauty of the outdoors right to your windows. Made from all natural materials including reeds, bamboos, twine, jute, flax, wood and hemp, woven wood shades are a blend of both classic and modern sensibilities – and happen to be eco-friendly, too.
Shutters – Many consider classic plantation shutters to be the pinnacle of window treatments. They´re sturdy, made of beautiful hardwoods and will look splendid in any window for years in a way that really adds long-lasting value to your home.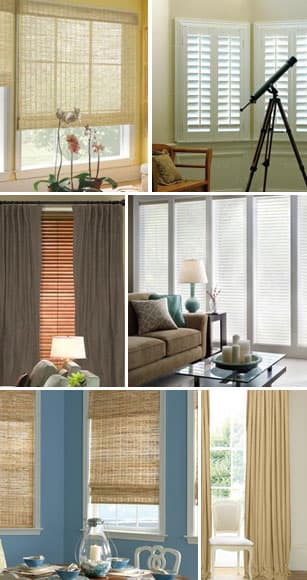 Draperies – An elegant solution for covering windows with opulent flair, draperies are timeless and distinct. Find bold colors and traditional and contemporary fabrics that will dress your room up perfectly.
Sheer Shadings – Sheer shadings are unique in that they´re made up of two layers of soft fabric that give a breezy, wispy quality to your windows. Sleek and slim, these shades work like regular blinds but have the soft see-through quality of a shade.
Play Matchmaker with Your Windows – Ordering Samples

Not sure if the blind and shade you want matches the rest of your room? You can mix, match and compare styles with FREE samples from Blinds.com! Choose from packs of our most popular colors, or simply add the products you want.
You can get up 10 samples shipped to you at no cost whatsoever. Play designer with different styles, colors and textures, all to give your home that look you've been waiting for.
Shop Class – Installing Window Blinds and Shades
Installing your own window blinds doesn't require a master craftsman or even a handyman. All you need are a few tools, some basic knowledge, your window treatment and a few minutes of time – and in some cases, not even all of those things…but we´ll get to that.
The tools you'll need to install most of our products:
Screwdriver, Drill, Level, Measuring Tape and Pencil.

Installation Steps
Installing the mounting brackets – To start your installation, you will have to install the mounting brackets into your window frame (for inside mount) or above and around the window (for outside mount). This involves just a few screws, and maybe some pre-drilling depending on your window casing. For a wider window, you'll need center support brackets, which will hold up the middle of the blind. A level and measuring tape will be your best friends here, to make sure that the mounting brackets are in a straight line.
Installing the blind or shade on the brackets – Next, you'll place the blind or shade into the brackets, which typically involves simply snapping the product in place. Depending on the type of window treatment and lift mechanism (cordless, continuous cord loop, top-down/bottom-up), this process will be slightly different.
Installing the valance – Most valances attach to the product with simple valance clips, so this step is just a matter of clicking two pieces of hardware together and lining them up.
Installing the optional parts – Some blinds come with hold-downs (to keep them attached to walls or doors), some with tension devices to keep a cord against a wall, etc. The last step of installation is attaching these to your wall, as indicated by your product's instructions.
And that's it! Blinds and shades typically only take 10-15 minutes to install apiece. However, if you run into any difficulties, we always have installation professionals on hand to answer any questions. And if you're still too concerned about installing your own window treatments, we provide professional installation services as well!
Want an Easier Installation? Try InstaFit™

Still want to do it yourself, but don't want to use tools? InstaFit™ is our newest, exclusive product – it installs with no hassle, no tools and in no time at all. Because of its patent-pending design, InstaFit can be snapped into your window frame in just seconds, just like hanging a shower rod. You get all the benefits of a beautiful, custom, cordless honeycomb shade without any of the time associated with installing a regular blind or shade – all at a great low price.