If there's anyone we've been dying to see style a nursery (or any room for that matter!), it's Brittany from The House that Lars Built. Brittany is a design and DIY blogger known for whimsical projects, an affinity for rainbows and all around great style. When we found out that she was expecting a little one, we couldn't wait to see what inspiring wonderland she would dream up for her baby boy.
We were honored to partner with Brittany on her Studio Window Makeover last year (also featured here) and jumped at the chance to help with her nursery makeover.
The House that Lars Built Studio Gets Light (and Shade!) with 2-in-1 Motorized Shades
Whimsical Nursery Makeover with Roller Shades and Embellished Drapes
When Brittany found out that she was expecting a little boy, she decided to think outside the box for his space and style - not just limiting it to things emblazoned with "Lil Slugger."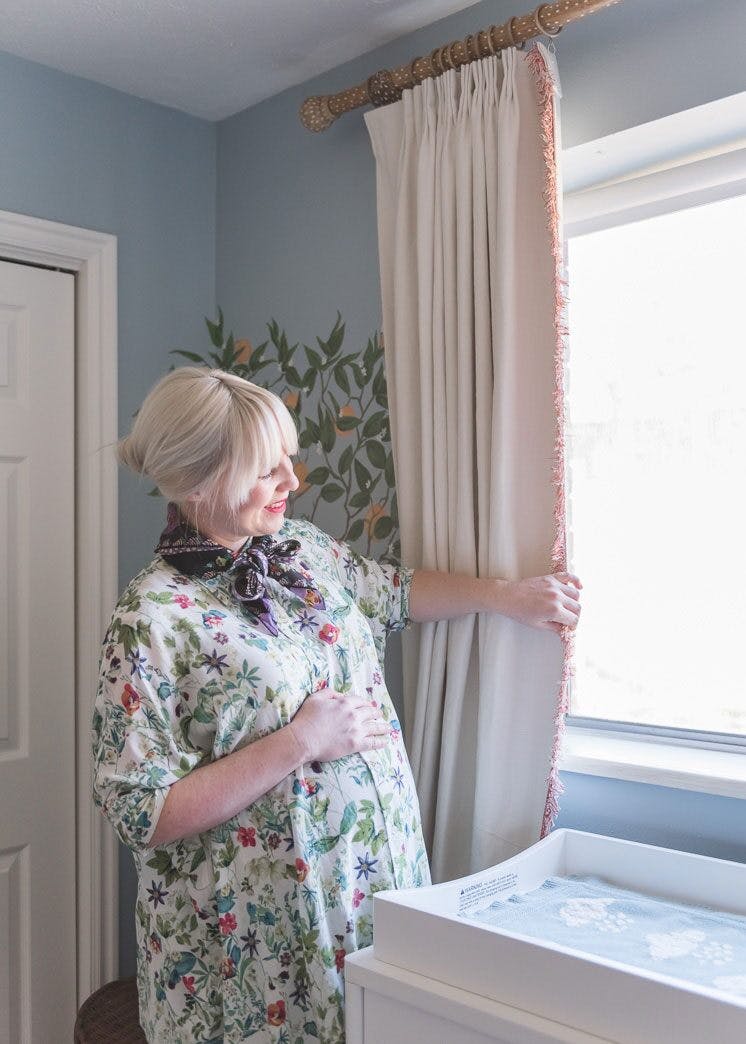 The nursery started as a beige blank canvas with old vertical blinds that needed to go. (To everyone reading this - vertical blinds for small windows are a no-no!)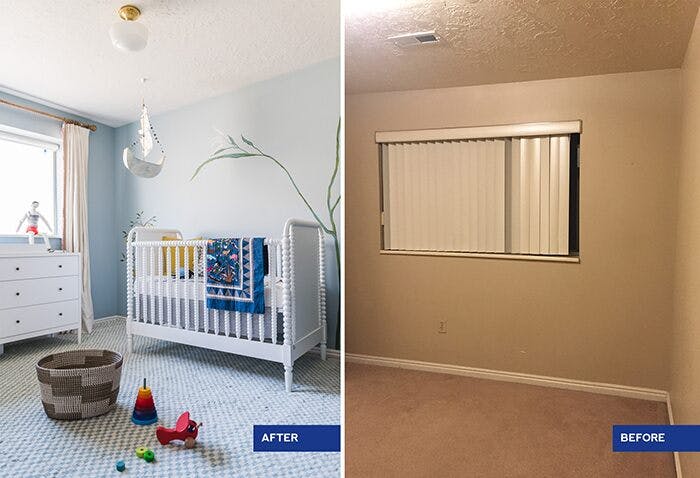 Brittany worked with Blinds.com designer Danielle to ditch the verticals and get a clean slate with Premium Solar Roller Shades.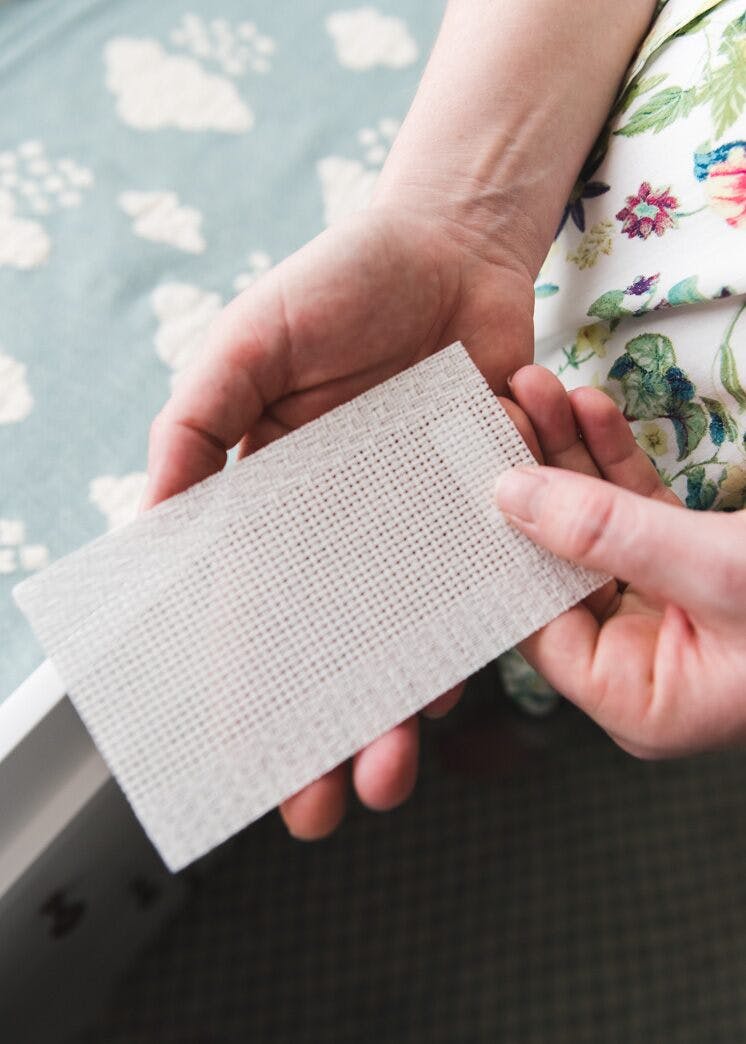 Brittany Says:
I love the idea of being able to control the light with some sort of sun-filtering system. Danielle recommended their Premium Solar Roller Shades. This is what we have installed in our studio and I LOVE them so much. Rollers it was! I wanted a color and pattern compatible with the palette I was working with so Danielle sent me sample options in a variety of colors and textures. In the end, I chose an off-white textured pattern, Sarasota Off White, as I thought it would add a nice texture and keep it fitting with the rest of the room.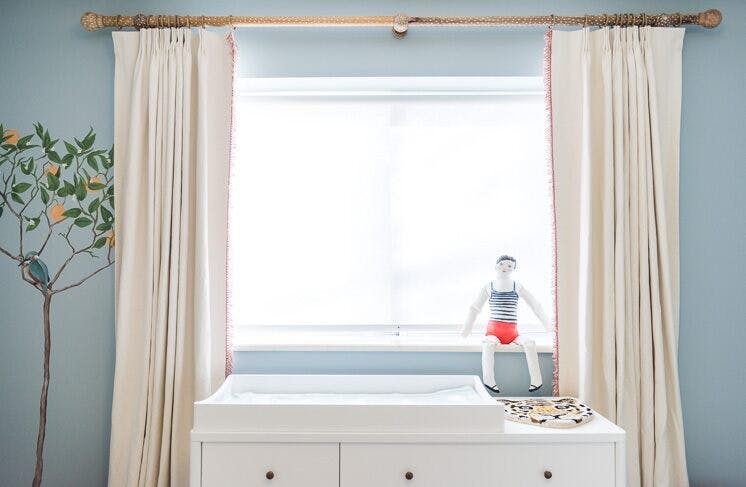 The cordless lift means that Brittany can just tug on the end to raise and lower, plus it's a safer choice for kids.
Guide to Safer for Kids Window Treatments
Brittany Says:
"The beautiful part of the rollers is that they're cordless so all you have to do is pull it and then lift it to bring it back up. So easy. Being so close to the changing table, I knew it would be important to not have some long cords hanging off that baby could potentially play with."
To add some softness and the ability to block out light, Brittany layered Easy Classic Pleat Draperies in Gent Bisque on top. The curtains have a blackout liner, so Brittany can switch from glowy filtered light from the roller shades to complete blackout for nap time.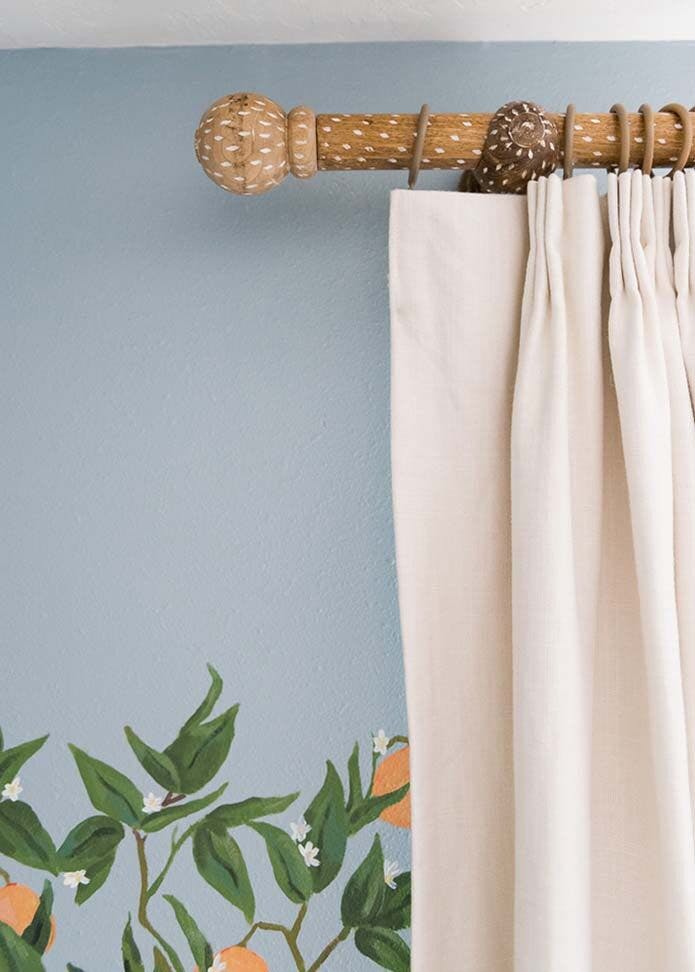 Handmade Details for a Nature-Inspired Nursery
Brittany put her crafty skills to work to give the curtains an extra pop of personality. She sewed some red and white fringe trim on the inner edge to tie into other red accents in the room.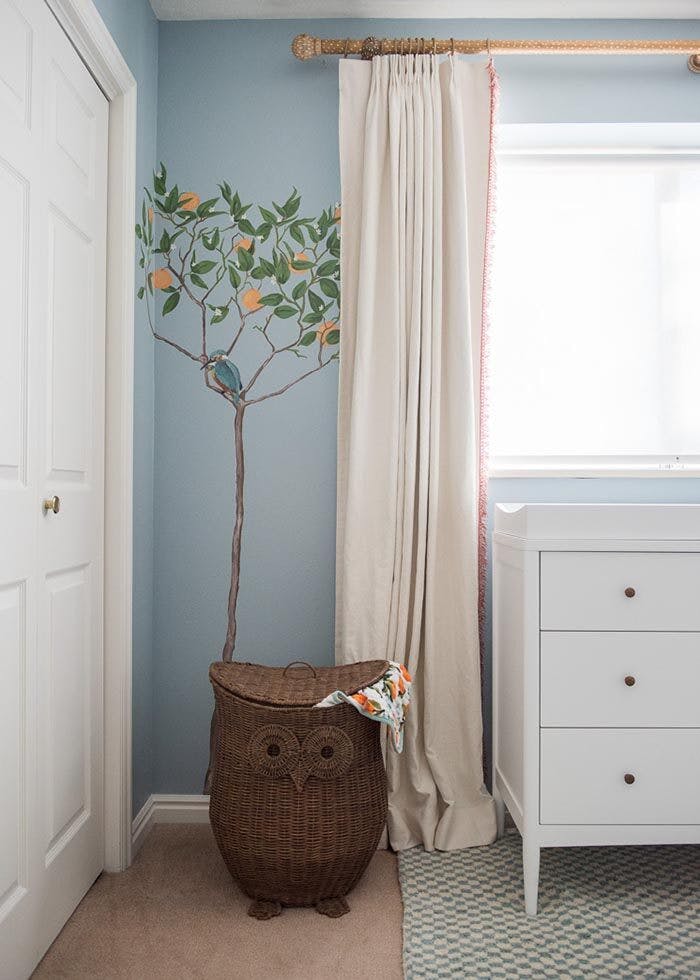 Brittany decked out the rest of the nursery with charming details like a plant and bird mural custom painted by her intern.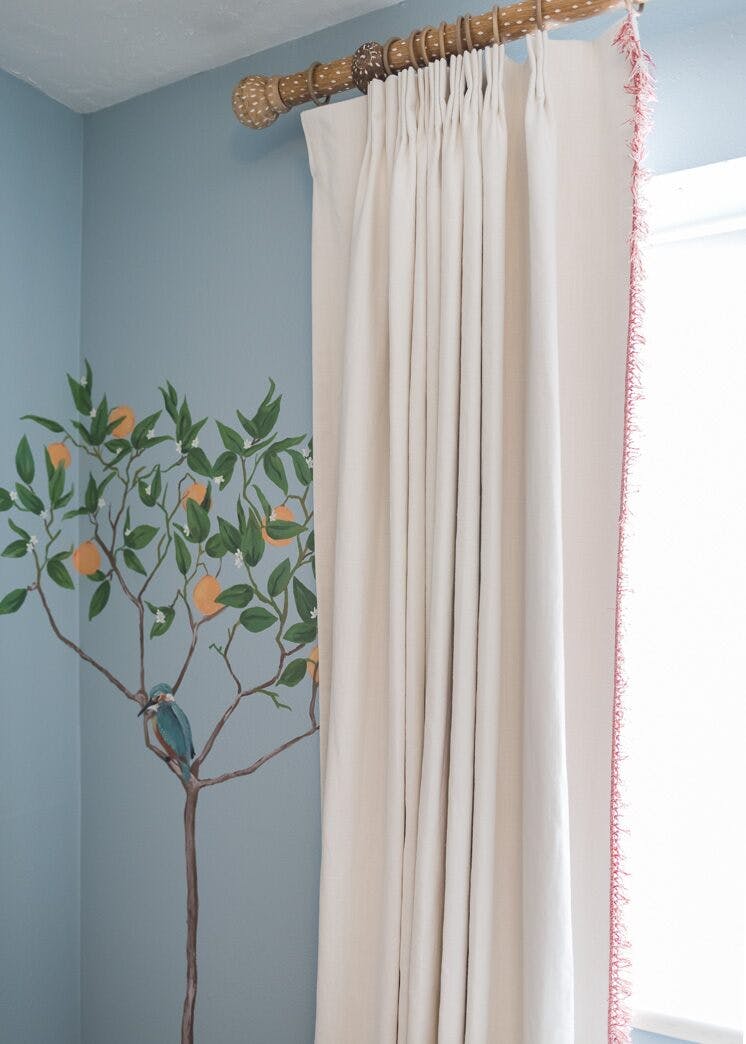 The delicate checkerboard rug adds some subtle visual interest, and the handmade sailboat mobile will give the little guy something to look up at as he drifts off to sleep.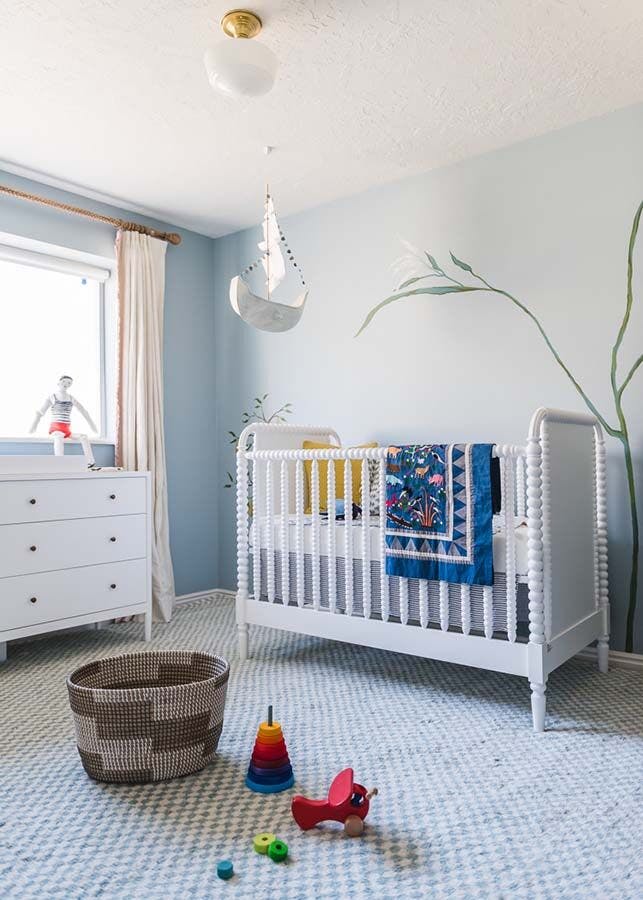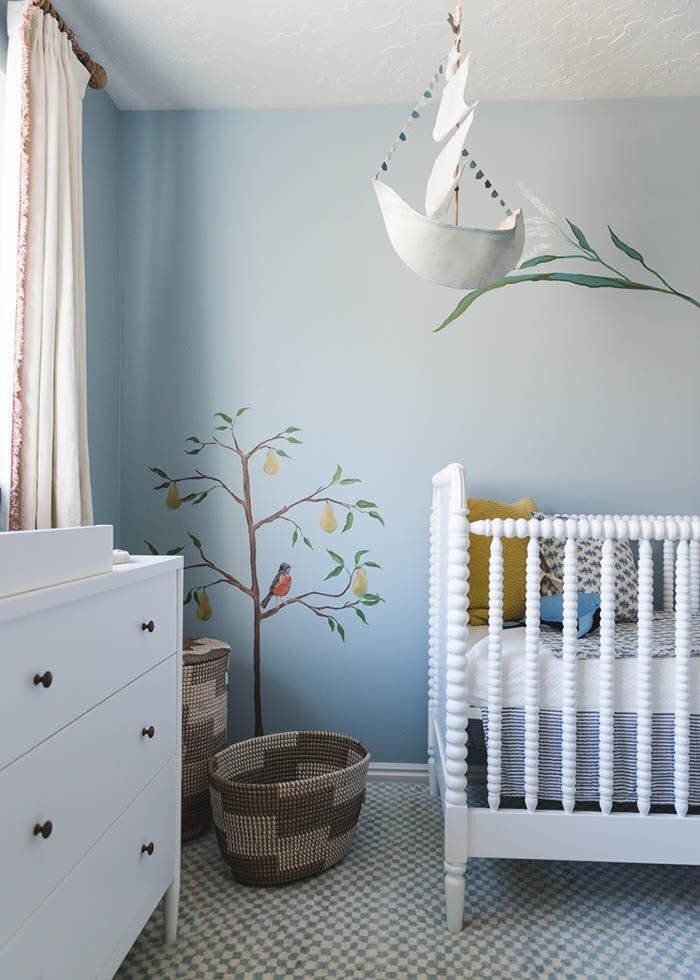 Brittany painted this flea market cubby piece a dark blue and it's perfect for displaying stuffed animals and other goodies.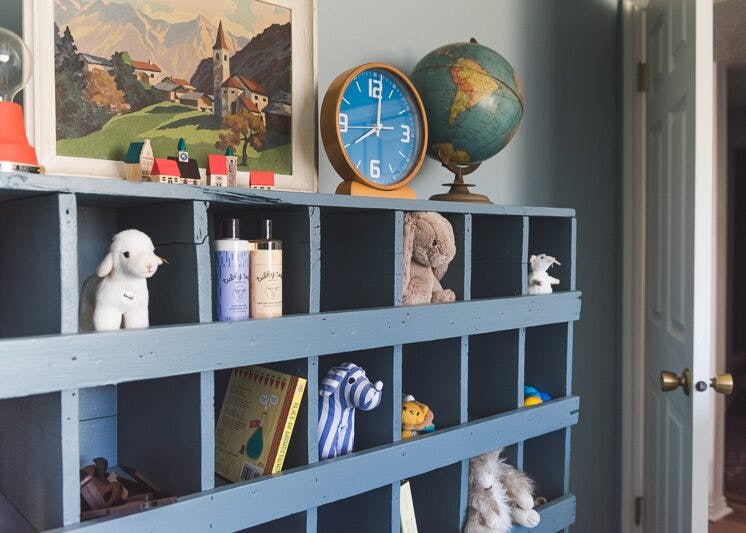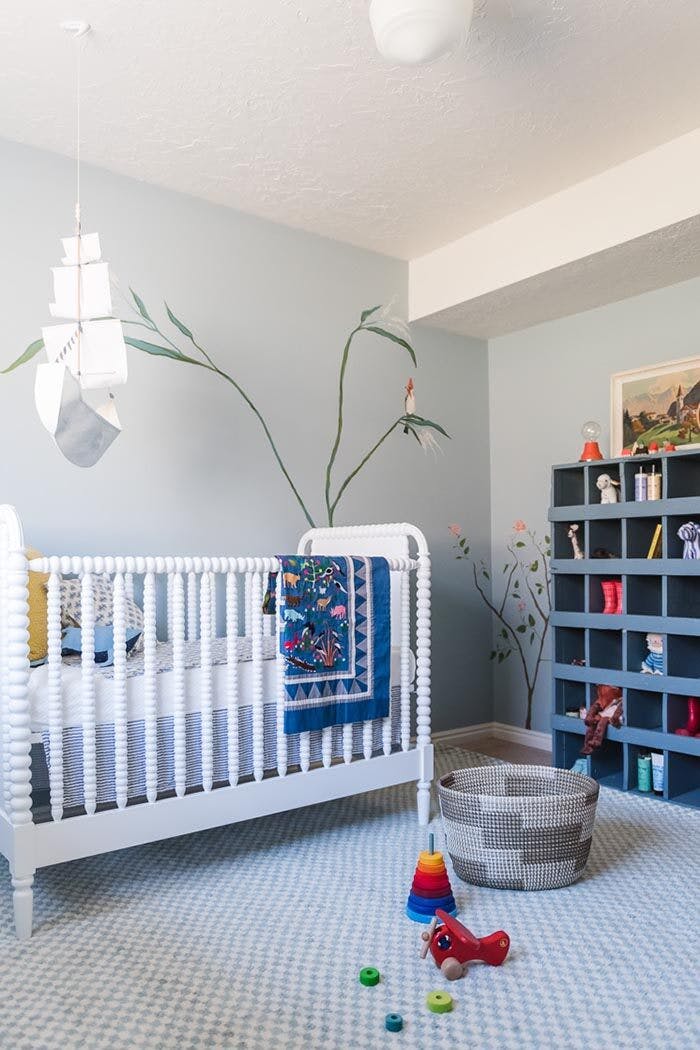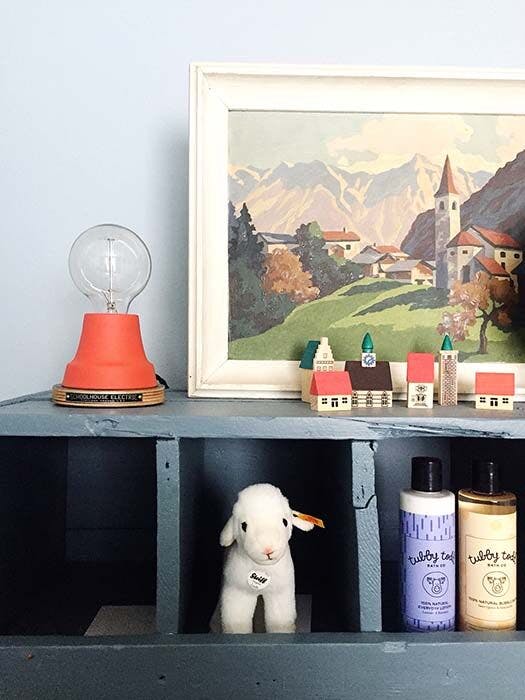 We love the collected look that the unique accessories give to the nursery. Brittany's little one is going to be a lucky boy!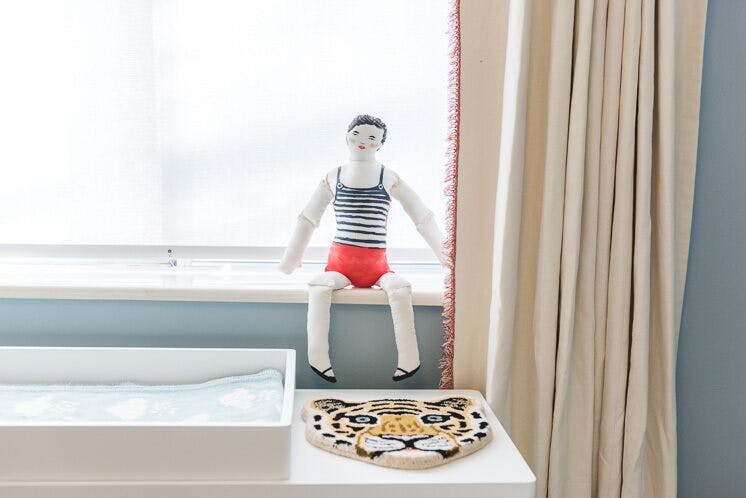 Get The Look:
Brittany decked her charming nursery windows with Premium Solar Roller Shades in Sarasota Off White, and Easy Classic Pleat Draperies in Gent Bisque.
To get started with your project, check out our guide – How to Measure for Roller Shades.
See the full nursery reveal over at The House That Lars Built: Baby's Full Nursery Reveal.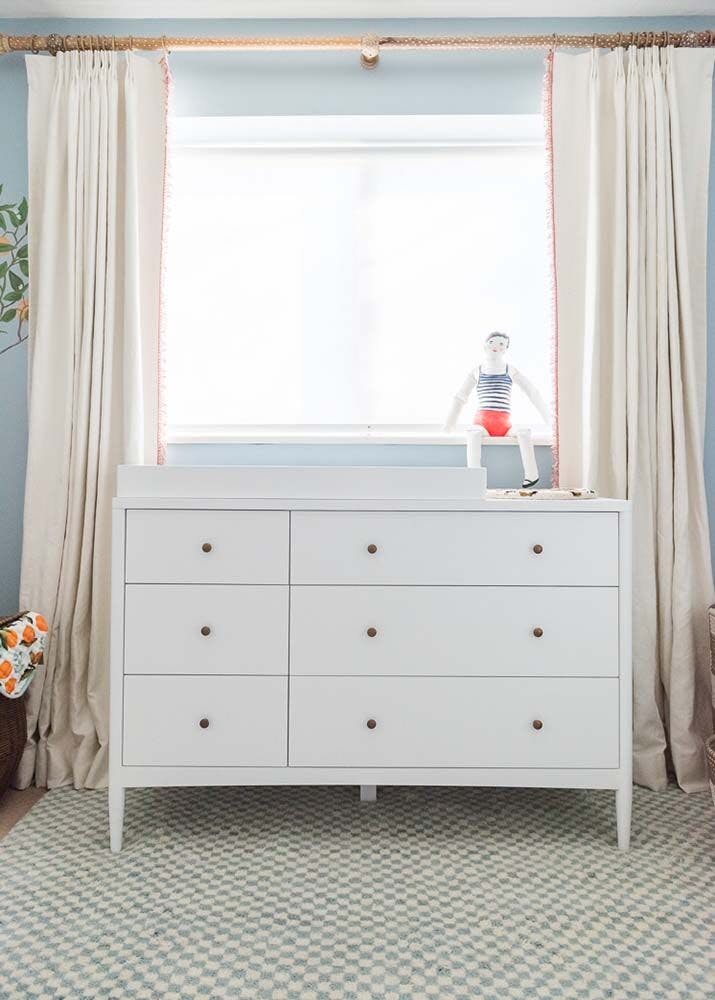 Upscale Office Makeover With Modern Roller Shades from The House That Lars Built