Meet Samantha
Samantha writes about interior design, DIY and fashion over at The Brunette One. She's also expecting her first child in January and has been working hard to outfit her office-turned nursery before her little one arrives.
Find out what two special features were must-haves for her window coverings for the nursery.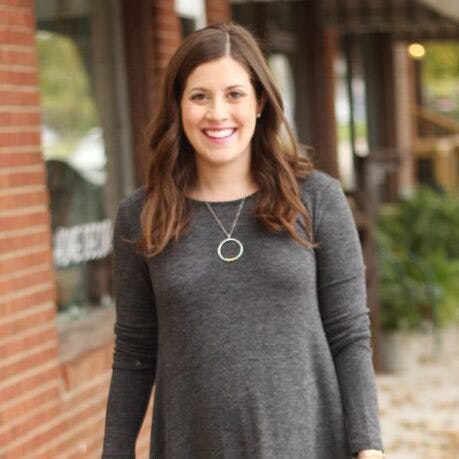 Home Office Turns Gender Neutral Nursery
Samantha and her husband are waiting to find out the gender when the baby arrives, so they're keeping the nursery decor fairly neutral. She's also skipping any bold themes in favor of classic pieces that will last into their kiddo's childhood.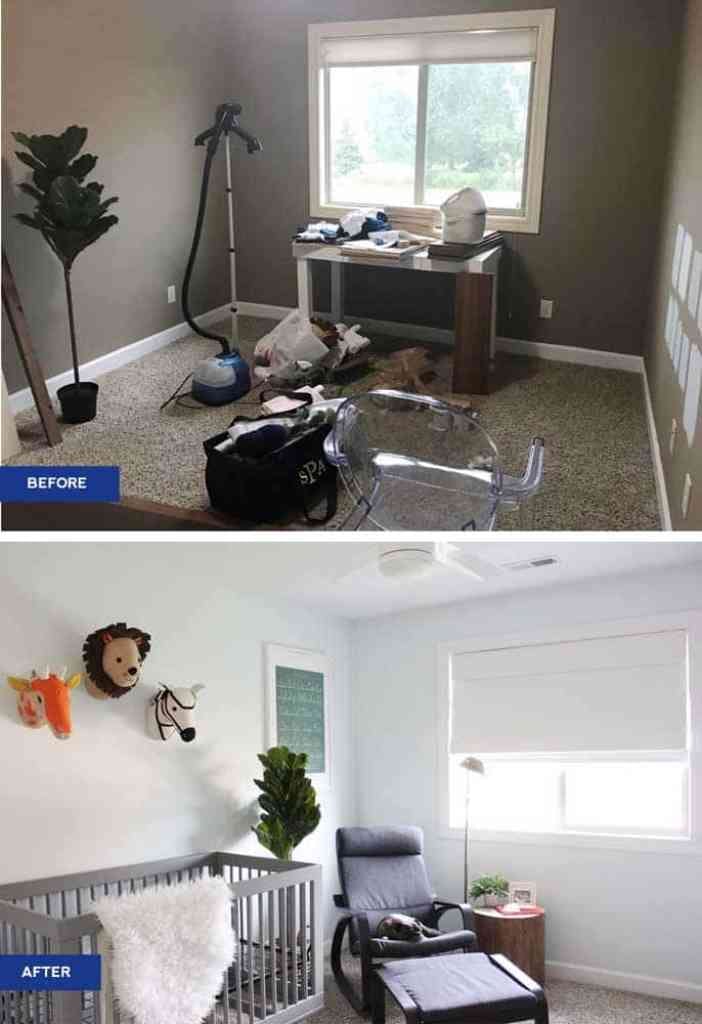 One thing Samantha knew she needed for the nursery was new window coverings. She had used Blinds.com Premium Light Filtering Cellular Shades for the rest of the house, so she knew they would have the perfect solution for this project as well.
Samantha Says:
"Almost two years ago we outfitted every room in our home with cellular, light-filtering blinds from Blinds.com. On our first floor we splurged for cordless top-down/bottom-up blinds. To save on costs, we kept the cords for all the rooms on the second level, but still kept the top-down/bottom-up functionality (see the blinds in our living room space)."
Nursery Window Treatment Feature #1: Blackout
For the nursery window coverings, Samantha knew she needed a blackout shade to make mid-day naps possible and prevent the baby from waking up at sunrise every day.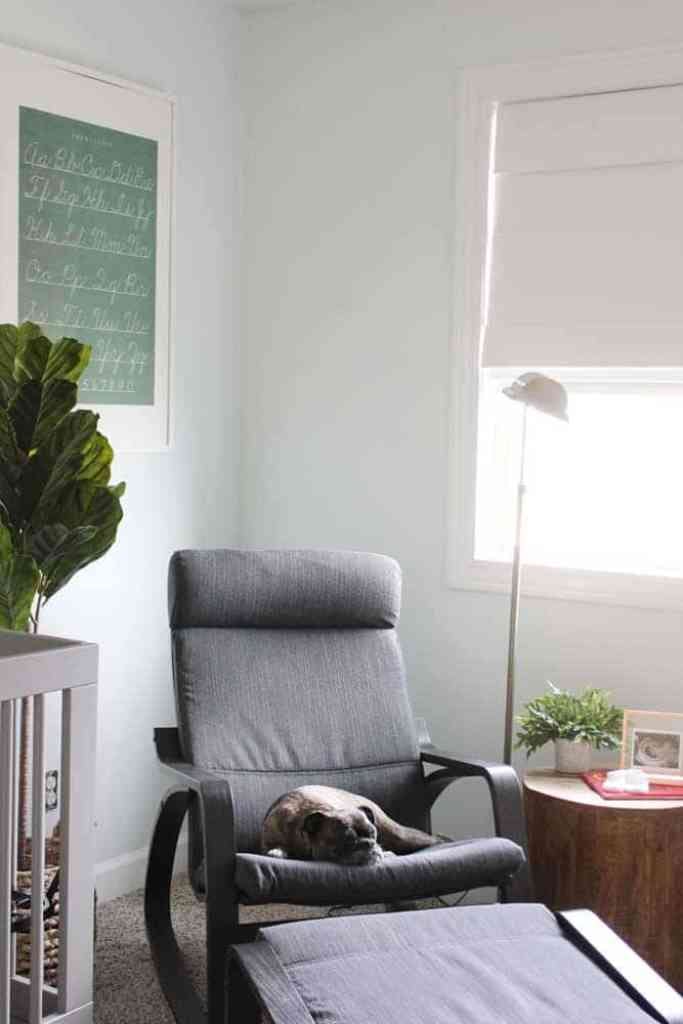 Designer Roman Shades with a blackout lining were the perfect choice. The classic construction adds softness to the windows, while the blackout fabric darkens the room significantly.
Nursery Window Treatment Feature #2: Safety
Samantha knew that safety was a must for the nursery windows. Exposed lift cords or rear cords can be hazardous to curious little ones, so it's always a safer choice to go for a cordless lift option or choose a product without cords at all. Learn more about window coverings and child safety.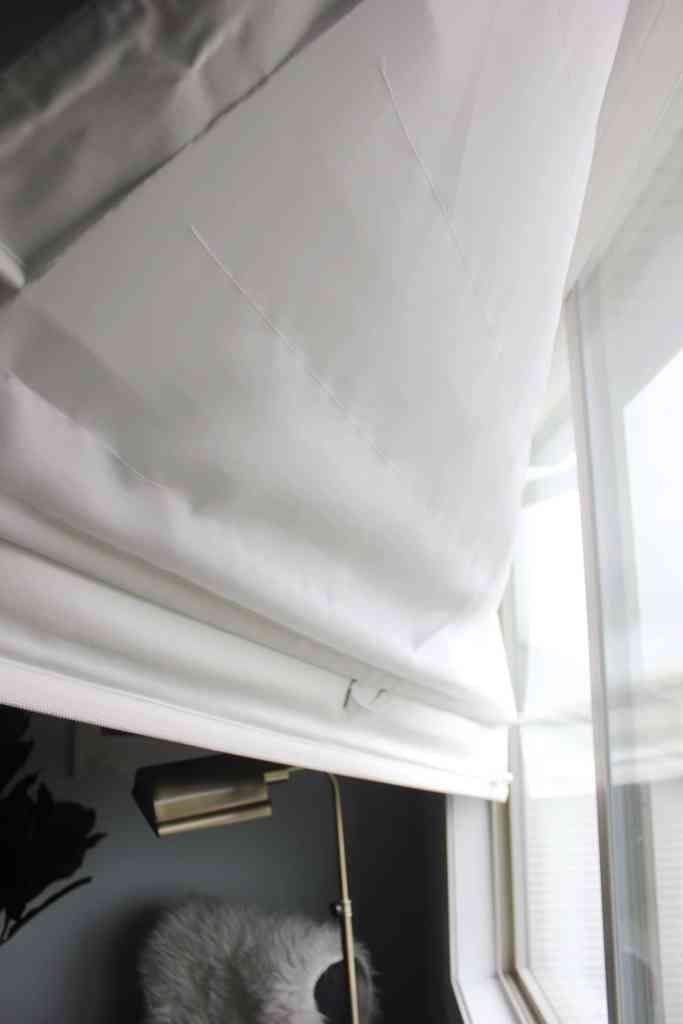 Samantha Says:
"I worked one-on-one with a designer from the company to create the best solution for the room. It was important to me that we look at a cordless option for safety precautions.
Cords can be a strangulation hazard for infants and young children, so it's important to keep that in mind and either go with a cordless option or coverings with inaccessible cords that can be out of reach for young children. Once we decided on the type of shade (Designer Roman Shade), we customized it even further."
Designer Roman Shades with a cordless lift are a great choice for children's bedrooms or other spaces where safety is a concern. When you choose the cordless option, the shades are made without any accessible lift cords on the back of the shade. To raise, you just tug on the bottom of the shade - like a schoolroom map!
Should Window Shades Blend in or Stand Out?
Samantha wasn't quite sure which color to choose from her bright neutral nursery. Grey to make the window pop, or white to blend in with the wall color? Luckily Blinds.com designers were there to help.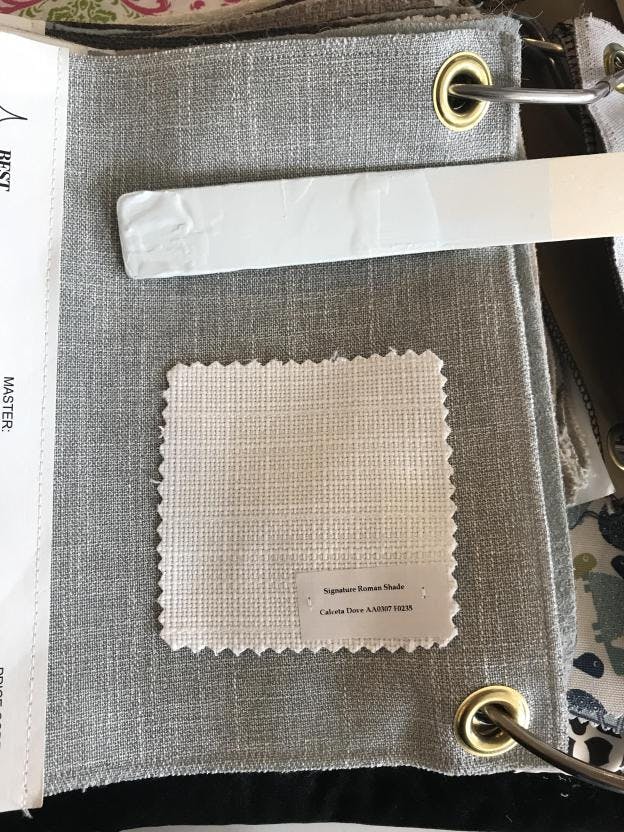 Samantha Says:
"The designer sent me varying shades of grays and whites in different fabric types, up to 10 fabric samples are free from the company. I ended up picking Calceta Dove, which complements the chair fabric and doesn't compete with the wall color.
If I went with gray, you'd end up with this bright space but a 'black hole' of sorts with a gray window. The white allows for a seamless transition with the newly painted trim and is neutral for the space depending on how the room will change in the coming years."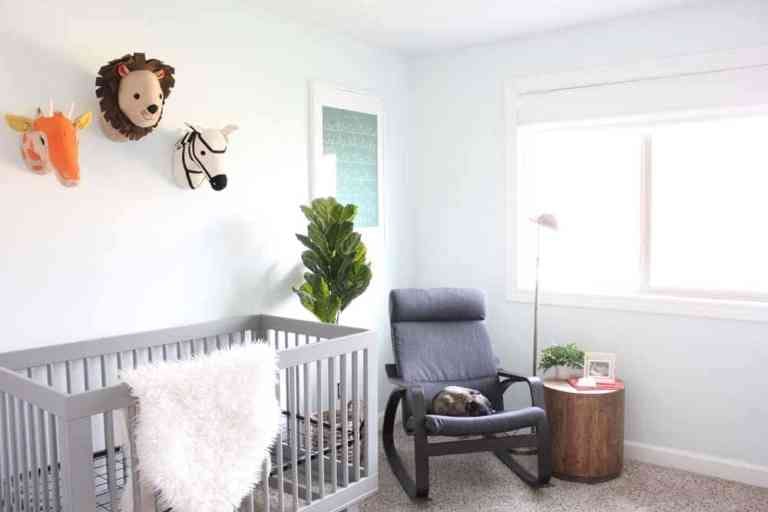 Luckily installation was a snap too, even for this expecting mama. After screwing in brackets and popping the shades in place, they were one step closer to a finished nursery!
Samantha Says:
"Installation couldn't have been easier. We measured for placement of the brackets, screwed in the plates, lined up the shade and clipped it into place."
Samantha is still waiting on the final rocker and several other accessories to arrive, but we think the space is looking lovely already. We'll check back in a few months to show you the finished look!
Update: Finished Nursery
Samantha finished off the space with an upholstered glider, grey crib bedding, and a few more fun animal accessories. She was blessed to welcome baby Jack into the world on 12/28.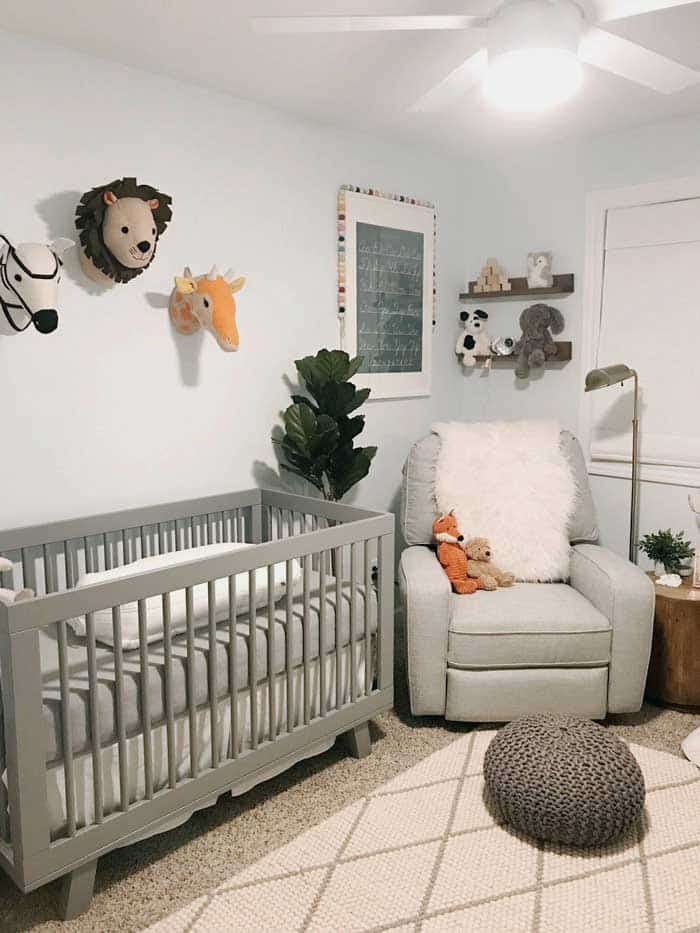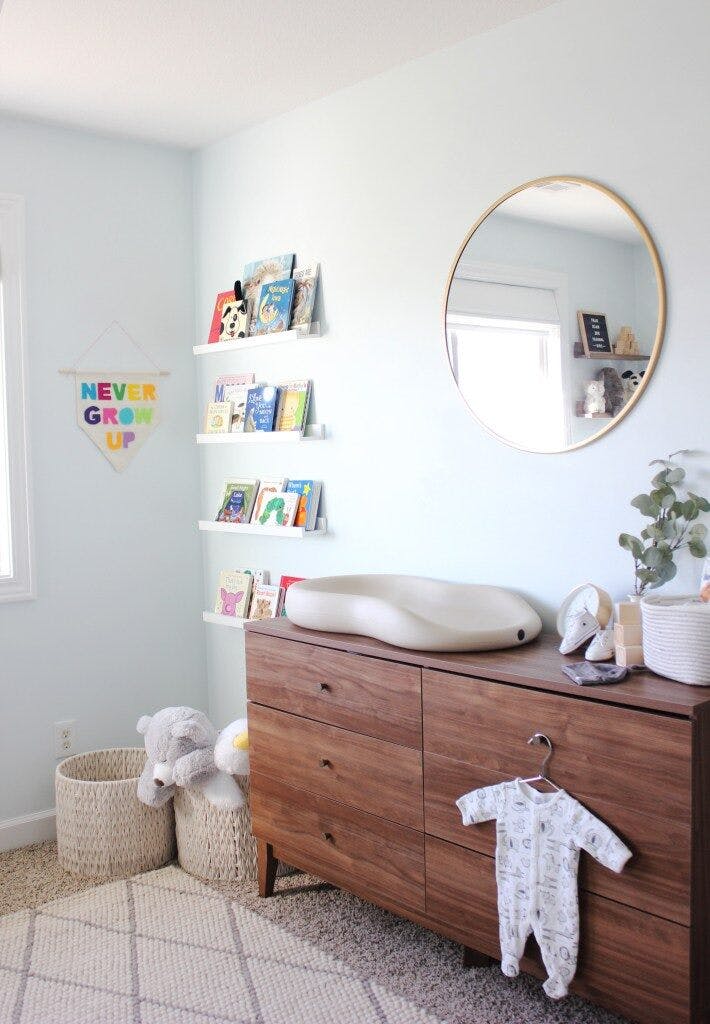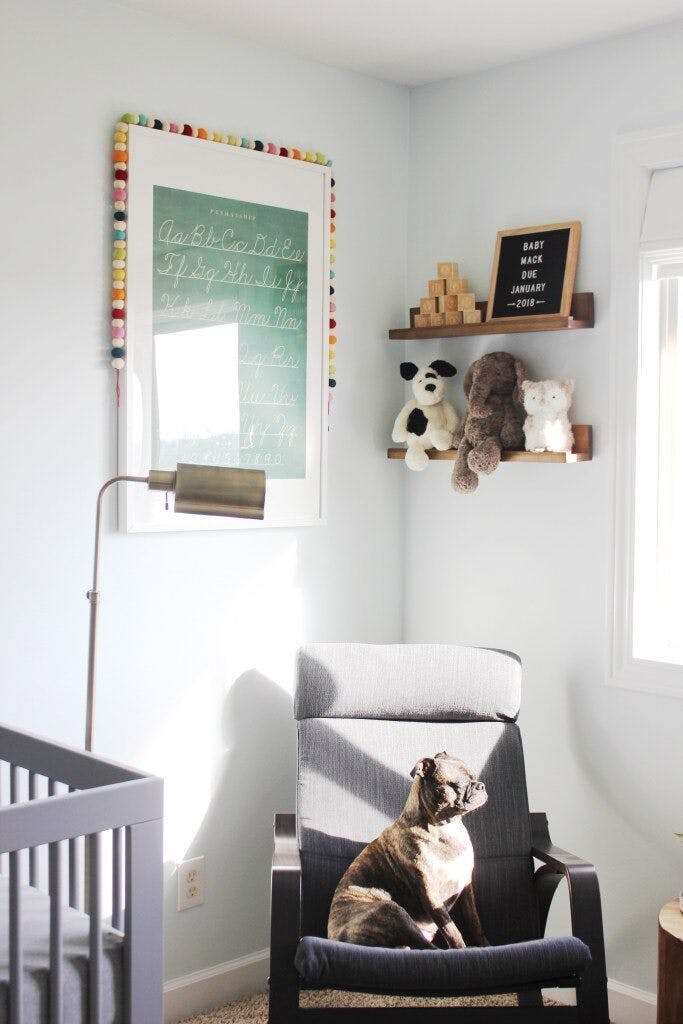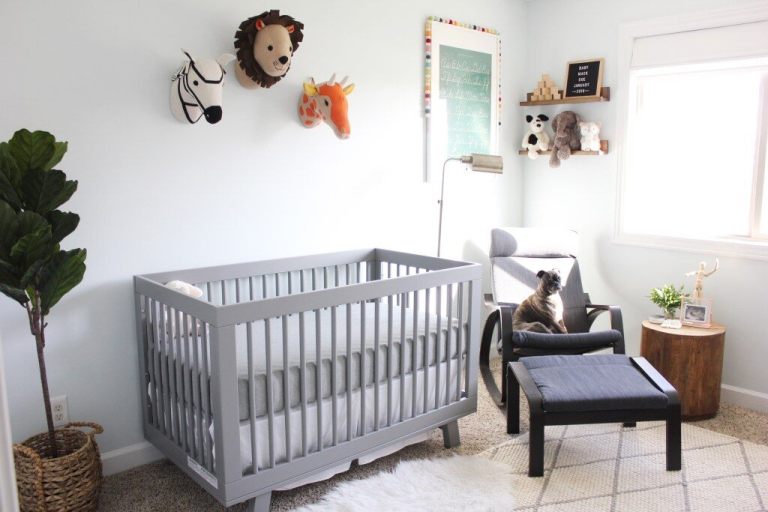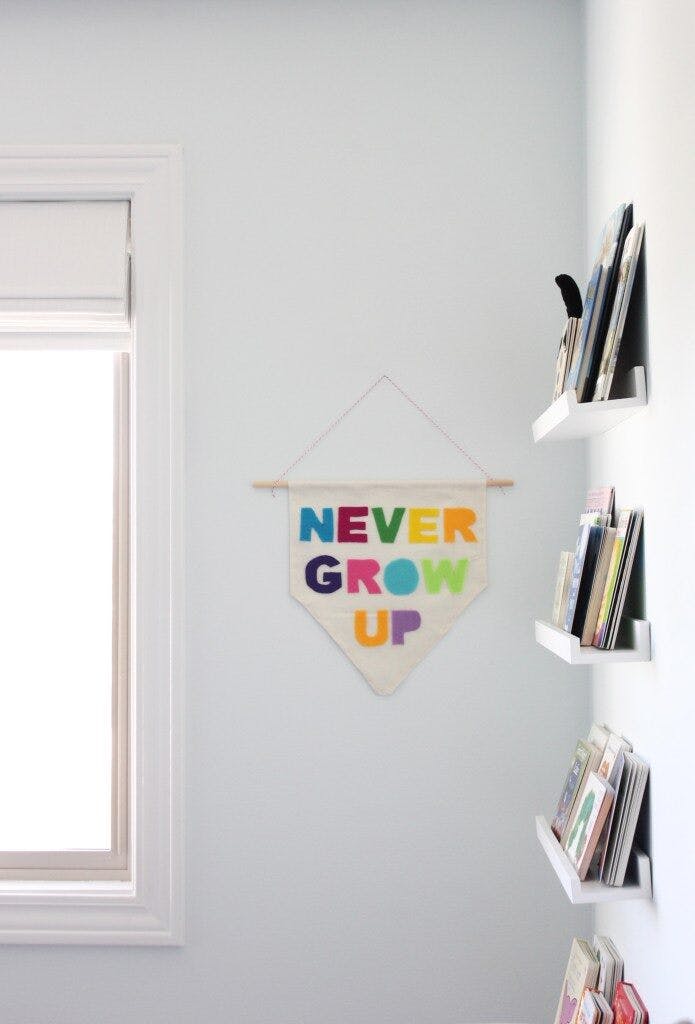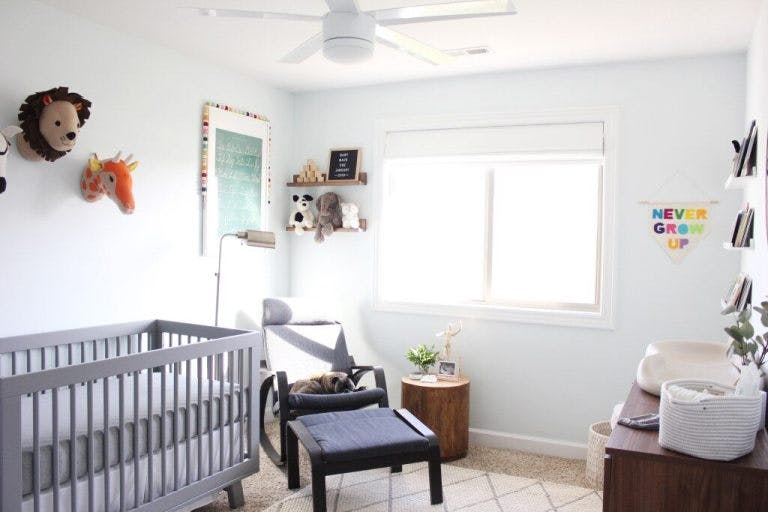 Get the Look
Whether you're outfitting a nursery of your own, or just want to give your windows a clean, classic look, you can get this look with Designer Roman Shades in Calceta Dove with a cordless lift, blackout liner and plain fold option.
Ready to start your project? Learn more about how to measure for Roman Shades.
Read more in Samantha's post Upgrading Our Blinds For The Nursery.