Q:
Can you see through a solar shade at night with lights on inside the room? – Dennis P.
A:
Solar shades come in varying degrees of openness depending on how loose the weave of the fabric is. Whether you go with a 1% or a 17% openness factor, at night time when light is reflected from indoor lighting, as opposed to the outdoor sun, people will be able to see in from the outside and you won't be able to see out. During the day this effect is reversed.
Light filtering or room darkening roller shades will give you the same look of a solar shade, but offer complete window coverage and privacy. Feel free to contact me directly to discuss the varying degrees of opacity offered by solar shades!
– Blinds.com Designer Christian Quinn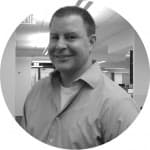 Have More Questions?
Send them to us on Twitter @BlindsDotCom or if you'd like designer help directly from Christian, you can reach him at 800-505-1905 ext. 5204.