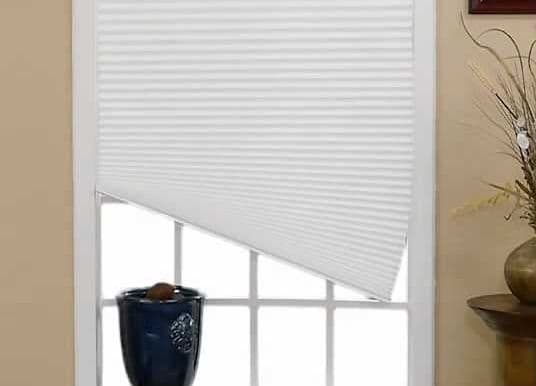 You're tuning into to another 'Window FAQ' post from Mindy, a fabulous Customer Service Representative here at Blinds.com. Have a window covering question you'd like help with? Leave a comment below!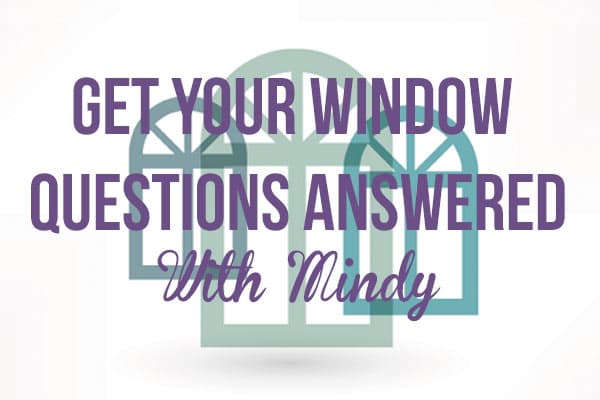 Today's Customer Service FAQ is going to focus on how to fix uneven cordless shades.  Follow the quick steps below and you'll be ready to go!
Tools needed:
Carpenter's Level, Flathead Screwdriver, and Tape.
Step 1:
Use a Carpenter's level to make sure the brackets, window and mounting surface are level.   This step might fix the uneven cordless shade from the get go, so be sure to check this first.
Step 2:
Depending on the size of your cell or pleated shade, your product will have one or more clear grip handles.  Make sure your handle is located in the center of the product.  This helps evenly distribute the weight so your cordless shade can raise/lower evenly.
Step 3:
Remove one of the bottom rail end caps with a flat head screwdriver as seen below: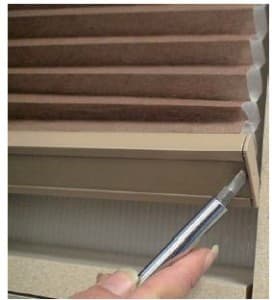 Step 4:
Remove/slide the aluminum slat from the bottom rail of the cellular shade.
Step 5:
Underneath the aluminum slat, you will see the extension of the internal cords.  Find the cord on the side of your product that is hanging too low.   Untie the cord knot and adjust the lenght until the shade is even. Retie the knot.  Tip:  To grab the cord safely, pinch the string with your pointer and thumb fingers so you get a good grip.
Step 6:
Once the cord has been adjusted, replace the aluminum slat and end cap to the bottom rail.  Tip: Place a piece of tape on the end of the aluminum slat before sliding it back in the rail.  This will make it easier to slide back in and will prevent the slat from denting.
Step 7:
You've now reached the final step of fixing your uneven cordless shades!  Test the shade to make sure it raises evenly by raising and lowering the product several times.  You should be all set from there!
If the above tips do not fix your uneven shade, be sure to contact Customer Service for further assistance. Blind.com customers can reach us at 1 800 505 1905 M-F 7am – 7pm CST time and Sat/Sun 9am-5pm CST time.
Thanks for tuning in this week and be sure to look out for more upcoming FAQs. Be sure to leave comments below if you have any burning questions that you want answered in the next segment of Ask Mindy!
Need More Help?