We're turning the page on a new year, so we're back with our annual decor trend predictions you'll be itching to try in 2023.
After several years of lockdown-fueled renovations to make our homes more functional for today's needs, we're ready to take more risks with home decor. Whether it's installing printed wallpaper, being braver with color, or incorporating aggressively retro antiques - 2023 will be about taking our style to the next level.
1. Wood & Natural Materials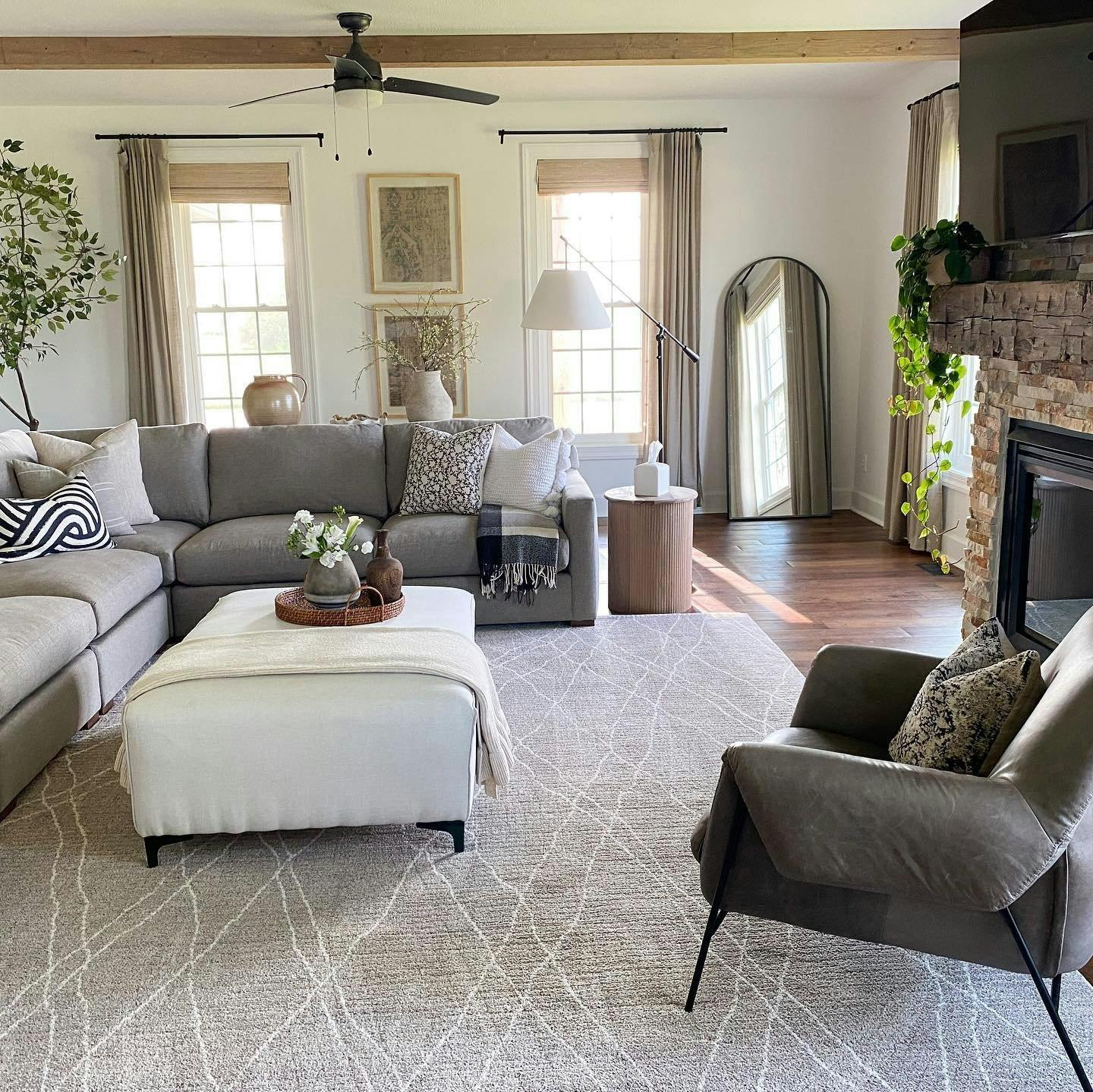 Photo via @homeontroy, featuring Woven Wood Shades in Bonaire Flaxen.
Finding ways to add natural, earthy elements in your decor will be a trend we expect to see more of in 2023. Easily pull off this trend by adding plants, stone, and wood elements to the space. Design experts say darker wood tones are making a comeback and lighter wood tones are being phased out.
2. Wallpaper Powder Rooms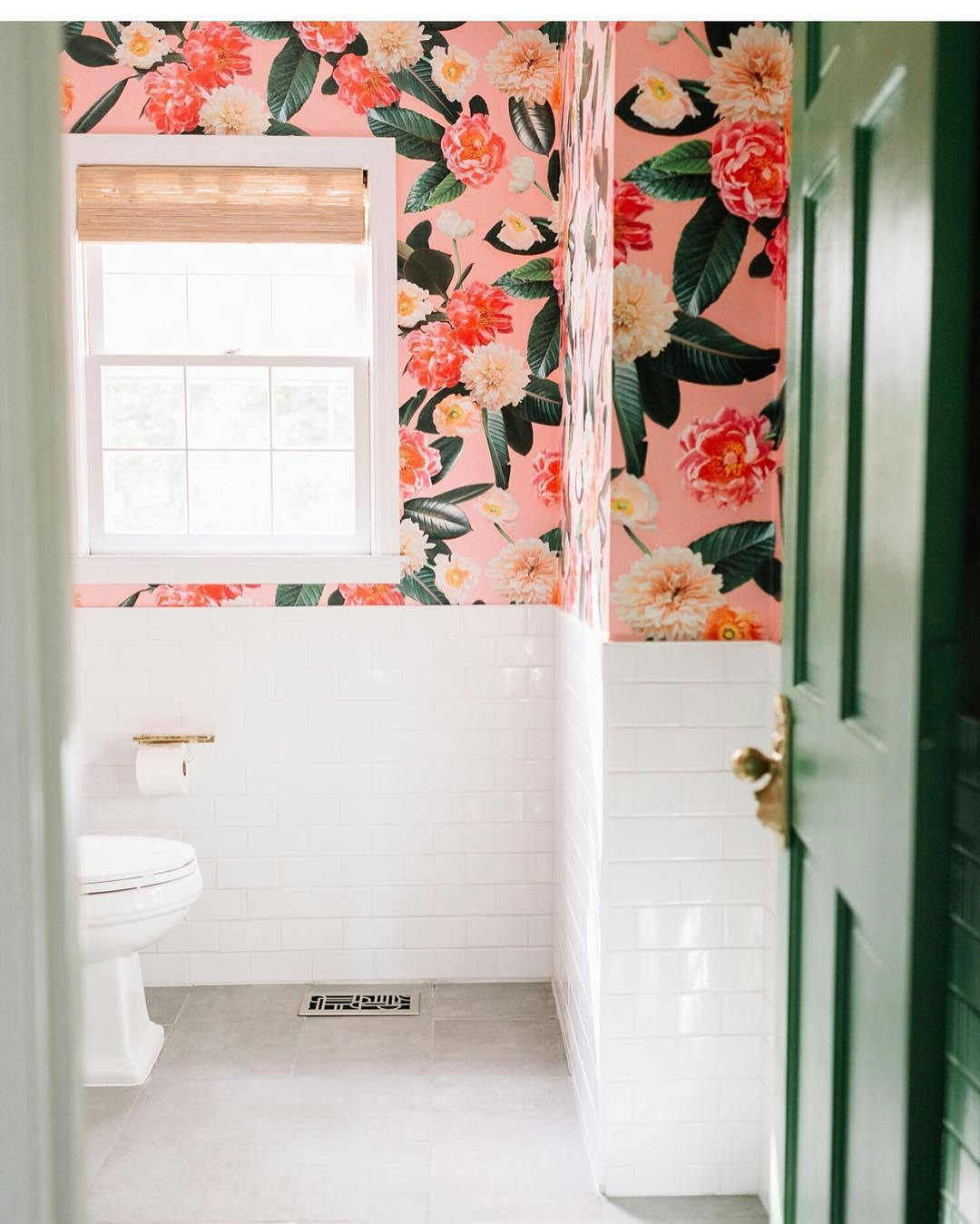 Photo via takethecannoli_, featuring SouthSeas Woven Wood Shades in Caribbean Straw.
This trend is for all the maximalist design lovers out there. Wallpaper in powder rooms is making a resurgence in the new year. Design experts say there's a desire to see rich, vibrant hues in living spaces, so have fun with choosing playful patterns and bold colors to adorn your walls.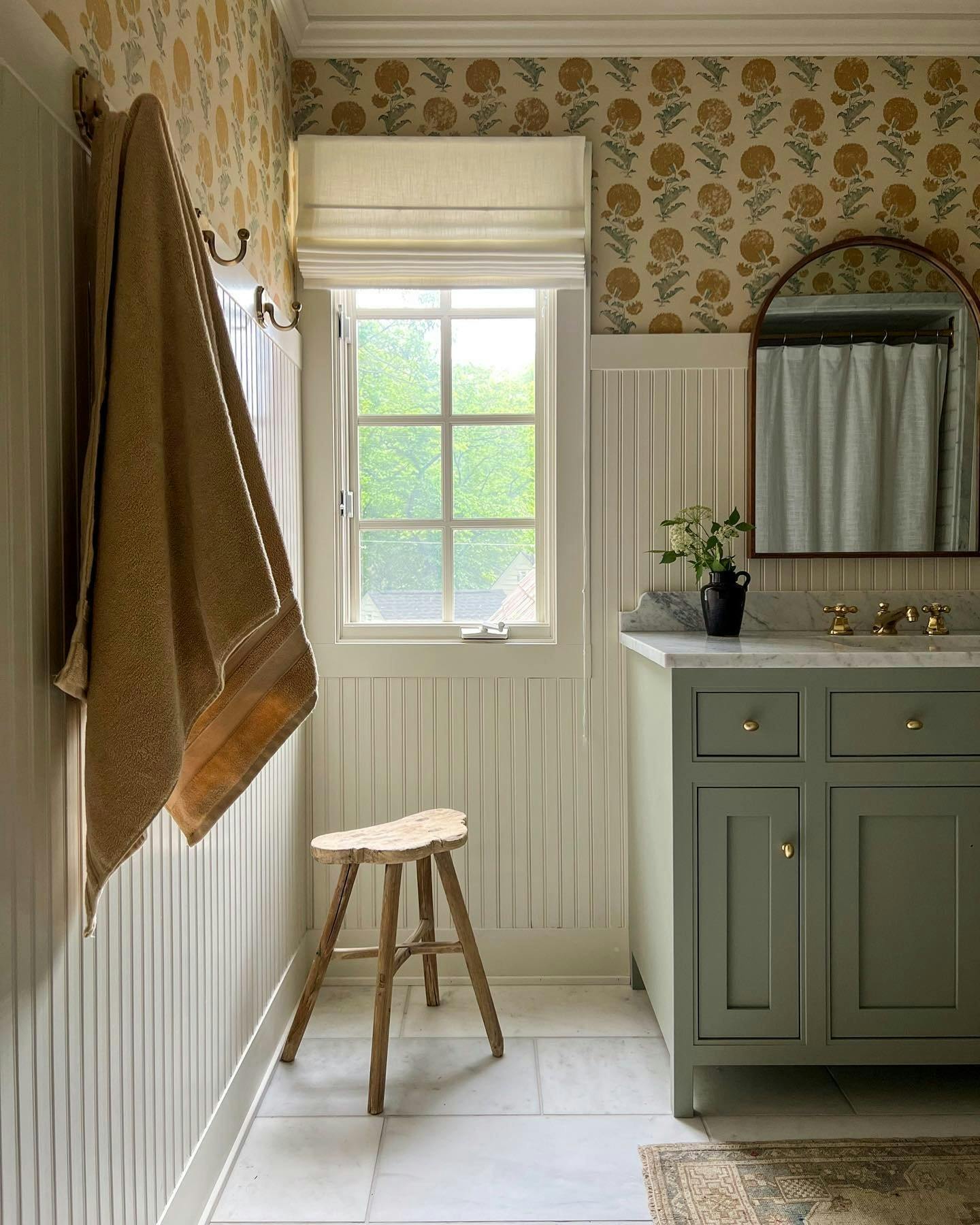 Photo via @rignellranch, featuring Premium Roman Shade in Gent Bisque.
3. Sustainable Design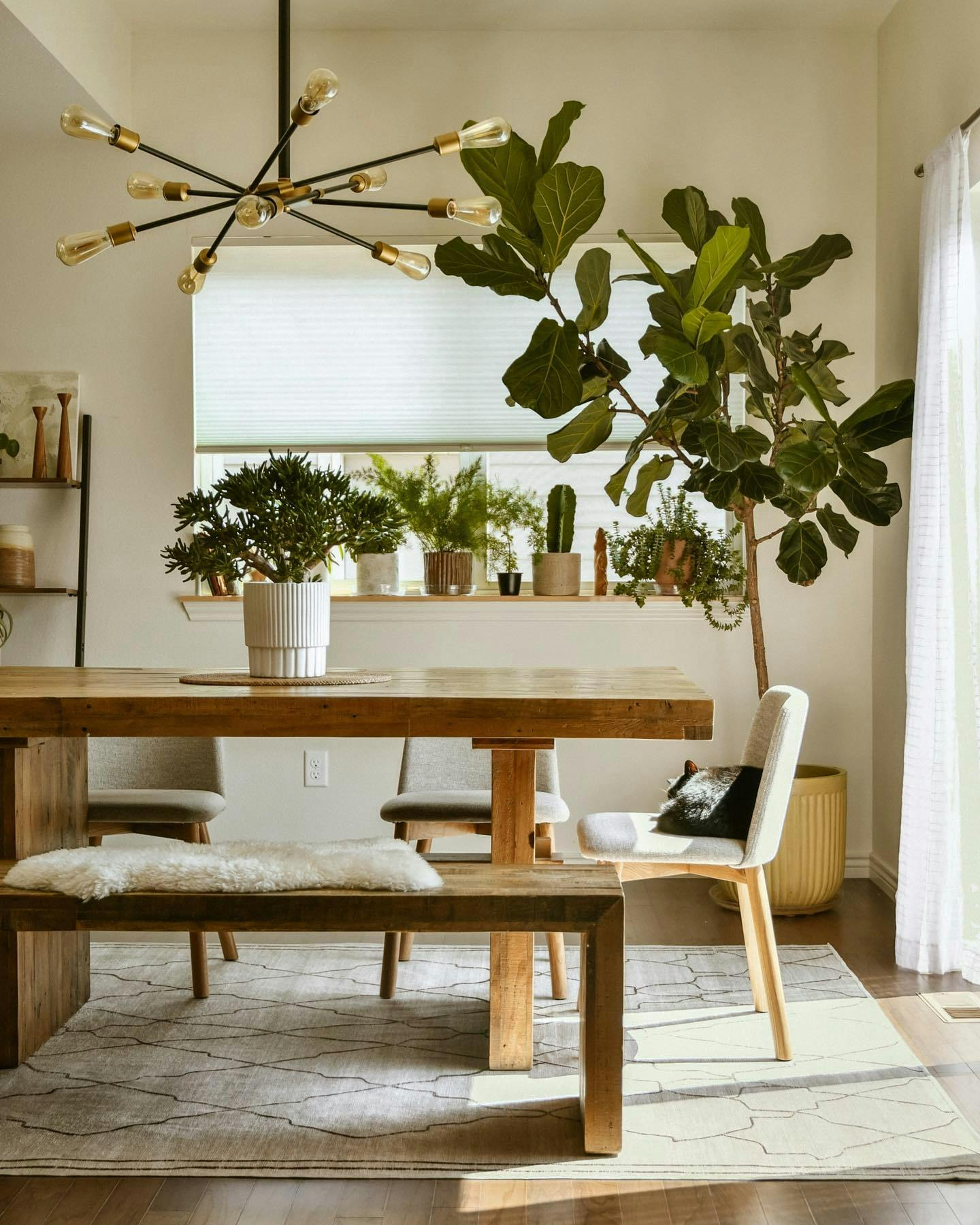 Photo via @wanderingmyhome, featuring Cordless Light Filtering Cellular Shades in Ivory.
As sustainable practices continue to become mainstream, we expect to see a larger presence of sustainable design in our homes. Cellular shades are energy saving and SimplyEco cellular shades are made from recycled water bottles. If you're conscious of reducing plastic waste, an average 24" x 36" Simply Eco shade recycles 12 sixteen-ounce bottles to make the fabric.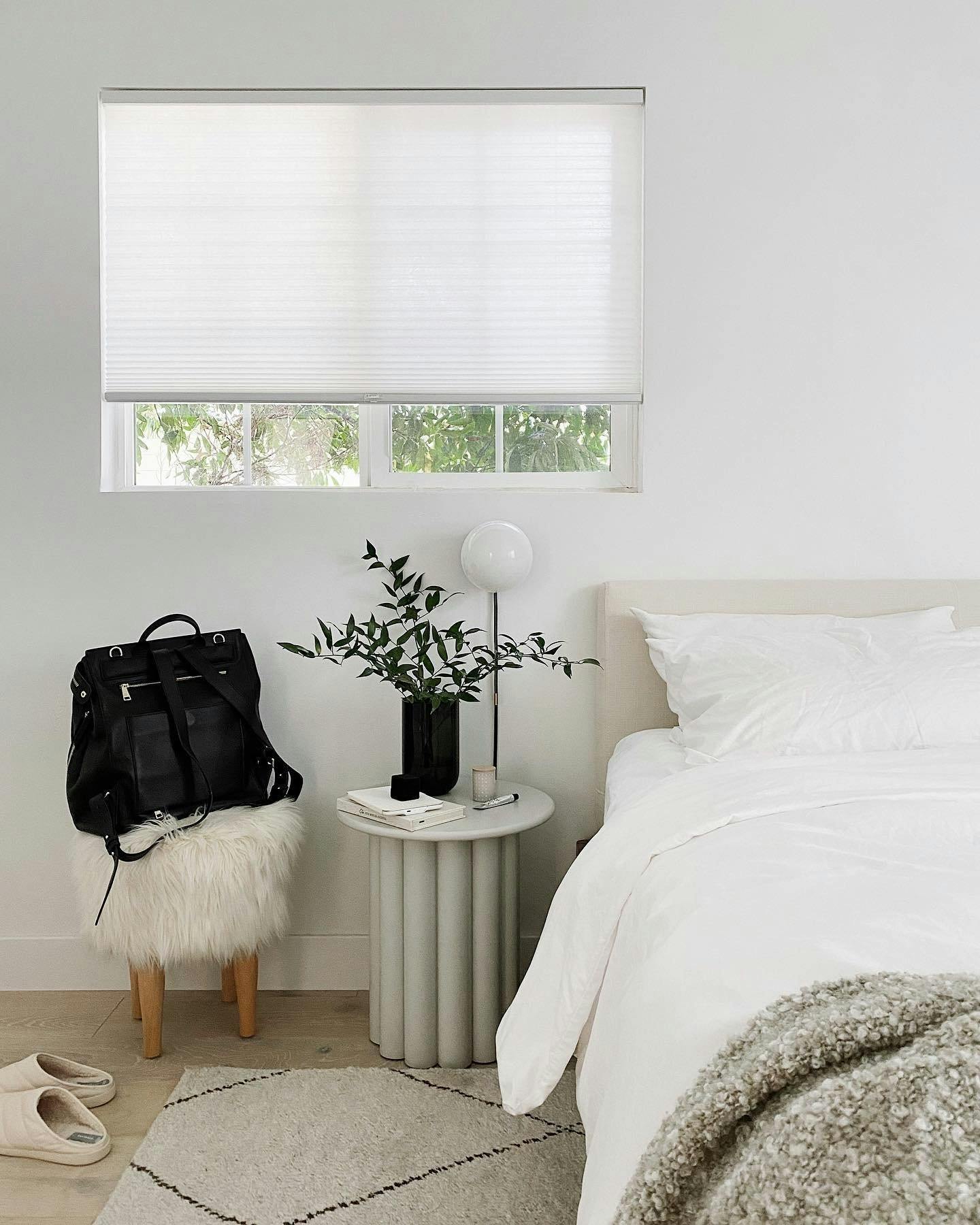 Photo via @homeyohmy, featuring SimplyEco Cordless Light Filtering Cellular Shades in White.
4. Wellness Rooms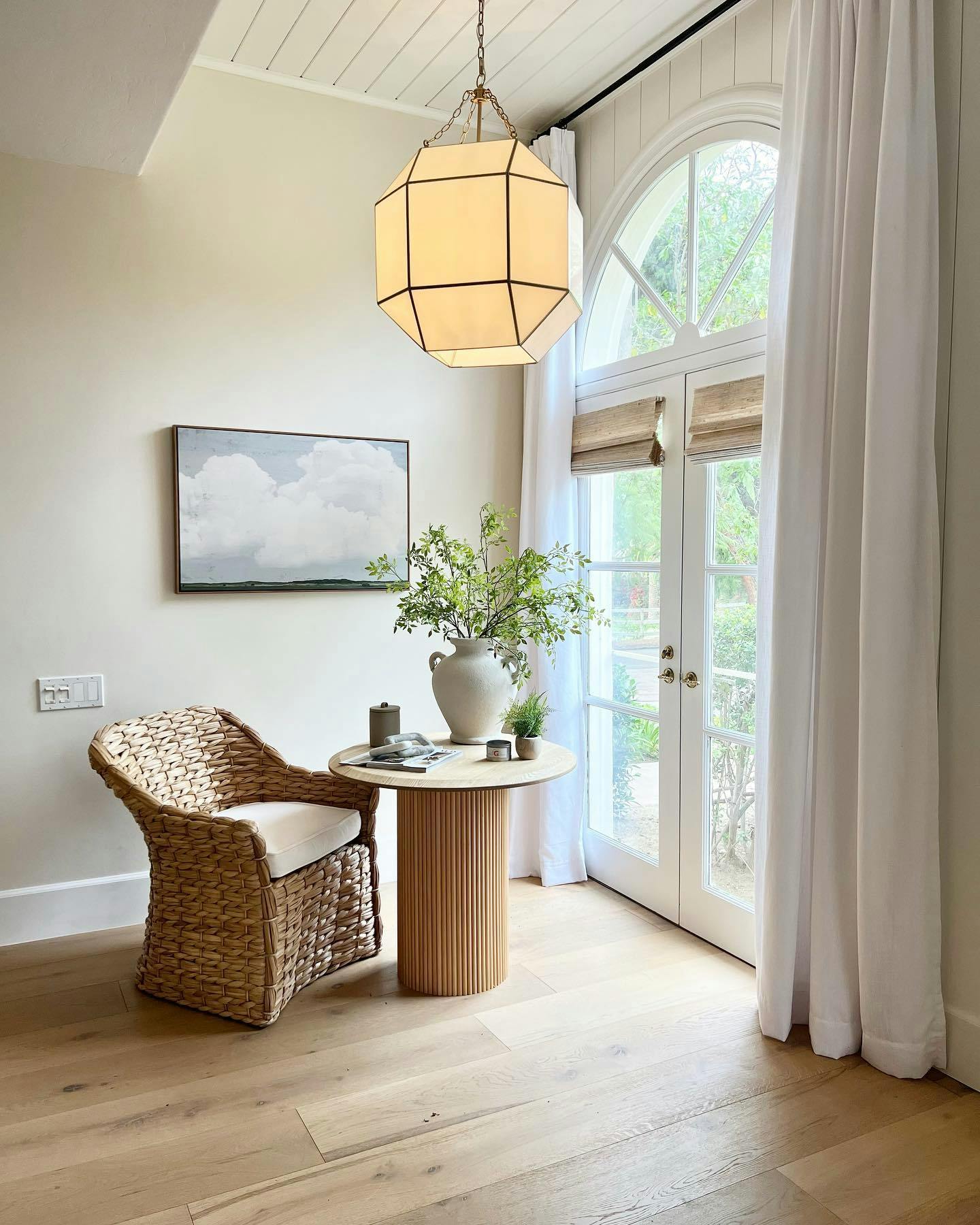 Photo via @fortheloveofbeautifulspaces, featuring Woven Wood Shades in Bonaire Flaxen.
If you're a fan of meditation, green juice, and matcha tea in the morning, keep reading. Interior design experts predict home gyms will be replaced by wellness rooms in 2023. Many of us are working from home and living in multi-functional spaces, so we're gravitating toward areas where we can completely unplug and relax.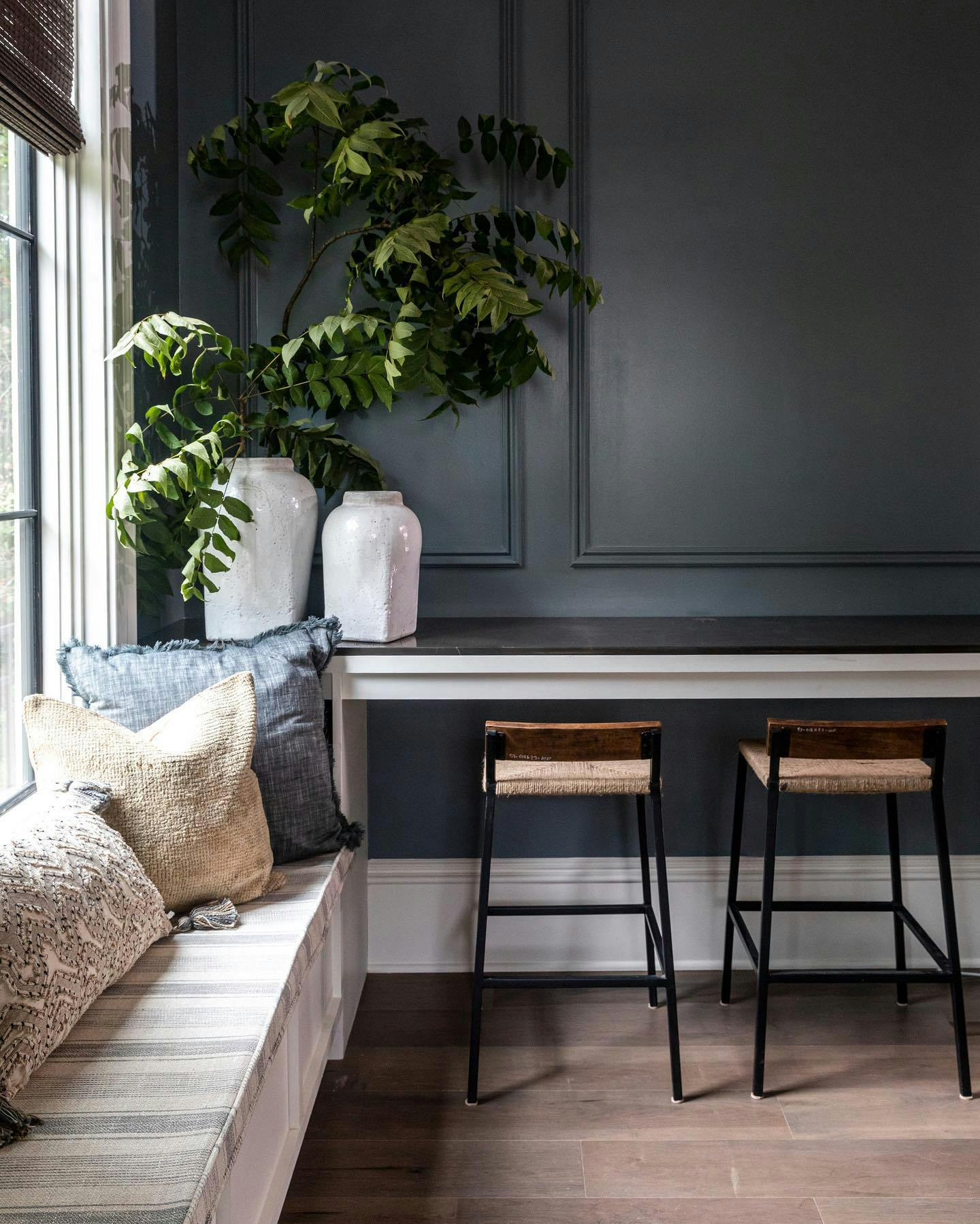 Photo via @designcontant, featuring Woven Wood Shades in Tibet Ebony.
Secondhand is First Choice
For the past few years, decor enthusiasts have turned to thrifting, DIY and upcycling as a way to save money in the face of employment challenges or update rooms, without leaving the house. However, with today's supply chain challenges leading to long lead times for furniture, and limited availability of paint and building materials, shopping secondhand is a necessity.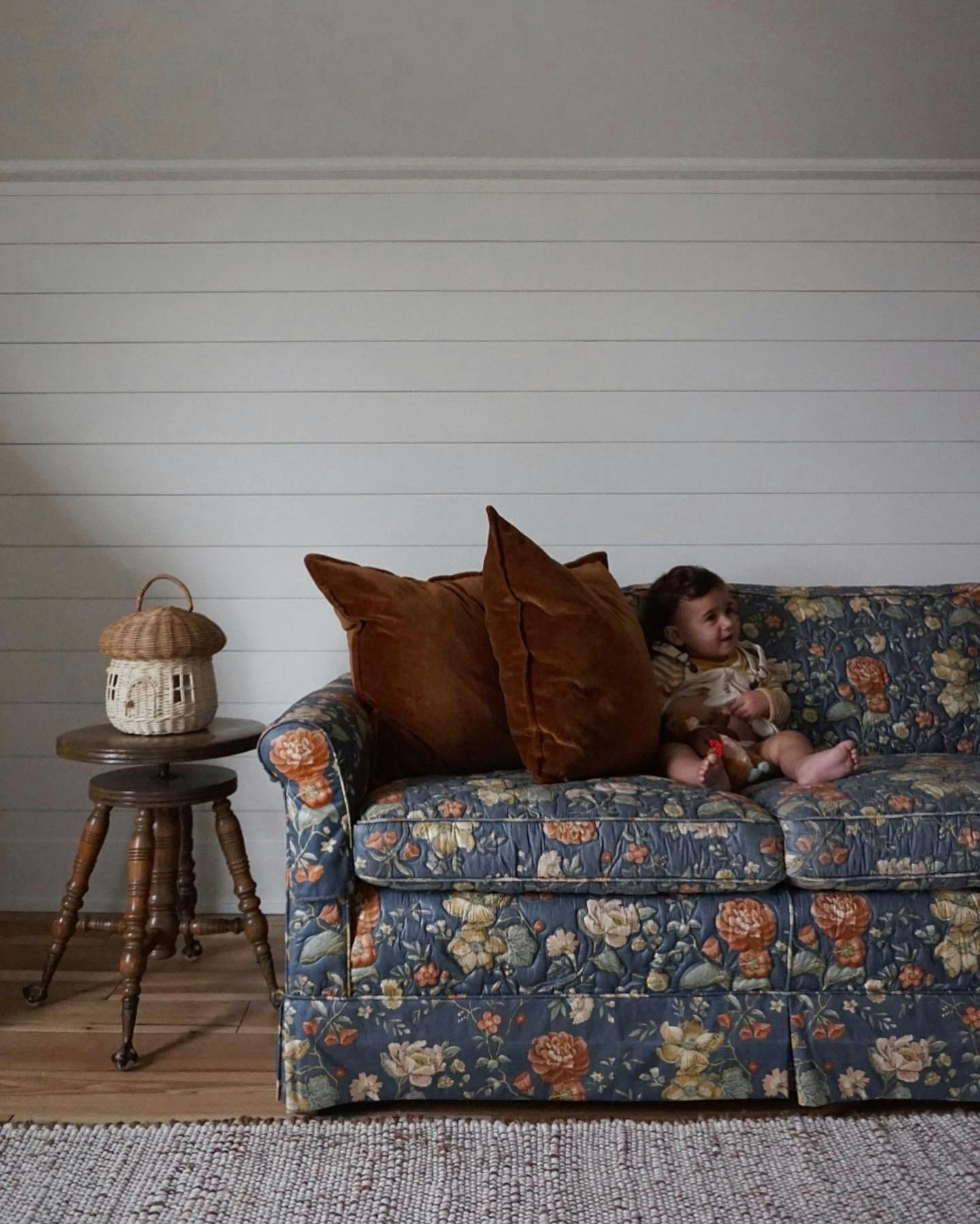 Photo via @theblandhouse.
As we see every few decades, the most desirable finds from yesteryear shift to a new era of vintage. In the 2010s, Mad Men had us all hunting for mid-century treasures, but now squiggly, pastel 80s decor and psychedelic 70s pieces are the most sought-after. A more formal, traditional aesthetic is also trending, so early American antiques and wood furniture are also in high demand.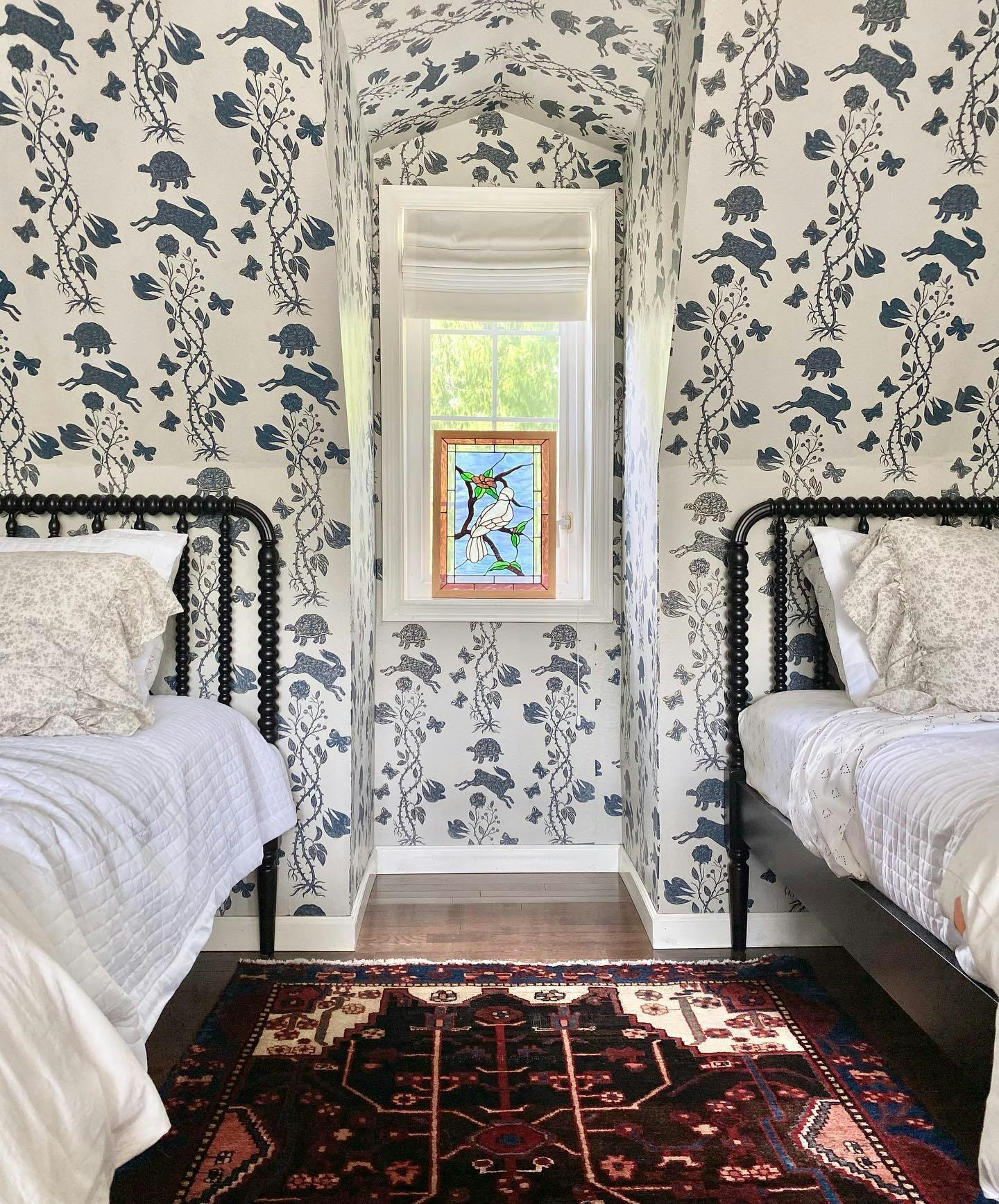 Photo via @finchnestfarm, featuring Classic Roman Shade in Duncan White Cap.
Traditional Granny Vibes are Here to Stay
Some say that the cottagecore/grandmilennial trend is just shabby chic of the 90s revived, but we're finding that it's getting a more authentic feel this time around. Rather than just bringing in a floral couch or vintage quilt, many homeowners are taking this trend to the next level by taking on full restorations of historical homes that could have been grandma's. The Cheap Old Houses Instagram account (now also a full tv show) highlights historical homes waiting to be saved. Rather than tearing down walls and modernizing these spaces, homeowners are embracing period color palettes, keeping elaborate wood molding, and filling spaces with antiques.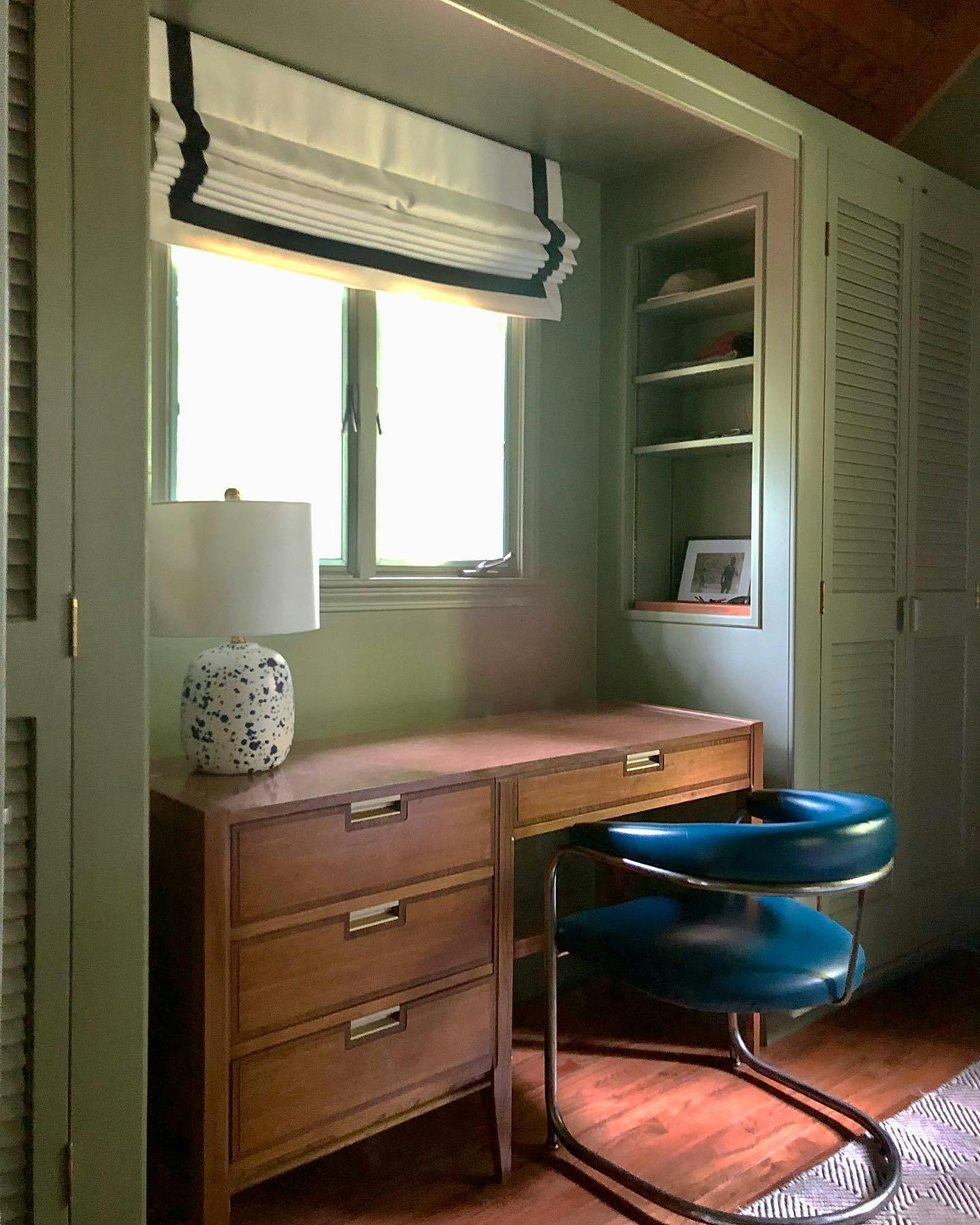 Photo via @fern_gully_mi, featuring Premium Roman Shades in Uma Off White with Inset Banding in Midnight.
Those who can't quite swing a period home restoration are still embracing this formal, traditional style with wallpaper, upholstered headboards in intricate prints, antique wood furniture, vintage china on display, and oil paintings. Lovers of this upscale, Ralph Lauren-esque style are taking rich fabrics and prints to the windows with Roman Shades and Curtains. A relaxed fold or hobbled roman shade gives a fuller fabric feel that's perfect for this formal look. Wood blinds or shutters in a rich stain will coordinate well with antique furniture.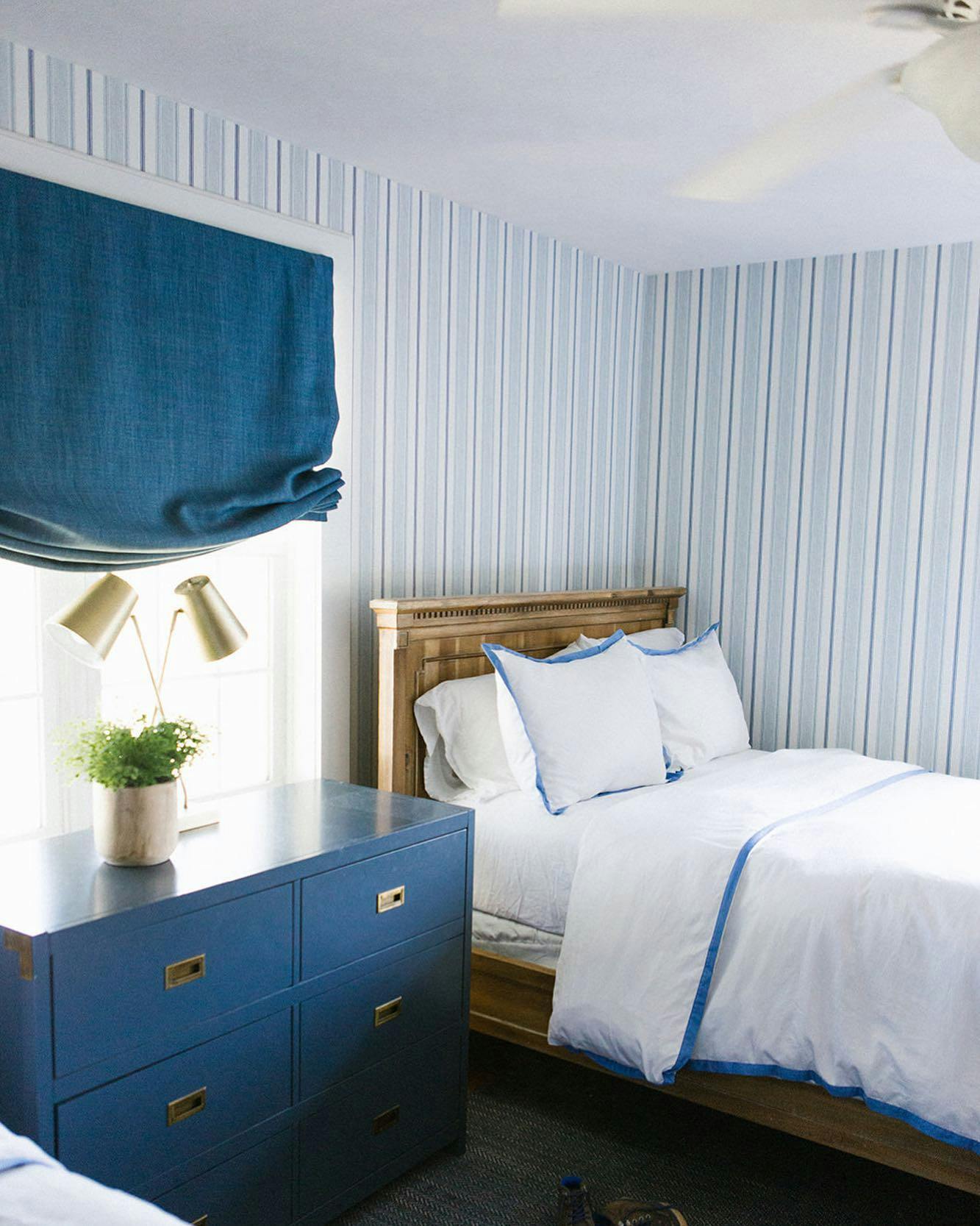 Photo via @margaretofyork, featuring Premier Roman Shades in Linen Opaque Blueberry with Relaxed Fold.
70s and 80s Nostalgia Feels New
Last year we were overrun with squiggles and pastels for a nouveau 1980s vibe. This look (which Gen Z has wholeheartedly embraced) is sticking around, so keep filling your carts with curved couches, rounded-edge furniture, pill-shaped mirrors, checkerboard rugs and squiggle lamps.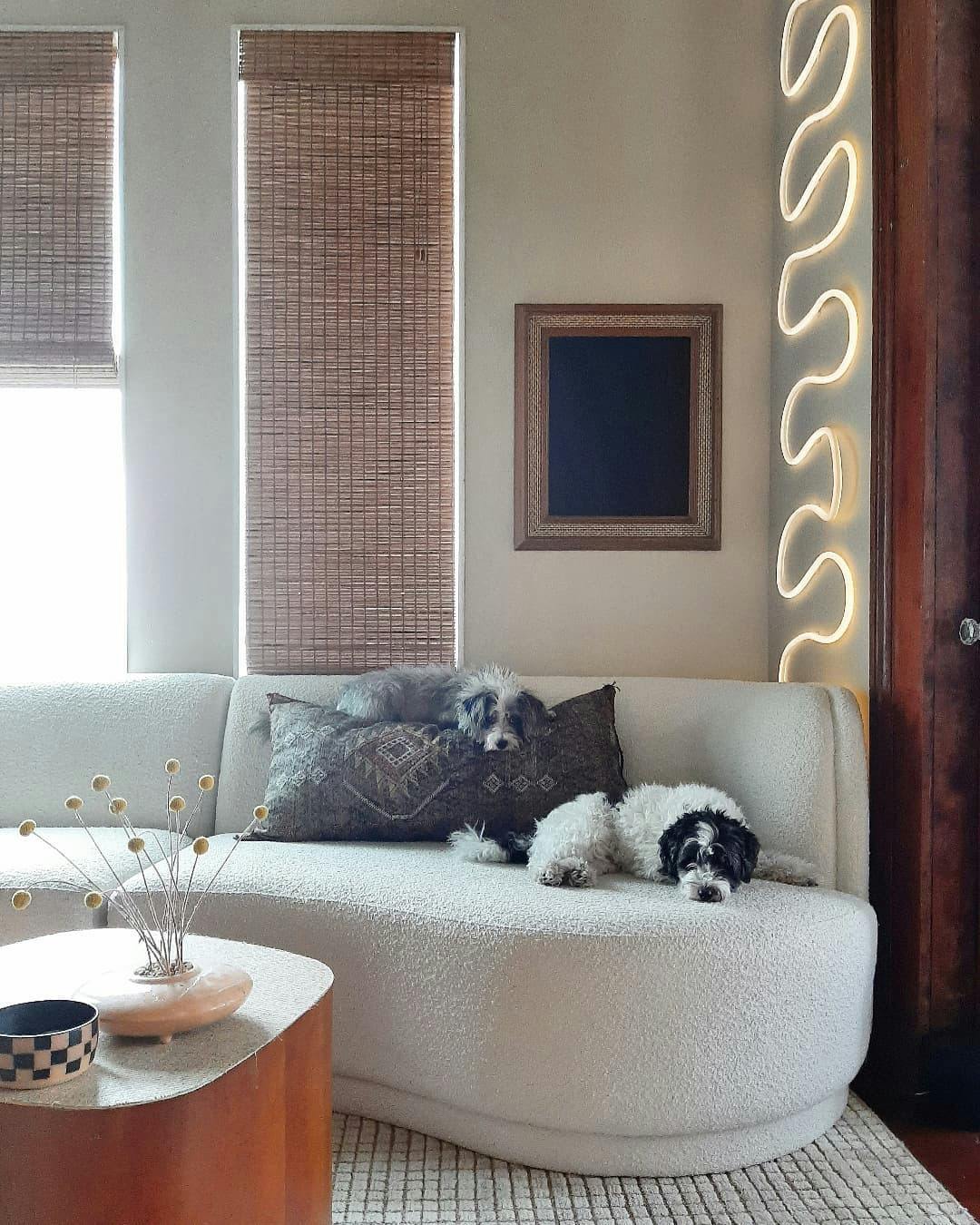 Photo via @lizkamarul, featuring Bali Natural Woven Wood Shades in Antigua Tiki.
However, it seems that for 2022 the pastel palette is shifting to energetic brights, like Pantone's color of the year, Very Peri. Give electric blue, marigold, or kelly green a try for next year.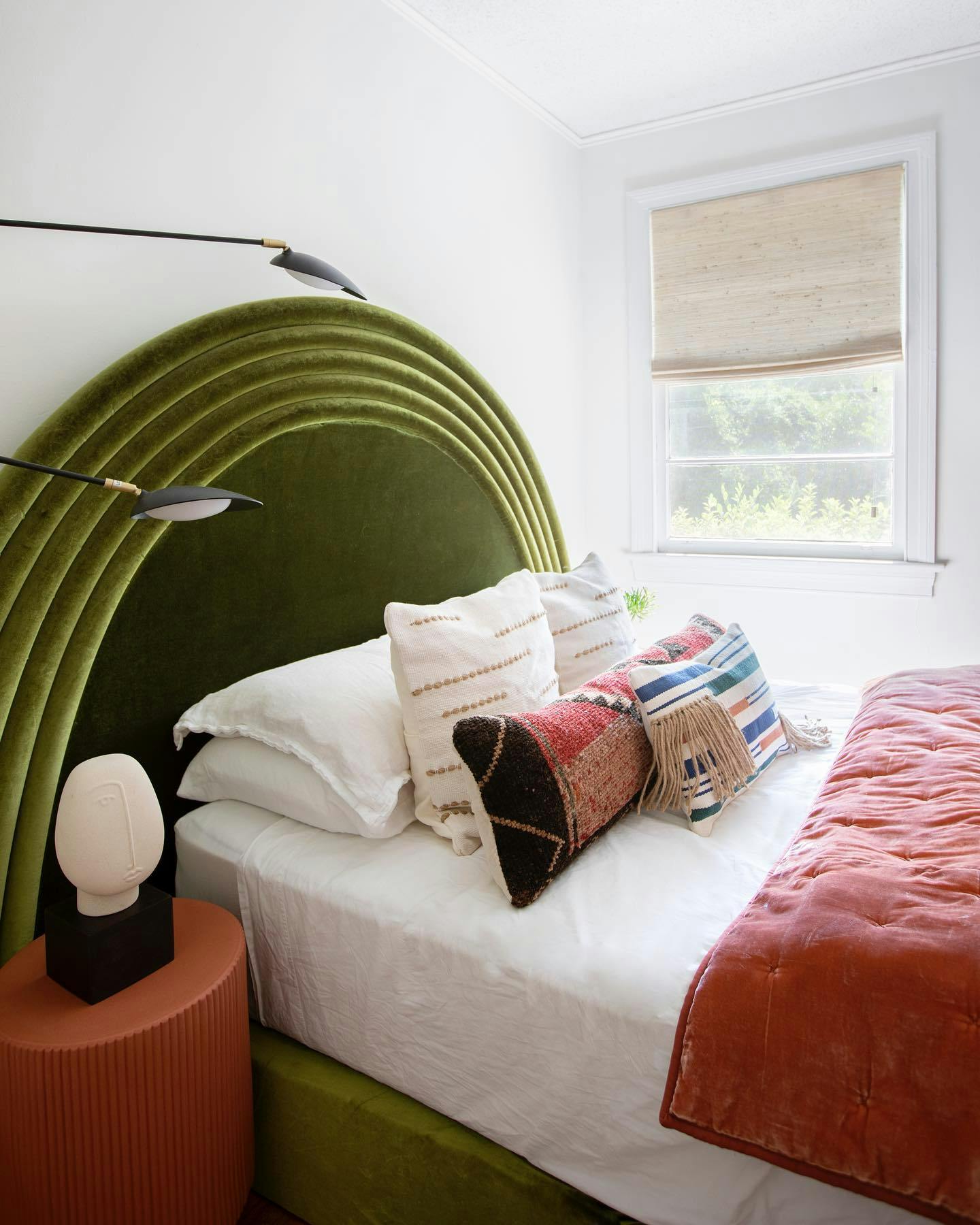 Photo via Margaret Wright. Featuring Woven Wood Shades in Bonaire Flaxen.
In addition to 80s nostalgia, people are also giving their homes full-on time warp treatments inspired by the 1970s. We're seeing mushroom motifs pop up with many major retailers and a surge in shag rugs with psychedelic prints. Sunken living rooms and built-in seating are also having a moment. To give your windows a 70s feel, try bamboo shades or wall-to-wall sheer curtains.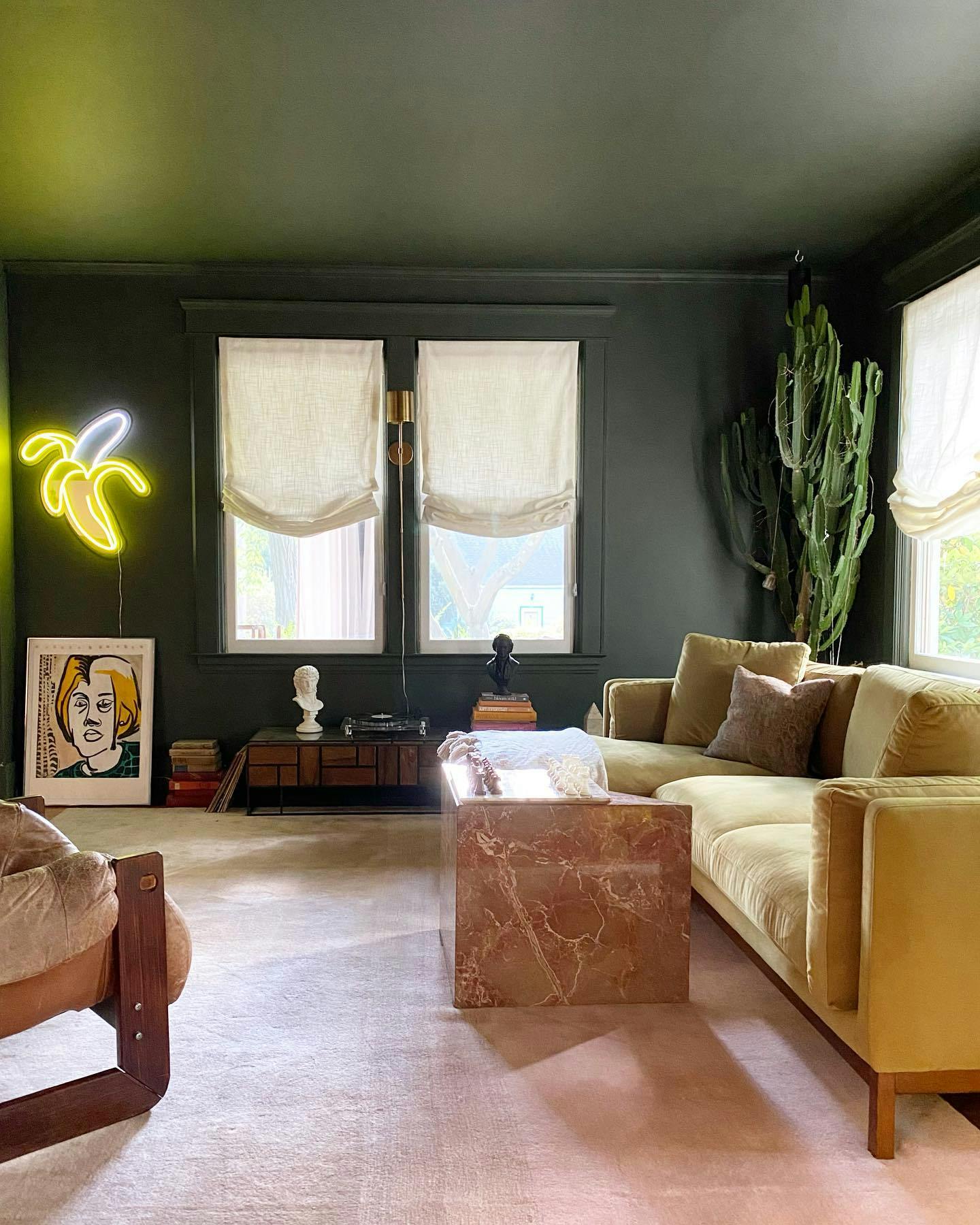 Photo via @katepearcevintage, featuring Premium Roman Shades in Somerset Opaline with Relaxed Fold.
What's Next for Windows
Although window covering trends tend to move very slowly, we are seeing some shifts for next year. Woven Wood Shades and Roman Shades continue to be popular with decorators who are looking to prioritize style over strict functionality (although these two styles are plenty functional as well!) A few years ago, the woven wood preference was for thicker pieces of bamboo that made a visual statement, but we've seen a shift to small grass weave materials that offer a more delicate, upscale look.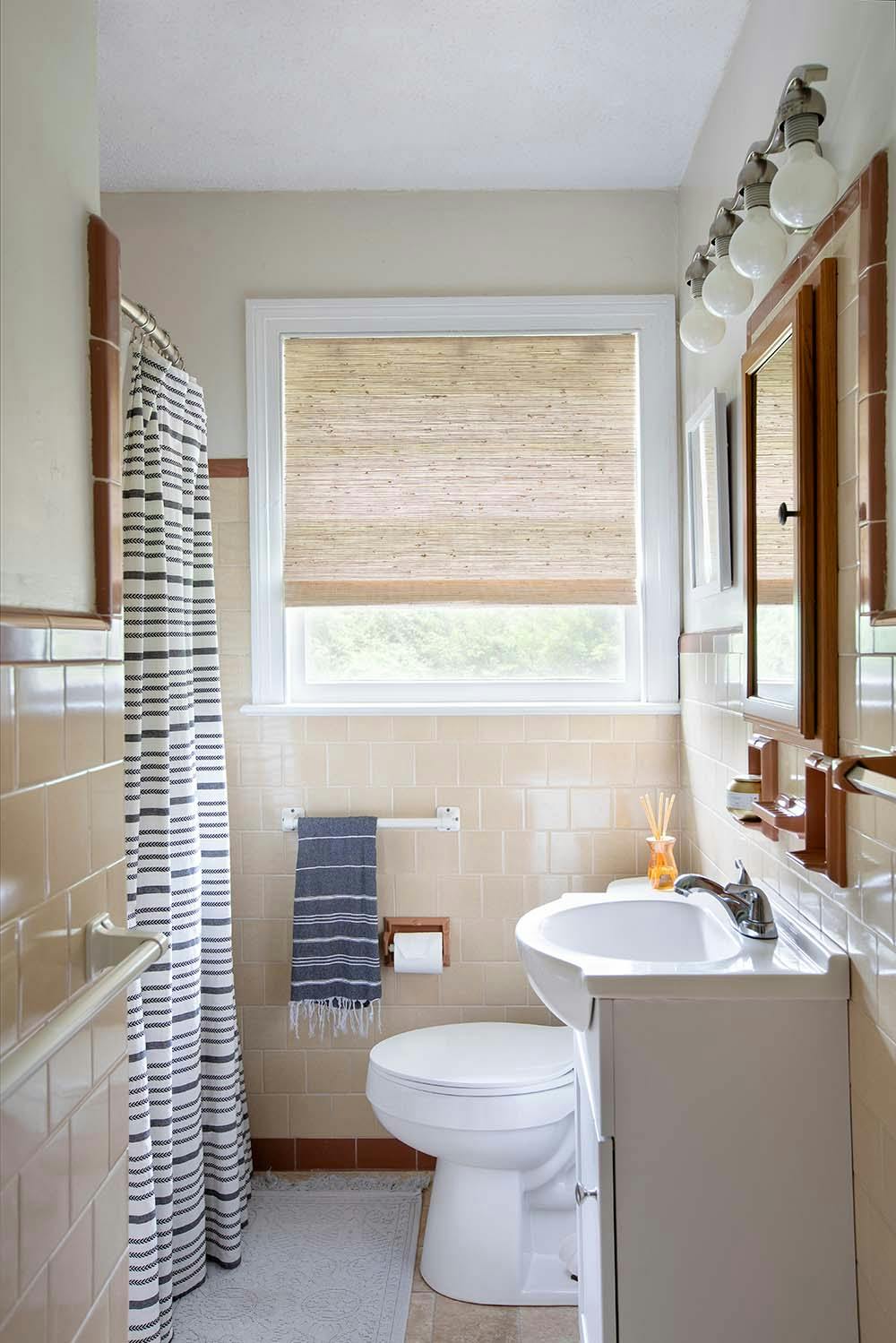 Photo via Margaret Wright. Featuring Woven Wood Shades in Bonaire Flaxen.
For roman shades, burlap-looking fabrics and beige linen continue to be popular, but we're seeing white linen fabrics start to grow in popularity for a more minimalist look.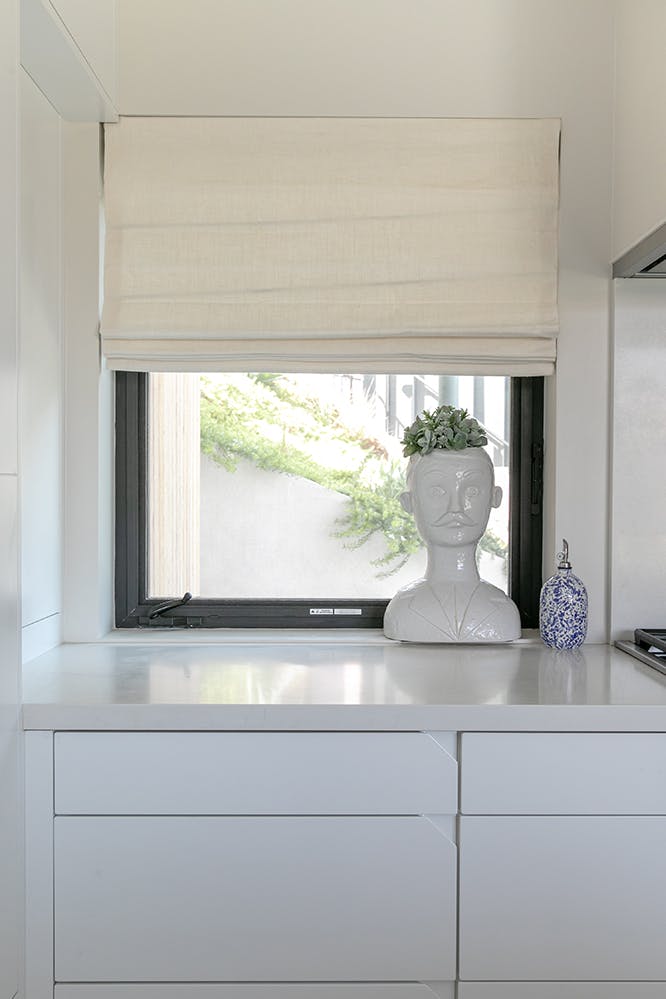 Photo via Oh Joy! Featuring Premium Roman Shades in Gent Bisque.
In alignment with both the traditional/cottagecore and 70s/80s trends, we've seen an uptick in pleated draperies. Nothing says traditional like lots of layered window treatments and classic tailored pleats, especially when you choose a weighty brocade fabric.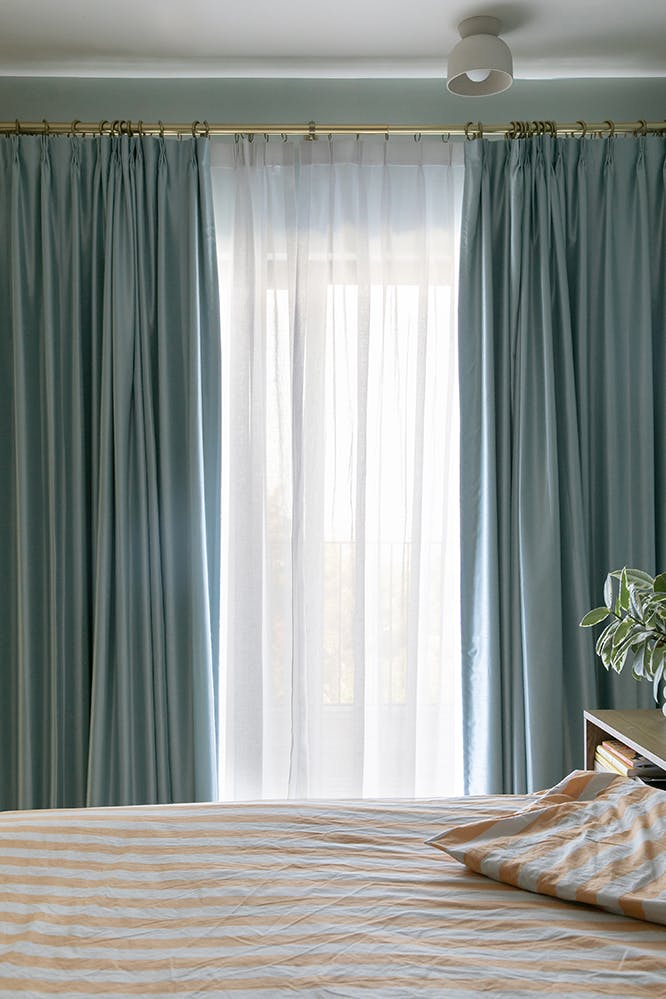 Photo via Oh Joy! Featuring French Pleat Drapery in Celene Ivory (sheer) and Easy Classic Pleat Draperies in Helena Ice (grey).
For retro vibes, we're seeing people bring in wall-to-wall, or even 360-degree curtains. This dramatic look brings tons of style, but can also be used in a practical way to camouflage off-center windows. Many are choosing ivory sheer curtains for a 70s-inspired floaty feel.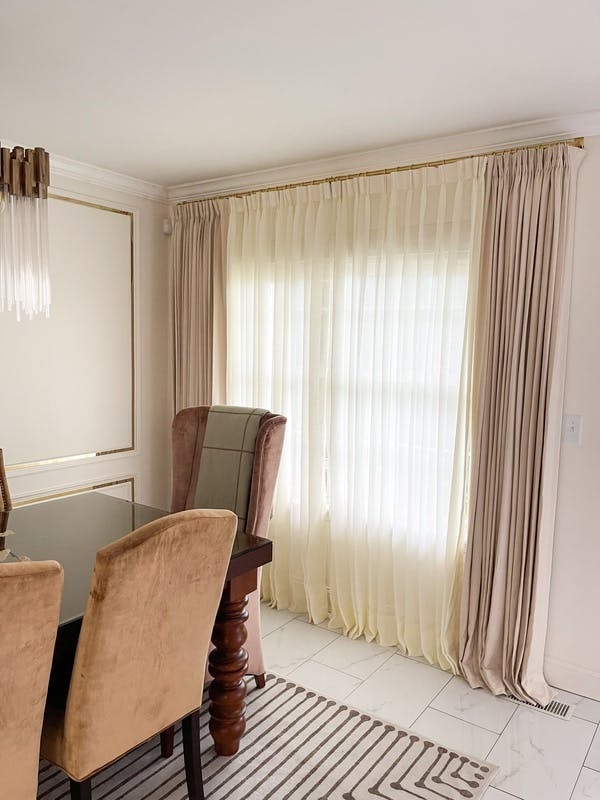 Photo via Maricela Lopez Design. Featuring French Pleat Draperies in Celine Alabaster and Easy Classic Pleat Drapery in Gent Vanilla.
Lastly, we're seeing an increase in matchy-matchy window treatments that blend with monochrome painted walls and trim. You can get the look with roman shades in a matching fabric, like Oh Joy did, or as a wall of curtains that add some textural interest to a solid color room.
Photo via Oh Joy! Featuring Premium Roman Shades in Luxe Velvet Lapis.
Color is Making a Comeback
A few years ago, everyone seemed to be designing minimalist spaces with white walls and neutral furnishings, but these days color and pattern are reigning supreme. Last year we talked about the trend towards dark paint colors and "jewel box rooms." As we look to 2022, we expect to see a shift from deep moody colors to cheerful brights. We could all use a little more positive energy in our homes, and playful color choices for walls, cabinetry, and furniture are how we'll embrace that.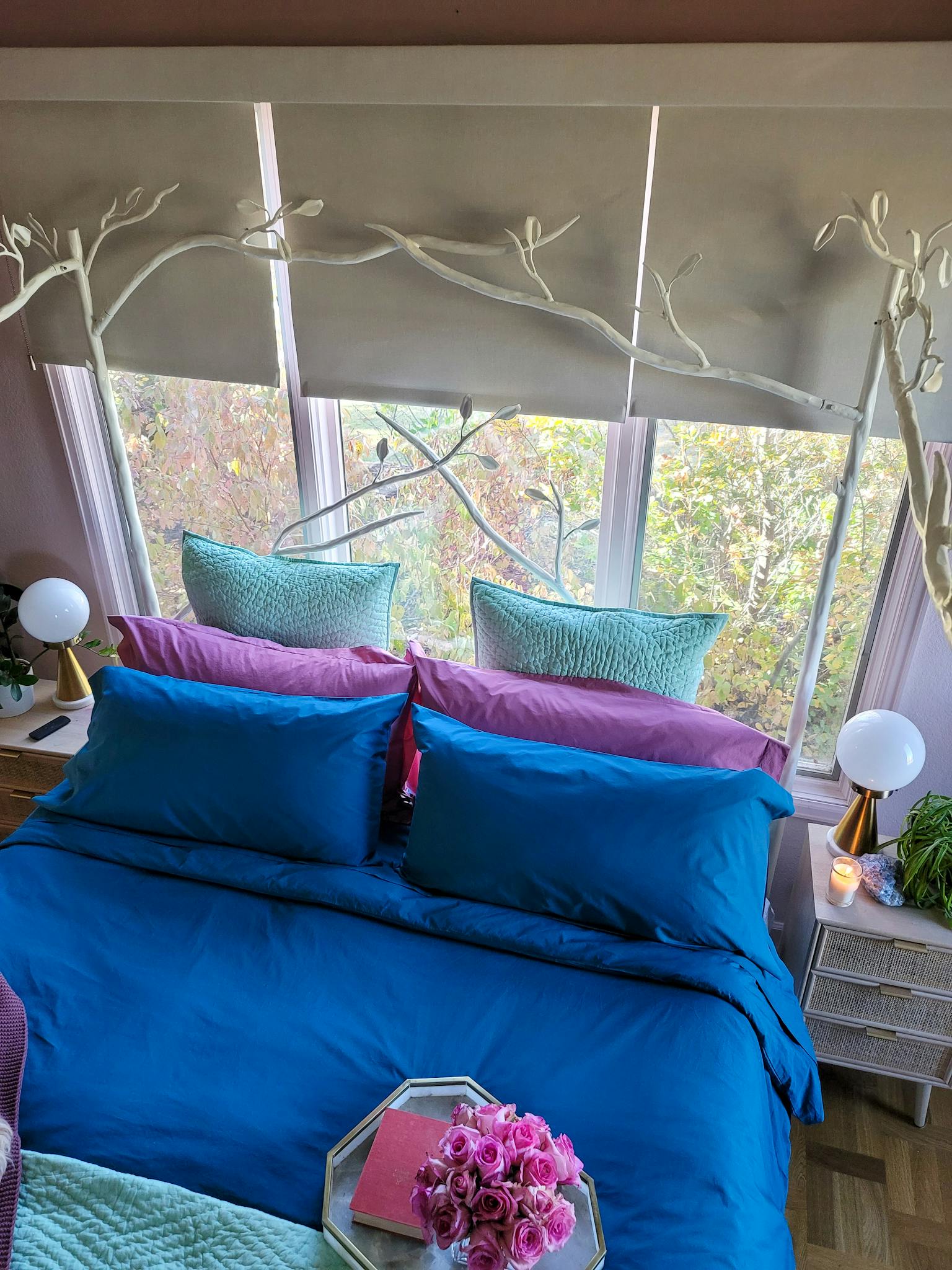 Photo via Eclectic Twist. Featuring Premium Blackout Roller Shades in Catania Off White.
When painting rooms, homeowners are now thinking of the ceiling as design opportunity rather than an afterthought. It's become standard to paint the ceiling the same color as the walls, or even wallpaper it for a pop of pattern.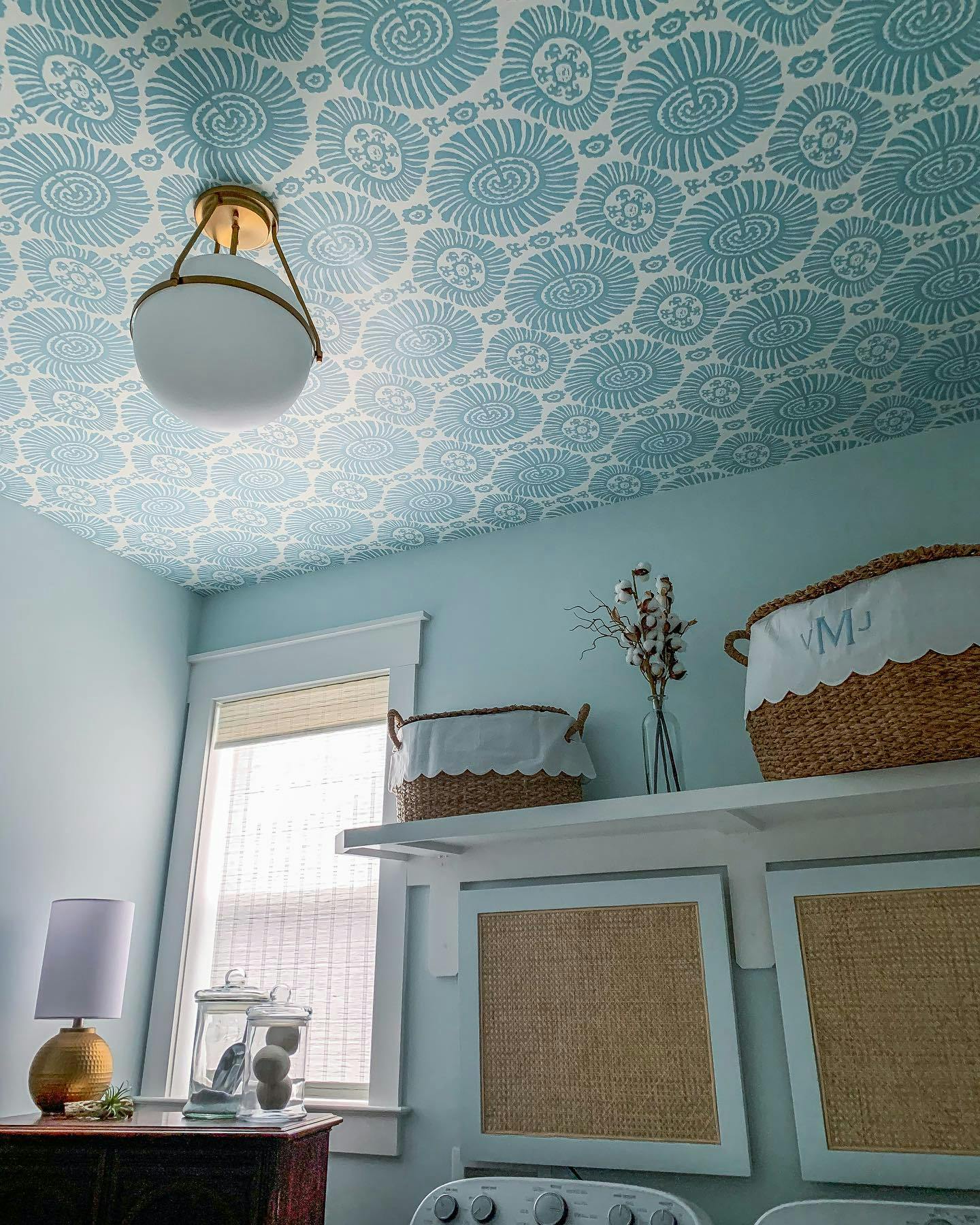 Photo via @virginia_mcdade_designs, featuring Premium Woven Roller Shades in Reese White Sand.
Speaking of wallpaper, it seems that a room makeover in 2022 won't be complete without adding some pattern to the walls. A few years ago, people opted to wallpaper one accent wall, but today if you want to save time and expense, try adding wainscotting and only papering the top half of your walls.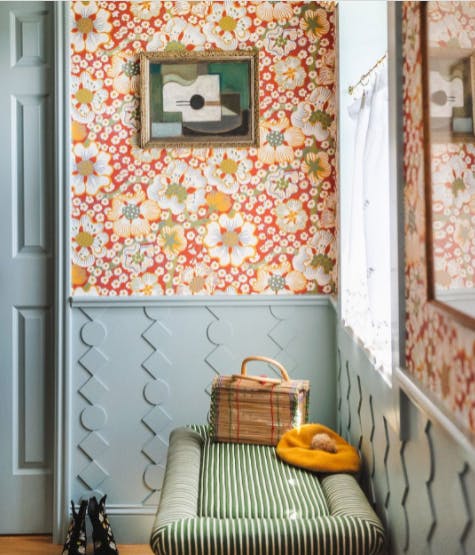 Photo via The House that Lars Built.
Green is the New Everything
From sage to emerald to hunter - greens are the it accent color of the moment, replacing navy blue that was the go-to a few years ago. Several paint companies have chosen grey-greens as their 2022 color of the year, and Etsy has gone for a bolder emerald. To many decorators, green truly works as a neutral, and they're bringing it into their homes for kitchen cabinets, bathroom tile, upholstered furniture, and in the form of plants.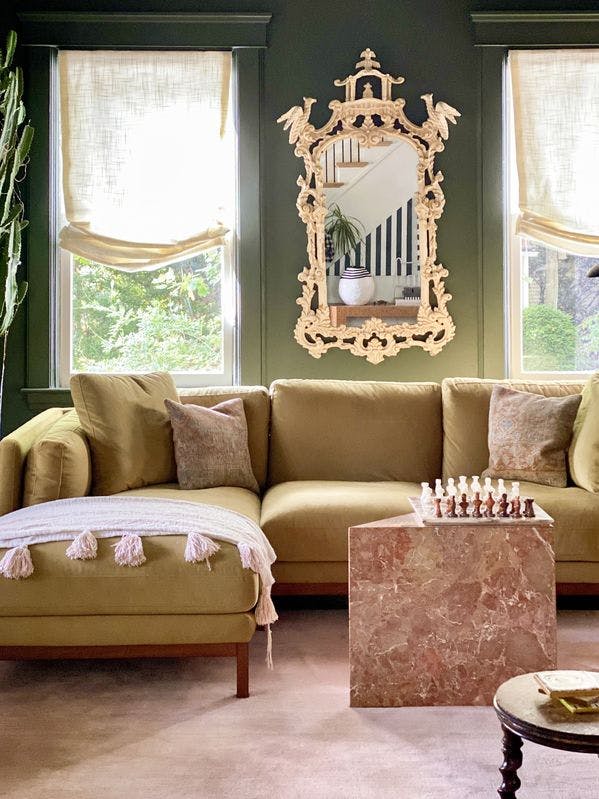 We've all seen the huge boom in houseplants over the last few years, but according to Pinterest's trend prediction for biophilic design, our homes are about to get a whole lot greener. They say that in 2022, we'll go beyond potted plants, and plan our renovations around living elements like staircase gardens, living walls and indoor gardens.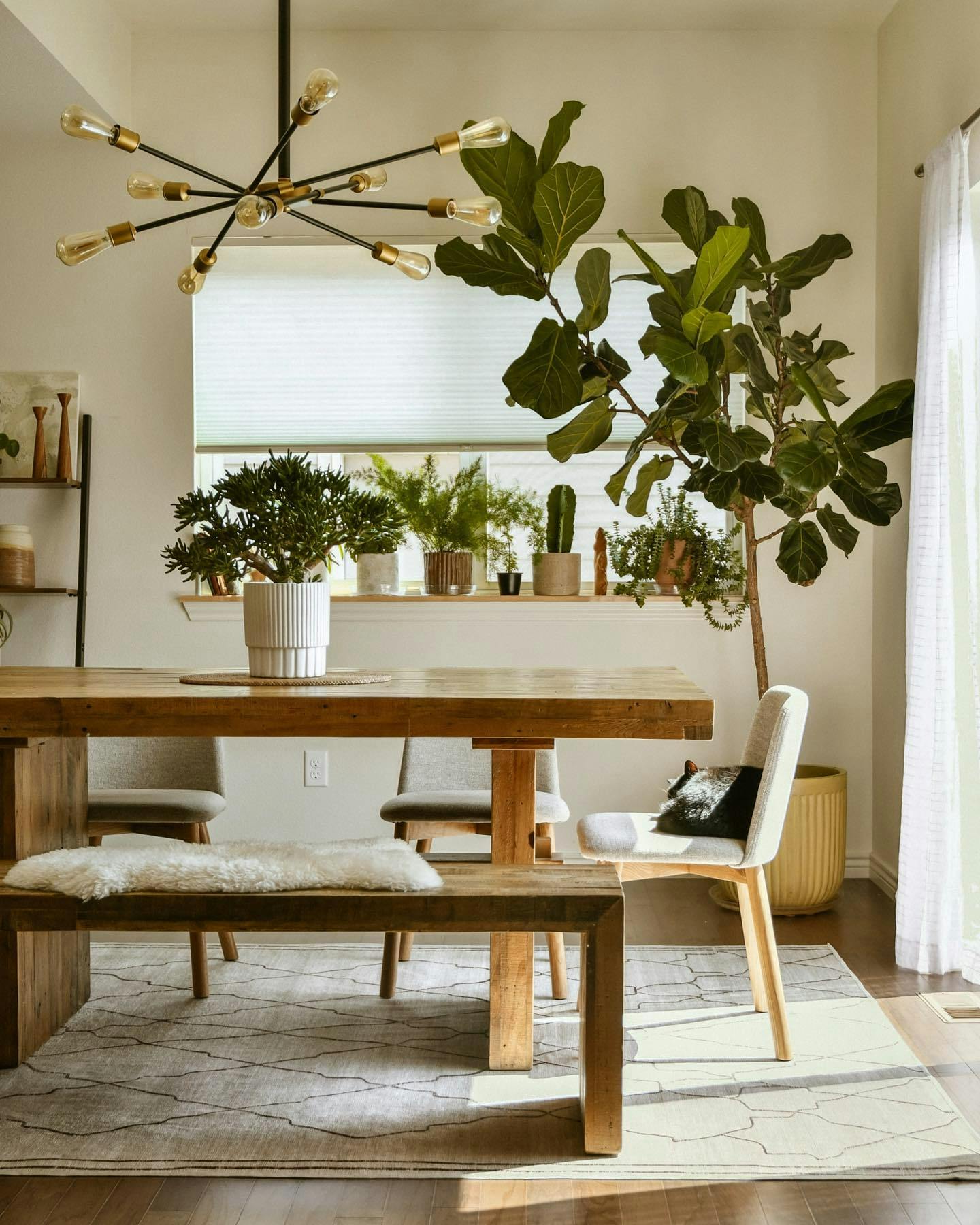 Photo via @wanderingmyhome. Featuring SimplyEco Cordless Light Filtering Cellular Shades in Ivory.
Outdoor Spaces Are Not An Afterthought
After spending more time at home for several years, many people invested in making their outdoor spaces more usable. Whether it was installing a pool, adding outdoor dining for safer entertaining, or simply placing a bistro table on your balcony, we all needed a place to "escape" even when we couldn't leave the house.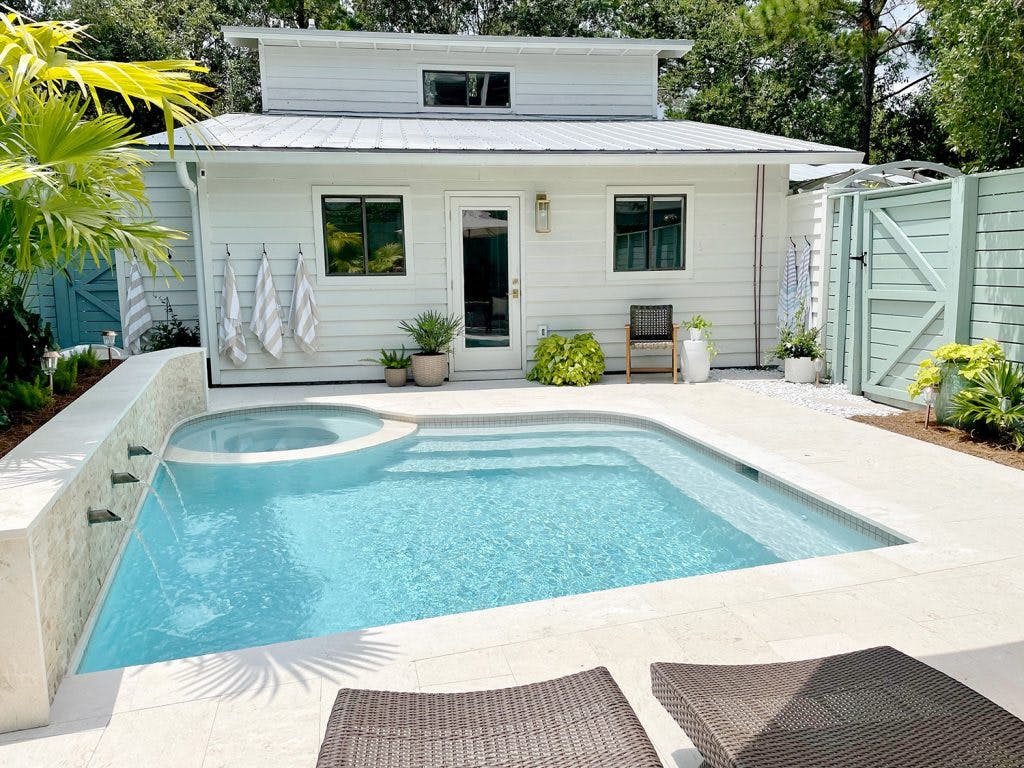 Image via Young House Love.
However, now that people have created these inviting outdoor spaces, they want to make the most of them. Outdoor spaces are no longer last on our renovation lists, but a part of our home's footprint that we've realized we can use just as much as indoor rooms. Rather than just using our backyards and patios for summer entertaining, we're hosting outdoor movie nights, hangouts around the fire pit and even birthdays and baby showers outside. These events have pushed their way into "fringe seasons" of early spring and late fall for many locations, or for those in california-like climates, we're outside year-round.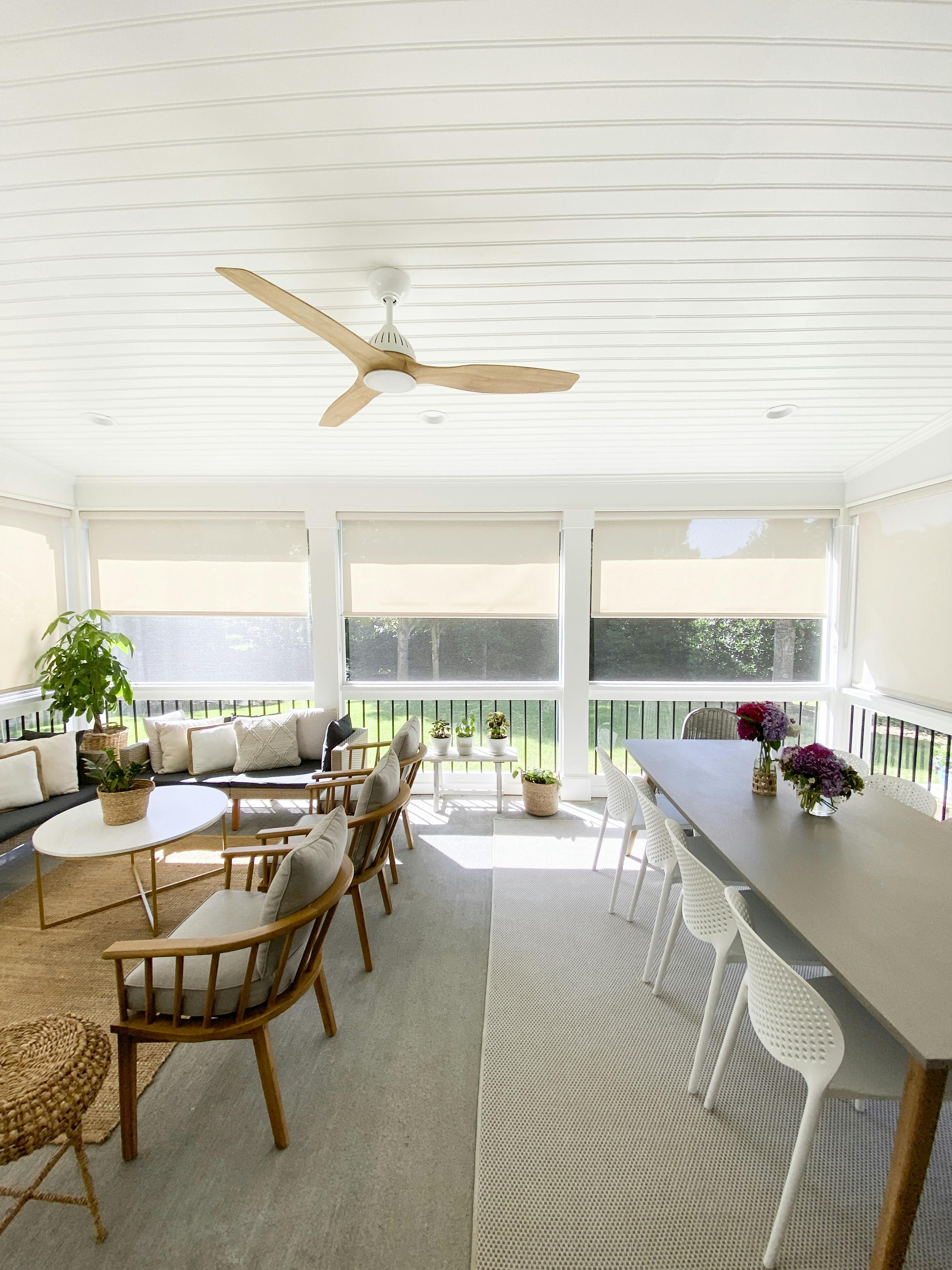 Photo via Love Your Abode. Featuring Outdoor Solar Shades in Palermo 5%.
Keep the Inspiration Going!
See more of our 2022 decor inspiration on Pinterest, and join the conversation to tell us what trends you're excited to try on Instagram @BlindsDotCom.
Check out last year's post to see what we got right, and what didn't pan out: