Rarely do we come across a shade that is not only stylish and functional, but also different than anything we've ever seen. That's why I'm so bowled over by the new Flat Sheer Shading, exclusively at Blinds.com. It's perfect for the person who loves to be ahead of the curve when it comes to home decor styles. If you're a fashion risk-taker, this shade will match your personality and flair for the modern and original.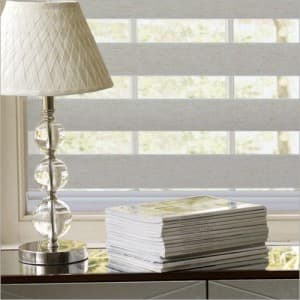 This horizontal shading is also known as a "zebra shade" because it has two flat layers of material that alternate between opaque and sheer. When you line the sheer part of one layer up with opaque part of the other, you create a blackout shade. Line the opaque parts up together, and you create a striped – or "zebra" – look (see below). It's stunning and sophisticated, and nothing like traditional shades that are so commonplace. It's basically two shades in one; you can have both privacy and your view to the outside when you want them. They virtually disappear when they're raised.
The Flat Sheer Shading is perfect for a living room or dining room that needs sprucing up and makes even a casual sitting area look more polished and pulled together.
You can order samples of each color to test them in your home to find the perfect match. We're just giddy over the new Flat Sheer Shading, and we know you'll be smitten with it too.
P.S. "Like" us on Facebook for super-secret deals, discounts, and contests you won't see anywhere else.