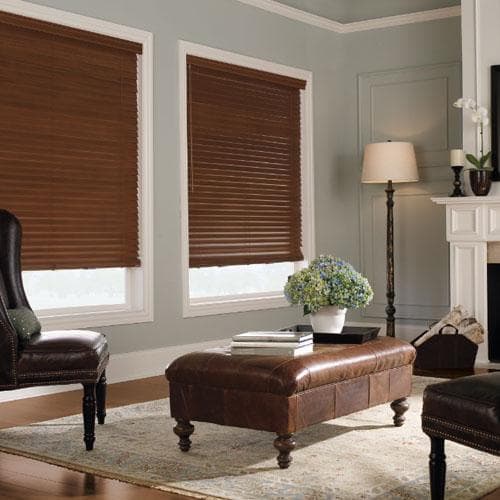 There are so many elements to consider when designing and building a home or addition that it is easy to overlook window treatments. This article will show you how to avoid the most common pitfalls, and hopefully save you money.
Window Depths
Window depths should be at least 2-1/2 inches, especially when decorative casing surrounds the window. Homeowners prefer to mount treatments like shutters and plantation size (2″) wooden blinds within the window frame. When installing double-hung windows the 2-1/2 inches applies to the bottom window, where space is especially shallow. Some plantation shutters have 4-1/2 inch louvers These and some other treatments require even more room.
Double and triple windows encased in one window opening usually have vertical trim strips between the windows. Do not forget to include these strips when measuring the depth. Consideration should be made of minimizing or even eliminating them, since they are usually just decorative and take up valuable space.
Sliding doors are less popular these days; however, the door's handle size should be considered when measuring the depth. Vertical blinds usually require a 4″ depth plus room for the handles.
Window Styles
>> Need help with choosing window coverings for oddly shaped windows?  Click here!  <<
Window styles such as circular, arched, eyebrow arched, and angled are aesthetically appealing, but restrict the choices of window treatments. Manufacturers have only a few blind and shade products which accommodate these windows. This is especially true for eyebrow and 1/4 arches. Shutters are usually the only choice for treatments mounted inside these kinds of windows.
Homeowners are reluctant to permanently cover the arched portion of an arched window, and there are few treatments which can be opened. Use care when incorporating these fashionable but difficult to treat windows.
Crank style windows prevent treatments from lowering completely. In a set of bow windows without sheetrock separating each window, there is usually a privacy problem because of the gap between each blind or shade. Full traversing draperies will alleviate this problem, but a long drapery is probably inappropriate in, for example, a breakfast room or kitchen.
>> Click here for the best patio and French door shades <<
French doors usually swing into the home, and this eliminates many types of valances which hang above the doors. There are a few options which can be mounted directly on the doors. Consider allowing the doors to swing outward. Also consider the handles and dead bolt locks which sometimes prevent optimal placement of shades, blinds, and shutters. The door handles should be installed toward the center of double French doors to allow easier stack back of draperies on both sides of the doors.
The number of glass panes across a window should be an even number when you are using shutters, so that the center of the shutter lines up with a line in the window.
Window Placement
Window placement is equally important. Chair rails and base boards should not be wrapped around into the window openings. This prevents the raising and lowering of shades and blinds. Chair rails and trim from an adjoining perpendicular wall sometimes butts up against the window or its casing. This restricts the proper placement of a drapery, and does not allow the drapery to stack back sufficiently. Sometimes the outside edge of the drapery cannot even extend outside the window itself. This problem also can be caused by fireplace mantels. It is best when an equal amount of wall space is provided on both sides of a window. Center the windows on the wall whenever possible.
>> Click here for the best blinds in hard to reach places <<
Make sure there is enough space between the top of the window and the ceiling or crown molding. A minimum of 2″ is required for bracket placement. Wood headers should extend up to the ceiling or crown molding if the window treatment is being installed that high. Heavy treatments are best mounted into wood, instead of just the sheetrock. If there is not a stud where you need one, consider using molly or toggle bolts.
Avoid a soffet when the top of the windows under the soffet are lower than the tops of other windows in the same room. It is preferable to eliminate soffets in bay or bow windows.
Access to all windows is necessary, even those in unfinished attics. Windows over tubs are sometimes difficult to reach without stepping into the tub. Front doors with smooth glass are usually covered with a gathered sheer. The sheer is not preferable in contemporary homes. Consider using beveled glass to eliminate the need for a drapery treatment.
Other Window Considerations
Other considerations such as motorized treatments require special wiring and strategic placement of wall plugs. Windows in the same room should be of the same style. The bottom of windows along stairways should be high enough to allow for draperies to hang at an equal length on both sides of the window. Built-in wooden cornices should be sufficiently long and deep to handle the window treatment you are going to use.
Fire sensors and motion detectors are sometimes in the way of rod placement. Alarm contacts can be particularly tricky.
Consider giving this article to your architect, contractor, and window treatment professional. Whether you are able to incorporate all of these ideas will be determined by cost, your personal aesthetic preferences, structural integrity, and the flexibility of the people who are working for you.
If you consider your window treatments before you build, you will be ready to move in to your new home to enjoy your lovely new window treatments from Blinds.com!