Don't pull out the same old plastic pumpkins and ragged scarecrows this year. Use these fresh, new fall decorating ideas to give your home some seasonal charm with the latest design trends.
White out!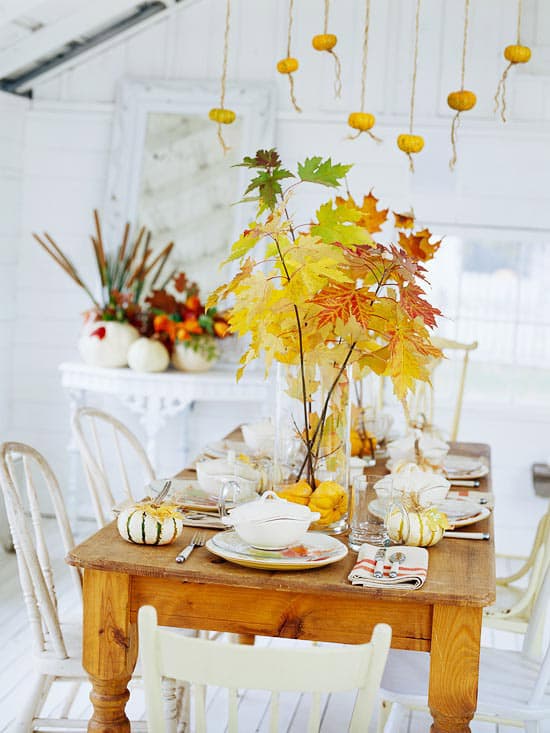 Whitewashing is huge in home decor this year. The vibrant colors of fall foliage pop against a clean, white canvas, making them look modern rather than kitschy.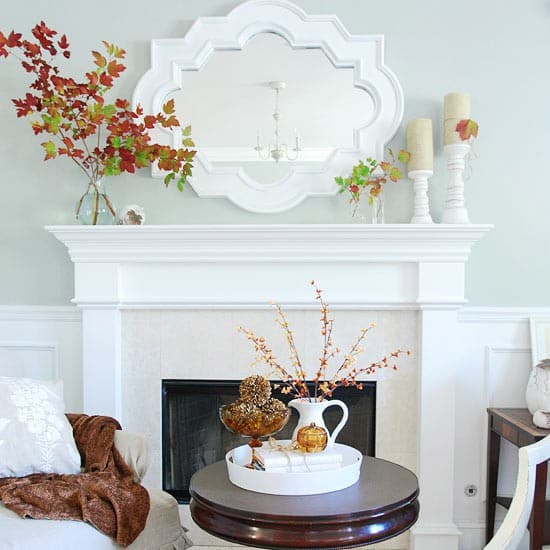 If all white is too stark for you, try a palate of complementary neutrals for a softer effect. A colorful branch cutting brings a effortless touch of fall to an all-white mantle.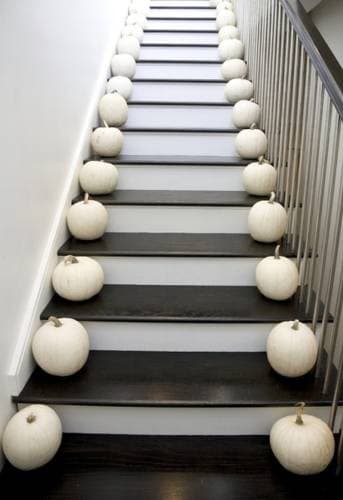 Keep fall decor sleek with white pumpkins lining your stairs. Because these albino gourds are rare, they can be a little pricier. Save a little money by buying small, pie pumpkins in bulk and painting them white.
Make your Porch Shine for Fall!
Gold has come from gaudy 80's to sophisticated contemporary and is back in a big way this season. Keep street-side decor looking modern by bringing in metallic accents.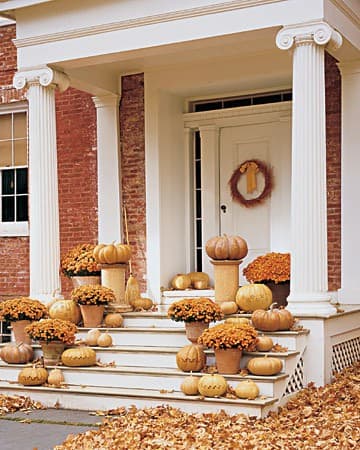 A monochromatic palate on the front porch looks tailored and intentional. Get the golden look with potted chrysanthemums and fairy tale pumpkins of varying sizes. Give your pumpkins a slight sheen with spray glitter or a thin coat of pearlized paint.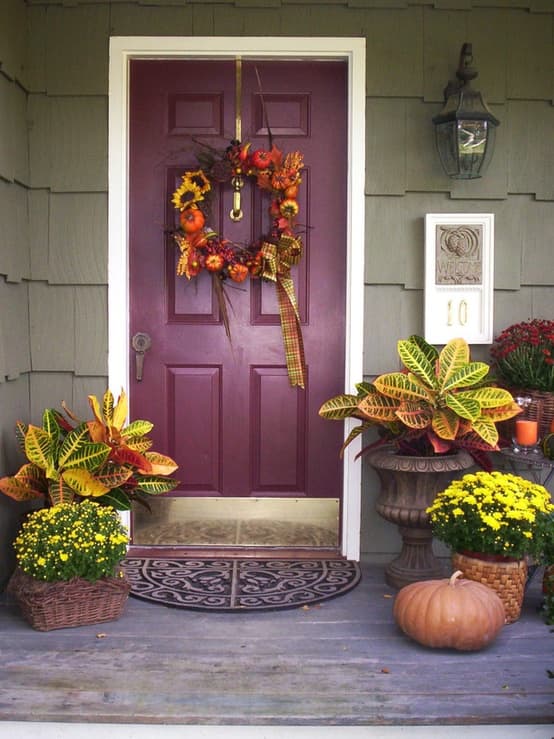 Compliment a plumb front door with a potted garden in autumnal hues. The polished brass kick plate, knocker, and wreath hanger are like jewelry for the door. This bit of shine keeps the overall look luxe and sophisitcated.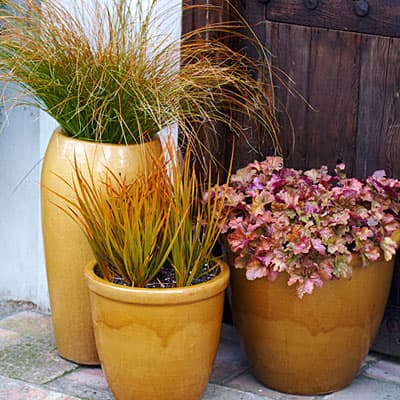 Update your front porch planters with this trio of fall-friendly plants. The hints of gold and matching containers keep the mix of textures looking cohesive.
Get Glitzy!
Bring a little bit of that shine into the house with these fall-inspired glitter projects.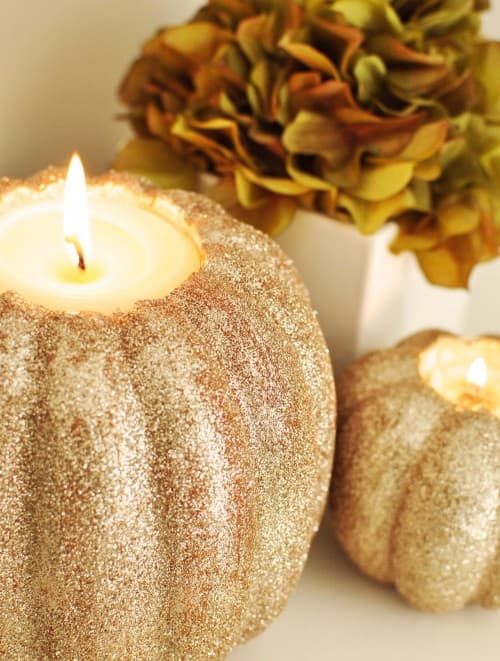 Sparkle isn't just for New Years. Give a new life to Styrofoam pumpkins that've seen better days with a coat of glitter that'll hide any imperfections. Make room for a pillar candle with a hole saw attachment and a drill. Give the finished product a coating of hairspray to keep glitter from falling off later.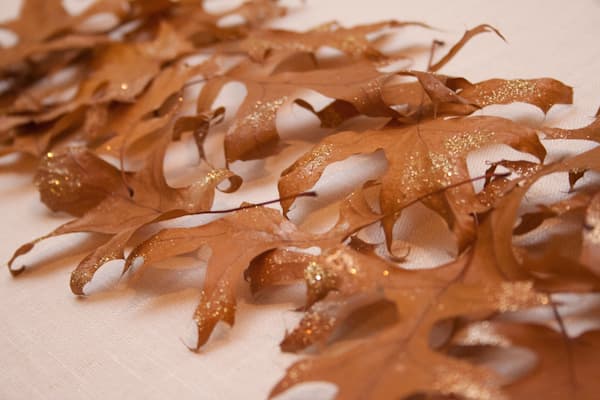 Make a glittered leaf table runner by spraying the tip of leaves with aerosol adhesive and sprinkling on glitter. Attach leaves to one another using the spray adhesive and give your holiday table some sophisticated shine.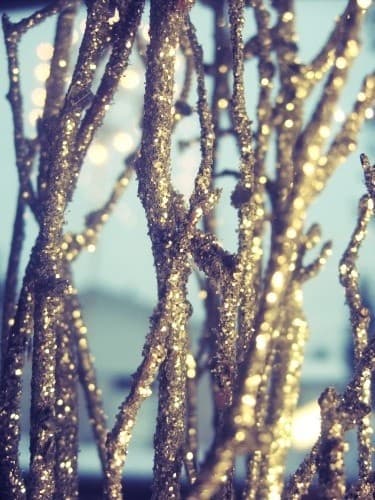 Glitter Branches are another way to take something natural (and free!) to the next level. Dip branches in glue, roll in glitter, and then allow them to dry upright. These will look beautiful mixed into a fall flower arrangement, displayed alone, or layered along a table runner for a festive meal.
Take Touches of Fall to Your Windows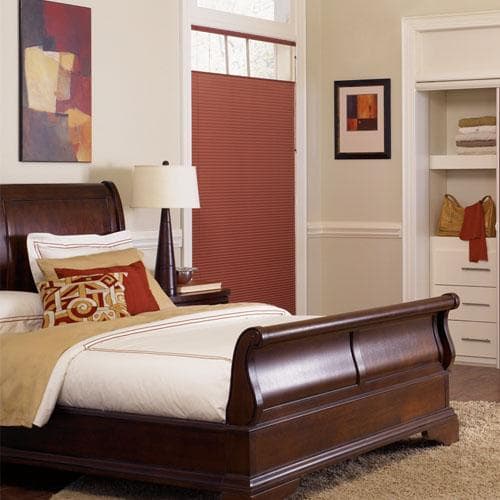 The Graber CrystalPleat 3/8″ Single Cell Light Filtering Shade will give your windows the insulation you need to keep your home cozy when temperatures drop. They look beautiful for autumn in Sedona, as pictured above. Order free samples of any of our products to see the colors and quality for yourself.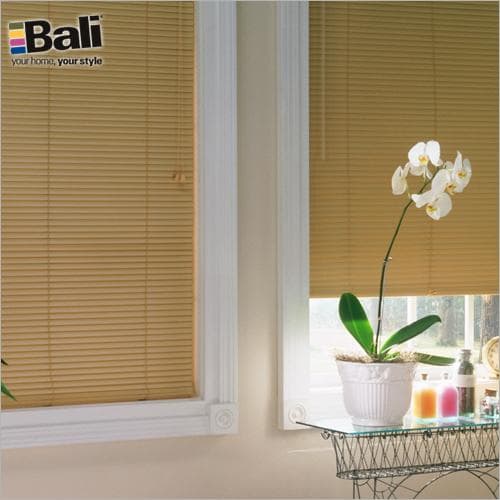 Blinds in the color of waving wheat are especially stunning for fall, but they will fit seamlessly with your decor the whole year through. The Bali 1″ Lightblocker Blinds Mini Blinds are pictured above in Camel. They have slats that close tighter, keeping out more light, so they're perfect for western facing windows that produce a lot of glare.
Shop all of our autumn-hued blinds and shades to get the look in your home.
Connect with us!
See all of the inspiring ideas we couldn't share this time in our Fall Home Decor board on Pinterest, or our Fall Ideabook on Houzz!
We want to hear from you! What are your favorite fall decorating trends? Think you'll try any of the ones above?