Itching to get started on some home improvement projects in 2020?
We asked top bloggers, renovators, and decorators to share their favorite home projects from last year and the decor trends they'd like to try in 2020. Here's what they said!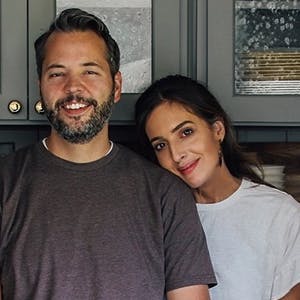 "We loved renovating our kitchen in just two weeks with just $1,000. We weren't ready for a full-blown renovation, but this room, where we all gather the most, needed some love. We rearranged the cabinets, painted them, switched out the hardware, added fronts to the fridge and the dishwasher — and gave the room what turned out to be a dramatic makeover!"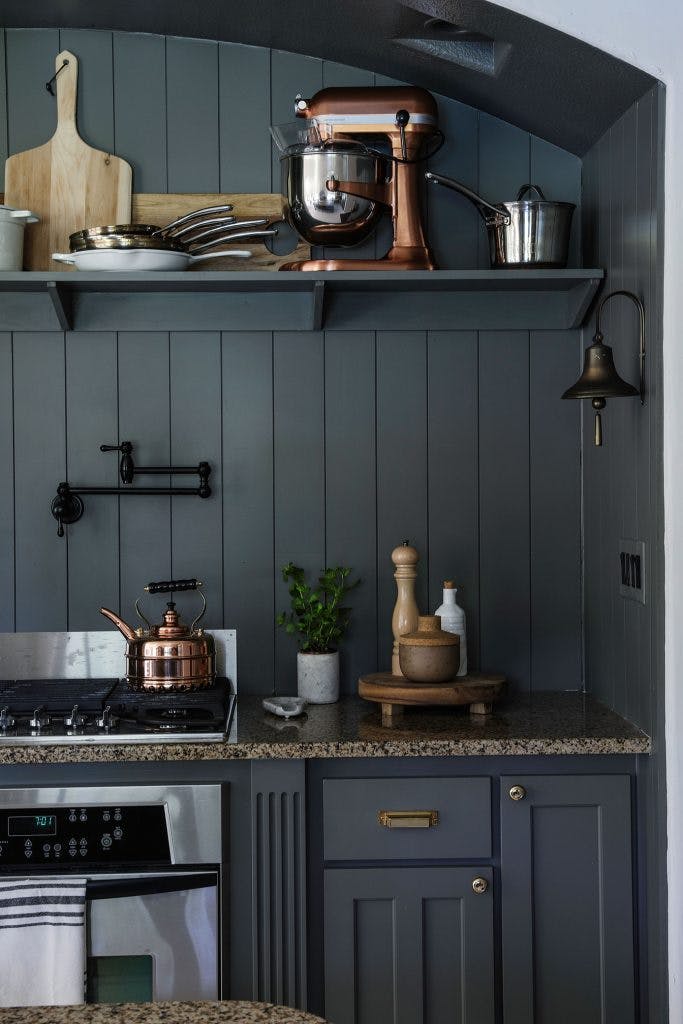 The Trend We're Trying in 2020:
"We're looking forward to a trend we're seeing in vintage-inspired items making a comeback: patterned curtains and sofas, turned table legs, portrait art, chimney lamp shades... We love it all!"
Check out Chris and Julia's Fullmer kitchen makeover with our Blinds.com Deluxe Woven Wood Shades in Capri Natural.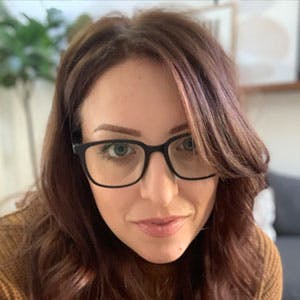 "Our kitchen renovation was by far my favorite project of 2019. It was a dark, dingy and borderline scary space. We completely transformed it without changing the overall footprint. I feel like it proves galleys can be amazing, bright and functional kitchens too."
Check out Erin's full kitchen reveal with Premium Roman Shades in Linen Stripe Vanilla-Stone.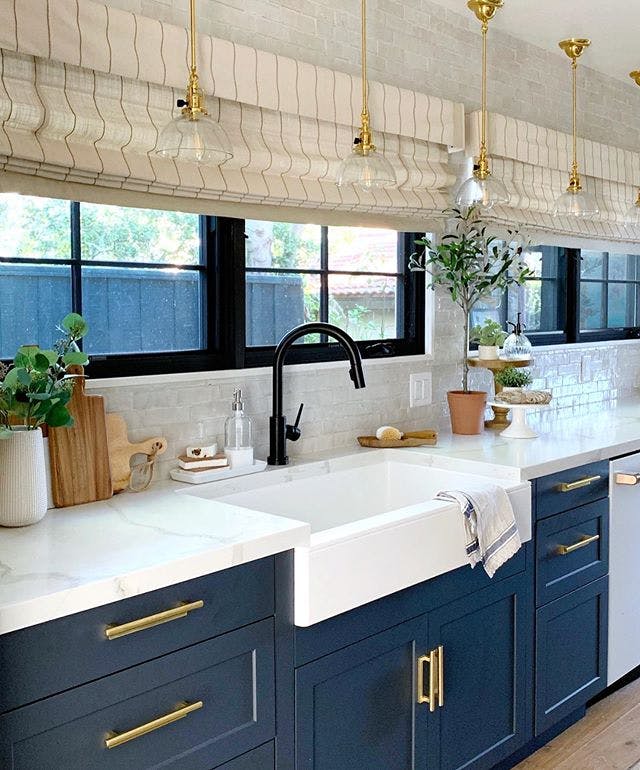 The Trend I'm Trying in 2020:
"My favorite current trend is contrast trim. I think it opens up a whole new world for people wanting to make an impact in their space without fully committing to painting over our beloved white walls. We are going to be doing contrast trim in our stairwell and hallway. The hallway is very narrow but using the contrast trim it can still feel acknowledged and designed, not just some forgotten utilitarian space."
Liz Kamarul's Sleek Open Shelving in the Living Room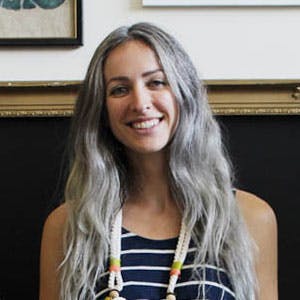 "My favorite home decor project for this year was creating open shelves in our living room. It was so cost-effective, quite simple and made such a big impact in the space! The whole project cost a total of $100."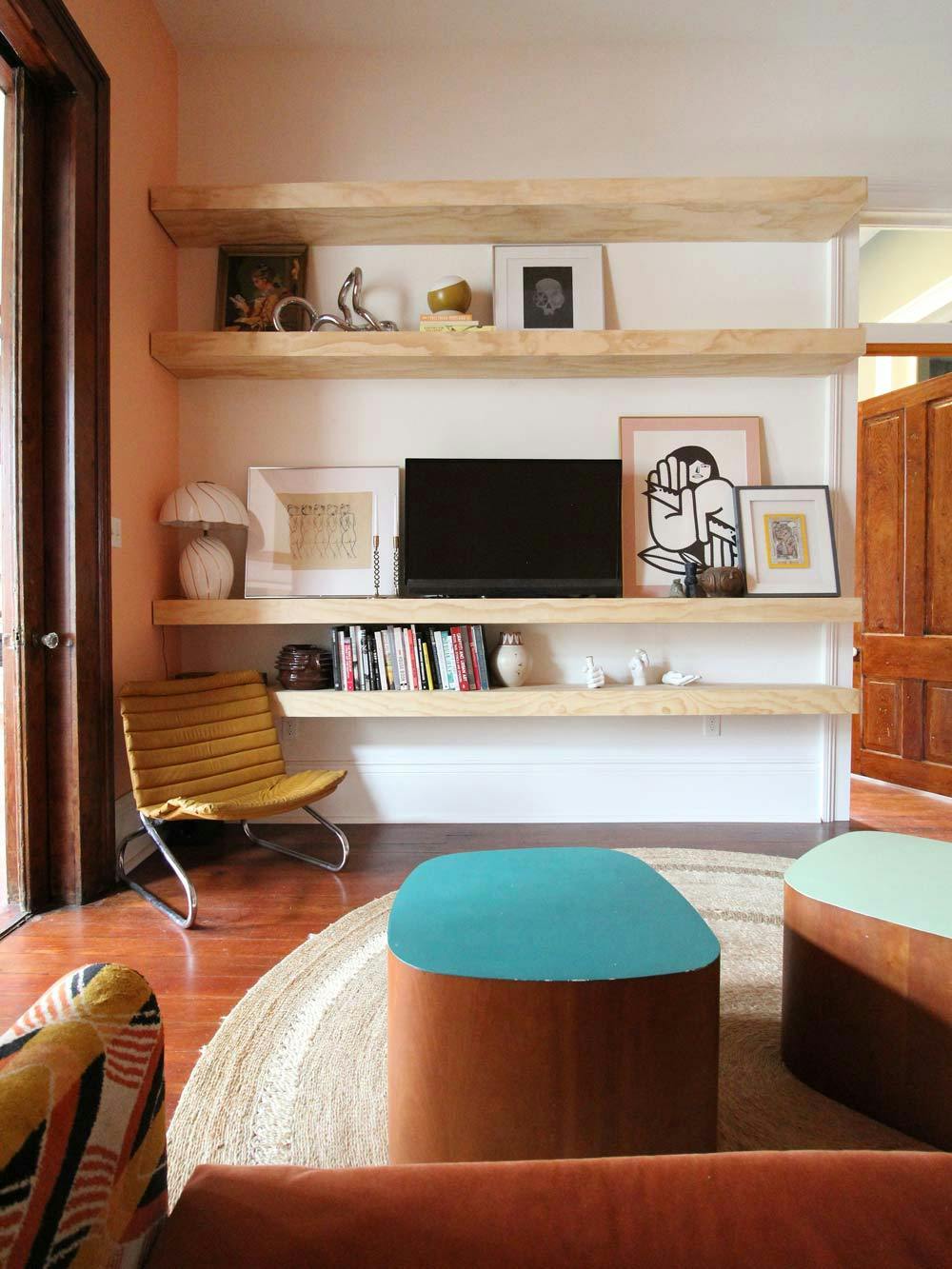 The Trend I'm Trying in 2020:
"I'm looking forward to painting more murals and hand-painted wallpaper next year. I think it will continue to be popular throughout 2020 because it's such a unique and affordable way to transform a space. The photo below is a mural I painted for Sazerac Stitches."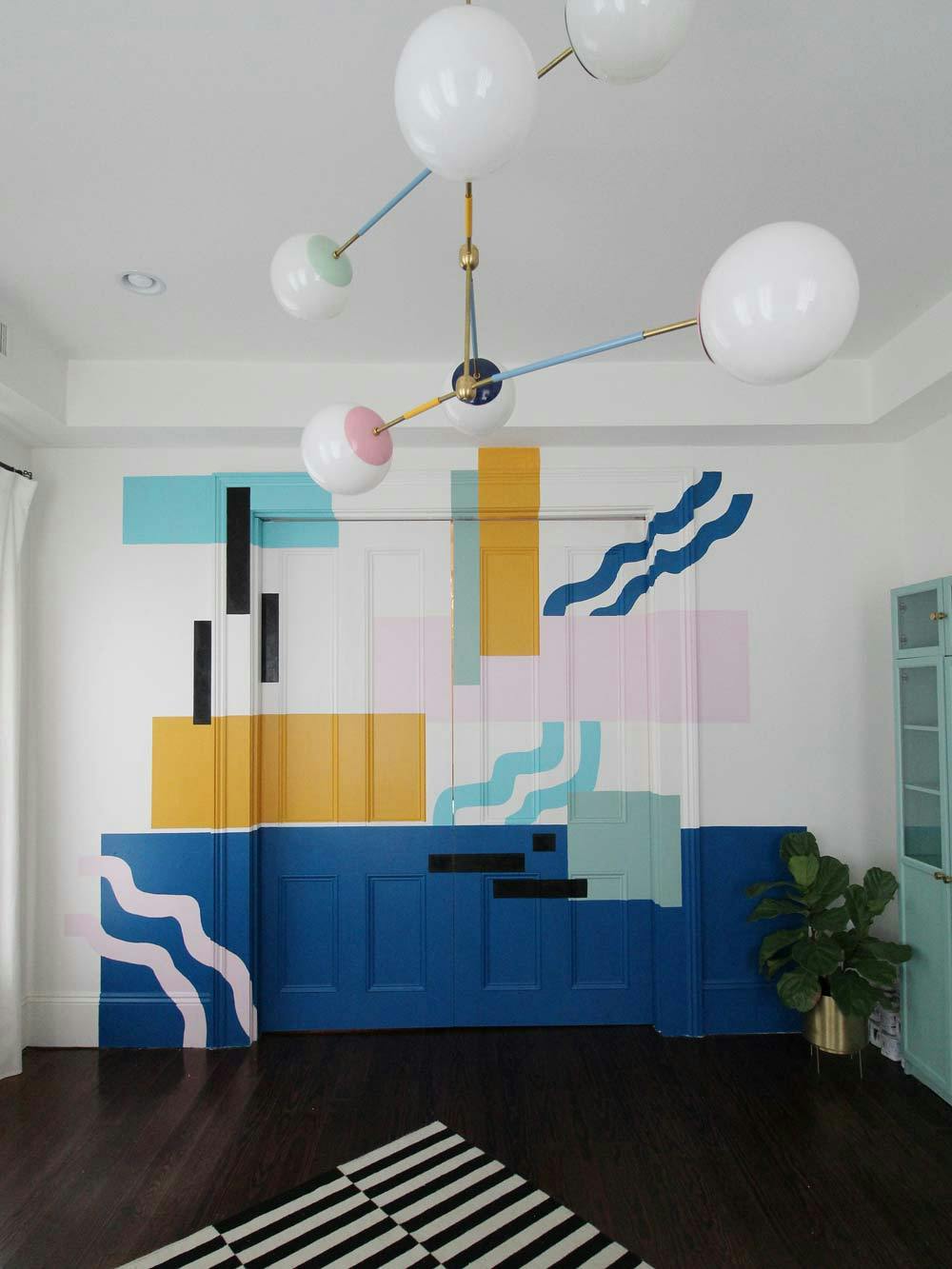 Check out Liz's guest bedroom makeover with funky owl wallpaper and shutters.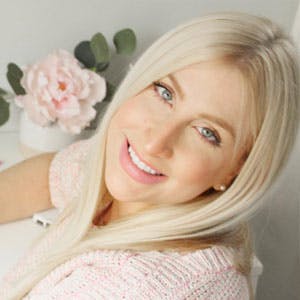 "My favorite home project of 2019 was our kitchen renovation. We have a tiny kitchen, so it was a fairly easy project. We stuck to a tight budget and salvaged our existing cabinets by adding trim for a more modern look. It made such a huge impact. However, the new sink & light fixtures were the best part!"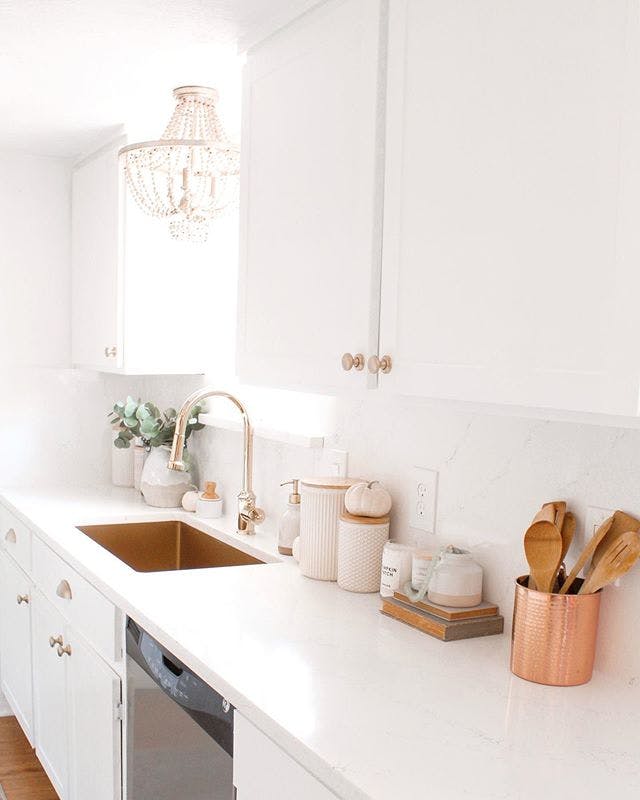 The Trend I'm Trying in 2020:
"Our next big project will be renovating our main bathroom. This is another small space in our home that is in severe need of a facelift. I'm leaning towards a similar color palette as we used in the kitchen to keep our home cohesive (all white with pops of metal)."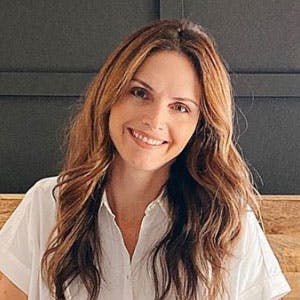 "My favorite home decor project of 2019 was our laundry room makeover. We made a casing for our washer/dryer and did this awesome feature wall with shelving for extra storage."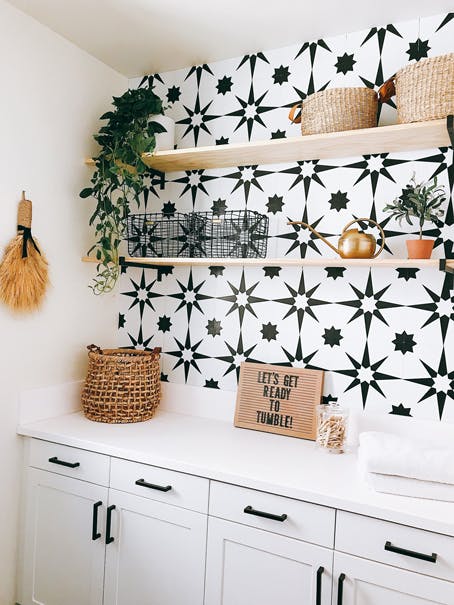 The Trend I'm Trying in 2020:
"In 2020 I'm hoping to our staircase railings to something more modern."
Check out Ashley's main bedroom makeover with textural woven shades.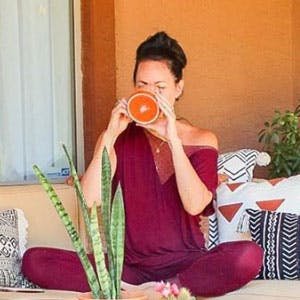 "My favorite home improvement this year has to be our kitchen. We recently moved into a new home and it had very dark cabinets. I just left our rental home that also had a very dark kitchen. I longed for something bright and light! I only had a budget for the paint so it would have to be a color that would work with the countertops and backsplash. I left some of the cabinet doors off to give me some open shelves, and I added new gold hardware from Home Depot."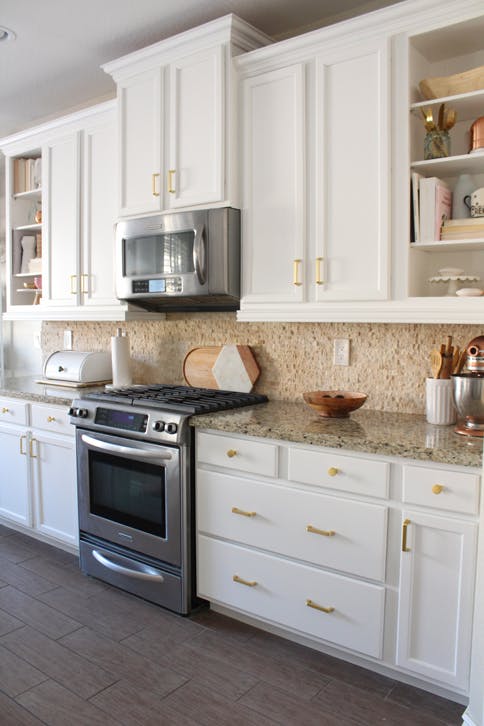 The Trend I'm Trying in 2020:
"This year I am looking forward to a main bathroom makeover. The green marble countertops and dark cherry cabinets have got to go! I'm also going to be changing ceiling fans out for some beautiful chandeliers. I am loving the choices and trends in lighting right now. It's amazing how the right light fixture can change the whole look of the room!"
Pretty on Fridays' One Room Challenge Office Makeover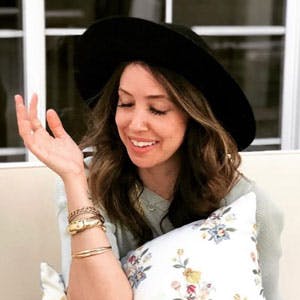 "My favorite project this year was my most recent office transformation for the One Room Challenge. I had to design a room from start to finish with a 6 week timeline. I painted the wainscotting black, installed floating shelves and added a landscape wall mural."
P.S. Get this look with Woven Wood Shades in Tibet Walnut.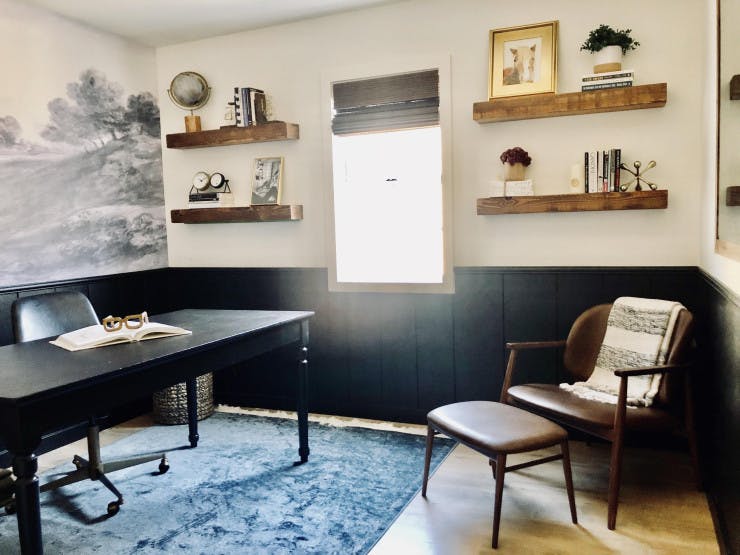 The Trend I'm Trying in 2020:
"I"m looking forward to working on my living room and my kids playroom next!"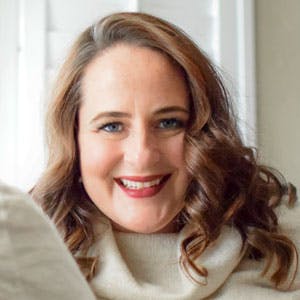 "My favorite home improvement project of 2019 was updating the view from our entry into our home. First impressions determine a lot and I want to make my home feel inviting and fun for the holidays. This wall was just ho-hum. I updated the look by adding shiplap to this wall and adding an old dresser that I fixed up with some paint and new hardware."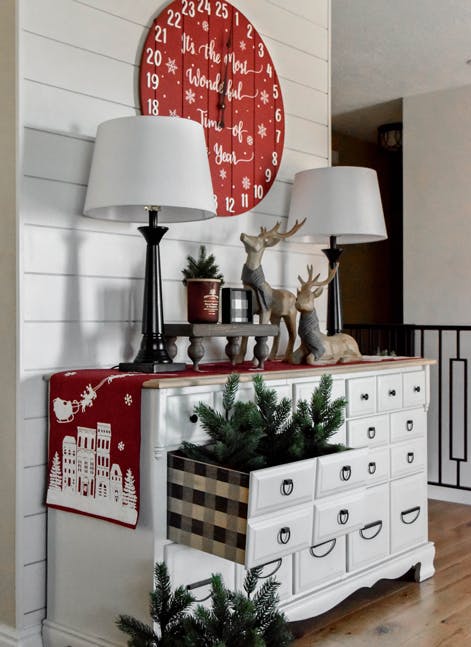 The Trend I'm Trying in 2020:
"I have been looking forward to adding flower beds to the front of our home and I think 2020 is going to be the year for that!"
Check out Tammy's front porch makeover with heat-blocking solar shades.
Gilded Hearth's Beige and Brass Kitchen Reno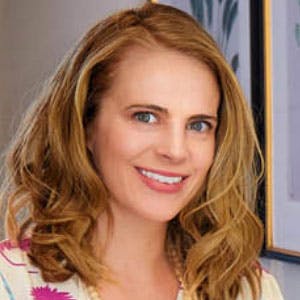 "Our kitchen/breakfast nook was for sure my favorite project. By taking out a row of cabinets and adding shelves as well as painting them a lighter color we were able to make it lighter and brighter without the cost of a full renovation."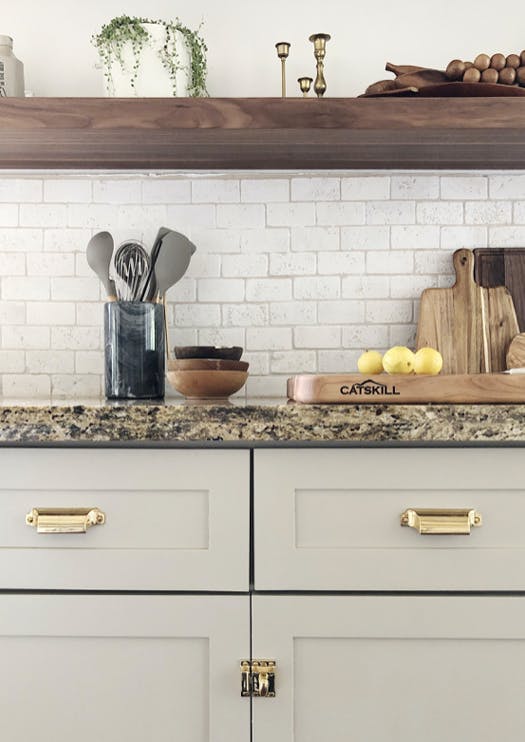 The Trend I'm Trying in 2020:
"I can't wait to finally finish up our main bedroom and possibly tackle one of our very outdated bathrooms! I would love to add in some half-round molding or tambour on a wall. I love that this new trend adds so much texture and depth."
Grace in My Space's Farmhouse Kitchen with Black Accents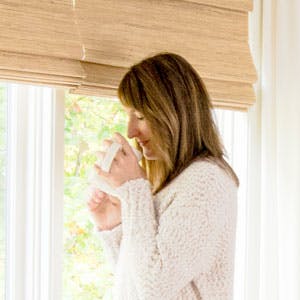 "My favorite home improvement project of 2019 was our kitchen remodel. We took our space from a small 90s kitchen to my modern farmhouse dream kitchen. We added a wall of windows, took a beautiful backsplash to the ceiling, added an island and custom range hood and installed a black apron front sink. It is the heart of our home and we've enjoyed the memorable moments we get to share with friends and family."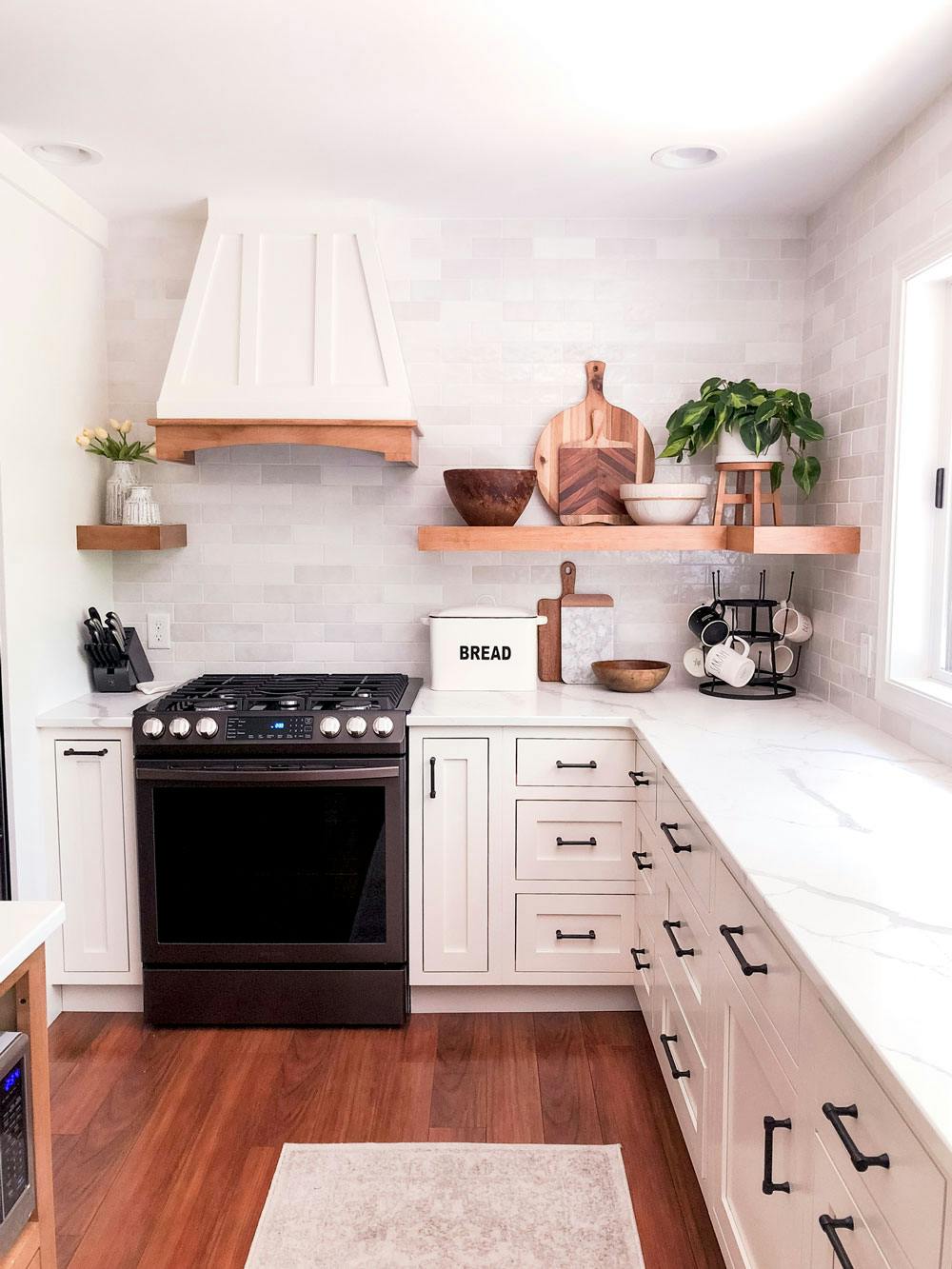 The Trend I'm Trying in 2020:
"One home decor trend I plan to tackle in 2020 is adding more moody spaces to my home. While I love a light and bright common area, it adds so much character and warmth to bring in darker colors, rich leathers, and natural texture. I'm excited to create those cozy environments for my family!"
Check out Sarah's Bedroom Makeover with Designer Woven Wood Shades in Caribbean Straw.
Wood Accent Wall + Laundry Room Refresh from Grey Birch Designs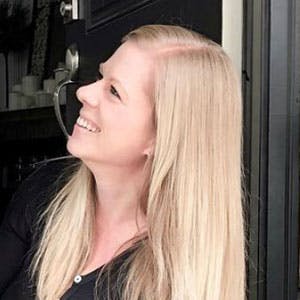 "I have two projects from this year that top the list, my laundry room renovation and the herringbone wood wall in my son's room."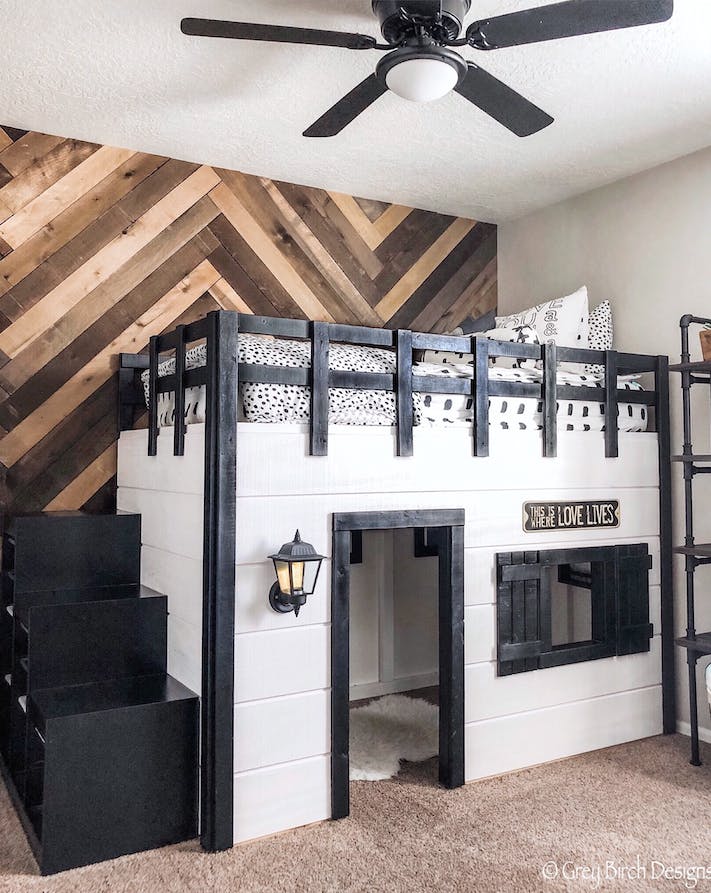 The Trend I'm Trying in 2020:
"I plan on putting in hardwood flooring in the upstairs in 2020 and I'm so excited about it!"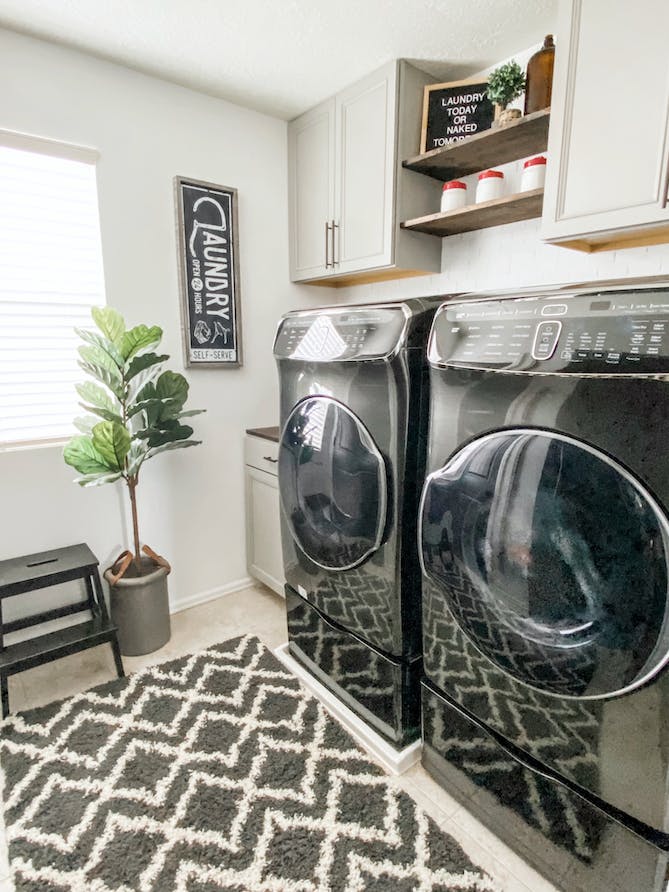 Don't miss Kaycie's living and dining room makeover with our woven wood shades and shutters.
Check Out More Home Decor Trends for 2020:
The Data Is In: The Blinds People Buy The Most
The 9 Biggest Decor Trends To Try In 2020