If you'd like to give your home a new look without any major renovations, look no further than Emily Henderson!
Emily has an amazing home styling blog that is easy to fall in love with. Styling is changing the look of a room without major renovation, isn't that what we all need? After serving as a prop stylist in New York she went on to win season 5 of Design Star on HGTV, and now has her own show, Secrets From a Stylist. The show follows her design consultations with clients and subsequent styling to reflect their individual design personalities. Emily's  home styling blog is the perfect reflection of her unique style, and wide ranging design capabilities.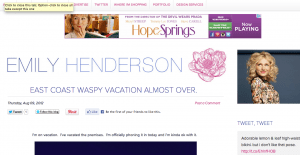 She has some great home design blog posts that explain how to take the vintage furniture, light fixtures, and other seemingly obscure pieces she finds at flea markets and how her readers could style them in their own homes.
Here she takes this funky green chandelier and shows the readers how it would work in a luxurious kitchen like the one below.
She also has beginner styling video tutorials for home decorating projects like styling a mantlepiece and mixing patterns.
Emily talks about cordless window treatments!
In one of her posts, she gives some great tips about styling window coverings so that the hardware disappears and a great view is unobstructed. Any of our Cordless Cellular Shades would be perfect for this because they take up very little space when collapsed, have super sleek hardware, and have no cords that obstruct the look of your window.
We'd love to see the pictures that inspire you from Emily's blog. Follow our boards on Pinterest and tag us  in something of hers you pin @blindsdotcom.