You can probably think of quite a few words that would sum up 2020. But looking on the brighter side, the word "home" was certainly on everyone's minds. The way most people live and work has changed this year and we're spending more time at home. With so much happening out in the world that feels out of our control, many have put their energy into renovating, remodeling, and decorating projects to make their space feel more comfortable and welcoming.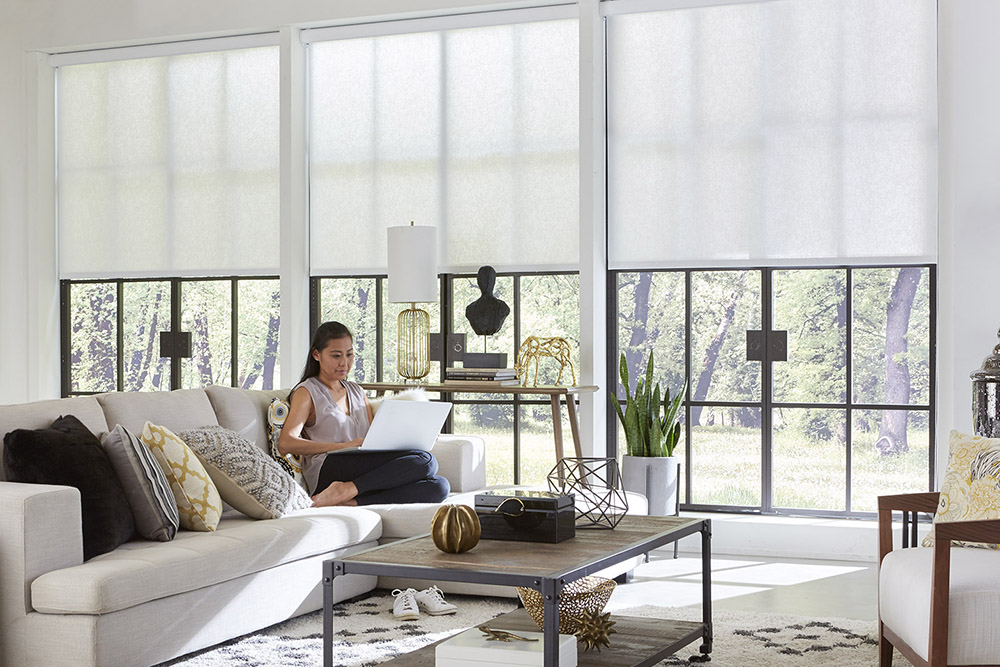 Pictured: Blinds.com Solar Roller Shades in 5% Monterrey Cloud White.
According to Google Trends, searches for the "Home Décor" have nearly doubled in 2020 versus last year. So we're diving in to see what trends within the home décor world were big this year and how the meaning of "home" has changed!

1. Outside Activities Come Home: Offices + More
It seems that you can't talk about 2020 without the words 'zoom call' or 'work from home' popping up. Home office, home school, home gym and home theater setups surged in popularity this year as many communities shifted to remote work options wherever possible.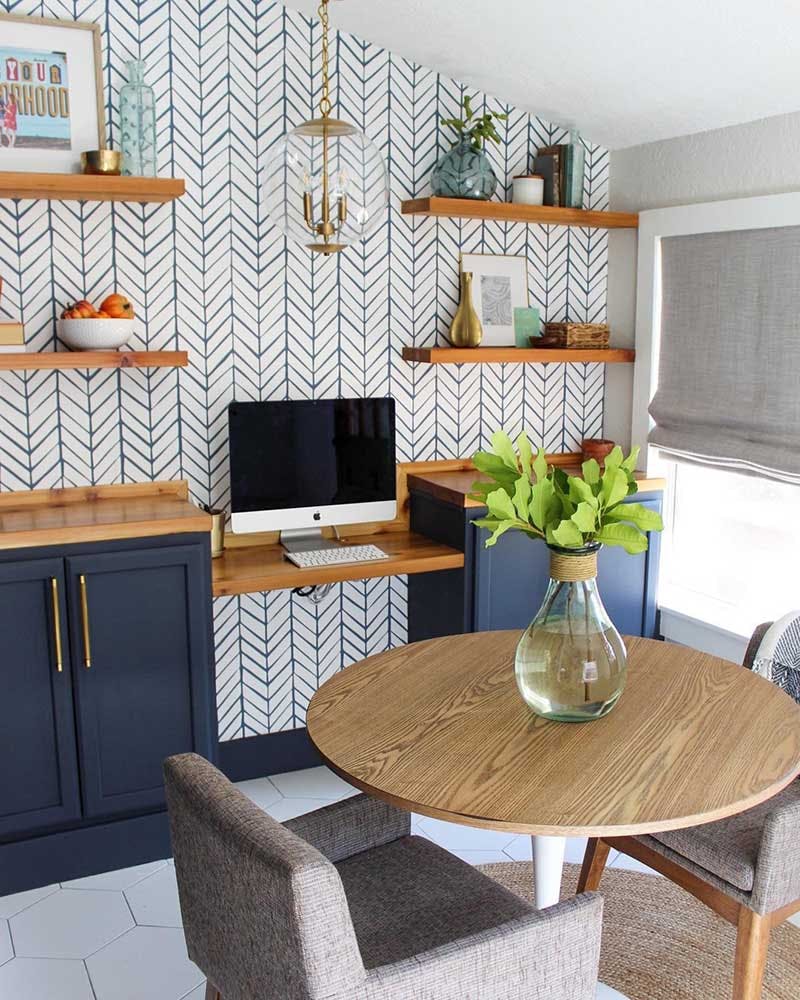 Pictured: Blinds.com Premium Roman Shades in Navarro Cornerstone. Photo via @elkins.co.
The kitchen table might be moonlighting as a computer desk these days, giving your coworkers, clients or boss a glimpse into your home life. Many people are looking for ideas to spruce up the 'backgrounds' of their video calls with styled bookshelves, or maybe even a new window treatment! We've seen window treatment searches trending upwards since early spring.
If you're converting the spare bedroom into a home office, consider opening the blinds or changing to light filtering window treatments for a brighter and more well lit video conference.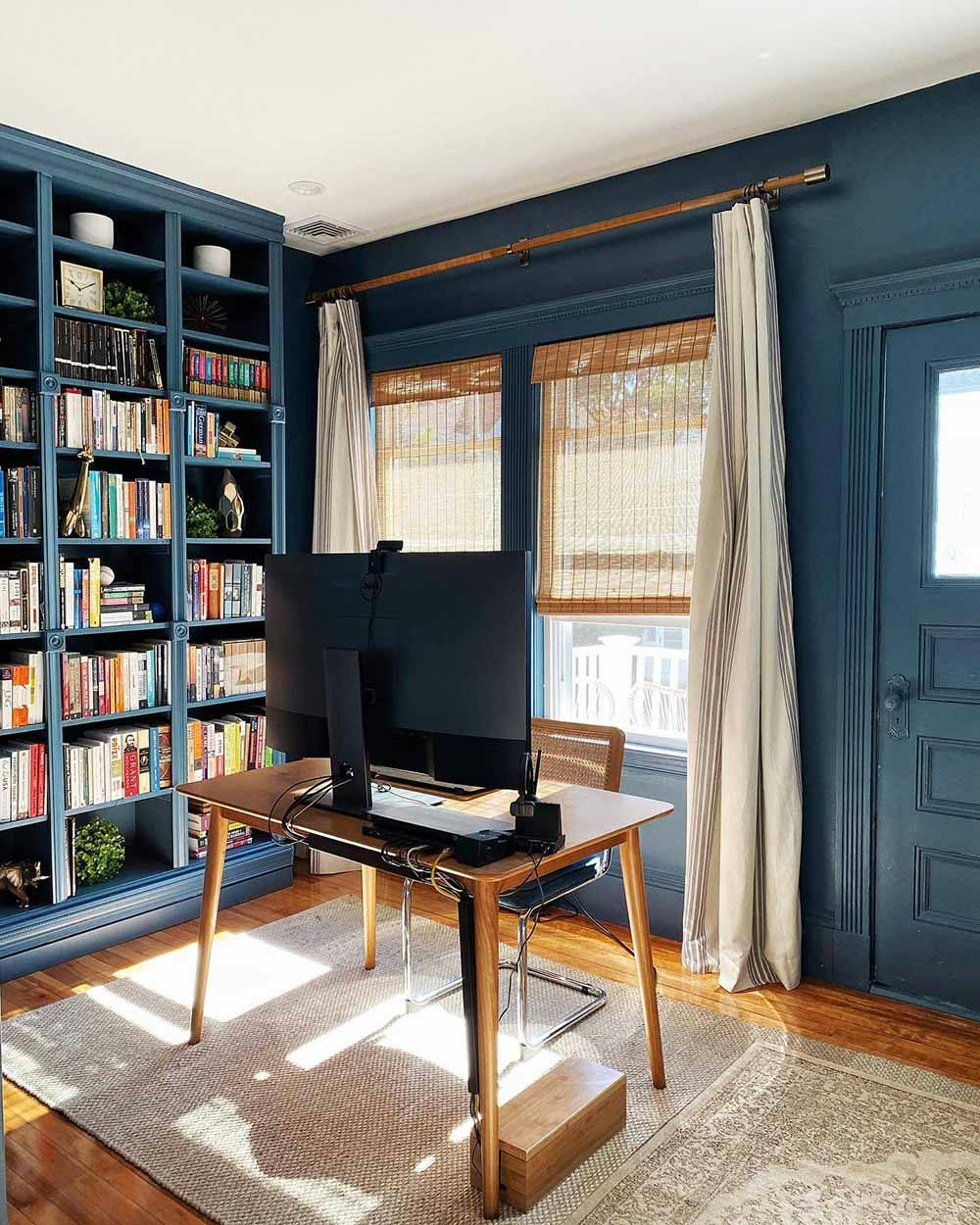 Pictured: Blinds.com Cordless Woven Wood Shades in Aruba Raffia. Photo via @katezeitlerdesign.
In addition to home offices, multi-functional spaces became more important as searches for "game room setup", "home gym ideas" and "small home theater" increased 4x on Pinterest this year. Rooms like guest rooms and formal dining rooms are being converted as people are hosting guests less frequently. According to the National Kitchen and Bath Association, 87% of those surveyed said an open and multi-functional kitchen is now a priority.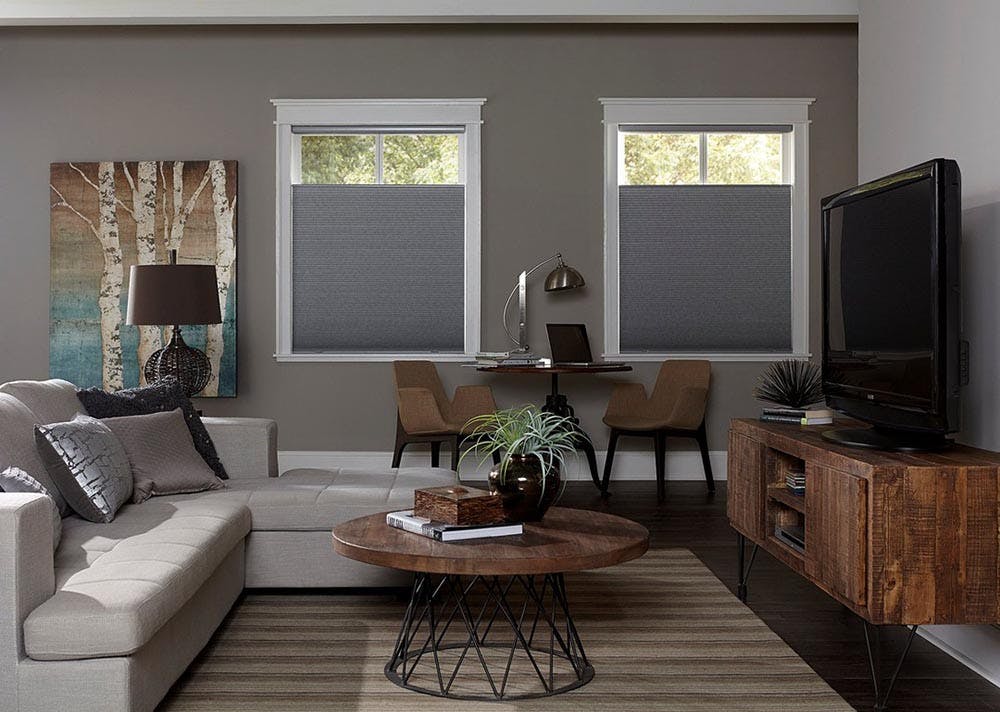 Pictured: Blinds.com Blackout Cellular Shades in Mineral.
2. Enjoying The Great Outdoors (At Home)
While people are traveling less than they have in previous years, outdoor spaces became an important "escape" for many who feel cooped up indoors. Backyards, patios, garages, driveways and porches became new hangouts for socially distanced gatherings. Compared to previous years, searches for Exterior Roller Shades spiked over the summer as more people created sought to create outdoor lounges to keep cool.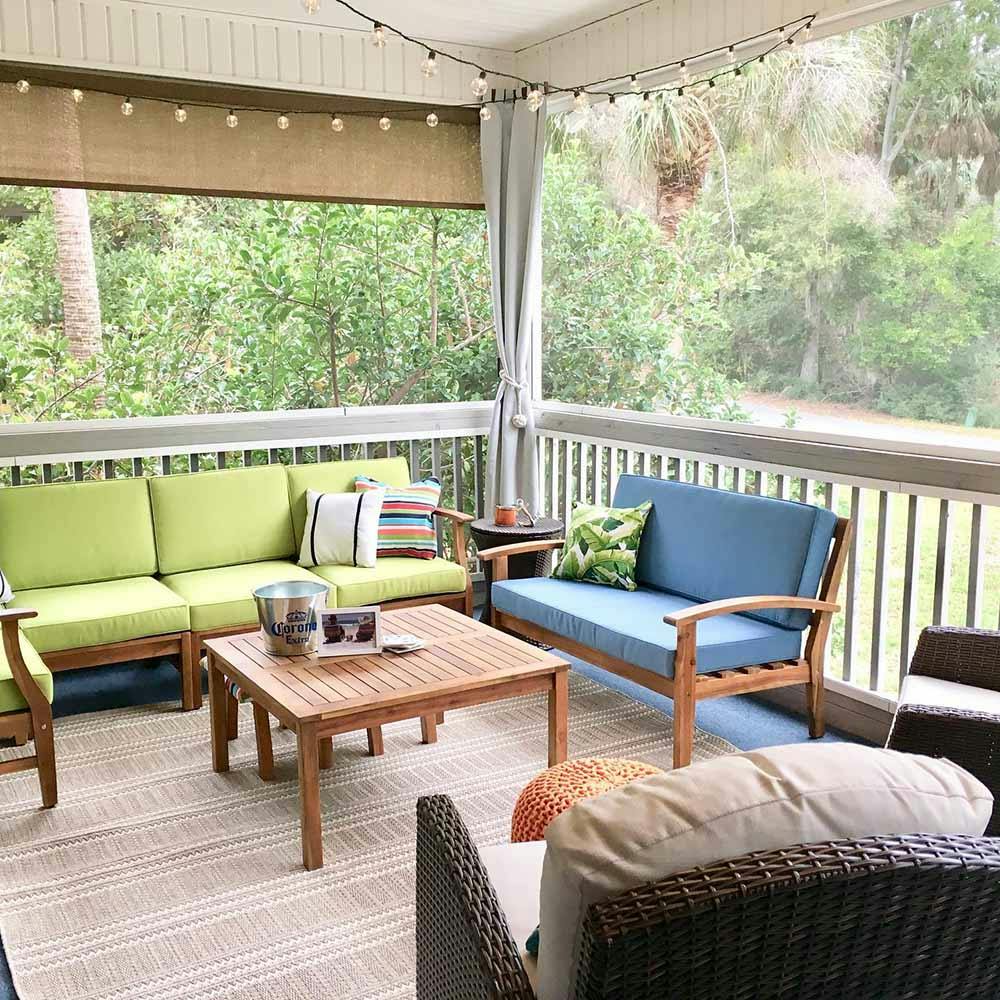 Pictured: Coolaroo Solar Outdoor Shade in Outback Walnut 5%. Photo via @emelleinteriors.
3. Adopting New Habits (and Companions!)
Pets are probably getting the best part of this stay at home deal. Pet adoptions have spiked leaving some animal shelters completely empty. This means sales of pet furniture boomed too! But if those carpeted cat condos aren't your style, that's no longer a problem!
Many people are looking to incorporate their pet's furniture and accessories into the home without detracting from the home's aesthetic. So the home décor industry answered the call to design creative furnishings that add more "form" to these "functional" items. From pet beds to crates, you can find just about anything your pet needs in trendy colors, fabrics and finishes.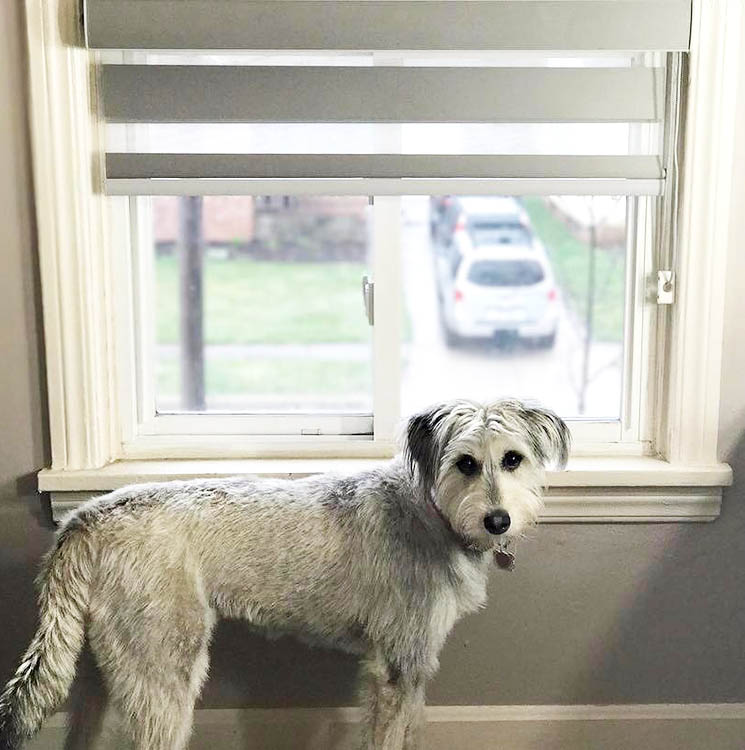 Pictured: Blinds.com Premier Flat Sheer Shades in Villa Storm. Photo via @thehoundhemi.
If you've brought home a furry friend, it might be time to pet-proof your windows. Cordless blinds and shades are much safer for homes with children and pets as they do not have dangling, hazardous lift cords.
Check out our guides: How To Stop Cats From Breaking Blinds and How To Stop Dogs From Destroying Blinds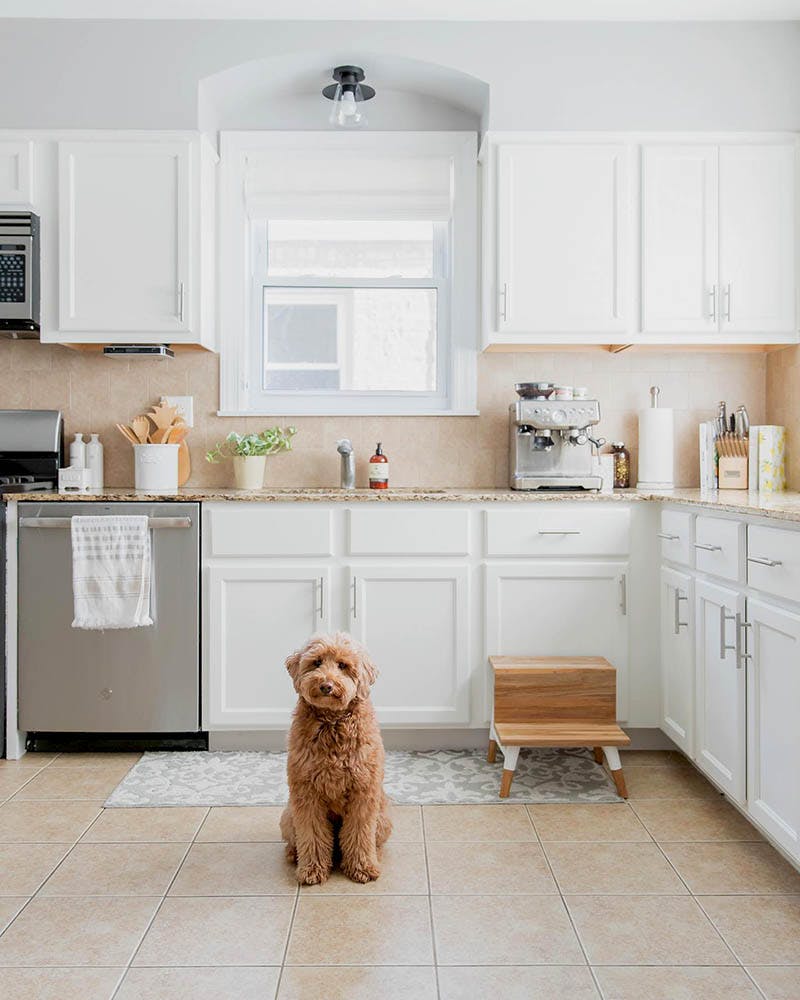 Pictured: Blinds.com Designer Roman Shades in Camden Magnolia. Photo via @mariahartephoto.
4. You Had Me At 'Aloe!
Many people also became "stay at home plant parents" to bring a little nature indoors. Whether you're concerned with air quality or looking for a hobby to give your mental health a boost, 2020 was the year to grow your green thumb and take care of a plant-friend.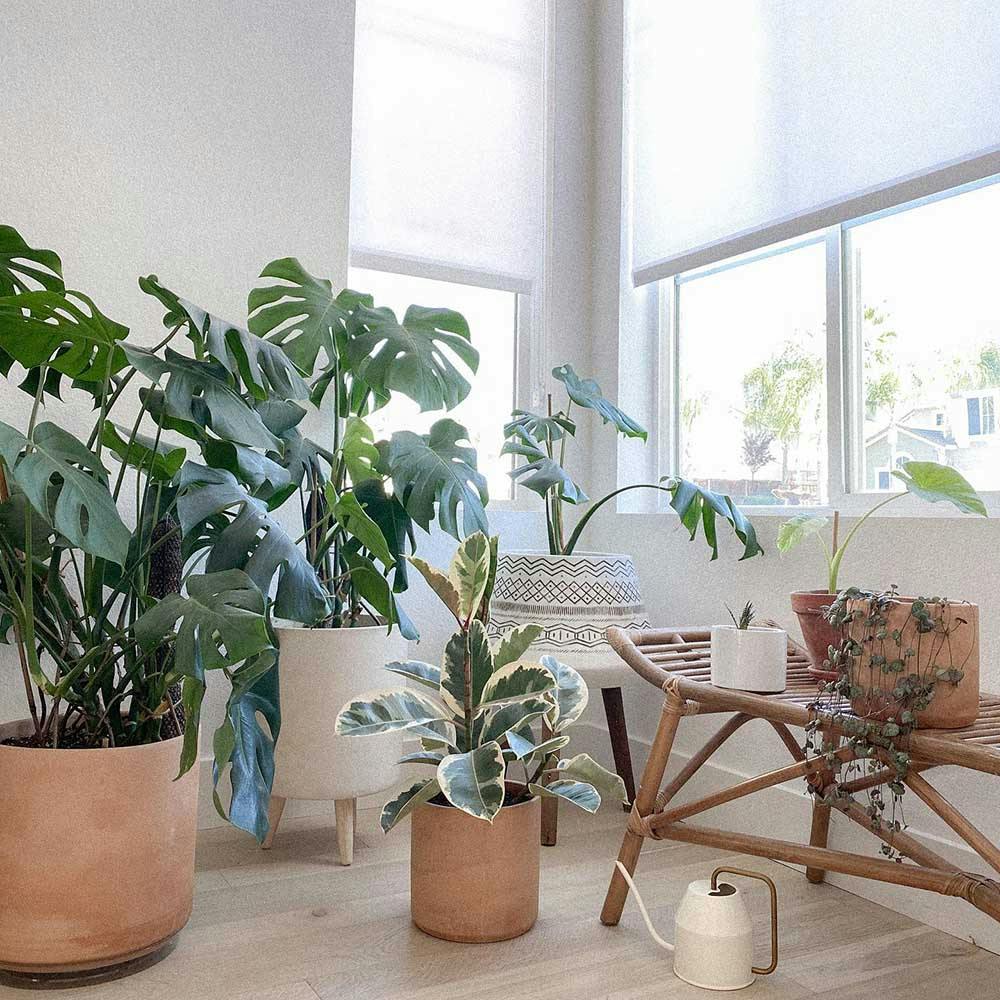 Pictured: Blinds.com Premium Light Filtering Roller Shades in Interlude Soft White. Photo via @sincerely.kady.
Small, easy to care for plants, like succulents, became household favorites. Make sure your potted pals are getting enough sun by raising the blinds or installing light filtering roller or solar shades.
5. Kitchens Are The Heart Of A Home
This year, just about everyone decided to try their hand at making sourdough bread or air frying. So with home cooking on the rise, updated kitchens were on everyone's wishlist. Kitchens have always been one of the first rooms DIYers remodel or renovate, but this year 'Kitchen Remodeling Project' searches increased 6x fold on Pinterest!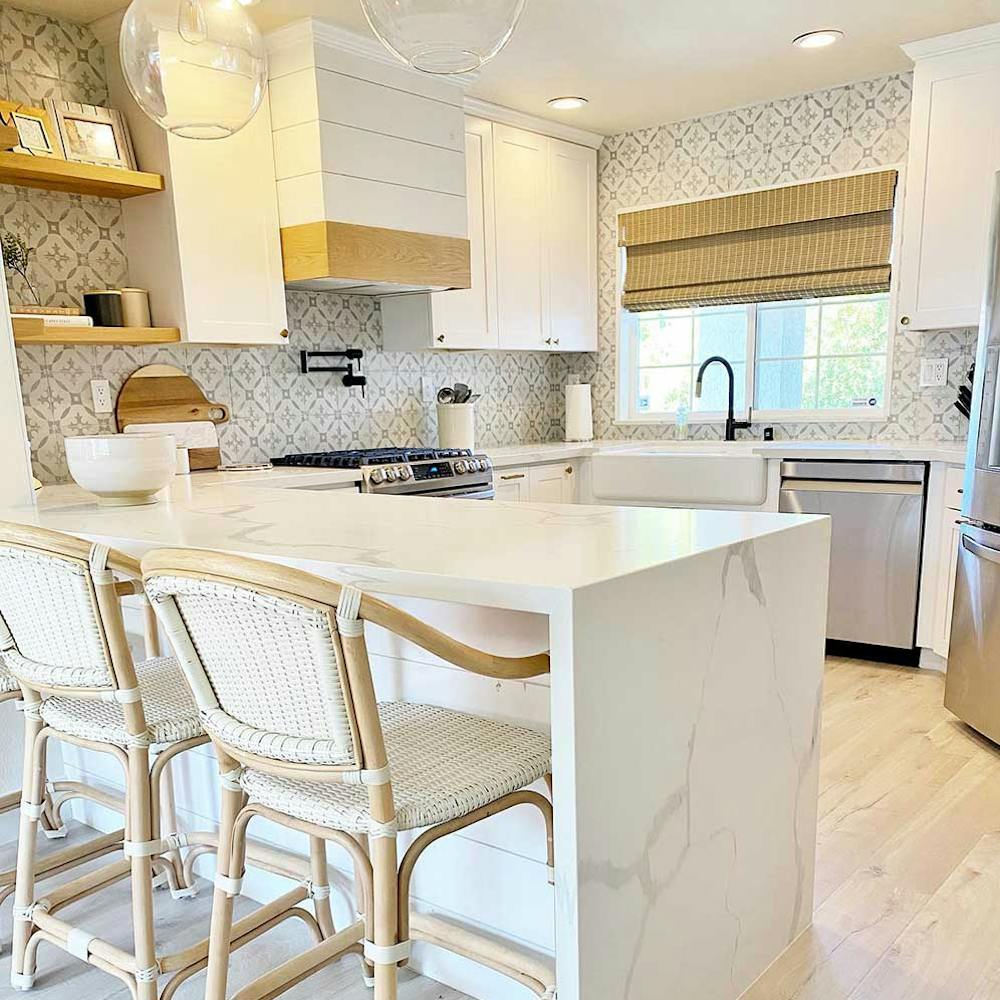 Pictured: Bali Natural Woven Wood Shades in Spree Studio. Photo via @houseahomenapa.
Fewer people are eating out, so an efficient and comfy kitchen is more important than ever. Casual breakfast nooks became a new kitchen commodity. These relaxed and comfy dining spaces often include window seats that became an essential place for the family to catch up and unwind.
'Kitchen backsplash ideas' have also been on the rise. As backsplash tiling projects flourished, so did window projects. Interest in blinds with tile-cut outs (cuts near the bottom of a blind to make space for tile wrapping around the window) doubled this year as more kitchen projects included new window treatments as part of their remodel.
For help ordering a blind with tile cut outs, give our Design Consultants a call: 844-551-3769.
6. Fancy Tech and Home Customization
Home automation is no longer an out of reach, sci-fi concept. Today, it seems that nearly everything can be controlled either by remote or with your phone - including your window treatments. Demand for blinds and shades with motorized lift increased 50% this year!
Specialty shaped windows, like arches, angle tops, skylights and sliding glass doors also saw increased interest too, as unfinished projects like tricky window coverings rose to the top of the DIY priority list. Motorization is almost always a preferred lift type for hard to reach windows like skylights.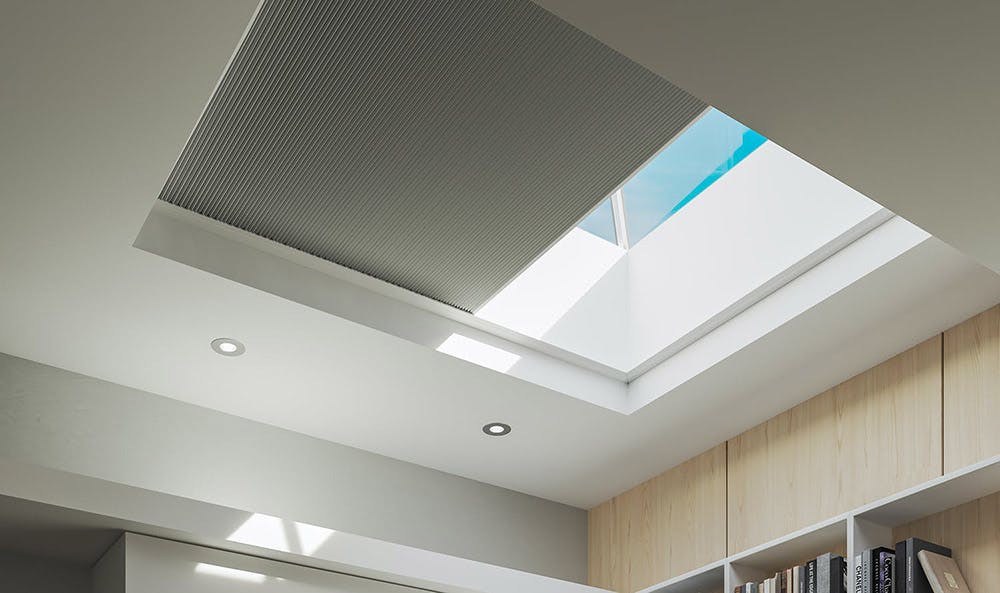 Pictured: Blinds.com Blackout Cellular Skylight Shade in Cotton.
7. Focus on Mental Health and Wellness
With so many major changes to our daily routines, many found themselves reprioritizing their mental health. In a world that feels chaotic, many looked to create a cozy home sanctuary filled with positive vibes. The home's focus became a place to destress and that supports your health and wellness.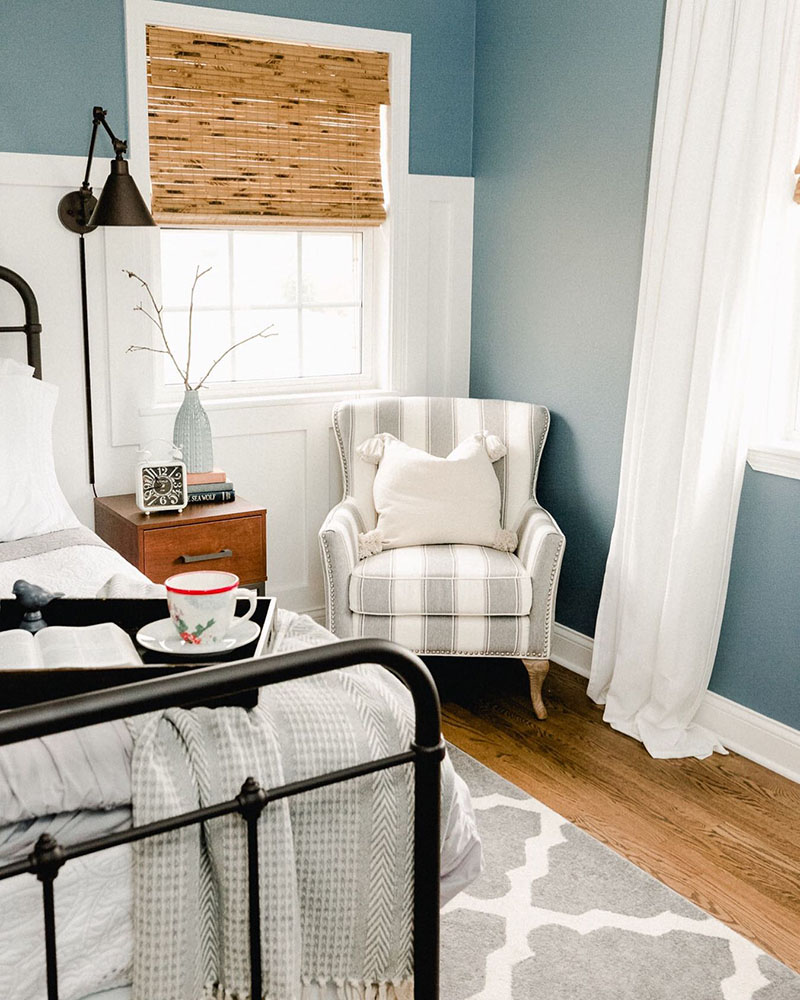 Pictured: Blinds.com Woven Wood Shade in Malay Oak. Photo via @crowderandco.
Sleep quality can impact nearly every facet of your health so many people are turning their attention to improving their bedrooms. Big influencers in the home décor industry are taking on bedroom projects themselves (such as Chris Love Julia, Oh Joy, and A Beautiful Mess), so inspiration abounds! Many people are swapping out their old curtains for blackout shades in their bedrooms to help them get a little more sleep without the early morning sun waking them up.
Pictured: Blinds.com Premium Blackout Roller Shades in Rainier Snowfall. Photo via @abeautifulmess.
Meanwhile, light filtering shades still remain a popular choice for common areas like living rooms and kitchens. Allowing more light into your home, especially when spending extra time indoors, has been shown to improve your overall mood.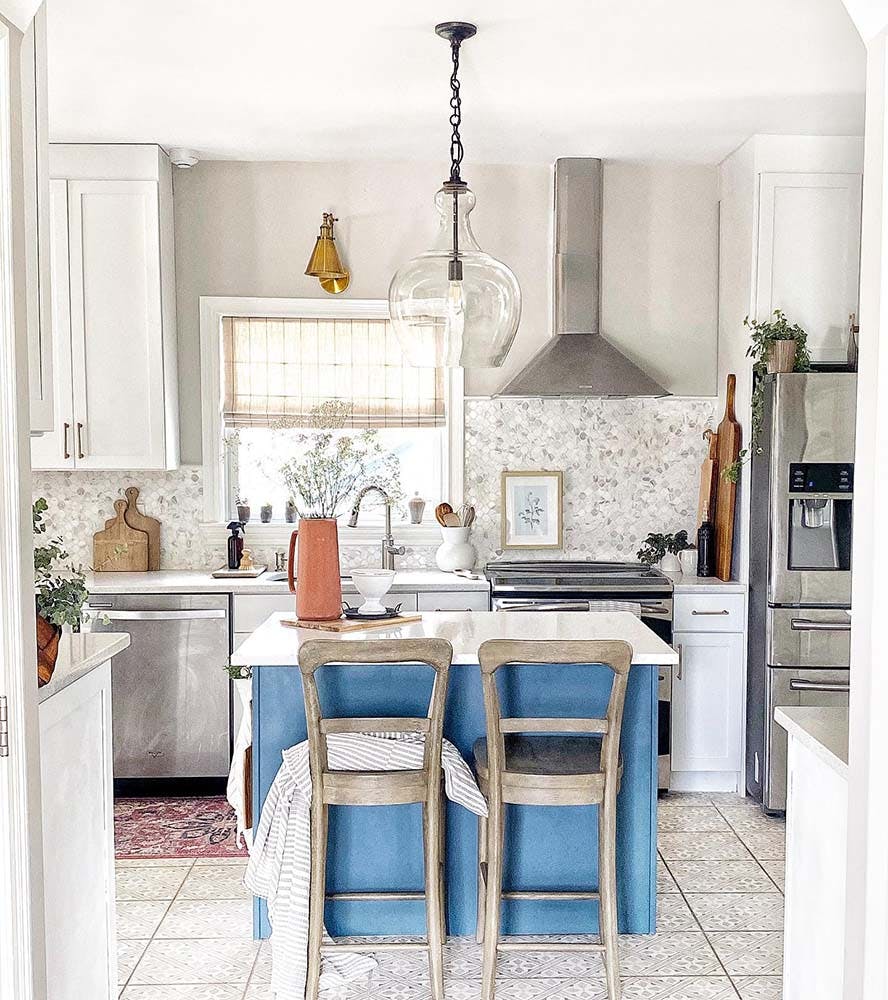 Pictured: Blinds.com Premier Roman Shade in Linen Stripe Vanilla Stone. Photo via @southshorecolonial.
8. Deep Cleaning and Meticulous Organizing
It's no surprise that cleaning hacks also dominated searches and trended on TikTok for part of this year. Cleaning supplies were sold out in stores for weeks in what might have been the most intense "Spring Cleaning" in recent history. People went on cleaning frenzies and organizing sprees to take care of themselves and keep their families healthy. But cleaning and organizing also became a productive way to pass time while stuck at home.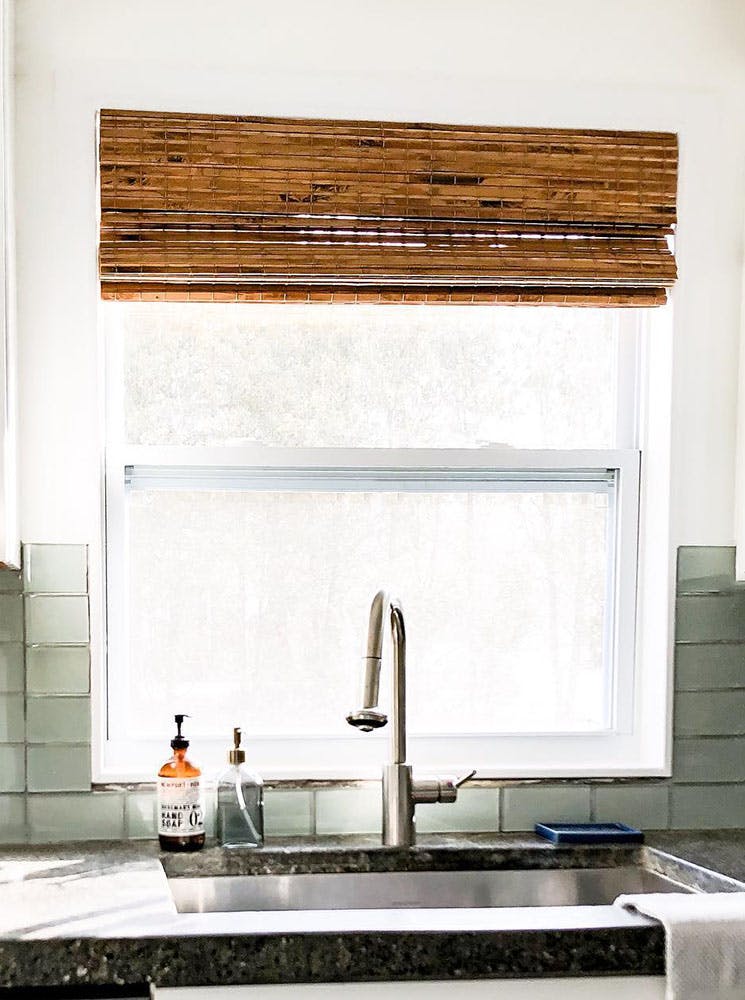 Pictured: Blinds.com Cordless Woven Wood Shades in Hatteras Camel. Photo via @kristiebydesign.
When replacing home fixtures, shoppers are looking for options that are stain-resistant and easier to keep clean. Faux wood blinds remain a top selling window treatment as they're super easy to dust or wipe down. Similarly, shutters are also quickly gaining popularity for their ease to clean and their elegant style.
Bathrooms in particular became spaces where cleanliness and decluttering was a priority as many looked to create spa-like atmospheres and turn their bathrooms into an escape.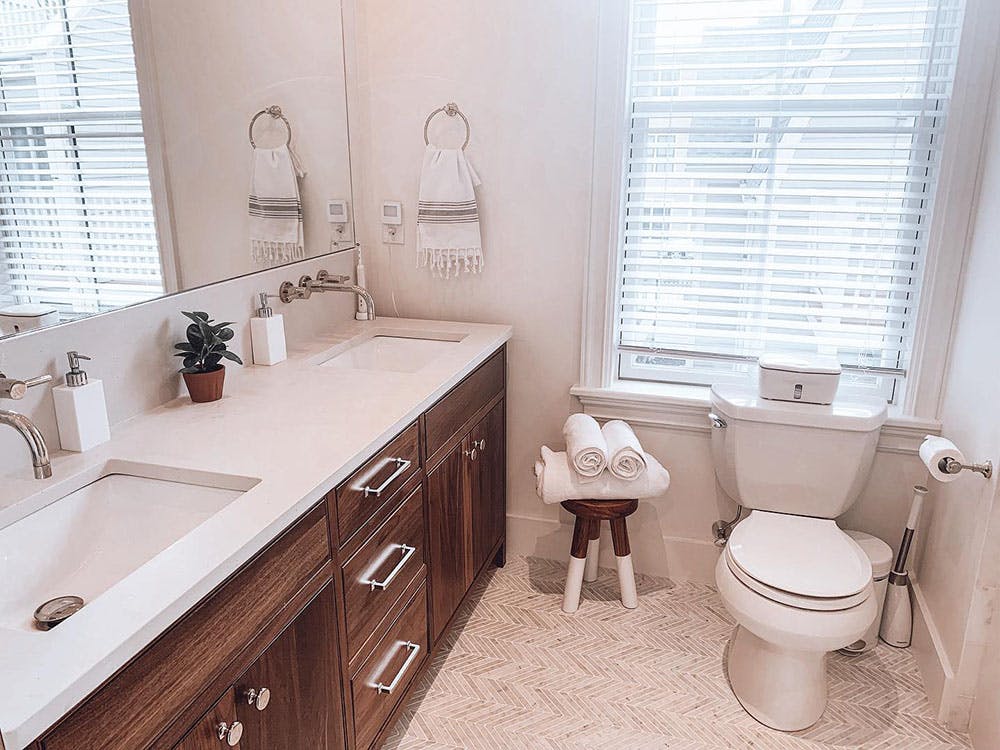 Pictured: Levolor 2" Fauxwood Blind in White. Photo via @kmacka.
Larger windows, especially in the bathroom, became desirable as a way to utilize more natural lighting. Faux wood shutters for bathrooms were trending this year as the larger louver sizes create fewer visual lines, let in more light and help declutter the look of a room.
9. Sustainable Home Décor
Sustainability was also a key word heading into the new decade. Along with personal wellness, people are also concerned with the health of the planet and are considering eco-friendliness and sustainability in their purchasing decisions.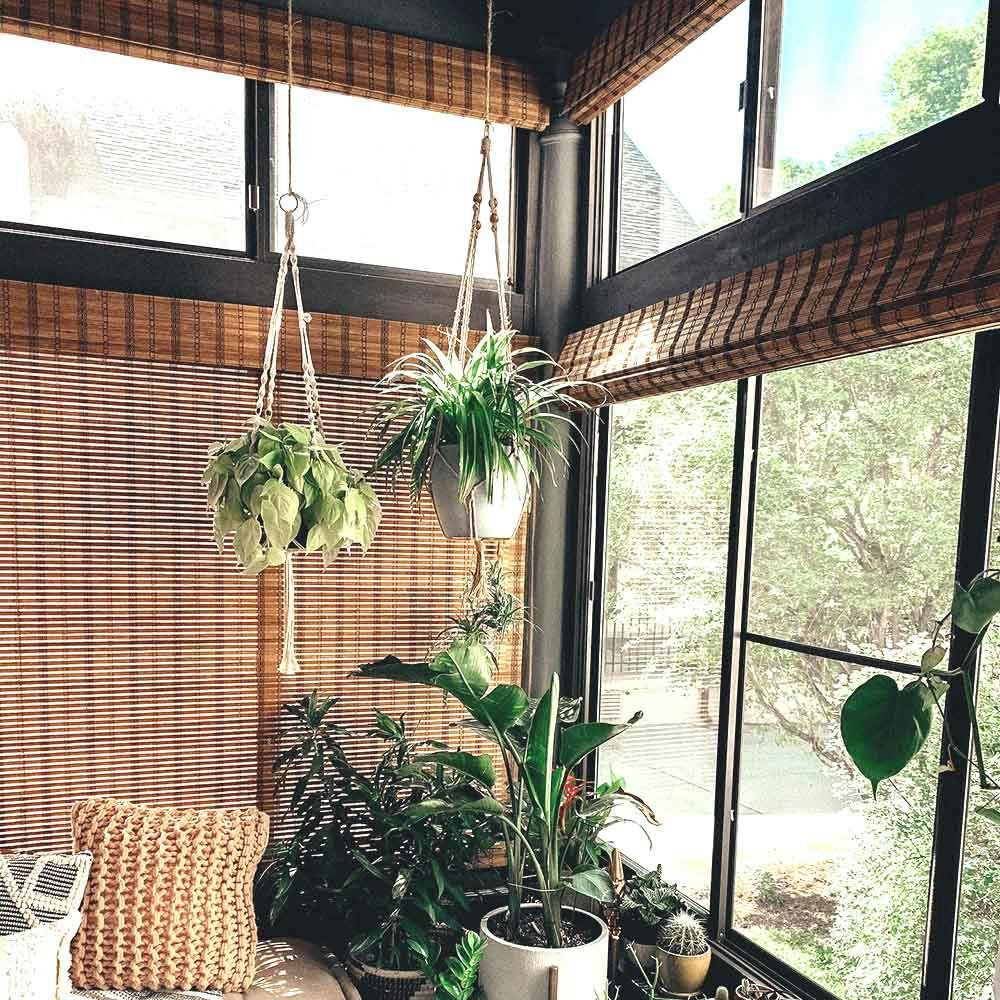 Pictured: Blinds.com Woven Wood Shade in Penang Walnut. Photo via @onelovedhouse.
Fixtures made from recycled materials are not as pricey as they used to be and add to the "story" an item tells. This year, Blinds.com introduced the Simply Eco Cellular Shades that are made from an average of 12 water bottles per shade. Plus they can help insulate your home, cutting down on energy costs -- which means reducing your carbon footprint, too.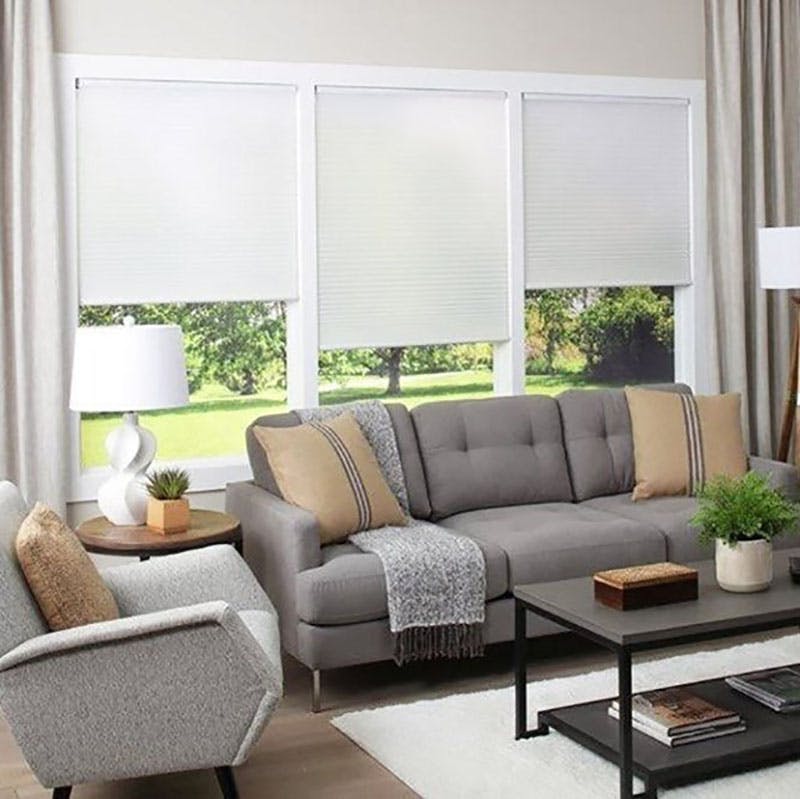 Pictured: SimplyEco Cordless Light Filtering Cellular Shade in White.
People are also looking to incorporate more natural materials into their home as they turn away from single use plastics. Woven wood shades and wood blinds, made from sustainably managed forests, are on the rise as shoppers look for stylish yet eco-conscious window treatments.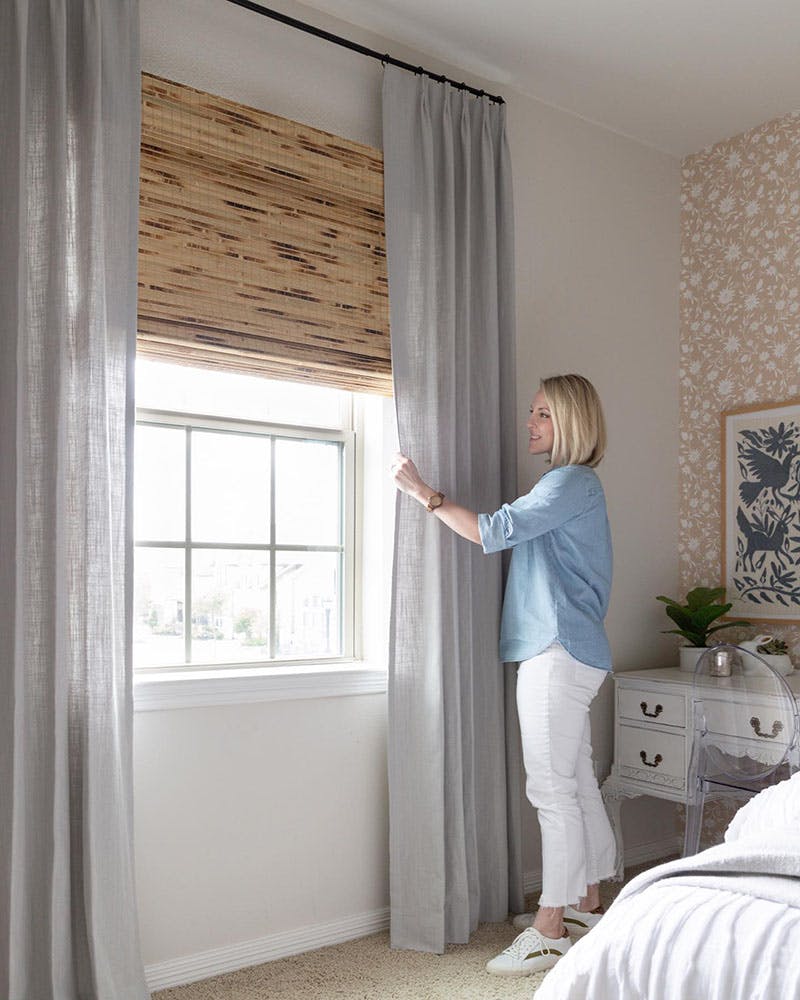 Pictured: Blinds.com Woven Wood Shades in Antigua Natural and Blinds.com Easy Classic Pleat Drapery in Gent Greystone. Photo via @crazywonderfulblog.
10. Families Are On the Move
As work shifted from daily commutes to online, more families found new flexibility in where they could live. People are leaving big cities for the slower pace and affordability found in the suburbs or rural areas. The additional space is welcome as 20% of the US population report living in multi-generational households. So the demand for "mother-in-law" suites and larger floor plans with open concept living and kitchen spaces to accommodate extended family has grown as well.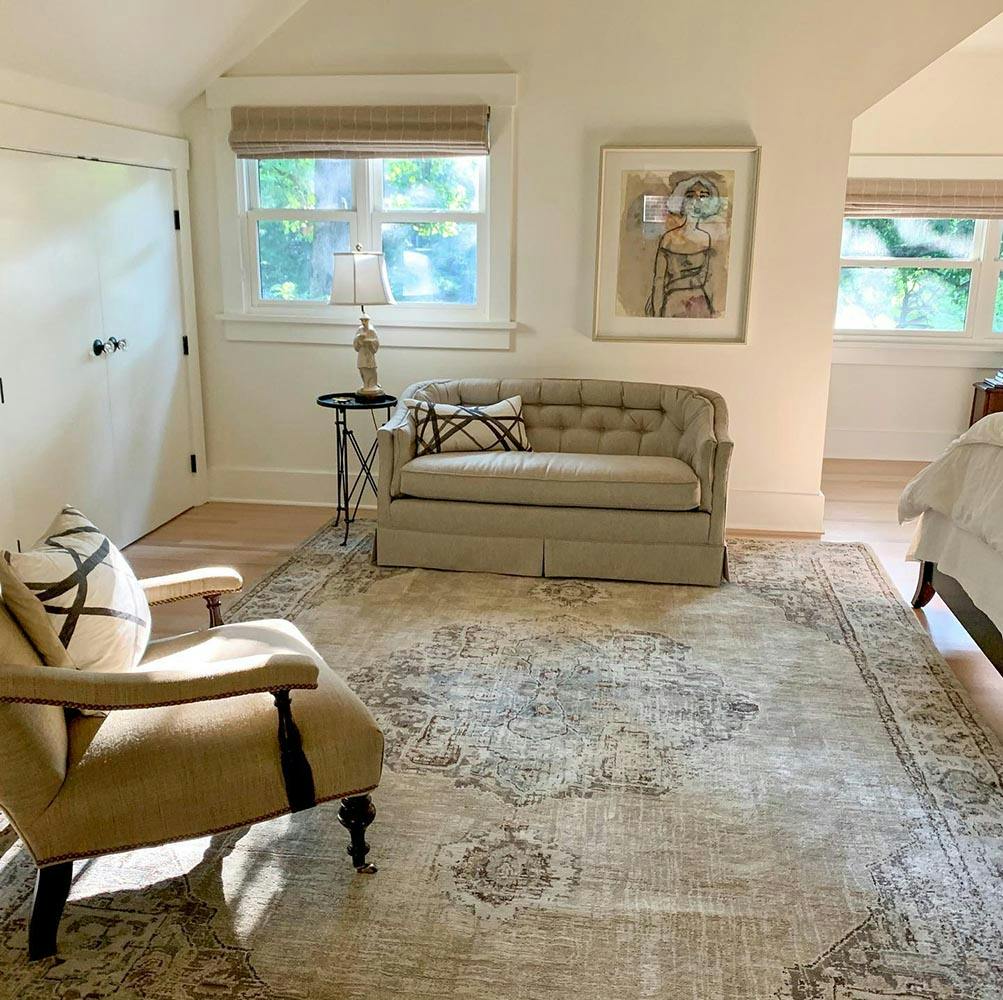 Pictured: Blinds.com Premium Roman Shade in Linen Stripe Cream Flax. Photo via @wavy_glassinteriordesign.
Having grandparents and family around can really help when it comes to childcare. Especially since we saw so many gorgeous nursery photos this year. With all this time at home, is there a baby boom on the way? We'll find out next year!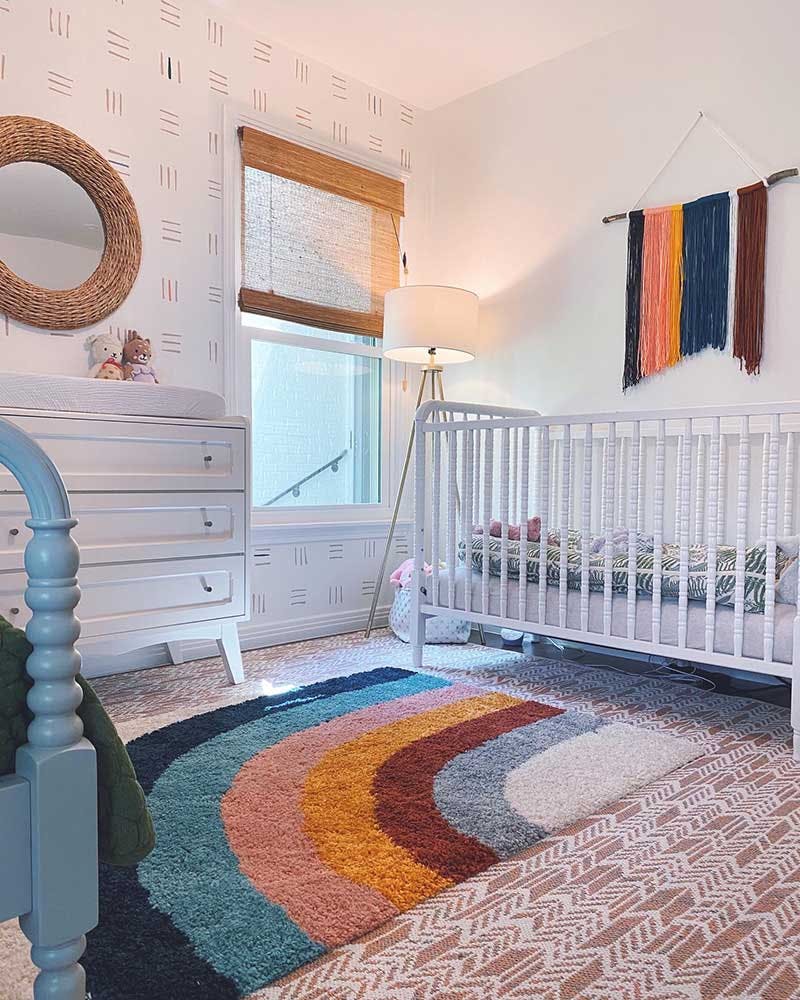 Pictured: Blinds.com Woven Wood Shades in Terra Oak. Photo via @britterstx.
A Source of Comfort
No matter how many life changes we experience this year, our homes should be a source of comfort, restoration and personal expression. If your home is in need of a window makeover, our expert Design Consultants would love to help! Give us a call: 844-551-3769.
Read More: