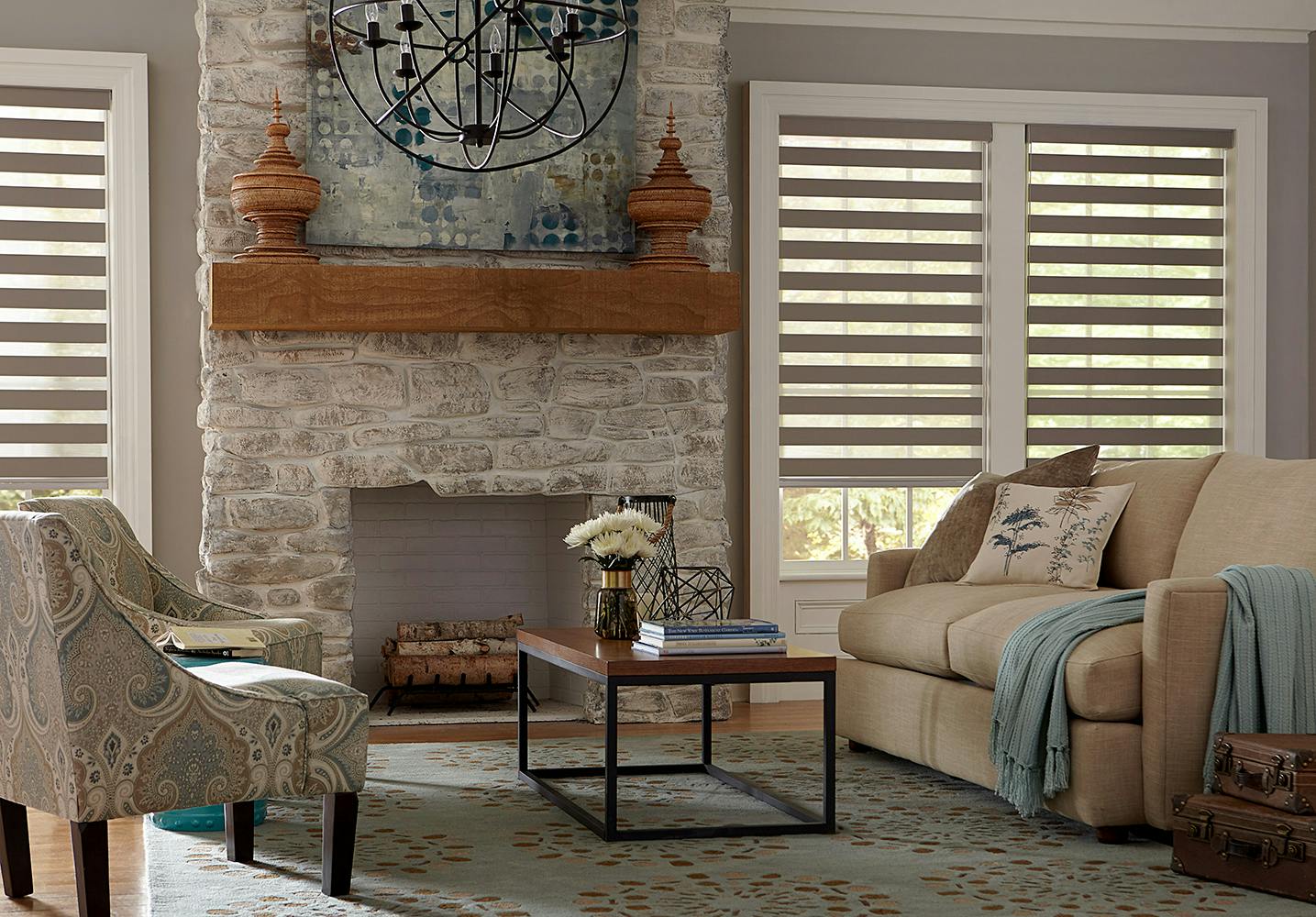 Blinds.com Premier Flat Sheer Shades
If you're looking for something that provides the style of shades and the practicality of blinds, zebra window shades can be a good option. Also called dual sheer shades, these great window treatments provide the best of both worlds. To see if they're right for you, take a look at how they're made and how they work.
What is a Zebra Shade?
Zebra window shades get their name from their signature striped appearance. Depending on the way you position the shade, it can look like it has stripes of opaque and sheer material. As you adjust the shade, it can turn entirely or partially opaque. This special shade is essentially an innovative type of dual window shade. Compared to standard flat sheer shades, zebra window shades tend to have more customization options. They come in multiple textures, opacities, colors, stripe widths, and lift selections. The material for zebra window shades is a specially designed fabric with translucent and light-filtering properties. At the top of the shade, this fabric wraps around a roller that is underneath a sturdy aluminum headrail. Color-coordinating fabric wraps around the headrail, and the lower shade rail is also the same color as your shade.
How a Zebra Shade Works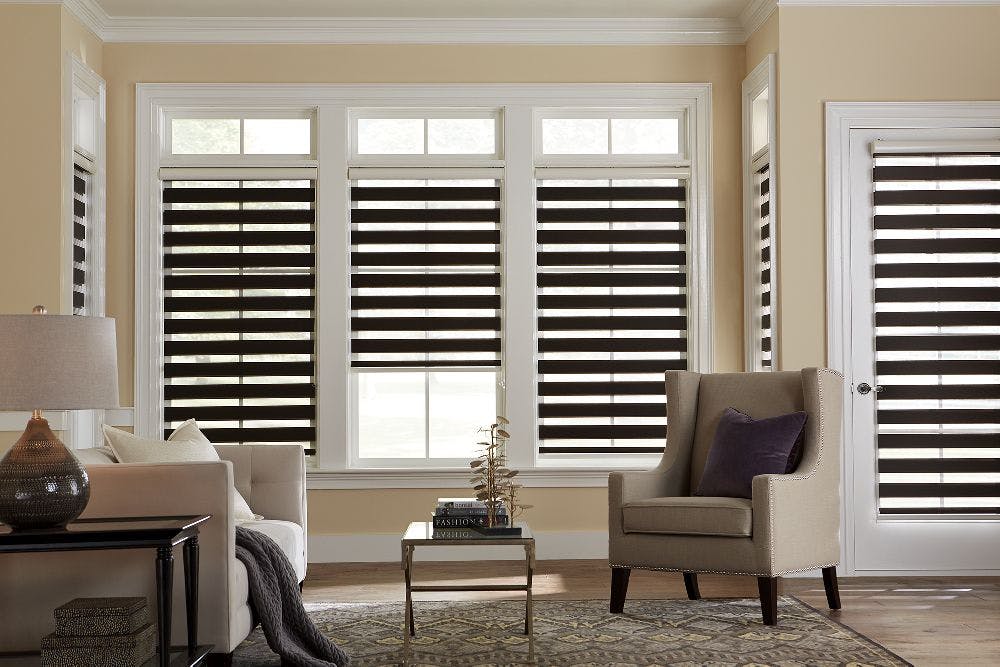 How does a zebra shade provide so much customizable light control and privacy? The secret to these awesome shades is their overlapping stripes and rotating headrail. As the shades rotate around the headrail, the amount of overlap between stripes varies. Just raising or lowering the shade a few inches allows you to switch between privacy and light modes. When you adjust the shades so that the opaque stripes lie side by side, the shades block light. Depending on the dual sheer shades you pick, it may provide filtered light or dim the room drastically. In addition to darkening your home, the shades also keep people from looking in your home. Shifting the shades slightly allows the opaque stripes to overlap with each other. This keeps them from blocking light that pours in through the sheer stripes. Zebra window shades let you adjust the width of the sheer stripes with ease. This lets you choose just how much light enters your home.[
Reasons to Choose Zebra Shades
Zebra window shades are mostly popular due to their practicality. You can adjust them to add more privacy or more light to your home as needed. They offer complete control over how much privacy you have. People love that zebra window shades give them lovely, diffused, soft lighting in any setting. You can see great views through the sheer stripes while blocking harsh glare from the sun. With slightly less light-blocking abilities than blackout cellular and Roman shades, zebra window shades provide balanced lighting. Depending on the color of shade you pick, it can filter light slightly or darken rooms drastically.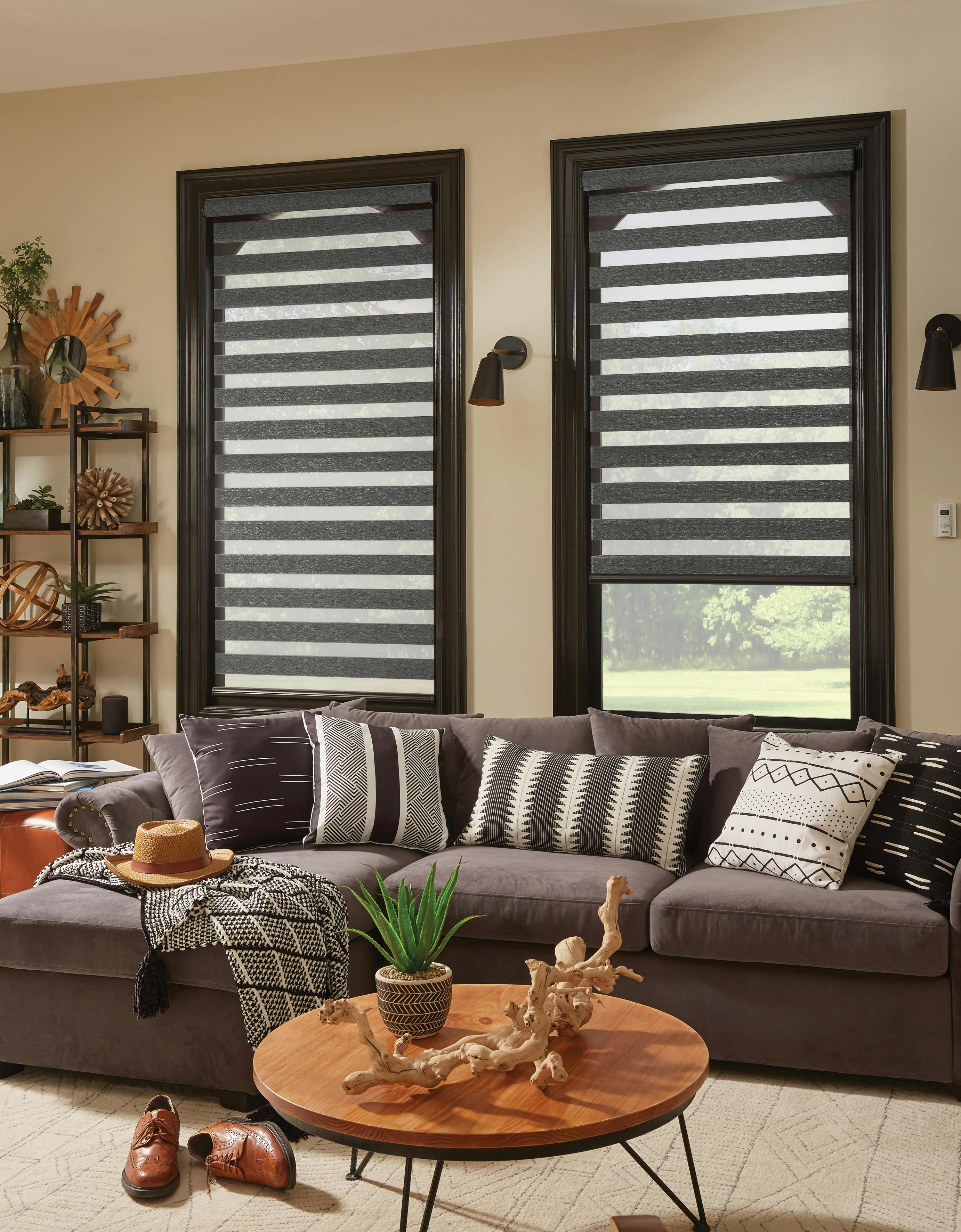 Bali Layered Zebra Shades In addition to providing flexible light and privacy control, zebra window shades are also stylish. The sleek, minimalistic look of the window shade complements most types of home décor. They have the functionality of blinds while looking a little crisper and more elegant. Compared to other dual sheer shades, zebra window shades come in more designs. You can pick various stripe widths, fabric textures, fabric sheens, and shade colors. Gentle colors like taupe and cream match almost all rooms while bold blacks, blues, and yellows can make a statement.
Do Zebra Shades Work With Other Upgrades?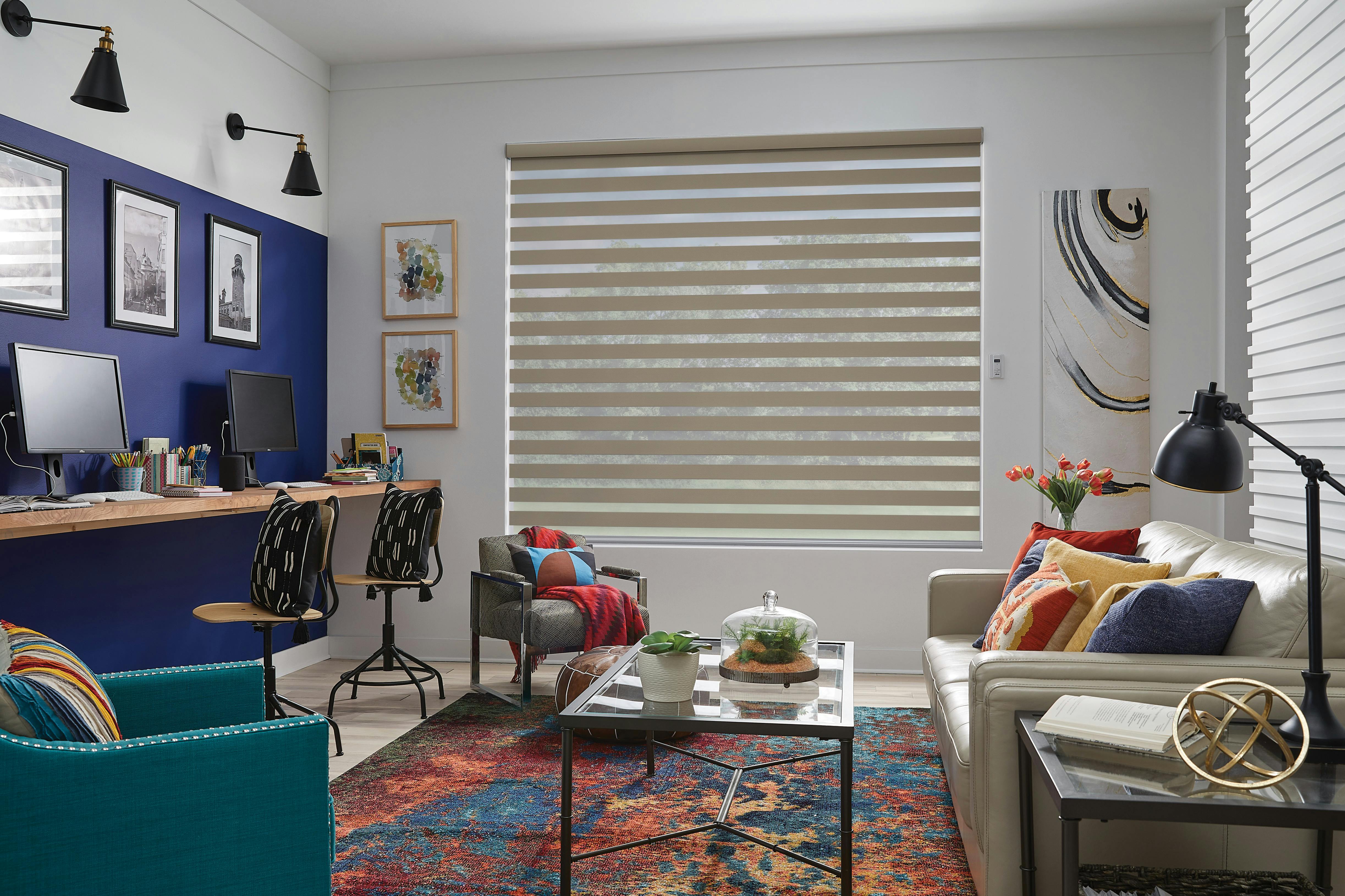 As you can see, even basic zebra window shades come with all sorts of perks. You also have the option of adding some additional upgrades if you want to further customize your windows. The most classic form of control for zebra window shades is a continuous cord loop. This lets you quickly raise and lower your shades with minimal effort. It works especially well for large windows. If you have pets or children, the cordless upgrade might be a good idea. This convenient feature lets you adjust shade position by just raising or tugging on the lower rail. You get a cleaner look and do away with any potentially bothersome cords. For even easier adjustments, try adding a motorized wand to your shades. This wand lets you press a button on a remote control to adjust your blinds. When you're relaxing on the couch and the sun is bothering you, motorization lets you block glare without standing up.[1] Now that you know how zebra window shades work, it's easy to understand why so many people love them. These innovative window treatments pair the crisp look of shades with the functionality of blinds. Once you get a set installed, it's easy to adjust light levels and add privacy to your home.