After three years in her Pacific Grove home, Erin from Kismet House took on a major kitchen renovation to make the dark, dated space fit with her modern traditional style.
Erin Says:
"Our kitchen renovation was by far my favorite project of 2019. It was a dark, dingy and borderline scary space. We completely transformed it without changing the overall footprint. I feel like it proves galleys can be amazing, bright and functional kitchens too."

She had selected black frame windows for the long wall of her galley kitchen. She loved the contrast and modern feel, but knew that the space needed some softness to balance it out.
That's where window treatments came in. Take a peek inside Erin's process to find the perfect Roman Shades for her new kitchen with the help of Blinds.com.
Erin Says:
"Our kitchen was already done, and we loved it, but I felt like adding one last touch, roman shades, would soften the room a bit. Help to make it feel more warm and textural. Kind of like adding amazing pillows to a chic sofa; they just make it better."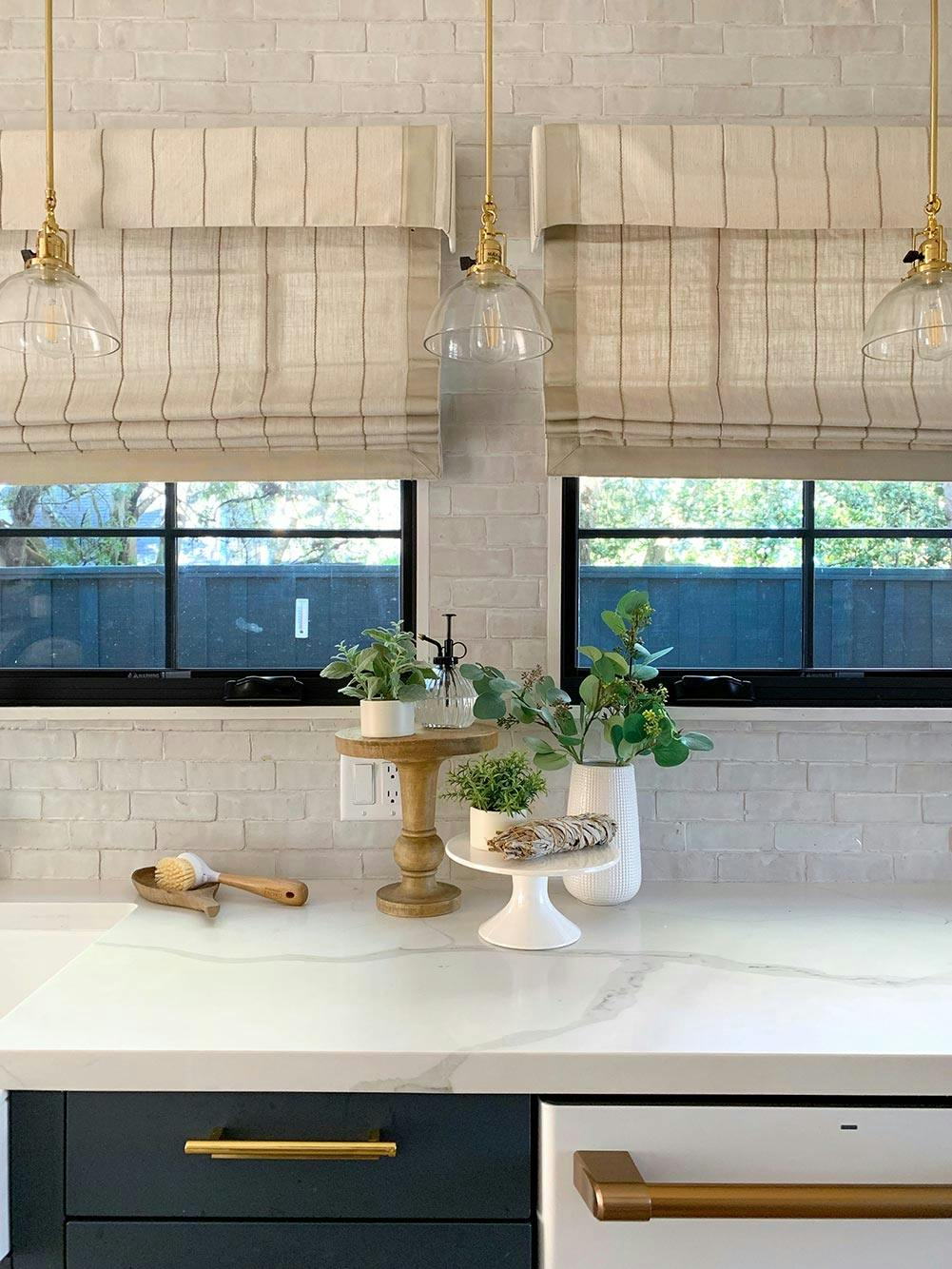 Erin started by speaking with a Blinds.com designer who helped her narrow down product and color choices from the 100s of options.
Erin Says:
"[The Blinds.com Designer, Daniellle] went through tons of online images of samples with me and once she got a feel for my taste she helped to guide me towards samples I wouldn't have considered. I ultimately went with a fabric finish that Danielle had guided me toward, Linen Stripe Vanilla-Stone with a wheat banding, a choice I wouldn't have seen otherwise- and it is perfection."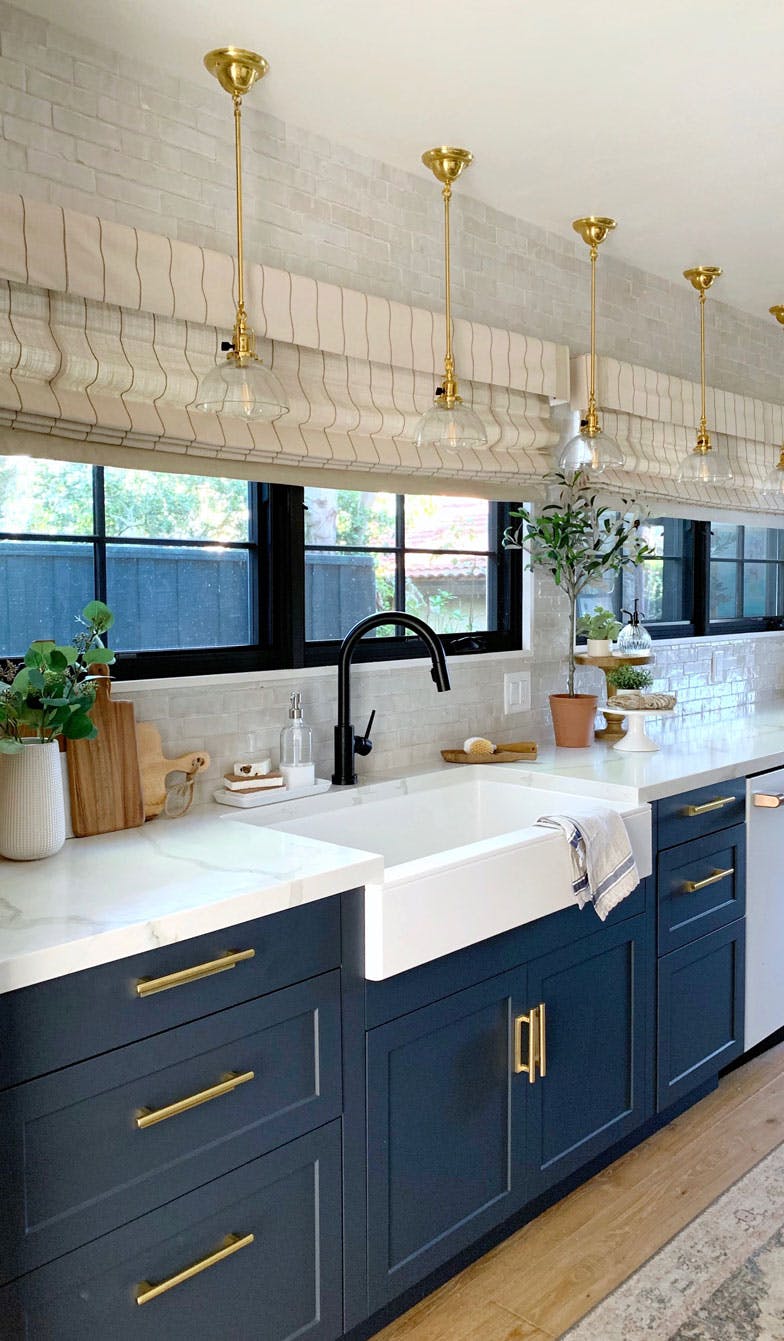 In the end, Erin landed on Blinds.com Premium Roman Shades in Linen Stripe Vanilla-Stone with Edge Banding in Wheat. The shades would have looked just as beautiful with the standard hemmed edge, but the edge banding adds a little more formality and definition.
Learn more about Edge Banding for Roman Shades.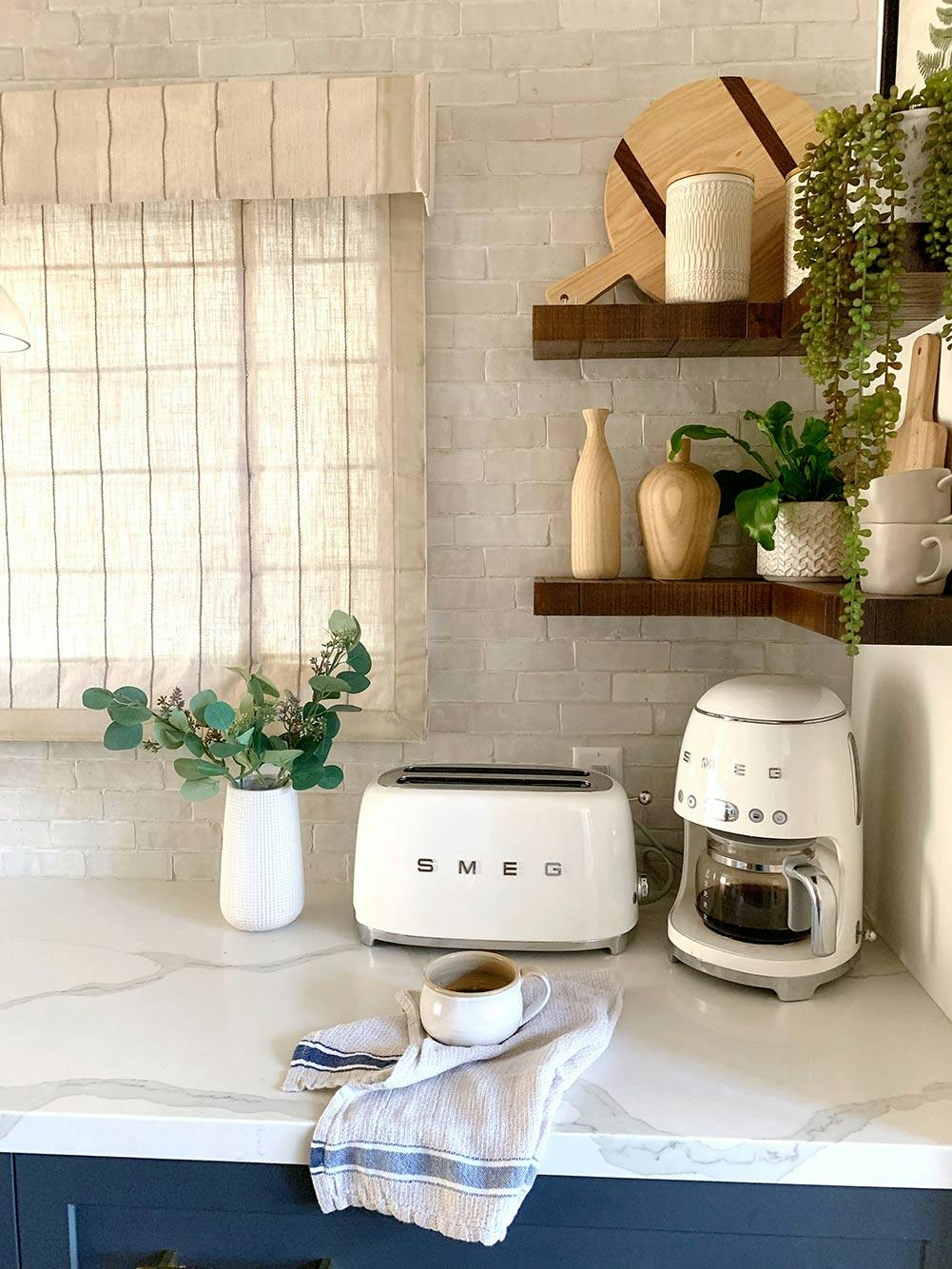 Since the shades are across such a wide bank of windows, Erin opted for a motorized lift.
Erin Says:
"We went with an outside mount, flat fold, white light filtering shade with a motorized lift. They have a remote and can open independently, they're so cool."
Erin got her shades installed by a Blinds.com professional, including programming the motorized lift system. All she had to do was press a button to test them out. Learn more about Blinds.com Professional Install.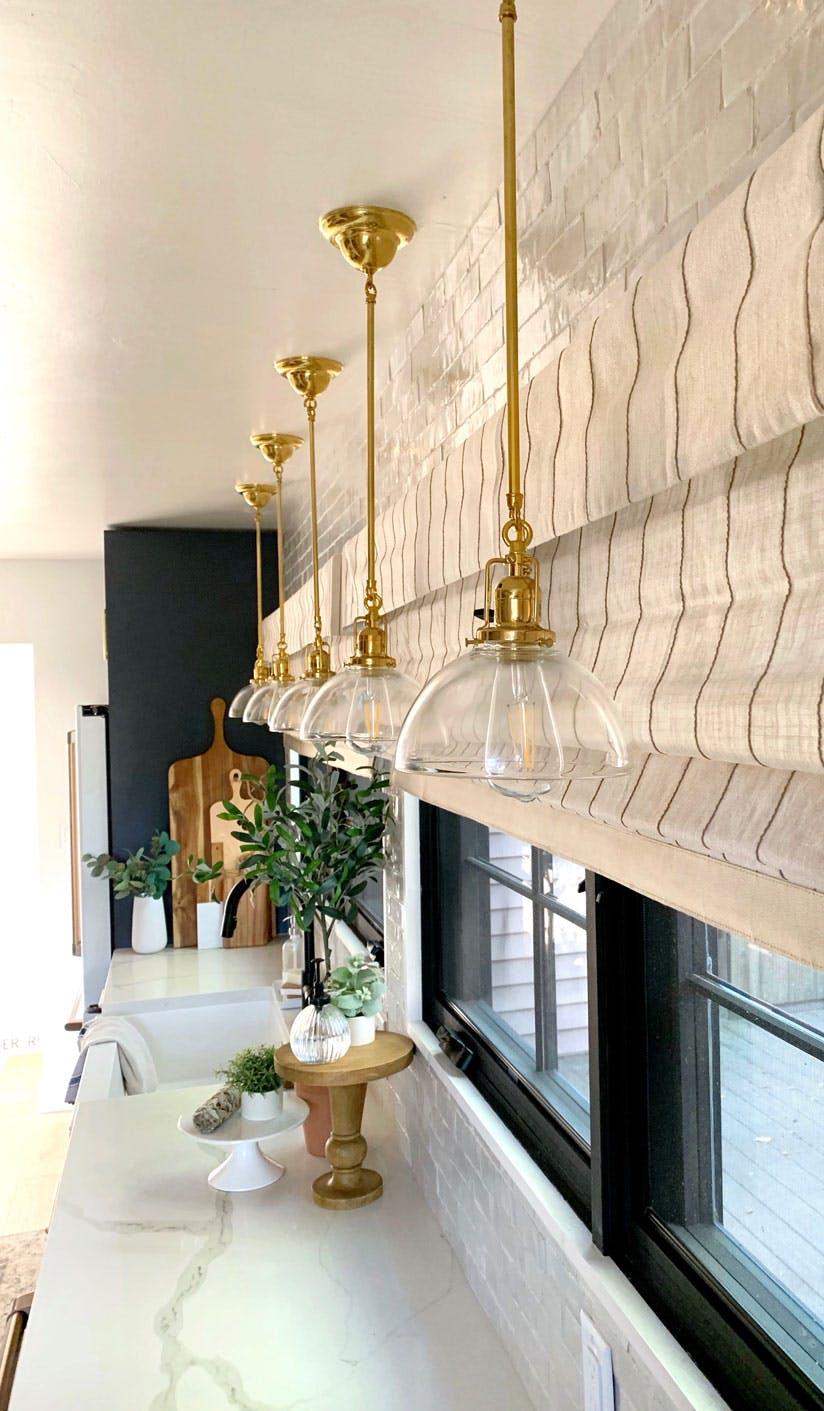 Erin Says:
"I literally could not have done it without their guidance and I am so happy I used this service. I am an interior decorator but even the most experienced of us need help from other pros sometimes. This was one of those times. I cannot recommend Blinds.com and their custom service enough. Below is a little before and after of the kitchen with and without shades!"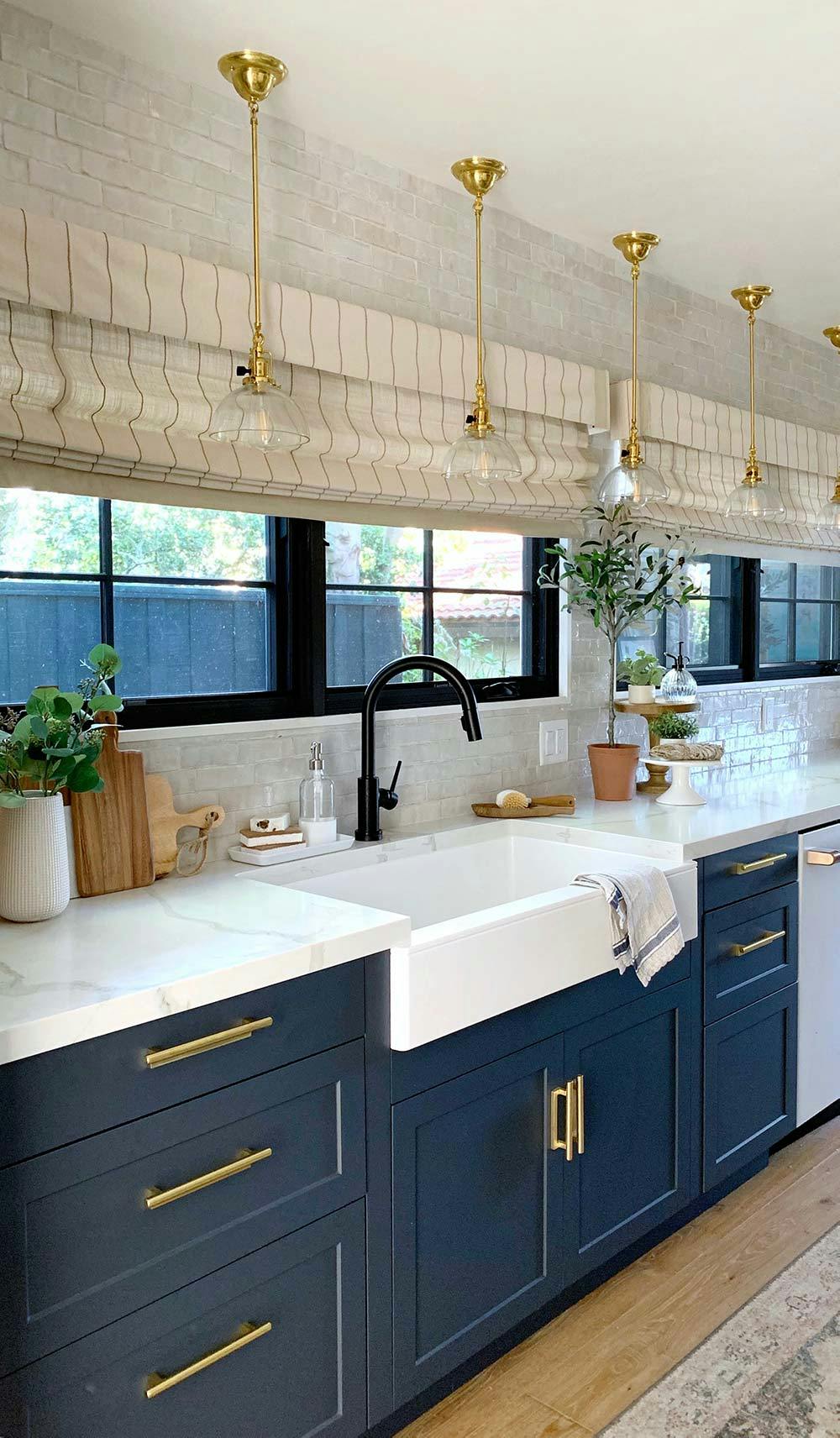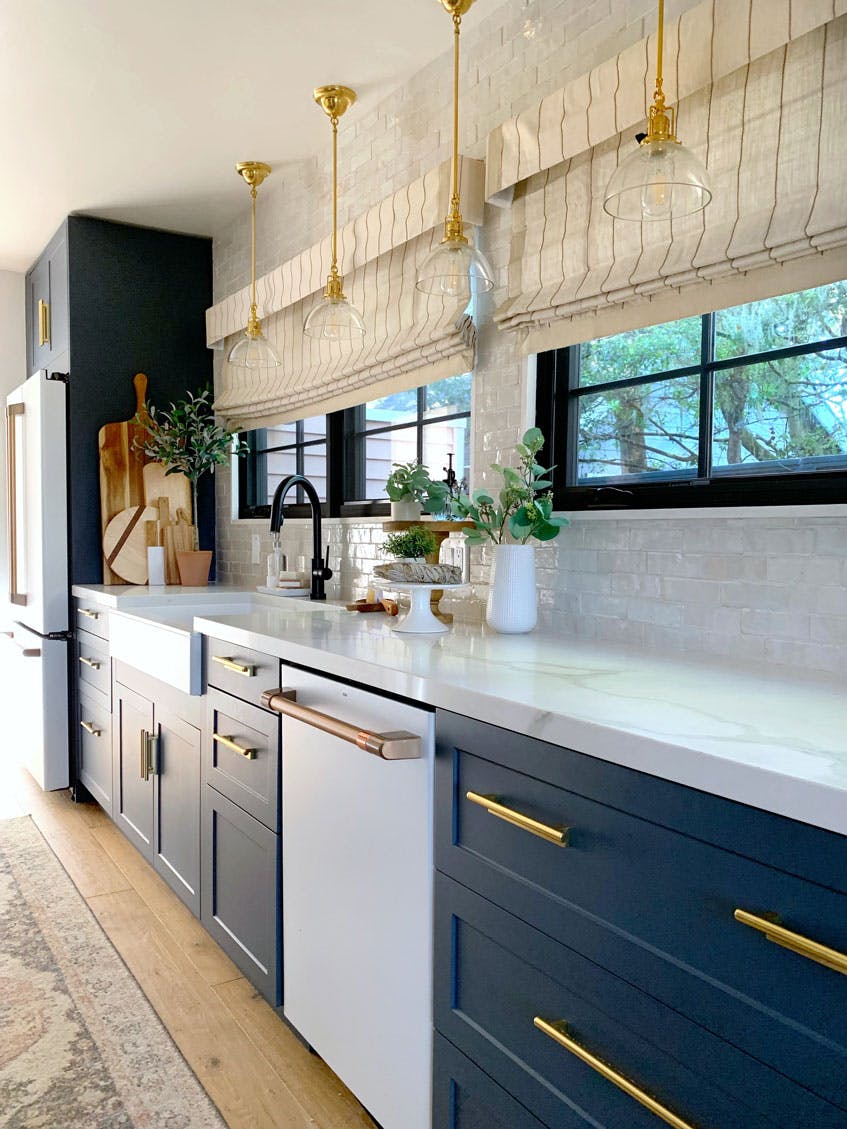 Get the Look!
Check out Erin's full kitchen reveal and hear more about her experience with Blinds.com.
Get Erin's kitchen look Premium Roman Shades in Linen Stripe Vanilla-Stone with edge banding in Wheat and a motorized lift.