There's no better feeling than personalizing a room to make it your own. Whether you're using color, fabric, art, wall hangings or a combination of all of these things, it's always rewarding to mix and match — and this month at Blinds.com, it pays too.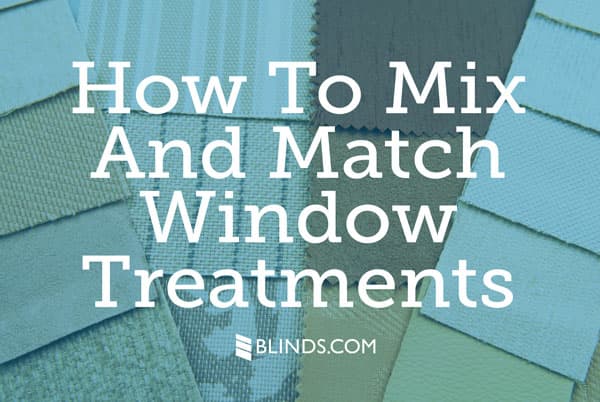 Save 10% when you order anything from our list of coordinating products — and 15% when you order $595 or more.
Shop our big sale in coordinating products or read on to and learn how to layer your windows like a pro.
How to Layer Windows…
…If You Love Drapes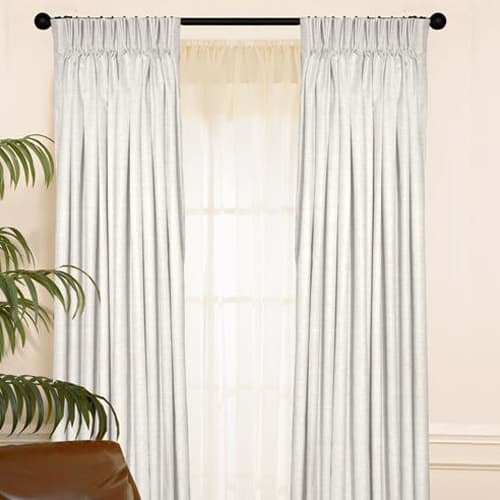 If you want your windows to have visual softness and voluminous fabric, layer blackout drapes and sheer panels. Your room will be airy and bright during the day, with sound sleeping at night. Sheer panels let in soft filtered light while still preserving privacy, and blackout drapes allow for serenity and a full night of rest. You can even use two drapery rods to move either set independently, letting you control the light in your room however you want.
Products:
Laura Ashley Pinch-Pleat Drapery Panels (Blackout Lining) | Lucerne Wanda | Drapery Hardware
Other Options:
Ultimate blackout | Canvas Blackout
…If You Want an Eye Catching Look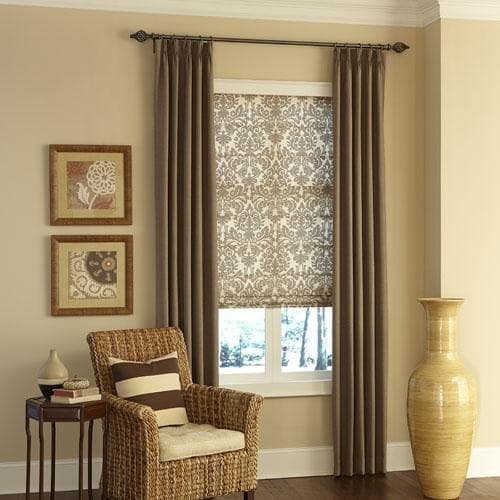 Layering your windows with Roman shades and draperies can help you achieve an elegant look with true depth. Roman shades can leave small light gaps near the window frame—adding decorative side panels can give you complete darkness, while also letting you combine, mix and match patterns and styles of fabric. Choose from dozens of fabric options to achieve whatever look you want.
Products:
Classic Roman Shades | Easy Classic Pleat Panels
…If You Want Modern Sleekness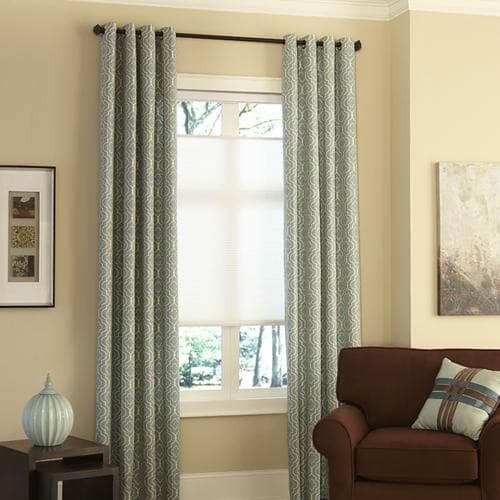 Create a trendy, modern look by layering crisp cell shades and contemporary grommet drapes. These two products can give your window almost complete versatility in simple, very easy-to-use products. Cellular shades provide almost every customizable upgrade you can imagine, while drapes add a splash of color and personality. The state of the art top-down/bottom-up lift system allows you to let in light from any part of the window.
Products:
Easy Grommet Drapery Panels | Cordless Top-Town/Bottom-Up Cellular Shades
…If You Want a Stately Accent for Windows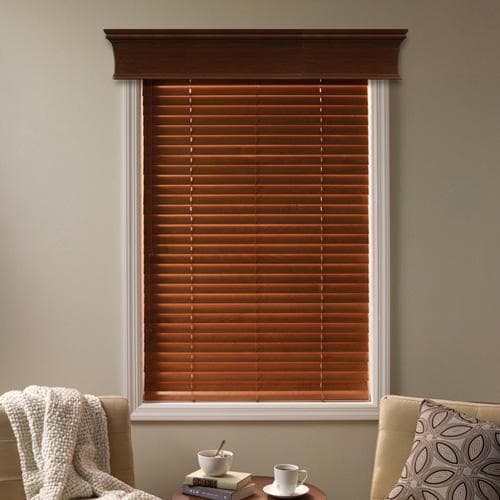 For a perfect coordination of color and style, pair the classic feel of wood blinds with a matching cornice. This formal accessory not only completely complements your wood blind, it will also hide your blinds when they are fully raised, giving a wide open appearance in your window.
Products:
Designer 2″ Wood Blinds | Designer Wood Cornice
…If You Want Contrasting Texture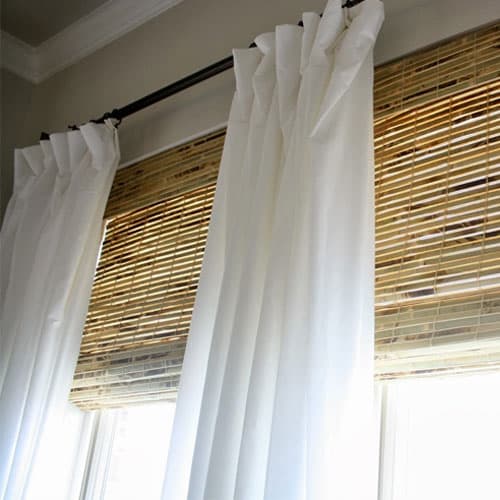 Balance out the dynamic texture of woven wood shades by layering simple drapery panels on top. Woven wood shades are available in hundreds of beautiful weaves and materials that give rooms a softly filtered glow. Drapes add softness and extra light control when you need it.
Products:
…If You Want Nostalgic Tailoring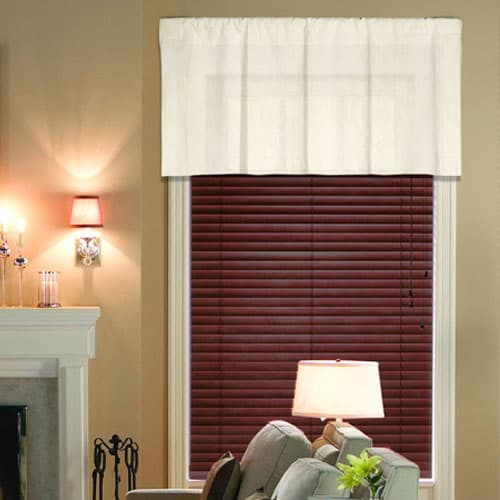 If you want a clean view and stylish topper for windows, layer a fabric valance over wood blinds. Choose from hundreds of beautiful fabrics to add splash of color to neutral blinds. While a valance adds softness, it will also conceal the blinds when they're fully raised.
Products:
…If You Want the Whole Package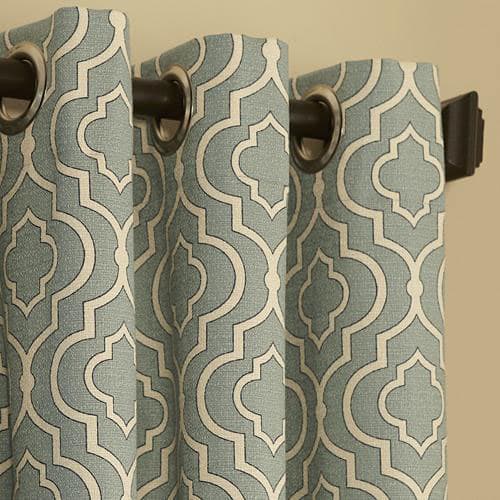 Blinds.com is a one-stop-shop if you're looking for drapes. We have custom panels and custom curtain rods and finials that can be made to fit any size window. All drapes and hardware are on sale now!
Products:
…If You Want to Match Rather Than Mix
Blinds.com has several collections of blinds, shades and drapes that are available in coordinating patterns and colors.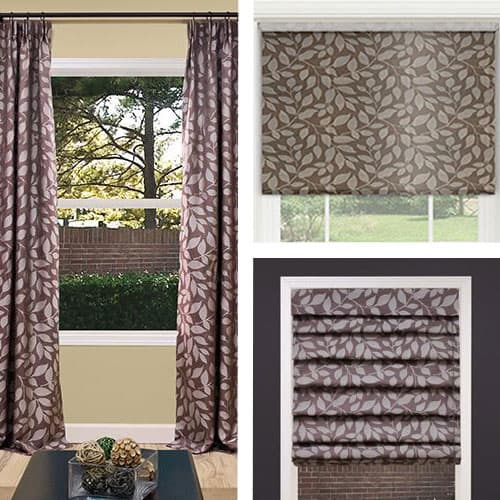 The Premier Fabric Collection has hundreds of patterns available as draperies, roller shades and roman shades.
Products:
Premier Drapery Panels | Premier Decorative Roller Shades | Premier Roman Shades
Ready to Mix and Match On Your Own?
Save on hundreds of coordinating products during the big mix and match sale at Blinds.com!