Etched glass is a huge trend for DIY home decor. People are using etching chemicals to create permanent designs and labels on drinking glasses, glass storage containers and mirrors.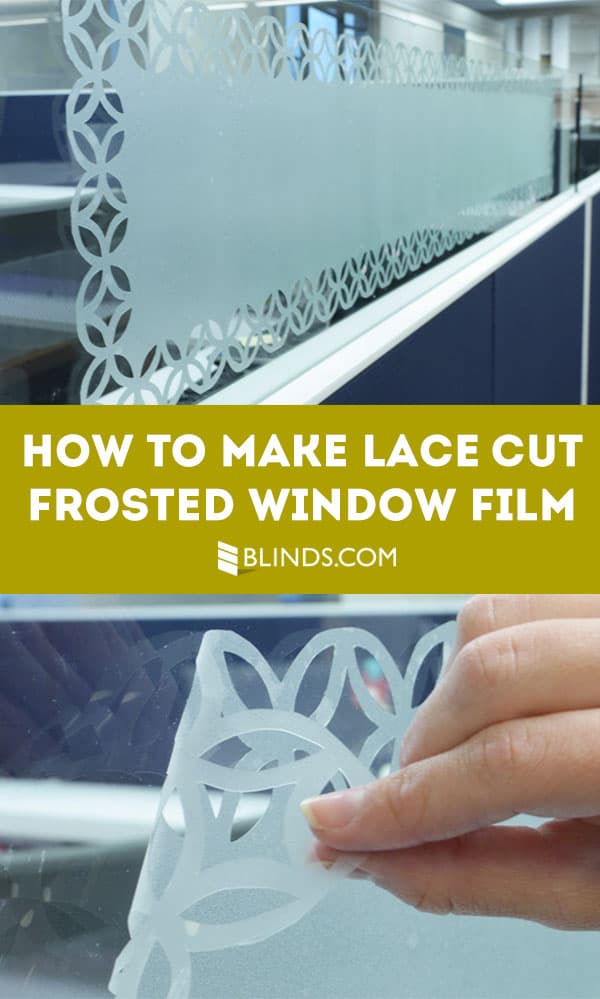 Today we're using Etched Window Film from Blinds.com to get this patterned look for windows without the long term commitment. We'll be cutting a decorative lace-like border around the edge of the film to give it a custom look.
This versatile window covering is one of our favorites. It's perfect for covering odd shaped windows, and gives full privacy to areas like bathrooms without losing light. Customers love it for glass doors too!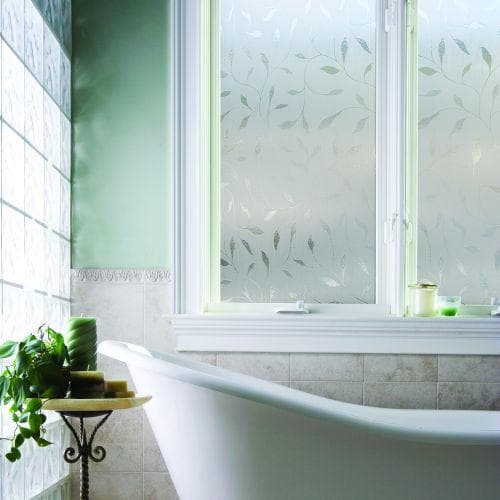 How it Works
Thomas Hicks Windows Film from Blinds.com is made from thin plastic that clings to your window with static electricity. There's no glue, so it's simple to apply and you can remove it with no residue left behind.
To order, take rough measurements of your window and choose a film size that's the same or slightly larger. We used the etched finish and sidelight size for this project.
Read on for a chance to win your own window film! 
How To Make Lace Cut Frosted Window Film

Thomas Hicks Decorative Window Film
Exacto knife
Pencil
Paper Clips
Cutting Board
Clear Plastic Storage Bin
Plug-In Bulb
Printable Stencils – Click Here to Print
How To Make Lace Cut Frosted Window Film
1. Measure your window and cut film to fit with an x-acto knife and straight edge.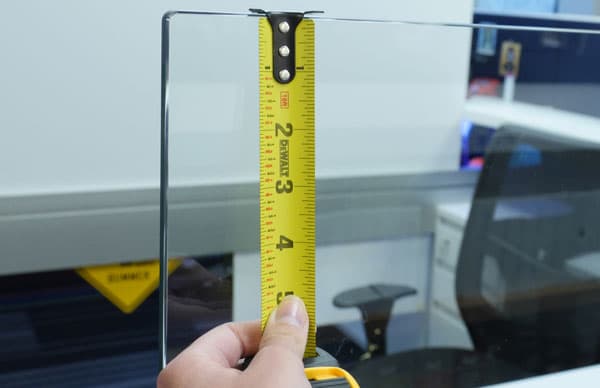 2. We'll be tracing the lace edge design onto the paper backing of the film. If you don't have access to a light table, you can make a simple one by placing a light bulb or Christmas lights under a clear plastic bin.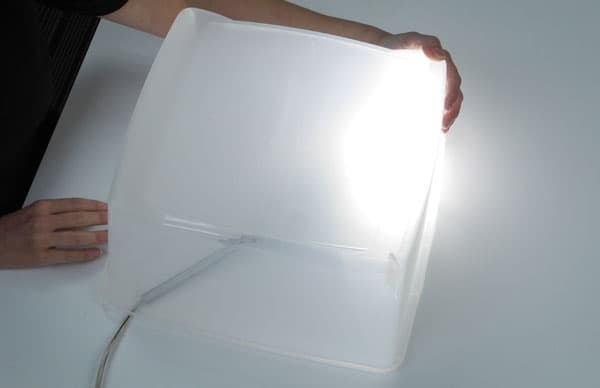 3. Trace your design onto the paper backing of the film with a pencil. Place your stencil on the light box, and then the film on top, paper side up. Hold the stencil and film together with paper clips. Start with a complete circle in one corner and work outward.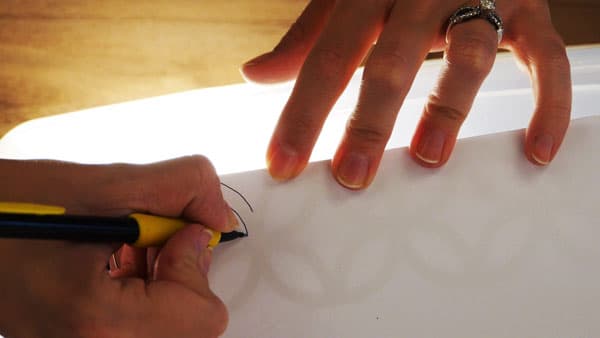 When you reach a second corner, stop with the last full circle that will fit on the paper and make the turn from there. Continue until you've traced the pattern around the entire border of your film.
4. Cut out your design with an X-acto knife and cutting board.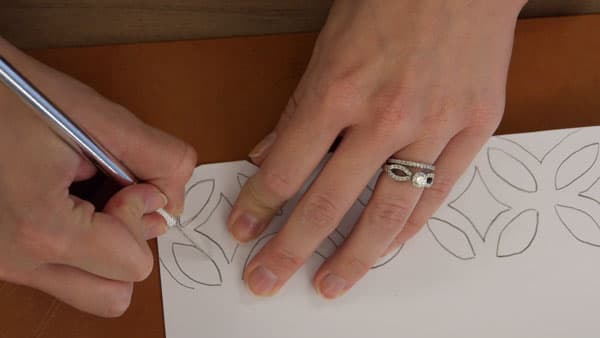 5. It's time to apply your design! Clean your window with glass cleaner and then wet the glass with water. This will allow you to make slight adjustments and help air bubbles come out easily.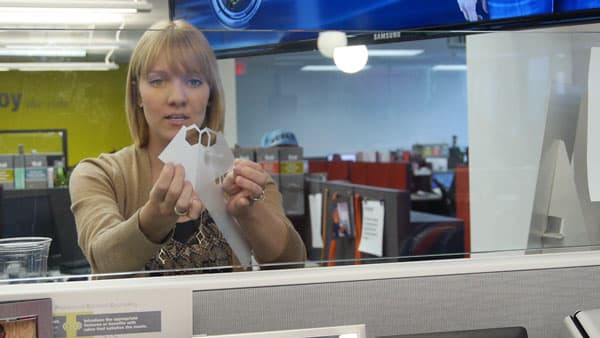 Remove the paper backing carefully and press film to the glass with your hands. Press out air bubbles with the squeegee that's included with your film. Be careful not to bend or tear the edges.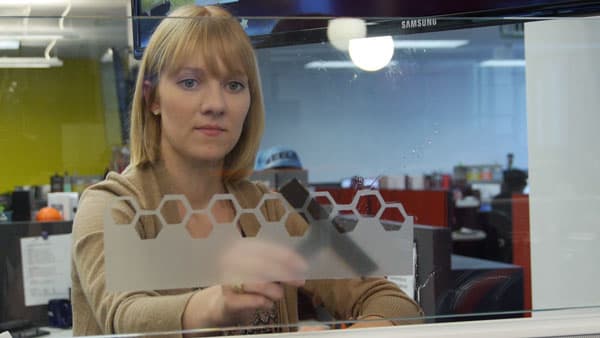 More Designs to Try!
The printable stencil has two other variations, Aztec Chevron and Honeycomb. Try these out or create your own design! We made the simple scallop with scissors and a hole punch.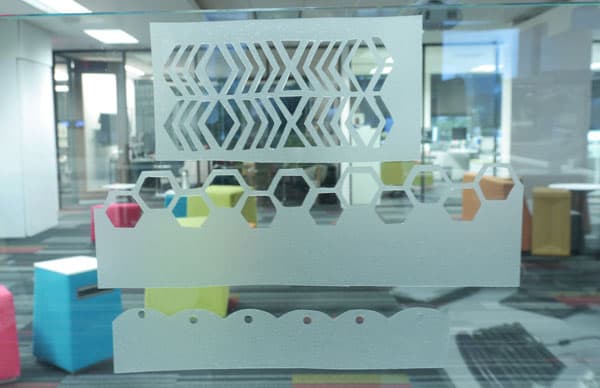 Start Your Window Makeover + Win Window Film!
Head over to Blinds.com to shop Thomas Hicks Decorative Window Film and give your windows a fresh new look. OR you can win your own window film! We're giving away Thomas Hicks Decorative Window Film to 4 lucky winners.
How To Enter:
1. Go here.
2. Watch the video.
3. Leave a comment and tell us where you'd use Thomas Hicks Window Film.
4. Don't forget to subscribe while you're there!
Only one entry per user, and we'll choose the winners 4/14!
Pin This Project!