Are you a minimalist who's looking to create a serene work-from-home space? Today we're bringing you the chicest home office from Anne Sage of City Sage. It's got all the right things going for it with a built-in desk and bookcases, the perfect linen roman shades (which we'll tell you more about below) and ALL THE WHITE BOOKS!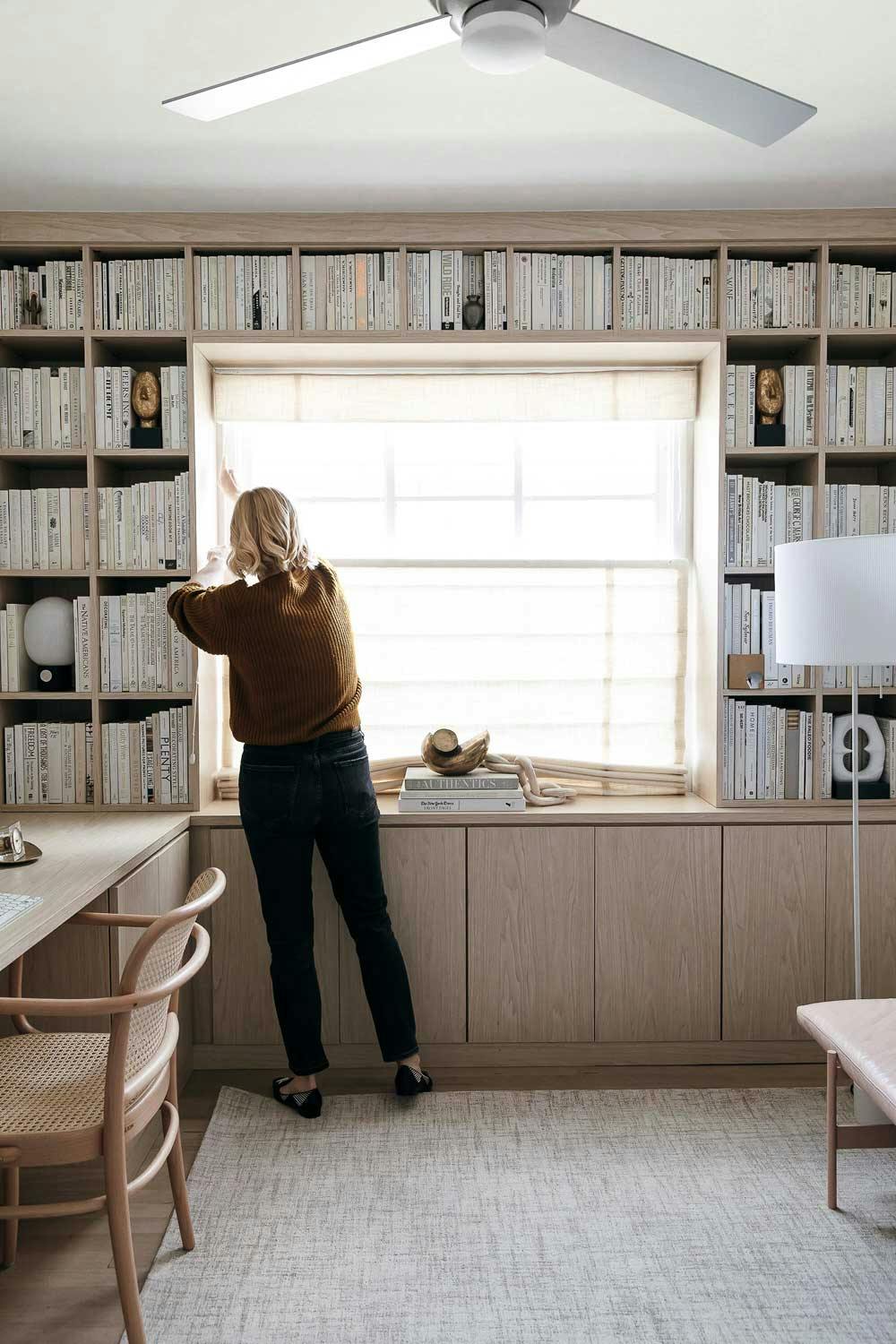 But first, we want to introduce Anne.
Meet Anne Sage
Anne Sage was a co-founder of the much loved Rue Magazine, author of the book Sage Living, and has been blogging since 2008 at The City Sage. Today she works as an interior designer, art director and photo stylist in LA and is co-owner of the event space, Light Lab. (Check out our recent collab with Light Lab)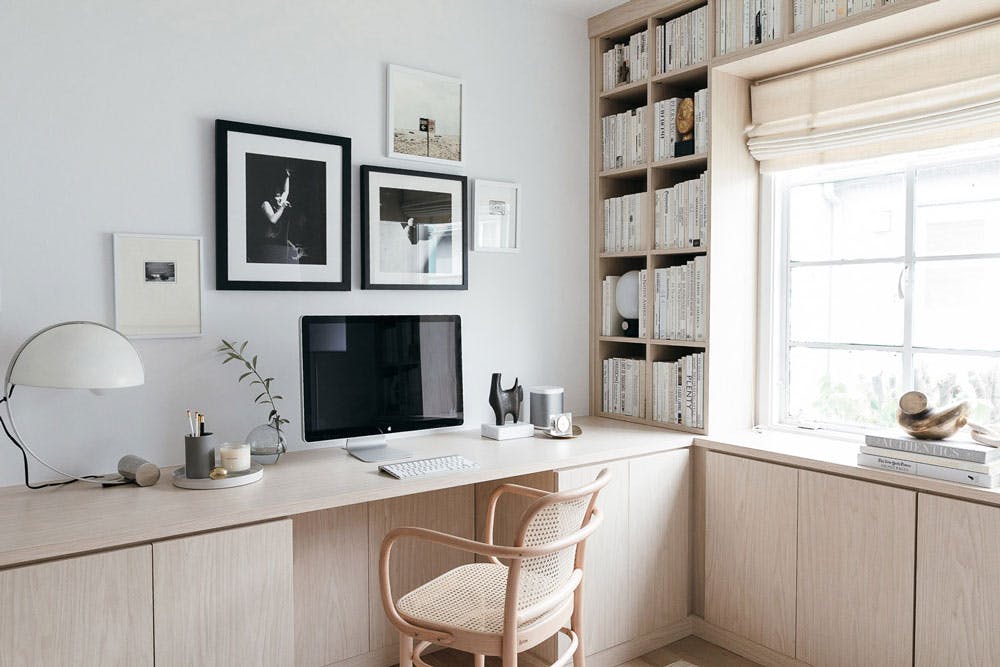 Creating the Perfect Neutral Office with Linen Roman Shades
In addition to her many client projects, Anne has been working to renovate her own home (which she says takes decidedly longer than outside projects). One of her intentions for 2019 was to finish out her husband's home office. She started by outfitting it with a striking built-in desk and bookcases in blonde wood. Bookcases framing the window give some visual interest to the small room, and provide stylish storage.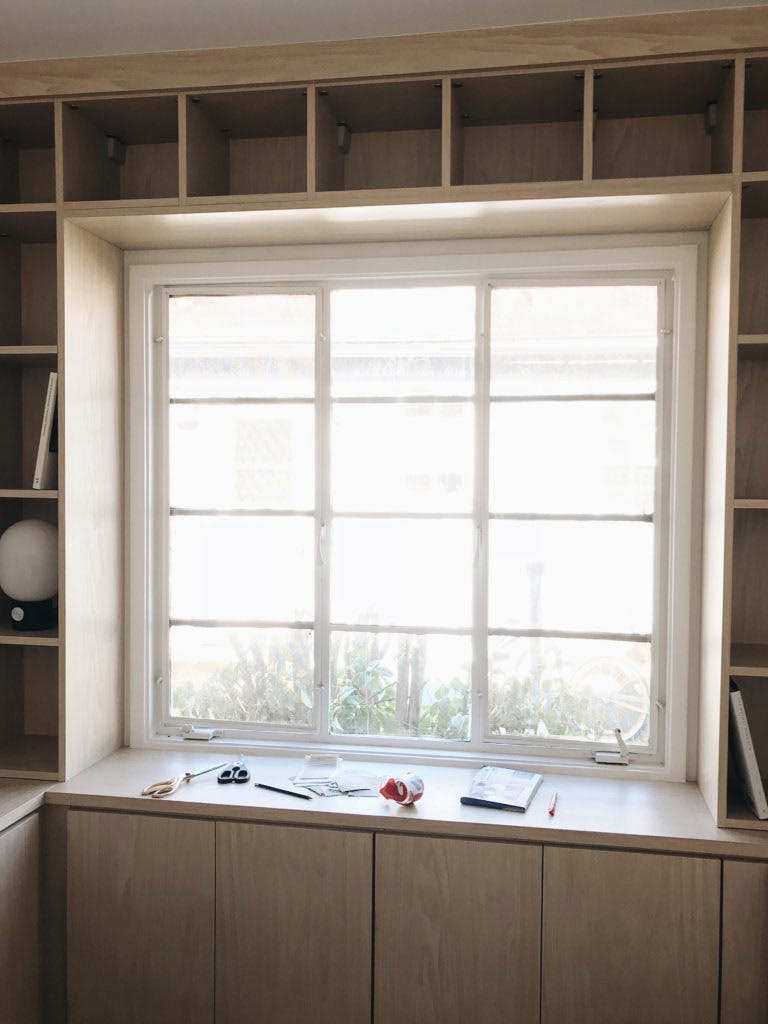 Anne was drawn to soft linen draperies, but knew they wouldn't look quite right in between the bookcases. After working with a Blinds.com Designer, she found that Roman Shades would give her a similar soft look, and work with the proportions of the window.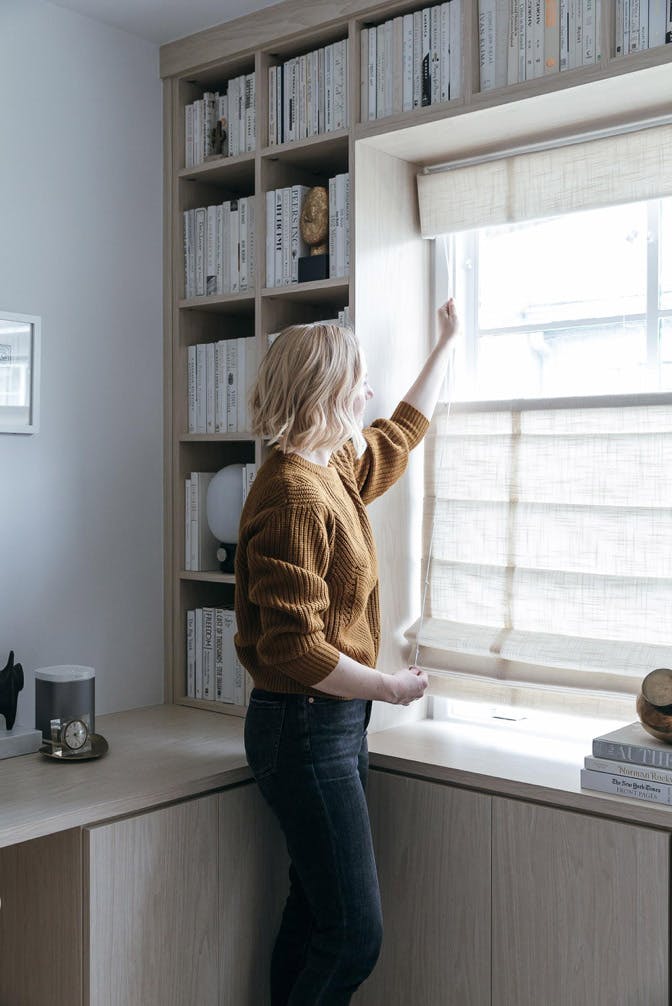 Anne Says:
"Roman shades feel crisp, clean, and modern, just like the rest of my home; and when they're in their open position, the folds still provide a similar textural effect to the draperies I admired so much in [the inspiration] photos."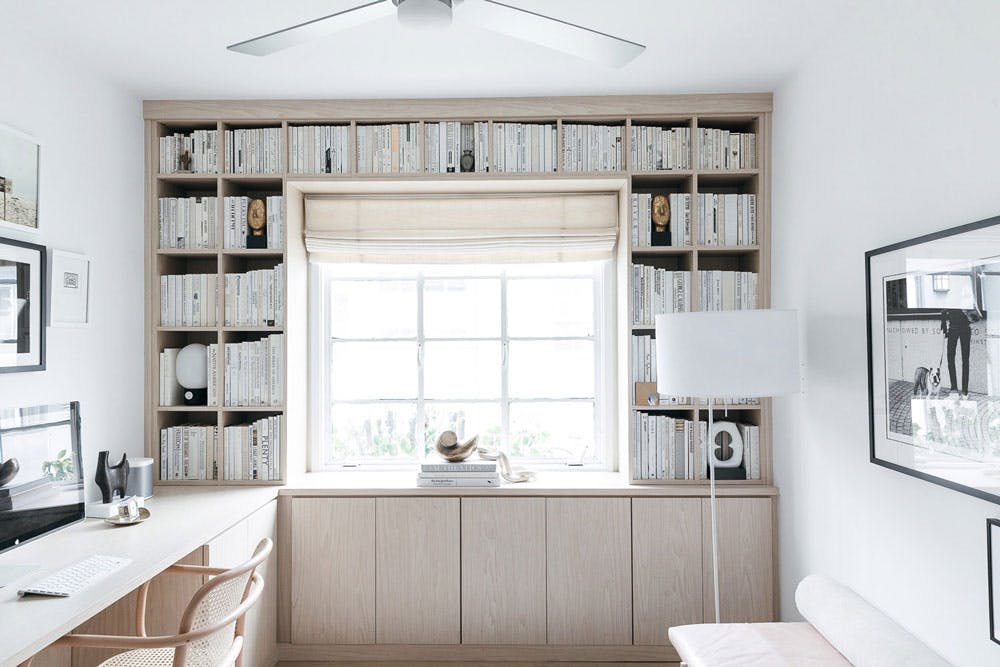 When designing the space, Anne was inspired by rooms with a tone-on-tone palette. Instead of feeling flat, the neutral space envelops you in warm sandy hues.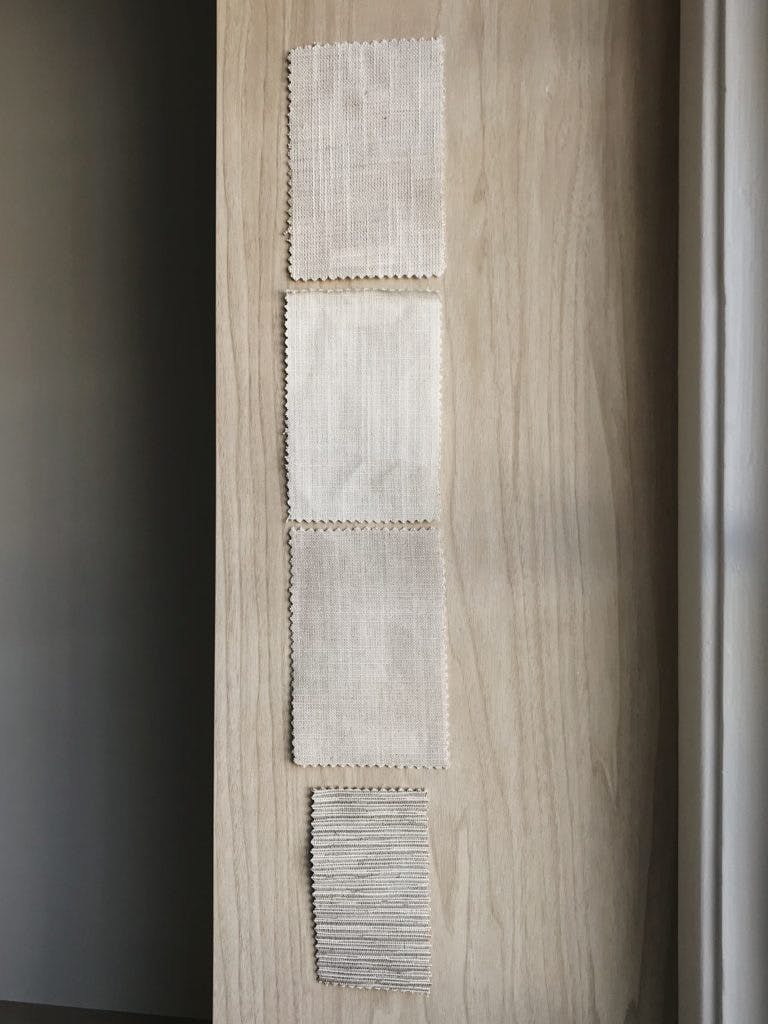 For this tone-on-tone look, Anne knew she needed to get the fabric selection just right. She received a dozen free fabric samples and taped up her top choices to see how they looked at different times of the day. In the end, she landed on Premium Roman Shades in Somerset Alabaster, a linen with subtle color variations worked into the weave.
Anne Says:
"In the end I went with a 100% linen called 'Alabaster' in the Blinds.com Somerset fabric collection. I chose it for its warm oatmeal hue and crosshatch weave pattern, which I knew would perfectly complement the wood grain of our built-in shelves."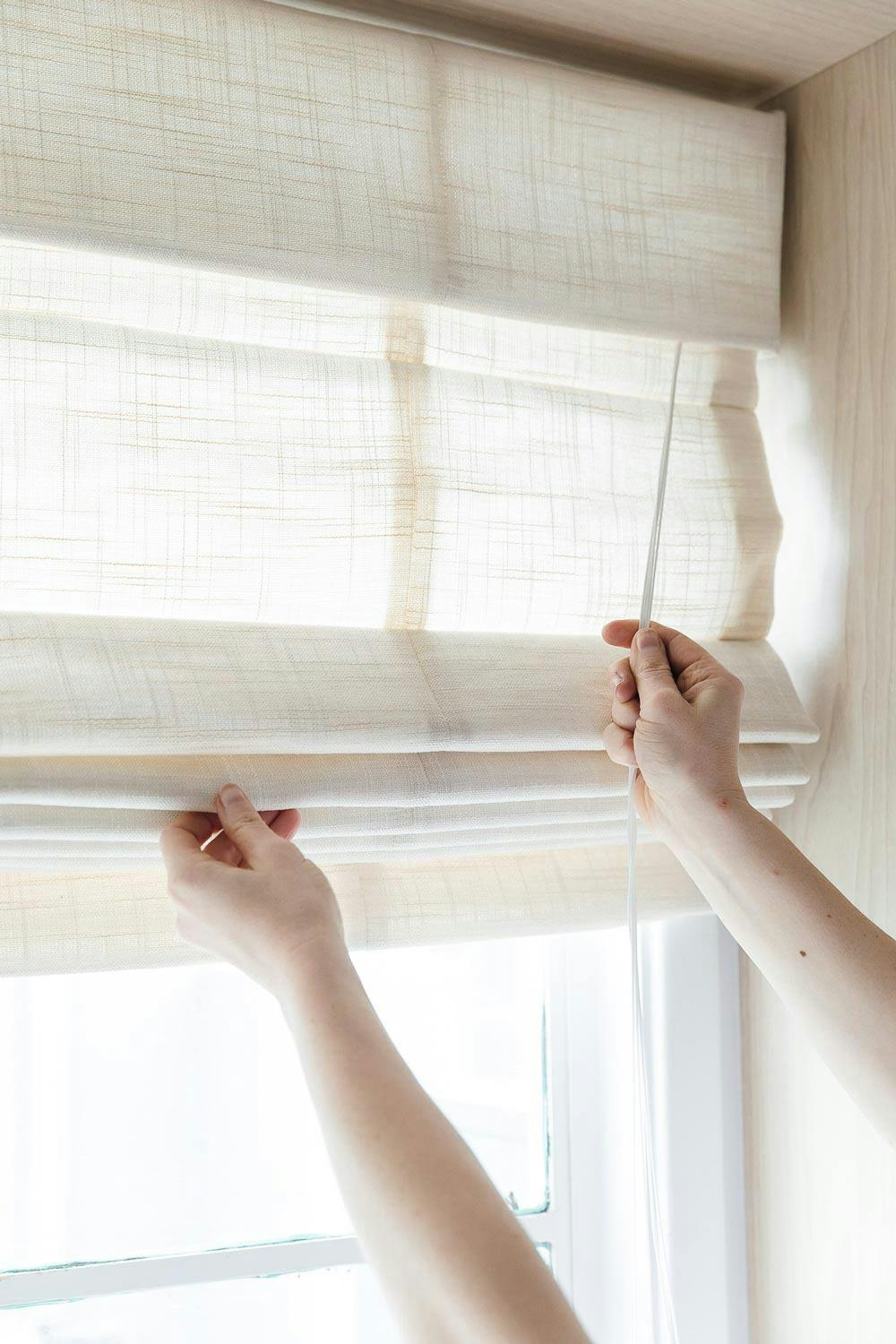 Anne Says:
"[This shade] creates the exact streamlined, monochromatic look that I was going for. A crisp box valance adds structure at the top, and twin vertical seams break up the expanse of material to add interest while still maintaining the modern look of the flat fold construction we selected."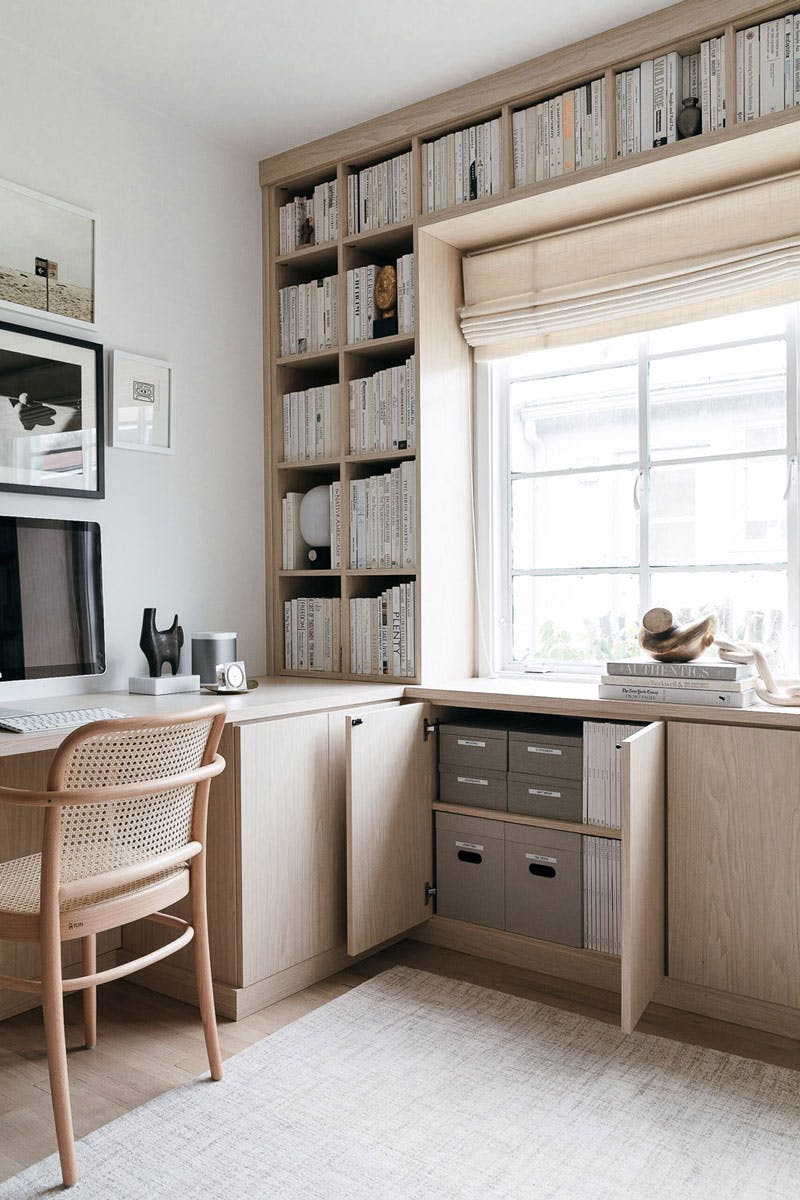 Anne opted for a Top-Down/Bottom-Up lift which gives the shade complete versatility. The shade can can cover the window completely, raise from the bottom like traditional shades, or lower from the top to let in natural light while keeping privacy at eye-level.
Anne Says:
"We both love the top down/bottom up lift option. Because this window looks out directly into our neighbor's yard, we really appreciate being able to control the light entering the office while also maintaining some privacy. Ivan especially likes this feature, since he keeps his clothes in the office closet and often gets dressed in here!"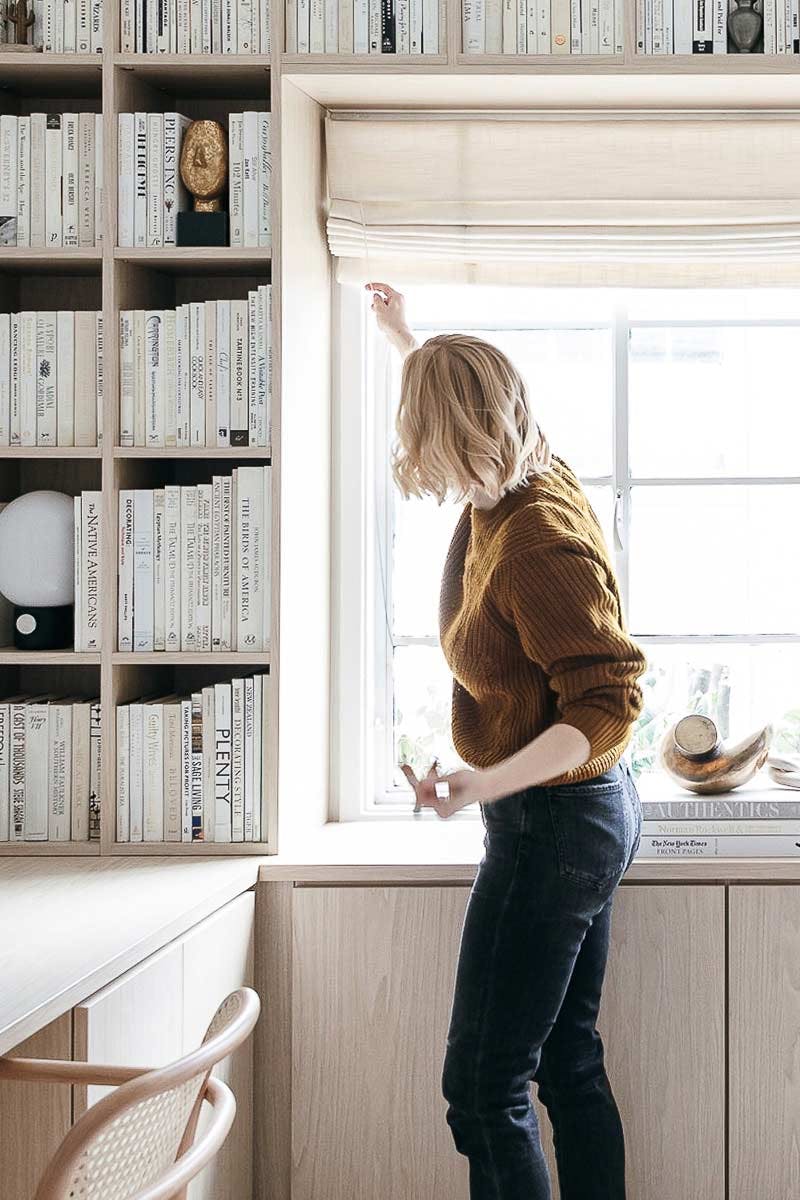 Anne Says:
"Window treatments in particular can be overwhelming, but Blinds.com connected me with Danielle, an on-call consultant to answer any questions I had. Danielle became my personal window treatments guru! She was available both by phone and email, always got back to me immediately, and walked me through my decision-making process when it was time to place the order. It was so nice to have full confidence that what arrived to my home for the install would be exactly what I'd envisioned!"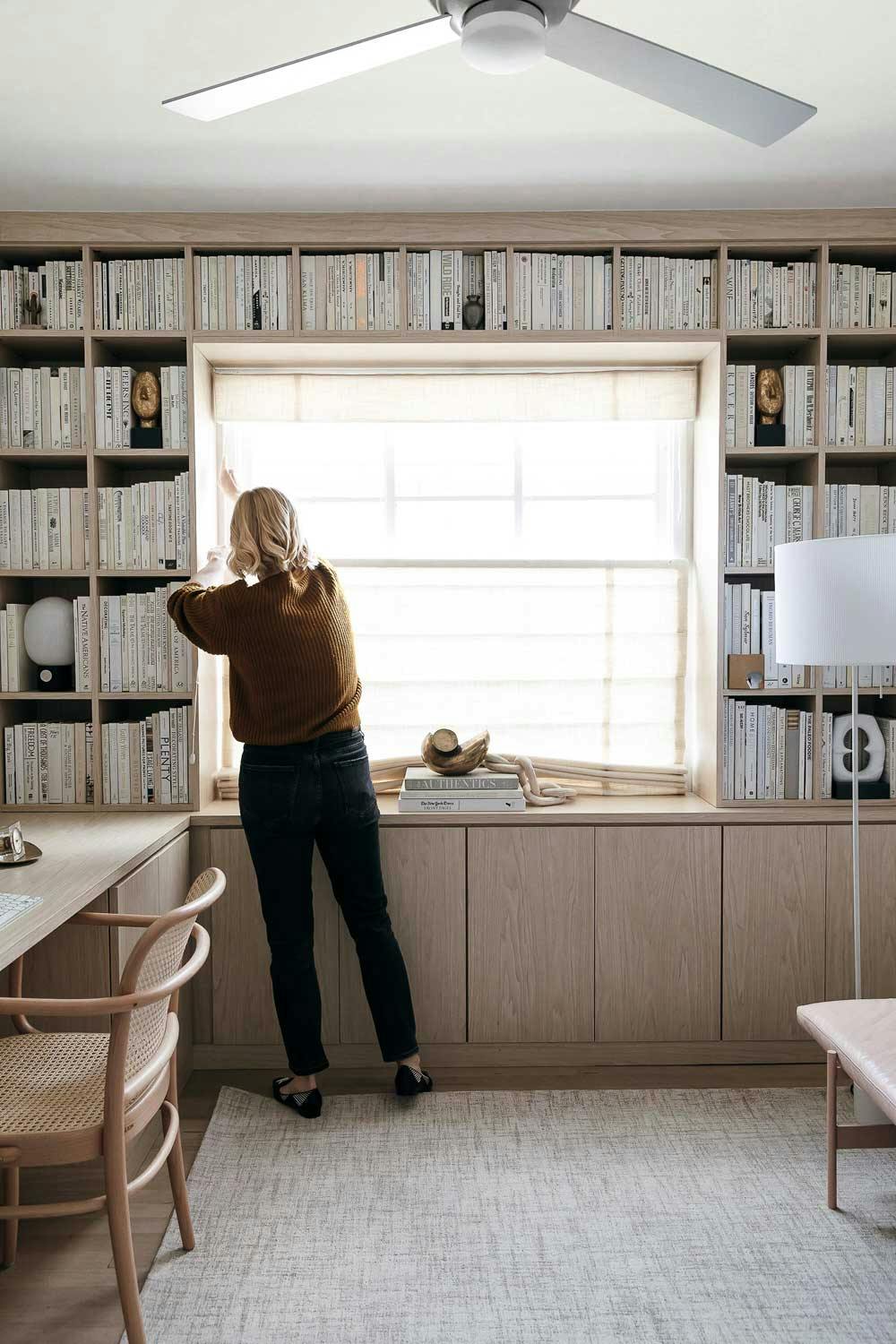 The process was also made easier because Anne took advantage of Blinds.com's Measure and Install Services. This exciting new offering is now available in LA, where Anne lives, and most major US cities. Schedule your measuring appointment today here.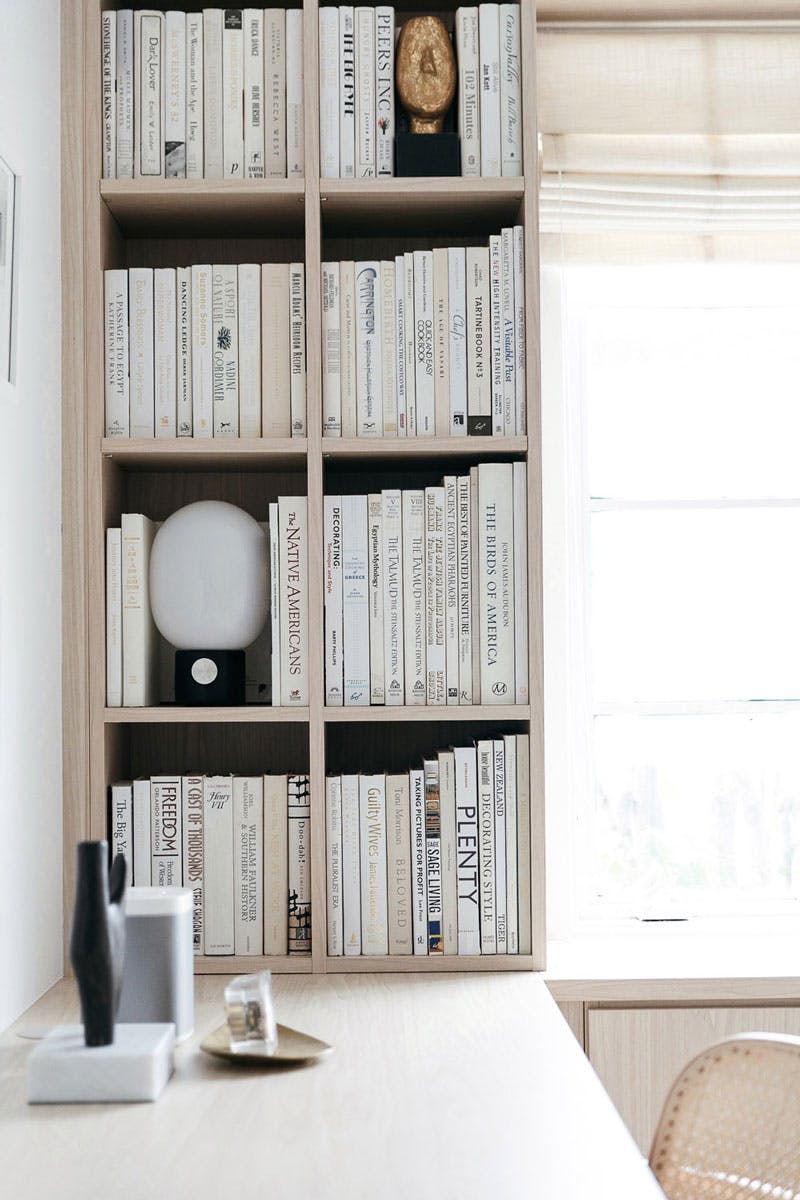 Anne Says:
"Speaking of the install, because Blinds.com offers professional measure and install services, I didn't have to worry that my inexperience would result in any DIY errors. I could schedule the measure and install online, the pro was always on time, and the workmanship impeccable. Oh, and this all came at a price that was a fraction of the cost I've paid for other window treatment brands. I had such a great experience, in fact, that I'm already using Blinds.com for two clients' homes. I really can't sing their praises loudly enough! And as you'll see when I reveal the entire space soon, this linen Roman shade truly is the crowning touch!"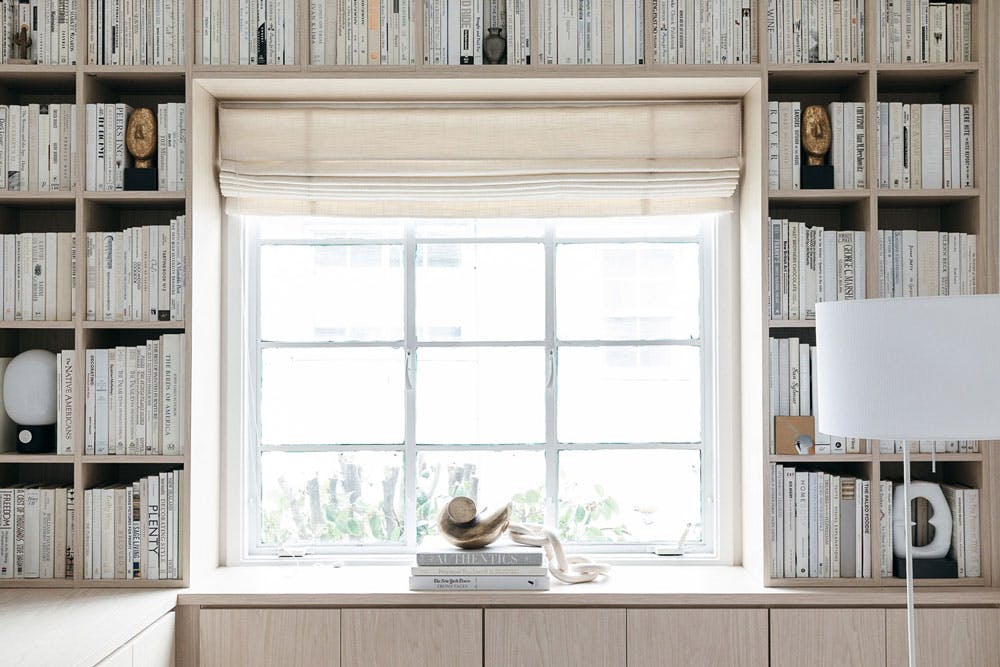 See More of This Space
Check out the full office reveal with more sources over at City Sage and Rue Magazine.
Get The Look:
Anne's office features Blinds.com Premium Roman Shades in Somerset Alabaster with a Plain Fold, Standard White Light Filtering Liner and Top-Down/Bottom-Up lift.
Want help finding the perfect blinds or shades for your space? Speak to a Blinds.com designer at 800-505-1905.