Susie Harris is a Louisiana native, blogger, artist who makes hand painted calligraphy signs. She is one of the most positive, inspiring people we've had the pleasure of working with despite the challenging year her family has endured.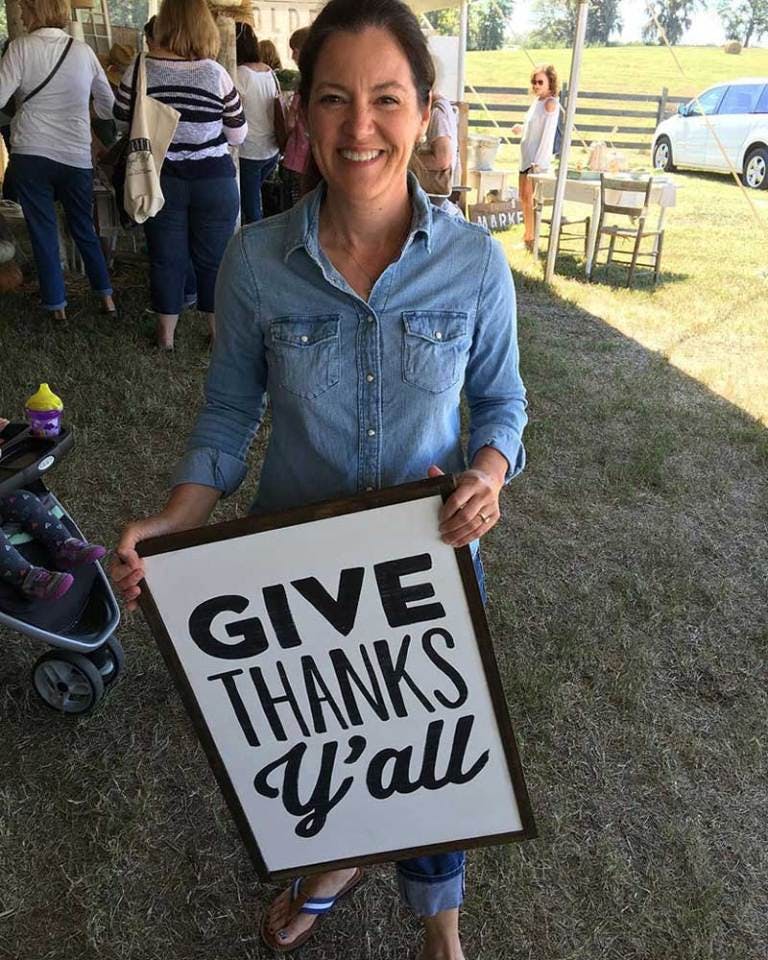 Higher Ground
Susie and her family were victims of the disastrous August 2016 flooding in central Louisiana. Rain fell at a rate of 2-3 inches per hour, resulting in about 2 feet of standing water.
Susie, her husband, and daughter were able to evacuate to a family member's home before water came inside. During the day and a half they spent waiting for waters to recede, they knew that they wouldn't be returning to the same home.
Tearing Down to Rebuild
When Susie and her husband were able to make their first trip back to the house by boat, they found that several feet of water had entered the home. Drywall had to be removed halfway up all the walls and any furniture that had been touched by the water had to be thrown out because of sewage contamination.
From there, Susie and family began rebuilding but never lost perspective that despite this setback, they were still incredibly blessed.
Susie Says:
I dug through some of the rubble and found this sign and placed it on my window.
 I wanted my neighbors to know that we can still give thanks in this storm.
When Susie reached out to the Blinds.com team to ask if we could help with their project, we jumped at the opportunity. Our corporate office is located in Houston, and as such, many of our staff are Louisiana natives or have family and friends who were affected by this storm.
Rising from the Rubble
A few months after the flood, Susie and family had replaced drywall and plumbing, removed and rebuilt all the exterior brick, and completed many other initial repairs. She was then able to pour her efforts into finishing off her kitchen and main bathroom.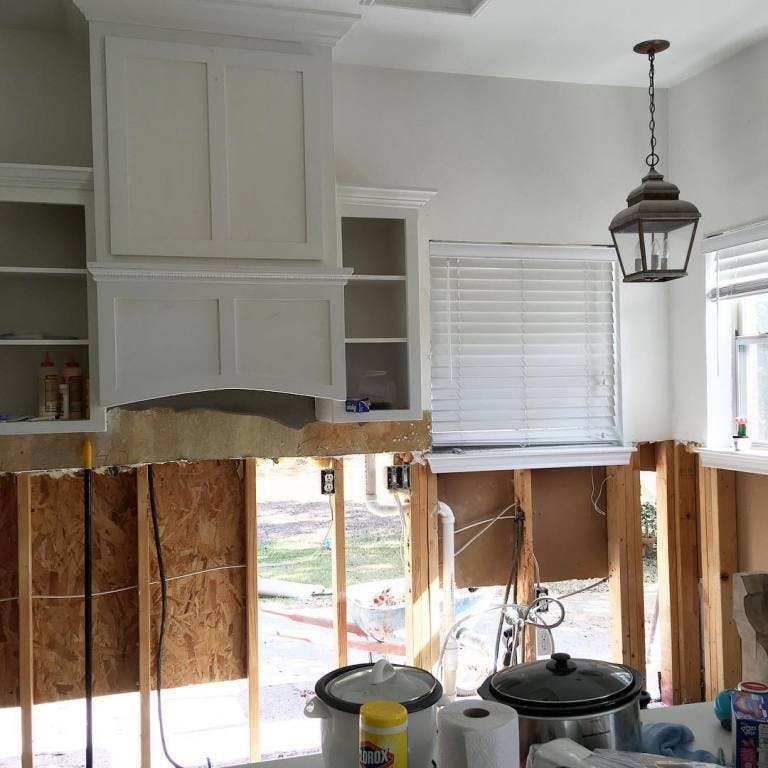 Recreating a Dream Kitchen
In the kitchen, they replaced lower cabinets, installed new appliances, replaced countertops, connected plumbing and installed a new sink.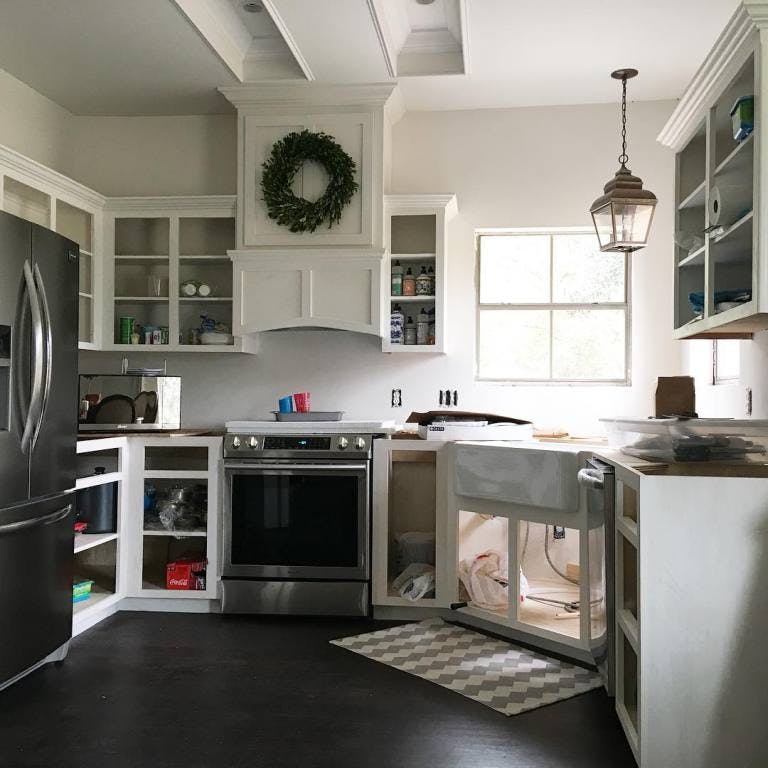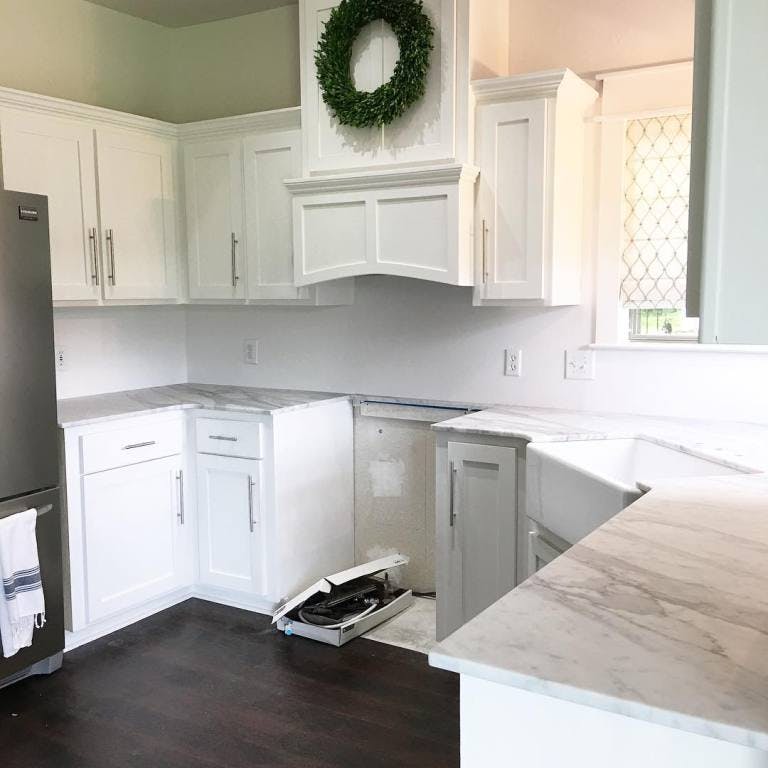 The lovely, light-filled kitchen got the perfect finishing touch with soft Blinds.com Classic Roman Shades. Susie started her shade search by working with Blinds.com designer Danielle and ordering free fabric samples.
Susie Says:
"I can't tell you how many samples they sent our way. Something so wonderful about getting to touch the fabric and see the colors in real life."
She decided on Premium Roman Shades in Portland Bay Side (discontinued) with a Flat Fold, Continuous Cord Loop and Standard White Light Filtering Liner.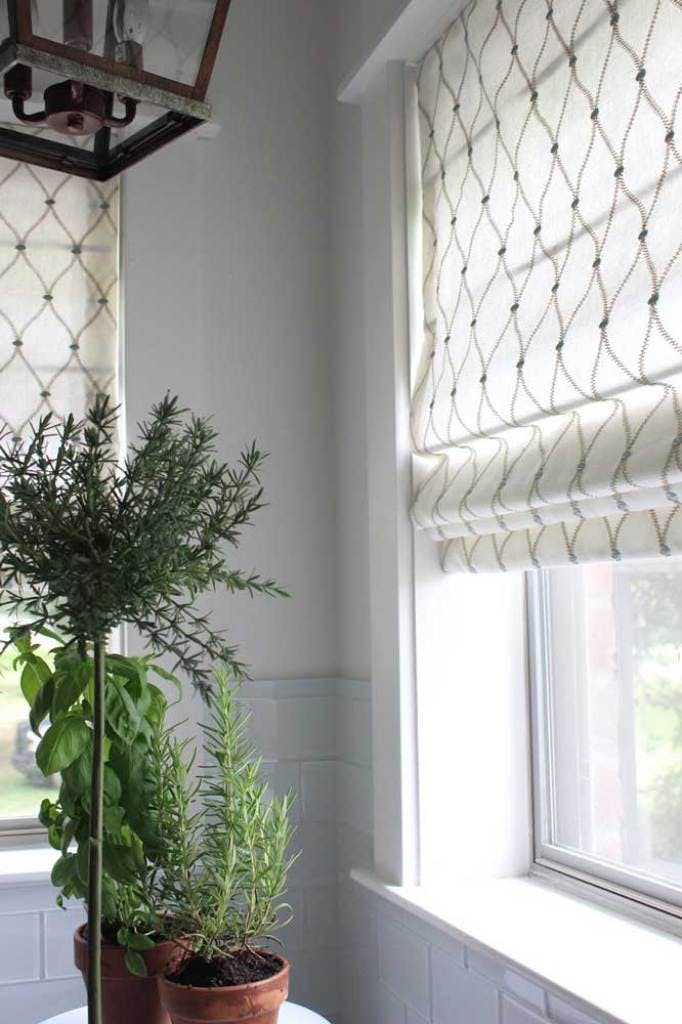 After her shades arrived, Susie installed them in a snap. All it took was driving a screw through the grommeted hole in the headrail.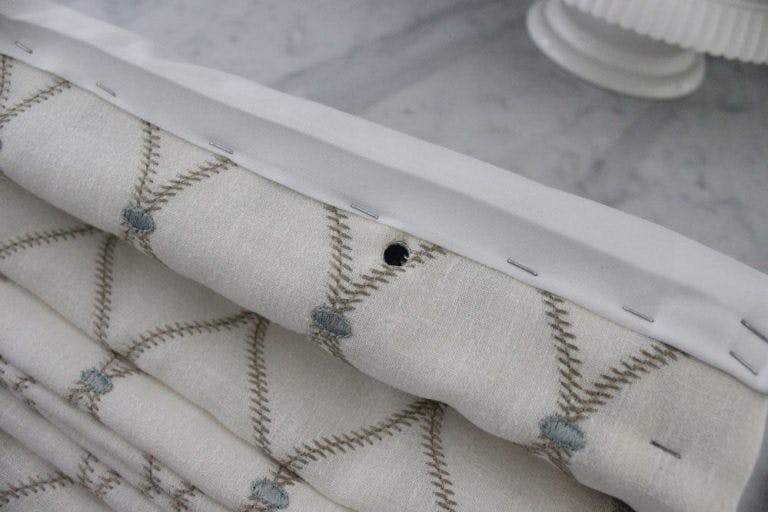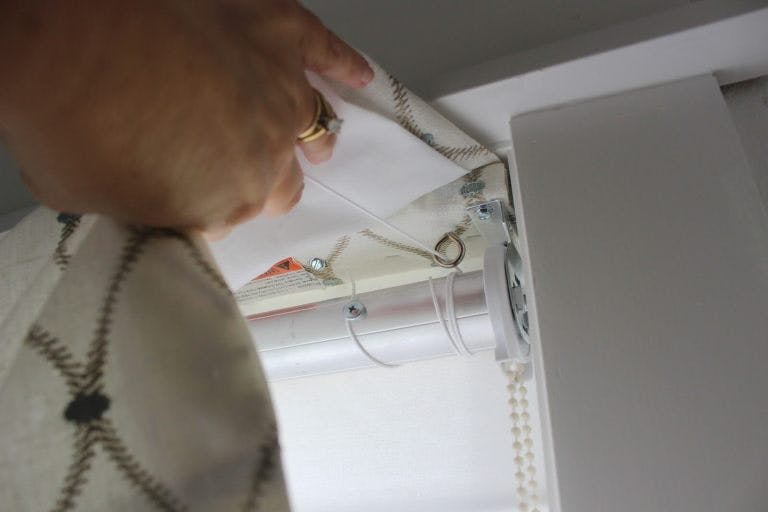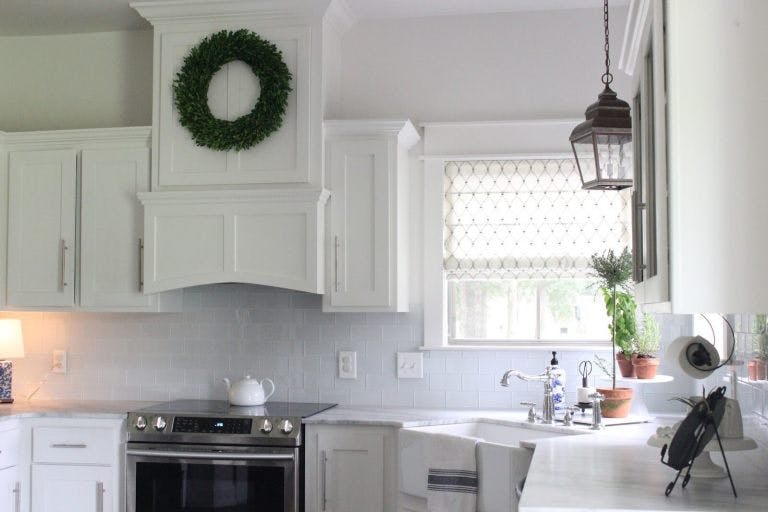 Susie Says:
"They fit perfect from top to bottom. And can I tell you, that was not an easy task. Because our windows had to be removed and replaced with new trim, the sizes varied. The top was one size and the bottom was off by quite a bit.
I was so concerned that this would cause problems. Not one bit! Custom fit should be their middle name."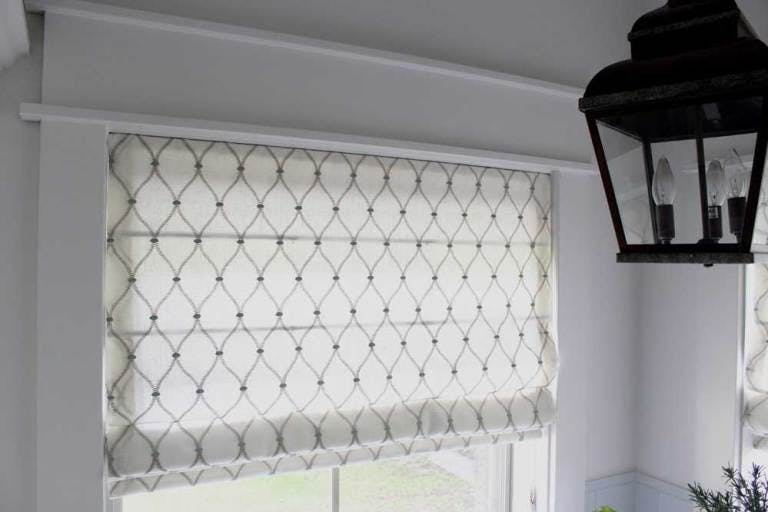 Susie Says:
"Many have emailed me asking about the back of the shade. During your design phase, you get to pick your liner. I wanted something in my kitchen that would allow the light to filter through but thick enough to give us 100% privacy."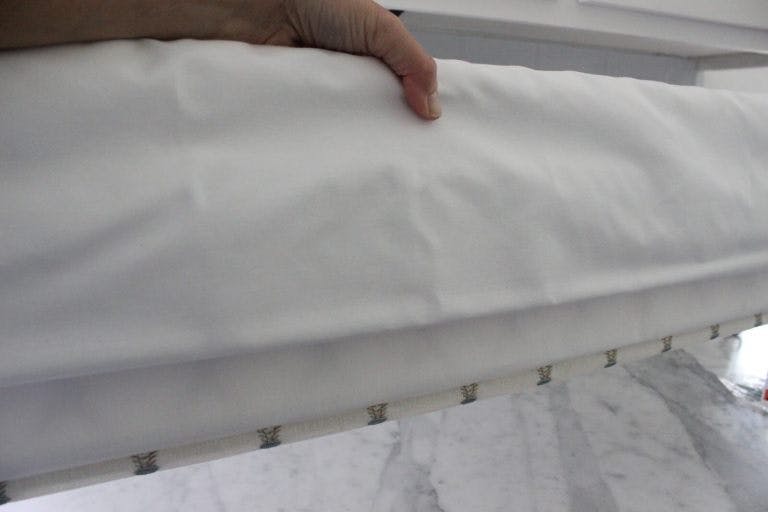 Main Bathroom Gets a New Life
Susie's main bathroom underwent just as dramatic a transformation. She and her family replaced drywall, plumbing, tile, installed a new vanity and tub.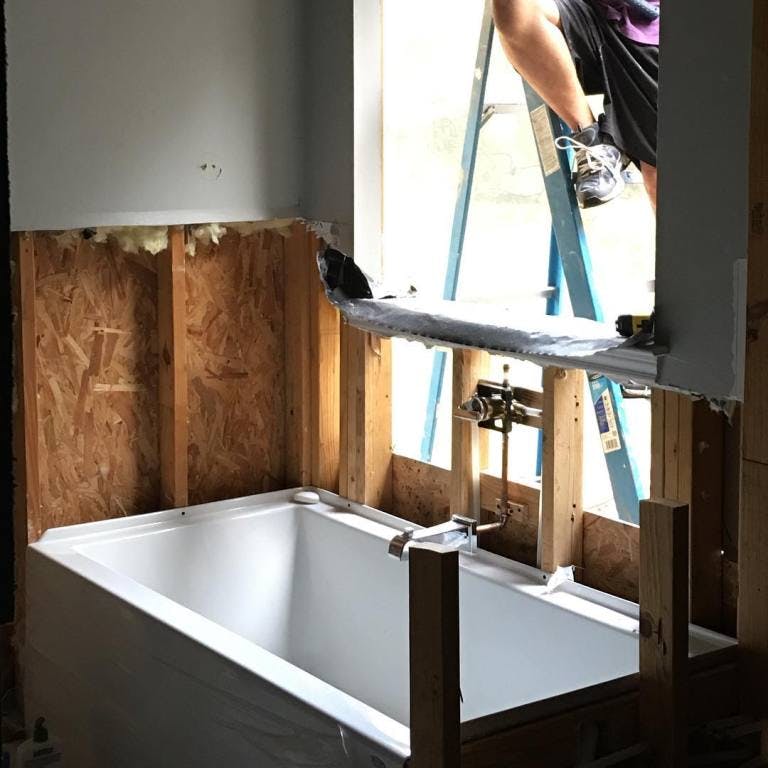 The serene final product is exactly the peaceful retreat that this family deserves. White roman shades with a grey ribbon banding are the perfect match for the clean, classic look.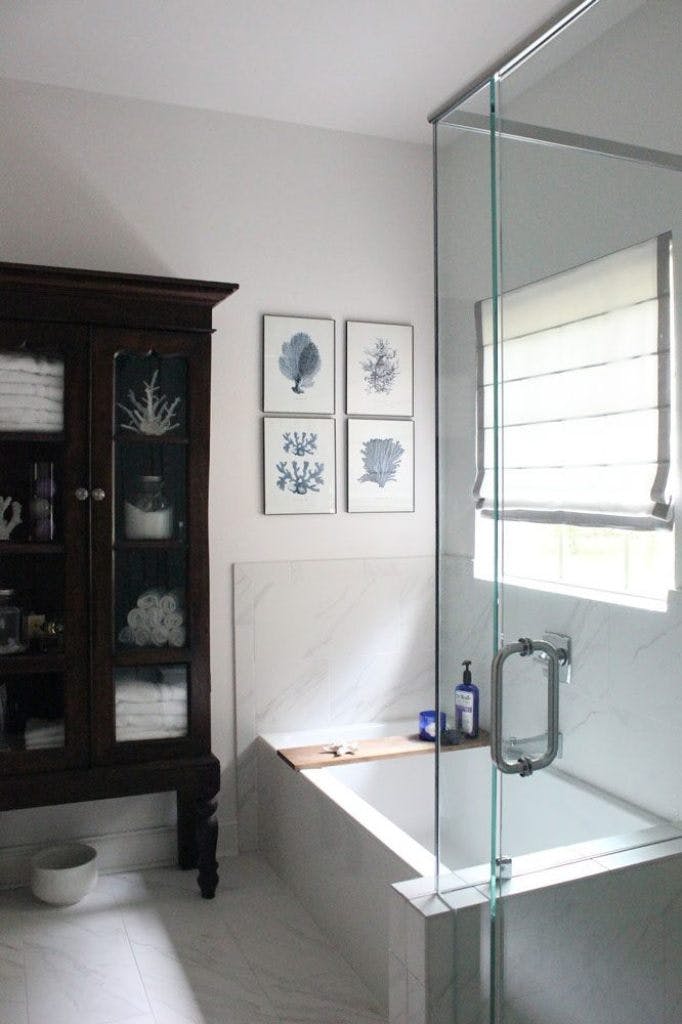 Susie's shades are Premium Roman Shades in Rio Winter White with edge banding in Pebble.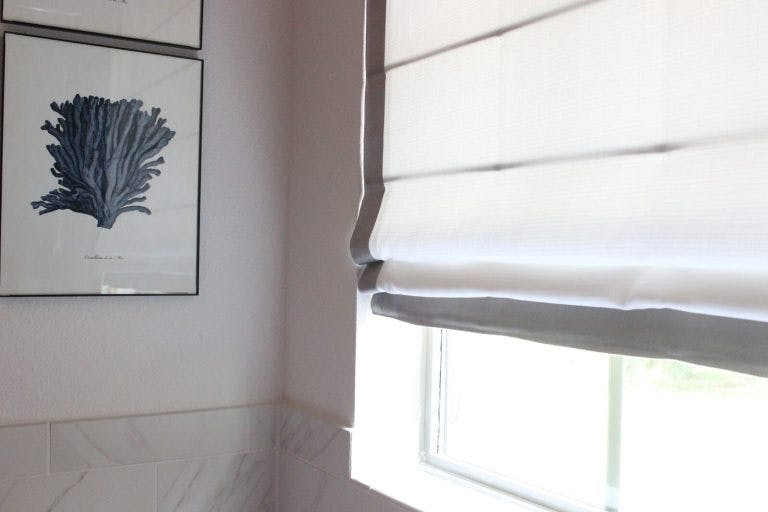 Susie Says
"I started out with just a simple white background and had them add this gorgeous grey trim."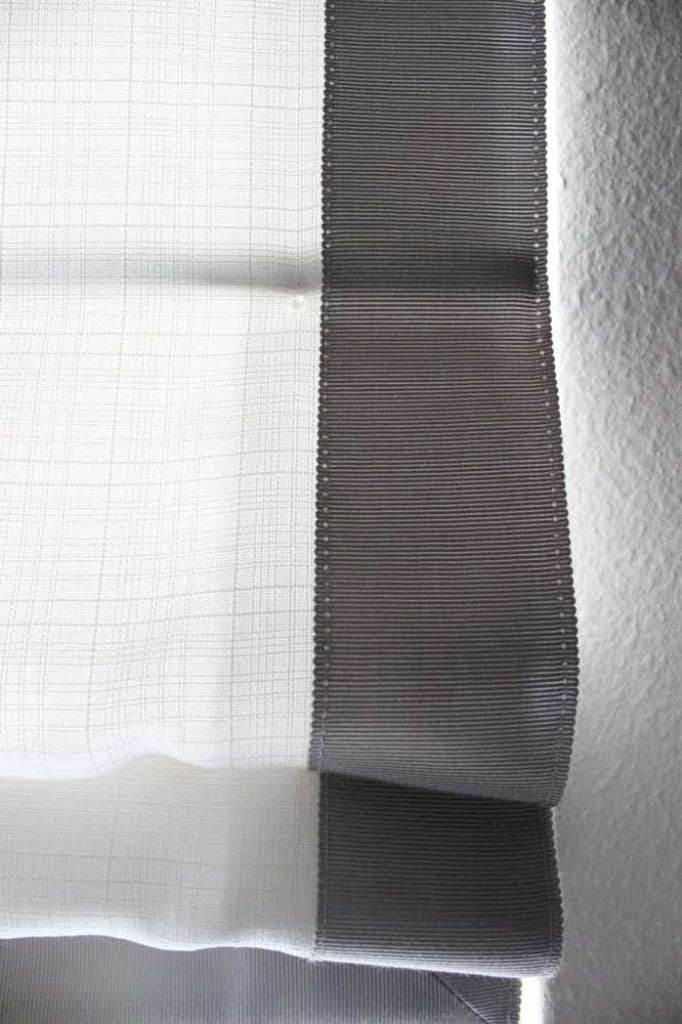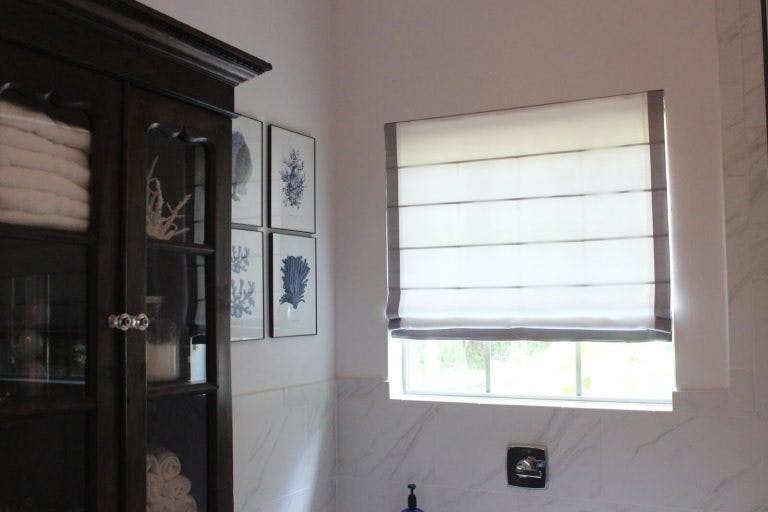 Susie Says
"Our kitchen window had a thinner liner to allow the sun to peek through. For our bathroom, I wanted something just a bit thicker for privacy."
Take a Video Tour with Susie!
Get the Look!
Susie's kitchen features Premium Roman Shades in Portland Bay Side (discontinued) with a Flat Fold, Continuous Cord Loop and Standard White Light Filtering Liner.
In the bathroom she used Premium Roman Shades in Rio Winter White with a flat fold, edge banding in Pebble, continuous cord loop and thermal sateen white light filtering liner.
Ready to start your project? Learn more about how to measure for Roman Shades.
Hear More of Susie's Story
See more of Susie's room reveals and hear about her home restoration from start to finish. We recommend reading her posts Grace Upon Grace and New Beginnings.