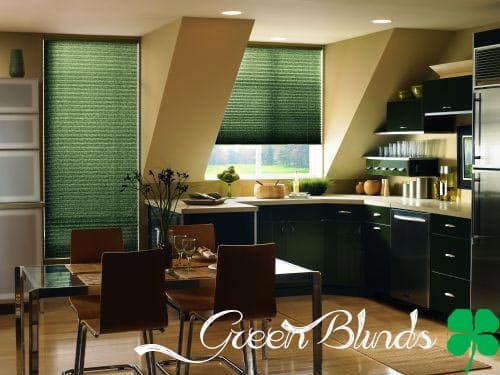 Whether you want a fresh look for spring, or are hardcore committed to St. Patrick's Day, Blinds.com has green blinds for you. From true green to soft mossy tones, we have a variety of hues that will fit in any space. Learn how to decorate with green and incorporate this color effortlessly into your existing design.
Green Blinds – Find Your Four Leaf Clover
If green blinds are your thing, the Blinds.com Brand 2″ Aluminum Blinds in Pinion are the perfect pick for you. These blinds are made for strength and durability, so they'll serve you well for years to come.
This soft Fern color is gorgeous on a crisp fabric shade like the Bali DiamondCell 3/8″ Double Cell Shades. It looks beautiful as a subtle accent in a room of neutrals. This shade is also offered in Isle of Pines, a bright mottled green, Bisque Green, a pale seafoam, and Squirrel Tail, a dimensional forest green.
Blinds.com Brand No Holes Privacy Pleated Shades will give your home a modern look with crisp, even pleats. The vibrant Mezzo makes a bold statement in a multi-window room, but could also give a splash of color to a small window in a hallway or bathroom.
Minty hues like Tranquil are sweeping the design world. This pale teal color will look just as gorgeous on your windows as it does in colored jeans and flowy tops. Blinds.com Brand 3/8″ Double Cell Light Filtering Shades are also offered in soft sage Aloe, leafy Bonsai, and deep Forest, if you're looking for a more traditional shade of green.
If you want the stylish look of window drapes and full control over light, the Blinds.com Brand Ultimate Blackout Panel is a great fit. The innovative  blackout fabric looks stunning in Sage.  It's 3 layer weave has a black yarn center that keeps out light with a neutral color to the street side and the shade of your choice for the interior.
"Green" Shades to Help the Planet
These blinds may not be green in color, but they're certainly good for the earth. All Blinds.com woven wood shades are made from fast growing bamboo, grasses, jute and other materials that are highly sustainable. Real wood blinds are also made from natural materials that will help reduce your dependency on energy and petroleum-based products without sacrificing style. Shop all eco-friendly blinds.
Shopping for Green?
See all Blinds.com products available in green on our color category page. Although we could only show you a few today, many of our products are available in green hues. Order free samples today to see the colors in person and select the one that's right for you.