Have an unusual window that seems impossible to cover? Kala of My Breezy Room was outfitting the nursery for her new baby and needed to block light from a large arched window to make mid-day naps possible.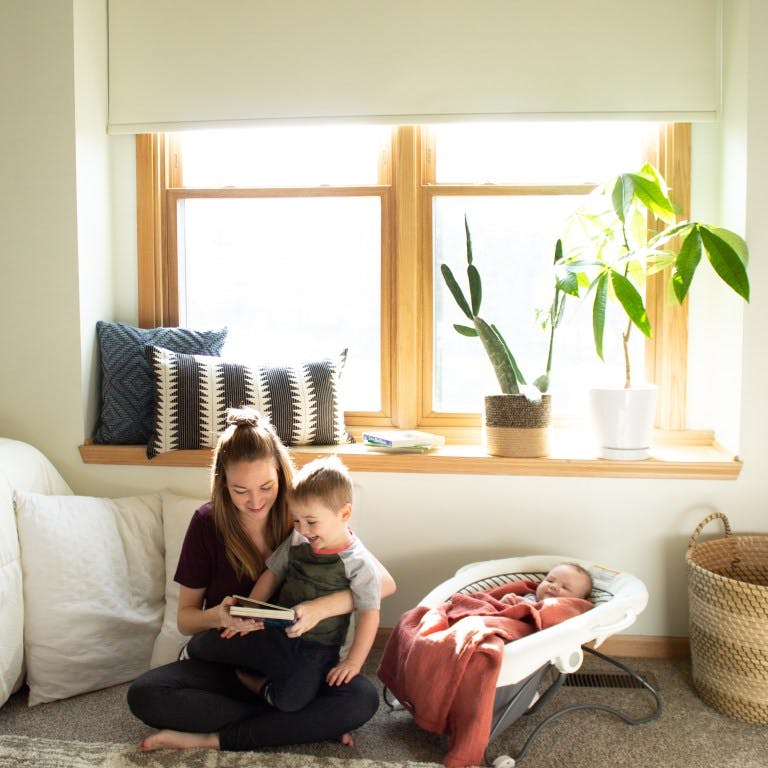 Mom Covers Large Arched Windows in Boho Nursery with Levolor Roller Shades
Kala had transformed her guest bedroom into a charming nursery with color blocked walls in Terra Cotta (a trendy color that we love!) along with timeless accessories that speak to her boho-minimalist style. But the windows were the last missing piece to finish off the room.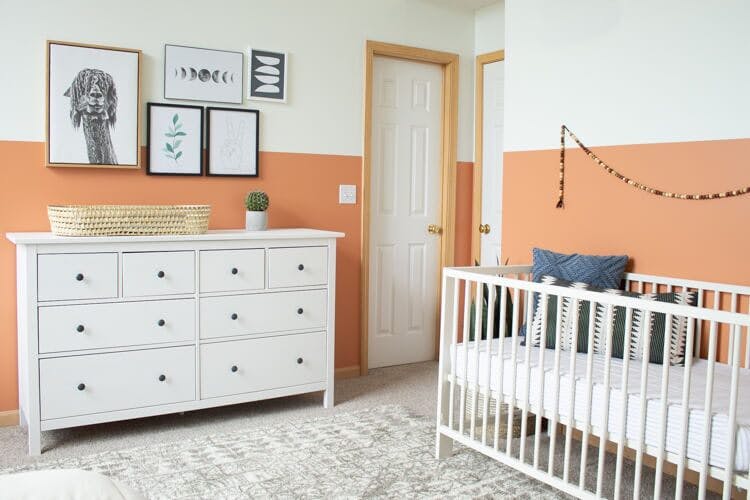 Kala Says:
"One of the biggest design challenges we've faced in our home is without a doubt covering the windows in one of our three bedrooms. There are the standard double windows but then there's a giant arch window on top. The windows are in an inset with a window seat underneath making most go-to window treatments (like normal blinds with curtains) impossible. So our challenge was to figure out how to cover a large window without curtains and where to find a large window blind we liked."
The portion of the windows below the arch had been covered with accordion shades that came with the house.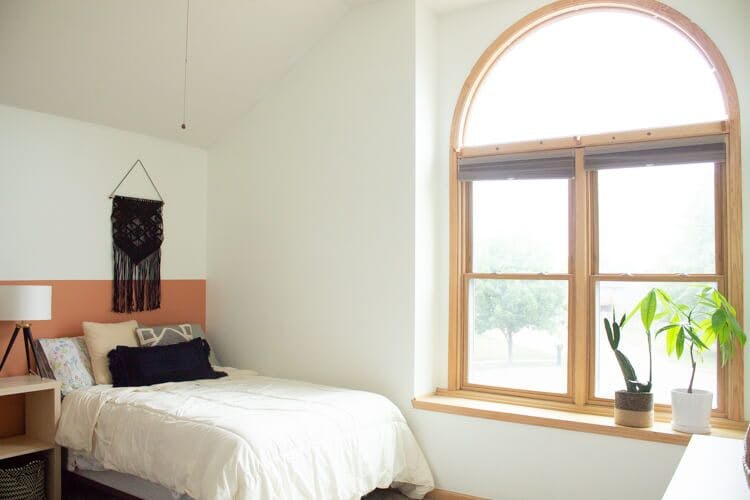 Kala didn't feel like the existing shades were a good fit for her style, and she desperately needed to cover the entire window to help her new baby sleep past sunrise.
The arch and the recessed design of the window posed two challenges. Standard blinds couldn't cover the arch, and the recess meant that curtains would awkwardly stop at the window seat.
Kala Says:
"If you hang curtains inside the inset, they'd end on top of the bench and appear to be floating. It would just be awkward. But if you hang curtains outside the inset near the ceiling, they'd be even more massive than the space we chose to fill and wouldn't be what I consider to be aesthetically pleasing."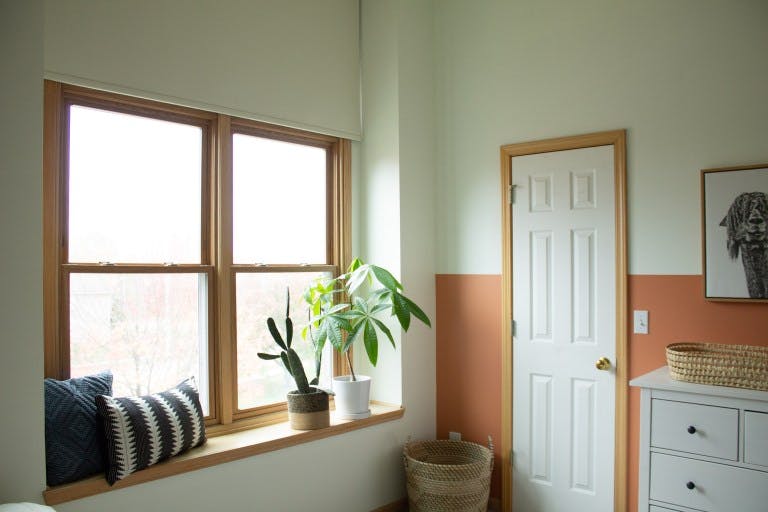 After speaking with a designer friend, she came up with a solution - a simple shade hung at the top of the inset.
Kala Says:
"My interior designer friend Cindy suggested I fill the entire inset with a blind instead of messing with curtains or attempting to outfit each window with it's own blind. Genius!"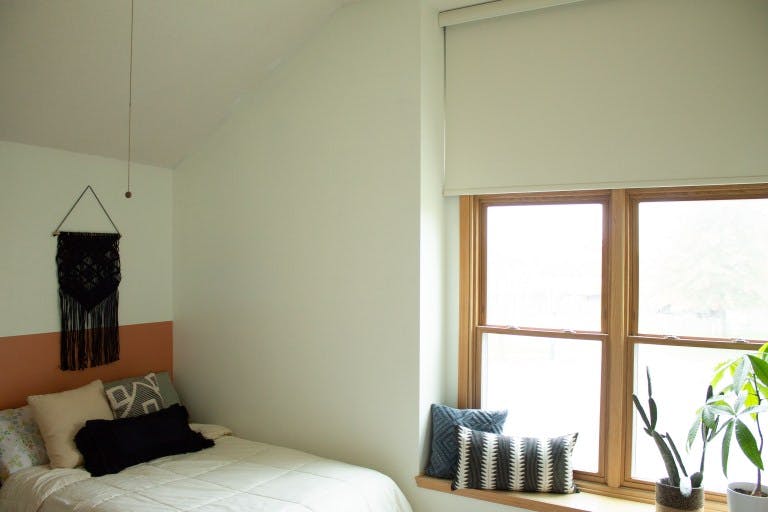 Once she had a solution in mind, she worked with a Blinds.com Designer Danielle to find the specific shade that would work best.
If you have a troublesome window, Blinds.com designers are available to help - whether you know exactly what you're looking for, or don't know where to start. Get connected here.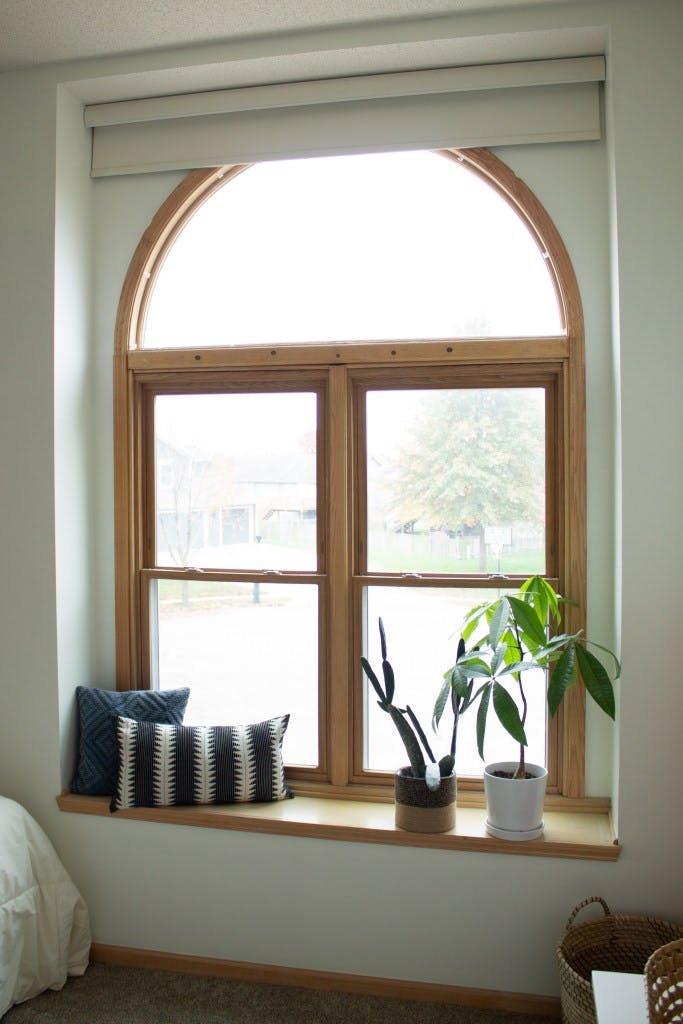 Kala Says:
"Luckily, I was able to work with Blinds.com to figure out exactly how to pull off the look I was going for. They sent me a large motorized roller blind to fill the entire inset area, and it was the perfect choice!"
Blinds.com Designer Danielle suggested the new Levolor Roller Shade Collection. It has a completely refreshed fabric selection, clean lines and advanced lift options like remote control motorization.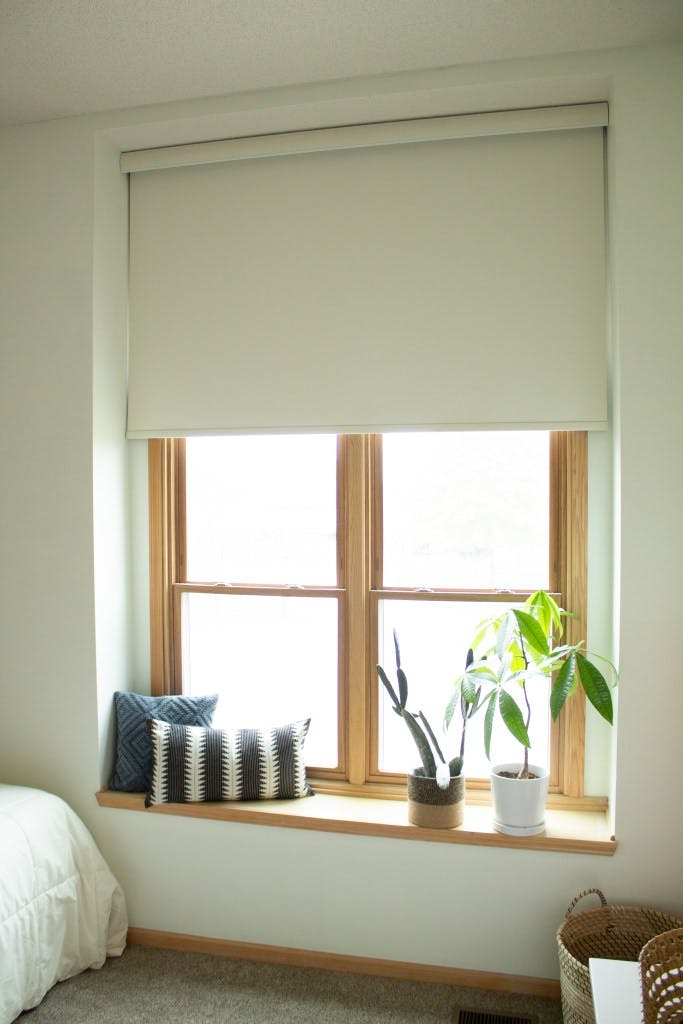 Kala Says:
"Honestly, at first I pictured a flimsy plastic roller shade that gets stuck every time it's rolled up like what I remember from when I was a kid. That is not at all how these Levolor Roller Shades from Blinds.com are. These are not your grandma's roller shades. I was so impressed with how sleek and modern they are now. There are literally hundreds of materials to choose from to fit any style."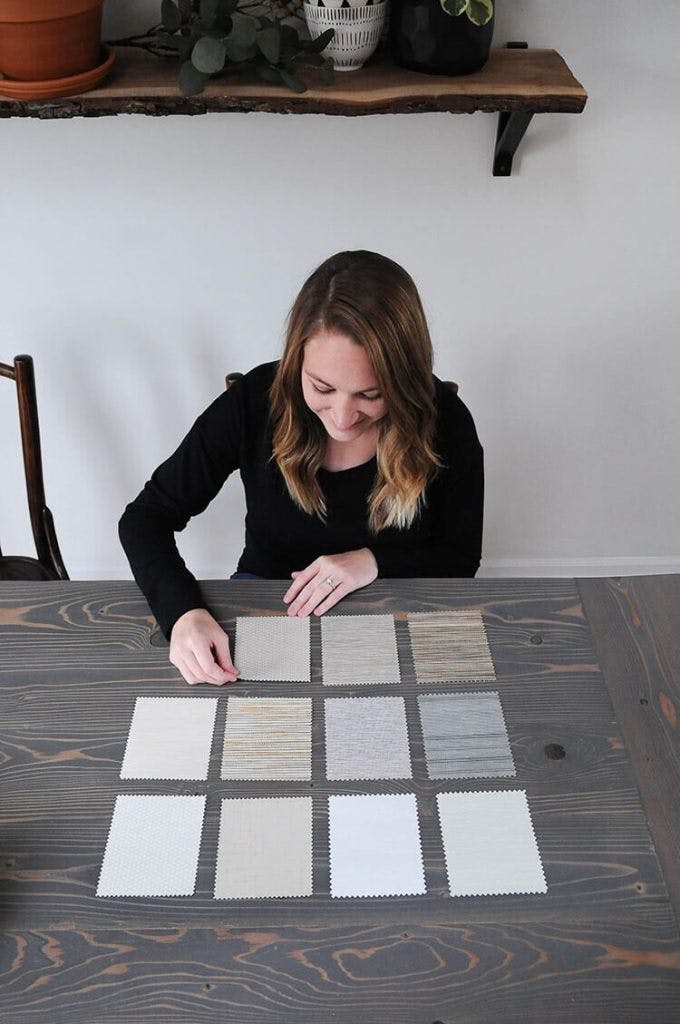 Kala Says:
"I highly suggest working with one of their designers to help bring your ideas to life. I worked with Danielle and she was so knowledgeable about their blinds, plus had great design sense! She even asked for my paint colors to narrow down the best fabrics and materials for the room."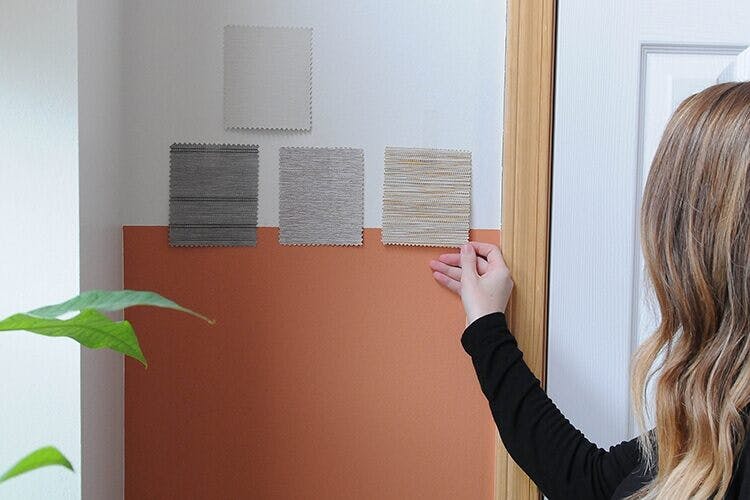 Danielle suggested a few fabric options, all in the Levolor Blockout collection which blocks 99% of light. After receiving her free fabric samples, she settled on a Woven Blockout Cream, a warm off-white that has a subtle woven texture. The natural woven options were close contenders, but she decided to go for a more minimalist look.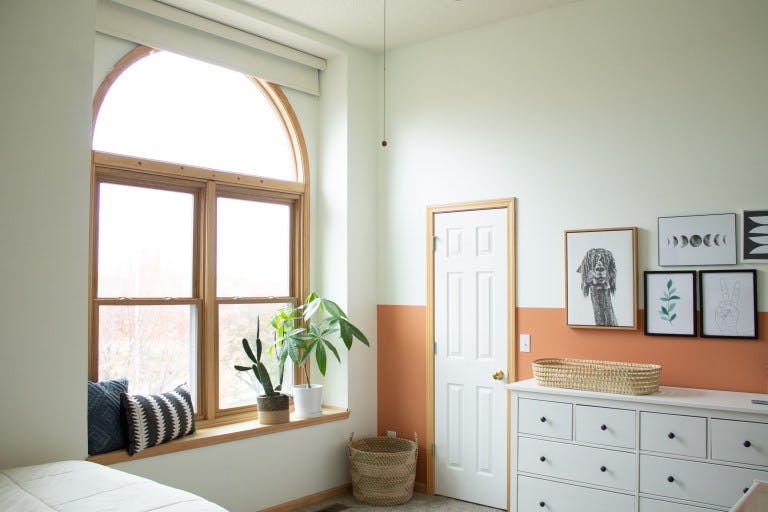 Danielle and Kala decided on a motorized lift because shades without accessible cords are recommended for nurseries, and the window is so high that she wouldn't be able to reach it to adjust otherwise.
Learn more about how to choose a safer window covering for homes with kids.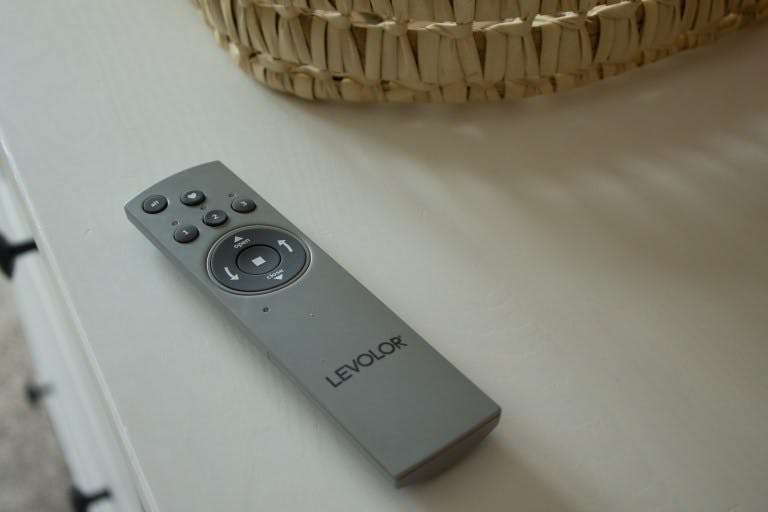 Kala Says:
"With a blind this large, it's so convenient to be able to operate it with a remote. It's also the safest option for children. I'm so glad we don't have a giant cord to mess with!"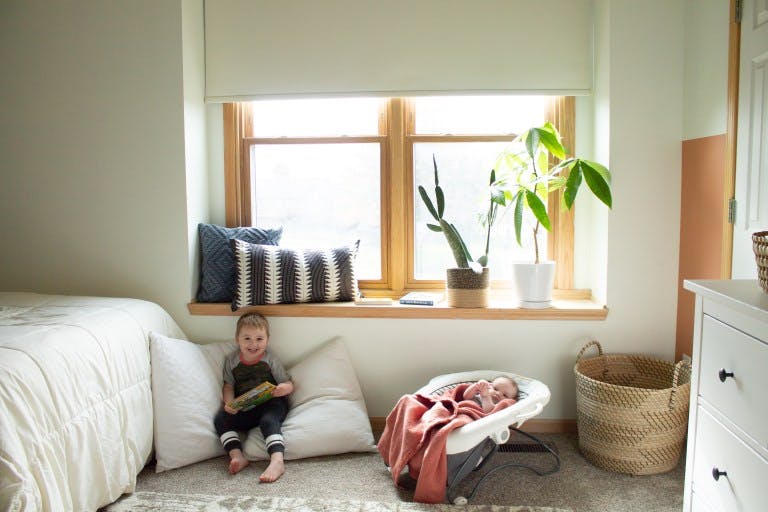 Her new window shades not only block light to help her kids sleep, but they also keep out harsh summer heat.
Kala Says:
"Since this is a nursery, I'm so glad we're able to completely block out the light if we want. The sun is so intense in this room, it even makes it much hotter in the summer. It's so much cooler with the shade."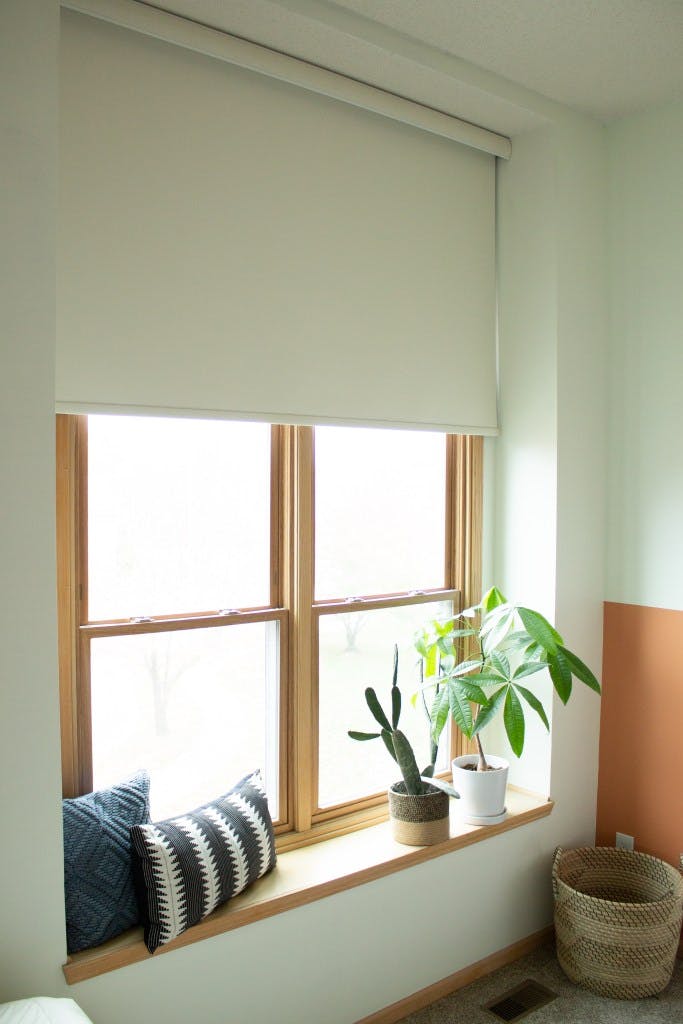 Kala Says:
"The best part about this shade is how it has finally made this room functional. It was hard for an adult to sleep comfortably in this room, and would have been impossible for a baby to sleep here without this blind."
Get the Look:
Kala outfitted her large arched window with a single Levolor Roller Shade from the completely redesigned new collection. She selected the color Woven Blockout Cream and a Motorized Lift.
See more of this space in Kala's nursery reveal and her post: Large Window Blinds: How to Cover A Large Window Without Curtains.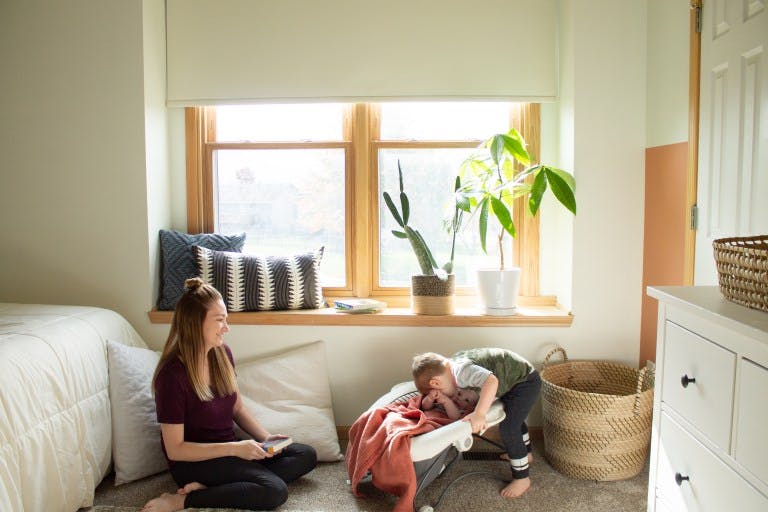 Need Help Tackling a Specialty Window?
Send us your questions on Twitter or Instagram @BlindsDotCom or reach out to our designers directly at 800-505-1905.
Learn more about how to cover arch windows with shades and shutters that fit within the arched shape.