As someone who has recently shopped for and installed arch window treatments, I know it can be a daunting task. I have to admit I lived with the scorching light coming through the two offending arch windows all through the record hot Houston summer just because I wasn't quite sure how I wanted to cover them. But after deciding enough was enough, and doing some research online, I realized covering these odd shaped windows was easier than I thought.
When considering arch window blinds, you need to ask yourself:
Is your arch a perfect arch? No, this is not a question about how awesome your arch looks. A "perfect" arch is a window arch which the height is exactly half the width. Several window treatment options may only accommodate this type of arch, so you need to find this out prior to shopping.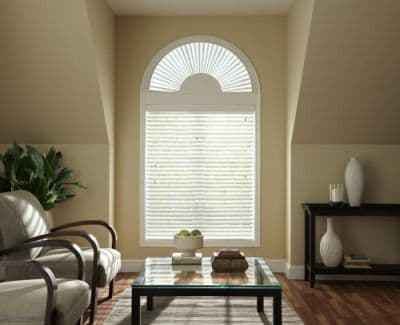 The Bali Fauxwood Arch is designed for perfect arch openings and offers maximum light control with adjustable louvers.
Will you want to open and close your arch window covering? If you are looking, like I was, to block light out of your room and do not plan on opening your arch treatment, you can get a stationary arch that does not have moveable parts. If you do plan on opening your arch window treatments, even infrequently, then you should get a blind that allows you to open it.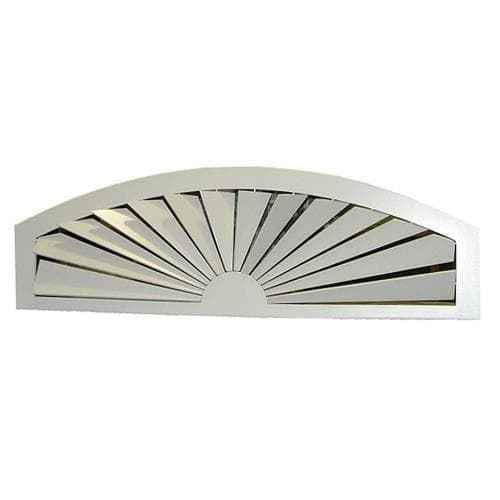 The Blinds.com Brand Custom Size Wood Arch can be made for any arch opening measurements. It is perfect for eyebrow shaped windows and has fully adjustable louvers.
What's the look that you want? There are more options than you would think for this window treatment. You can choose from various wood, faux wood, and cell shade options, all with unique benefits and styles.
The Bali DiamondCell 3/8 Inch Daybreak Double Cell Perfect Arch is designed for perfect arch openings. It is perfect for windows that need to be covered permanently - it's cellular design gives your window added insulation and blocks out sun.
Do you want it inside mount or outside mount? Outside mounts can be easier to install (especially in houses with drywall), but may not fit the style that you want.
After answering these questions, you should be in great shape to get the "perfect arch" for you room. Let us know what you pick!
When you've made your choice, learn how to measure for arch window shades.