Most customers choose neutral window treatments, but not our pal Ashley from Sugar and Cloth!
We've been dying to see someone try out the fun colors available for cell shades, and Ashley Rose's bright, colorful office didn't disappoint with its blush pink window shades.
Meet Ashley Rose
Ashley is the color queen behind Sugar and Cloth - a blog about party décor, food, DIY projects, home décor and so much more. She's known for her signature bright color palette which she has taken to the streets with two color wall installations in Houston, TX.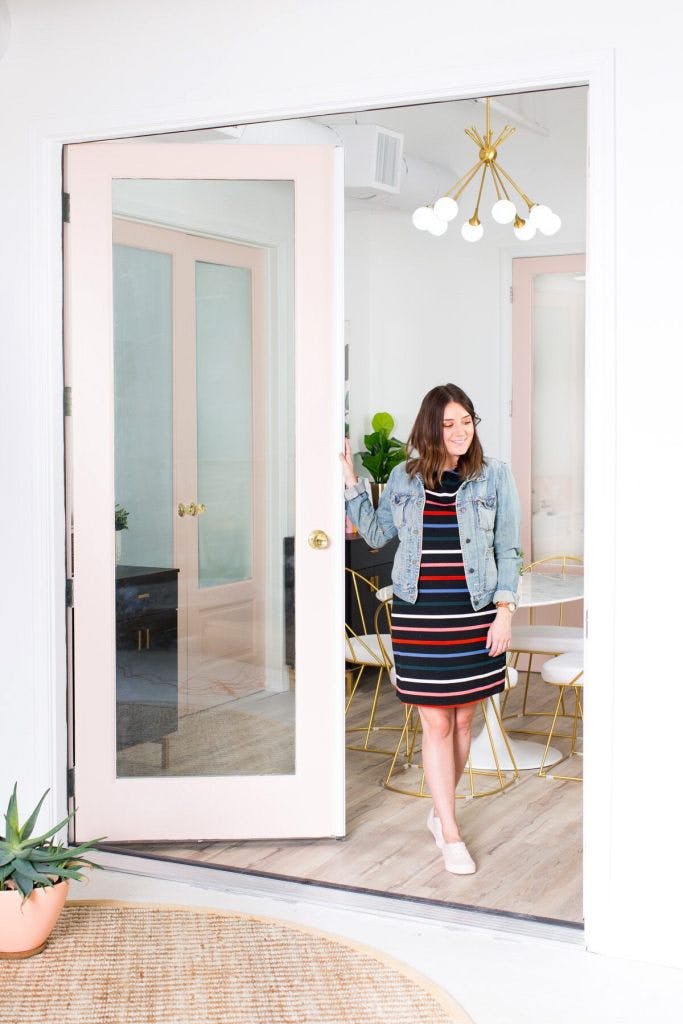 Ashley is also expecting her first baby any day, part way through a home renovation, and expanding her studio. What a year!
A Colorful Studio Office Makeover
With an expanding team and calendar full of events to host at the space, Ashley and the Sugar and Cloth crew were outgrowing their studio. When they saw the opportunity to lease the neighboring suite, they jumped at it and began expanding.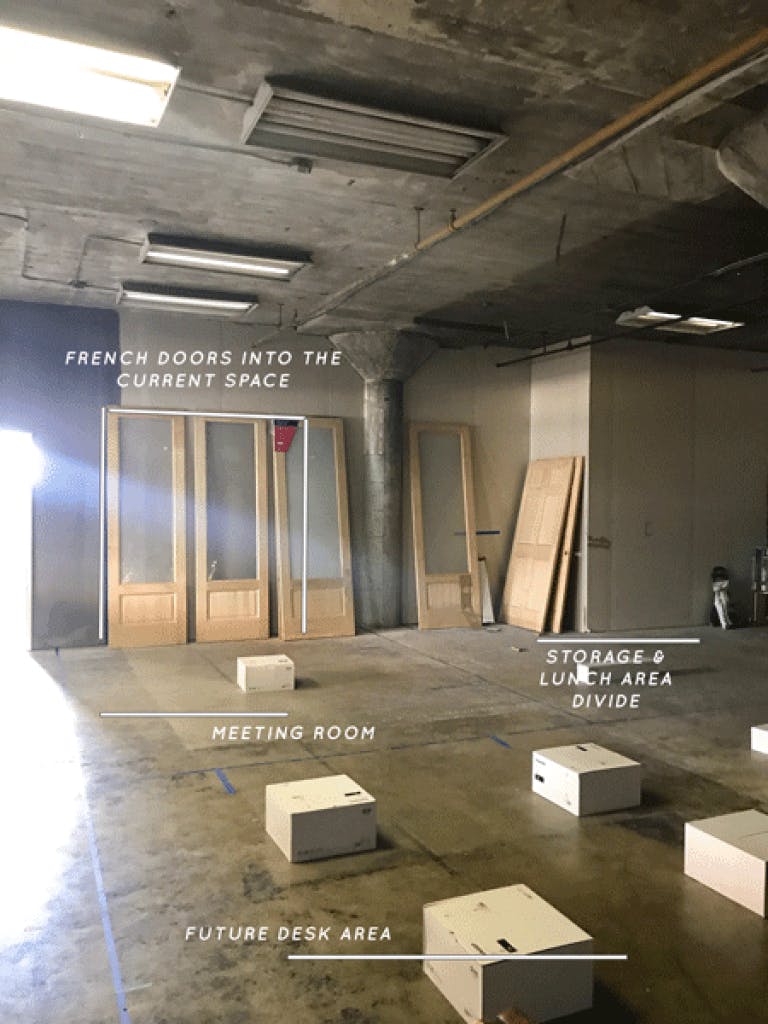 After months of construction delays and challenges after Hurricane Harvey, the empty industrial space was beautifully transformed. Ashley added a meeting room, dedicated desk space, storage warehouse and lunch area to make the studio meet the team's needs.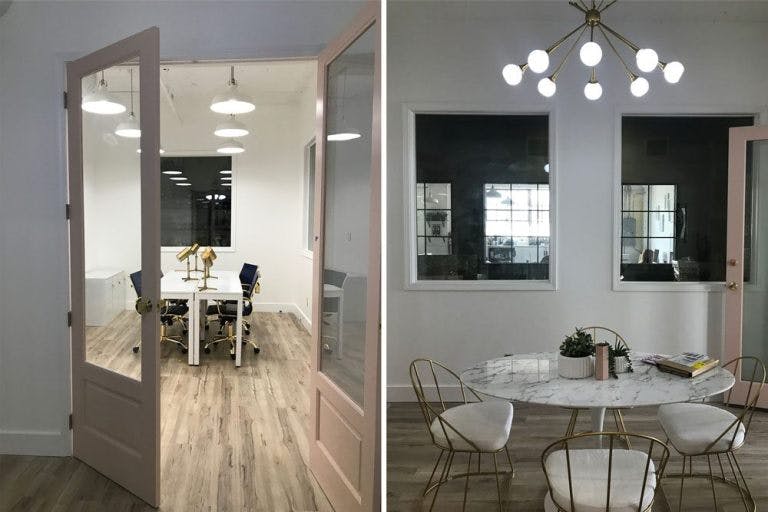 Studio Windows Get Tickled Pink
Ashley's newly revealed spaces didn't disappoint when it comes to color and charming design elements.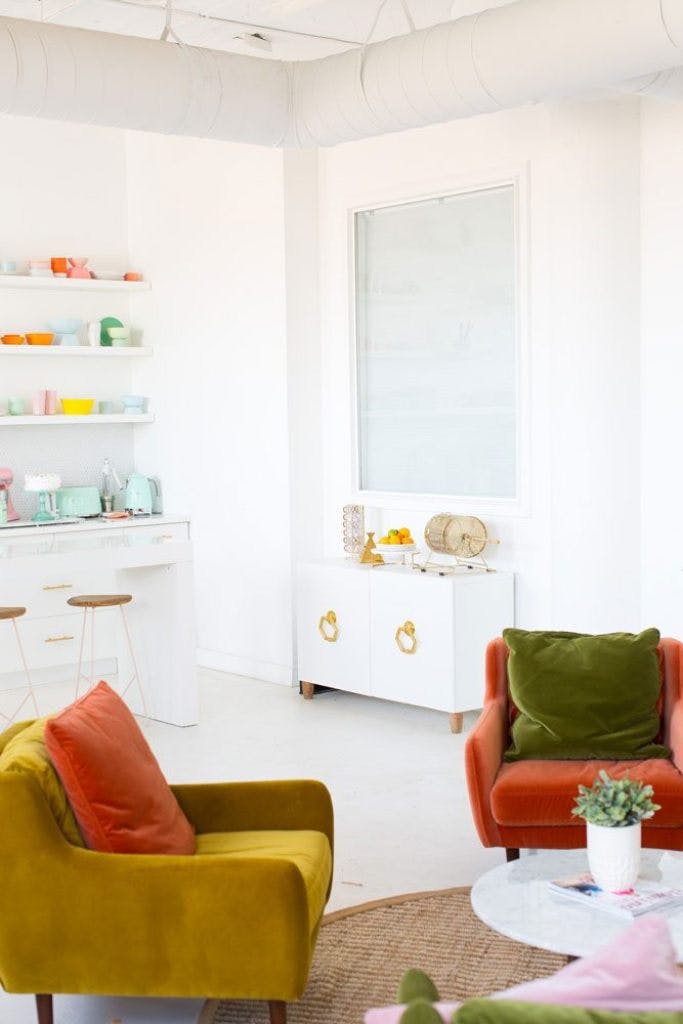 The studio is mostly bright white, but Ashley punched it up with colorful accessories and French doors painted blush pink. With hundreds of fabrics to choose from, she was able to find a cell shade fabric color that coordinates perfectly. Ashley chose the Premium Light Filtering Cellular Shades with a cordless lift in Dusty Rose.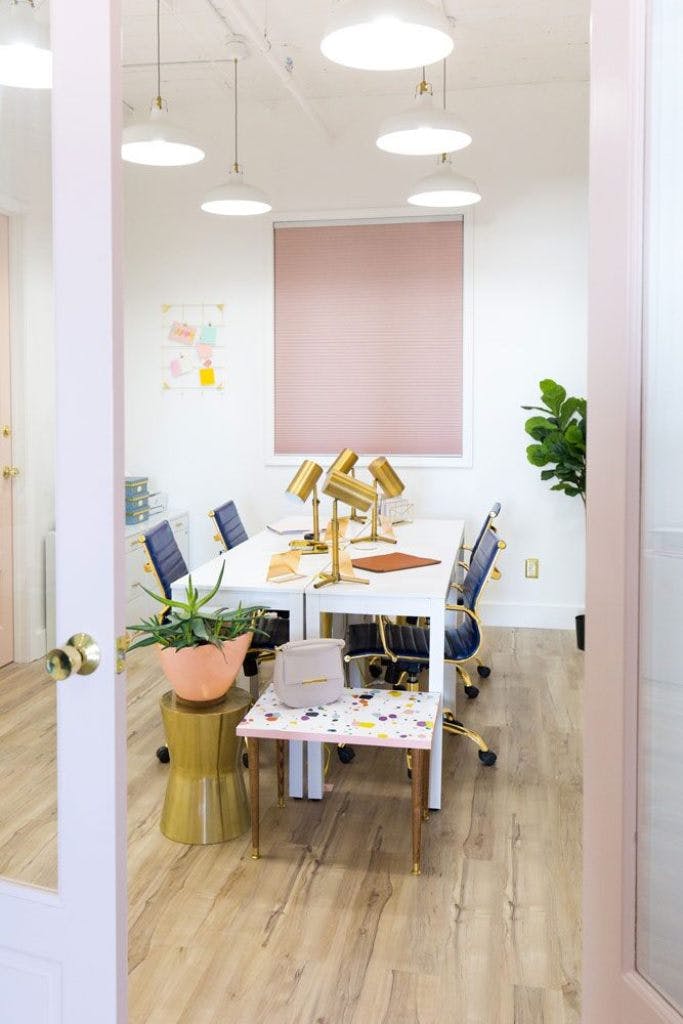 Ashley says:
I also have to take a second to rave about how insanely simple it was to install the custom color and sized blinds ourselves. We've never had custom blinds before and we were DEFINITELY intimidated at first, but they give you a really thorough measuring template to follow beforehand to make sure they fit your windows precisely per window and not just a standard size throughout.
Ashley Says:
I wasn't sure if we should go with pink or white shades for the space, or if the pink with pink French doors would be too much, but after sharing the samples on IG stories with you all I'm so glad we went with the dusty rose!
One challenge when adding walls to a wide open space is finding a way to not lose natural light. Ashley solved this problem by adding interior windows from the desk area into the large shoot space to allow light to flow in.
Celluar Shades in Dusty Rose allow the team to keep an eye on what's happening in the shoot space and let in light. Plus, the cordless lift makes them a snap to raise and lower.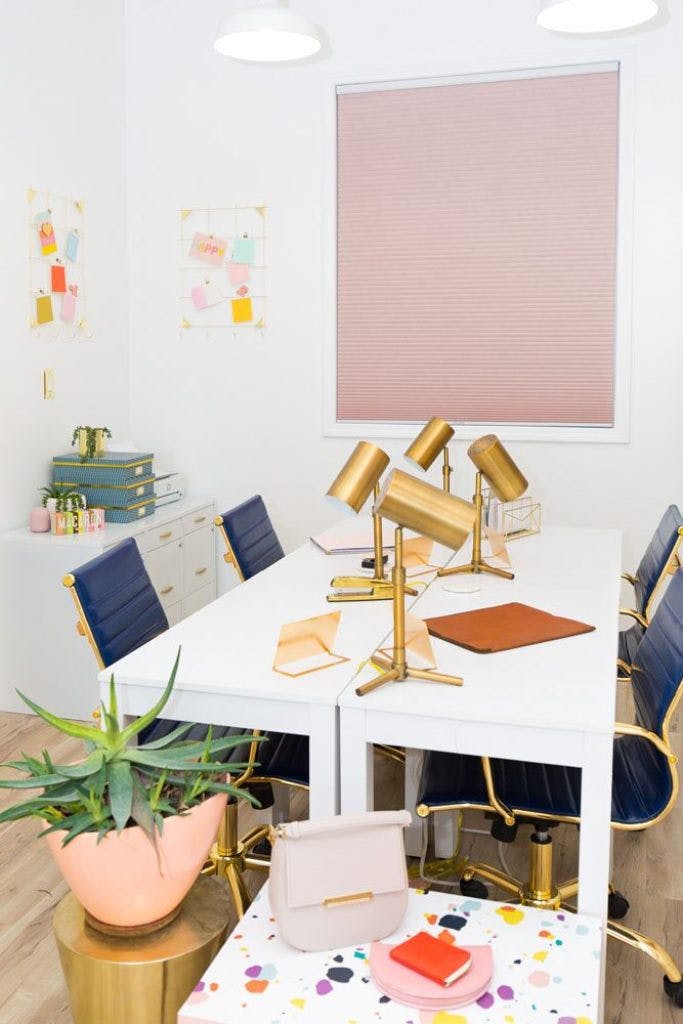 An added benefit of cell shades is that the fabric pockets dampen sound. If the team wants some peace and quiet for heads down work, they can lower the shades and shut out the other activities in the studio.
Would You Go Pink?
Find the perfect hue for you from 100s of fabric options. Order free samples to compare options in person and match your existing décor.
Get Ashley's look with Premium Light Filtering Cellular Shades with a cordless lift in Dusty Rose. See the full studio reveal at Sugar and Cloth and find out about an exclusive offer.
Ready to get started with your project? Check out our guide - how to measure for cellular shades.