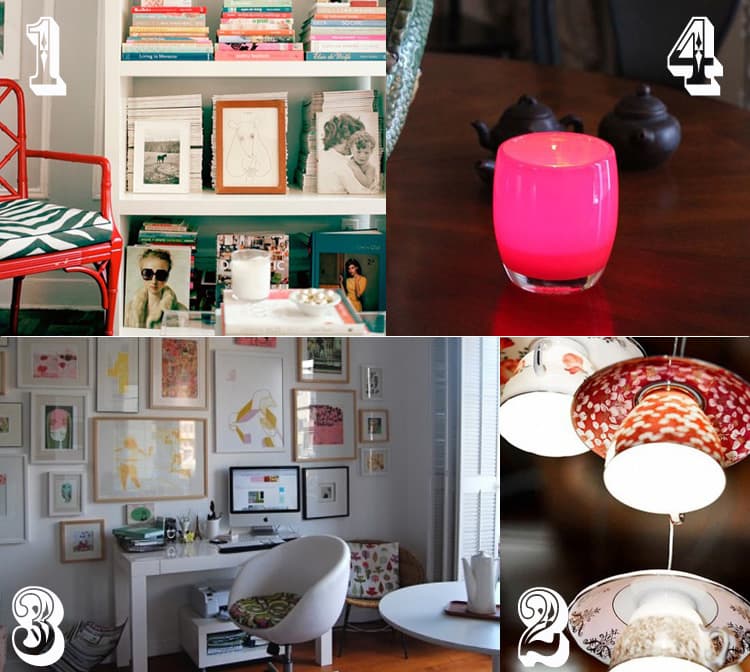 I love finding great roundups on Pinterest. That way, when I start a design project, someone else has done all the hunting and gathering for me and I can draw inspiration from one or all of the things they've collected. I found two really cool roundups for today that will have you itching to redesign your living room this weekend.
1. This roundup from The Lennox is great because it not only tells you how to decorate a bookcase, but it features beautiful photos of bookshelves styled by leading designers. (Including Emily Henderson who we featured last week!) This bookcase design roundup from yummymummyclub is helpful too. Tip: Stacking books horizontally leaves room for pretty items to peek out behind.
2. These teacup lights would be an adorable DIY for over a kitchen bar or sink. Antique stores usually have mismatched teacups lying around for a few dollars each. Tip: Be careful that you don't crack the cup when you drill a hole for the light to go through.
3. Picklee's roundup of 35 DIY wall collages is a great resource for anyone looking to create a gallery wall of their own and her wall collage graphic is a Pinterest all star. Take a look at the Blinds.com Home Design board to see the corner wall collage that's blowing our minds.
4. A product that never fails to make me smile is Glassybaby. It's hand blown glass made in Seattle that can be a candleholder (with the most mezmerizing glow in the world), a drinking glass, a vase, or anything you want it to be. They rival Pantone in their color selection and can add some vibrance to any space. Be sure to take a look at Glassybaby's boards on Pinterest. You will OD on color but love every minute of it.
 'Till Next Week!
Take a look at out boards on Pinterest to see the other things that are inspiring us this week and share your favorite pins with us @blindsdotcom.