Want to give your windows a classic look with quality you can trust?
Great news! The new Levolor Roller Shade Collection has completely refreshed fabrics, high tech features - and is only available on Blinds.com. Don't miss special savings at the end of this post!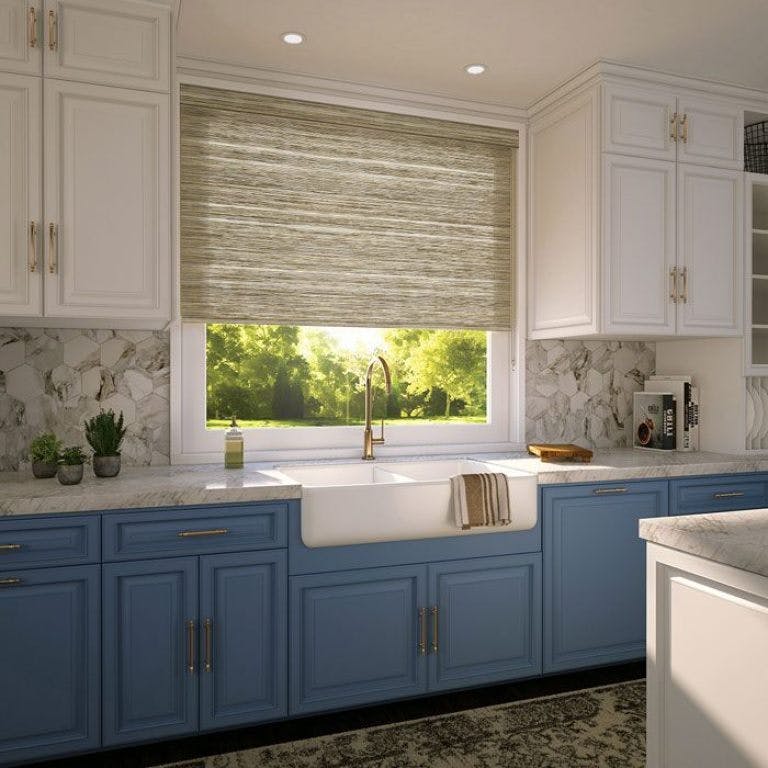 Levolor Light Filtering Roller Shades in Fala Pango Kenya with no liner
Why Levolor?
Backed by a century of quality, Levolor blinds and shades are trusted to work beautifully day after day, year after year. They're a top pick for Blinds.com designers, so we're thrilled to be carrying this new collection first.
Levolor Roller and Solar Shades - Available First on Blinds.com
This collection is comprised of 2 styles:
Roller Shades - Give your windows sleek design in 100+ fabrics, and upgrade with a choice of liners to control how much light comes in.
Solar Shades - High tech fabric with an open weave that blocks heat without blocking your view.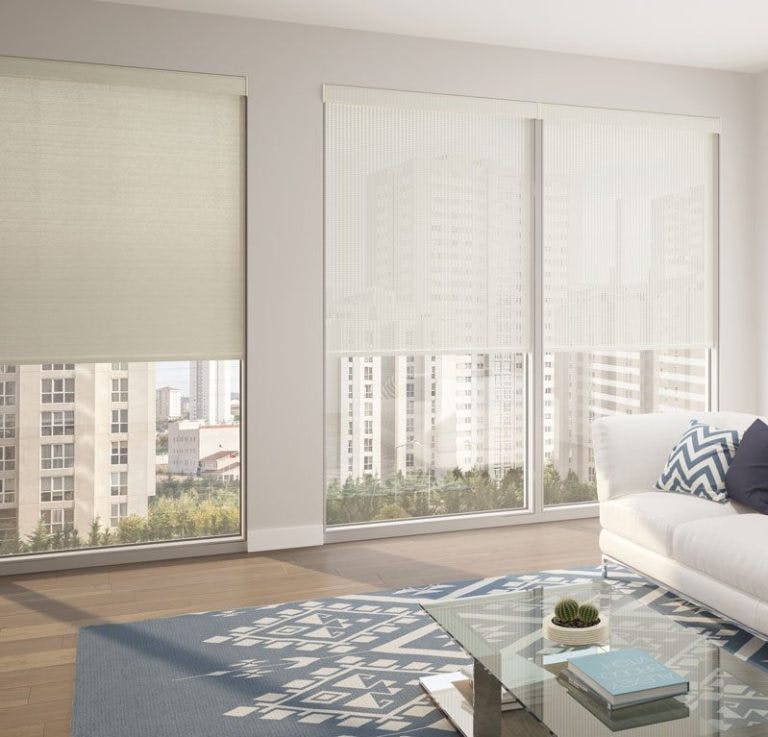 Levolor Light Filtering Roller Shades in Whisper Sand. Right: Solar Shades in Basket White.
When shopping this collection, start by deciding how much visibility and light control you'd like. If you want to keep out heat and glare without completely covering your view, choose Levolor Solar Shades. If you'd like complete privacy when your shades are lowered, go with Levolor Roller Shades, available in a range of light filtering and room darkening options.
Levolor Roller Shades
Levolor Roller Shades are available with a wide array of fabrics, textures and light control options.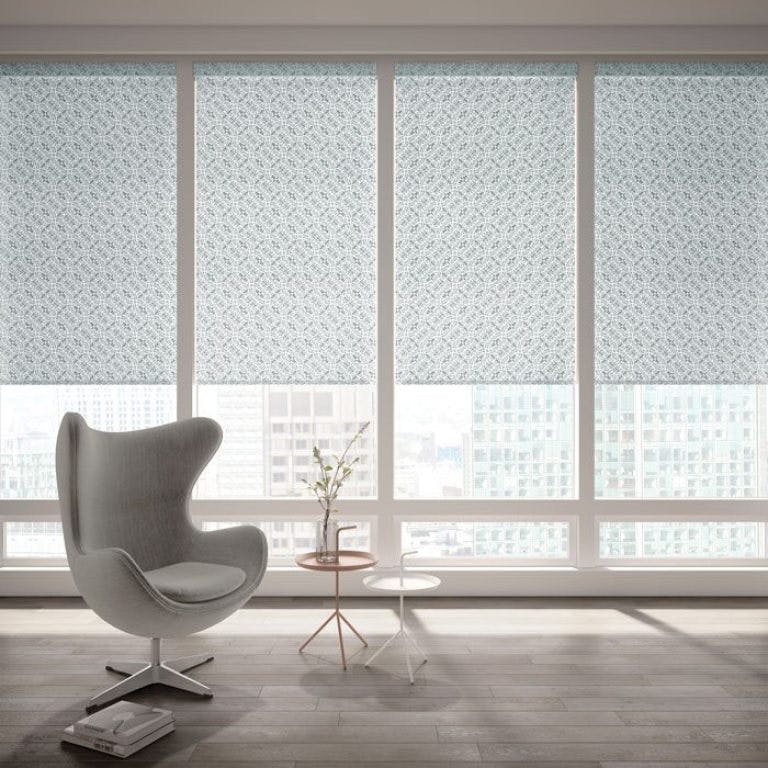 Levolor Light Filtering Roller Shades in Valour Slate.
Ranging from lots of light to significant darkening, you can choose from No Liner, Light Filtering, Room Darkening and Blockout liners.

Note: Blockout offers the most light blockage, but all roller shades can have light gaps or light leakage that allows light into the room. Learn about how to block light from the sides of shades.
Now that you've selected your liner, browse fabric collections to find the color or pattern that's right for you. Levolor has completely redesigned their fabric collection to offer hues and textures that speak to today's trends. Order free fabric samples to see the colors in person.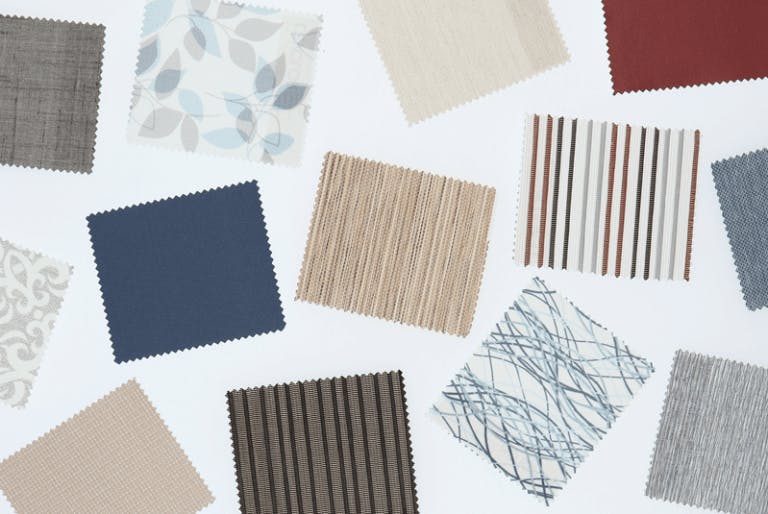 This exclusive collection is complete with classic solids, bold prints, silks, and woven grass materials. Once you've selected a fabric, finish off your look by choosing a lift system and other finishing touches. Learn more about these options at the end of the post.
Levolor Solar Shades
Solar Shades give your windows a modern look, and our customers love them because they keep out heat and glare without covering up a great view.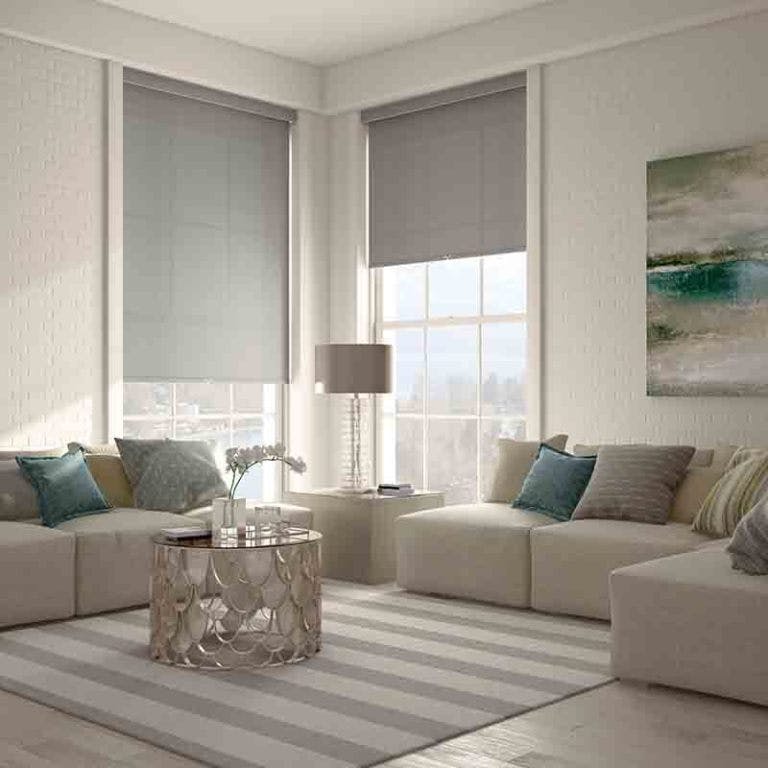 Levolor Solar Shades in Metro Gray.
To strike just the right balance between visibility and light control for your room, select your fabric weave openness level - ranging from 1% to 10%.
1% blocks the most heat and light, but obscures your view more. 10% gives you the clearest view out but has less privacy. Most customers choose 5%, which is a good balance of both factors.
Note: No matter which percentage you choose, all solar shades will be transparent at night. If nighttime privacy is important, opt for a solid fabric shade or layer draperies on top.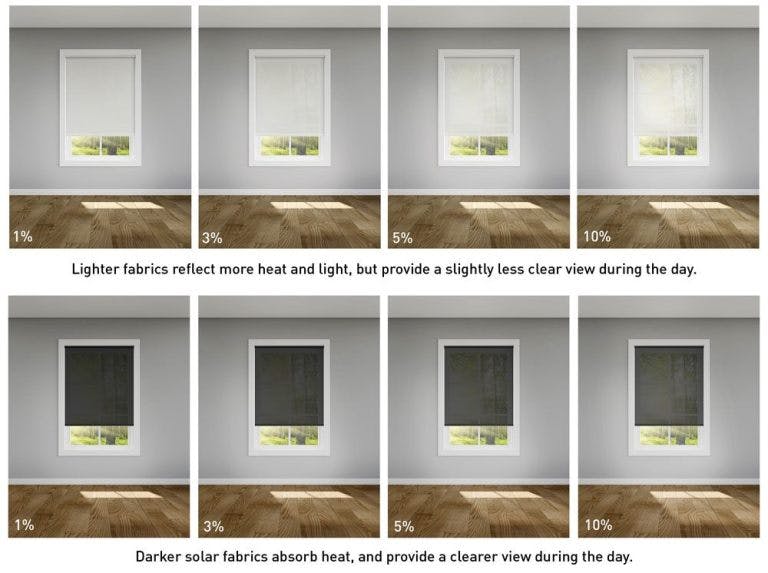 As you can see above, visibility is also affected by how light or dark your fabric is. Light fabrics coordinate well with window trim, but dark fabrics offer a clearer view out.
Levolor Solar Shades are now available in a completely refreshed fabric collection which is only available at Blinds.com. Choose from classic solids in new greys and neutrals, or textural weaves which will give windows more personality.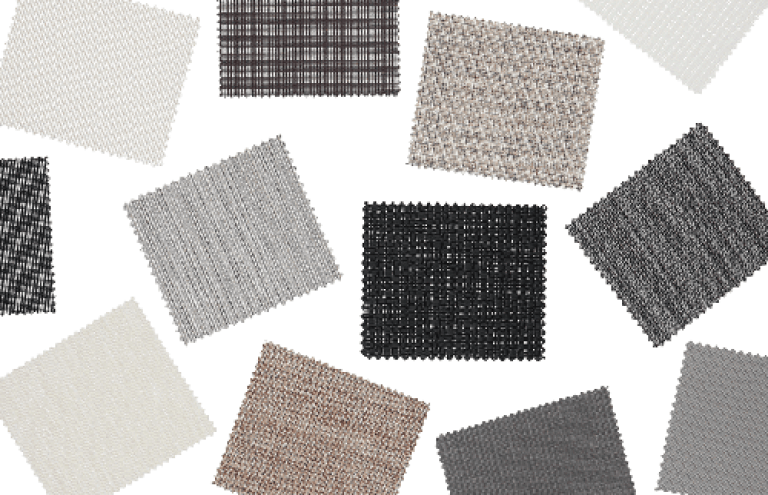 Finishing Touches
Levolor Roller and Solar Shades really shine in their versatility and easy operation. Choose from 3 lift systems to find the style that's best for you.

Motorization - Raise and lower shades in your entire room with the touch of a button. Also safer for homes with kids and pets.
Cordless - Just tug on the bottom of your shades to raise or lower. This option is recommended for homes with small kids and pets.
Continuous Cord Loop - A durable chain makes it easy to adjust your shades, even on tall or wide windows. This option is not recommended for homes with small children.
Choose from 3 valance styles to give your roller a polished look at the top of the window.

Open Roll - The fabric roll is exposed and fabric will roll off the back for a tight fit against the window that blocks more light. This minimalist choice is a great option if you're on a tight budget.
Standard Valance - This streamlined flat valance piece with a fabric insert covers the front of the roll for a more polished look, and perfectly matches your shade material.
Cassette Valance - This fabric wrapped housing completely encloses your fabric roll from all sides, plus it fully coordinates with your shade material.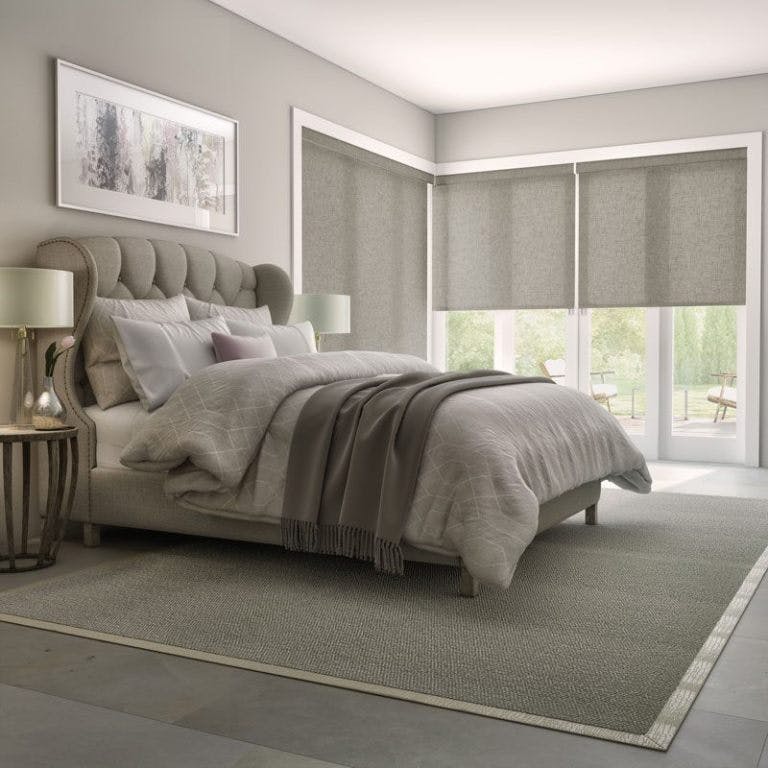 Shop Levolor Roller Shades and Save!
If Levolor Roller Shades are right for you, shop the collection today.
Need help ordering? Blinds.com designers are available with free advice by email, live chat or phone at 800-505-1905.