Could a kitchen be any more cheerful than this one? I mean, look at that pink sink!
If you read our other two posts with Mandi Johnson from Making Nice in the Midwest, (Part 1 | Part 2) then you know that she's the queen of retro style made modern. Her clean-lined kitchen with 1970s flair is no exception.
Kitchen Gets Retro-Modern Look with Woven Wood Shades
Mandi completely gutted the kitchen in her 1980s home to ditch the dark cabinets and tile countertops. (Who thinks that tile countertops are ever a good idea?!)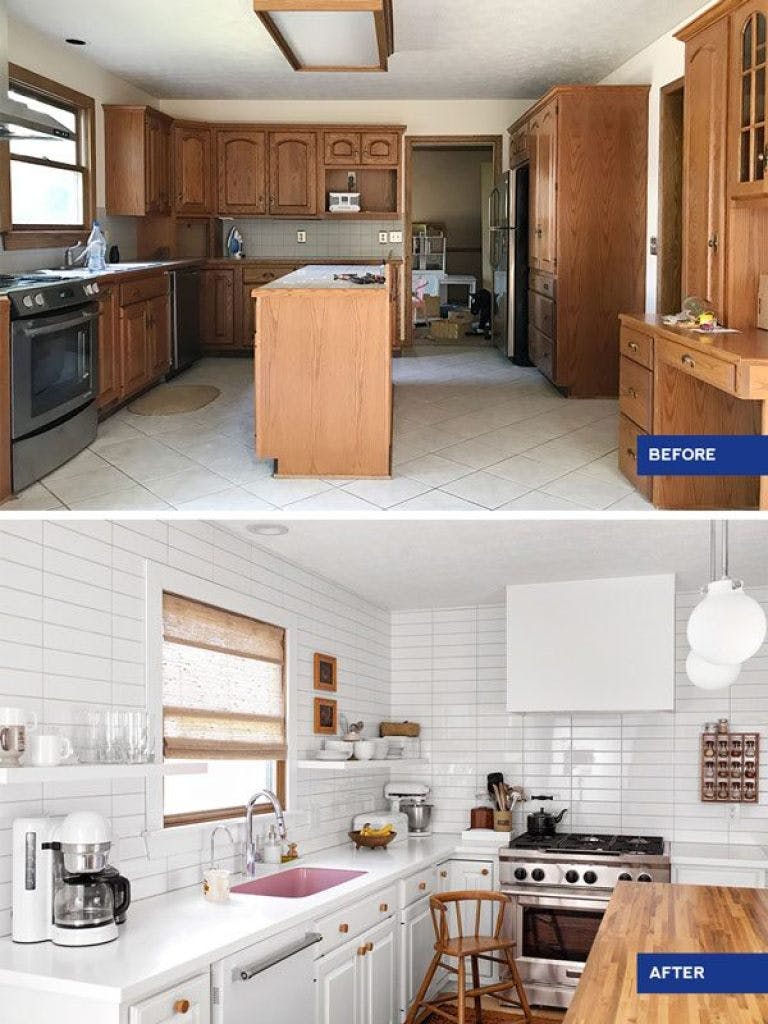 White cabinets and glossy subway tile stacked to the ceiling make the room look so much brighter, even though a window over the sink and an adjacent sliding glass door are still the only sources of natural light.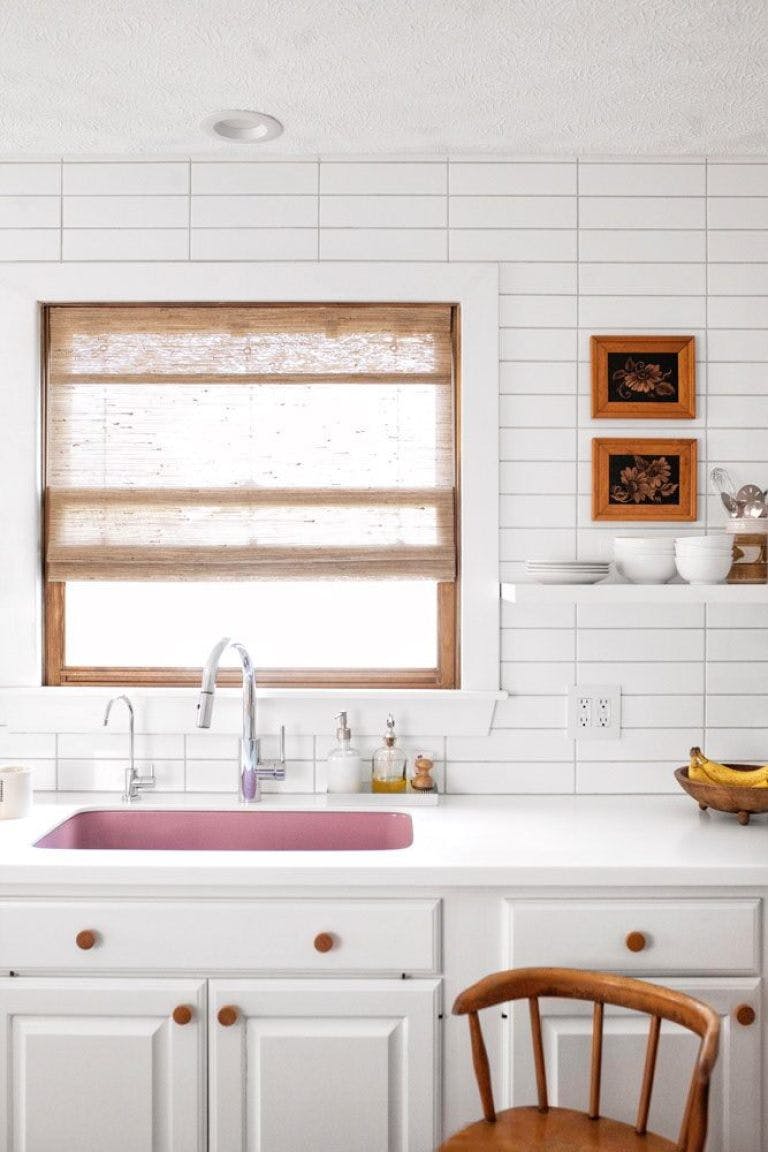 A sheer woven shade over the window gives a little privacy without blocking natural light. Plus it gives a little modern-day-tiki-bar vibe that fits with the other 70s inspired elements.
Mandi chose Blinds.com Designer Woven Wood Shades in Kula Sandy Beach for this airy look.
Mandi Says:
"I'm really glad to have this light-filtering shade in here finally, but I'm actually glad that I waited to settle on exactly what felt right for the kitchen. The woven wood adds a warm vibe to a generally stark white kitchen, and also gives more context to the wooden frame of the window."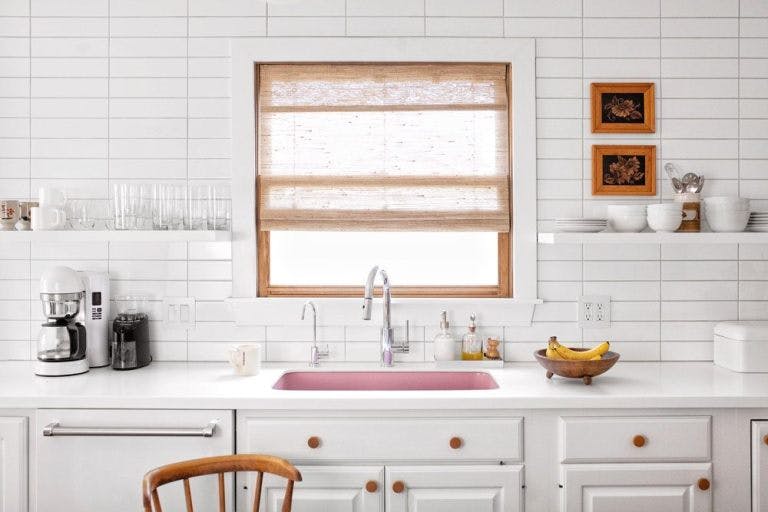 Mandi used a different woven material for the kitchen window than the <a href="https://www.blinds.com/blog/before-and-after-beige-80s-office-turns-mid-century-library-with-woven-wood-shades">woven wood shades in the office</a>. Just when choosing paint colors, sometimes each room needs a slightly different tone due to natural light, the direction it faces, or tones in the room.
Mandi Says:
"For the kitchen, I did choose a slightly lighter woven wood tone than I had chosen for the study, considering the walls in here are stark white— much brighter than the study. I'm really happy with the color and the texture of the Kula Sandy Beach style. I also chose a cordless style for in here because I didn't want to worry about wrapping cords on cord cleats every time I put the shade up or down."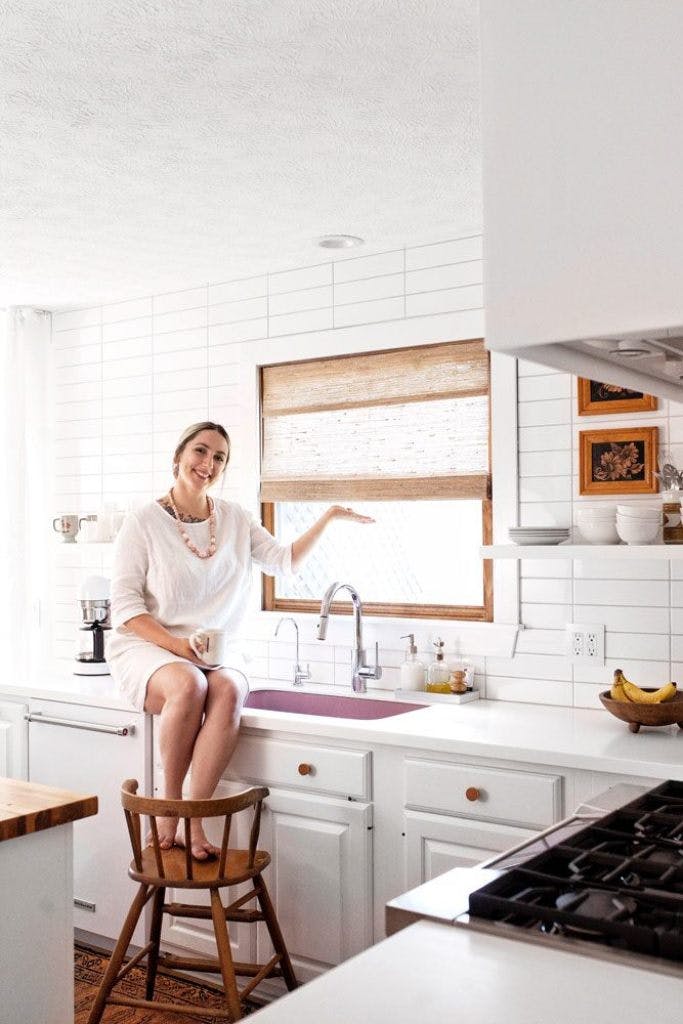 Mandi Says:
"I chose an unlined shade to achieve a light-filtering effect, rather than blocking out some of the light in this room with a lined shade. You can see more of the texture of the blind in real life, but this picture does show how the shades don't really block a lot of light, so our kitchen still feels pretty bright."
For an unexpected touch of whimsy, Mandi chose an undermount sink in bubblegum pink. Are colorful "accent sinks" going to be a thing now? We certainly hope so!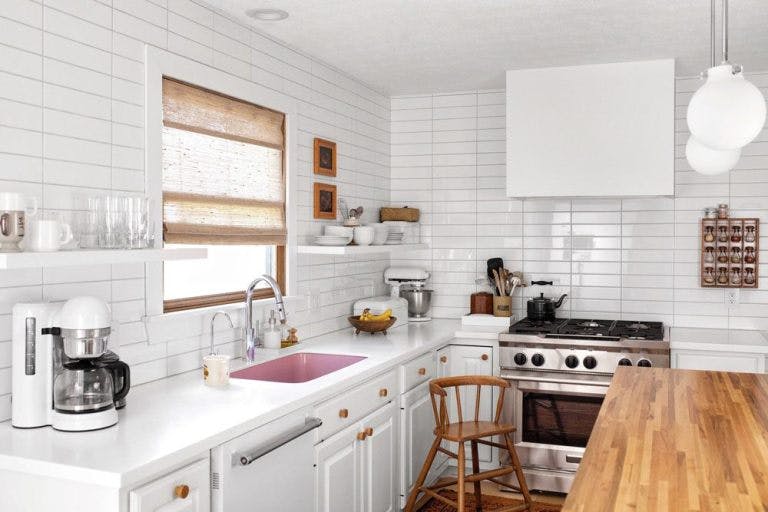 See More Of This Space!
For more details on Mandi's kitchen makeover (and a special reader discount!), check out her post: The Study is Finished + New Custom Blinds.
Mandi has also been documenting her home makeover on A Beautiful Mess.
Get The Look:
Mandi's kitchen windows are covered with Blinds.com Designer Woven Wood Shades in Kula Sandy Beach with no lining and a cordless lift.