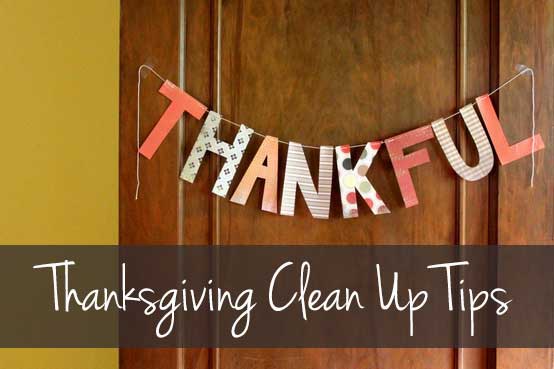 The Thanksgiving meal is through and all the rest of the family's snoozing in front of the game, but the battle's not over yet. You still have to figure out how to get all that food in the fridge and tackle the mountain of dishes before you. We've got a few helpful hints to get you through the biggest clean-up of the year.
Scrub-a-dub-dub!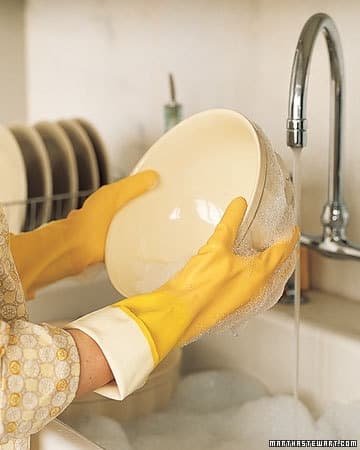 If you pulled out the fine china this year, or are just overloaded with dirty dishes, you'll probably have to do some hand washing. Here's how to get through it as efficiently as possible:
Save water by using a dish tub or filling up the sink instead of running each dish under the faucet.
Wash dishes in this order: crystal, glassware, clear glass plates, other plates, flatware, serving ware, the greasiest serving dishes, and then pots and pans.
Use very hot water – the higher the temperature, the less likely glass and silver will dry with streaks.
Use cold water to wash off starches and dairy products.
Salt is a natural abrasive and absorbs grease. Rub salt into especially dirty pots and pans until the greasy residue is gone. This is especially great for cast iron and other materials that can't be washed with soap.
Clean discolored china teacups and plates by making a paste of baking soda and water. It'll be gentle on the dishes and your hands.
Wrap it up right!
Munching on leftovers can be one of the best parts of Thanksgiving, so you want to make sure you store them right!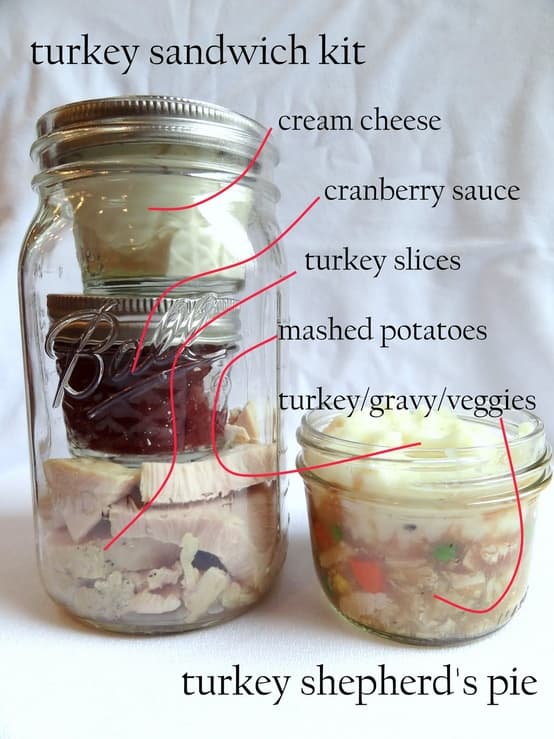 Have you ever packed up all the leftovers, only to hear "I'm hungry" from the other room? It can be a chore to pull everything out again, so put together a few of these mason jar leftover kits to keep snackers happy. You'll be the envy of everyone in the room if you take one of these Turkey Sandwich Kits to a post Thanksgiving football watching party. Just grab a jar and a bag of rolls and you're good to go!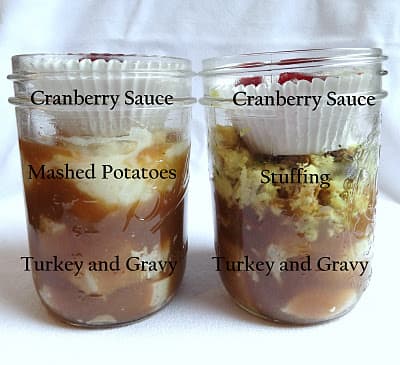 Make Turkey Shepherd's Pie jars or layered Turkey, Gravy and Stuffing jars for tomorrow's lunch, or stockpile them in the freezer for delicious meals on a rainy day. You can even send leftover jars home with friends and family after the meal's over, and since mason jars are so inexpensive that you won't have to worry about getting them back.
How Long Can I Keep it All?
If you're planning to subsist on leftovers for some time, it's important to know how to store them, the best way to reheat, and when to throw things out. This chart breaks it all down so nothing will go to waste.
Remember this too: Try to refrigerate Turkey, stuffing, gravy and other cooked sides within 2 hours of serving and divide leftovers into smaller portions or shallow dishes for quicker cooling.
Reheat like a Champ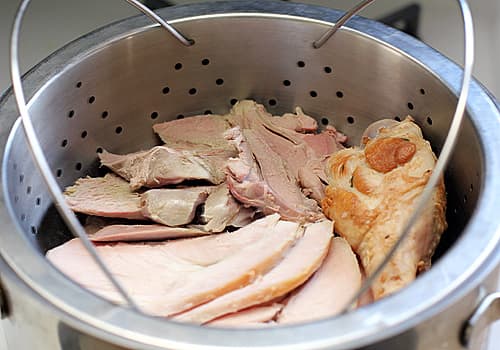 Microwaves are great for reheating many Thanksgiving leftovers, but they can dry out turkey and stuffing. You can remedy this easily by reheating them in a pasta steamer. Bring an inch or two of water to a boil in a large pot and place cold sliced turkey or stuffing in the steamer basket. Cover the pot and check back every few minutes until it's heated through. You'll have warm, moist turkey and stuffing that's as good as Thanksgiving Day!
Happy Munching!
We hope you had a wonderful turkey day surrounded by friends and family! Take a look at all the great deals we have going on right now for our After Thanksgiving Sale, and let us know what your best leftover creation was.