With so much chaos in the world, creating a space to relax and unwind has never been more necessary. The work from home lifestyle flipped the home décor industry upside down and made us all re-evaluate our work-life balance. There was no shortage of fresh, new home décor trends to try in 2021 and more lie ahead as we look forward to next year. We recently shared 7 decor trends you'll see everywhere in 2022 and now we're sharing 13 home décor trends you can try right now.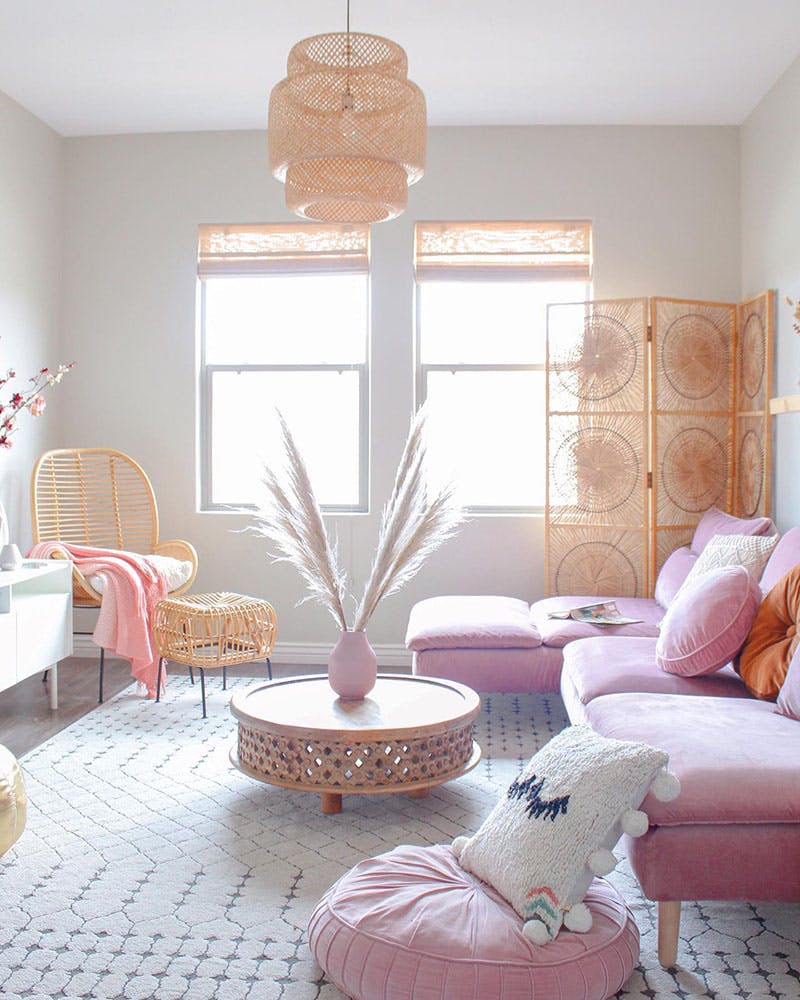 Pictured: Blinds.com Woven Wood Shade in Bonaire Flaxen. Photo via @dreaming_of_decor.
Home School and The Revival of DIY
In previous years, buying completed home fixtures or paying someone to complete a project was the way to do things. But with tighter budgets and more time on our hands, we've seen a revival of the DIY mentality. Throwing back to Home Economics class, we saw #Decorhacks flooding social media — from painting to plumbing and everything in between. Many people are learning how to make cost-saving duplicates of their favorite designer home décor pieces too.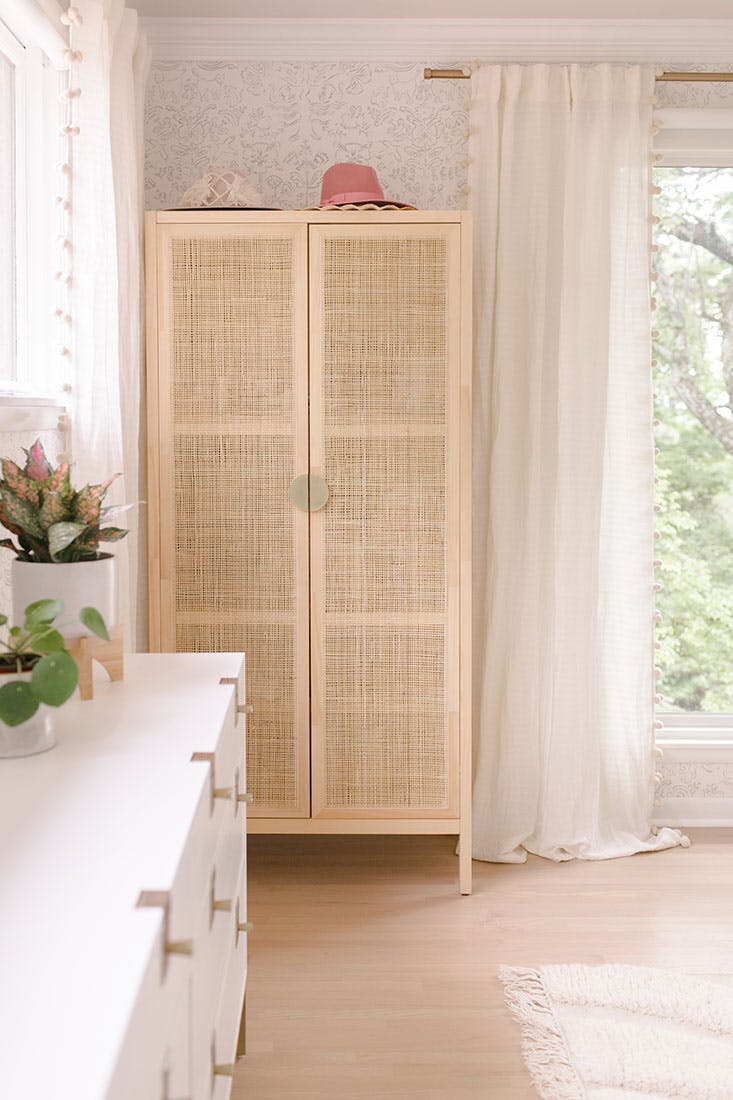 Pictured: Blinds.com Premium Roller Shades in Rainier Snowfall. Photo via @abeautifulmess.
As the kids get used to home school, some adults are revisiting those 9th grade woodshop classes for a bit of homeschooling on their own. Built-in bookshelves, shiplap, window seats, home school desks and installing trim and molding were popular woodworking projects and are surging in popularity heading into the new year. These projects are great for beginners as they mostly require only basic saw skills and a screwdriver or hammer.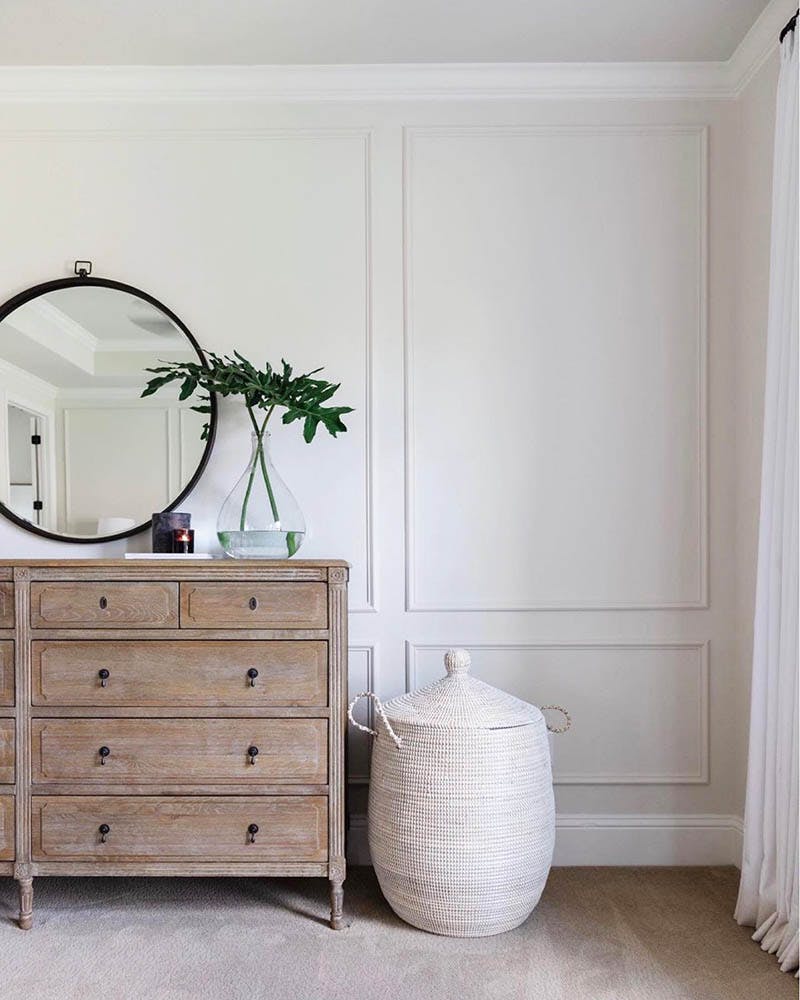 Photo via @crazywonderfulblog.
Geometric Murals + Abstract Wallpaper
In a year that's been - well, a bit of a downer - homeowners have been looking to add more joy to their spaces. By our estimation, homeowners have been more open to taking risks with painted murals and patterned wallpaper. For many, painting geometric designs on their walls even felt a bit meditative, and was a welcome distraction from the stress of the outside world.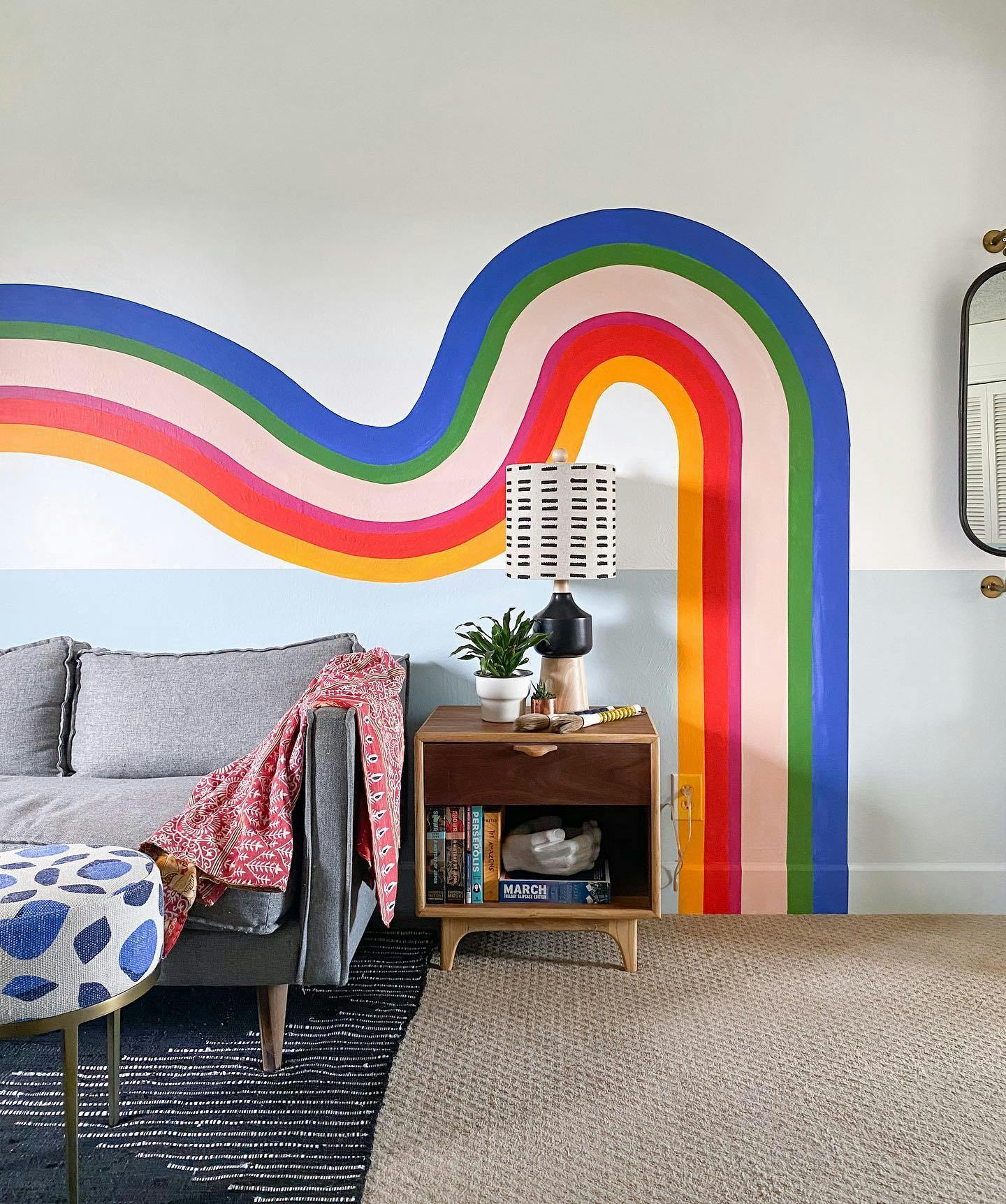 Photo via Banyan Bridges.
With a growing interest in 70s motifs through the last few years, swirling curves and groovy flowers have been showing up in quite a few murals. One of our favorite creators for mural inspiration is Banyan Bridges (above), but we also love the wall treatment that Young House Love created in their daughter's bedroom (below).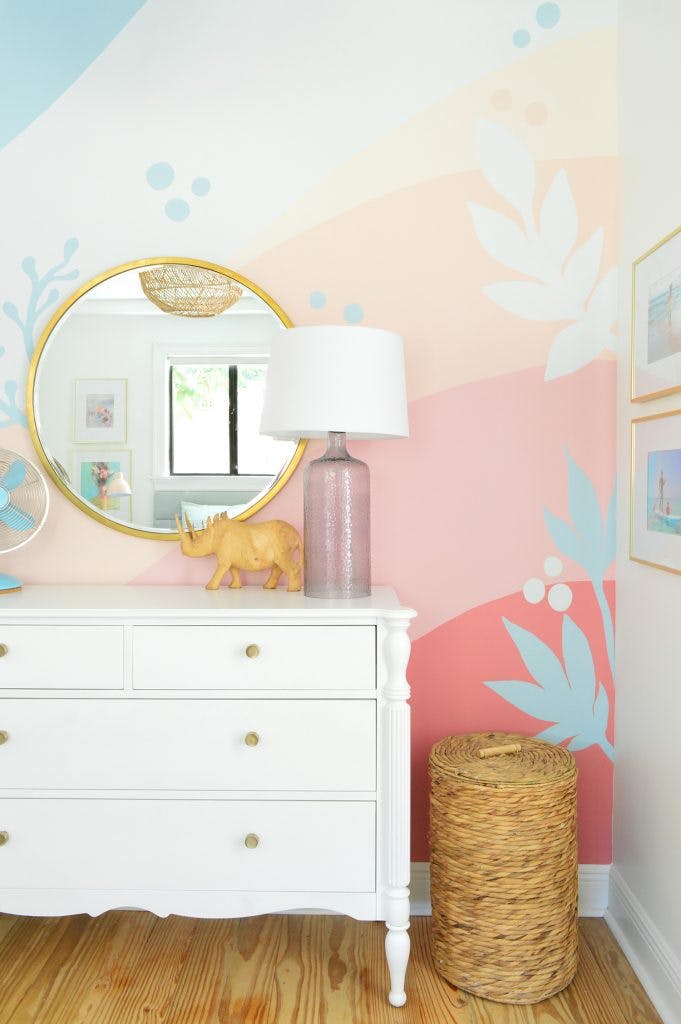 Photo used with permission via Young House Love and not associated with a paid sponsorship or collaboration.
Some are embracing a cleaner color-blocked look with simple curved shapes or tonal delineation. Many are using color-blocking on lower walls as faux wainscoting or to define a decor element like a headboard or fun mirror.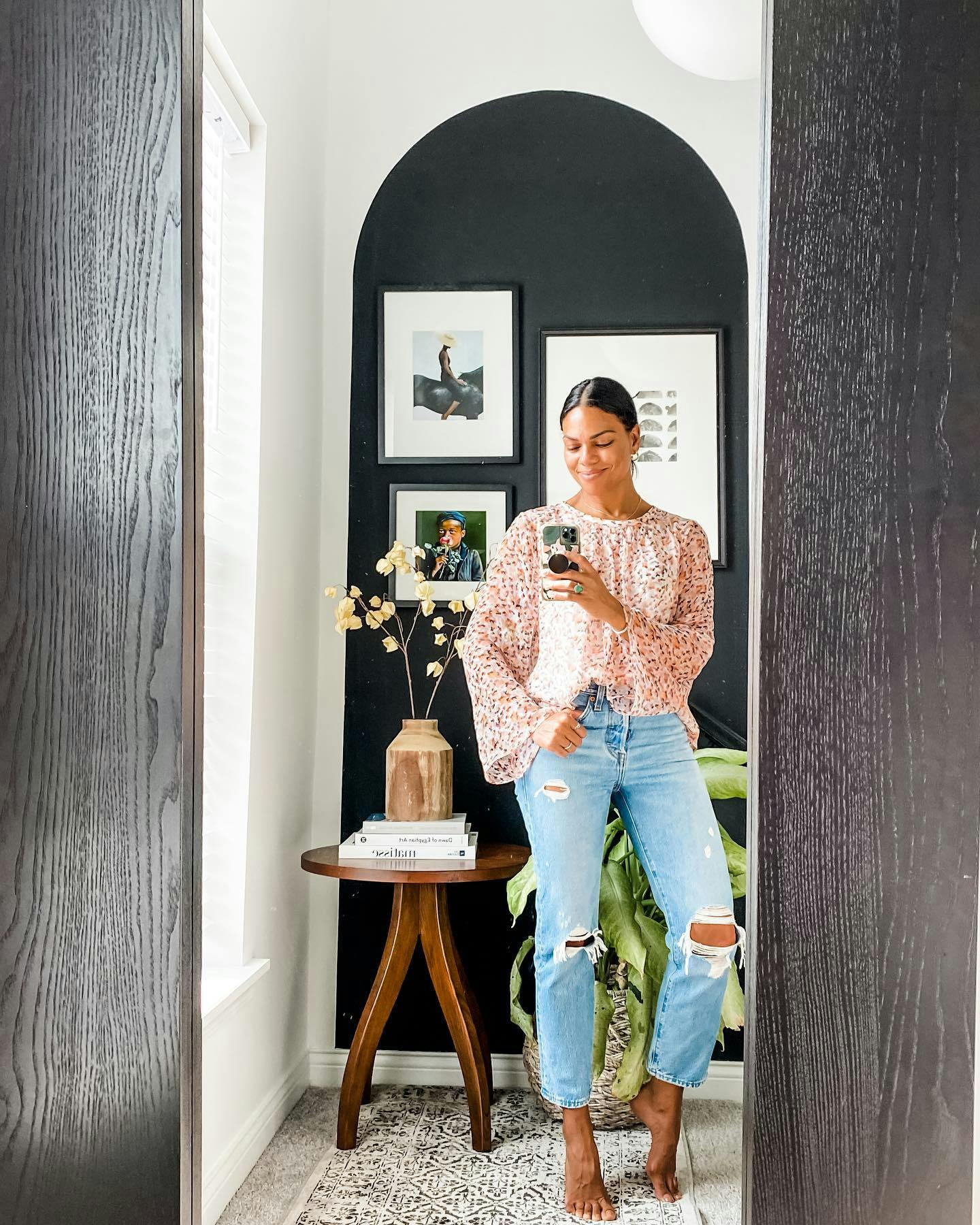 Photo via annamaegroves.
Over the past decade, we've seen a slow resurgence of interest in wallpaper. Memories of bad grandma florals and novelty wallpaper borders have faded and people are trying out large abstract prints, hand drawn figures and geometrics. With the growing embrace of murals and wallpaper in late 2020, we're confident that this trend will continue going strong into 2023.
And P.S. — grandma florals aren't completely outdated, as you'll see in our Cottagecore section further below!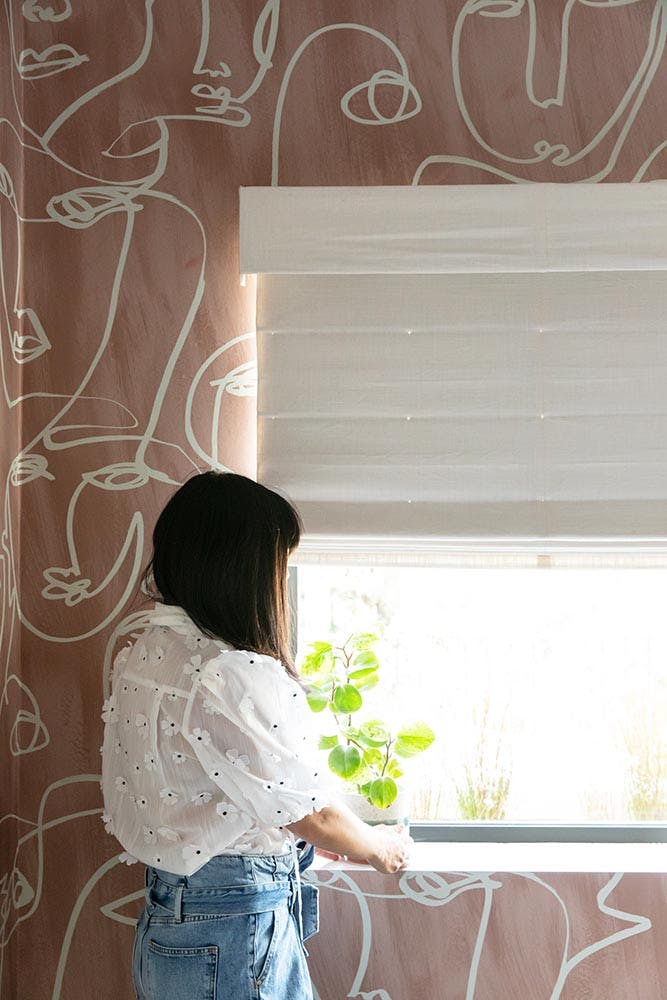 Pictured: Blinds.com Premium Roman Shade in Gent Bisque. Photo via @OhJoy.
Reuse, Renew, Repurpose All The Things!
As people became more budget-conscious in 2020, many are embracing and repurposing what they currently have before buying brand new. Those planning a renovation are frequently working to incorporate existing features into their room's look, like @kelliebetjinteriors did by matching new wallpaper with her existing cheerful green tile! This saves on project costs, but is also more sustainable, environmentally friendly, and adds character to the space.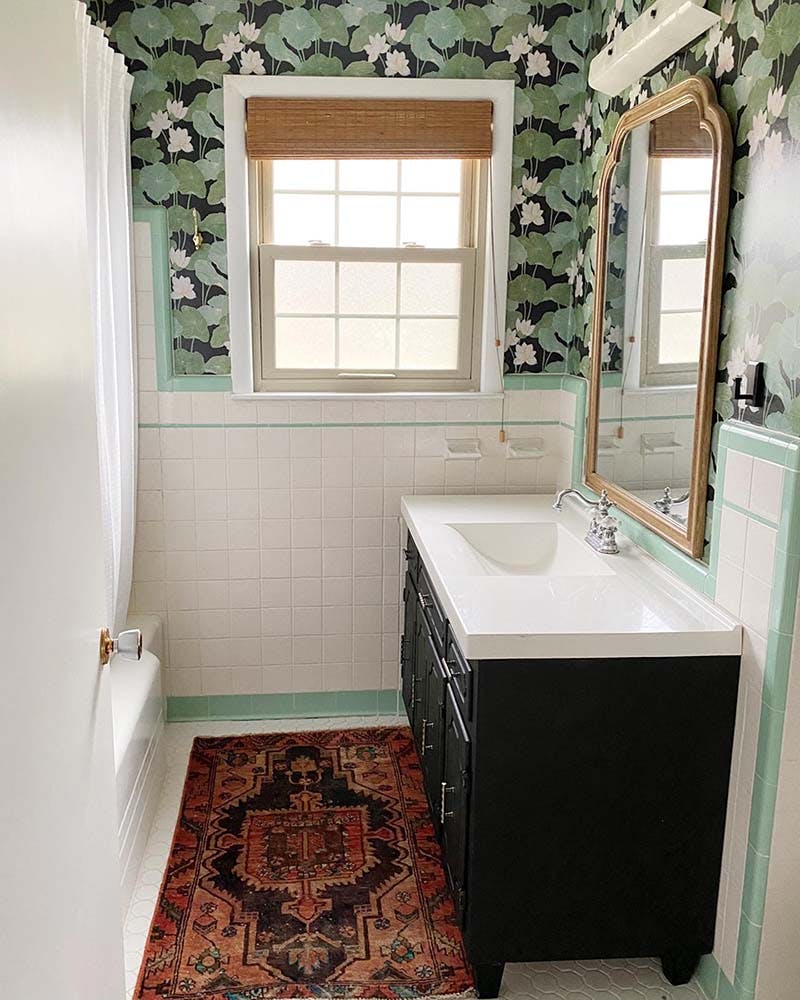 Pictured: Blinds.com Woven Wood Shades in Malay Oak. Photo by @kelliebetjinteriors.
People are also thrifting to save money or giving second-hand pieces a makeover with fresh hardware and a coat of paint. Some are even repurposing pieces to give them new life like @emmacheyenne did with this dresser-turned-vanity!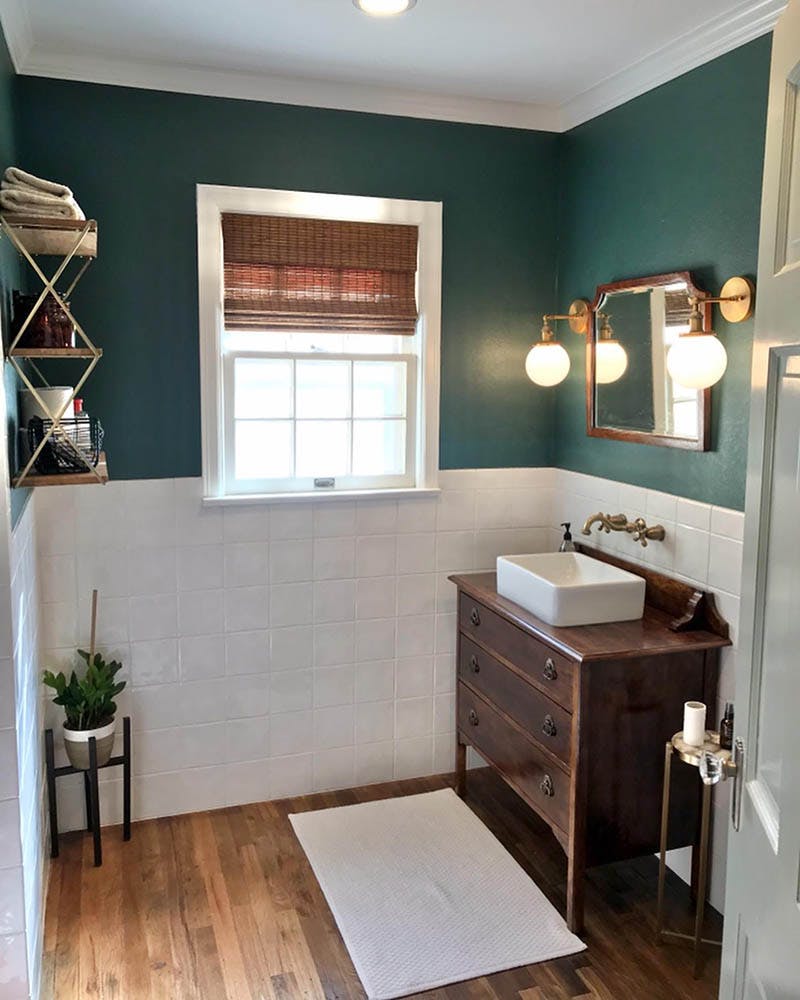 Pictured: Blinds.com Woven Wood Shades in Montego Bark. Photo via @emmacheyenne.
Saving on big ticket items by upcycling or repurposing existing pieces frees up more of the budget that can be used to polish off a look with new lighting, window treatments and wall paint for a complete makeover.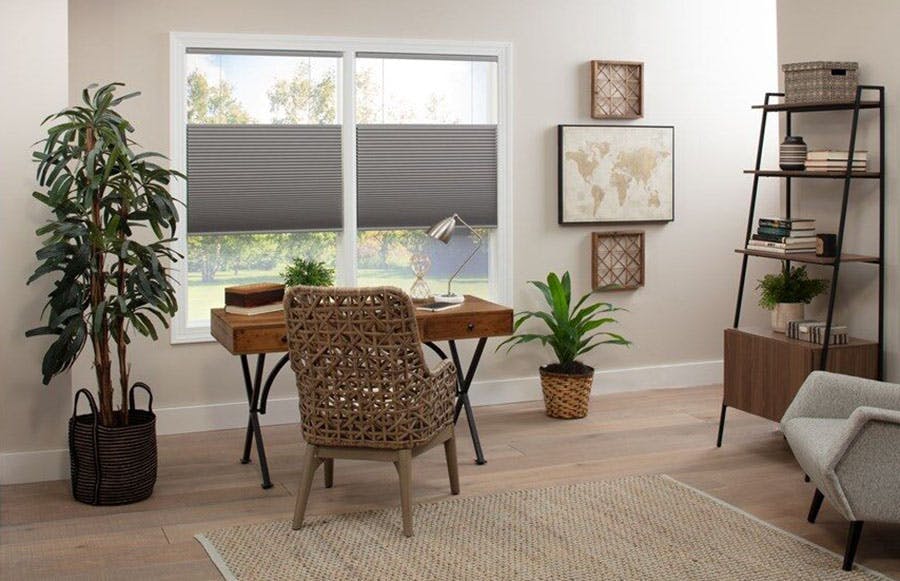 Pictured: SimplyEco Cordless Blackout Cellular Shades in Anchor Grey.
Eco-friendly materials also play a part in decor decisions. More shoppers are looking for pieces that are environmentally friendly. Forests that grow the wood used in furniture (like wood blinds and wood shutters) are being more sustainably managed and plastic water bottles can now be recycled into a wide variety of products including window treatments!
Modern Home Technologies
While antique and vintage decor pieces are hot right now, so is home technology! Nearly everything in the home can be controlled via app or remote, from refrigerators to window treatments. Who knew the Jetsons had it right when they showed sentient home appliances?
Pictured: Blinds.com Premium Woven Wood Shades in Kula Coconut. Photo via @chrislovesjulia.
Stylish motorized window treatments aren't just for hard to reach windows anymore. Whether linked to a smart hub or controlled via app, motorized lift control for blinds or shades is on its way to becoming a home staple.
Have questions about motorized window treatments? Give our expert Design Consultants a call: 800-505-1905.
Natural Stone and Light Wood Tones
Stone, marble and ceramic are stealing the spotlight everywhere! Designers are experimenting with materials like slate for countertops, sometimes conjuring up dreamy Tuscan Villa or Mediterranean vibes. These internationally inspired kitchens are especially charming during a time when travel has become limited.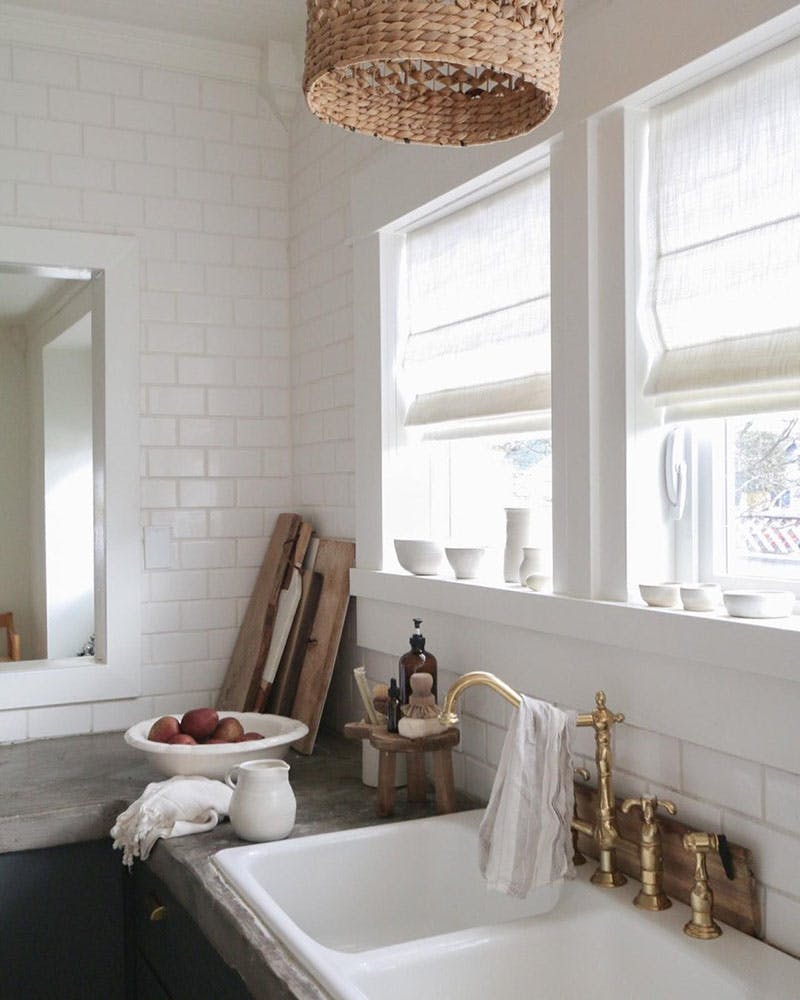 Pictured: Blinds.com Premium Roman Shade in Shannon White Flint. Photo via @thimbleandcloth.
We also love seeing all the white marble counters with tall backsplashes. Extending the backsplash to meet the upper cabinets, or even the ceiling, makes a kitchen feel elegant and clean.
If your backsplash or tile project wraps around your window, our expert Design Consultants can help you with a tile cut-out so your window treatments fit better! 800-505-1905.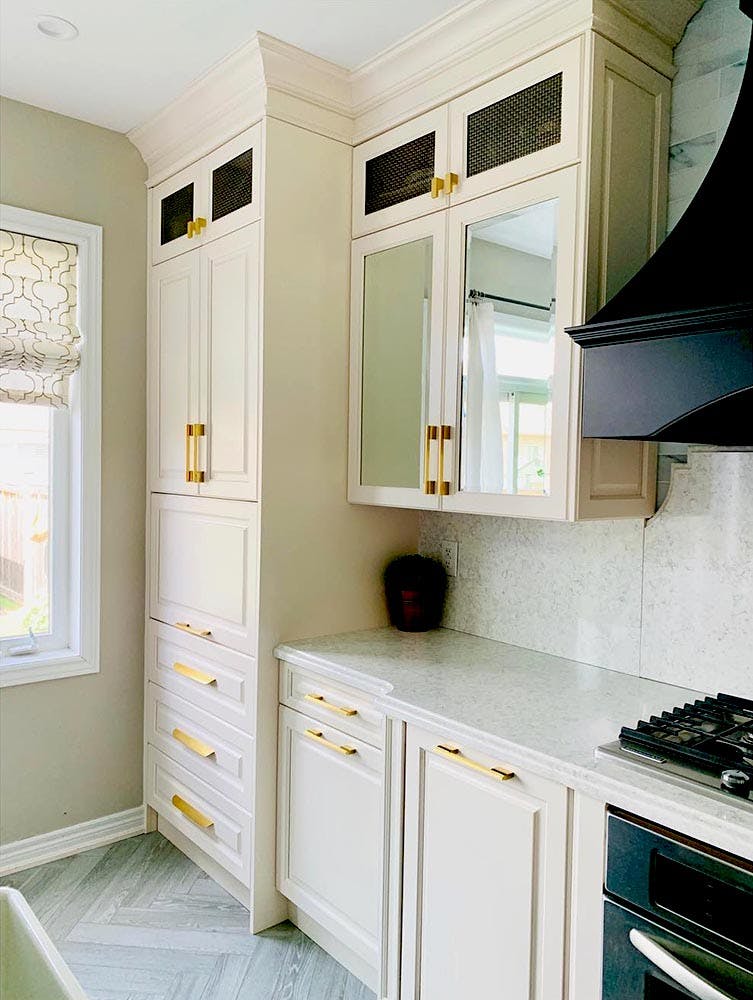 Pictured: Bali Custom Tailored Roman Shade in Hoffman Wayfarer. Photo via @ms.elliijean.
But stone isn't just limited to kitchens! Expect to see more stone fireplace facades, stone wall detailing and natural store flooring in 2023 too.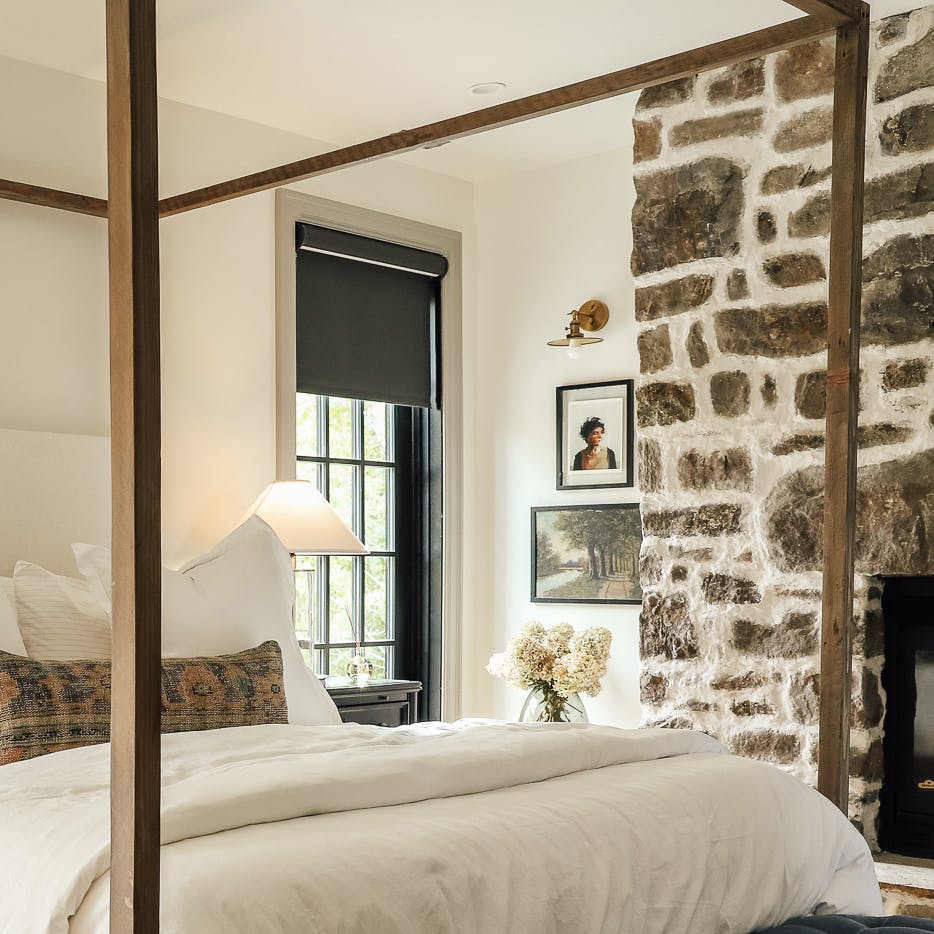 Decor enthusiasts are also experimenting with light toned maple, ash, birch, or even bamboo butcher block counters. Often they are a more affordable alternative to standard granite.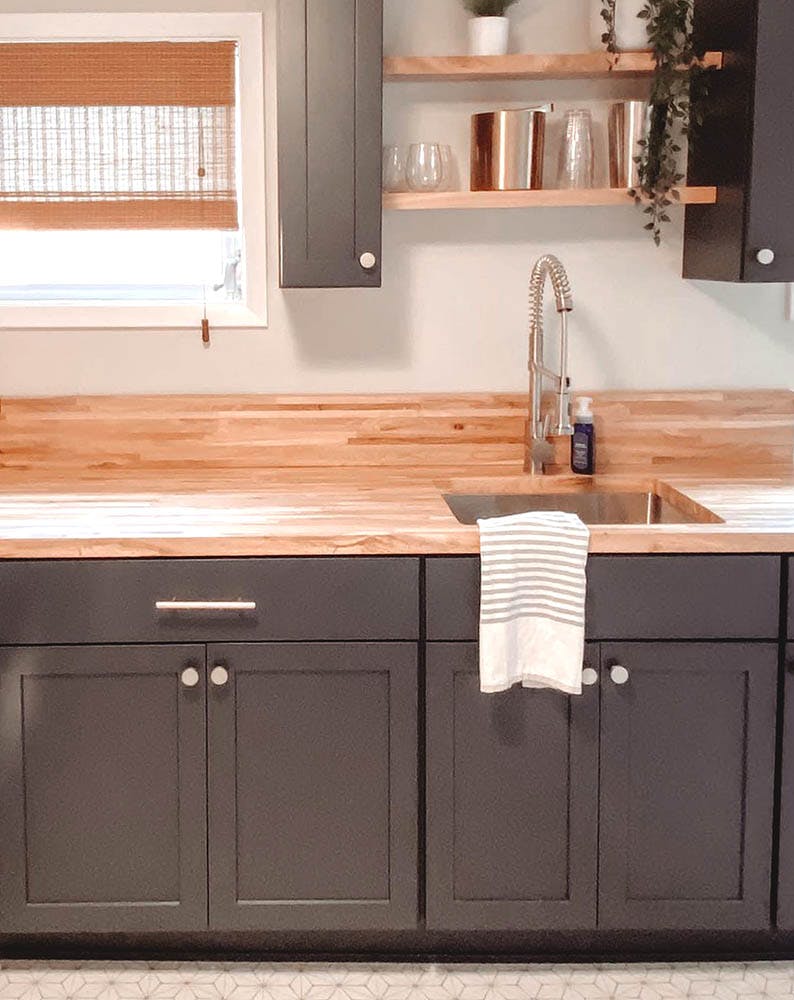 Pictured: Blinds.com Woven Wood Shades in Madrid Cafe. Photo via @midcenturymodernmomma.
Lighter wood tones are also becoming a window treatment staple, with woven wood shade colors like antigua natural, bonaire flaxen and rustic jute being customer favorites. Wood and faux wood shutters are also seeing increased popularity. Designers recommend matching your window treatments to your counters or floor to help unite a room's aesthetic.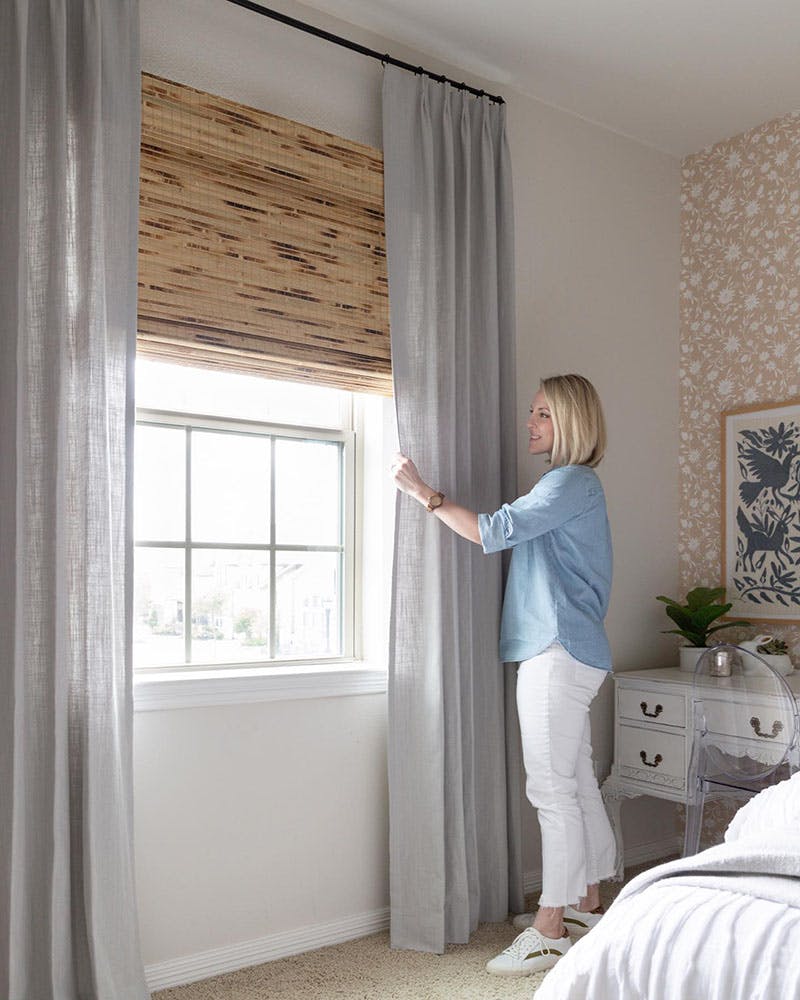 Pictured: Blinds.com Woven Wood Shades in Antigua Natural. Photo via @crazywonderfulblog.
Enveloping Color
We predict 2023 will leave all-white walls and neutral spaces in the rearview mirror. Although some still adhere to a neutral, calming palette, many decorators are using rich colors like deep teal, burgundy, dark green and black to create "jewel box" rooms. Deep colors make small spaces like a home office, media room, or guest bedroom feel cozy.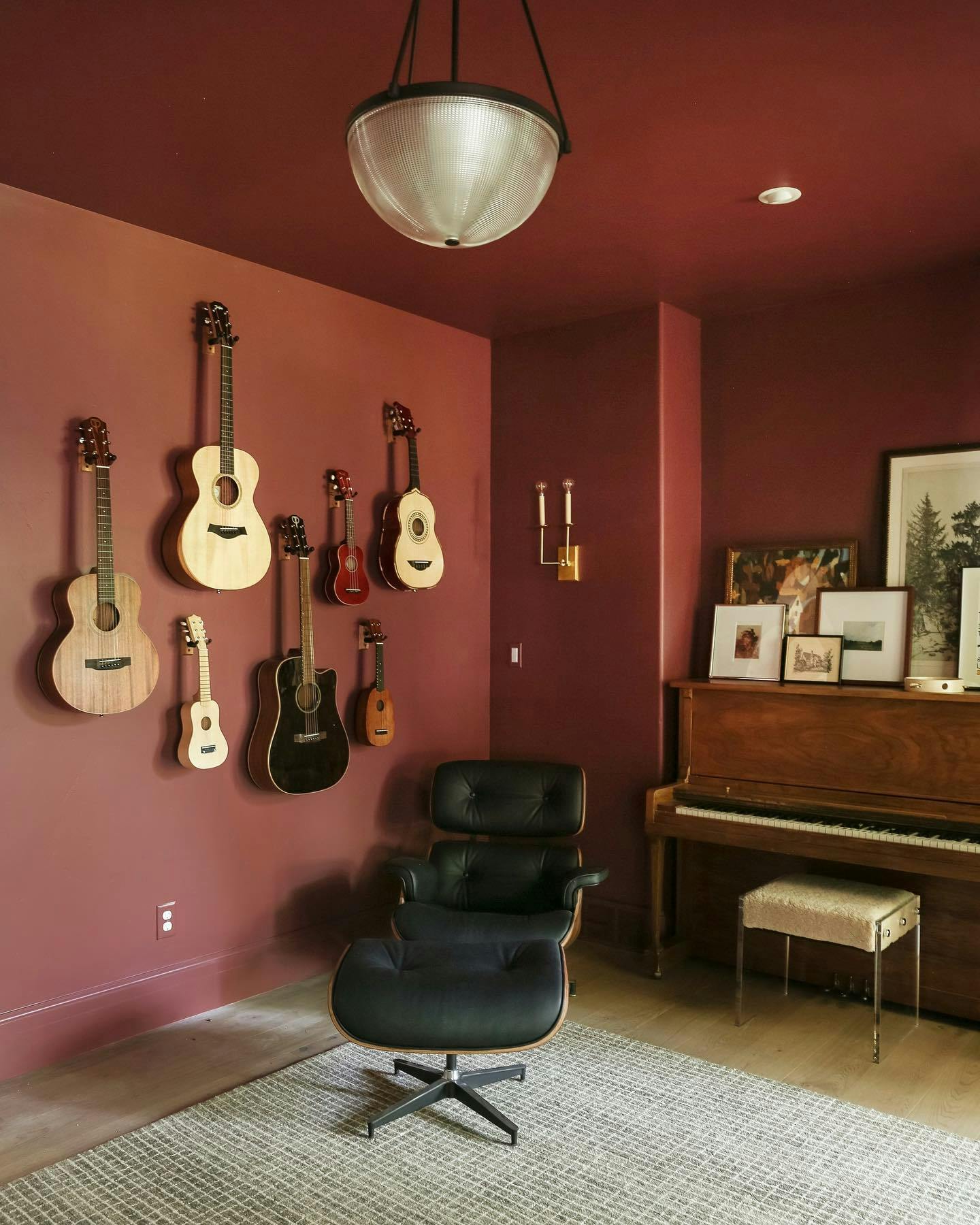 Photo via Chris Loves Julia.
In 2020, homeowners stuck with blues or cooler tones if they were going to go for a non-neutral palette, but recently we've seen a big shift toward warm tones — we believe 2023 will see a surge in terra cotta, oxblood, and plum spaces. The key for these enveloping spaces is to paint the ceiling (and often the trim and doors too) the same bold hue.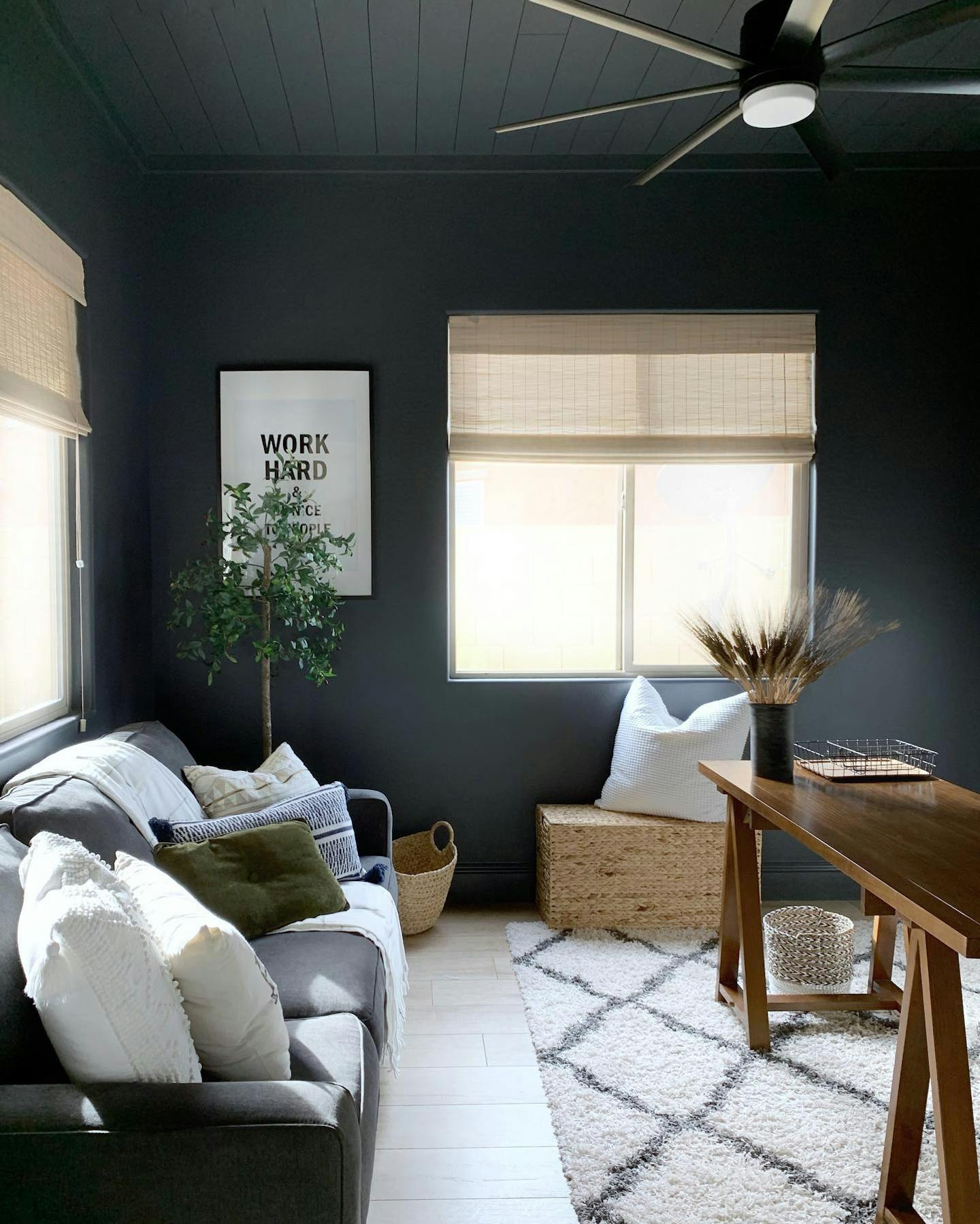 Photo via haileyshacienda.
If you're puzzled about window coverings in a monochrome or bold-colored room, try roman shades in a coordinating color to really amp up the cozy feel - like Oh Joy did in her guest bedroom below. Or, to highlight the natural light, try a roman shade or roller shade in a lightweight neutral fabric.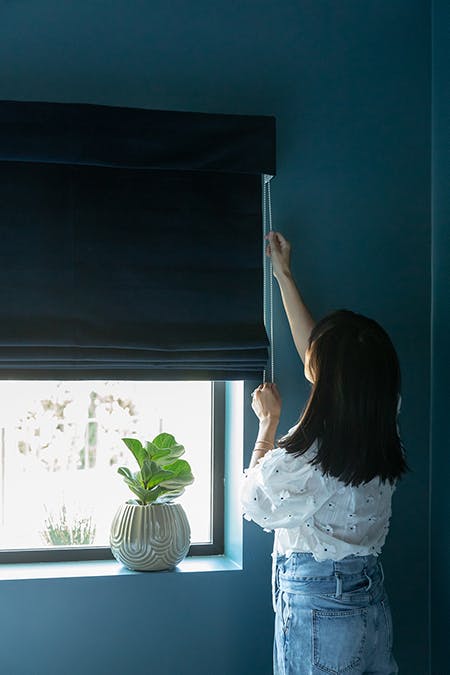 Pictured: Blinds.com Premium Roman Shades in Luxe Velvet Lapis. Photo via @OhJoy.
We're also seeing many home exteriors swing dark. This San Francisco Victorian's ornate molding pops in all black, and Chris Loves Julia's traditional home gets depth with inky grey siding.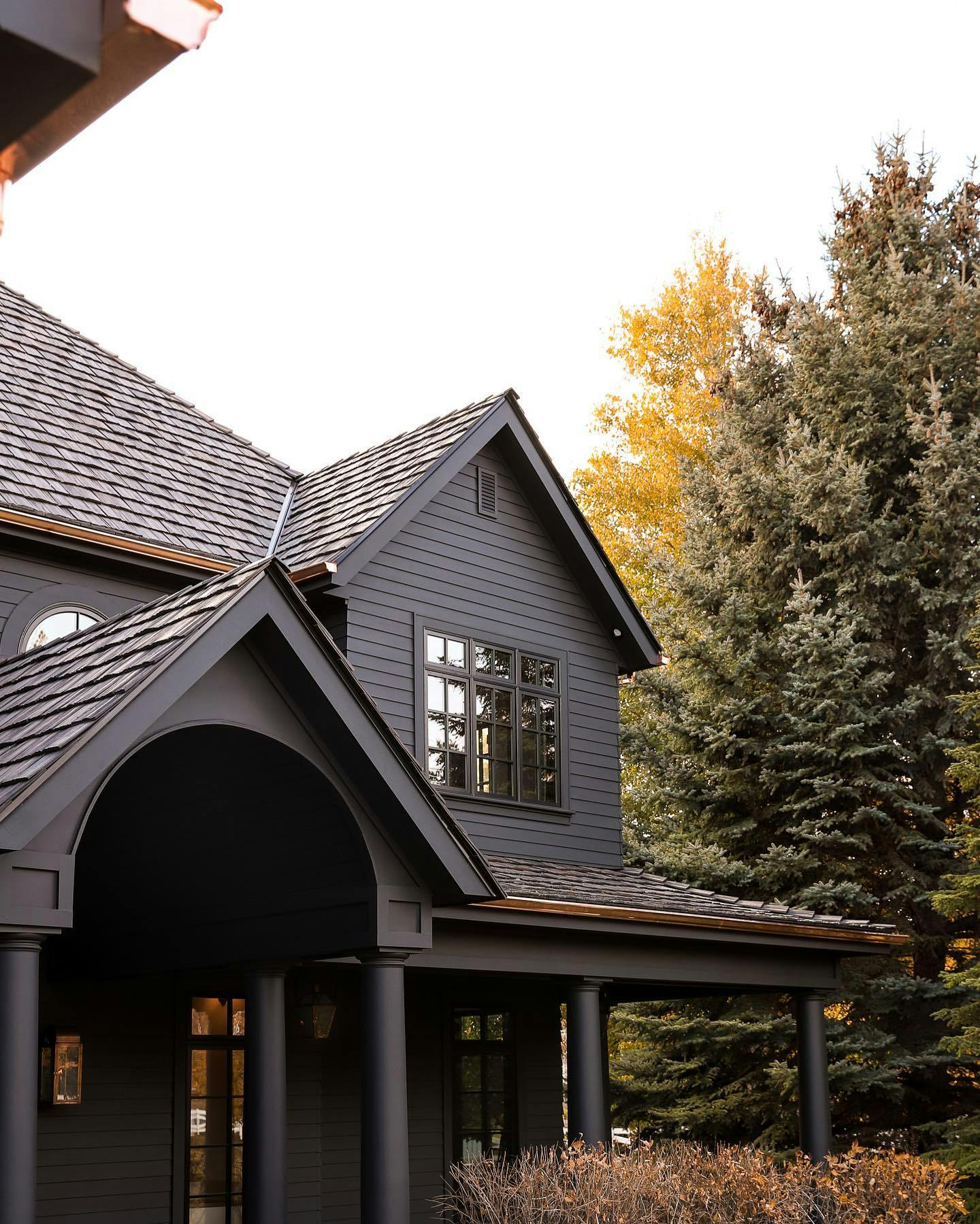 Photo via Chris Loves Julia.
A Shift In Neutrals
Greys and greiges moved into the home decor space in the 2000s and were considered a classic for many years. But as people look to breathe warmth into their homes, we're seeing a shift back to buttery off-whites and soft beiges. Creamy linen Roman Shades, like the Blinds.com Premium Roman Shade in Linen Stripe Vanilla-Stone, have been a top choice for those redecorating their windows.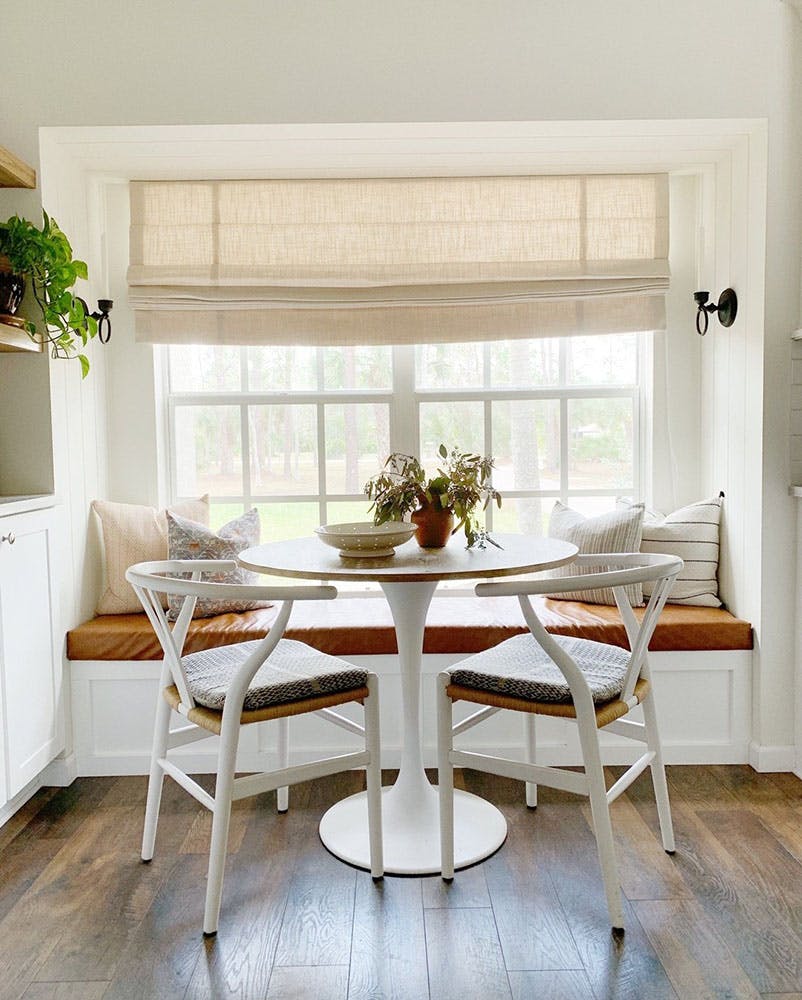 Pictured: Blinds.com Premium Roman Shade in Gent Vanilla. Photo via @hartley_home.
White shiplap walls are sticking around in 2023 too. Many are modernizing this look by adding contrast with black or deep coffee-toned wood blinds, faux wood blind, woven wood shades. Applying these darker colors to floors and lower cabinets helps such a bright, white room feel grounded.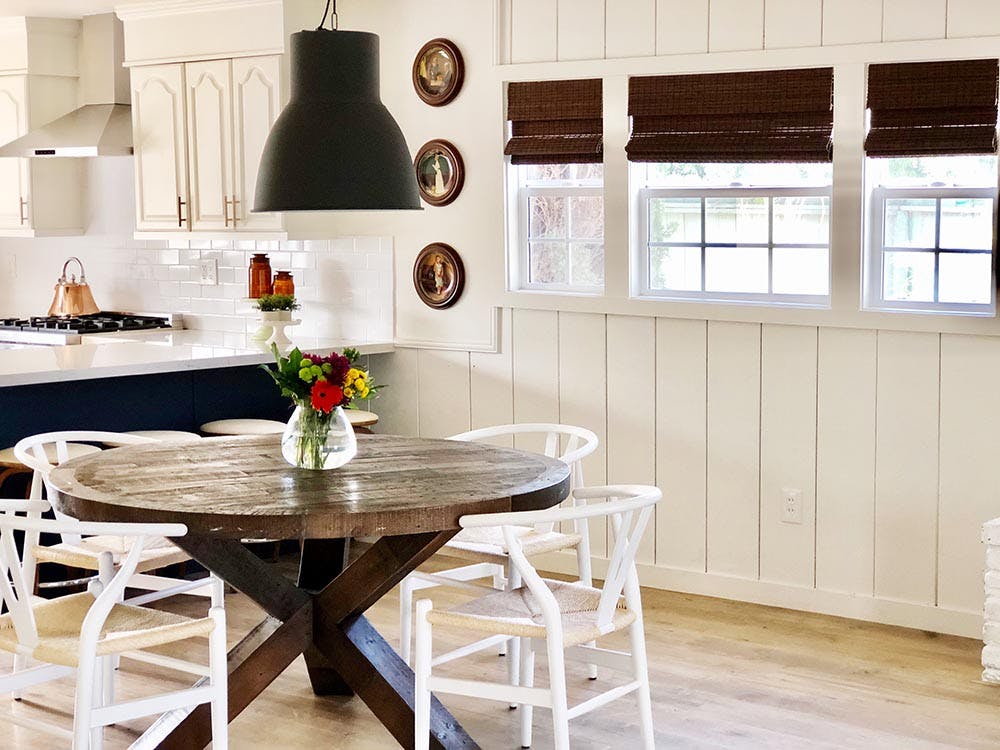 Pictured: Blinds.com Woven Wood Shades in Tibet Walnut. Photo via @prettyonfridays.
Gotta Get Out(doors)
Staying home all year has made many people see the value in creating outdoor living spaces. Outdoor dining is becoming trendy as many restaurants switch to sidewalk dining experiences. At home, people are looking to bring that bistro feel to their backyards and porches with chic patio furniture in natural wood and black metal finishes.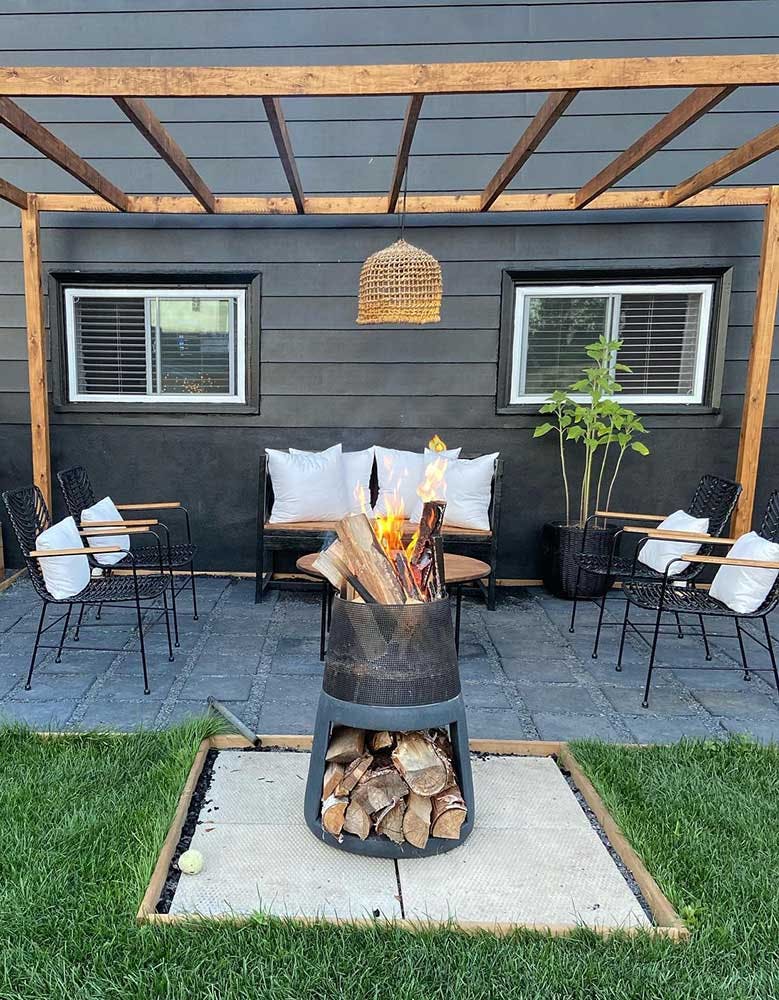 Pictured: Blinds.com 2" Faux Wood Blinds in white. Photo via @blackhouseandthegiant.
Indoor plants are taking over! People are bringing the outdoors in as indoor garden rooms are "growing" in popularity. It seems that nearly every homebody has a fiddle-leaf fig, snake plant or pothos plant hanging out in the corner.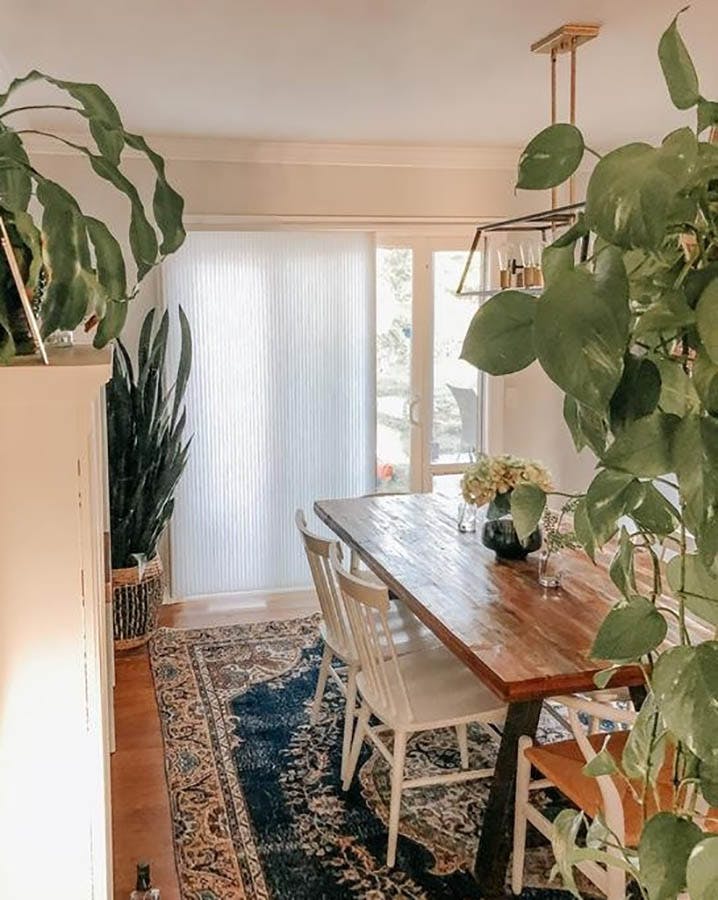 Pictured: Blinds.com Light Filtering Vertical Cellular Shades in Cloud.
Grandma Style for The Masses
Whether it's oodles of quilts and florals in an English cottage, or stately molding and marble busts in a historic home, traditional decor is back in a big way.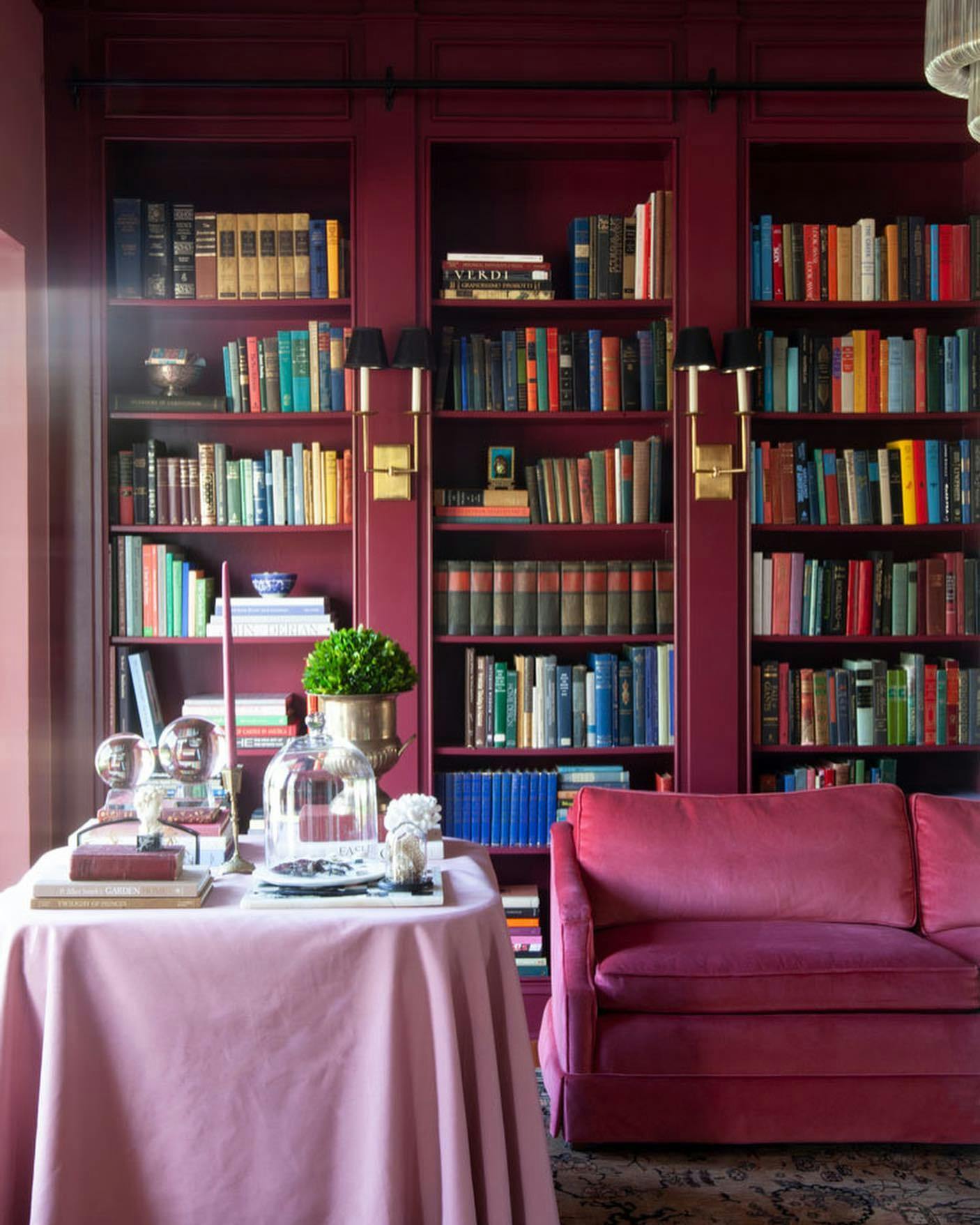 Photo via @The Makerista.
Don't get it wrong, this look isn't a return to the shabby chic obsession we saw in the early 2000s. There's nothing shabby about these homes filled with velvet couches, sumptuous curtains, and stately fireplaces. Even if your furnishings are secondhand or vintage, the goal of the look is a luxurious European parlor feel.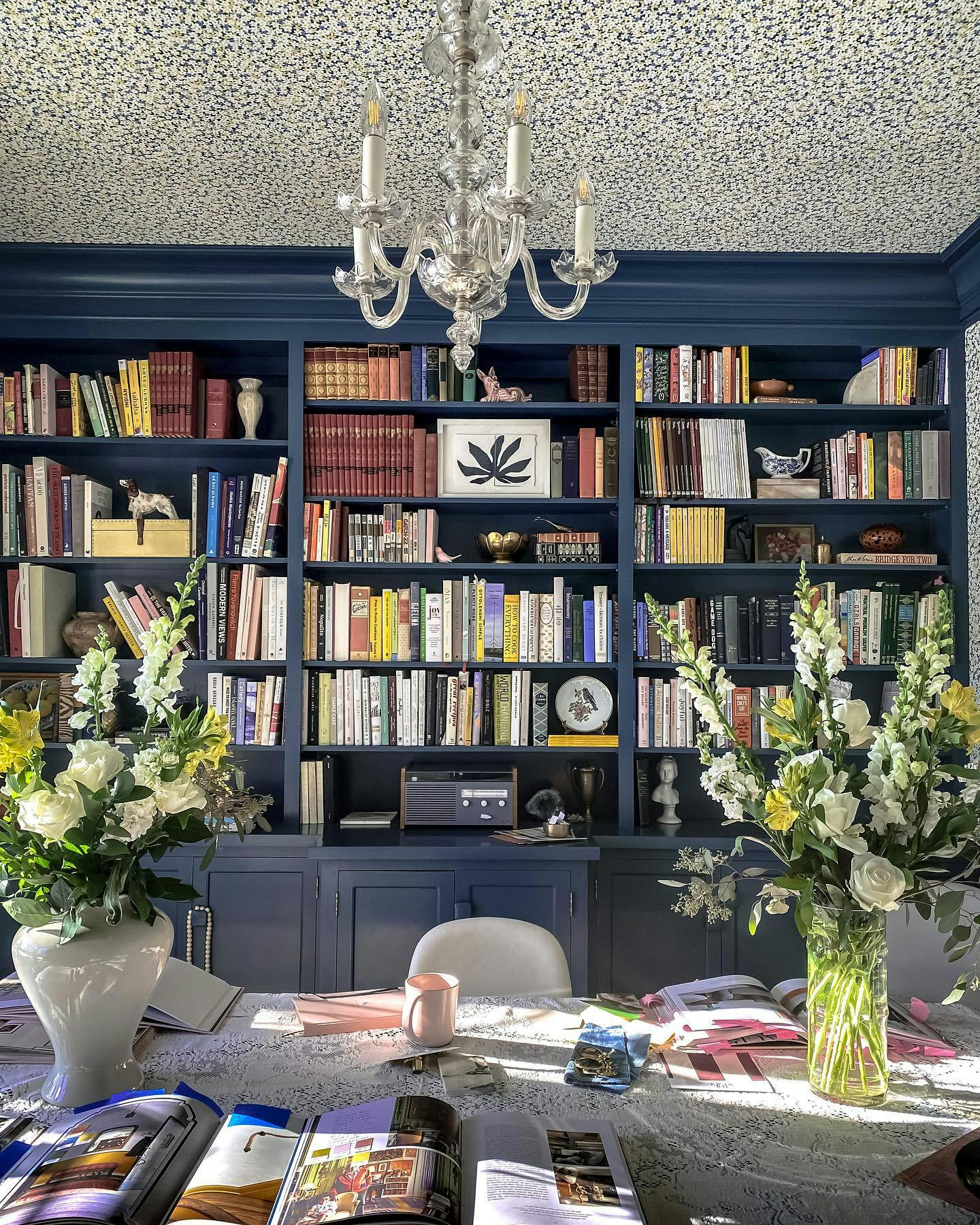 Photo via Wit and Delight.
The hipper, younger alternative to this look is Cottagecore. Essential elements include floral upholstery, wicker, pleated lampshades, exposed stone, and lots of pattern layering. When choosing window treatments for a traditional, or Cottagecore vibe, the look won't be complete without voluminous fabric in the form of pleated curtains or roman shades.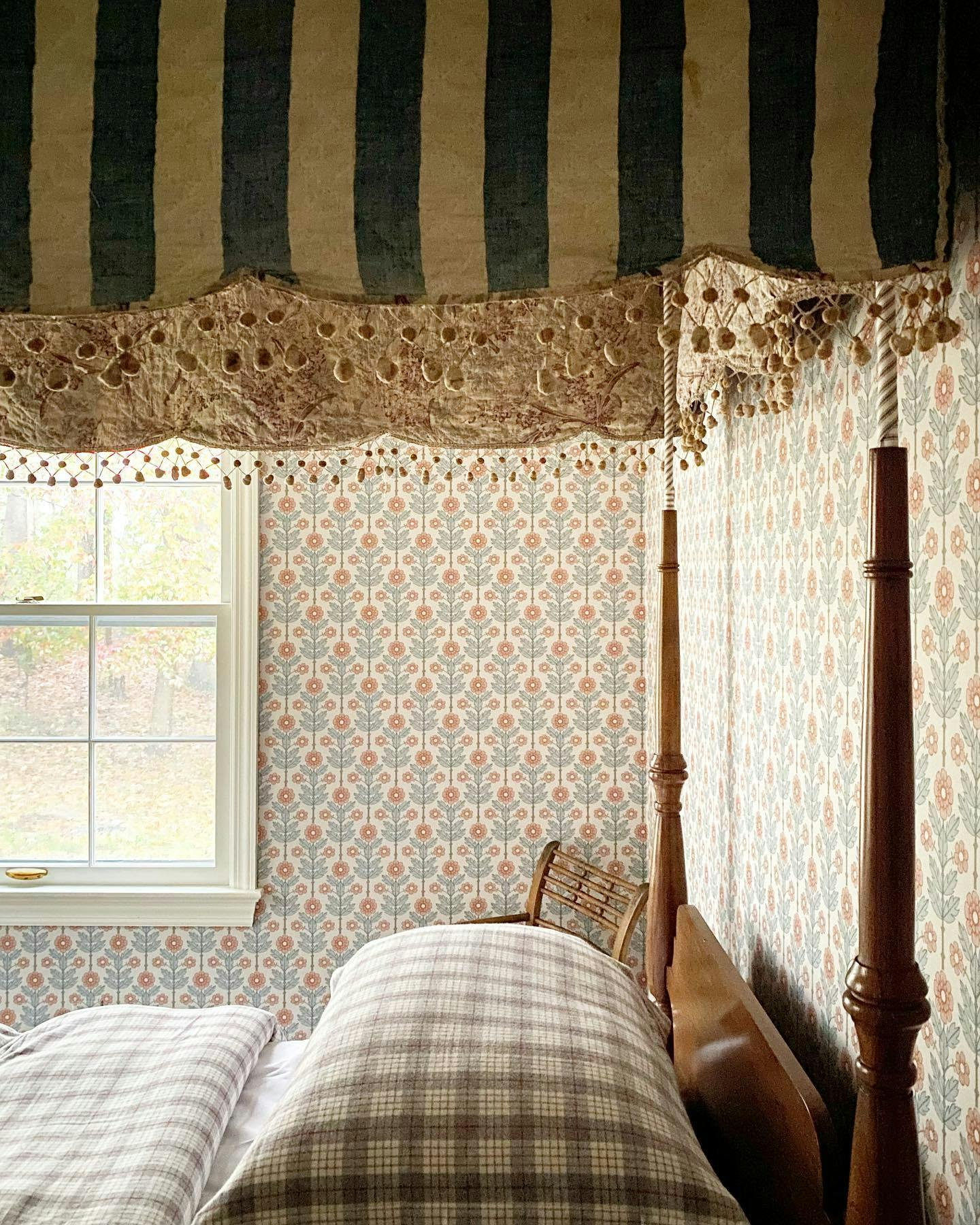 Photo via tallwoodcountryhouse.
A Passion for Postmodernism
If traditional decor isn't your speed, you can go in the polar opposite direction with postmodern design.
This trend kicked off in 2020 with bright neons and 80s bowling alley squiggle patterns on everything. It's evolved to be a bit more straight-from-your-aunt's-house with pastel colors, squat lamps with oversized shades, shell motifs and chunky wood furniture.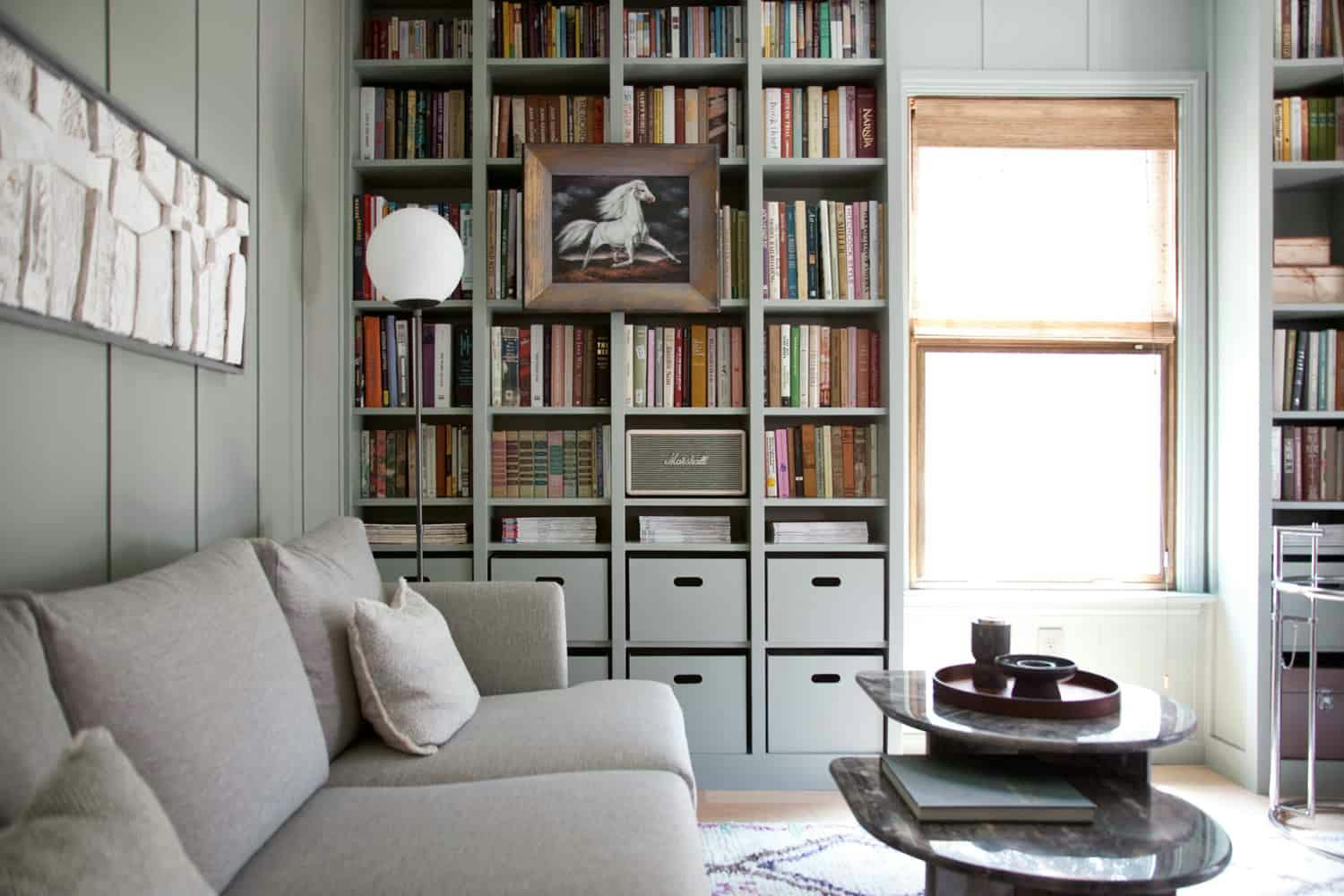 We're also seeing lots of glass tables, half round molding, tambour, salt and pepper granite, and abstract art in primary colors. Another interpretation of postmodernism that seems to be truly unique to our current era is what we'd like to call "so ugly it's cool" decor. This could be throwback vintage furniture that shoppers would have gagged at a few years ago, or the highly impractical but statement-making spray foam furniture trend.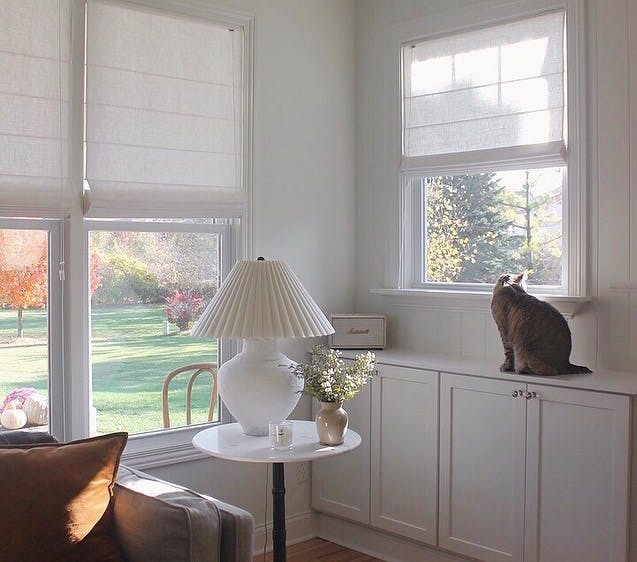 Photo via theblandhouse. Featuring Designer Roman Shade in Odyssey Whisper White.
To delve deeper into the postmodern look we've broken out checkerboard motifs and curved shapes into their own sections below.
Curves Beat Out Clean Lines
We can't see straight with all of the arches, curves, circles, squiggles, and scallops in our feeds. Soft shapes are definitely on the rise, and these curved architectural elements are a big point of attraction for 70s and 80s era modern homes.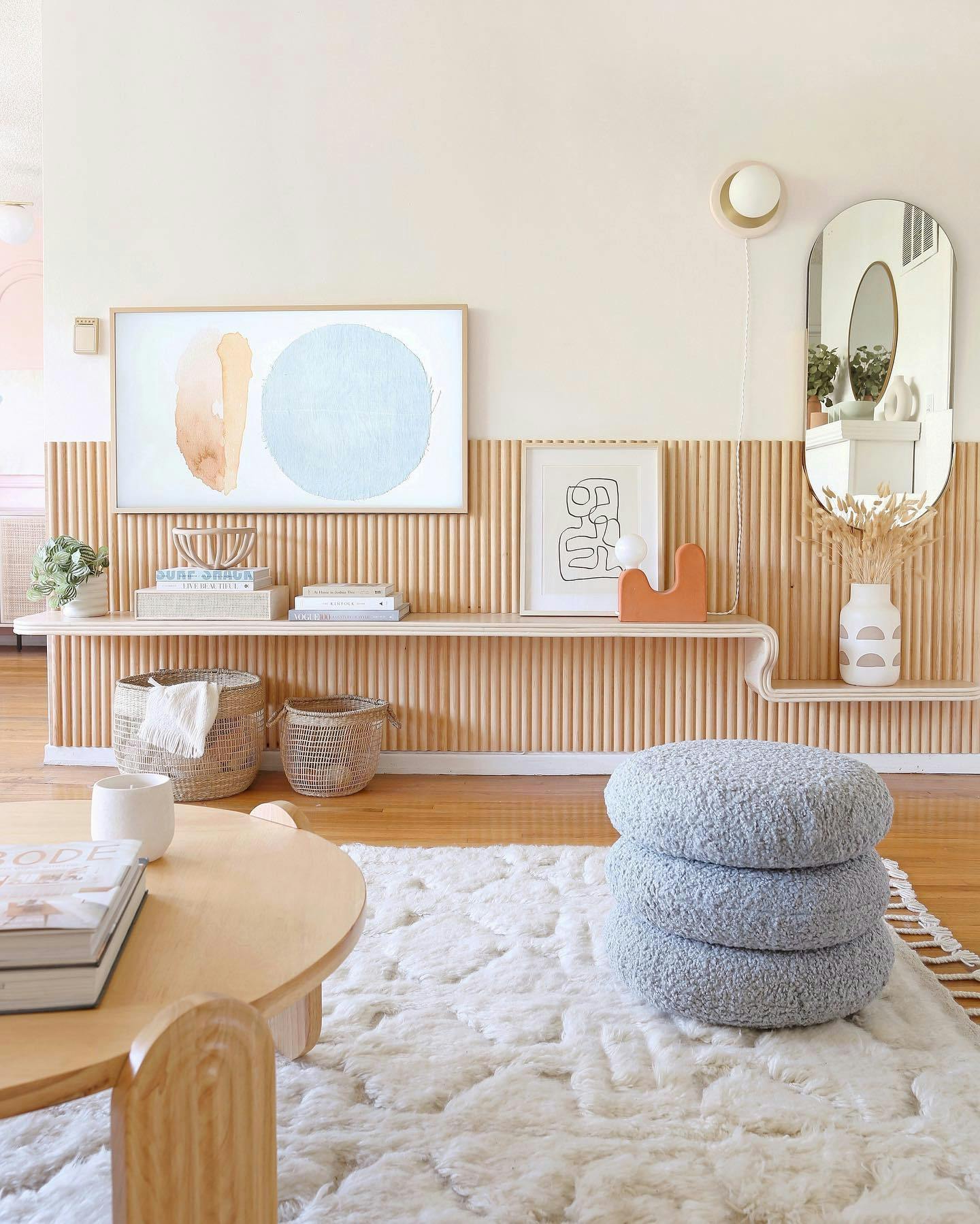 Photo via Hot Pink Pineapples.
This trend is wide-ranging, and works equally as well in postmodern, mid century, traditional, and even new build homes. An arch or curve really adds character and visual interest to any space! When renovating, you can go large-scale with this trend by adding arched doorways, circular windows, or curved walls. Get inspired with Chris Loves Julia's arched window and doorways, or Sarah Sherman Samuel's arched bunk beds, curved staircase, or round skylight.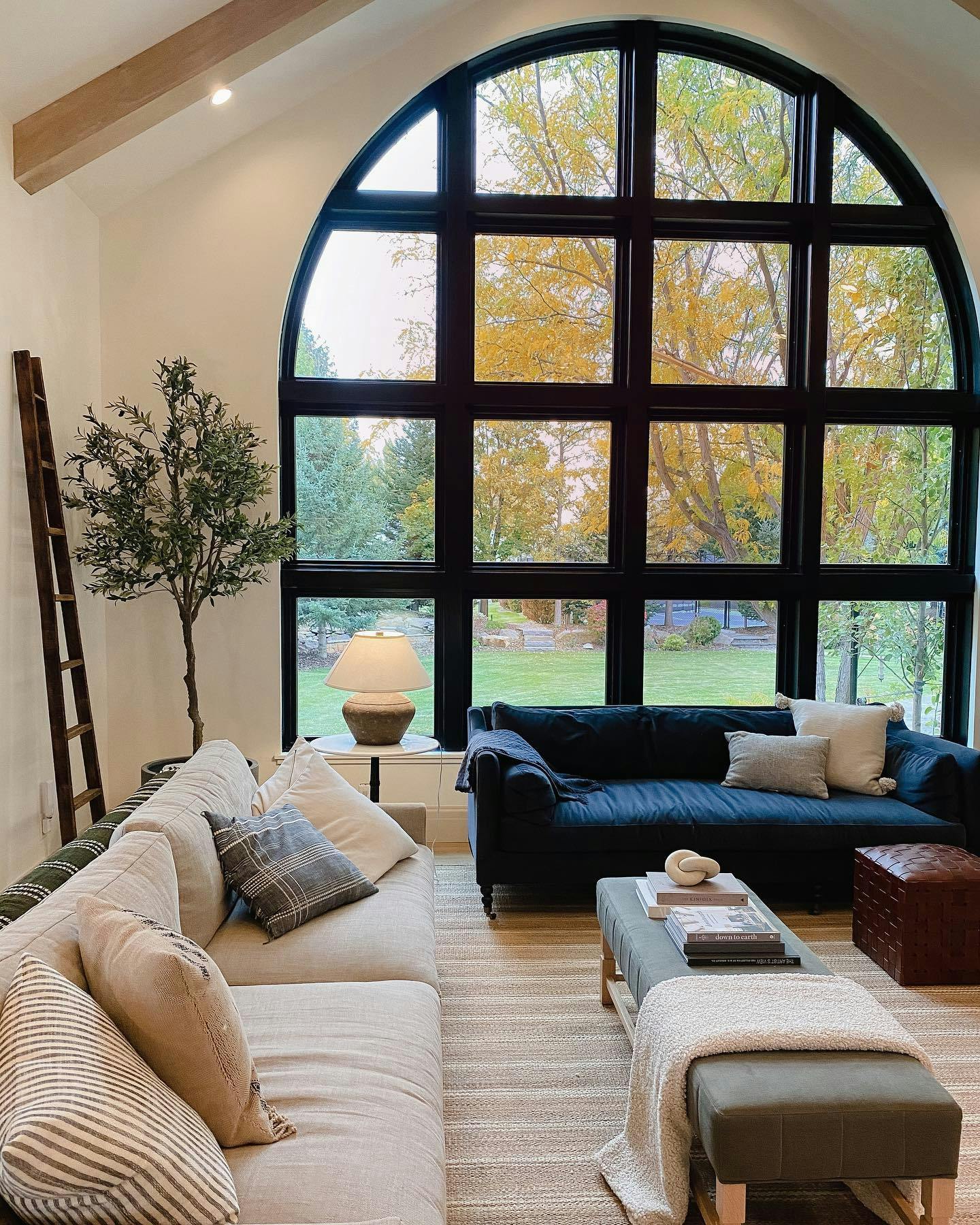 Photo via Chris Loves Julia.
Curves can be incorporated in small ways like adding fluted molding to walls or furniture, bringing in a chunky curved couch, textiles with a flowing motif, or Instagram's favorite circle vase.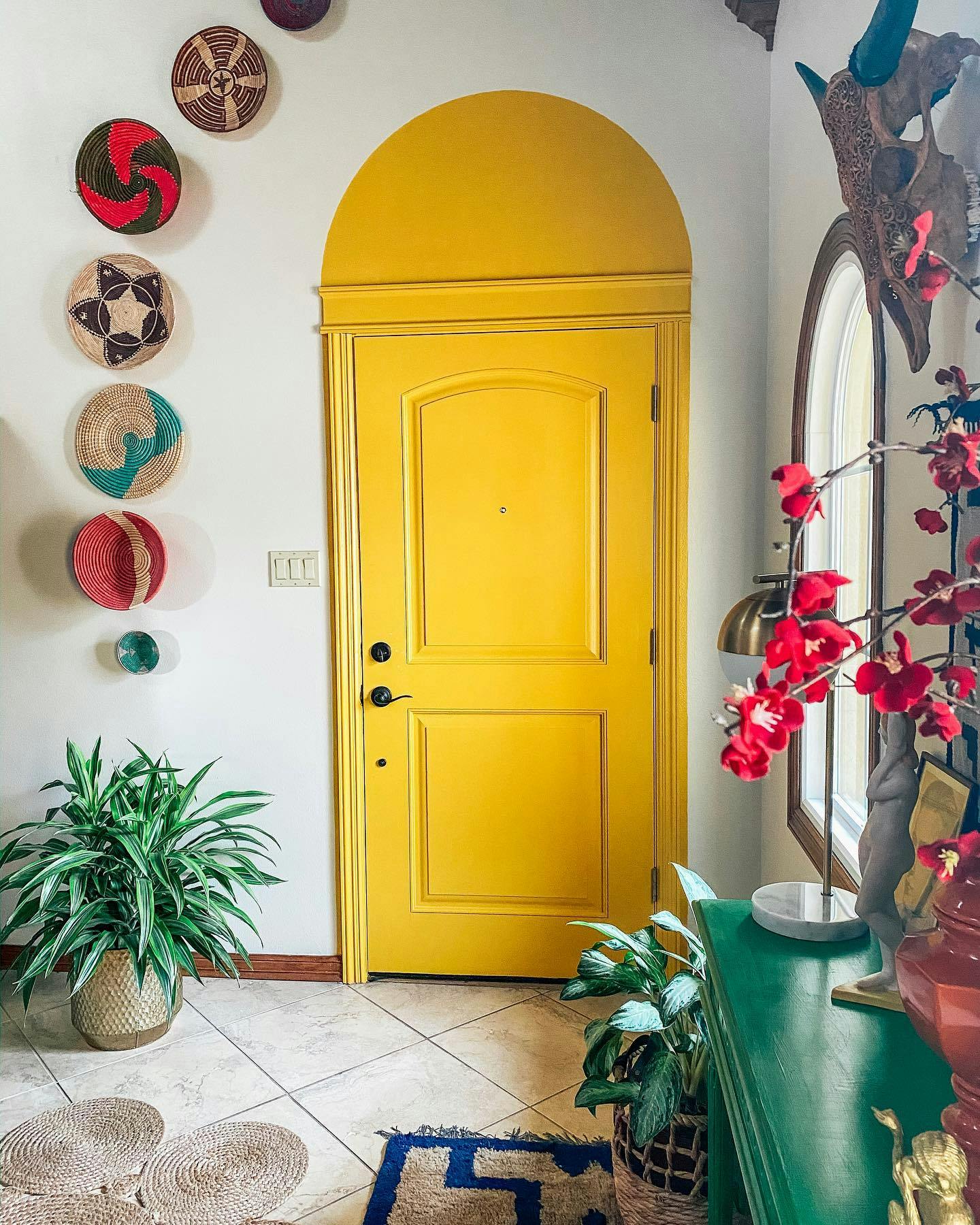 Photo via The Indigo Leopard Home.
Checkerboard — Checking In!
As the 80s and 90s are making their comeback, so are some old-school patterns. In a throwback to retro fashions like the classic black and white checkered sneakers, checkerboard has checked into homes and hearts for a more than a long weekend visit.
Photo via Chris Loves Julia.
The checkerboard motif has caught on across a wide range of decor styles. You're just as likely to see it as a harlequin floor pattern in a historic home, and a rainbow bright version in a postmodern inspired space (like Jordan Ferney's bold pink and red stairwell mural).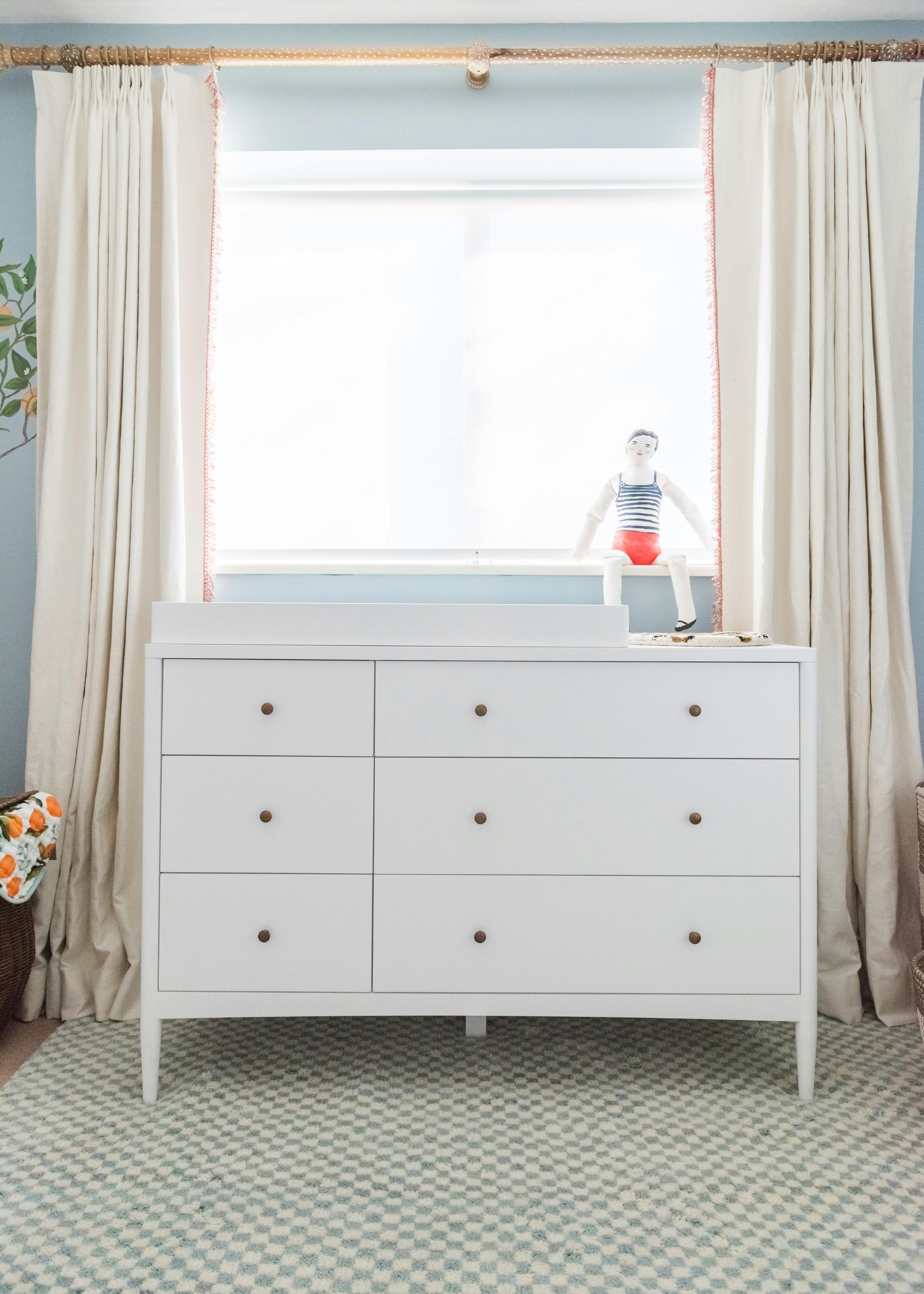 Photo via The House that Lars Built.
If this trend isn't speaking your language, you might prefer its cousin, the Buffalo Check! This plaid is a timeless classic that's garnering renewed attention as postmodern trends are revived. Keep the stripes and squares big for a cozy farmhouse look that still packs a bold and graphic punch!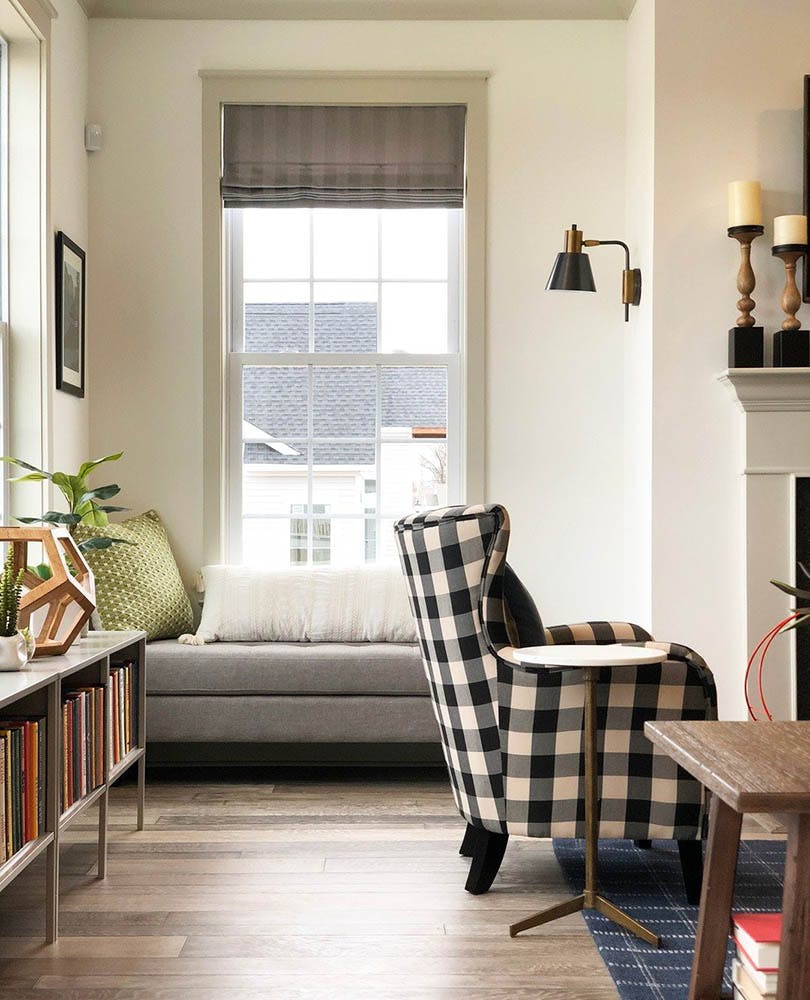 Pictured: Blinds.com Premium Roman Shade in Ashton Stripe Greysmoke. Photo via @littledesignshoppecreativeco.
It's All Sunshine and Rainbows
After a storm, there's often a rainbow — so it's fitting to close out a year like 2020 with this trend. Rainbows exploded onto the 2020 scene as messages of hope and encouragement in windows everywhere last summer. And they'll be sticking around, lifting spirits in 2021, too.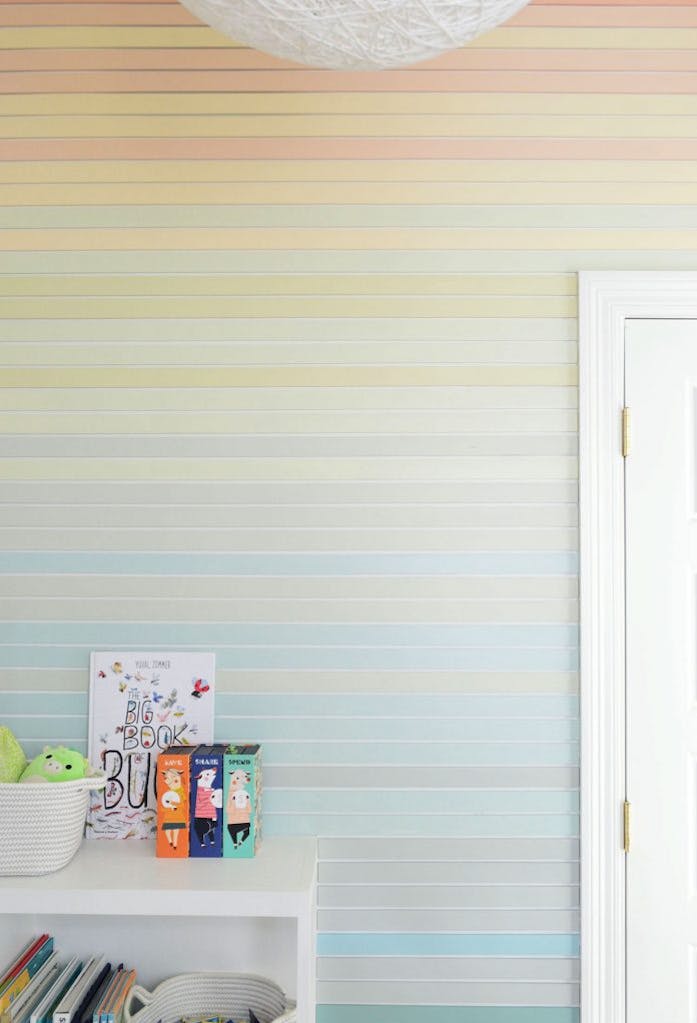 Photo used with permission via Young House Love and not associated with a paid sponsorship or collaboration.
Rainbow decor really had a glow up with help from designers like Vintage Revivals and her rainbow tile backsplash or @colormecourtney with her rainbow order bookshelves. Even window treatments got the rainbow treatment. Sleek roller shades can be made in just about any color you can imagine.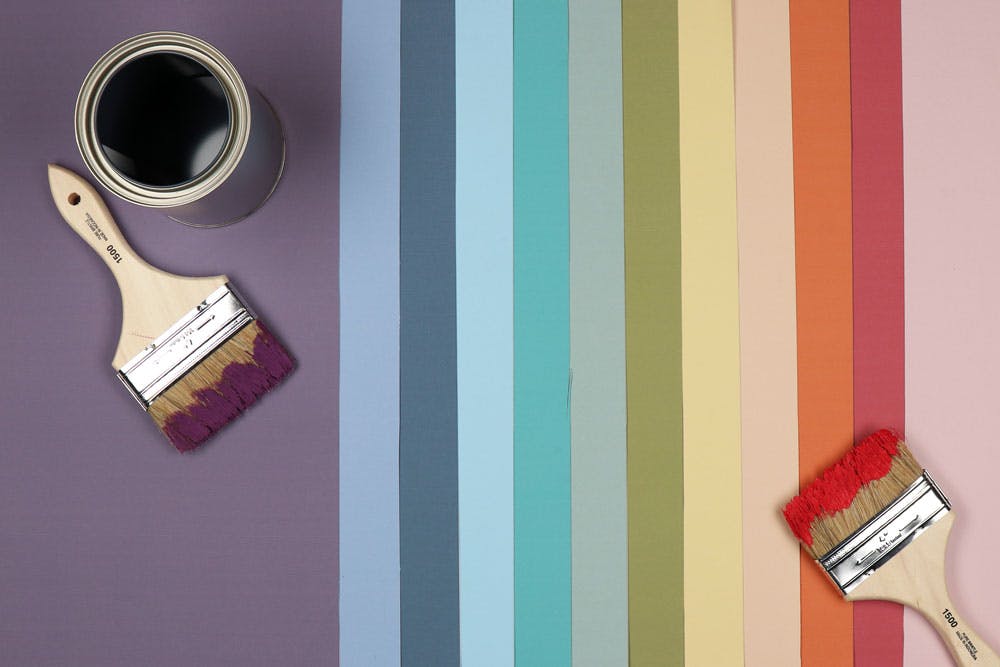 Varying the tones away from the standard ROYGBIV spectrum and playing with more neutral, earthy shades can make the rainbow feels less gaudy without losing any of its magic. Or try the candy, minimal style and experiment with pastel rainbows for a more subtle prismatic look.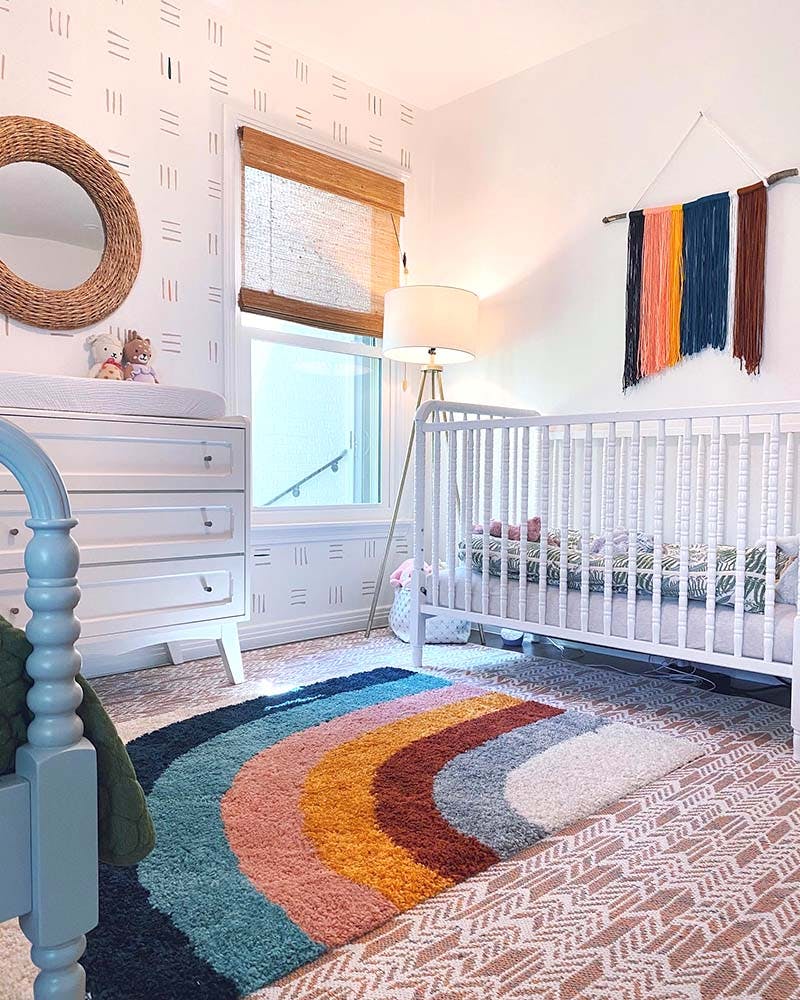 Pictured: Blinds.com Woven Wood Shades in Terra Oak. Photo via @britterstx.
Windows Need A Trendy Makeover?
We're repeating our mantra: "2023 is going to be a good year!" We're eager to try these trends in our own homes, and see what our lovely readers come up with for their own homes. If your home's windows are in need of a makeover, check out our Instagram or Pinterest for more trends and inspiration. Then give our expert Design Consultants a call to get started on your window project: 844-551-3769.
More Decorating Inspiration: