If eclectic, global or farmhouse style speaks to you, you're going to love the woven wood shade pattern that Instagram is obsessed with.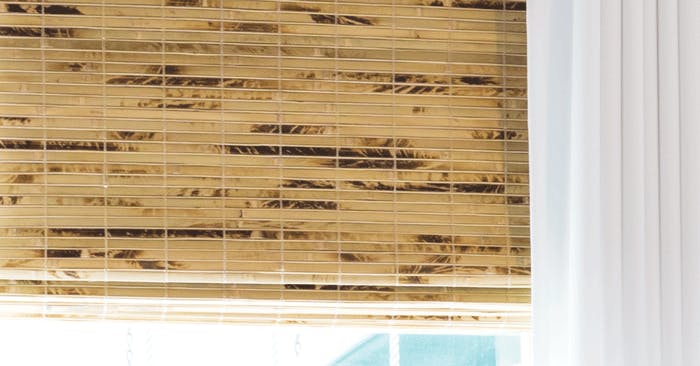 The infamous shades in question areBlinds.com Woven Wood Shades in Antigua Natural. When most people think of bamboo blinds, these wide slats with a high contrast tortoise pattern are what come to mind. The thing we love most about this pattern is that it works with a variety of decorating styles that are popular today.
Even though we're talking Instagram today, the photo above is also one of our most popular photos on Pinterest with over 51K pins!
Crazy Wonderful Woven Wood Shades
The Perfect Window Coverings for Eclectic Vintage Style
It goes without saying that Woven Wood Shades are a favorite of global, maximalist decorators. With the recent resurgence of 70s style, bamboo window shades are a nod to the tiki bars of yesteryear without all the kitsch.
1968 Wisconsin Home Gets Makeover for Family of 7
If your room is feeling flat, these shades add an instant dose of texture and some retro vibes.
Antigua Natural plays well with vintage inspired decor from many genres. Whether you're into a retro look with brass accessories and rattan furniture from the 60s and 70s or a modern farmhouse feel with rustic patinaed accents, woven wood shades will bring out the collected feel of both.
How to Make Over Your Guest Bedroom Without Spending Any Money
The Best Window Treatments for Modern Farmhouse Decor
If you're a Joanna Gaines devotee or love anything with chippy paint and a rustic feel, Antigua Natural Shades just might be the perfect fit for you. The natural material coordinates well with the stained wood and collected feel of a lot of modern farmhouse décor.
Home Office Gets a Polished Look with Built-ins and Bamboo Shades
Antigua Natural Shadesdon't always look casual and eclectic. Just like mixing patterns can either come off as eccentric or edited,woven wood shadesare very versatile. When paired with tailored draperies and neutral furnishings, they can look incredibly upscale.
Rustic Minimalist Home gets Major Texture with Bamboo Shades
Get the Look
Want to try Antigua Natural for your home? Shop Blinds.com Woven Wood Shades, and be sure to order free samples to see this color and others in your home!
Alternatives to Antigua Natural
If Antigua Natural isn't quite the right hue for your room, here are a few similar Blinds.com materials that have a similar look, but slightly different tone.
1. Antigua Natural | 2. Bamboo Essence Origami | 3. Malay Natural | 4. Winthrop Tortoise | 5. Hatteras Camel (Discontinued) | 6. Nicaragua Umber | 7. Cabo Placid | 8. Driftwood Umber | 9. Antigua Tiki
Blinds.com Woven Wood Shades in Sarasota Camel have the same wide bamboo slats, but alternates with twisted grasses for a softer look. You can see the pattern in this room:
1970's Boston Colonial Goes from Outdated to Bright and Elegant
Bali Natural Woven Wood Shades in Cabo Placid are a bit more brown and has a grey undertone. Check them out in this post:
Featured on: Cedar Hill Farmhouse
Share Your Look!
Do you have Antigua Natural in your house? Share a photo on Instagram with #blindsdotcomlove and tag @blindsdotcom.