Who else but Brittany Jepsen, of The House that Lars Built, could turn a dark basement apartment living room into a light-flooded botanical wonderland?
Floral Living Room Makeover with The House That Lars Built
We've been working with artist and color-lover Brittany to give her windows some polish as she's refreshing the rooms in her Utah home.
In case you missed it, be sure to check out Brittany's adorable nursery with hand-painted fruit tree murals and charming navy kitchen.
Brittany and her family have lived in their Provo, Utah basement apartment for several years, but she hesitated to put her stamp on it completely, not knowing how long they would live there. However, now that she'll be staying put for a few more years, she's making her botanical dreams for the space come true!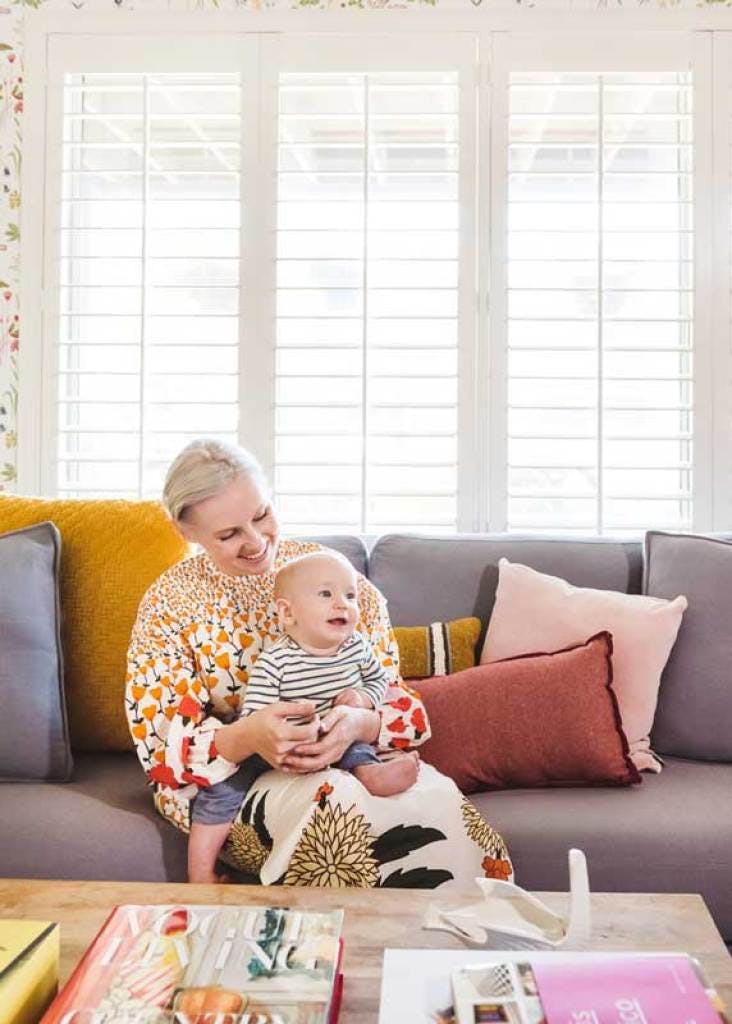 The inspiration for the room started with this Scandinavian-inspired floral wallpaper. Wallpaper might be intimidating to some homeowners, but today's options are much easier to apply and remove. Plus, they're the perfect starting point to inspire a room's color palette.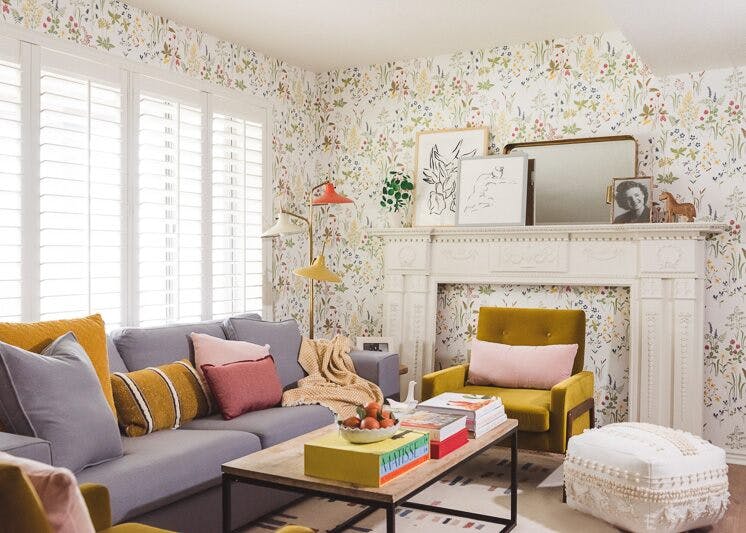 Once Brittany had the wallpaper selected, it was time to think about window coverings that would bring in natural light and offer privacy.
Brittany Says:
"I live in a walkout basement apartment, which means natural lighting is a hot commodity and hard to come by. We have a large front-facing window in our living room and we get some foot traffic so it needed the ability to have privacy, but since it's our only light source for the room, it needed to be functional."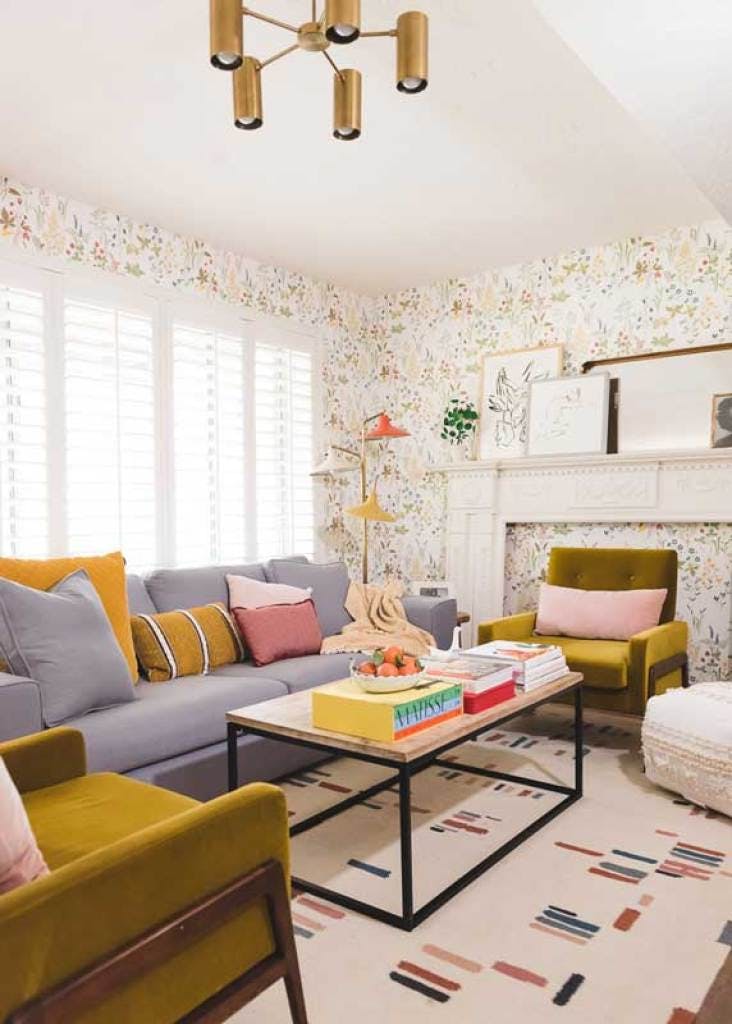 Brittany Says:
"Previous to this, I had replaced the vertical blinds that the apartment came with curtains from Ikea. I had actually sewed two curtains together so that they would be heavier and you couldn't see through them. Ha! Although they were an improvement from the vertical blinds, they were difficult to slide in and out and felt unprofessional. I was aching for some lovely treatments that were also functional."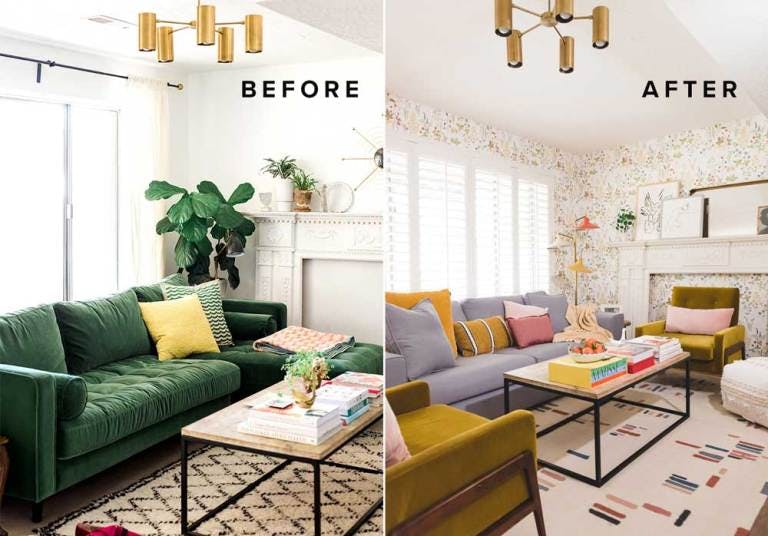 Brittany worked with Blinds.com designer Danielle and selected Premium Wood Shutters in Off White. Shutters never go out of style and pair perfectly with the cozy cottage feel of the floral wallpaper.
Brittany Says:
"I've always been a big fan of shutters and didn't know if it would be possible in our apartment, but talking with their designer, Danielle, she affirmed that it would not only be a good choice but the best choice. I wanted something where it would darken the room well but also allow us to control the lighting at different points throughout the room. Plantation shutters do just that. I was giddy throughout the entire installation process. They made an immediate impact."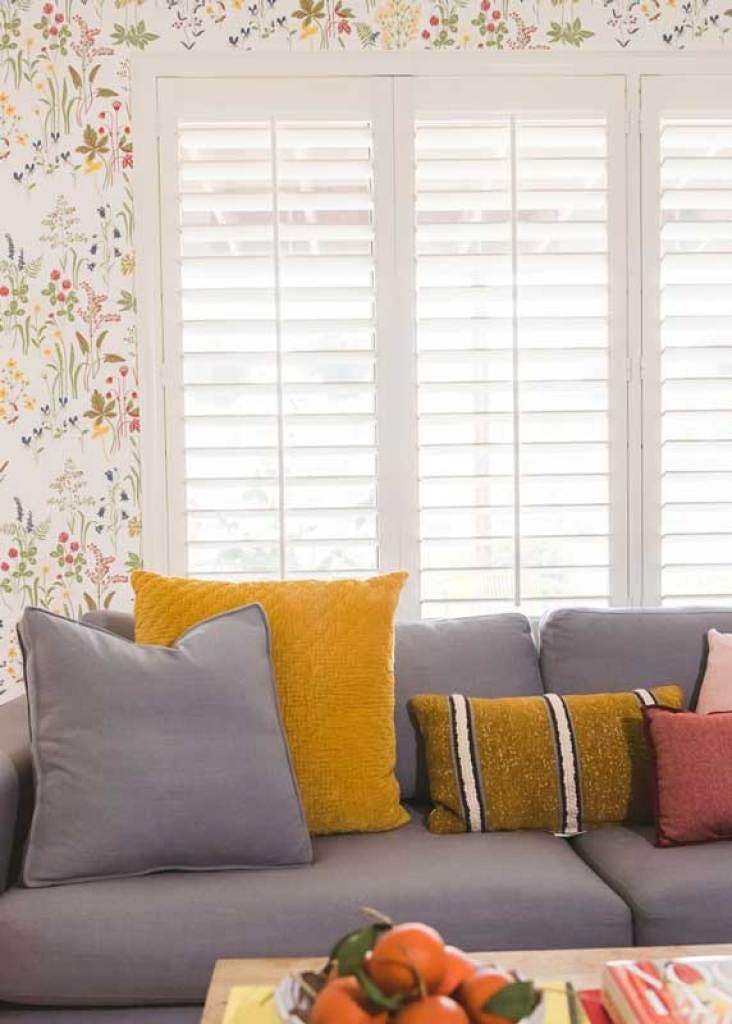 Per her wallpaper installer's instructions, Brittany re-painted all of the trim in a softer white that coordinated better with the paper. The hue also matched the off white color of her new shutters.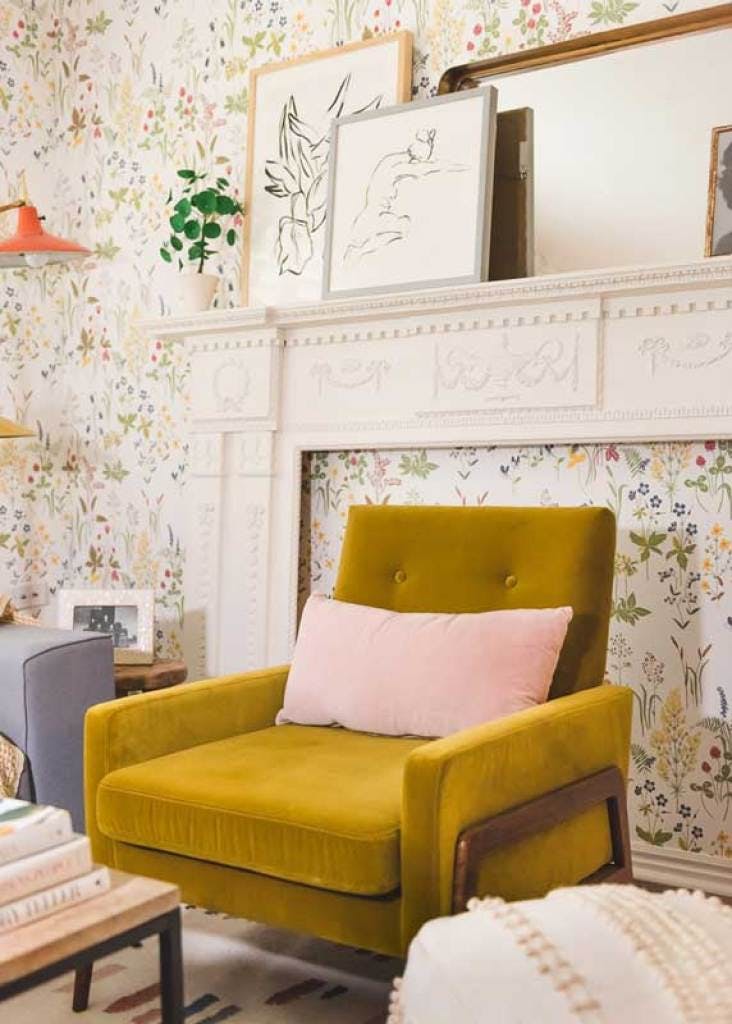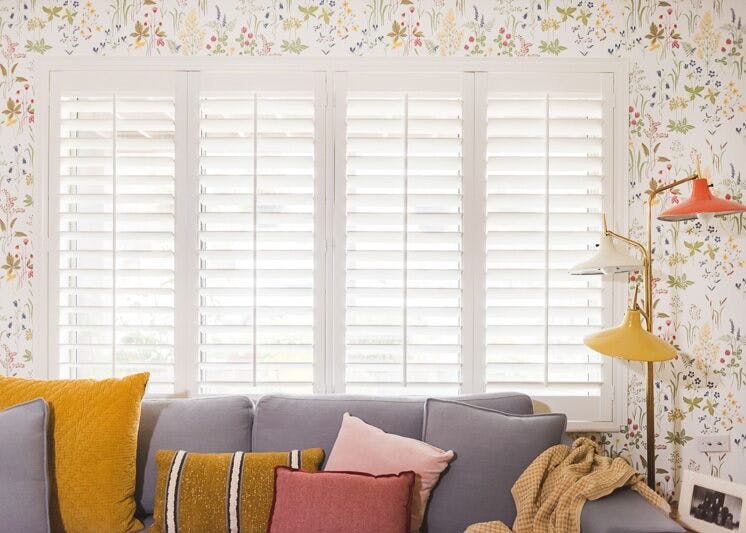 She finished off the space with a classic grey sofa, upholstered chairs in mustard velvet, and primary color accessories to coordinate with the wallpaper.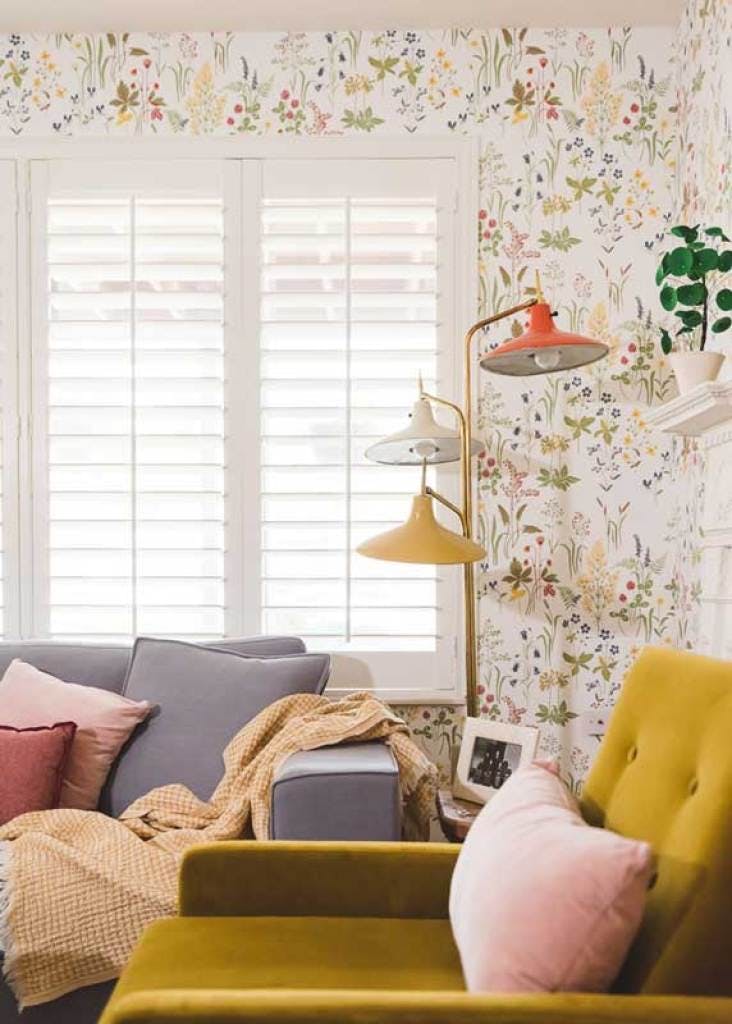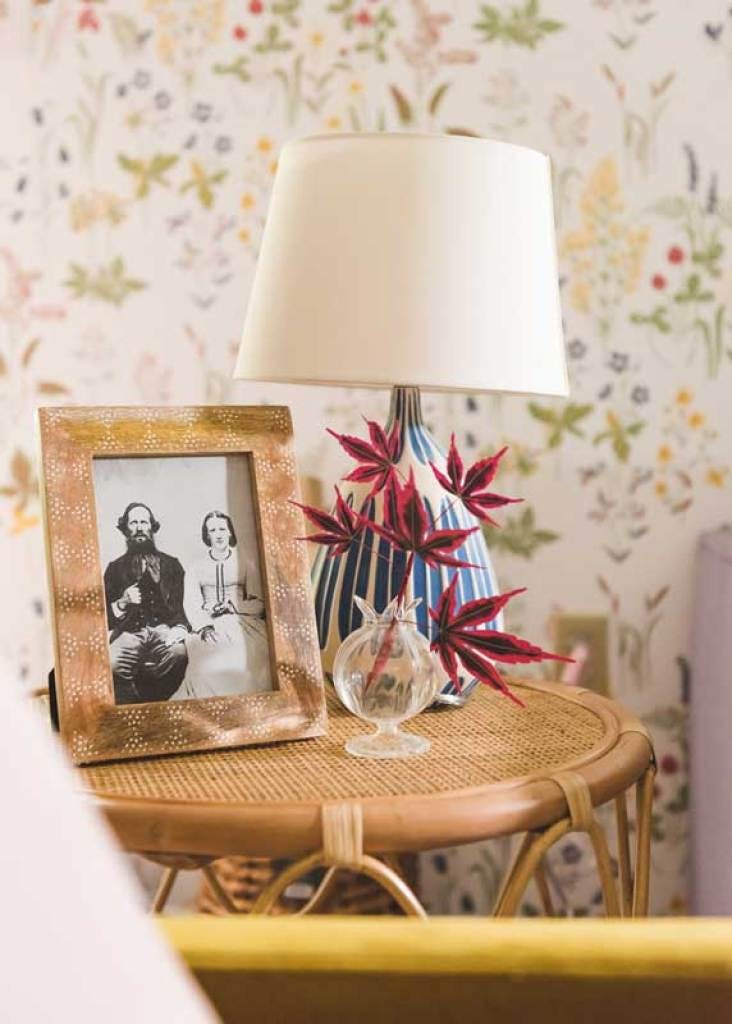 Get the Look!
Want to turn your home into a botanical wonderland? Find all of Brittany's sources and a special Blinds.com discount at The House That Lars Built.
Brittany ordered Blinds.com Premium Wood Shutters in Off White with a 3 1/2 Inch louver.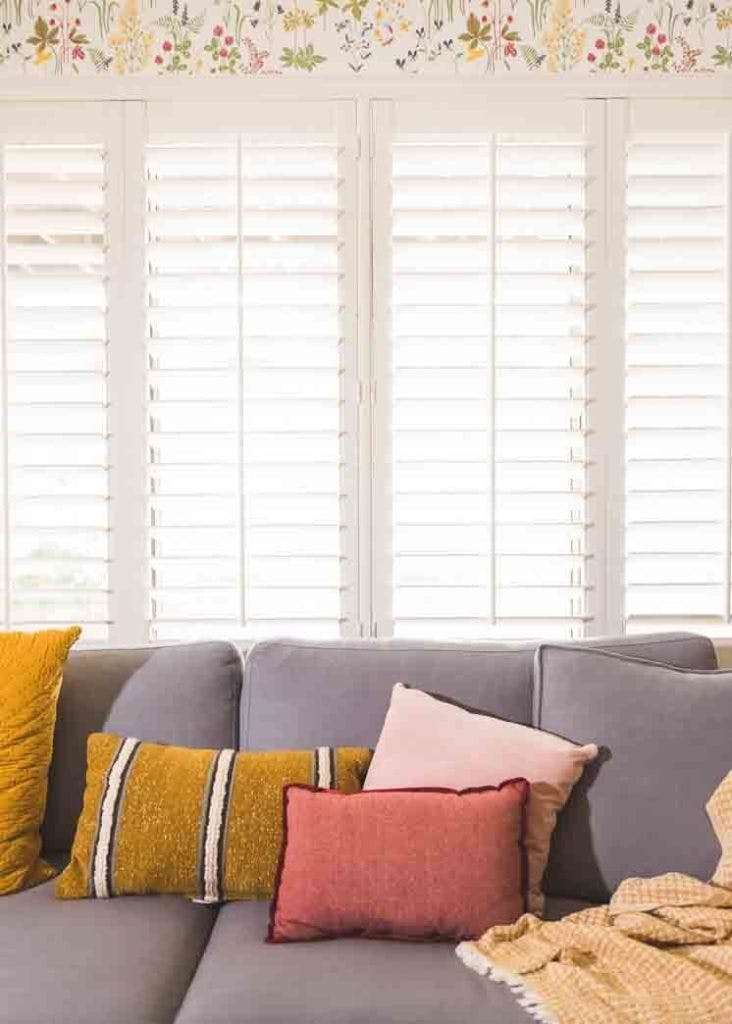 See More from The House That Lars Built:
The House That Lars Built Brightens up a Dark Kitchen with White Wood Blinds
Botanical Nursery with Embellished Draperies from The House That Lars Built
Upscale Office Makeover With Modern Roller Shades from The House That Lars Built
The House that Lars Built Studio Gets Light (and Shade!) with 2-in-1 Motorized Shades