Since the Green Craze began, one of the noticeable effects on
interior design has been the stylization of unfinished wood. In the 90's
and early 00's, you'd scarcely find unfinished wood furniture or furniture with
noticeable imperfections. The rise in popularity of wood blinds, under-processed
or not completely sanded, began a few years ago, and is now more prevalent than
ever. This return to the organic marks the reemergence of wood as a working,
sustainable material that can be reused easily and displayed beautifully in
spite of flaws. This reemergence is a commentary on the very idea of conventional beauty. As we begin to move towards more accepting and open ways of thinking, we embrace new views of beauty, whether they are found in other people or in the ways they decorate their lives.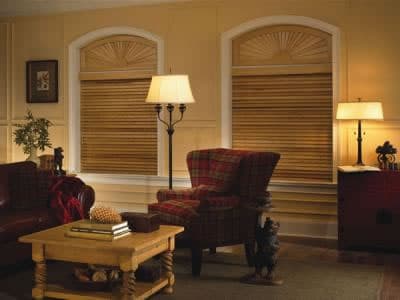 It is not uncommon to find wood blinds in a variety of natural-looking
paints and stains in place of those that are heavily processed and dyed beyond
recognition. 2009 is already showing an even larger spike in natural-looking
woods than originally expected. I love that in so many products you can
still see the direction of the wood grain, and the subtle circles and blemishes.
These elements add a lot of character and complement the classic country or farmhouse
feel. You'll also see this trend in more modern  homes, as eco-design
permeates home décor. There is an obvious minimalist element to
using this type of wood; it is often unassuming, unpretentious, and calming.  You'll create a homey feel while staying in line
with modern design.
Hudson Furniture makes absolutely beautiful wood
furniture. They take 'natural' a step further by highlighting silhouettes found
in nature via tables, headboards, chairs, and the like. One of my favorite
pieces is the Plexi Coffee Table made from beautiful walnut tree wood. The bark
of the tree is neatly mirrored in the contours of the table, yet the lines are
still sleek and smooth, making the table feel modern, yet rustic all at once.
If you're not quite ready to commit to a full-blown change
of furniture to get the look, start slowly by incorporating accessories. This
mirror from Kan Thai Décor is a great way to begin a collection. This mirror is made from recycled Teak wood, a tropical hard wood native to Asia.
Hung above the fire place, or near an entrance, this mirror will instantly grab
attention and give the room an organic vibe.
Wood blinds remain popular and can be found in plenty of
distinctive woods. Woven wood shades, which are made from bamboo, sisal,
rattan, and reeds, are also becoming extremely popular, since they make use of
materials that are very sustainable and durable, while lending themselves
nicely to organic design.

Happy decorating,