Window covering trends move slowly, with small shifts occurring over decades. However, we are seeing some shifting tides for window treatment styles that will be popular in 2023 and beyond. Keep reading to see which up and coming look is right for your space!
Waterfall-Style Roman Shades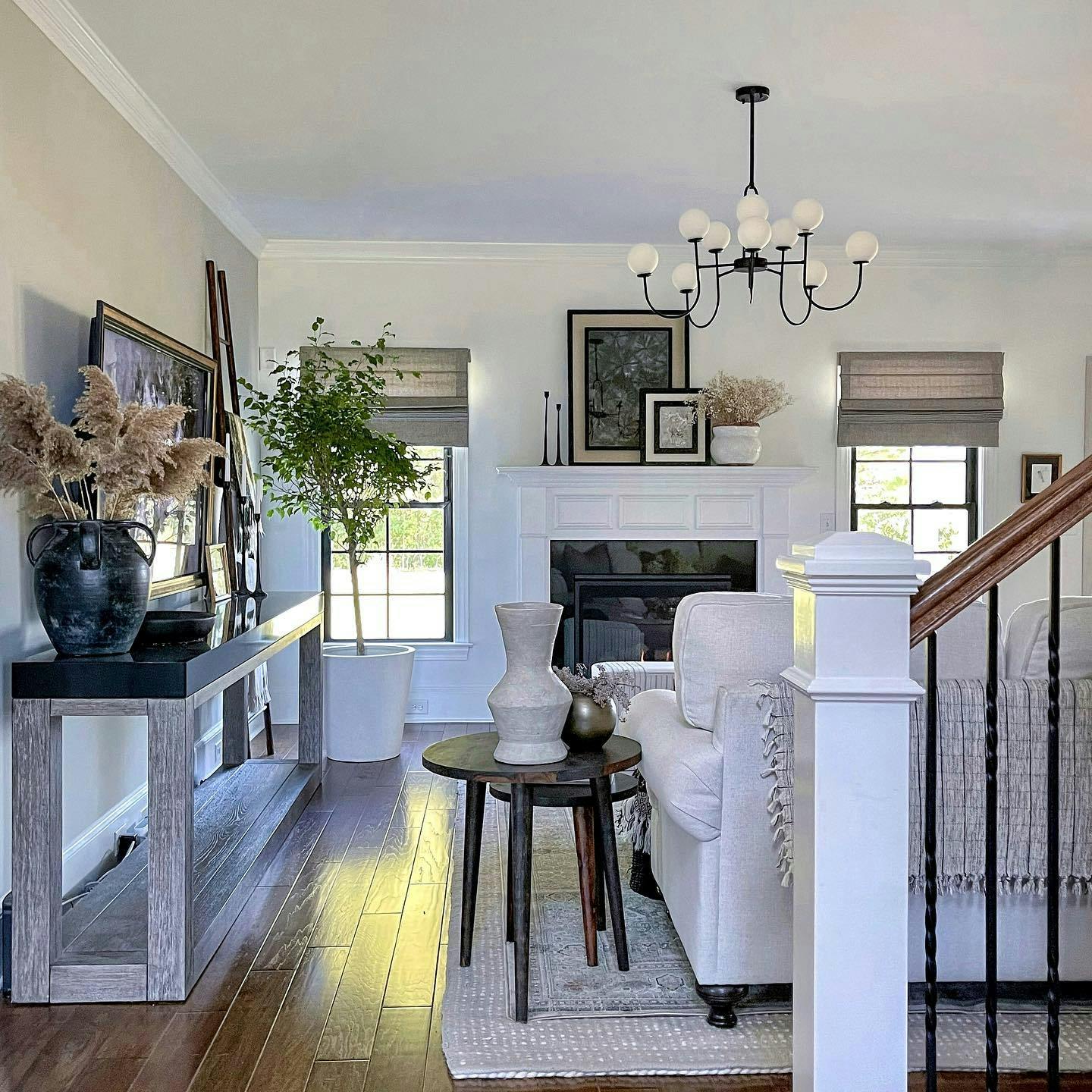 Photo via @makinghousehome, featuring Premium Roman Shades in Shetland Granite.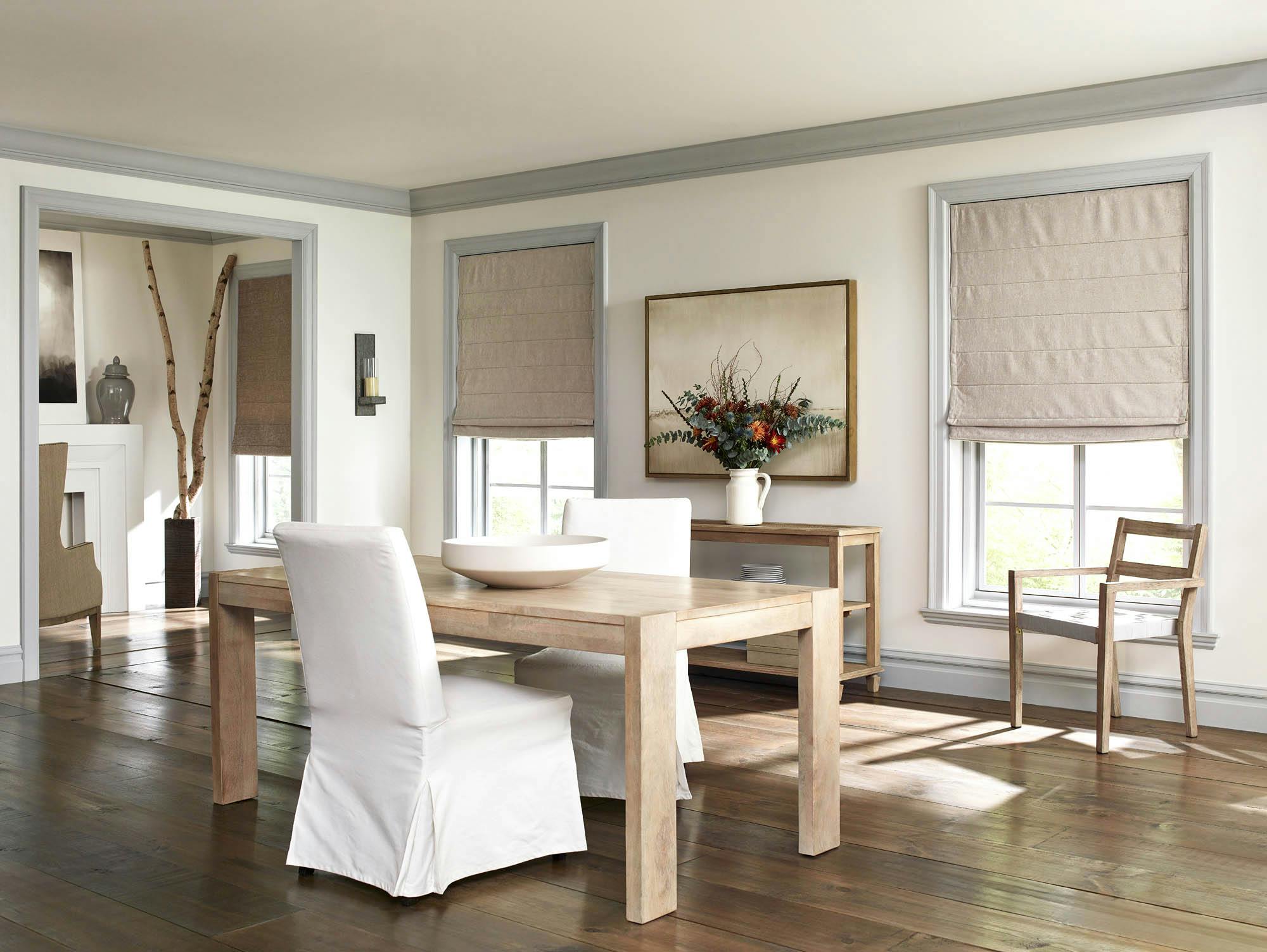 Pictured: SouthSeas Roman Roller Shades
Waterfall-style Roman shades are predicted to be one of the top window coverings homeowners and designers will look for because of their effortless contemporary style. We're already seeing this trend gain momentum, so we only expect it to become more popular in 2023.
"More and more of my clients are wanting the Waterfall-style roman with no valance at the top for a cleaner look. They also work well this way under draperies," says Design Consultant Rory Pabon.
Layers On Layers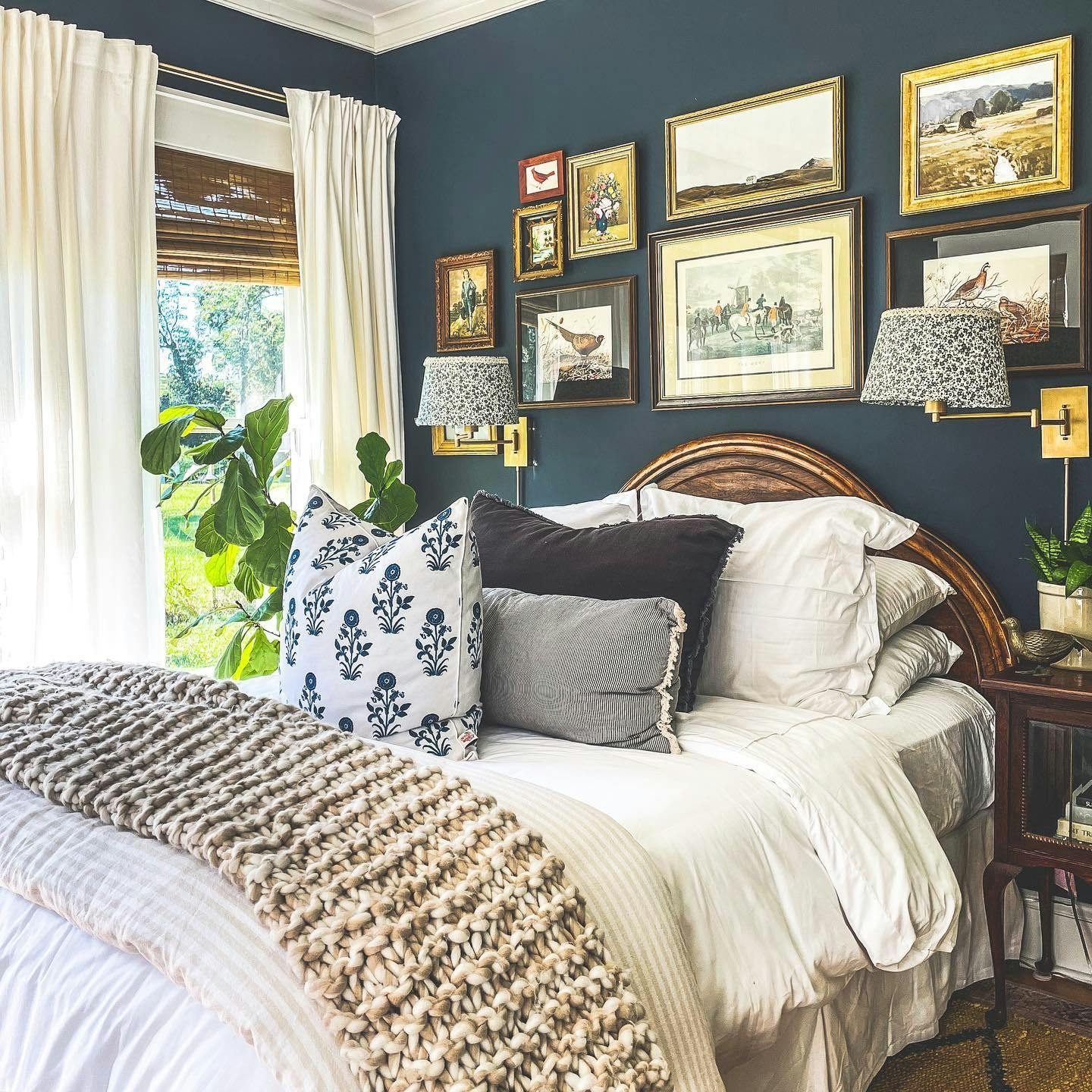 Photo via @ourgreencroft, featuring Cordless Woven Wood Shades in Aruba Raffia.
Layering window treatments is a design trend we expect to see more of in 2023. Easily pull off this look by adding waterfall-style Roman shades underneath drapery, layering draperies, or layering draperies and woven wood shades.
Pairing Neutral Woven Wood Shades with White, Linen, or Neutral Drapery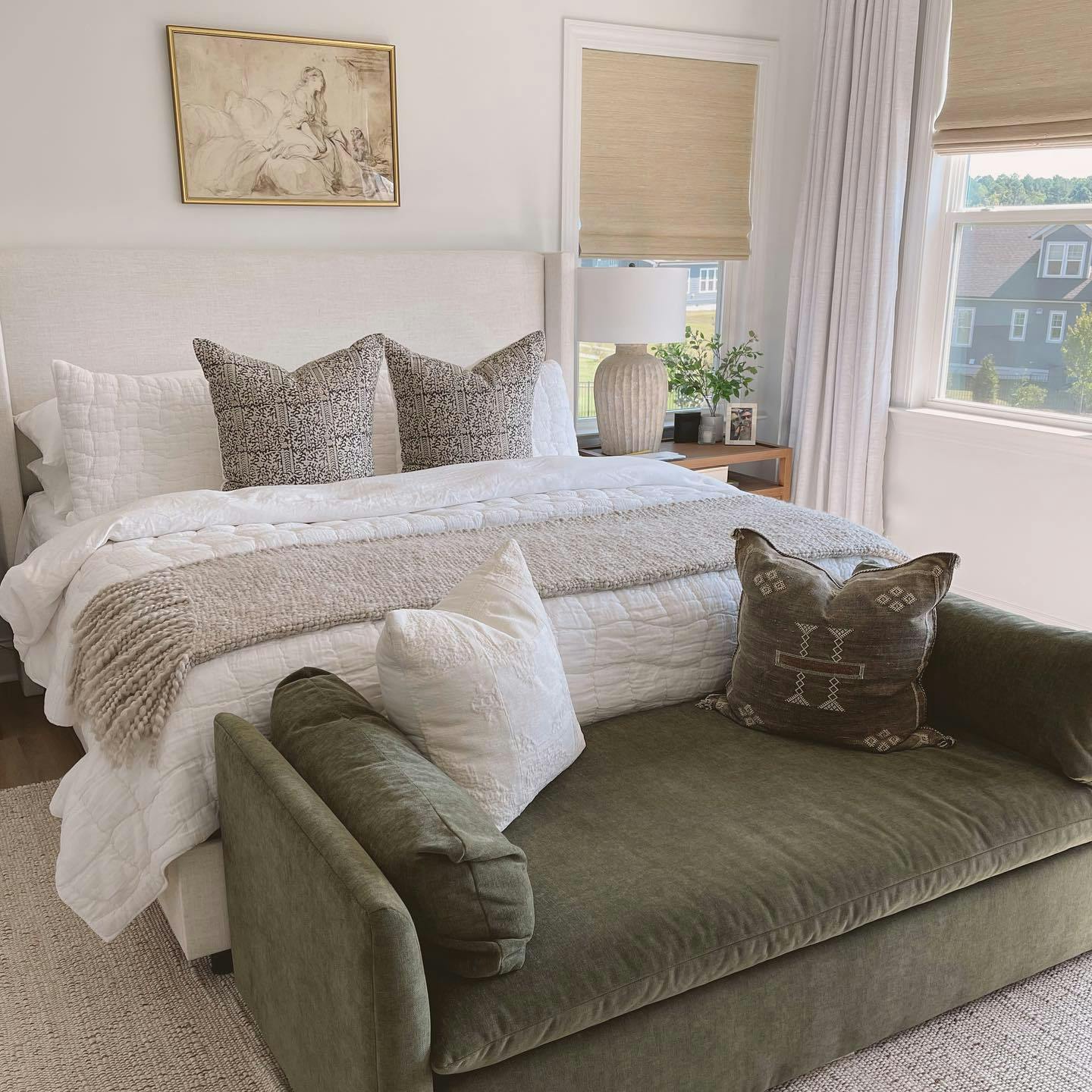 Photo via @ahouseinthesouth, featuring Woven Wood Shades in Kula Coconut.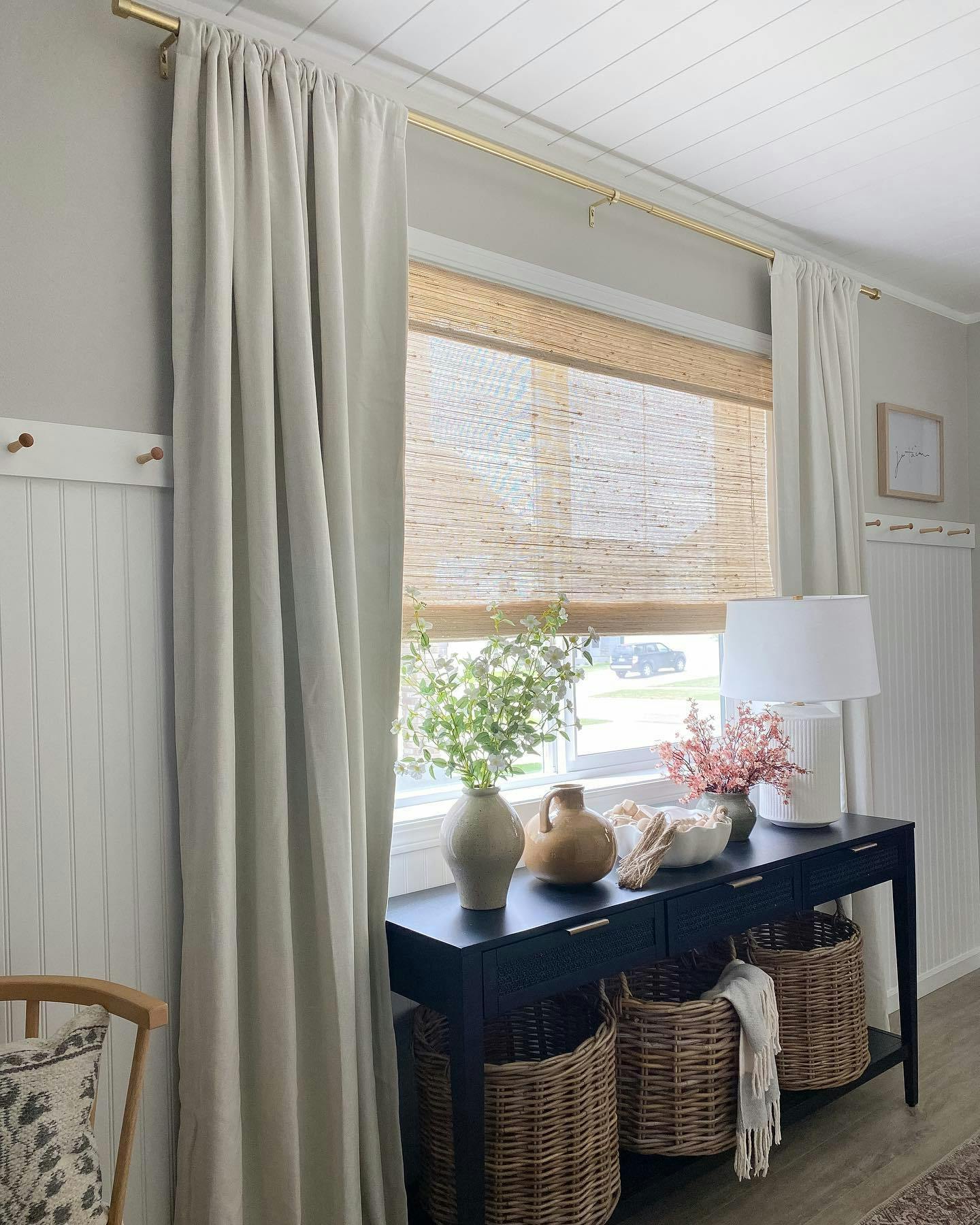 Photo via @homewiththehamanns, featuring Woven Wood Shades in Rustic Jute.
 We're seeing neutral-toned Woven Wood shades being paired with white, linen or neutral drapery in homes, and we think we'll begin to see this trend really take off next year. It gives a coastal farmhouse look to a room, instantly making the space feel lighter.
"No valance on Woven Wood shades also look beautiful under draperies, which is another trend I'm seeing. A lot of my clients love the SouthSeas Woven Wood Shades in neutral tones like Kula Coconut, Barcelona Sand, and Caribbean Natural," says Pabon.
Delicate Woven Wood Shades
Woven wood shades have been a huge trend among style-minded decorators for the decade. While initially, the preference was for thicker pieces of bamboo that made a textural statement, we've seen a shift to lightweight grass weave materials that give a more delicate look.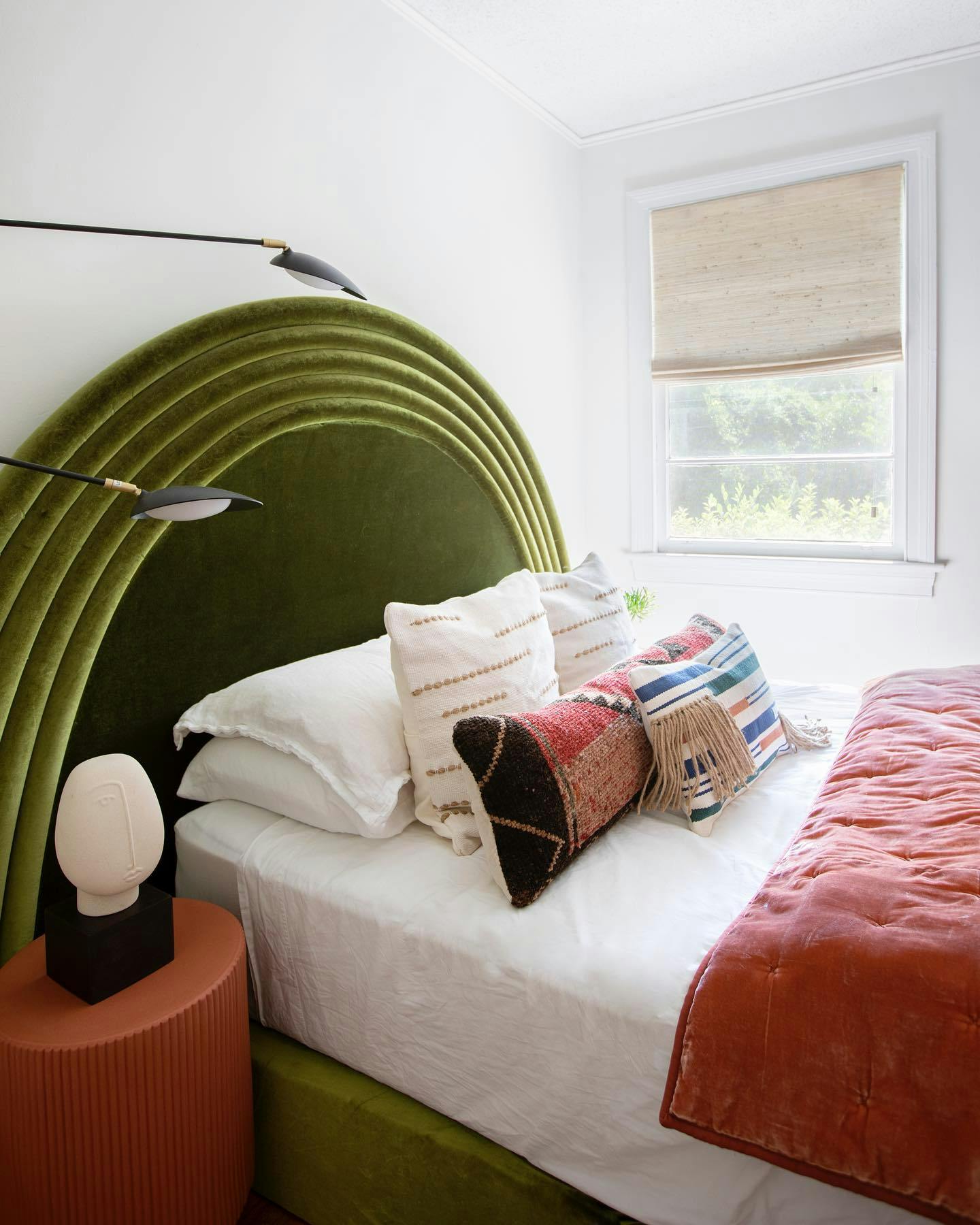 Photo via Margaret Wright. Featuring Woven Wood Shades in Bonaire Flaxen.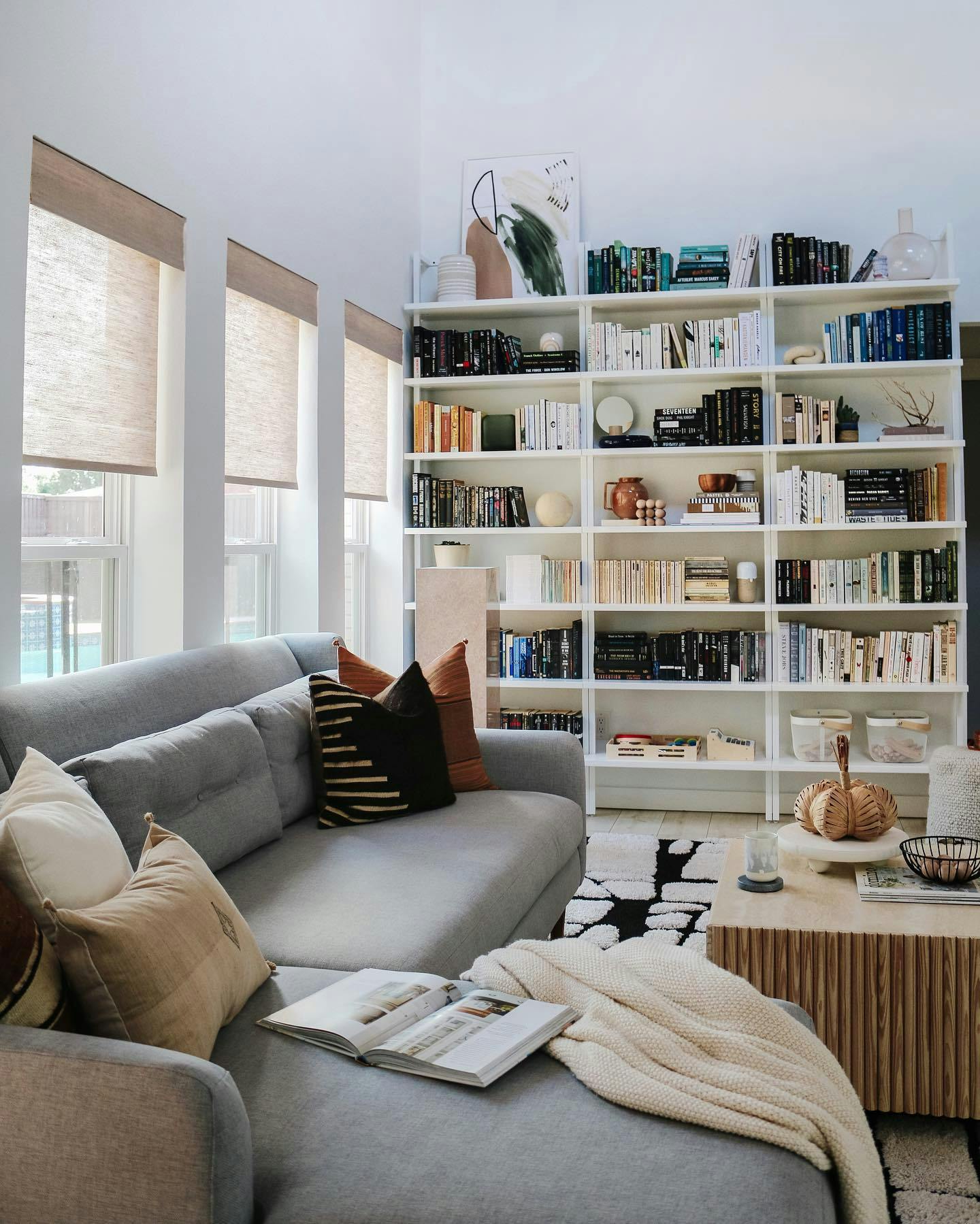 Photo via Perkins on Parkway. Featuring Premium Woven Roller Shades in Samoa Natural.
Many shoppers are also straying from natural colors for minimal white woven shades.
Photo via steele.eclectic.farmhouse. Featuring Blinds.com Premium Woven Wood Shades in Ashby Mist.
Grey woven materials are also a popular choice that gives shades a modern feel vs earthy and textural.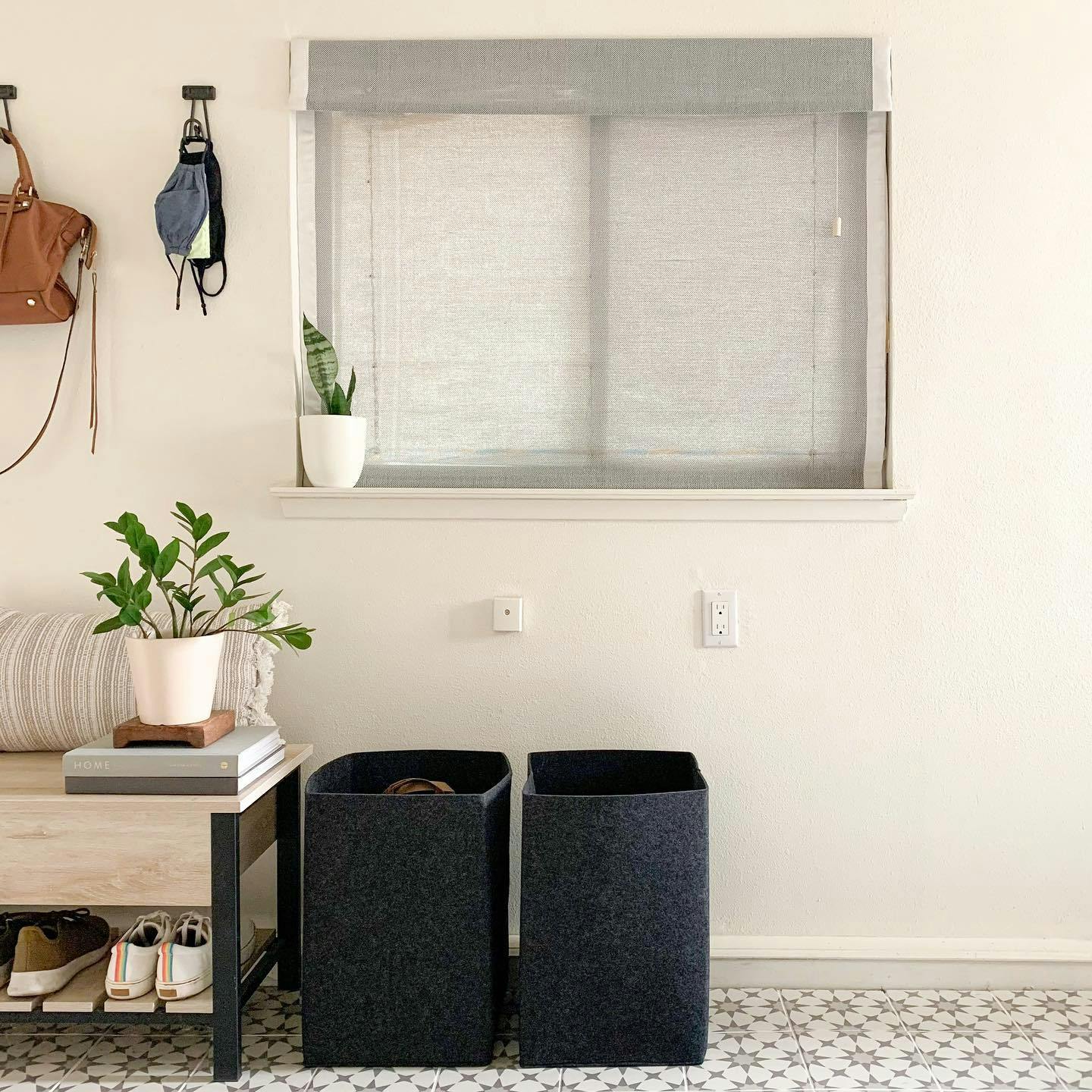 Photo via pionierehome. Featuring Woven Wood Shades in Hana Platinum.
Volume and Trimmings Take Roman Shades Over The Top
With the resurgence of traditional and granny-core styles, homes are increasingly being filled with mixed fabrics and patterns in the form of upholstered furniture, wallpaper, tasseled pillows, pleated lampshades, and of course, voluminous window treatments.
The gaudy, swagged drapes and shades that were popular in the 80s and 90s are getting a paired-down new interpretation for 2022. To add a nod to the traditional, homeowners are opting for a relaxed fold, which gives the roman shades a gentle curve.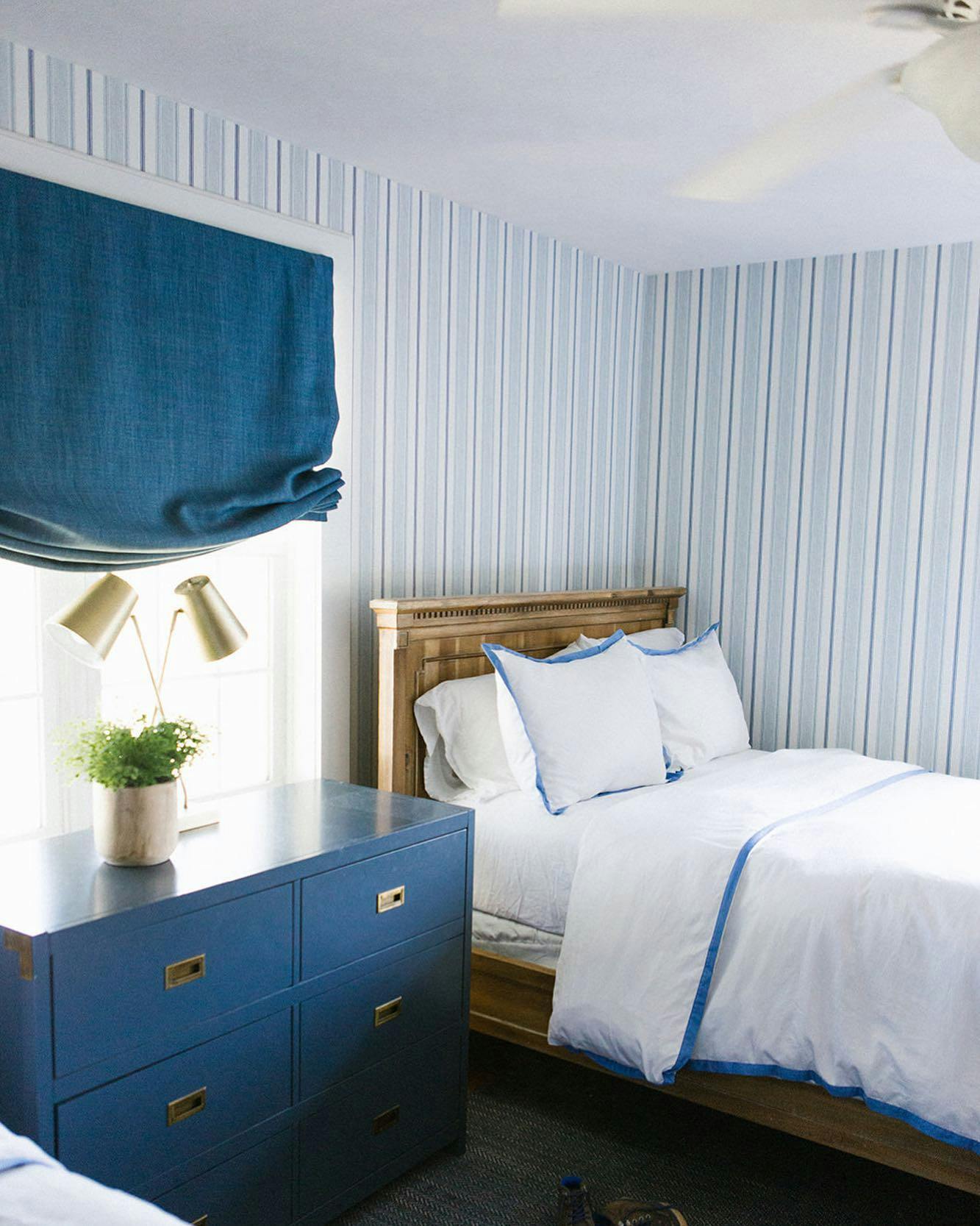 Photo via @margaretofyork, featuring Premier Roman Shades in Linen Opaque Blueberry with Relaxed Fold.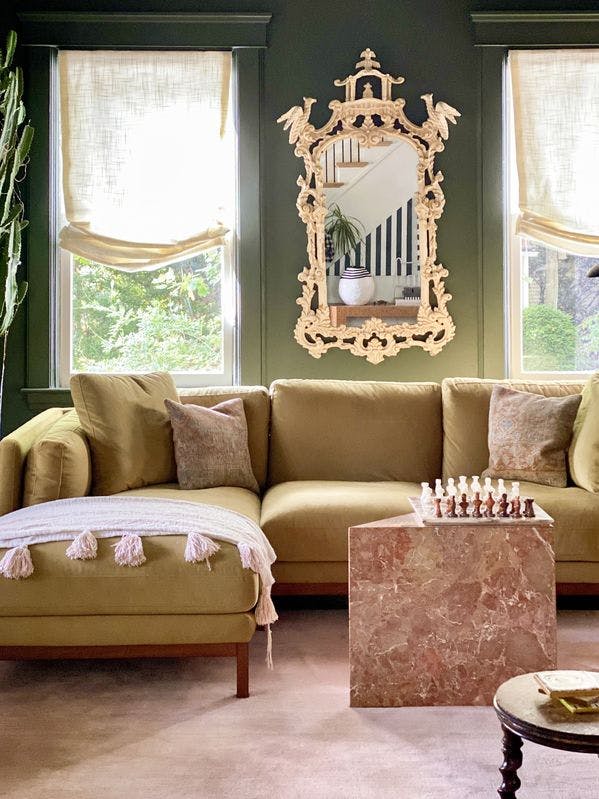 Photo via @katepearcevintage, featuring Premium Roman Shades in Somerset Opaline with Relaxed Fold.
Another way to give Roman Shades a traditional feel is with inset or edge banding. With this custom option, a contrasting fabric or ribbon is added a few inches inside the shade or along the edge. This look brings a bit more definition to shades and hearkens back to formal decor styles of decades past.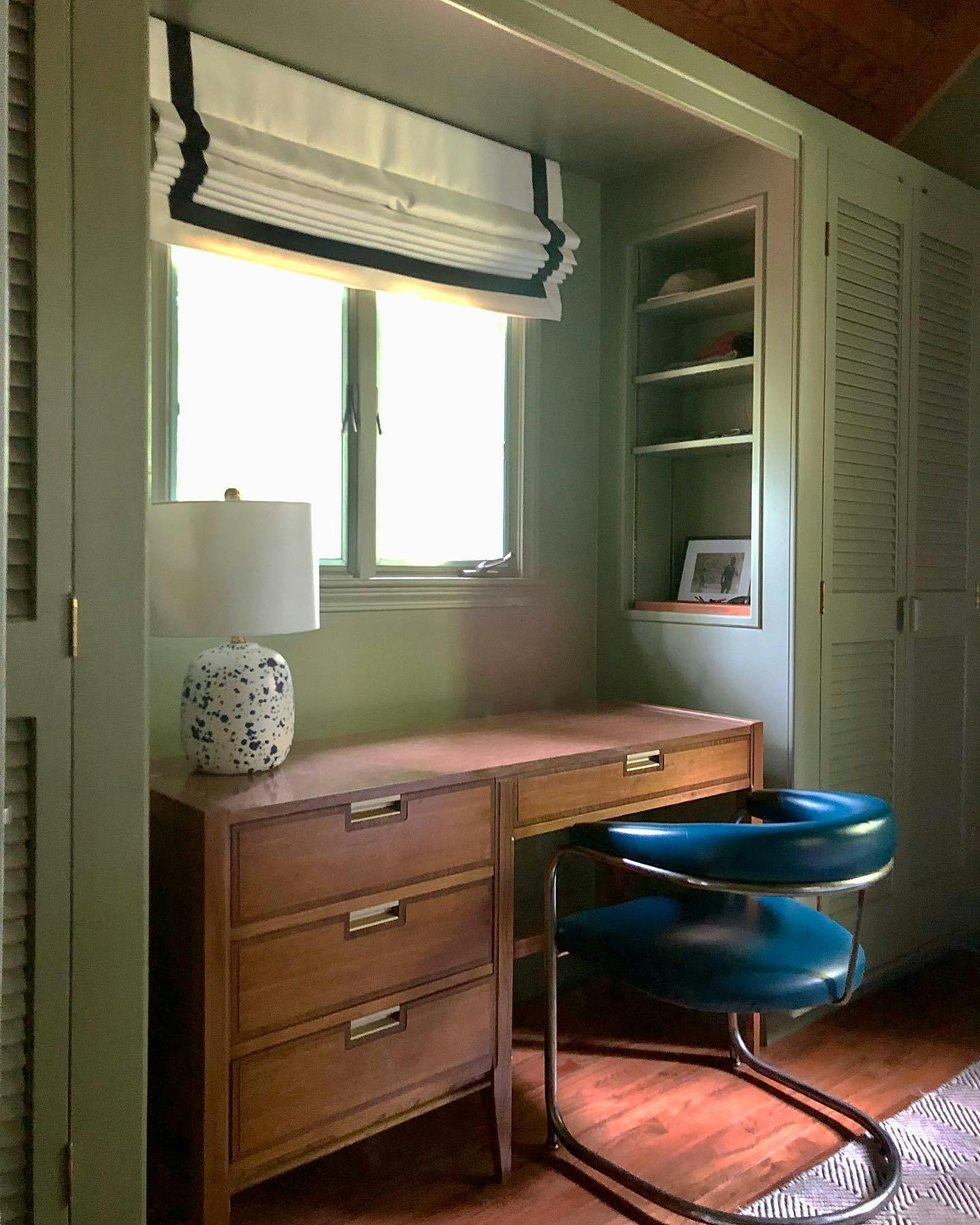 Photo via @fern_gully_mi, featuring Premium Roman Shades in Uma Off White with Inset Banding in Midnight.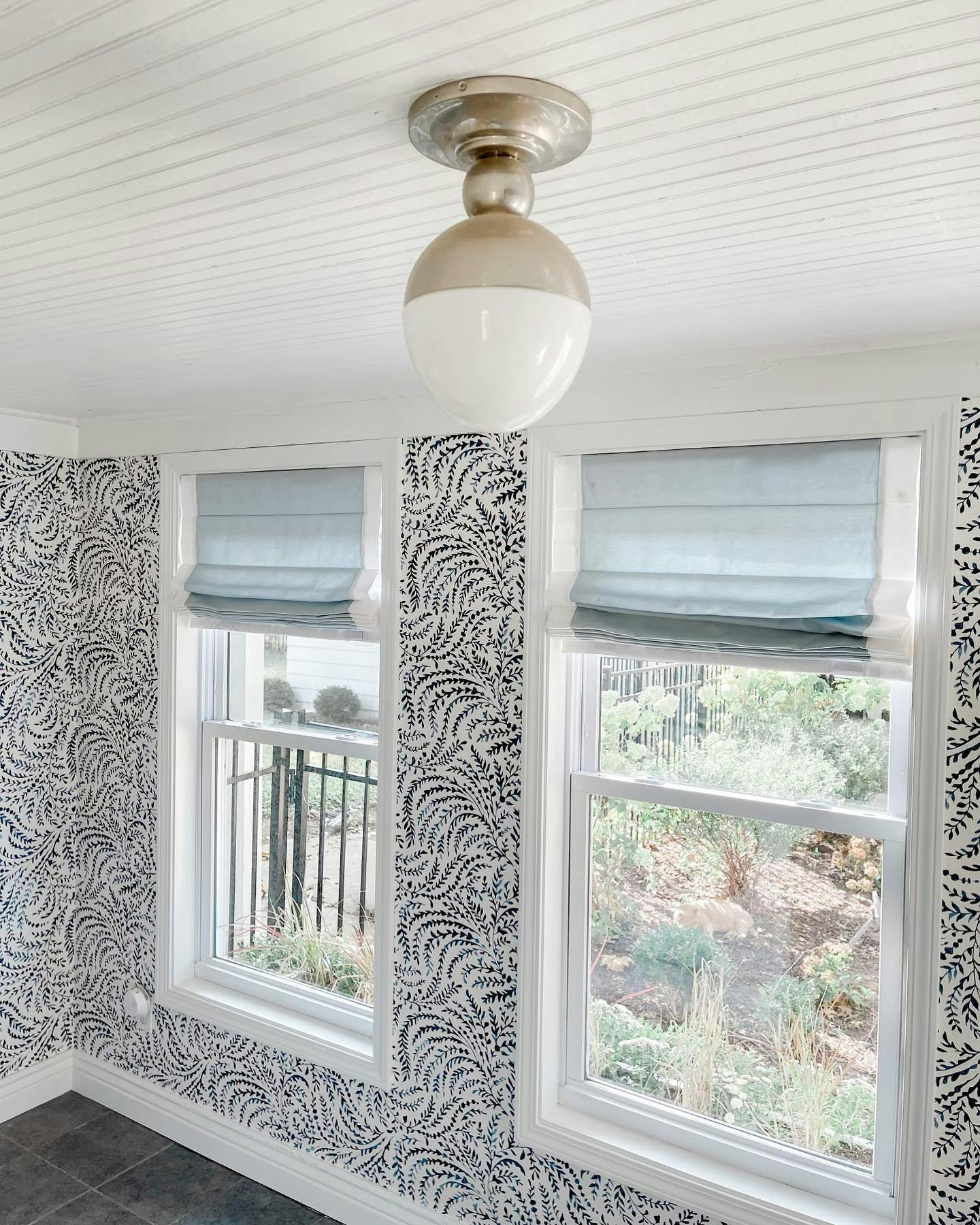 Photo via @margaretofyork, featuring Blinds.com Roman Shades in Sorrento Mica with banding in Sorrento Camelia.
Sheer, Pleated Curtains Aren't Just for Grandma's House
Just as the traditional, fabric-everywhere look is bringing roman shades back to the forefront, layered and pleated curtains are also seeing an increase in popularity. However, this look has a streamlined feel for 2022 with mostly solid fabrics, instead of the loud burgundy florals of the 1980s.
Layering opaque and sheer pleated curtains will give your room a cozy and inviting feel, plus on the practical side, you can adjust the layers to let in filtered light or block it out.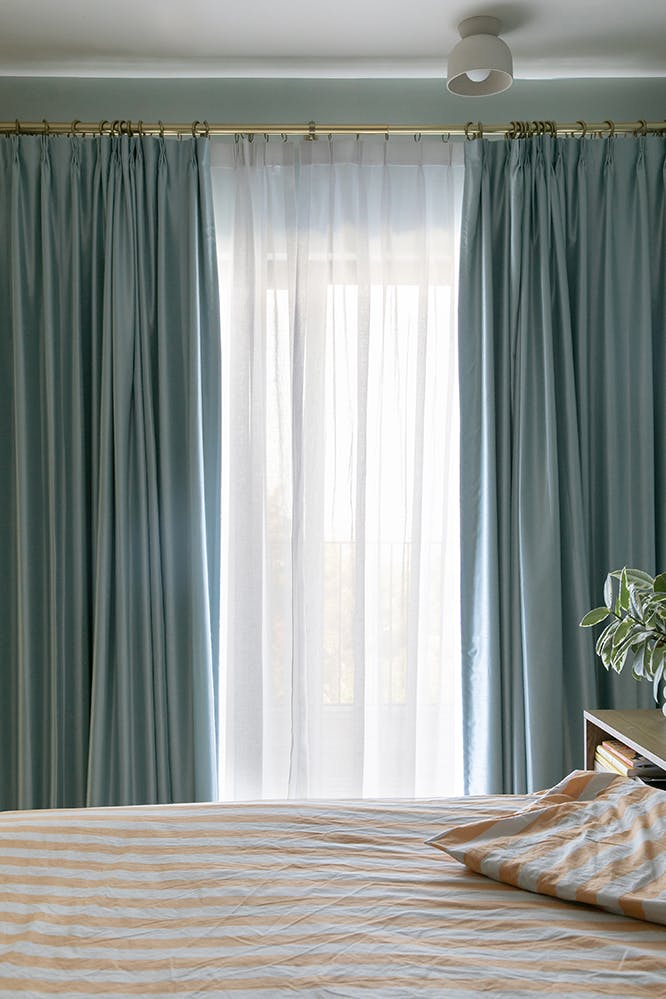 Photo via Oh Joy! Featuring French Pleat Drapery in Celene Ivory (sheer) and Easy Classic Pleat Draperies in Helena Ice (grey).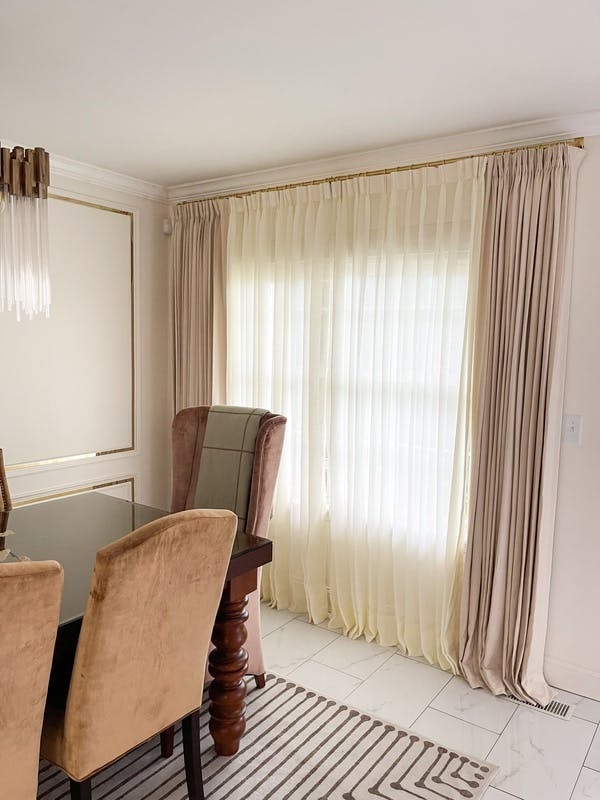 Photo via Maricela Lopez Design. Featuring French Pleat Draperies in Celine Alabaster and Easy Classic Pleat Drapery in Gent Vanilla.
Photo via City Sage. Featuring Easy Classic Pleat Draperies in Gent Bisque and French Pleat Drapery in Celine Ivory.
Modern Spaces Call for Clean-Lined Window Treatments
On the flip side of more-is-more traditional decor, we see many embracing the minimalism of Japandi style. This blend of Japanese and Scandinavian simplicity is embodied by homes with sparse furnishings, handcrafted pieces and a neutral color palette.
Roman Shades with clean lines and slightly nubby fabrics are the perfect match for Japandi homes. For more inspiration, see our top picks for burlap and beige linen Roman Shades.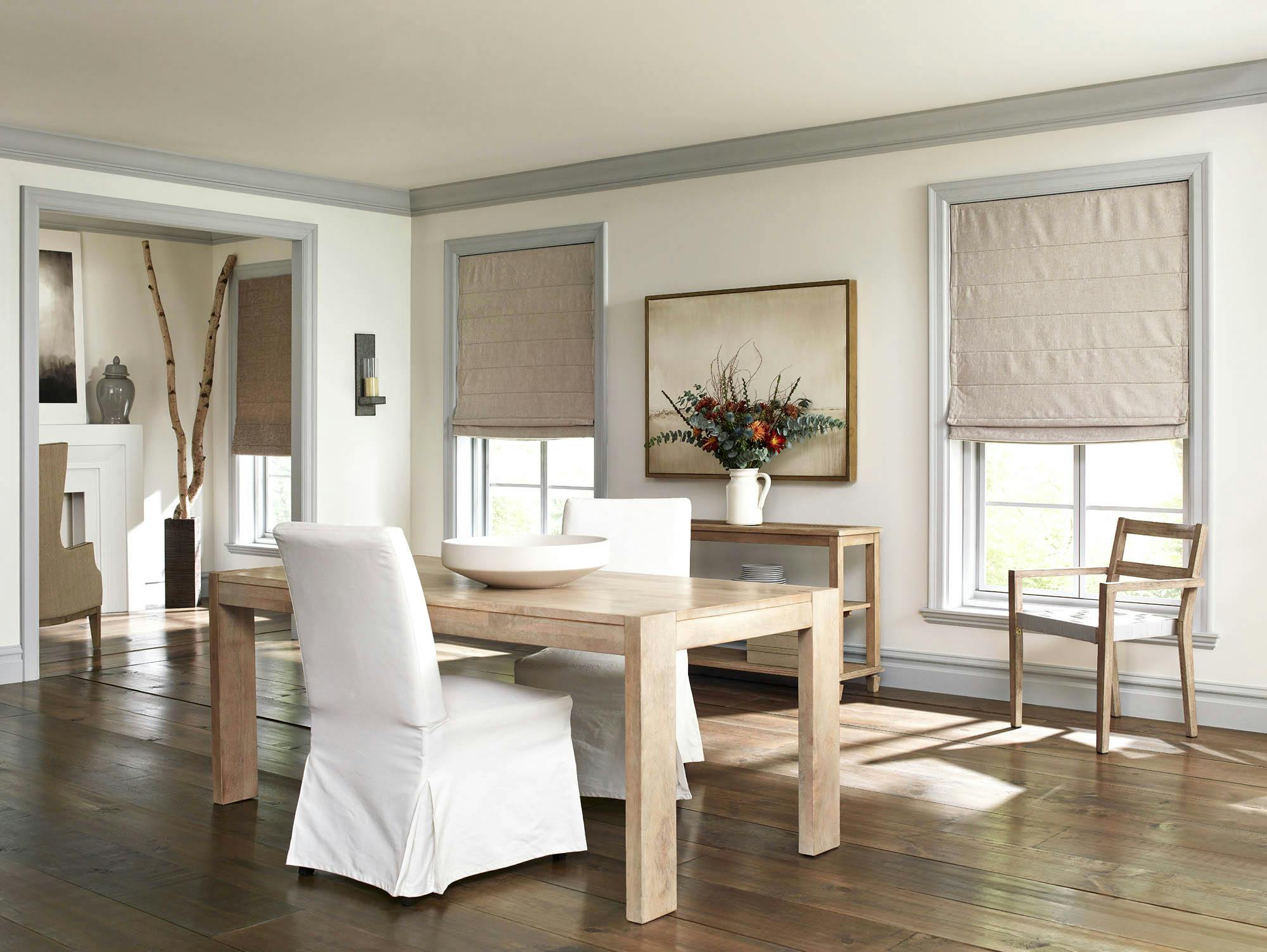 Featuring SouthSeas Roman Roller Shades in Chenille Flagstone.
We're also seeing an increase in white roman shades for a barely-there, minimalist look.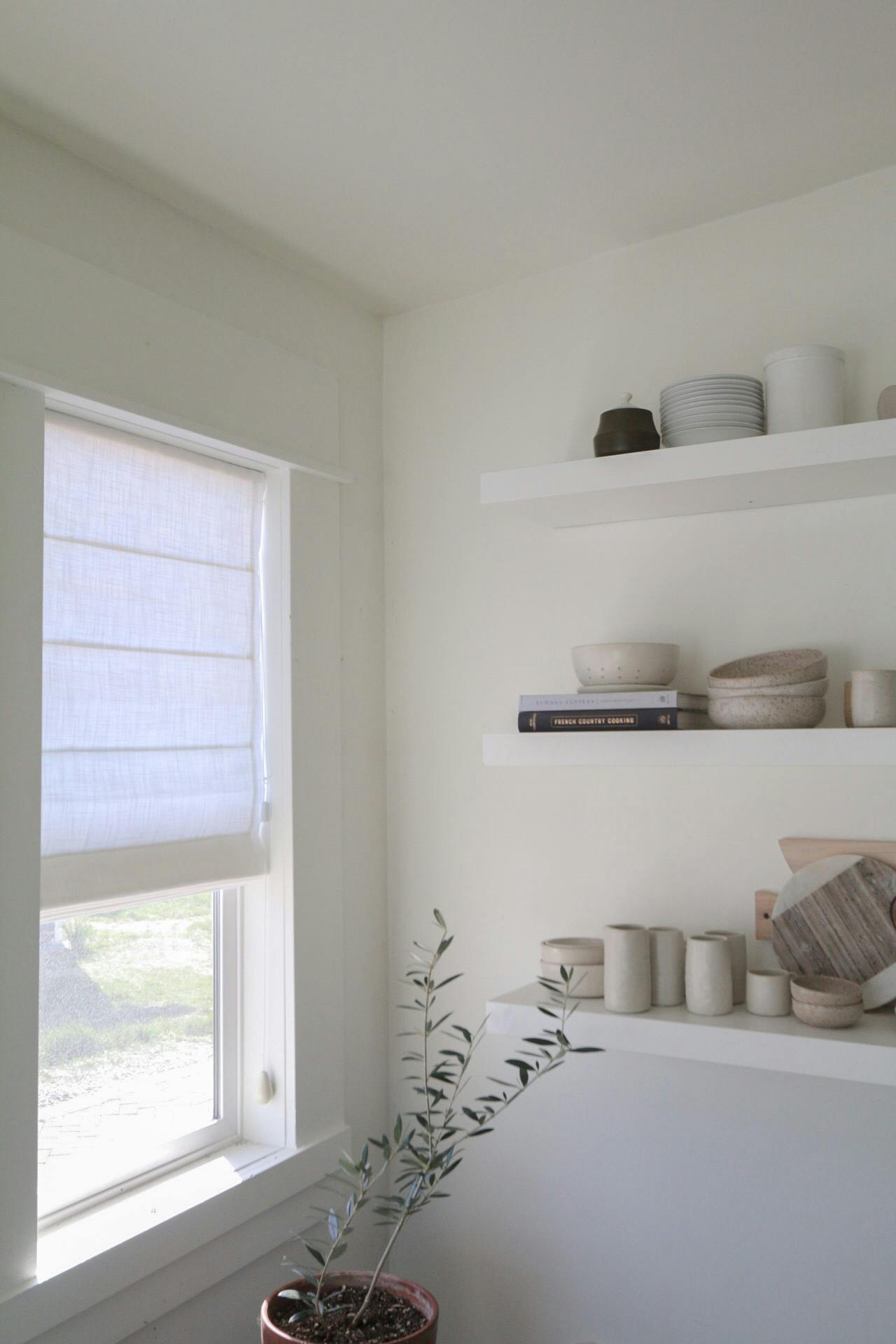 Photo via thimbleandcloth. Featuring Premier Roman Shades in Shannon White Flint.
Similarly, white cellular shades with their crisp pleats give a soft glow to neutral spaces.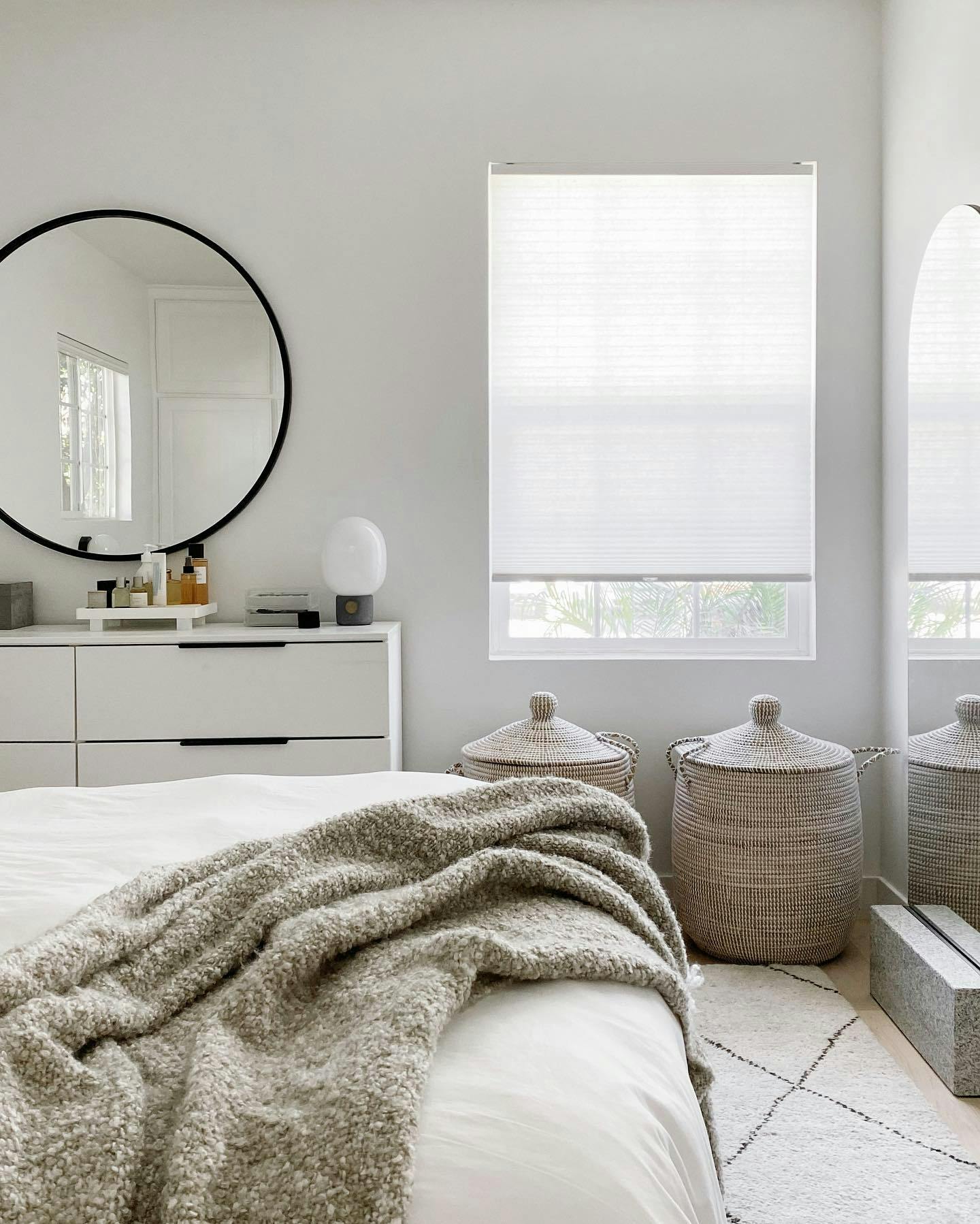 Photo via Homeyohmy. Featuring SimplyEco Cordless Light Filtering Cellular Shade in White.
The simple construction of roller shades will always be a good match for simplistic spaces. Add a motorized lift for an even more high-end feel.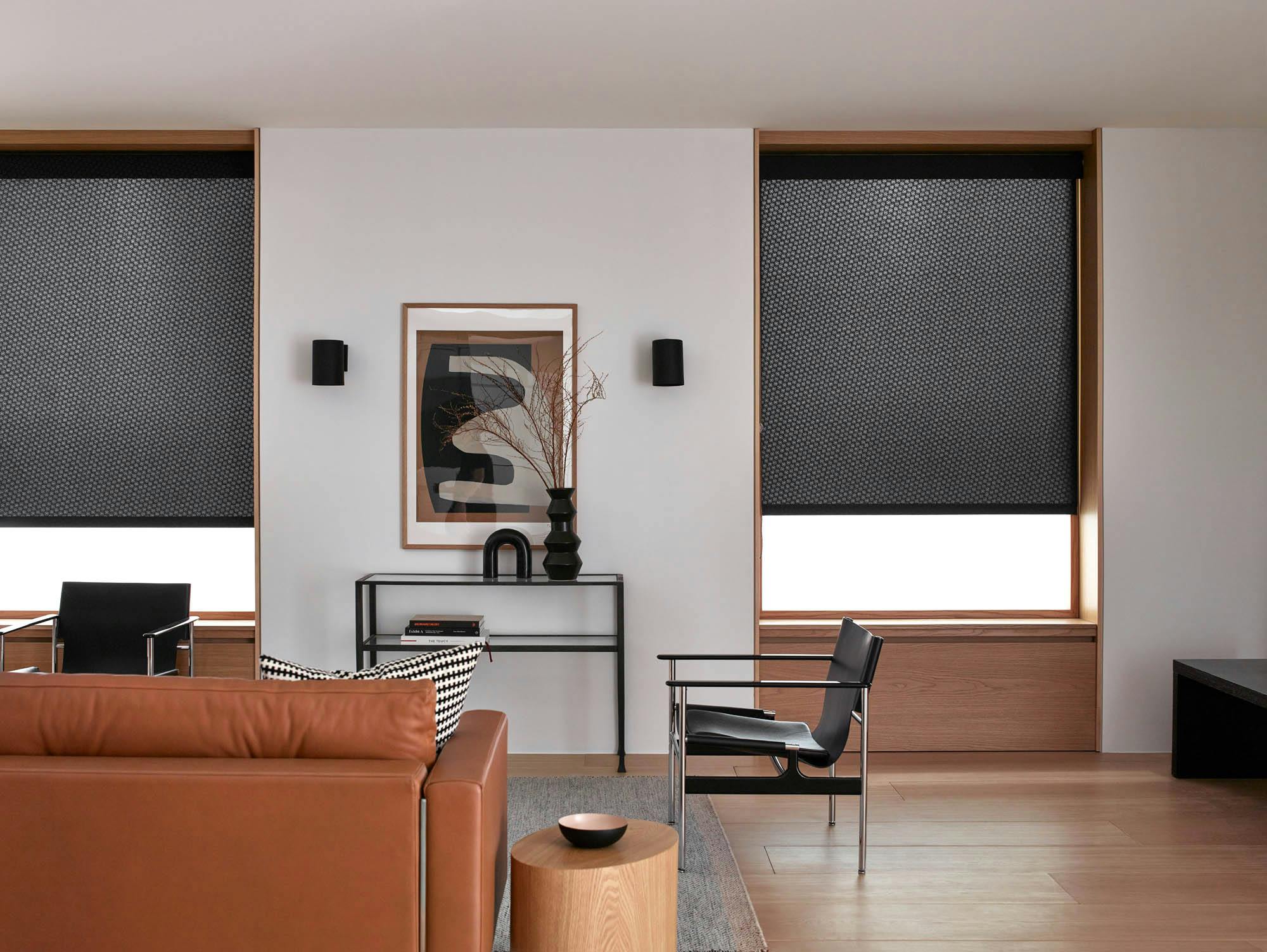 Featuring Blinds.com Premium Light Filtering Roller Shades in Makino Night.
Many are also opting for more cutting-edge window covering styles like zebra shades. This innovative window treatment is made with striped opaque and sheer fabric that can be rolled down for overlapped privacy or to let light in.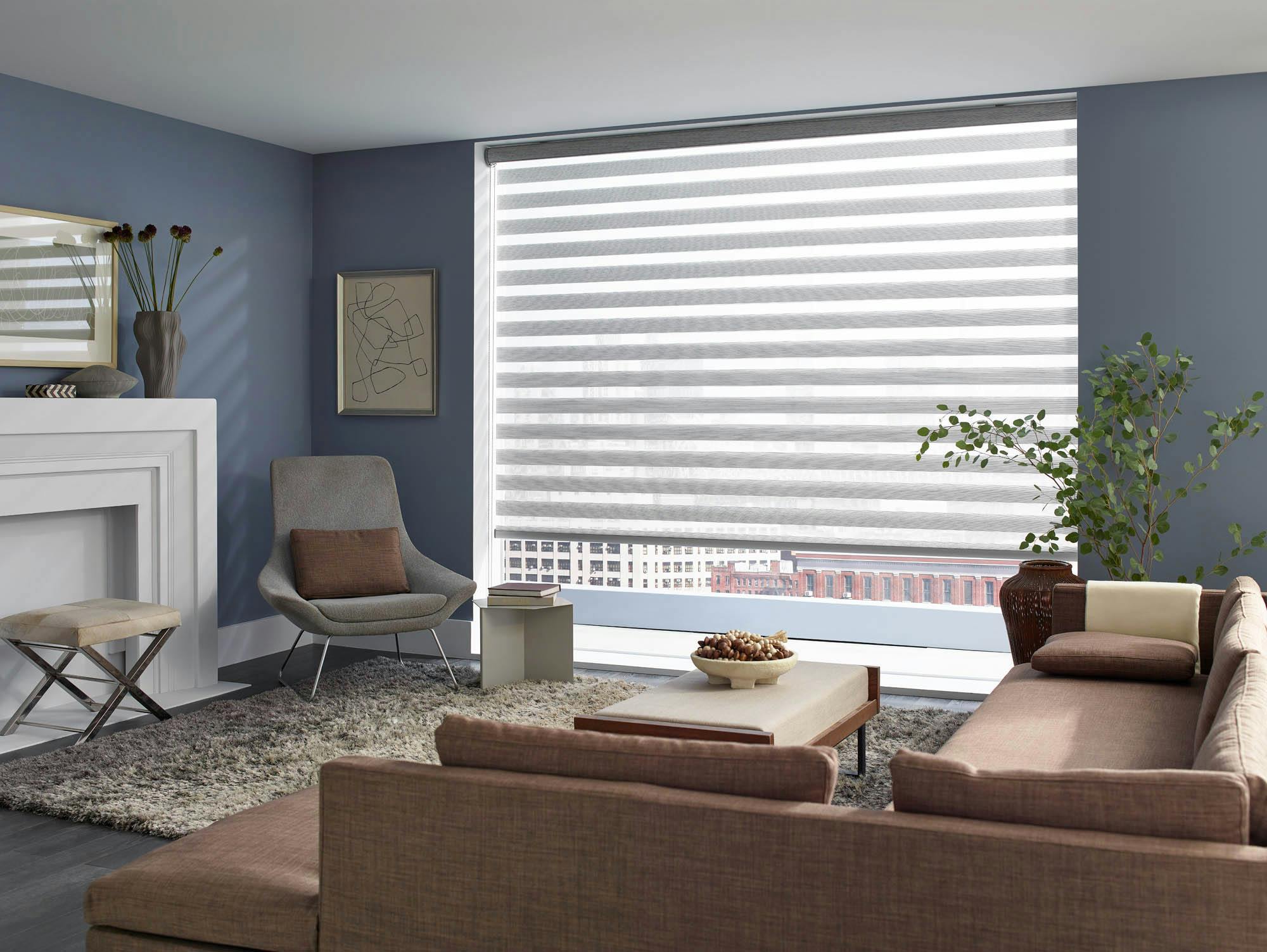 Featuring Blinds.com Premium Zebra Shades in Skyline Burchell.
Blend In With Monochrome Shades
Another trending decor technique is to paint walls, trim and ceilings all one color for an enveloping feel. Adding matching window treatments help take the monochrome look to the next level. Roman Shades and Roller Shades are available in hundreds of fabrics, so it's easy to find a coordinating color for your space.
Photo via Oh Joy! Featuring Premium Roman Shades in Luxe Velvet Lapis.
Even More Window Covering Trends on the Horizon
We couldn't stop with these style trends, so here are a few more up and coming looks to keep an eye out for in 2022. While warmer wood tones like cherry and golden oak were once a major faux pas, many are embracing these finishes again for furniture, cabinetry and flooring. We're seeing a similar uptick in these red/orange tones for wood blinds and shutters.
In line with the cheeky, old fashioned cottagecore trend, we're seeing more homeowners use cafe curtains or cafe shutters that only cover the lower half of windows. Work with a Blinds.com designer (get free design help at 800-505-1905) or simply order your curtains or shutters in a shorter height to get this charming look.
Despite Pantone picking Very Peri as the 2022 color of the year, the decor world has firmly planted its flag with green as the it-color for this year. We firmly agree that green should be seen as a neutral, and think soft sage or bold emerald shades would look lovely in almost any window.
Want To Keep the Decor Inspo Going?
See all of our decor predictions in this post: 7 Decor Trends You're Going To See Everywhere in 2022