This is a week of Q&A, it seems like! Your questions have been pouring in, and I'm going to answer as many of them as possible. Many of you asked about home gyms, so on to the problem solving!

Q: We have an exercise room with a shower
and sauna and a large window.  We want a
shade for privacy but want natural light to come through.  What type of shade do you recommend?
-Melissa
A: Fitness rooms, like bathrooms,
have certain constraints. Your case is especially unique, because the steam
from the sauna will create a lot more moisture than a typical at-home gym.

The two most important things to avoid? Anything made from
cotton or fabric that will mildew, and anything made from real wood. Even for
those of you who don't have a shower or sauna right there inside of your home
gym, working up a sweat over the years will damage your window treatments. They
will be very difficult – if not impossible – to clean, and you'll have to get
new ones much quicker than you normally would. Real wood will warp and sag over time if exposed to high levels of moisture. Unless you are sure that all
you'll be doing is practicing breathing in the downward dog position, stay away
from fabrics and real wood.
The best shade to use in your case is a light
filtering roller shade. Bottom line: this shade will do exactly what you want it to do. Made with plastics and very little metal hardware, which can rust over time,
these shades have the ability to filter light and give you the amount of
privacy you need. I highly recommend the Blinds.com Premium Light
Filtering Shade. Although it is a premium product, it's super affordable. They're
not very noticeable if you choose a neutral color, and they'll last for ages.
They're easy to lift up and down, and will even save you on energy costs by
allowing you to utilize daylight to brighten the room. The added bonus is if
you have a television in your home gym, it will reduce the glare so you can
actually see the screen. Blinds.com Brand also offers the Signature Roller Shades, which are available in different textures and materials. If you have a
more rustic style, you might consider them, just make sure you choose something
semi-opaque.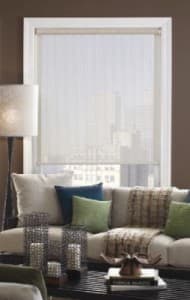 If you're willing to go for a product with slats, I'd
recommend a poly satin or fauxwood shutter.
Highly durable, long-lasting, and great looking, you'll get a great return on
your investment in these. They're a customer favorite. They'll probably hold up best in the long run of any
product you put in your windows. They're like furniture for your windows.

Enjoy staying in shape in that gym, it sounds like a dream
come true! Who wouldn't want to catch a steam at the end of the day?
Send us pictures!
Happy decorating,