Every year as summer begins to roll around there's one window treatment that flies off the proverbial shelves: Solar shades. As these shades surge in popularity (along with the rising temperatures), many shoppers are asking really great questions on how these can help with their window woes. How can I block the sun without losing my view? Can solar shades help insulate my windows? How do I stop my shades from being blown around? What do the solar shade percents mean?
We've gathered up our most frequently asked solar shade questions (and answers!) to help you decide if solar shades are right for you.
1. What Are Solar Shades?
Solar shades are very similar to roller shades, the only difference is the type of material they are made from. Solar shades are made with a PVC or HDPE mesh while roller shades are typically vinyl or fabric. The perforations or holes allow you to see through a solar shade while also blocking some light or sun.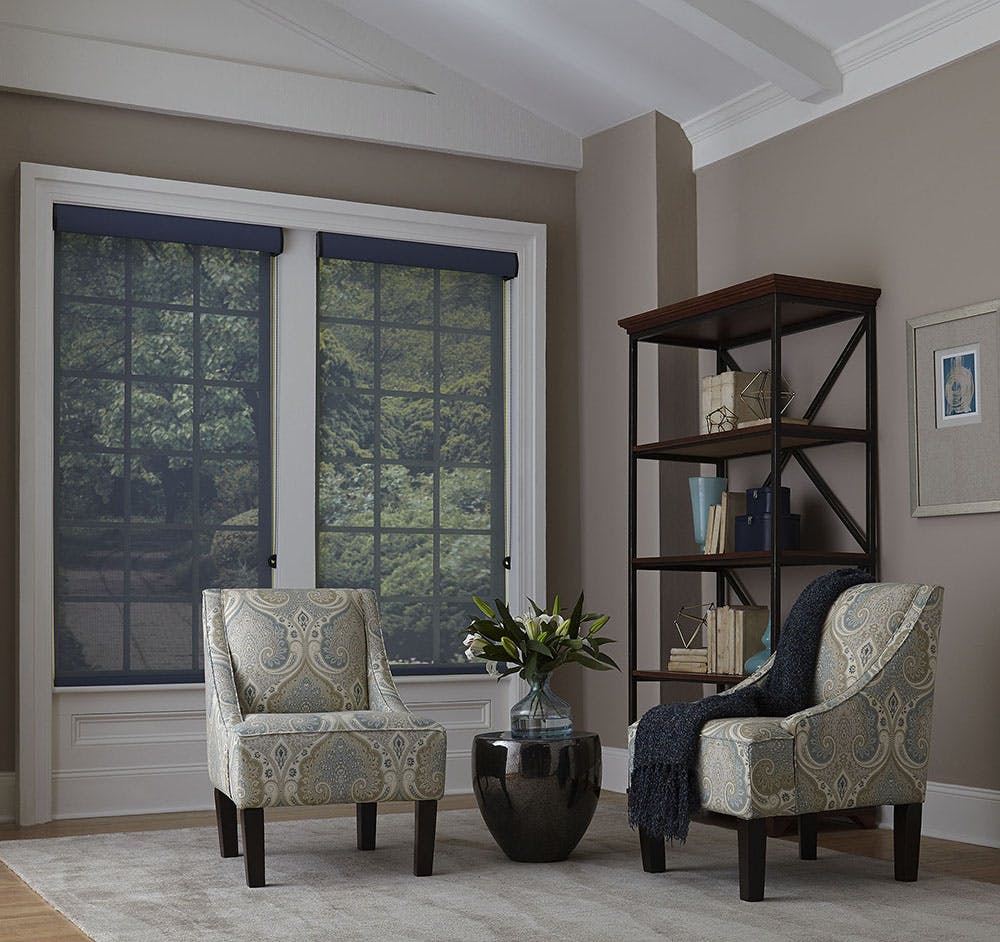 Pictured: Blinds.com Solar Roller Shade in Carousel 5% Charcoal.
2. Are Solar Shades See Through?
Yes, solar shades can be see-through. The amount you can see through them will vary depending on the fabric's openness percentage. The smaller the percentage, the less you can see through them and the less light they allow in.
Can you see through solar shades at night too? Yes. If you have a light on inside and near the shade, people outside may be able to see in through your solar shade. As much as you can see out during the day, you'll be able to see in at night. So if complete privacy is a big concern of yours, we recommend a light filtering or a blackout roller shade instead.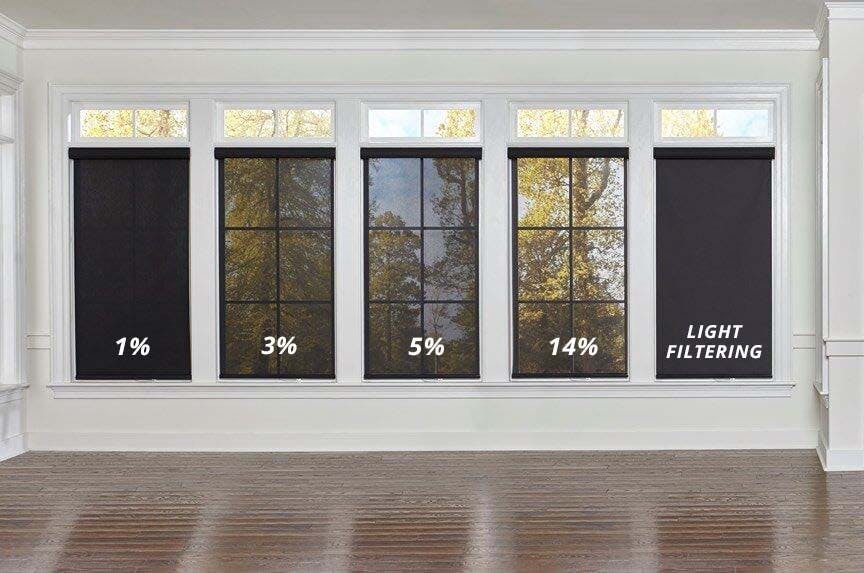 3. Do Solar Shades Keep Heat and Cold Out?
Solar shades can help reduce heat in a window, but they will not block cold. They reduce heat by blocking the amount of sunlight coming into a space, and making the windows more energy efficient. This heat reduction can help you save money on energy costs during the hot summer months.
However, the holes in the woven fabric do not allow for the shade to insulate against the cold. For a window treatment that blocks drafts and cold outside temperatures, check out cellular shades.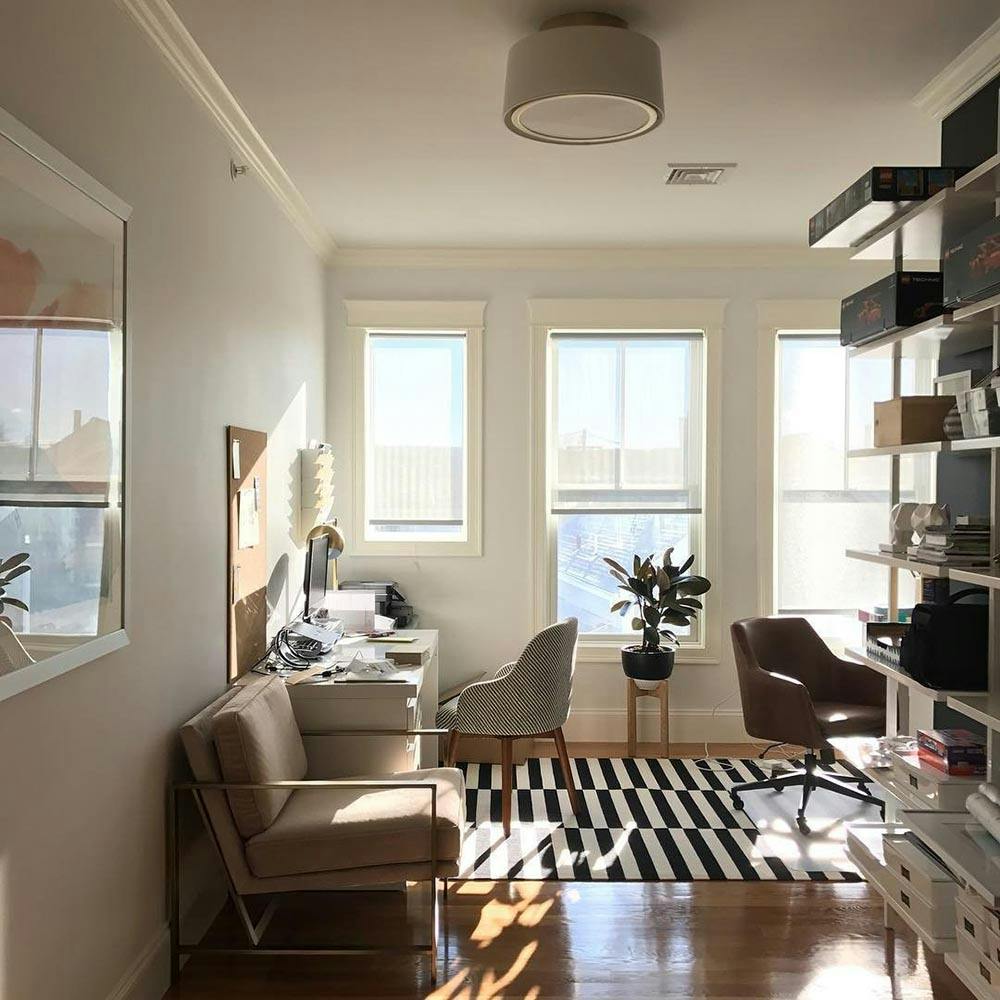 Pictured: Blinds.com Solar Shades in Sheerweave 14% Pale Gray. Photo via @vickielingjie.
4. Do Solar Shades Stop Furniture From Fading?
UV rays can cause fabrics to bleach over time as it breaks down the chemical bonds in the dyes. They can also cause textiles to become brittle and break. Solar shades can help protect your furniture from fading by reducing the UV rays coming through your window. Think of them as SPF for your furniture!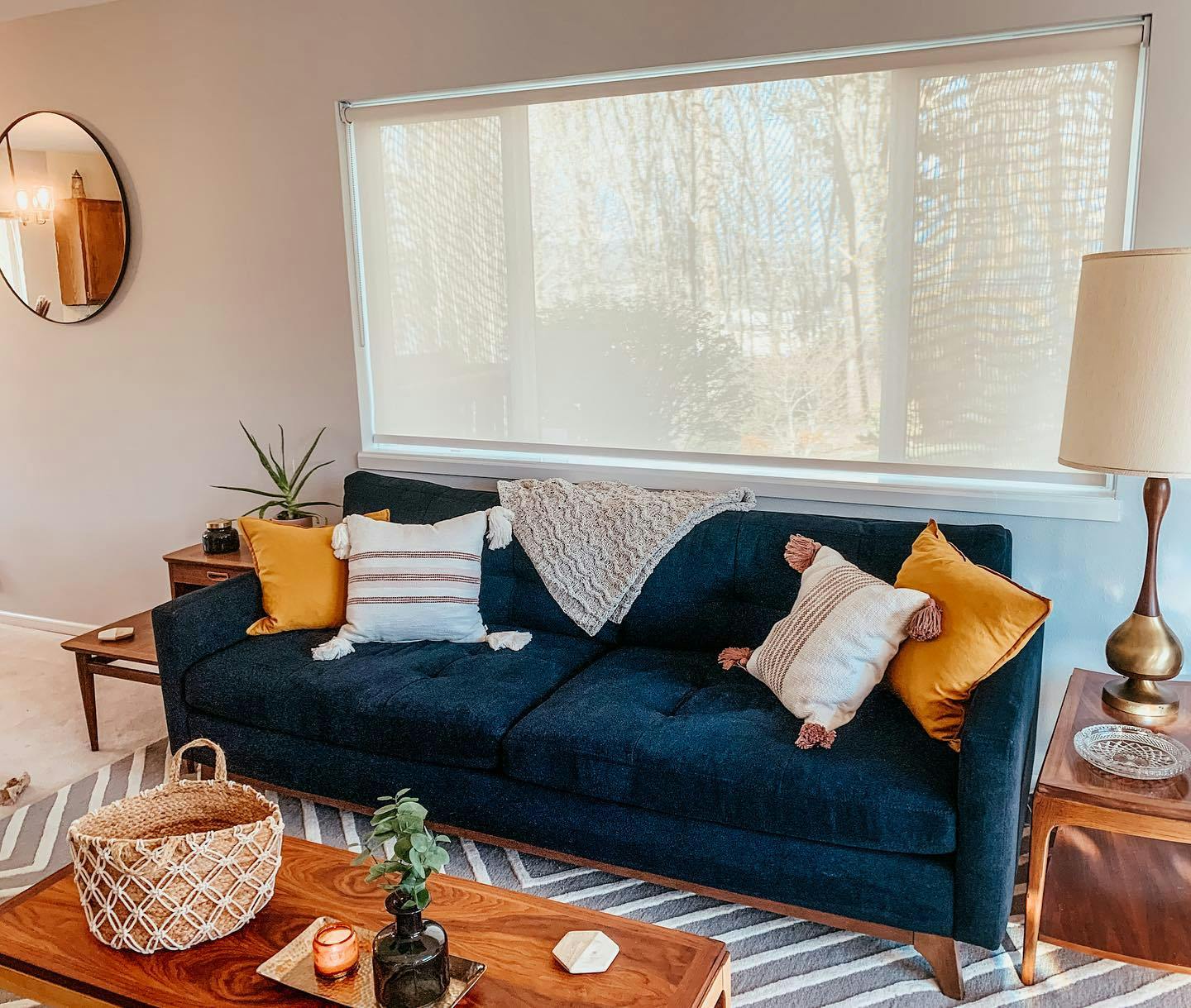 Pictured: Levolor Roller Solar Shade in 5% White. Photo via @savor_nw.
5. Can Solar Shades Be Ceiling Mounted?
Most solar shades can be ceiling mounted (where the brackets are installed onto the ceiling instead of a wall of window frame). Often, the installation brackets that are included are considered universal. This means they can be installed in multiple different ways, simply by rotating the bracket or using different screw holes in the bracket.
When planning for a ceiling mount, consider what kind of surface you'll be installing the shade on. Wood screws are automatically provided. But if you're installing on any other surface, you may need to supply your own alternatives such as drywall anchors, metal or masonry screws. You can also view all installation guides prior to finalizing your order.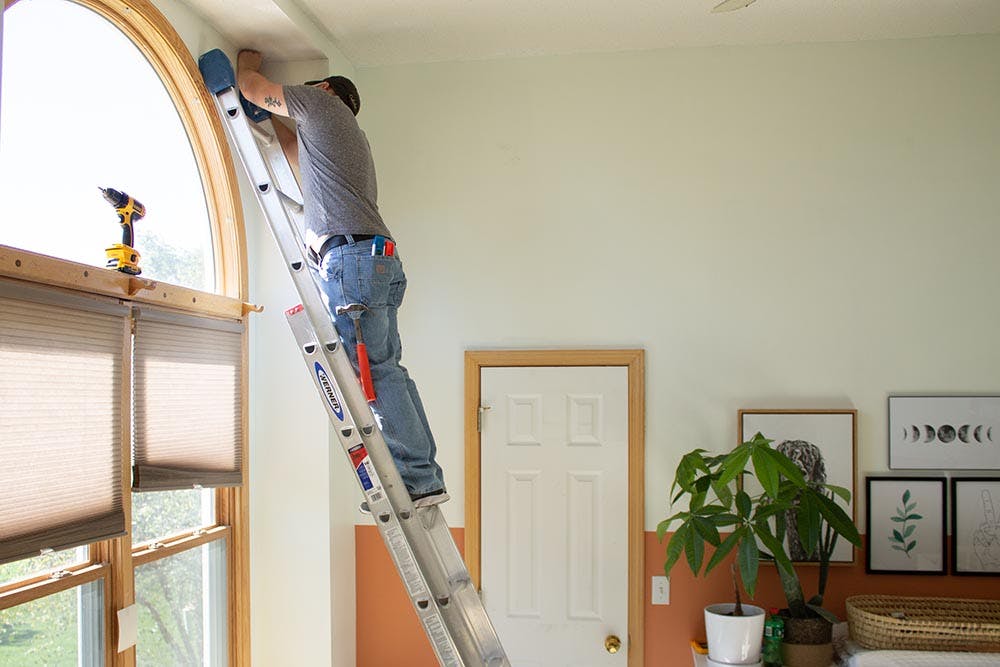 6. How Do You Stop Solar Shades From Blowing Around?
Solar shades that hang over a door (or an open window) may flap around if not secured. This can be easily fixed by installing hold down brackets at the bottom of the window or door. These brackets are usually a small piece of plastic or metal that hooks or latches into the bottom rail of a shade to anchor it. Many shades will automatically include these brackets in the install package for outside mounted shades. But always check your shade's specifications before finalizing your order.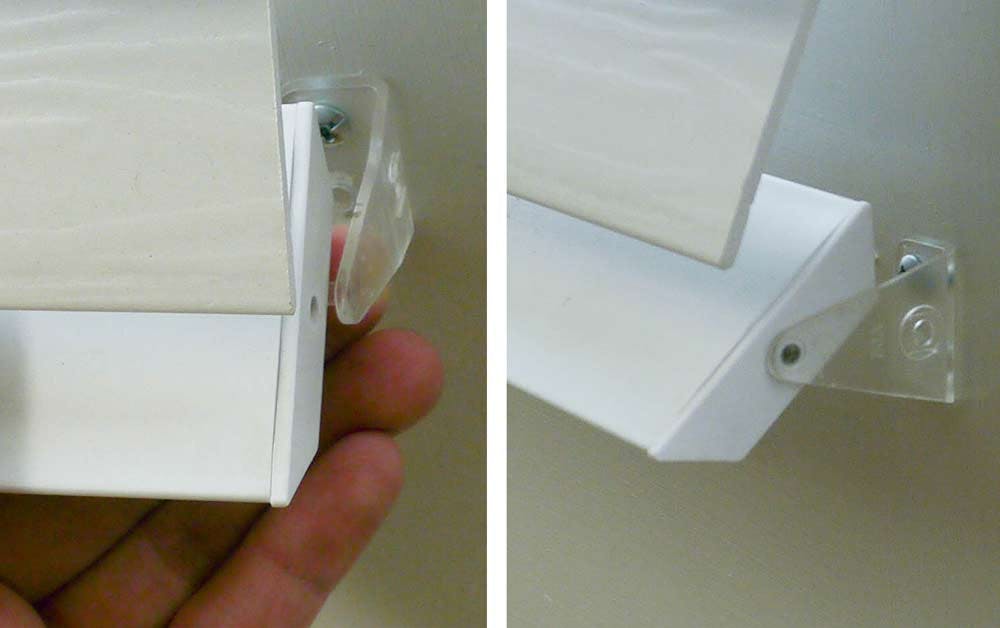 7. Can Solar Shades Be Installed On Doors?
Yes, solar shades can be a great option for french doors. We recommend using a hold down bracket at the bottom of the shade to stop it from swinging around as the door is opened and closed. This hold down is usually a metal or plastic clip that hooks into holes on each side of a solar shade's bottom rail.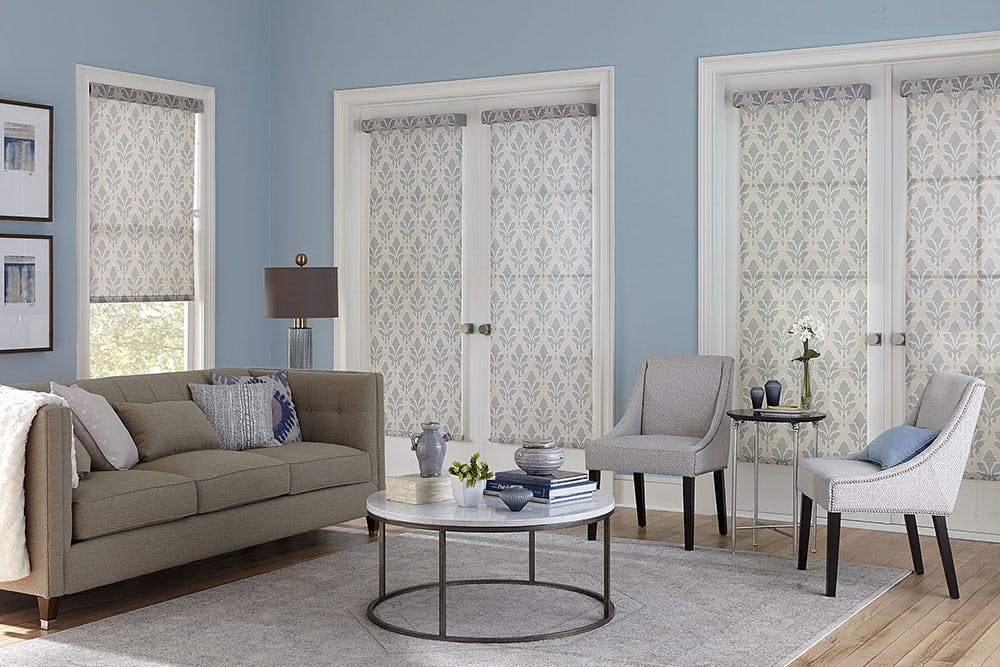 Pictured: Blinds.com Solar Roller Shade in Majesty Pewter 5%.
For sliding glass doors or doorwalls, look for a Solar Sliding Panel. These panels move side to side, just like a sliding glass door. They are much easier to operate than a regular solar shade since you don't have to fully raise them to pass through the door. However they have a large "stack width" when fully opened, meaning they will block some of your window or door unless ordered wider.
Consult with one of our designers for help ordering so that your stack width clears the window or door opening: 844-551-3769.
8. Can Solar Shades Be Installed Outdoors?
There are two types of solar shades: Interior and Exterior. While they both function similarly, only exterior shades are designed to stand up against the elements outdoors. For more details on exterior shades, check out this blog.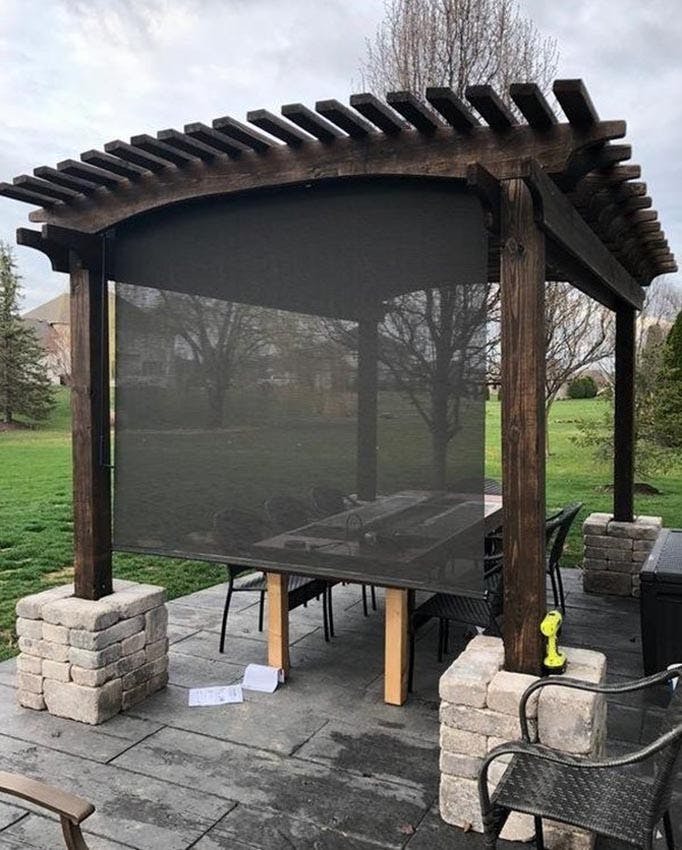 Pictured:Blinds.com Heavy Duty Outdoor Solar Shade in Kona 10%.
9. How Do You Clean Solar Shades?
Solar shades are some of the easiest window treatments to keep clean. You can use the brush attachment on your vacuum hose to lightly dust them. For dirt and grime, you can use a soft cloth and mild dish soap diluted in water. Do not submerge the solar shades in water as this can damage the mechanisms and void your warranty.
Need Help?
Have more sola shade questions or need help with your window project? Our Design Center is here for you and their help is complementary! Give us a call: 844-551-3769.
Read More: