You're tuning into to another 'Window FAQ' post from Mindy, a fabulous Customer Service Representative here at Blinds.com. Have a window covering question you'd like help with? Leave a comment below!
Tips on Patio Doors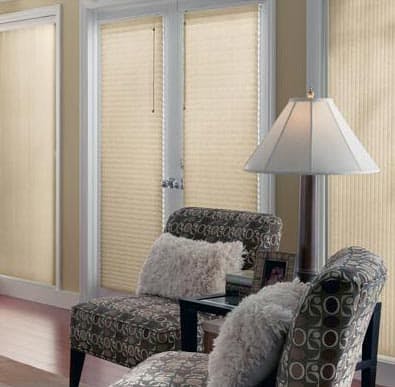 Patio doors provide homes with access to fresh air and the beautiful outdoors.  And, since they are the focal point in any room, you of course want the perfect window coverings!
Today, we have created a few patio door tips that we think will help with your next purchase – enjoy!
There are two kinds of patio doors: French doors and Sliding Glass Windows
French Doors
Cell shades are the perfect option for French doors.  Their low profile design prevents the shades from sticking out too far on the window, unlike perhaps a Roman Shade or a Wood/Faux Wood blind.   Roman Shades and Wood / Faux Wood Blinds have bulkier builds, and therefore, are less appealing to the eye.  Something low profile, like a cell shade, is typically just a more clean design.   Cell shades are also lightweight and can more easily get out of the way (they also pack very tight when raised).   Plus, a low profile product will allow you to fully swing your doors back almost a full 180 degrees – now that's a view!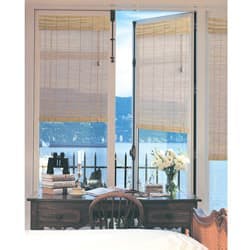 Here are some measuring tips for your French Doors:
When measuring width, add maybe a ½" to the glass measurement.  Make sure you do not interfere with the handle – overlap with good reason.  If you have trim or nose molding, you will want to measure from outside trim to outside trim and then provide the exact width.
When measuring height, add a couple inches to the height.  This will allow the fabric on your shade to actually stack and clear the window giving you more of a view out.
If you want to add hold downs to your purchase, be sure to add about 3" total to the height – this will keep the blind secure.
Sliding Glass Doors
There are numerous styles of Vertical Blinds out there – and all of them are great options for your Sliding Glass Doors!   What is the key in finding the perfect vertical blind?  Find one that will install over your window, but will also get out of the way of the glass and the view.
A few other tips to look out for are:
How high or low is the profile of your carpet?  This will take into account the height ordered for your vertical vanes.
What is the vertical stack of the product?  This will be important in regards to how much view you want once the verticals are drawn either right or left.
Need More Help?
Of course don't hesitate to call in to speak with one of our versed Design Consultants if you have questions.  They can be reached M-F 7am-9pm CST and Sat-Sun 9am-5pm CST time 800.505.1905.  There is no charge to place an order or just consult over the phone!