What is a Picture Window?
A picture window is a non-operable window that is often larger than average. Many picture windows extend nearly floor to ceiling or can even cover an entire wall with glass. Because they don't open, these windows are best for spaces that don't need ventilation.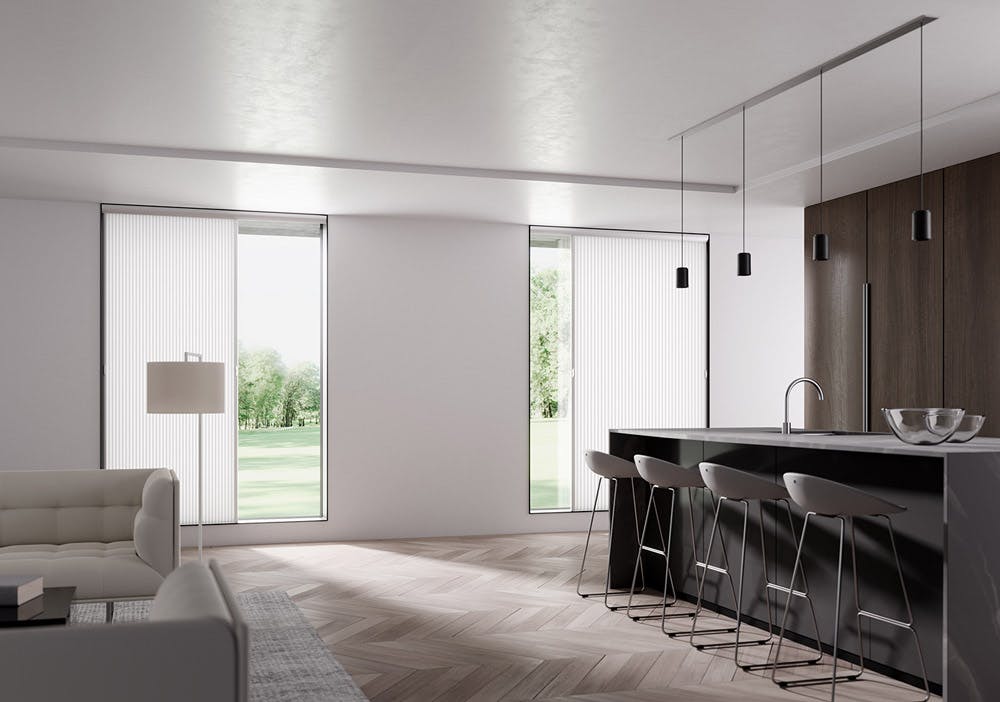 How Do You Cover a Large Picture Window?
Large picture windows can highlight a lovely view or fill a room with natural light, but they can be tricky to cover with traditional blinds or shades. Finding the right shades, curtains or blinds for a large picture window is important if you need privacy, glare control, or energy savings. We recommend window treatments like vertical blinds, cellular shades and curtains which can be made in large sizes.
What Window Treatments Are Best for Picture Windows?
There's a reason vertical blinds are a go-to for large windows like picture windows and sliding glass doors. They're durable, easy to install and a snap to clean. The PVC or vinyl vanes can take a beating from frequent sunlight and UV exposure with minimal fading and they are moisture resistant. If they get grimy from pets, kids or frequent usage, you can wipe the vanes down with soapy water and a sponge.
Unlike traditional window treatments that move up and down, vertical blinds are easy to tilt or slide open, even when made to cover massive windows. Just note that they work best for windows that are wider than they are tall.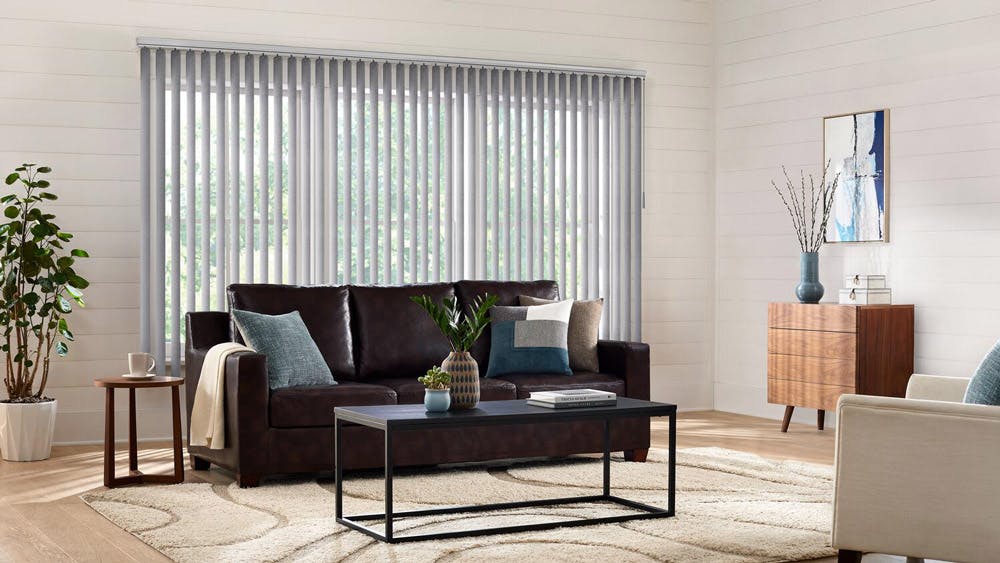 Tip from the pros: Pets and kids love to play with vertical blinds so they can be prone to cracking if handled roughly. Talk to your Design Consultant about ordering extra vanes when ordering your vertical blinds so you can quickly and easily swap out a broken one for an exact match.
If you want a window treatments for your picture window that basically disappear when not in use, try vertical cellular shades. These shades are made with crisp, pleated fabric that gives windows a modern look and retracts to just a few inches when pushed to the side.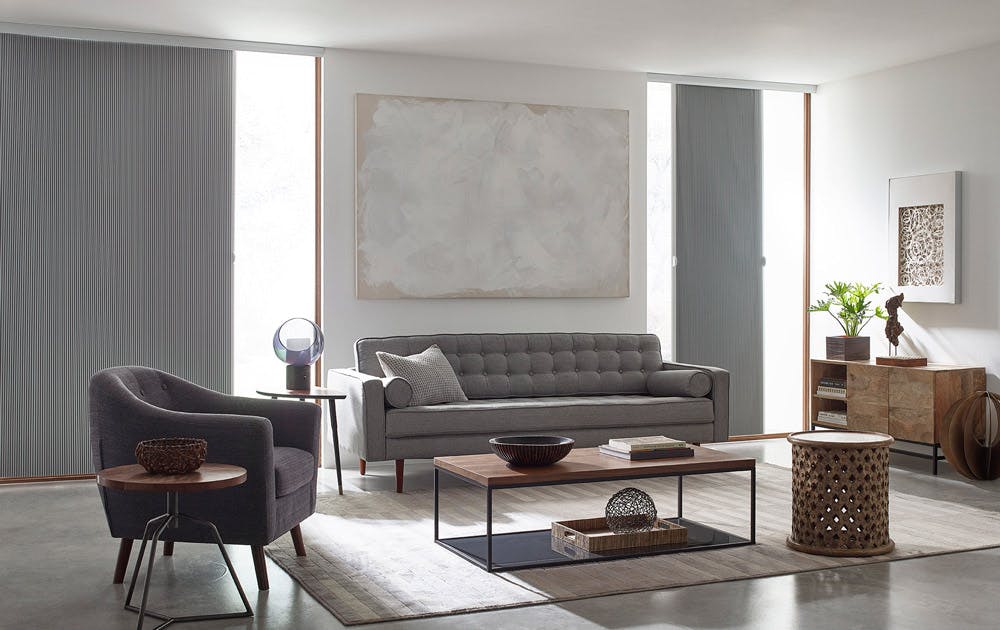 In addition providing a modern look, the pleated fabric creates air pockets that insulate the window and save energy. Inefficiency can be a big concern with picture windows, so vertical cellular shades are a great solution. Choose a light filtering fabric if you just want privacy, or blackout if you'd like to darken the room.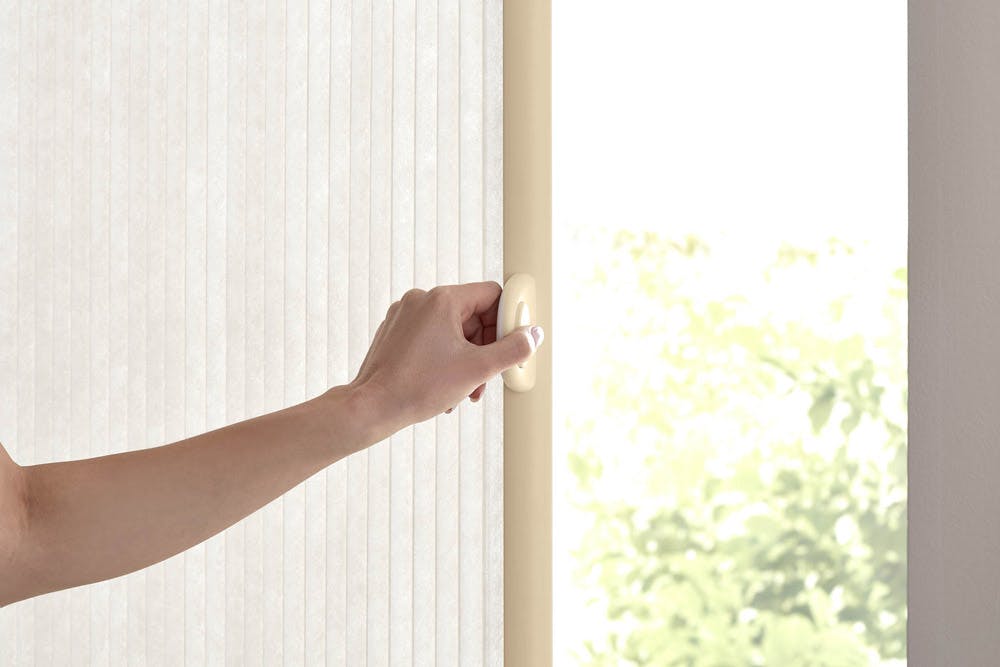 Like their vertical counterparts, horizontal cellular shades have a sleek look, insulate windows, and are lightweight, so they can be made at incredibly wide widths. Some cellular shades can be made as wide as 156 inches. For cellular shades on large windows, consider choosing a continuous cord loop lift which will make it easier to raise and lower shades without straining to pull a cord.
You can choose from a wide variety of fabric opacities – from gentle light filtering to blackout.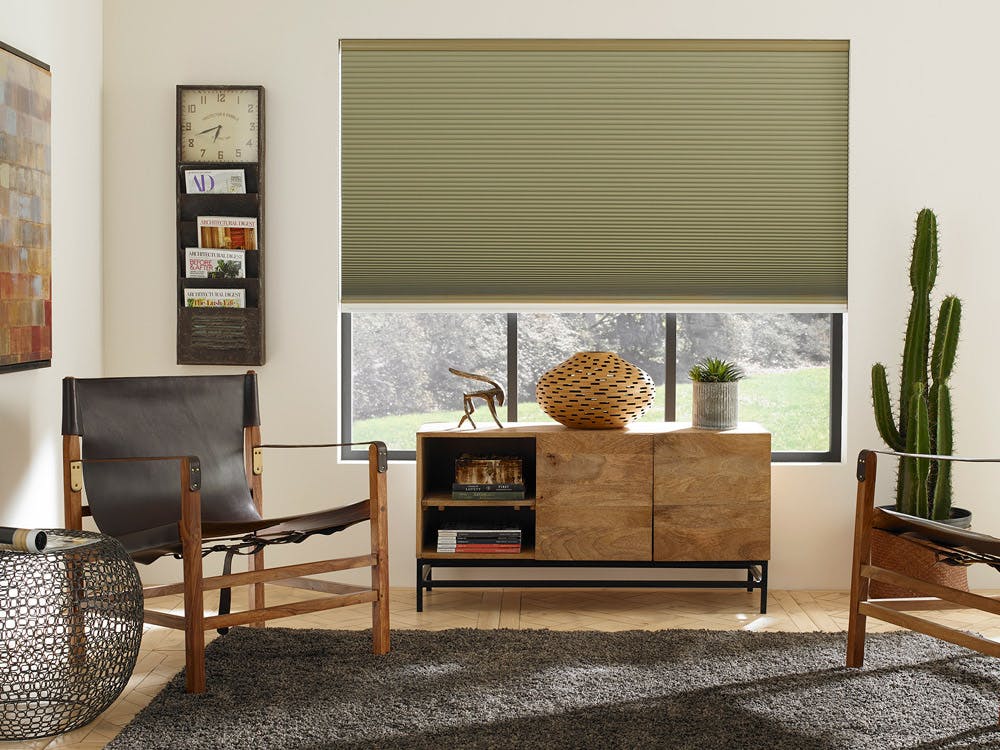 If style is important to you and you have wall space on either side of your picture window, curtains are a great solution. Custom-sized curtains are a must with large windows, because off-the-shelf options rarely come in the widths needed to get full coverage.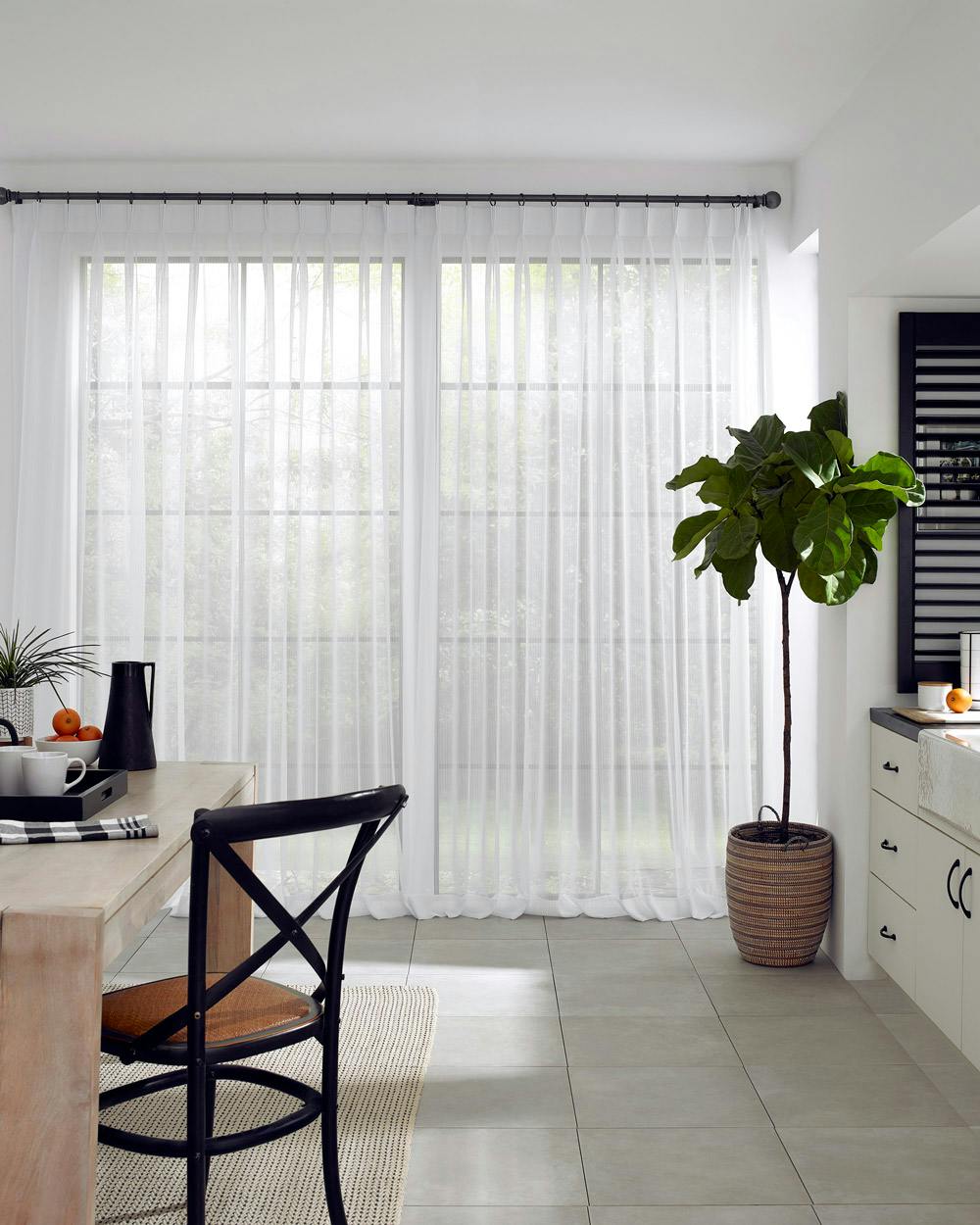 However, if you are looking for a stylish accent more than functionality, you can save money by installing drapes only on the outside edges, like bookends. This will give the row of windows the appearance of one long piece, without the bulkiness of heavy curtains covering the entire length of the windows.
If you want versatility for a picture window, consider layering blackout curtains on top of sheer curtains with a double curtain rod.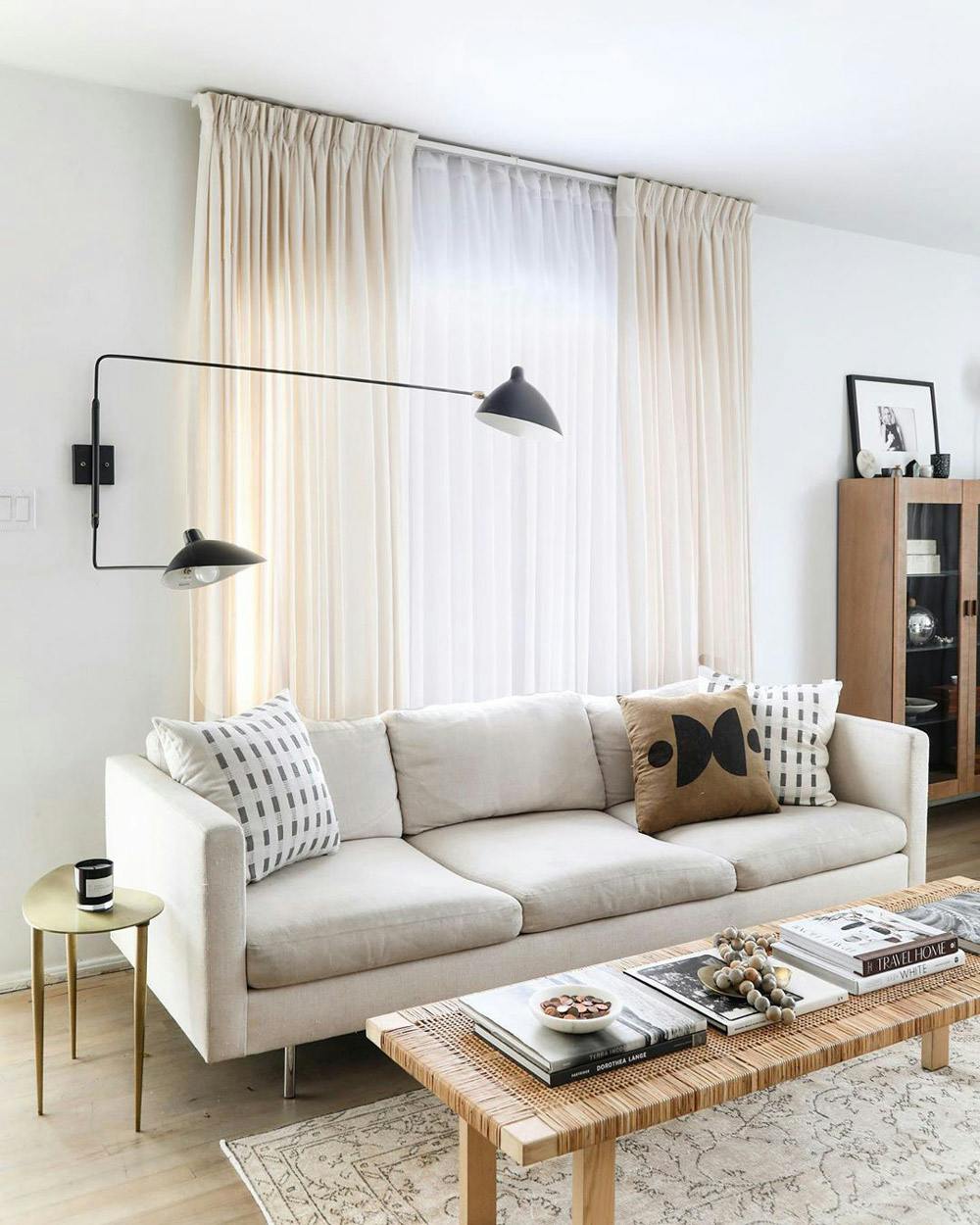 How Do You Put Blinds or Shades on a Picture Window?
If you want to cover a wide picture window with Roman Shades, Woven Wood Shades, Wood and Faux Wood Blinds, but they can't be made at the size you need, consider splitting the width with a 2-on-1 or 3-on-1 headrail.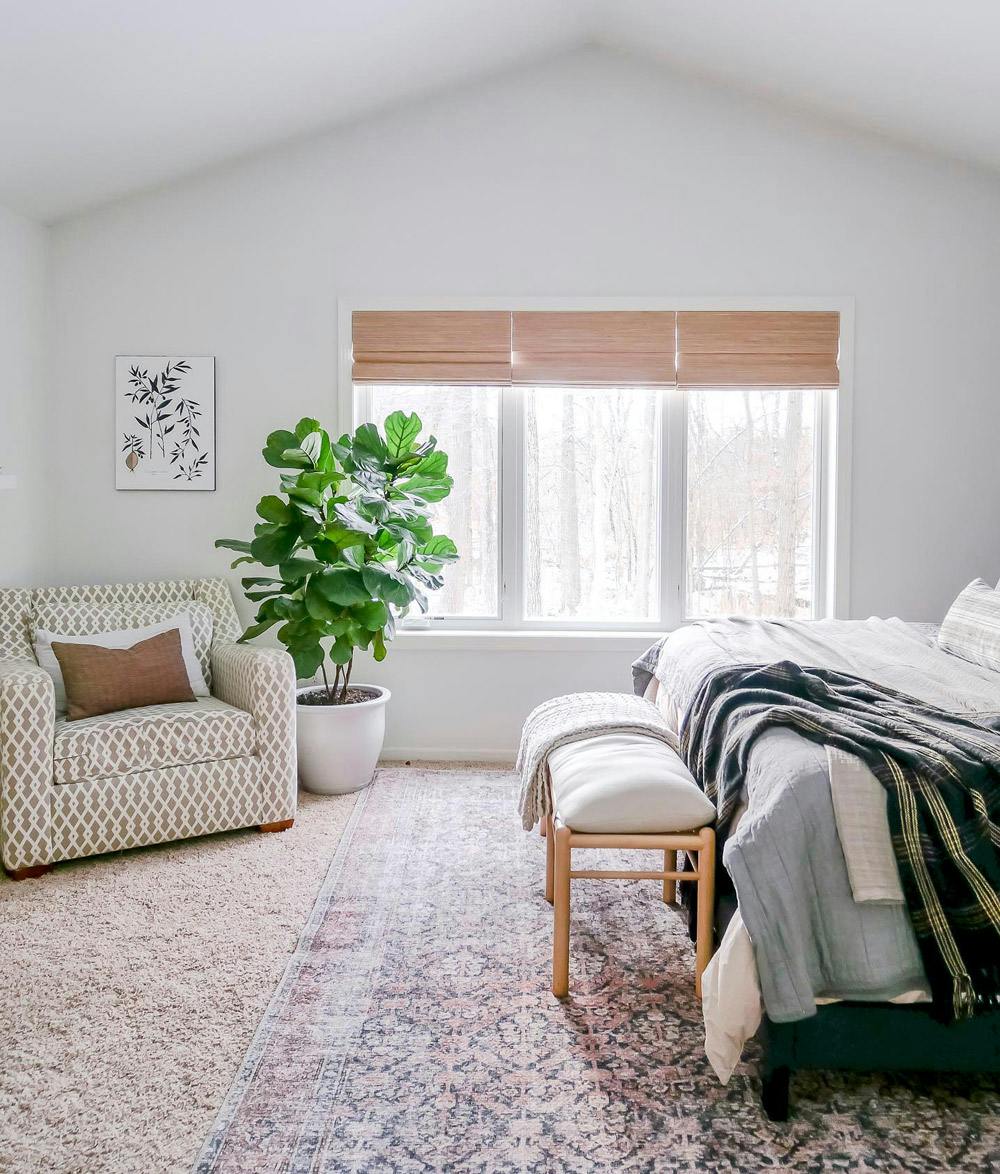 A headrail is the top bar of a blind or shade that houses the operating mechanisms. So a 2-on-1 or 3-on-1 means there are two or three blinds hanging from one headrail but they can be operated independently of each other. This can help increase the range of sizes without the excessive weight and strain on the mechanisms.
Often multiples-on-1 headrail will have the option to add a common valance - a long, piece of fabric or trim that clips to the top of the window treatment to give the separate blinds or shades a unified look.
Need More Help?
Blinds.com designers are available to help find the perfect blinds for your picture window. Get expert advice for free at 800-505-1905, or by live chat.
Learn more about covering specialty shape windows here: Blinds and Shades for Windows with Unique Shapes.