For classic beauty, easy installation and designer appeal, choose Bali's Classic Tab Draperies. These draperies feature simple, dentil-like folds spaced evenly across the top of the drapery, which gives them a casual, more informal feel.
Read More
.
SureFit™ Guaranteed to Fit!
Normally made in

15

business days
Measure Instructions and Specifications
Change size below to see your price
Want Professional Measuring & Installation?
Find a Pro
Product Details
Description
For classic beauty, easy installation and designer appeal, choose Bali's Classic Tab Draperies. These draperies feature simple, dentil-like folds spaced evenly across the top of the drapery, which gives them a casual, more informal feel. The simplicity of the folds makes these draperies easy to install, as they can be moved down the curtain rod effortlessly—no hooks or clips needed.
These Classic Tab Draperies are made in the U.S. A. and feature over 100 designer-quality fabrics, including traditional jacquards, contemporary ikats, soft sheers, and a varied assortment of prints, stripes and solids. As to quality, these draperies come standard with pattern matching for visual continuity, double turned hems that provide extra stability and weighted corners—features usually reserved for designer-specified purchases.
Install Time: 20 - 25 Minutes
We Recommend:
For privacy, choose a light filtering or blackout liner. Choose a thermal liner to add insulation to your windows. (Note: Light-filtering fabrics will reveal silhouettes to the outdoors at night.)

Edge banding or trim gives the impression of being designer-specified.

Consider using one of our drapery hardware collections to work with your drapery. Rod diameter can be up to 2": Adjustable 1" Metal Drapery Hardware, Custom 1 3/8 Inch Wood Drapery Hardware, Custom Wrought Iron 1" Drapery Hardware.

A classic overall finished drapery height (pleat included) is 1/2" off the floor. Adding 8" of material to the length of the draperies will create a dramatic "puddling" effect that makes an impact on tall windows and adds elegance to formal spaces. A more contemporary option is the trouser break, whereby the drapery hits the floor much like a trouser breaks on a shoe. To achieve this look, order your drapery 2" longer.

Choose a split draw if you'd like your draperies to part in the middle and stack at each end of the window. Alternatively, a one-way draw (left or right) will allow drapes to stack at one end.
Considerations:
These draperies come with appropriate fullness, so simply order the exact width you want to cover

Please note that these draperies will not traverse across a center support bracket. Select a split draw for widths greater than 70".

Drapery Rod is not included and can be purchased separately.
Patterns:
For a full list of patterns and materials available for this product, click here.
Coordinating Products:
Click here to see other products that are available in many of the same materials.
Child Safety Information:
This product does not have accessible cords, and therefore is safer for places where children or pets may be present.
Warranty:
In addition to Bali's manufacturer warranty, the assurance of the Blinds.com Warranty means you can trust that this product will last and provide added value and beauty to your home.
Surefit™ Guarantee
With SureFit™, a Blinds.com exclusive, we make sure you have complete peace of mind when measuring for any product we offer.
If you made a mistake measuring your blind, we'll remake it at no cost to you. You don't even pay for the return shipping of your old blind! You only pay if there's a difference in price between your old and new blind, or if the new blind requires a shipping fee (generally, this applies when it's over 94" wide).
Limit 1 remake per item; 4 remakes per household per lifetime (unless the error is ours, in which case, we'll make it right!). Same-product exchanges only, within 30 calendar days of receipt of package. Refunds are not offered under this guarantee. New blind must be the same product as the old blind and changes are restricted to only size and mount. Commercial orders do not qualify.
Product Specifications
Standard Blind Specifications:
Minimum Width: 19"
Maximum Width: 136"
Minimum Height: 18"
Maximum Height: 216"
Mounting Requirements:
Outside Mount Only: panels are available as outside mount, meaning they are installed above and around the window casing. Ideally, you would have 8" of wall space above and on each side of the window.
Optional Upgrades:
Single or Split Panel
Edge Banding
Edge Trim
Light Filtering and Blackout Liner
Waterproof Liner
Interlining Available
Corner Weights
Origin of Production
Made In: Assembled in the USA from imported materials
Loading Products...
Previously Viewed
Related Products
Description:
Custom Tailored Roman Shades by Bali give you the custom-made feel of professionally designed shades at a do-it-yourself price. These hand-crafted shades come in multiple styles so that you can choose a design that is uniquely suited to your room.Custom ...
Description:
Sleek and modern, Bali Grommet Top Drapery is the perfect drapery solution for adding a wow factor to a contemporary setting. These drapery panels are available in over 100 fashion-forward solids, sheers, jacquards and organic prints, which are dramatically offset ...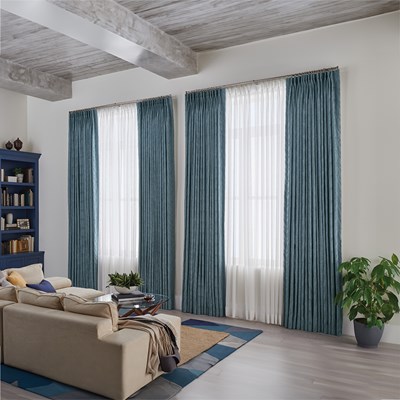 Description:
Bali Pinch Pleat Draperies bring a classic, custom-tailored look to your windows. With over 100 fabrics, including softly-hued sheers and high-fashion colors in textures, jacquards, prints and stripes, you are sure to find the perfect complement to your room.Bali Pinch ...
Description:
Woven Wood Draperies bring the natural beauty of bamboo, jute, grasses and woven wood to wide windows and patio doors. Their nature-derived palette, spanning from soft sandy shades to dark earthy tones, makes them a perfect complement to hardwood floors ...