Save 25% on select products! Use code "BLACK-FRIDAY" at checkout. Sale ends 11/24.
Bali Rod Top Pocket Draperies bring a custom-tailored look to your windows, while giving your room a warm, inviting appearance.
Read More
.
SureFit™ Guaranteed to Fit!
Normally made in

5

business days
Measure Instructions and Specifications
Change size below to see your price
Want Professional Measuring & Installation?
Find a Pro
Product Details
Description
Bali Rod Top Pocket Draperies bring a custom-tailored look to your windows, while giving your room a warm, inviting appearance. Known to some as traditional curtains, these window coverings are made thoroughly modern, thanks to a beautiful assortment of over 200 solids, sheers, jacquards and organic designs.
Rod Top Pocket Draperies are available as both panels and full-coverage window coverings and come with all the features normally only attainable through a professional interior designer. Such added details include double-turned hems that provide extra weight and stability and pattern matching for visual continuity.
Install Time: 20 - 25 Minutes
We Recommend:
Full-Coverage Draperies come with a range of exciting options such as trim, banding and upgraded linings. Decorative Side Panels come with our standard lining.

A top header is an optional, ruffle-like feature that extends above the drapery rod for a more traditional look.

Liners are strongly recommended to protect your draperies from sun and heat damage. In the case of silk and linen draperies, it is a must. For privacy, choose a light filtering liner. Some liners are also available in a thermal version, which insulates your windows and delivers incredible energy savings. Note: Light filtering fabrics will reveal silhouettes to the outdoors at night. Blackout liners are not available with a Rod Top style drapery.

These panels accommodate rods up to 3" in diameter and work with our drapery hardware collections, which include: Adjustable 1" Metal Drapery Hardware, Custom 1 3/8" Wood Drapery Hardware and Custom Wrought Iron 1" Drapery Hardware..
Considerations:
The fabric at the top of the panel will extend approximately 1" above the drapery rod.

These draperies come with appropriate fullness, so simply order the exact width you want to cover.

For a more contemporary look, add 2" to your drapery length for a trouser break, in which the fabric folds against the floor in the same way that a pant leg breaks on a shoe. For a luxurious "puddling" look that works well in rooms with high ceilings or formal décor, add 8" to the length.

Drapery Rod is not included and can be purchased separately.
Patterns:
For a full list of patterns and materials available for this product, click here.
Coordinating Products:
Click here to see other products that are available in many of the same materials.
Child Safety Information:
This product does not have accessible cords, and therefore is safer for places where children or pets may be present.
Warranty:
In addition to Bali's manufacturer warranty, the assurance of the Blinds.com Warranty means you can trust that this product will last and provide added value and beauty to your home.
Surefit™ Guarantee
With SureFit™, a Blinds.com exclusive, we make sure you have complete peace of mind when measuring for any product we offer.
If you made a mistake measuring your blind, we'll remake it at no cost to you. You don't even pay for the return shipping of your old blind! You only pay if there's a difference in price between your old and new blind, or if the new blind requires a shipping fee (generally, this applies when it's over 94" wide).
Important Disclaimer:
Limit 1 remake per item; 4 item remakes per household per lifetime (unless the error is ours, in which case, we'll make it right!).
Same-product exchanges only, within 30 calendar days of receipt of package.
Changes are restricted to size and mount only.
Refunds are not offered under this guarantee.
Not Covered Under This Guarantee:
Commercial orders: Any order containing 25 or more of the same product, of tax exempt status, or delivered to a non-residential address.
Any product ordered outside our recommended sizes or specifications, which can be found on the product page.
Product Specifications
Standard Blind Specifications:
Minimum Width: 20"
Maximum Width: 213"
Minimum Height: 18"
Maximum Height: 216"
Mounting Requirements:
Outside Mount Only: panels are available as outside mount, meaning they are installed above and around the window casing. Ideally, you would have 8" of wall space above and on each side of the window.
Optional Upgrades:
Single or Split Panels
Edge Banding
Edge Trim
Color Blocking
Light Filtering and Blackout Liners
Blackout Liner
Interlining Available
Corner Weights
Origin of Production
Made In: Assembled in the USA from imported materials
Related Products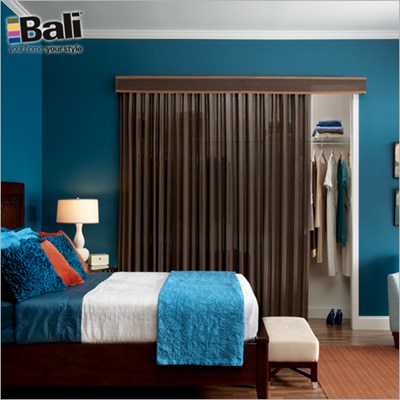 Description:
Woven Wood Draperies bring the natural beauty of bamboo, jute, grasses and woven wood to wide windows and patio doors. Their nature-derived palette, spanning from soft sandy shades to dark earthy tones, makes them a perfect complement to hardwood floors ...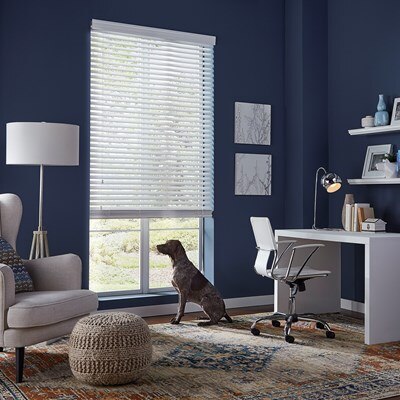 Description:
Blinds.com 2" Economy Wood Blinds give you the luxury of real wood blinds at an economical price. These budget-minded blinds are made from durable basswood and are available in stylish whites and natural-wood stains.Blinds.com 2" Economy Wood Blinds give you ...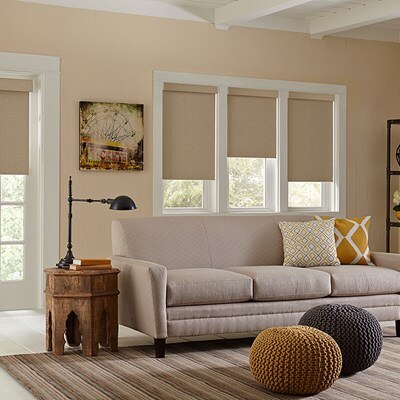 Description:
Our Signature Blackout Roller Shades put a fashion-forward face on privacy and total light blockage. This collection consists of a wide assortment of on-trend solids, trendy tweeds, bold stripes and fresh patterns.Our Signature Blackout Roller Shades put a fashion-forward face ...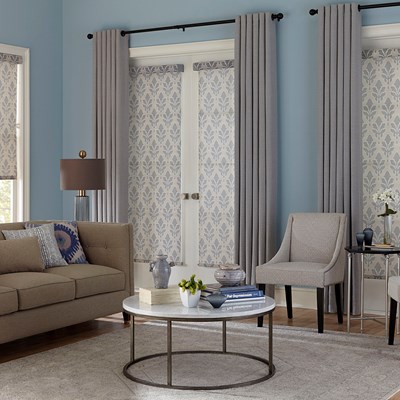 Description:
Our Signature Light Filtering Roller Shades put a beautiful face on privacy and gently filtered light. The Signature collection consists of a wide assortment of on-trend solids, tweedy textures, linen effects, subtle stripes and jacquard-woven fabrics, all of which elevate ...