The premier roman shade paired with the easy grommet drapery. Roman Shade Color: Twirl China Blue FB15090A & Drapery Color: Gent Greystone 1031

Choose the blackout liner for complete privacy. Roman Shade Color: Twirl China Blue FB15090A

Inside mount, plain fold with seams in cordless. Roman Shade Color: Twirl China Blue FB15090A

The premier roman shade paired with the easy classic pleat drapery. Roman Shade Color: Santa Fe Vermilion FB14286A & Drapery Color: Tantalum Calcite 1017

See More Images
Save 25% on select products! Use code "BLACK-FRIDAY" at checkout. Sale ends 11/24.
Blinds.com Premier Roman Shades, our most elegant Roman shade, blend Blinds.com-brand affordability with timeless style. The wide array of textures, patterns and colors span from traditional to contemporary and add a wow factor to any room.
Read More
.
SureFit™ Guaranteed to Fit!
Normally made in

9

business days
Measure Instructions and Specifications
Change size below to see your price
Want Professional Measuring & Installation?
Find a Pro
Product Primary Options
Color

Premier Fabric Colors

Festival Greystone PRT5102-10-FS

Santa Fe Cliff FB14286A-21

Foliage Mist BWB-8121-1

Festival Storm PRT5102-22-FS

Villa Mercury FS-Platinum

Avena Pearl Barley BWB-8139-1

Festival Ice PRT5102-12-FS

Villa Pearl FS-Pearl

Villa Lotus FS-Oyster

Oleander Blossom PRT20053-Q

Layers Lumber PRT20049-Q

Starburst Moccasin PRT20055-Q

Barbados Storm Cloud PRT5100-2-FS

Blossom Mint BWB-8133

Villa Mint FS-Azure

Festival Aqua Stone PRT5102-2-FS

Milan Mint SG21-7542

Twirl China Blue FB15090A-22

Portland Lakeside FB15151A-3

Festival Cornflower PRT5102-6-FS

Summer Breeze Turquoise/Blue AS22878-7

Interlace Navy AS22388-9

Malaga Navy/Beige FB15168B-4

Linen Opaque Light Sky BOLinen-1

Hartford Blue Basket BWB-8135

Tivoli Aqua Antique BWB-8126

Corrales Navy FB15144A-3

Villa Marine FS-Teal

Portland Emerald FB15151A-2

Kolkata Navy FB15148A-3

Colchester Navy FB15152A-3

Malaga Beige/Navy FB15168A-4

Festival Royal PRT5102-18-FS

Falling Leaves Shade PRT20089-Q

Milano Dusty Blue BWB-8132-2

Geometric Sea Glass PRT20065-Q

Layers Rain Clouds PRT20050-Q

Forestry Poplar Sky PRT20080-Q

Floral Sol PRT20051-Q

Summer Breeze Teal/Citrus AS22878-8

Taos Blue/Green AS22579-9

Norwich Violet AS22557-10

Linen Opaque Orchid BOLinen-3

Floral Berries PRT20052-Q

Wexford Flaxen Linoso-N

Crestino Mushroom-Drake

Bombay Meadow BWB-8115-1

Forestry Logs PRT20082-Q

Rockweed Sand PRT20096-FS

Festival Shell PRT5102-20-FS

Festival Summer PRT5102-23-FS

Festival Harvest PRT5102-11-FS

Festival Khaki PRT5102-13-FS

Festival Dune PRT5102-7-FS

Barbados Sunray PRT5100-3-FS

Festival Adobe PRT5102-1-FS

Festival Flax PRT5102-8-FS

Versailles Opaque Sandstone Icon-T8

Festival Pumpkin PRT5102-17-FS

Falling Leaves Spring PRT20091-Q

Festival Spring PRT5102-21-FS

Aspen Verano FB15093A-2

Twirl Kiwi FB15090A-2

Biltmore Verdant AS22227-6

Bryce Reeds PRT5101-2-FS

Leaves Bamboo 71022-8

Bryce Branches PRT5101-1-FS

Gateway Antique Gold PRT20068-Q

Falling Leaves Autumn PRT20090-Q

Taos Ruby/Tan AS22579-2

Colchester Spice FB15152A-21

Pebbles Russet FB15092A-5

Santa Fe Vermilion FB14286A-3

Diamonte Cinnamon FB15333A-22

Aspen Cinnabar FB15093A-5

Villa Garnet FS-Ruby

Hello Poppy Prairie BWB-8131

Festival Tea Rose PRT5102-24-FS

Vittoria Barley BWB-8132

Orbit Sand PRT20101-FS

Bombay Sand BWB-8115

Stria Tawny Lin-159

Horizontal Braid Wheat BWB-8127

Verona Barley BWB-8120-1

Safari Golden Sun FB14309A-23

Oxford Jute 8020

Wexford Candlelight Linoso-C

Splash Cafe AR10839-1

Milano Natural BWB-8132-1

Safari Earth FB14309A-22

Warwick Cornerstone FB14264A-10

Malaga Beige/Charcoal FB15168A-21

Villa Flax FS-Flax

Calais Barley Lin-121

Linen Opaque Burlap BOLinen-4

Verona Wheat BWB-8120-2

Sussex Flax 8000

Versailles Opaque Parchment Icon-B3

Taos Tan/Brown AS22579-1

Foliage Sand BWB-8121

Malaga Charcoal/Beige FB15168B-21

Interlace Tan AS22388-3

Villa Bronzed FS-Gilver

Versailles Opaque Antique Brass Icon-S4

Kolkata Stone FB15148A-21

Diamonte Charcoal FB15333A-6

Preston Heather BWB-8120

Corrales Brown FB15144A-22

Milano Iron BWB 8132-3

Taos Ivory/Charcoal AS22579-3

Linen Opaque Granite BOLinen-2

Bellingham Putty Still-16

Aspen Taupe FB15093A-7

Villa Gunmetal FS-Gunmetal

Diamonte Hickory FB15333A-21

Villa Steel FS-Steel

Pebbles Slate FB15092A-7

Bellingham Clay Still-14

Carnival Slate FB15167A-8

Bellingham Greystone Still-51

Avena Stone BWB-8139

Corrales Charcoal FB15144A-21

Biltmore Iron AS22227-2

Summer Breeze Gray Black AS22878-10

Aspen Dark Brown FB15093A -8

Barbados Night Rain PRT5100-1-FS

Bryce Tree Bark PRT5101-3-FS

Taos Black/Grey AS22579-13

Bellingham Woods Still-22

Bellingham Marina Still-4

Bellingham Night Still-5

More Rows of Colors

View our Color Accuracy Policy.
Product Details
Description
Blinds.com Premier Roman Shades, our most elegant Roman shade, blend Blinds.com-brand affordability with timeless style. The wide array of textures, patterns and colors span from traditional to contemporary and add a wow factor to any room.
Premier Roman Shades come with an impressive number of high-end features for the price. The shades' horizontal rods, sewn into the fabric, allow for effortless operation and enable the shade to fold neatly when raised. Choose from a Hobbled or Flat fold style to get a look that complements your décor and setting.
Install Time: 12-15 minutes
We Recommend:
Plain fold shades offer a more structured look that can add a spot of warmth to spaces with more contemporary design.

Cordless controls offer a clean and uncluttered look while Continuous Cord Loop helps easily open the shades on larger windows.

A fabric-wrapped wooden headrail provides a continuous look and comes with an optional valance for more dramatic appeal.

Blackout lining offers total light obstruction and is ideal for bedrooms.
Considerations:
The way this shade stacks may potentially minimize the view on a tall window.

This shade's operating mechanism and fold require a larger-than-typical mounting depth inside the window. Double-check your window's depth prior to ordering to make sure your window can accommodate this shade.
Patterns:
For a complete patterns list, click here.
Coordinating Products:
Click here to see other products that are available in many of the same materials.
Child Safety Information
This product has accessible cords and is not recommended for windows where children or pets may be present.
Warranty:
With the assurance of the Blinds.com Warranty, you can trust that this product will last and provide added value and beauty to your home.
Surefit™ Guarantee
With SureFit™, a Blinds.com exclusive, we make sure you have complete peace of mind when measuring for any product we offer.
If you made a mistake measuring your blind, we'll remake it at no cost to you. You don't even pay for the return shipping of your old blind! You only pay if there's a difference in price between your old and new blind, or if the new blind requires a shipping fee (generally, this applies when it's over 94" wide).
Important Disclaimer:
Limit 1 remake per item; 4 item remakes per household per lifetime (unless the error is ours, in which case, we'll make it right!).
Same-product exchanges only, within 30 calendar days of receipt of package.
Changes are restricted to size and mount only.
Refunds are not offered under this guarantee.
Not Covered Under This Guarantee:
Commercial orders: Any order containing 25 or more of the same product, of tax exempt status, or delivered to a non-residential address.
Any product ordered outside our recommended sizes or specifications, which can be found on the product page.
Product Specifications
Standard Blind Specifications:
Minimum Width: 12"
Maximum Width: 100"
Minimum Height: 22"
Maximum Height: 120"
Approximate Inside Mount Deduction: 3/8"
Mounting Requirements:
Minimum Inside Mount Depth: 1 9/16"
Minimum Inside Mount Depth (fully recessed): 2 3/8"
Minimum Outside Mounting Surface: 3/4"
Optional Upgrades:
Wooden Headrail with Valance
Tear Drop Hobbled Style
Related Products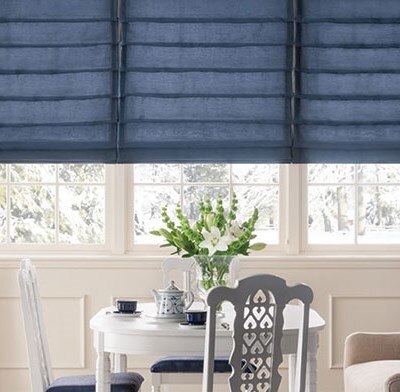 Description:
Custom Tailored Roman Shades by Bali give you the custom-made feel of professionally designed shades at a do-it-yourself price. These hand-crafted shades come in multiple styles so that you can choose a design that is uniquely suited to your room.Custom ...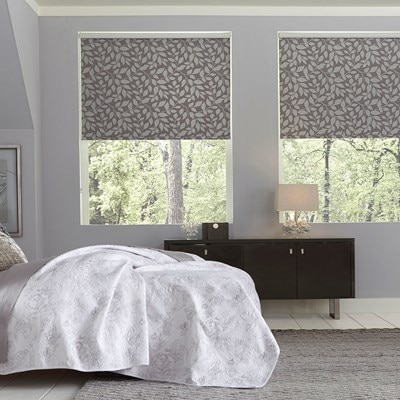 Description:
Blinds.com Premier Decorative Roller Shades dress up your windows with lively patterns and inspiring prints at an affordable price. This exclusive selection features a mix of stripes, prints, textural solids and natural-fiber blends that are rarely available in roller-shade collections.Blinds.com ...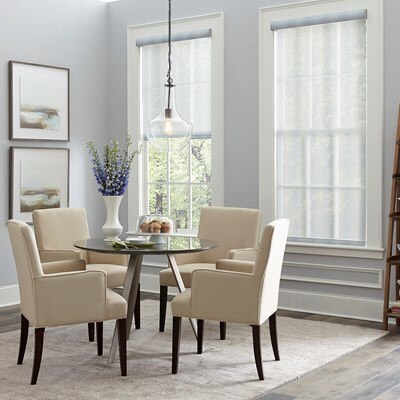 Description:
Our Signature Solar Roller Shades are perfect for preserving a view, reducing glare and incoming heat, and protecting furnishings and floors from damaging UV rays.Our Signature Solar Roller Shades are perfect for preserving a view, reducing glare and incoming heat, ...