Signature Blackout Roller Shade
Blackout Roller Shades provide an elevated level of light control and are available in stylish patterns and colors. Color: La Costa Sandbar CJ2009

Cordless is the recommended option for child safety. Color: Branches Green SG3053

Inside mount, blackout roller shade in cordless. Color: Branches Green SG3053

Stacy Garcia Collection: Color: Color: Wood Plank White Wash SG3051

See More Images
Signature Blackout Roller Shade
Buy one get one 50% off! Use code "ALLBOGOFIFTY" at checkout. Sale ends 9/30.
Our Signature Blackout Roller Shades put a fashion-forward face on privacy and total light blockage. This collection consists of a wide assortment of on-trend solids, trendy tweeds, bold stripes and fresh patterns.
Read More
.
SureFit™ Guaranteed to Fit!
Normally made in

9

business days
Measure Instructions and Specifications
Change size below to see your price
Want Professional Measuring & Installation?
Find a Pro
Product Details
Description
Our Signature Blackout Roller Shades put a fashion-forward face on privacy and total light blockage. This collection consists of a wide assortment of on-trend solids, trendy tweeds, bold stripes, and fresh patterns.
Signature Roller Blackout Shades are great for media rooms and bedrooms, eliminating nearly all sunlight from entering your room, while lending the look of sleek custom shades. They are available with an assortment of lifts and can be customized with an optional decorative valance.
Included in our Signature Solar Roller Shade assortment are exclusive patterns from the Stay by Stacy Garcia Collection. Stacy Garcia has partnered with some of the world's leading manufacturers to create products for resorts and homes all over the world. Garcia has been featured in Traditional Home, Interior Design, Architectural Digest and New York Spaces. This award-winning designer has joined together with Blinds.com to create her premiere collection of patterned shades. To see more products that feature the Stay by Stacy Garcia collection, click here!
Click here for fabric content.
Install Time: 12 - 15 minutes
We Recommend:
Add a beaded chain to lift heavier or larger-scale shades.

The hassle-free, cordless spring tension roller option eliminates the possibility of cord entanglement

Motorization makes lifting your shades as easy as pressing a remote control.

If you would like the fabric of your shade to feed over the top rather than from the back, specify a reverse roll at no extra charge. Ideal if your shade needs to pass in front of a window or handle.

Consider ordering a valance for the top of your shade. Valances add a finishing touch to your window treatment and elevate the look of your room.

For inside mounts, you can avoid light gaps on the sides of the shades by ordering Light Gap Blockers. Light Gap Blockers are window-frame-mounted add-on, which eliminate the light gaps on the sides of the shade. These Light Gap Blockers have a sticky backing which allows you to apply them to your window easily. Your shade must be installed fully recessed for these to fit inside your window.
Considerations:
A reverse roll cannot be used in conjunction with a valance.

Inside-mounted roller shades will have an approximate 1" vertical "light gap" between the edge of the fabric and the window casing the cord-loop side and up to a 5/8" light gap on the other side. This is because the fabric must be cut narrower than the operating mechanisms at the top.

Choose the single channel remote if you want to operate a single shade or a group of shades together or choose the 5 channel remote if you want to operate 5 shades individually. For example if you are buying three shades and want to operate them together as a group, only order one single channel remote. If you want to operate all three shades separately from each other, order only one 5 channel remote.
Child Safety Information
This product can be made safer for places where children and pets may be present, with the selection of the Cordless or Motorized upgrade. All other versions of this product have cords that may be accessible, and are not recommended for windows where children or pets may be present.
Warranty:
With the assurance of the Blinds.com Warranty, you can trust that this product will last and provide added value and beauty to your home.
Surefit™ Guarantee
With SureFit™, a Blinds.com exclusive, we make sure you have complete peace of mind when measuring for any product we offer.
If you made a mistake measuring your blind, we'll remake it at no cost to you. You don't even pay for the return shipping of your old blind! You only pay if there's a difference in price between your old and new blind, or if the new blind requires a shipping fee (generally, this applies when it's over 94" wide).
Limit 1 remake per item; 4 remakes per household per lifetime (unless the error is ours, in which case, we'll make it right!). Same-product exchanges only, within 30 calendar days of receipt of package. Refunds are not offered under this guarantee. New blind must be the same product as the old blind and changes are restricted to only size and mount. Commercial orders do not qualify.
Product Specifications
Standard Blind Specifications
Minimum Width: 14"
Maximum Width: 120"
Minimum Height: 20"
Maximum Height: 144"
Approximately 3/4" Light Gap on each side
Outside Mount will have the fabric approximately 1 1/4" - 1 1/2" narrower than the ordered size
Cassette Maximum Width: 96"
Mounting Requirements
Minimum Inside Mount Depth: 3/4"
Minimum Inside Mount Depth (fully recessed): 2 1/2"
Minimum Outside Mounting Surface: 1 1/2"
Minimum Inside Mount Depth (Cassette): 1 3/4"
Minimum Inside Mount Depth (fully recessed Cassette): 4"
Minimum Outside Mounting Surface (Cassette): 2 7/8"
Optional Upgrades:
Side and Sill Channels
Reverse Roll
Fascia and Cassette Options
Origin of Production
Made In: Assembled in the USA from imported materials
Related Products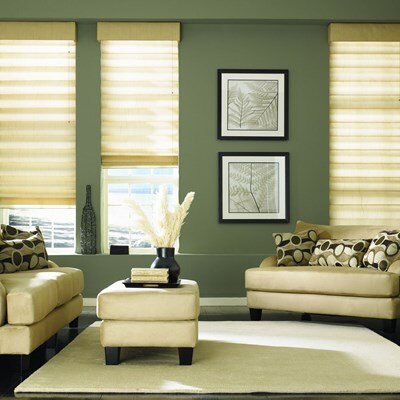 Description:
With Bali Casual Classics Roman Shades you can achieve the sophisticated look of custom tailored shades at a surprising price. These shades feature high quality fabrics that come in flat and hobbled styles, with an assortment of neutral tones and ...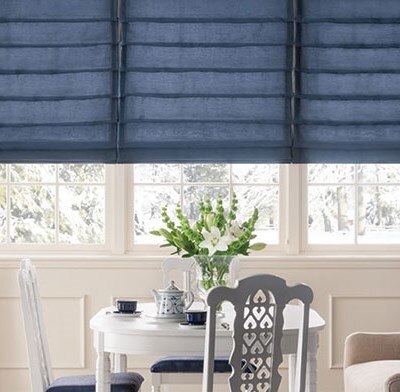 Description:
Custom Tailored Roman Shades by Bali give you the custom-made feel of professionally designed shades at a do-it-yourself price. These hand-crafted shades come in multiple styles so that you can choose a design that is uniquely suited to your room.Custom ...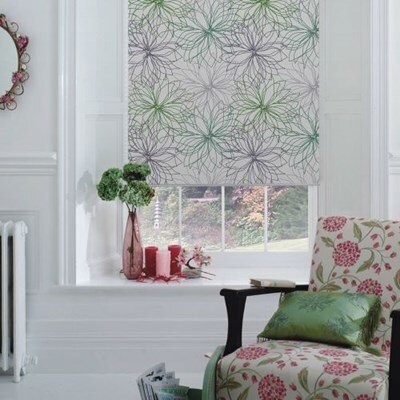 Description:
Our Architectural Blackout Roller Shades make a bold statement in your windows while blocking out nearly all light. This collection consists hand-selected fabrics influenced by worldwide design trends and offers a mix of tailored textures, classic prints and whimsical patterns—options ...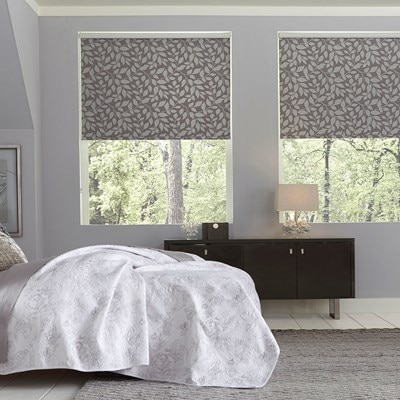 Description:
Blinds.com Premier Decorative Roller Shades dress up your windows with lively patterns and inspiring prints at an affordable price. This exclusive selection features a mix of stripes, prints, textural solids and natural-fiber blends that are rarely available in roller-shade collections.Blinds.com ...