Buy 1 get 1 50% off! Use code "BOGOFIFTY" at checkout. Sale ends 5/22.
Complement your hard-to-fit perfect arch windows (where height is half the width) with Signature Light Filtering Cellular Archs by Blinds.com.
Read More
.
SureFit™ Guaranteed to Fit!
Normally made in

11

business days
Measure Instructions and Specifications
Change size below to see your price
Want Professional Measuring & Installation?
Find a Pro
Product Details
Description
Complement your hard-to-fit perfect arch windows (where height is half the width) with Signature Light Filtering Cellular Arches by Blinds.com. Available in single- and double-cell fabrics, these shades filter out harmful UV rays, minimize glare, and give you better light control, all with gently filtered, colored light. For optimal customization, these shades match the Signature Light Filtering Cellular Shades.
Install Time:
15 - 20 Minutes
We Recommend:
If you would like to operate your arch shade, we recommend choosing fan-style or top-down style, as both are operable versions of this shade.

These shades work well for any room where you want lots of light while still maintaining privacy.

An extension pole is recommended if you would like to raise or lower a hard-to-reach arch window's shade.
Considerations:
The majority of arches are inoperable, and will be stationary in your window.

Outside-mount brackets will be visible.
Coordinating Products:
Click here to see other products that are available in many of the same materials.
Safety:
This product does not have accessible cords, and therefore is safer for places where children or pets may be present.
Warranty:
With the assurance of the Blinds.com Warranty, you can trust that this product will last and provide added value and beauty to your home.
Surefit™ Guarantee
With SureFit™, a Blinds.com exclusive, we make sure you have complete peace of mind when measuring for any product we offer.
If you made a mistake measuring your blind, we'll remake it at no cost to you. You don't even pay for the return shipping of your old blind! You only pay if there's a difference in price between your old and new blind, or if the new blind requires a shipping fee (generally, this applies when it's over 94" wide).
Important Disclaimer:
Limit 1 remake per item; 4 item remakes per household per lifetime (unless the error is ours, in which case, we'll make it right!).
Same-product exchanges only, within 30 calendar days of receipt of package.
Changes are restricted to size and mount only.
Refunds are not offered under this guarantee.
Not Covered Under This Guarantee:
Commercial orders: any order containing 25 or more of the same product, of tax exempt status, or containing any Blinds.com Commercial brand product.
Any product ordered outside our recommended sizes or specifications, which can be found on the product page.
Product Specifications
Standard Blind Specifications:
Minimum Width: 13"
Maximum Width: 84"
Minimum Height: 6"
Maximum Height: 42"
Perfect Arch only (height is exactly half of width)
Approximate Inside Mount Deduction: 3/8"
Mounting Requirements:
Minimum Inside Mount Depth: 1 1/4"
Minimum Inside Mount Depth (fully recessed): 2 1/4"
Minimum Outside Mounting Surface: 1"
Standard Options:
Fan Fold or Pull Down operable
Perfect Arch Sizes Only
Multiple Fabric Choices
Extension Pole
Related Products
Description:
Bail DiamondCell Blackout Cellular Arches are the ultimate in affordable, insulating, light-blocking arches. They insulate your windows year-round, while coordinating perfectly with our DiamondCell Blackout Cellular Shades.Bail DiamondCell Blackout Cellular Arches are the ultimate in affordable, insulating, ...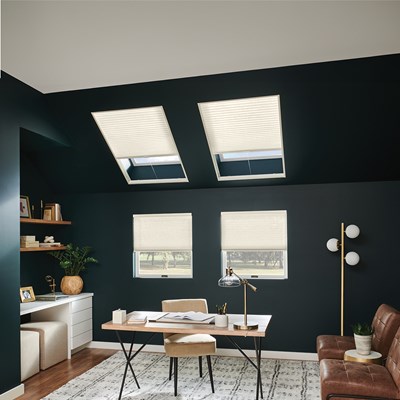 Description:
Bali DiamondCell Light Filtering Cellular Skylights give those hard-to-reach skylights the added beauty of light filtration and the benefit of insulation. These fashionable shades feature a honeycomb core, which lowers energy bills while protecting furniture and floors from fading UV ...
Description:
Bali Pleated Arches are a colorful way to cover arched windows of nearly any size or shape at an affordable price. These shades are available in an array of fashionable fabrics and will provide privacy and added insulation, while protecting ...
Description:
The Blackout Cellular Arch from Blinds.com blocks glare, insulates your window and adds decorative appeal to the typically hard-to-cover window arch. These shades are the perfect solution for dressing Perfect Arches—those in which the arch's height measures half of the ...