Ordering faux wood or wood shutters was once an intimidating and complicated task. Now, with Blinds.com's easy-to-use customization process, simply enter a few details about your window and let Blinds.com do the heavy lifting. Need assistance? A Blinds.com designer will be happy to guide you through the process or set up a free in-home consultation where you're guaranteed a precise fit and professional installation.
4 Decisions to Make Before Ordering Custom Shutters
Choosing the Right Shutter Panel Style
Interior window shutters add eye-catching dimension and casual elegance to any room. They're practical, too — the louver construction insulates your windows against both cold and heat for energy efficiency. And with so many variations in style, material, and color to choose from, there's an option to suit any size window and any décor. Let's look at some of the most popular styles.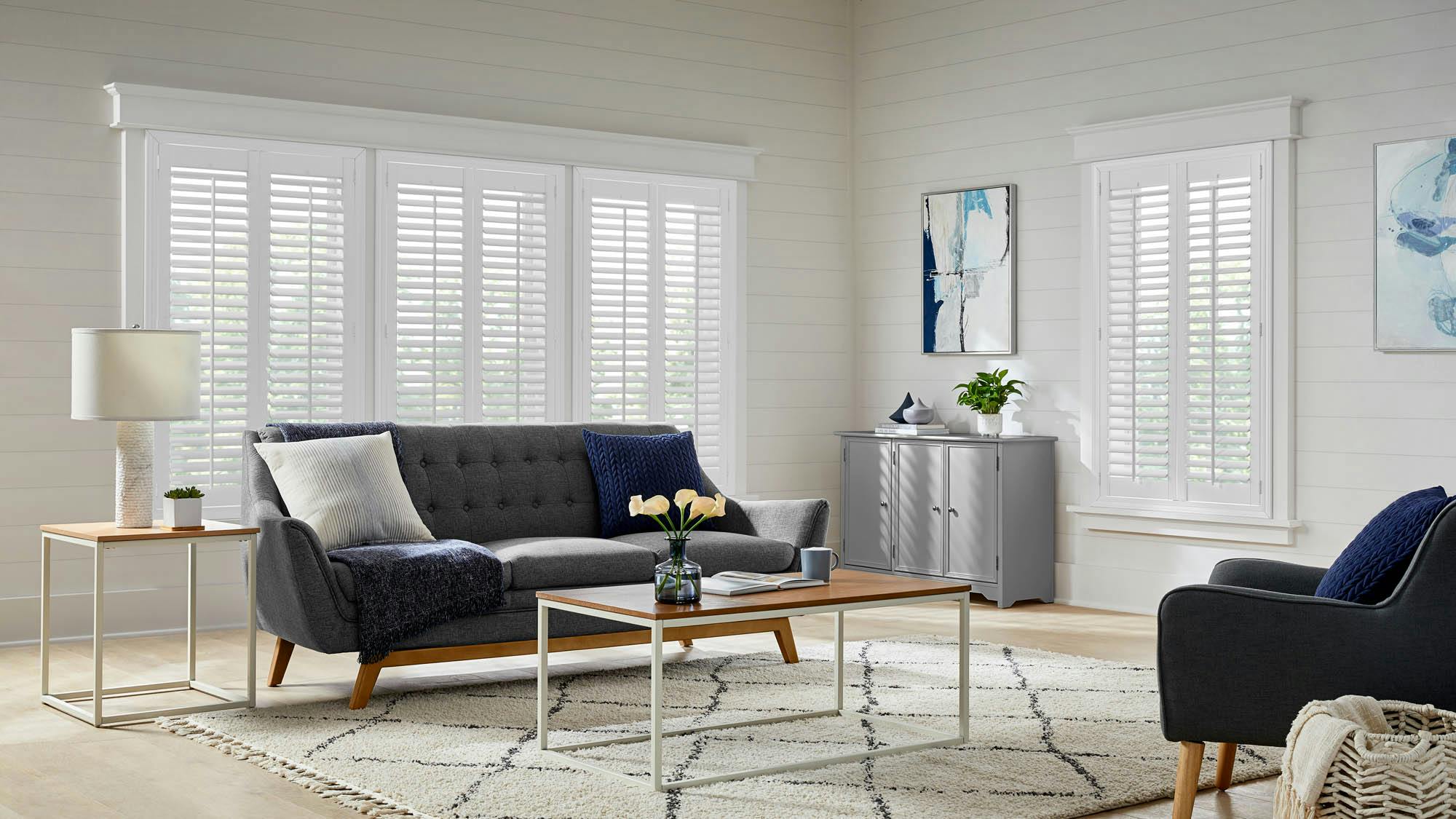 Full-Height Shutters
A full-height shutter means just that — its one-panel design covers the entire length of the window from top to bottom. Besides providing excellent insulation, full-length window shutters offer great privacy and a streamlined look. However, keep in mind that this style may not be the best option for small or dark rooms since they cover the whole window. You'll also have less flexibility in controlling the light filtering into the room.
Café Shutters
Unlike full-height shutters, café style shutters only cover the bottom portion of the window, leaving the top exposed to allow in more natural light. Most customers choose to align the café shutter height with mullions or other trim on the windows but they can be further customized to cover a little more or a little less. Café shutters are a great choice for upper-story windows where privacy is only needed to eye level. If you're looking for more privacy, consider mixing in curtains on the top layer or going with a shutter that provides more coverage.
Double-Hung Shutters
Double-hung shutters, also referred to as tier-on-tier shutters, provide more flexibility to control the natural light coming into the room than a café shutter, while offering additional privacy. Think of this style as the café style shutter — times two. With a set of panels on the top half of the window and another set on the bottom half, you can open one set or both to control the level of light and privacy entering the space. The only real downsides to this style are that the number of slats and panels could look busy on a smaller window, and it's more difficult to install.
Divider Rails
A divider rail is a fixed strip that lets you separate louvered sections so you can open and close them independently of one another. You can customize these rails to divide at the middle of the shutter, align with window mullions, or any exact placement you desire. Keep in mind that you'll likely need a divider rail for stability if you have a wider shutter. These width requirements vary depending on the type of material used.
This customer opted to add divider rails to allow the bottom louvers to close and create a "wall space" for her banquette seating.
Deciding on a Mounting Option
Choosing between inside-mount shutters and outside-mount shutters comes down to personal preference. You can have your custom shutters mounted inside the window frame, so they're flush with the window or outside, so they're fitted to the wall to frame the window. Before making your decision, ask yourself a couple of things. Is the window perfectly square? Is there decorative trim around the window that you want to show?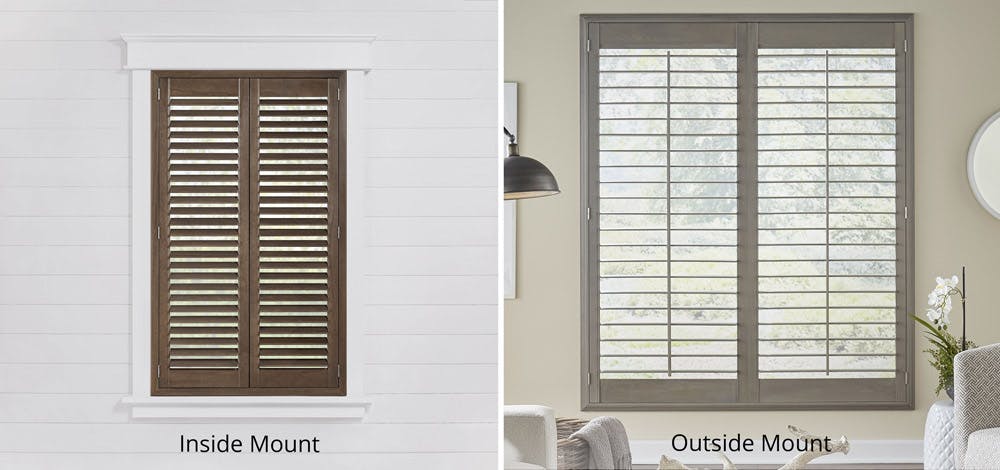 If you have decorative molding framing the window you want to keep exposed, you may want to go with inside-mount shutters. This will create a neat, flush appearance while showing off your beautiful trim. The shutters attach directly to the window frame with hinges or a small frame often referred to as an "L" frame. However, keep in mind that there may be gaps between the window frame and the shutter if your window isn't perfectly square.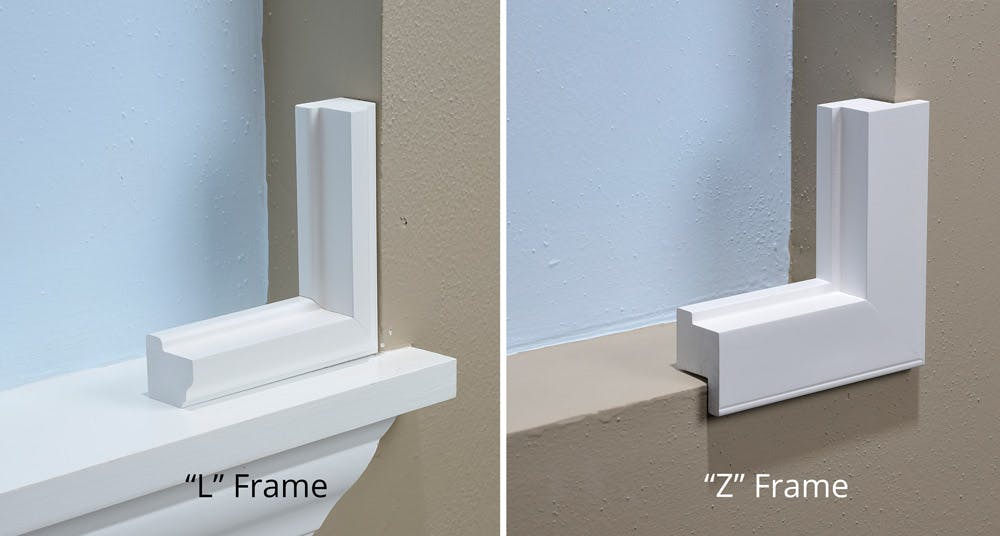 Outside-mount shutters are an ideal and aesthetically pleasing option if decorative trim work isn't an issue. This style has built-in molding that gives the window a finished look. An "L" frame design sits outside the window opening, while a "Z" frame overlaps the corners of the window opening. And if your windows aren't perfectly square, this style will hide any issue while adding stunning dimension to the window.
One more thing to consider when deciding on a mounting option is if you have tilt-in windows. With an inside-mount shutter, you won't be able to tilt the window in, making cleaning the window more difficult. In that case, your best bet is to go with an outside-mount shutter.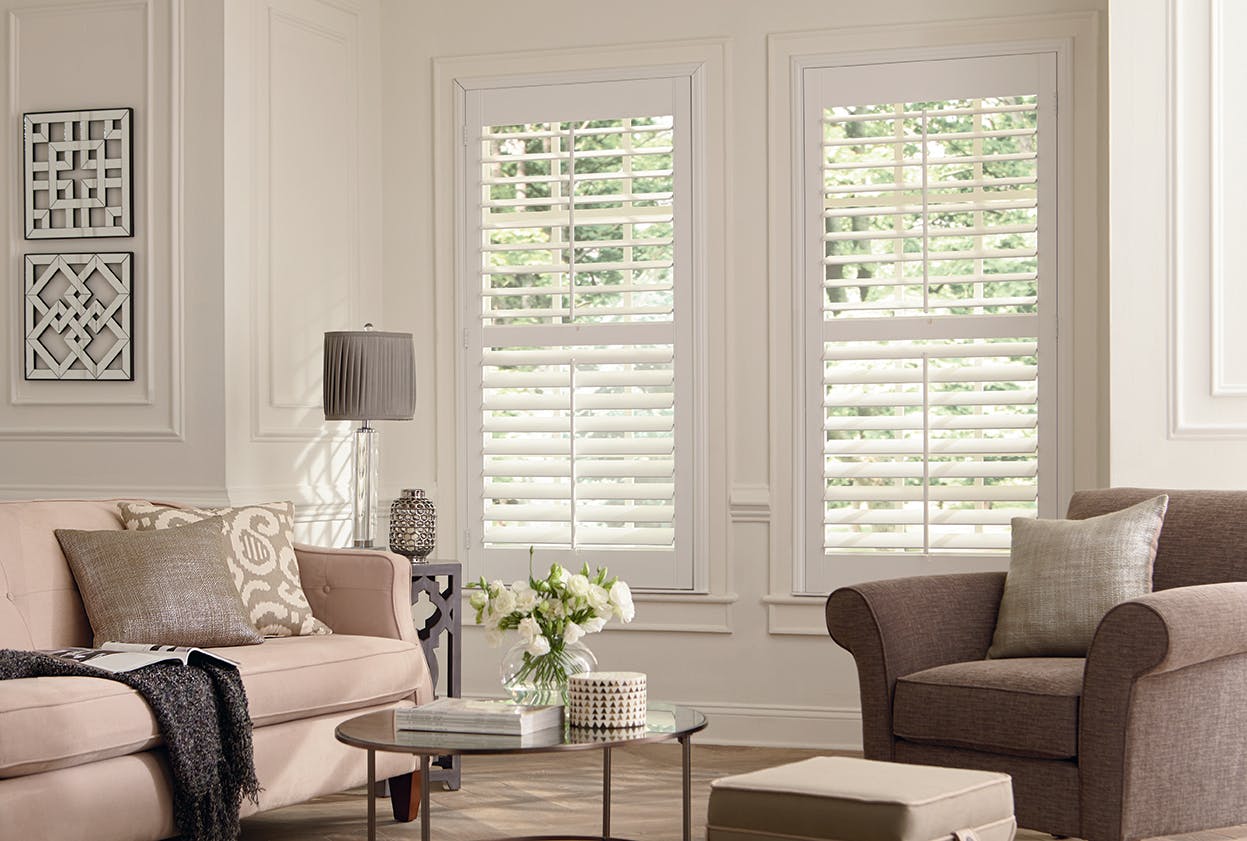 This shutter has 3 ½" louvers to complement the large windows and tall ceiling.
Choosing a Tilt Option
Function-wise, both front tilt and hidden tilt rods work well. The front tilt (also known as a standard tilt) option features a thin rod attached to the front of the shutter that makes opening and closing the shutter effortless. It's also easier to fix if it breaks.
If you find the front tilt option distracting from a design standpoint, consider a hidden tilt rod. In this case, the rod is hidden behind the shutter, so the slats must be opened or closed by hand. You may have more fingerprints to clean, but a hidden tilt rod may be the right choice if you want a clean, modern look.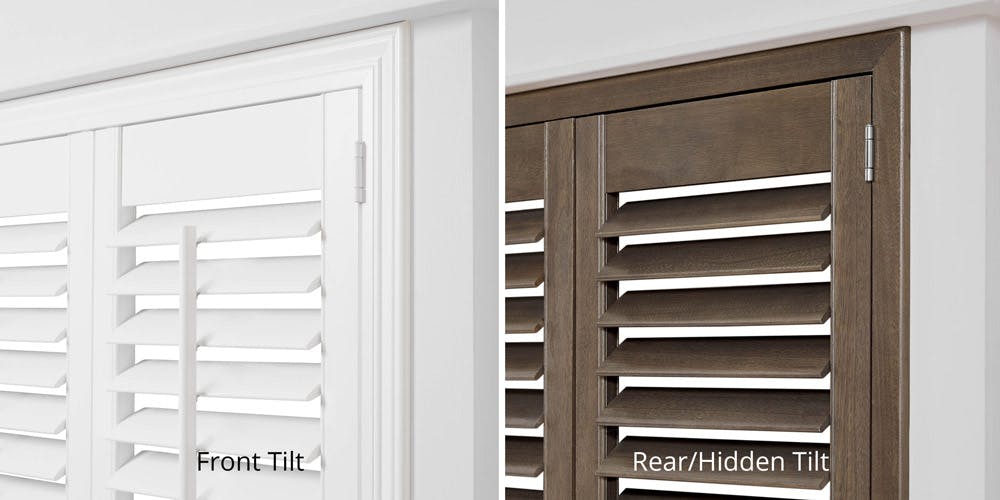 Picking a Material: Wood vs. Faux Wood
When considering whether to go with a wooden or manmade shutter, think beyond simply what looks better to you. Overall, most people choose faux-wood shutters because they're extremely durable, energy-efficient, water-resistant, easy to clean, and more affordable. However, if you're willing to pay more for the undeniable beauty of natural wood, keep in mind that you should avoid using a wood shutter in more humid environments such as bathrooms or kitchens as they are more prone to warping or cracking. Many customers choose wood shutters to coordinate with stained wood trim or wood flooring.
Cleaning and Maintaining Your Shutters
Keep those slats looking their best with regular cleaning. For general maintenance, use a clean cloth or your vacuum's soft upholstery attachment to remove dust. Clean from top to bottom, working from the middle of each slat to the outside. For more thorough cleaning on faux wood shutters, mix a solution of water and dish detergent and wipe with a damp cloth. Never use water or harsh cleaners on shutters made from natural wood. Learn more about how to clean wood shutters or faux wood shutters.
Ready to Order?
Let's get started! Check out our guide on how to measure your windows for a perfect custom fit.
Need help deciding on a style, material, or color? Blinds.com's expert designers are standing by to help you create the windows of your dreams. Contact us at (800-505-1905), via email, or live chat.