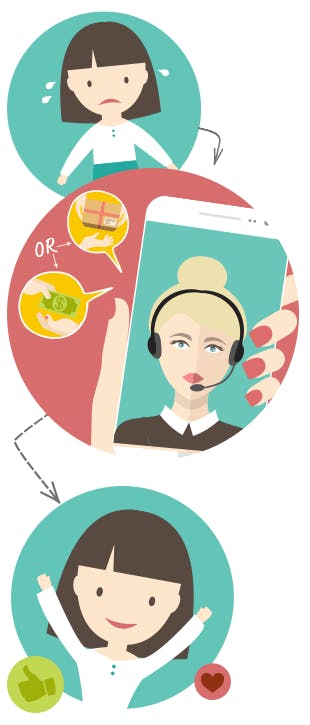 If you're not 100% satisfied with the style, color or quality of your blind, shade or shutter, we'll work with you to make it right.
Simply contact us within 30 calendar days after delivery to your home and we'll walk you through returning your order. We'll send a replacement of equal value at no additional charge. If a remake would not correct your issue, we'll happily give your money back.
If you'd like a replacement specifically for color, we'll help you order a free sample of your product in the new color. After you receive the sample and you know you'll love it, contact us and we'll send your replacement window covering. If your remake increases in cost due to a new product, option selection or color chosen, you will only pay the difference in the price between your old and new window covering. If the remake is over 94", a shipping fee could be required.
You must have received your product to qualify for this policy. Prior authorization is required for returns. Limit one replacement per product. Once you've ordered a replacement, we cannot issue a refund for the same item. Limit 10 items per household per lifetime.
Due to volume, commercial orders are not covered by this guarantee. A commercial order is any order containing 25 or more of the same product, of tax exempt status, or containing any Blinds.com Commercial brand product.
This guarantee does not cover any product ordered outside our recommended sizes or specifications. Draperies are not available as part of this guarantee. Light Blockers are not available as part of this guarantee. Please be sure to view all specifications on the product page before ordering.
View our cancellation policies here.
Measuring changes are not available as part of this guarantee — but don't worry — our SureFit™ Guarantee can help you if you've made a measuring mistake.
Have an issue? Let's solve it!
Call us at 800-505-1905 or e-mail us here.