Hello! Welcome to your quick and easy guide to installing blinds and other window treatments.
For complete instructions on how to install your blinds, shades, shutters, and/or draperies, please select the appropriate category below. Have fun!
Easy Installation Tips

Most of our window treatments require very few tools and are easy to install on your own. Have the following tools handy before you begin:

Screwdriver
Drill
Level
Measuring Tape
Installing blinds or shades in your home may seem like a daunting task. Blinds.com is here to make it easy with our Installation Guide!
Keep in mind that the steps in this guide provide a general overview of installing blinds. Depending on your specific product, your installation instructions may vary. Always refer to your specific product for precise installation instructions.
Consult a Professional
Not a DIY person? No need to worry - Blinds.com has professionals waiting to help you with measuring and installation. Click here or call us at 800-689-4496 to find a local professional.
What You Will Need
Steel Measuring Tape
Step Ladder (if necessary)
Screwdriver or drill
Level tool
Helpful Hints Before You Begin:
For the most accurate measurements, only use a steel tape measure.
Your window measurements should have accounted for either an inside mount or an outside mount. An inside mount is installed inside the window recess and provides a clean, finished look. An outside mount rests above the window and covers the entire frame.
Double check all packaging and make sure you received the correct number of screws, mounts, and hardware with your order before you begin installing.
What do you need help installing?
Need help installing Pick & Ship?
How to Install Blinds or Shades
How to Install Inside Mount Blinds or Shades
The installation process for inside mount blinds may vary slightly depending on your product. These general steps provide an overview for installing inside mount blinds, but always refer to the manufacturer instructions for details specific to your product.
Position the first bracket in the upper corner of the window frame so that it's level with the wall's surface. Always check your specific product instructions for the exact placement of the brackets. If your blinds came with a decorative valance, you will need to set the brackets further back into the window opening to allow room for the valance.
Mark the screw locations with a pencil.
Repeat steps 1 and 2 with the second bracket in the opposite corner of the window frame. If you're mounting into drywall with no studs behind, you will need to use drywall anchors.
Use a steel tape measure or a level tool to ensure the two bracket locations are even.
Use a drill bit - smaller than your screws - to drill pilot holes through your bracket marks.
Screw the brackets in place.
Install your blinds by sliding the headrail into the brackets, and close the brackets to secure the headrail in place, or snap the headrail into the brackets for other styles.
Test your blinds by lowering, raising, and rotating them to ensure all parts are functional.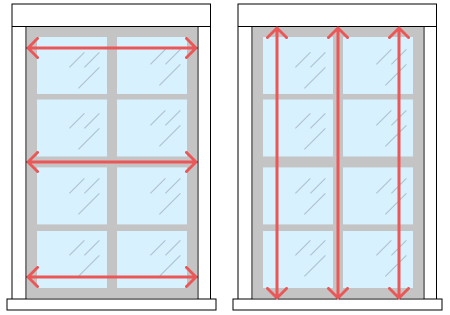 How to Measure Outside Mount Blinds
Outside mount window treatments are mounted on the window molding, wall, or ceiling above your window. Outside mount blinds or shades can make your windows appear wider and longer while also providing better light control and privacy options. You may be required to install an outside mount if your windows do not have sufficient mounting depth. Follow these simple steps to measure your windows for an outside mount window treatment:
Measure above the window first to make sure you have at least 2" of flat space on the molding or wall.
Next, measure the width you want covered. Blinds.com recommends at least 1.5" of overlap on each side of the window for blinds and shades, and 2" of overlap on each side for solar or roller shades. The extra width provides more privacy and light blockage. As always, record your measurements down to the nearest 1/8 inch.
Determine the location of the headrail - or top - of the window treatment. This could be installed on the window molding or wall. Mark this spot with a pencil.
Measure the height of each window from the mark you just made to where you want the bottom of your window treatment to rest. Consider if you want your window treatment to extend to the sill or lower. If you have a protruding window sill, it is recommended that it be your bottom placement.
Be aware of obstructions such as doorknobs or molding. If you have obstructions, spacer blocks or extension brackets are available to help your blind or shade extend far enough to avoid protrusions.
Do not take deductions from your measurements.
Double check that your measurements follow the width by height format (W x H).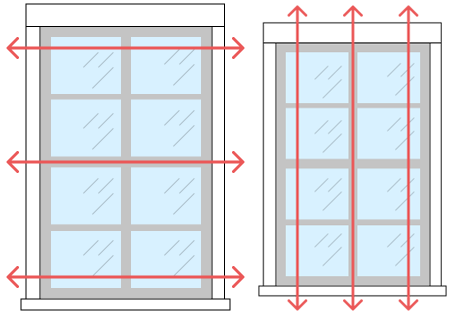 Blinds.com SureFit™ Guarantee
Blinds.com offers an exclusive SureFit™ Guarantee. We make sure you have complete peace of mind when measuring for any product we offer.
If you made a mistake measuring your blind, we'll remake it at no cost to you. You don't even pay for the return shipping of your old blind! You only pay if there's a difference in price between your old and new blind, or if the new blind requires a shipping fee (generally, this applies when it's over 94" wide).
Important Disclaimer:
Limit 1 remake per item; 4 item remakes per household per lifetime (unless the error is ours, in which case, we'll make it right!).
Same-product exchanges only, within 30 calendar days of receipt of package.
Changes are restricted to size and mount only.
Refunds are not offered under this guarantee.
Not covered under this guarantee:
Commercial orders: any order containing 25 or more of the same product, of tax exempt status, or containing any Blinds.com Commercial brand product.
Any product ordered outside our recommended sizes or specifications, which can be found on the product page.
Get Professional Help
We have professionals waiting to help you with both measuring and installation. Click below or call us at 800-689-4496 to find a local professional.